All wedding rings are beautiful in their way, but few had gotten more attention than Meghan Markle's when she married Prince Harry this past month.
Made out of Welsh gold, it was a gift from none other than Queen Elizabeth II. And while it's impossible to come across a ring with of such grandeur, quite a few customers are flocking to an unlikely source: Ritani.
Ritani, one of the largest e-commerce jewelers and online jeweler options, offers an 18K gold band that has been touted as a look-alike to the royal ring. But whether you are interested in that sort of thing or not, it's clear that Ritani has made a name for themselves, beyond beautiful bands. And nowhere has Ritani earned its name more than Ritani Diamonds.
What You Need to Know About Buying (Any) Diamond Jewelry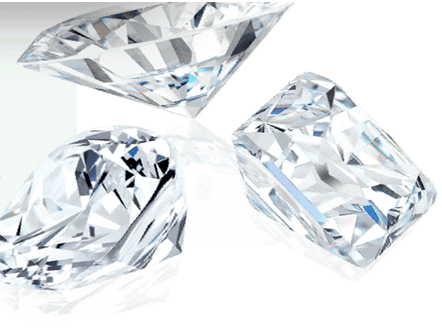 But before you get deep into considering a Ritani Diamond, or any online diamond for that matter, it's essential to think about the following questions:
What is my budget? Is there any wiggle room?
What service or services are essential to me?
Do I need or want expert advice?
Am I concerned about where the diamond was sourced?
How much do I know about the 4 C's of diamond purchasing?
Like any other substantial purchase, you'll also need to consider how to finance your diamond, the company's warranty (and if it's a lifetime warranty or not), return and shipping policies; and the company's overall reputation.
Ritani: Reviewing the Company's Reputation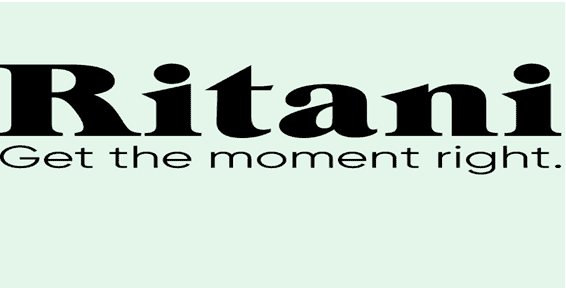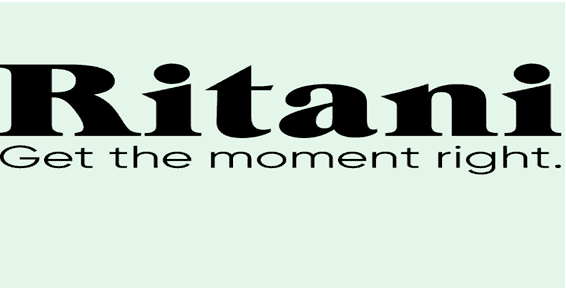 Ritani has been around for a while, especially for a primarily online retailer. Ritani opened for business in 1999.  and has headquarters in New York, and its e-commerce headquarters are in Seattle. While it's built a good reputation, it's also a huge company, and owned by an even larger finance firm:
Ritani has over 200 storefronts in the U.S. and Canada.
Ritani has an A+ rating with Better Business Bureau and a total of a mere 5 consumer complaints.
Ritani has nearly 80,000 loose diamonds in its inventory.
Ritani is owned by Cantor Ventures, who has affiliated with BCG Partners, Newmark, and GFI Group. It's been in operation since 1945.
Overall, Ritani is known to be a professional and decently respected company, with a history of sales and customer service. Famously, its finance firm lost over 60 percent of its employees during the 9/11 attack and has made a resilient comeback.
Where are Ritani Diamonds Sourced?
Beyond company history and ratings, it's also a good idea to get a sense of exactly where the diamond is sourced from, and how it's produced.
Ritani touts its diamond factory as the largest headquartered in the United States, and it appears many professionals have worked there for not just years, but decades. For a lot of consumers, diamonds produced in the United States is a plus, but that's not the whole story.
 The Plus Side:
Certified by non-commission members from either the AGS (American Gem Society) or the GIA (Gemological Institute of America
Factory located in Manhattan
Physical fine jewelry Storefronts across the nation
Some Concerns:
No evident mention of how, or where the diamonds are sourced from
No mention of ethical standards, such as the Kimberley Process
For customers who want to make sure they purchase a diamond of high quality, Ritani Diamonds may be a safe bet. For customers who are concerned about ethical sourcing and ethical, Ritani doesn't go out of its way to provide information.
How Expensive does Ritani Run?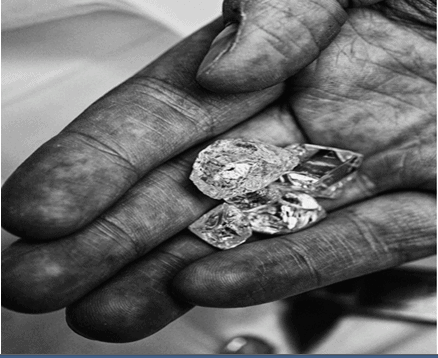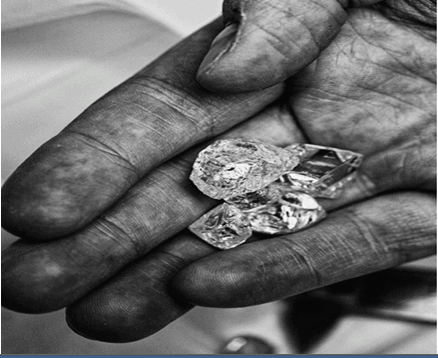 As you can imagine, diamonds and diamond rings vary significantly in price depending on carat, cut, clarity, design, and any number of factors. Aside from custom orders, loose diamond prices and diamond rings run from modest to quite an investment.
Pre-Made Wedding Rings range from $160 to $62,500
Pre-made Engagement Rings range from $245 to $8,240
Loose Diamonds differ significantly, as do custom rings
Ritani Endless Love collection
All that aside, though, something really impressive offered by Ritani is price matching.
Here's how it works:
Contact Ritani's customer service with specifications of a diamond you found through an online competition retailer.
You will be matched with "a similar diamond at a lower price."
While this is undoubtedly a plus, especially for tight budgets, it's important to note this applies to loose diamonds only, and the 30-Day return policy still applies
What about Jewelry Shipping and Return Policies?
Speaking of which, shipping, jewelry return, restocking fee, and warranty policies (lifetime warranty) are a must-know when it comes to purchasing Ritani Diamonds.
30-day returns do not apply to customized engagement or wedding rings
For customized rings, instead, there's a "walk away" policy. What that means: if you choose to see the ring in person, you can reject it that day if it doesn't match your expectations. Taking advantage of the store preview also means you more or less have an obligation to decide pretty quickly, minus anything like manufacturing defaults.
Shipping is free and is via Fed-Ex Priority Overnight; International Shipping is also available at a cost.
Ship to your house, store, or other verified location.
Gift Wrapping available.
Overall, Ritani is reasonable when it comes to its policies, but be more careful if you're choosing a customized diamond ring.
What Support does Ritani Offer?
The good news is when you're purchasing Ritani jewelry you're not alone. From a hearty Education Center, full of advice articles and general information to various customer support channels and live chat service, even the greenest diamond shoppers have the resources to make an informed decision. You won't need to take to Twitter to get a reaction.
12-month interest-free financing (if minimum payments are met). Late fees range from $25 to $35
Financing is available for up to $20,000. More expensive purchases require further approval. Financing available only through Synchrony Bank/ Checking Accounts/ Debit Cards
Lifetime Warranty on Manufacturing Defaults and Free Cleaning (more than just a simple warranty)
Non-Commissioned Diamond Experts offer a free consult for up to 4 diamonds. You get a full report, 3D images, and suggestions for the best diamond to purchase
Experts available to chat any time
Ring Advisors help you select based off of your budget and style preferences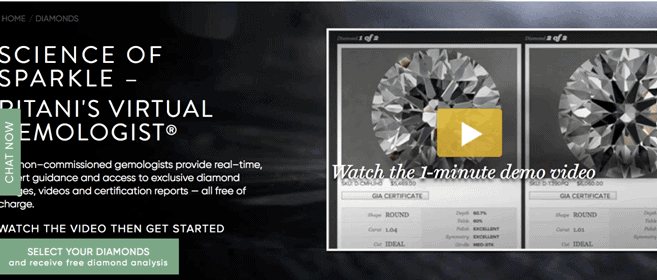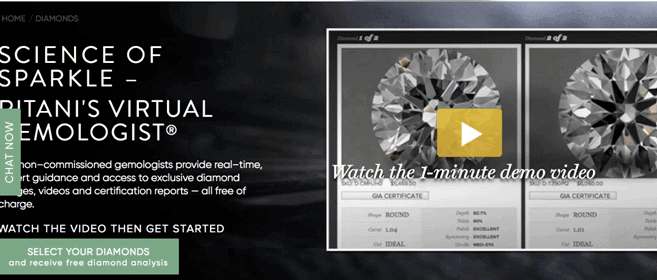 Regarding a primary e-commerce retailer, Ritani has a good deal of customer support and payment options that help to make buying a diamond and more assuring experience.
What makes Ritani Diamonds Stand Out?
This, of course, will undoubtedly be one of the top questions on any customer's mind: what is the advantage of a Ritani Diamond vs. a diamond from a competitor?
Aside from other benefits we've mentioned, one-way Ritani Diamonds stand out is by what Ritani calls its "Measure of Sparkle Services":
Scintillation Report
AGSL or GIA certified
Expert consults with a virtual gemologist
Customer Support and Jewelry Store Previews, along with 3D images
Essentially, Ritani offers not just a wide selection of loose diamonds, but also the support and professionalism to certify you are buying a diamond that meets your expectations and is held to high standards.
But What's the Best Reason to Consider Ritani Diamonds as a Jeweler?
That will vary from customer to customer, but customers who are looking for a unique and high-quality diamond might consider Ritani Reserve Diamonds.
Consist of the top 1% diamonds worldwide, graded by clarity and cut (ideal cut, excellent cut, etc…)
Certified for most "sparkle" and most intense "sparkle" (scintillation) by experts
Special cut to "maximize beauty."
These diamonds are not just focused on carat or setting, but on the cut that brings the most shine and beauty. Do note that these unique loose cut diamonds are available only in round cut, though there is a note that princess cut reserve diamonds are coming soon.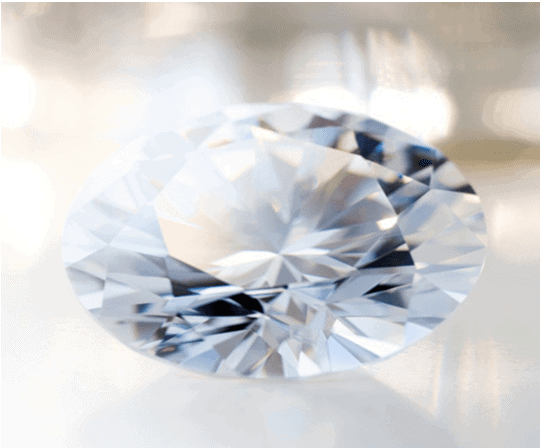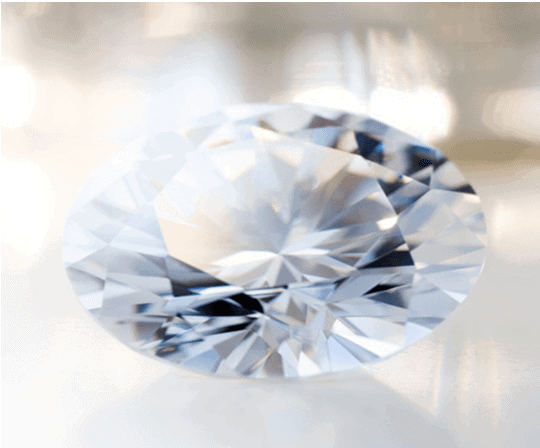 Overall Ritani Review and Impressions:
There's no doubt that Ritani Diamonds are popular for good reason. From a collection of over 70,000 loose diamonds to customer support, financing options, and reasonable shipping terms, there's plenty to please any customer.
Of course, like any online retailer, Ritani does have some drawbacks. Here's what's best, and worst about purchasing a Ritani Diamond:
Things to Question:
Sourcing: It certainly may not be a concern for everyone, but it's a bit unclear where and how Ritani sources its diamonds.
Limited Financing Options: Make no mistake, 12 months without interest is a wonderful plus. Not so great? Being forced to work through a specific bank. You also can't use a credit card to finance your ring.
Limits on Returns: 30 Days is absolutely reasonable, but be careful when it comes to customization. While the walk away policy seems reasonable, you'll want to be careful to ask the details about returns and adjustments to your design.
Things to Love:
A vast selection of diamonds all carats, prices, and cuts
Expert advice, reports, and customer service
Free secured shipping and the option for international shipping
A collection of Ritani Reserve Diamonds
Plenty of resources to help you make your decision
Physical jeweler store locations (if you need it)
Personally, I prefer to purchase Ritani brand engagement rings (specifically buying an engagement ring) via specialty online retailers like Whiteflash Inc here. They mitigate many of the "cons" with digital-first shopping experience for online purchases, excellent Ritani diamond selection and competitive prices.
Ritani Diamonds are something work looking at, not only for their beauty but also for the support services offered along the way. Exceptionally innovative is that, while Ritani operates as an online retailer, it also provides the chance to view diamonds and rings in person, not just at one brick and mortar store, but hundreds of convenient local jeweler locations.
Recommended Reads: