Considered an 80 billion dollar industry in the United States alone, the sheer quantity of jewelry retailers isn't so surprising.
Adding to that, Americans account for over half of diamond purchases every year. And nowhere is that more evident than through the proliferation of online retailers.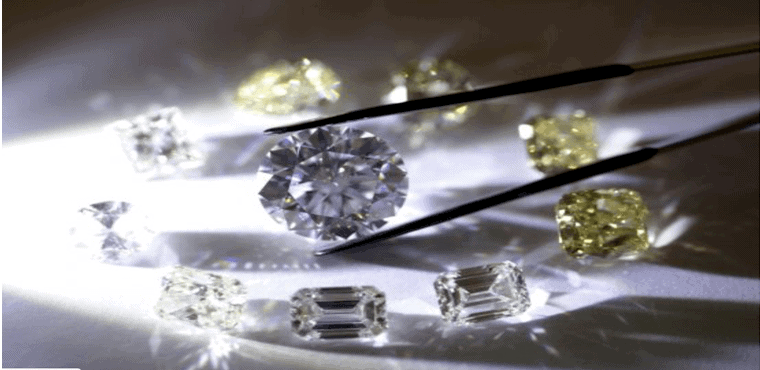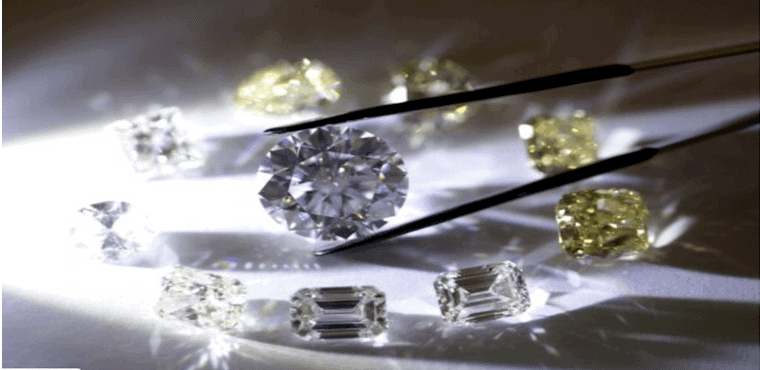 From 2016 to 2021, American e-commerce is expected to double, which translates to more and more Americans shopping online vs. traditional physical storefronts. Even for large investments, like diamonds and precious jewelry.
Both Ritani and James Allen seized on this change in the early years of the millennium when e-commerce was still more of a risk. Starting from the traditional roots of either family storefronts or collaborating with local jewelers (and high-end jewelers), today these two companies are two of the leading sellers of everything from loose diamonds to custom rings.
Main Differences Between Ritani vs James Allen
The main differences between Ritani and James Allen are:
James Allen offers higher fidelity 360 real ring images, whereast Ritani offers more basic ring images
James Allen is generally around 5% cheaper compared to Ritani
James Allen offers a more comprehensive customized ring builder, whereas Ritani has a more basic ring builder
James Allen offers more information and documentation on their diamond sourcing compared to Ritani
Ritani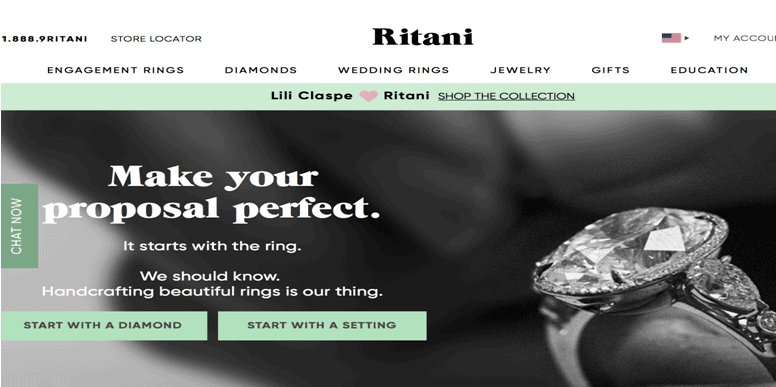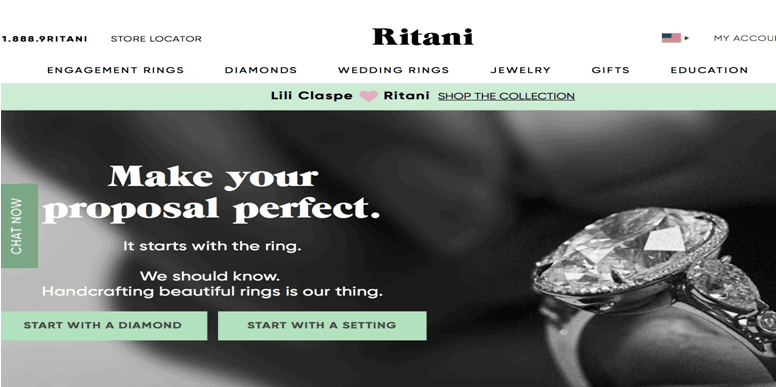 High-end modern engagement rings and fine jewelry (high-end jewelry) is front and center at Ritani–and so too is a commitment to collaborate with a local jeweler, which, per their philosophy, leads to more "seamless transactions."
All Ritani rings are handcrafted in New York, while e-commerce transactions are handled in an office in Washington State. Their investor, Castor Ventures, is headquartered in New York. While their company info is light on details, the basic image emerges of a company steeped with traditional jewelry foundations, but a hearty commitment to online shoppers.
Kimberley Process standards approve all diamonds.
Spotlight on Expertise
Diamonds, whether loose or in the form of wedding bands or engagement rings. While this is not unusual for any fine jewelry retailer, what is less usual is Ritani's commitment to providing customers with professional experience.
Experts accredited by the Gemological Institute of America available for chat and customer service
Ritani Reserve Diamonds are touted as the top 1 percent in quality worldwide (currently, these are only available in round cut)
HD visualization and 20X magnification provides an interactive shopping experience
Diamonds are Flash/Fire certified with AGSL scintillation
Most of the effort seems to be placed in not only providing diamonds of the highest quality but a shopping experience that mimics a physical storefront, where you might talk with expert consultants before your purchase.
Virtual Gemologists
Along with Ritani's focus on expertise, the company goes above and beyond others by providing a Virtual Gemologist feature.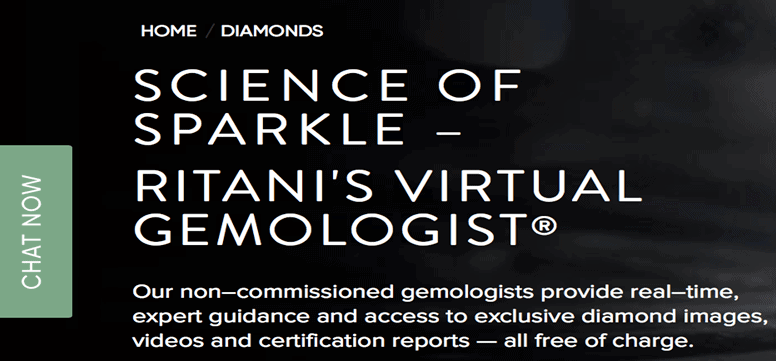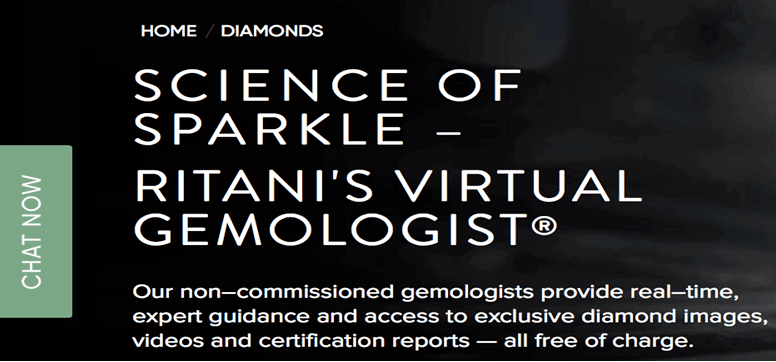 It's not as strange-and perhaps more helpful than it sounds. Here's how it works:
Experts from the GIA will consult up to four diamonds, free of charge
HD videos and 20X magnification is provided
Detailed reports give you a sense of what you're buying
Everything is translated into layman's language so you can understand your results
Not only is this a fantastic service, but experts are also not comissed by Ritani, which adds a needed layer of ethicacy.
Basic Education
Ritani strikes the middle ground when it comes to providing customer buying guides. An unobtrusive education tab reads more like a blog, with an attractive layout and feature articles such as Ring Buying Essentials or Finding the Right Diamond Shape.
There is admittedly a little self-selling here. It's especially evident in guides to bestselling items (theirs). Nonetheless, these guides are fairly easy to read, neither too simplistic or too advanced. Notably, these guides do not appear alongside different shopping categories.
There is admittedly a little self-selling here. It's especially evident in guides to bestselling items (theirs). Nonetheless, these guides are fairly easy to read, neither too simplistic or too advanced. Notably, these guides do not appear alongside different shopping categories.
Ritani Setting Styles,

Wedding Rings, and Engagement Rings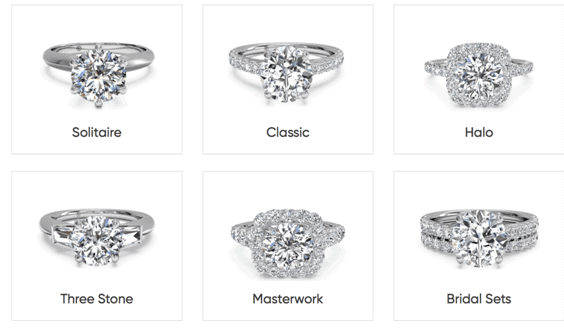 Gift Shopping-Friendly
While most of the Ritani collections are focused on expert advice and services, there's a nod to the more casual shoppers in the gift giving guides and excellent jewelry sections.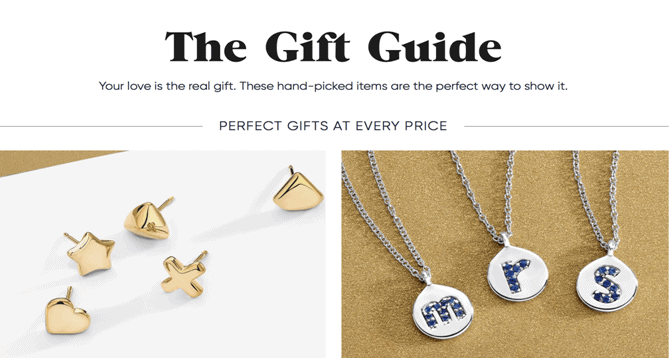 Easy categories make shopping more fuss-free, and less time consuming than when it comes to looking for a loose diamond or diamond ring. Select from:
Gifts for Him or Her
Anniversary Gifts
Bridal Gifts
Birthday Gifts
Milestone Gifts (though this seems to include anniversaries)
Jewelry lines include designers like EF Collection and Mimi So, and offer earrings, rings, necklaces, bracelets, and design your pendants. More noteworthy is the black diamonds section.
Anyone shopping for gemstones may feel limited: ruby and blue sapphire appear to be your sole options.
And some Old Fashioned Charm…
Ritani continues to straddle between traditional and modern commerce techniques expertly: you can customize a ring online, but you also have the option to see it in person.
Also, take note of these nods to the more hesitant online shoppers:
Walk away returns
Same day purchases
Media links to feature articles in traditional outlets like CNN, Forbes, and the New York Times
While nearly all of Ritani's policies and services come off a bit like a sales pitch against competitors, it's hard to argue that these features offer something for the more online-adverse shoppers.
Overall Impression
Ritani is undoubtedly a happy compromise between traditional and online jewelers. Physical storefronts, professional help, and on staff experts make for a more dynamic experience.
The site makes shopping easy, even more, less experienced shoppers, and there's no dearth of educational guides, advice, and filters to help you find your best match. The most noteworthy feature that Ritani offers is a customized design service you can not only preview in store but also beforehand get a detailed appraisal report.
The Best:
Expert Advice and Reports
In-store shopping experience
Easy to navigate the site
Tools like Ring Matching and Advising
Gift Guides
Online Support
The Drawbacks:
Pop-up features can become cumbersome
Policies wrapped in sales-pitch language
Not much to offer regarding vintage or off-the-beaten-path jewelry
Less transparency regarding some policies and sourcing of materials
James Allen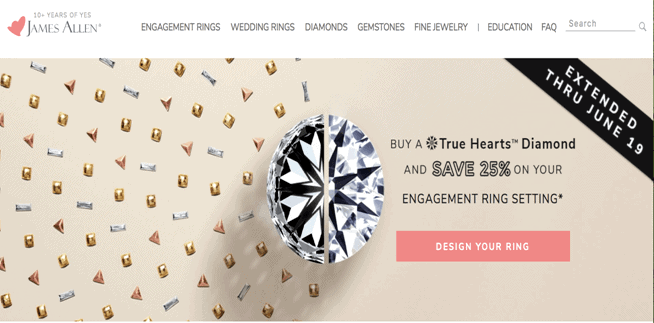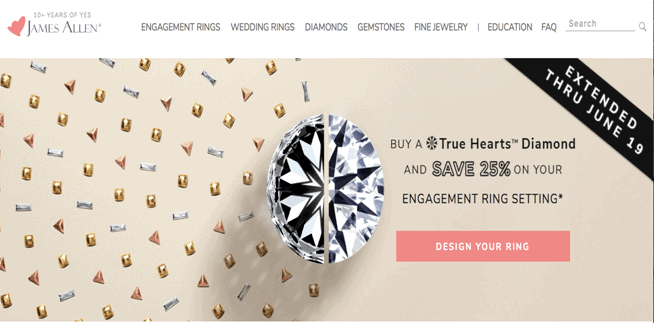 While Ritani does an excellent job of selling its expertise and overall shopping experience, James Allen devotes a good deal of space and effort to promote transparency.
It quickly becomes clear, perhaps, why: while James Allen does have offices in Maryland and New York City, there are no storefronts, as there are, across the county, for Ritani. James Allen claims being a fully online retailer helps them to "cut overhead costs" and provide a "better value" for their customers.
For anyone skeptical of this declaration, there are ample details concerning both their products and their policies:
Personal information is not shared with any 3rd party
All jewelry comes with free lifetime cleaning (this is also true of Ritani)
30 day return policy, with a 60-day sizing window
Free inscription
Price matching to offer lowest prices
Diamonds are AGSL and GIA certified
While some of these are consistent with other companies, the fact that these policies are front and center and clearly stated speaks well for the company.
Diamonds held to high (ethical) standards
Like Ritani, all diamonds sold by James Allen are considered conflict-free and approved by the Kimberley Process. But they also are held to additional standards, including:
Canadamark Hallmark
No artificial treatments
Efforts to promote both sustainability and societal needs in local communities
But what sets James Allen apart most is that you can shop loose diamonds not just by the typical filters of cut (e.g. ideal cut, princess-cut diamonds, etc..), carat weight, and budget, but also by their source of origin. Few retailers identify precisely where your purchase is coming from, and for the most avid proponents of full transparency, this might mean a great deal.
A Splash of Color
Of course, for many other shoppers, the focus may seem to detract from the time spent on quality diamonds. James Allen does offer a true hearts collection but spends less time emphasizing cut and clarity.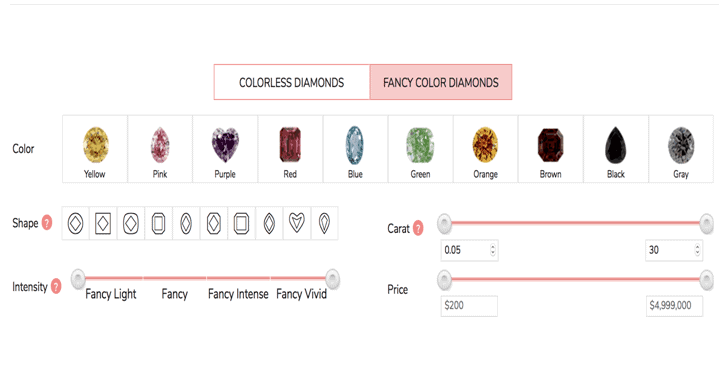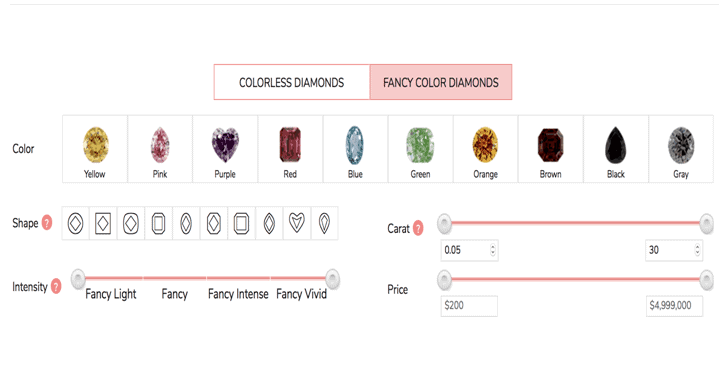 What James Allen does offer is a bit more color. Fancy color diamonds include:
Yellow
Purple
Red
Blue
Green
Orange
Black
You'll also find more color in their gemstone selection, which offers blue, pink, and yellow sapphires; red rubies, and emeralds. For anyone looking for something a little bitter different, there's a lot here to offer, though the designs of the rings themselves lean a bit more modern or traditional.
Wedding and Engagement Rings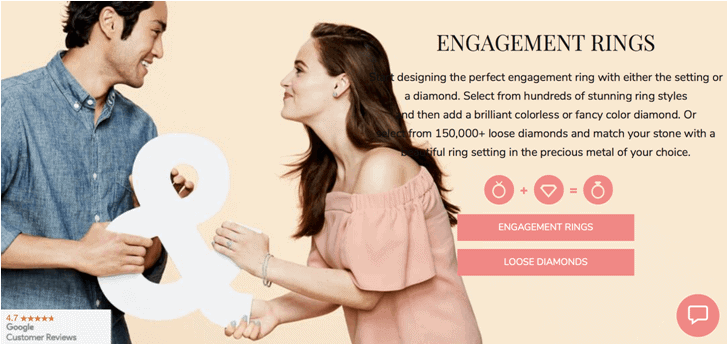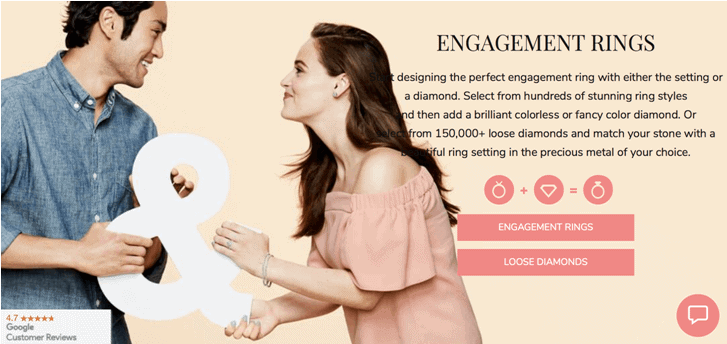 The wedding collection is respectable, with enough to offer to satisfy even picky customers. Here are some more notable highlights:
Design your own
Designer Collections
3D visualization
Ring Matching service (comparable to Ritani's)
Stackable, curved, and alternative metal ring collections
Shipping for all rings is available worldwide, and there's a lifetime guarantee against manufacturing defects.
While there are plenty of contemporary rings, there are also some more classic and vintage styles. You might have to search for them harder.
Shopping Experience with something to offer
While James Allen's nods to comfortable and enjoyable shopping are more modest than what you'll find with Ritani, that isn't to say there aren't some nice features on offer.
Loose diamonds can be viewed in 360 degrees HD, and you can also chat with an online expert for advice. A comparison button allows you to keep track of previous selections and see which one is better fitted for your needs.
The Education section reads more like a typical education resource, offering everything from budget tips to diamond care and color, and individualized guides for gemstones, rings, and even fine jewelry. James Allen is less hands-on, in other words, but there's still enough information to help you select a product.
Fine Jewelry
Something James Allen lacks, for better or worse, are the helpful gift-giving guides Ritani has. In this sense, though, it's not even so much the guides that appear to be missing, but jewelry for special occasions.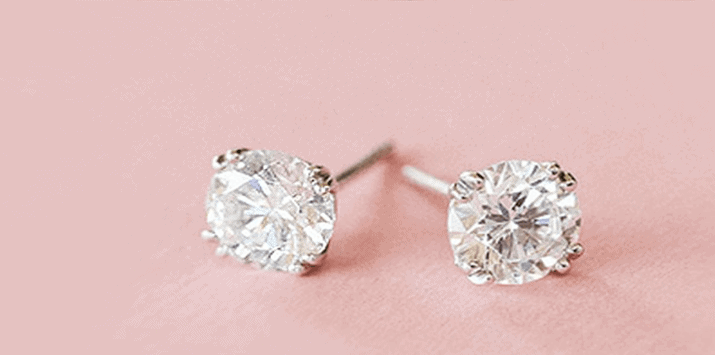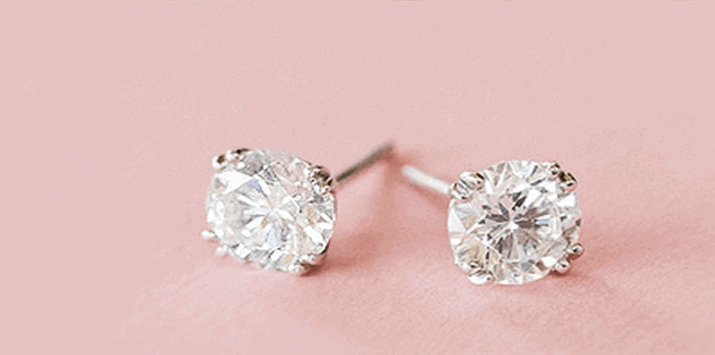 What you'll find instead is a traditional, more simple selection by jewelry type: earrings and bracelets make up the bulk. A nice feature is the ability to design your necklaces or pendants, among other items.
Lasting Impressions:
Though James Allen is a fully online retailer, there are enough nods to classic styles and shopping experiences to sway more traditional customers. While there's less emphasis on expert advice and buying guides, you also can't discount the admirable collection of gemstones, colored diamonds, and vintage rings.
Check out:
Lots of colorful and more unique options
High ethical standards and transparency for diamonds
Clear and fair policies
Price Matching
Warranty policy (do they offer lifetime warranty, limited warranty?)
Some might be wary of:
No physical storefronts
Less online guidance
Limited jewelry selections
No gift giving guides
The Final Verdict: Ritani vs. James Allen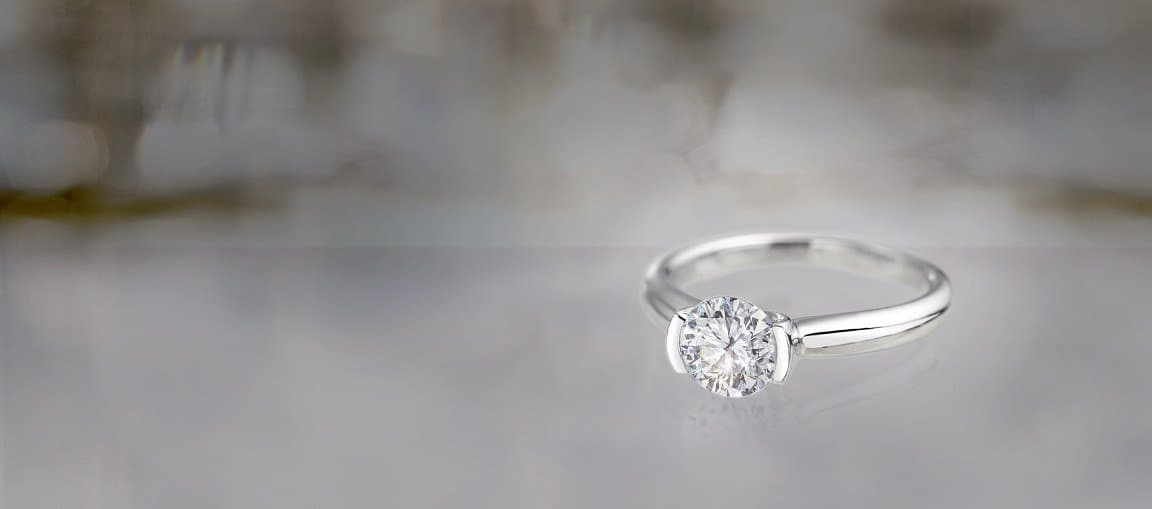 There's no doubt that Ritani and James Allen both boast impressive products and services. And both seem to have navigated e-commerce with notes of traditional shopping experiences customers still might long for.
Perhaps it's most helpful to break down which company is more successful for different categories:
Ritani is best for…
New Shoppers, or anyone desiring more guidance
An extensive collection of sleek and modern designs
Consultation and Expert Opinion
Anyone needing to see a physical preview before purchase
James Allen is better for…
Transparency: from policies to diamond standards
Anyone looking for more color or vintage options
Getting the best price possible (price matching)
Customization and a GREAT "ring builder"
Ritani comes across as a bit more self-promoting, and anyone purchasing would want to get some clarification regarding privacy and purchasing policies. That said, you just can't beat access to GIA experts, or the ability to see a custom designed ring in physical form, in locations almost entirely across the continental United States.
James Allen jewelers, though, gets just a slight edge: while it doesn't admittedly offer the fabulous services Ritani does, transparency, ethical standards, and truly unique products make a statement in a very crowded group of online jewelers.
No matter which company sounds like the best fit for you, make sure you inquire about jewelry insurance: both James Allen and Ritani work with Jewelers Mutual Insurance.
Further Research on Diamonds Online
Here are a few other comparisons of the world's leading online jewelry retailers: