Finding the right engagement ring is no easy task; it's also an investment.
The average cost of an engagement ring has now risen to over five thousand dollars–excluding the average of one thousand dollars for a wedding band. That isn't to say that's how much you personally should spend, but it makes the decision all that much more difficult.
Of course, engagement rings have always been an investment-that much hasn't changed. What has changed, however, is the sheer quantity, and thus accessibility of engagement rings you can purchase.
With companies like James Allen and Tiffany Online, now you can do all of your shopping at your computer or smartphone. That means that there are far more engagement rings you could potentially peruse than you have time for–all without leaving your home.
As you can imagine, that can get overwhelming. But luckily, today we'll be taking a look at James Allen vs Tiffany Online and see how they stack up when compared on a number of critical components so you can determine which jeweler is the best bet for your engagement ring or high-end jewelry.
Bottom Line Up Front (TL;DR): The better overall online shopping experience, inventory, and selection – in my view – goes to James Allen here.
Main Differences Between James Allen vs Tiffany Online
The main differences between James Allen and Tiffany are:
Tiffany Online also is linked to flagship jewelry stores with in-store previews, whereas James Allen is not and instead offers free shipping try on and an exchange window of thirty days
Tiffany Online teams up mostly with mines they have a relationship with, whereas James Allen sources widely but with diamonds that are considered conflict-free.
James Allen offers a larger selection for both gemstones, white gold and diamonds (including fancy color), whereas Tiffany offers a wider gift selection
James Allen has higher customer satisfactionr ratings compared to Tiffany Online
Our Pick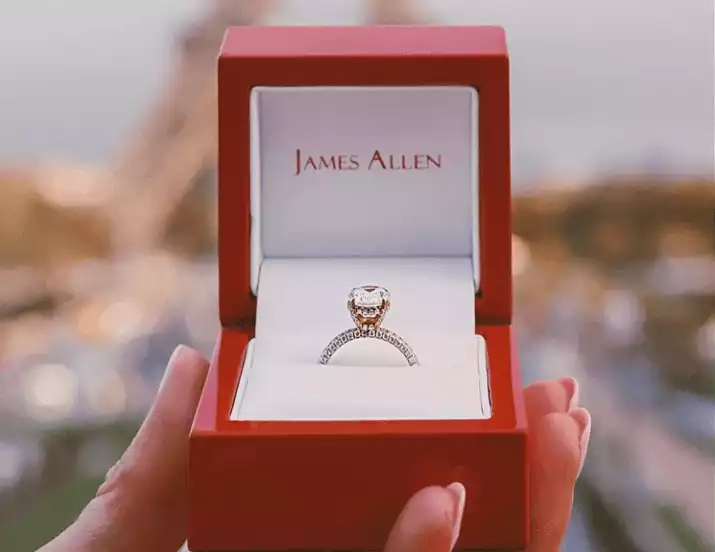 Why I Prefer James Allen
Personally, I love the James Allen 360 degree view customization options. If you want to customize the perfect ring, James Allen is THE best choice with the highest fidelity visuals. Ranked our #1 online jewelry retailer for 2021!
Save BIG With These Deals
We earn a commission if you click this link and make a purchase at no additional cost to you.
Isn't shopping for an engagement ring online rather impersonal?
Perhaps one of the strongest reasons for not shopping for an engagement ring on James Allen or Tiffany Online is that you may not like the idea of ordering with a click of the mouse. There's also the misconception that ordering an engagement ring online or more or less like typical online shopping, where there are a certain number of specific products everyone can be.
But when buying an engagement ring from both James Allen and Tiffany Online, there's a level of customization that really makes a difference. While you can purchase premade engagement rings, both James Allen and Tiffany Online allow you to be a part of the decision making process by selecting a color, cut, carat, metal type, and overall design, among other factors.
Plus, both companies offer you a chance to personalize your engagement ring from start to finish either directly online or by speaking with a diamond expert.
Is buying an engagement ring online risky?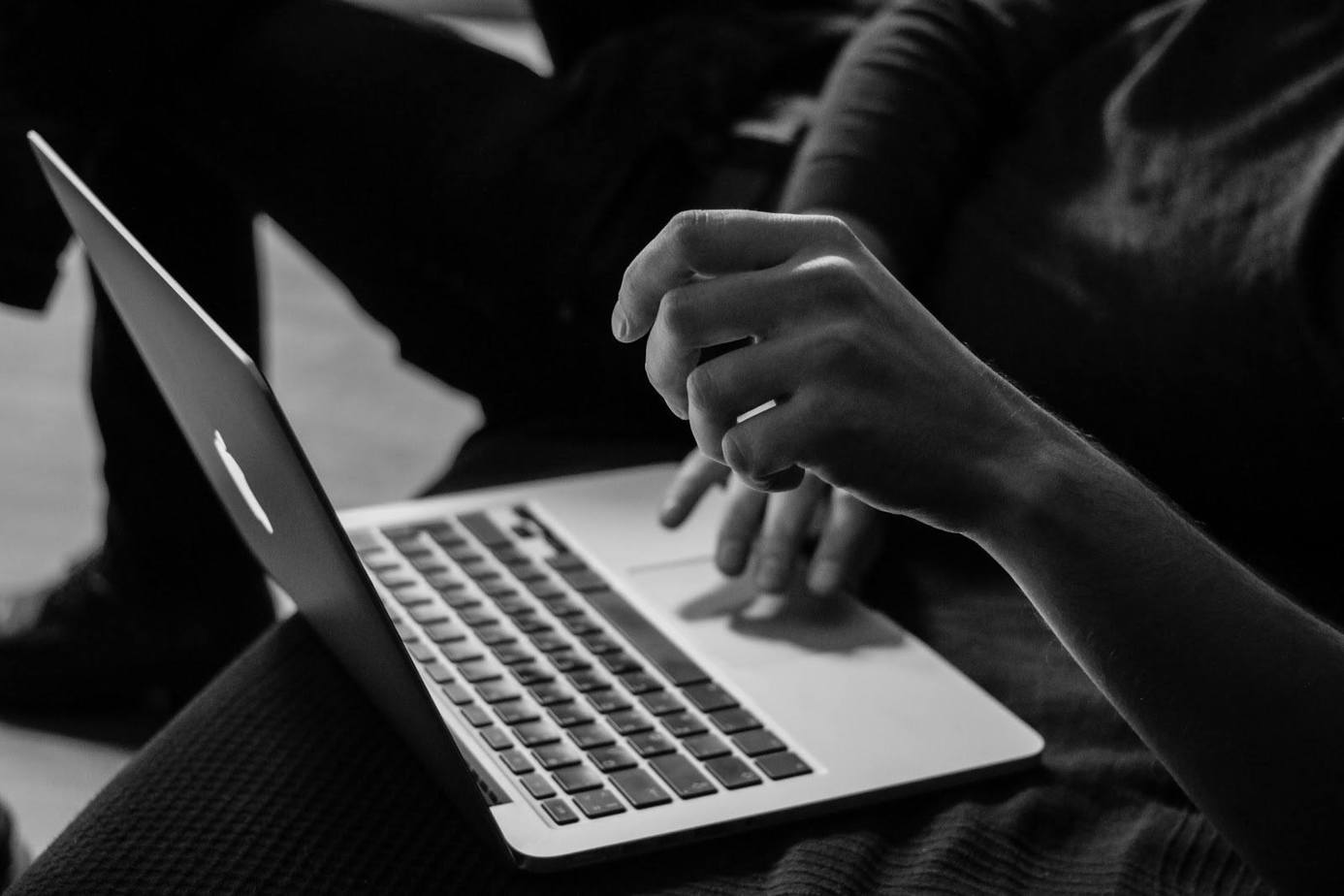 We've all heard about data breaches, scams, and other security issues when it comes to all things online, from social media to shopping websites. It's understandable that some customers might be worried about purchasing something as important as an engagement ring online.
While there is no way to eliminate all risks, it's also true that even physical (in-store) jewelry store shopping can never be a hundred percent safe either. The point is, if fear is holding you back from shopping online, simply taking a few precautions can greatly reduce security risks so you have more energy to focus on shopping for an engagement ring and don't have to waste it on worrying about purchasing.
Take a look at these tips from LifeLock, an identity theft protection tool in partnership with Norton, a very popular antivirus software. We've added our own tips too so you can sure you're getting the safest shopping experience possible:
Research, Research. Before you click, make sure it's a reputable company. You can do that by perusing customer reviews and also seeing if there's somewhere else they have been officially registered. Look for expert reviews and check sites like Better Business Bureau and Consumer Affairs. Also always look for contact information, and ideally, a physical mailing address.
Use your own (secure) Wi-Fi: This is something not everyone may think about, but if you're purchasing an engagement ring online–or for any purchase for that matter–you should be using your own Wifi. Public Wifis are considered less secure and more vulnerable to intersecting and hacking.
Be mindful of your passwords. Stronger passwords really do make for a more secure shopping experience; luckily, many sites now have requirements you create a password that's harder for others to guess. Experts suggest you create a password with ten or more letters, with a mix of capitalized and lowercase. Try to avoid making a password based on personal information, and also vary the passwords you use for different sites.
Credit Cards are safer although sites like Paypal are generally considered a safe way to pay as well. If a site offers a way to pay with a debit card, steer towards the other methods of payment. And make sure they use secure checkout; look for SSL.
If it seems too good to be true, it could be. While we all love to score great deals, compare the price, to your best estimate to other companies. It's a good idea to get a price range from a few companies to see if the cost makes sense. On a very expensive purchase, even up to a few hundred dollars difference could make sense, but on purchases a bit more modest, be aware that the diamond itself should not vary drastically in price, provided you're selecting the same color cut and clarity. When in doubt, visit a local jeweler and ask if the price makes sense.
How do I compare James Allen vs Tiffany Online?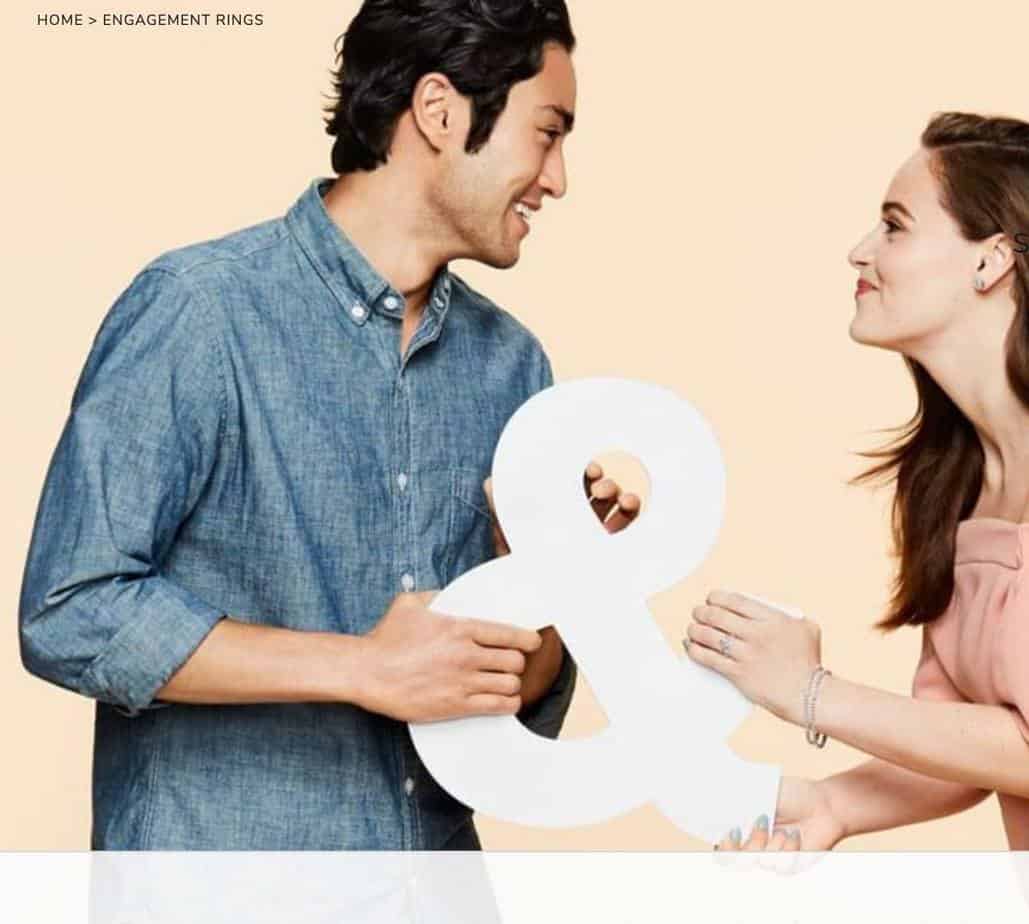 Comparing James Allen and Tiffany Online is a little tricky because both have a decent reputation in the jewelry industry and both are highly popular when it comes to engagement rings wedding bands and other fine jewelry.
That said, there are several categories you can compare the two to see which provides a better shopping experience and a better overall deal. While we'll focus primarily on engagement rings, we will lightly touch on what both Tiffany Online and James Allen have to offer in terms of other products as well.
How does personalization work?
If you're interested in personalizing an engagement ring or making it custom from start to finish, both companies allow you to do this to a degree, but how James Allen handles it is blatantly different than how it works with Tiffany Online.
With Tiffany Online, in order to make a custom order (e.g. for a Tiffany engagement ring), you'll need to contact by phone or schedule an in-store brick and mortar consultation. There is no additional information in terms of what kind of choice and prices will be offered, or how the process works.
James Allen, on the other hand, makes custom rings a central selling point. With the Design Your Own Engagement Ring tool, you can make your ring from start to finish, all with a click of a mouse, though you can also contact customer service if you want help making your selection. Start with a setting or diamond and filter through different metal types, diamond cuts, and sizes and ring styles. With these features, you can essentially create your own combination rather than selecting from a list of pre-made rings only.
Winner: James Allen. While Tiffany Online may offer a great selection of rings, it simply is not as strong when it comes to online customization. Lack of information and a nod for in store consultations does not mean there are not great options, but it is far less customer friendly for online shoppers. While you can make individual selections within a ring type with Tiffany Online, the process is not as catered to online custom shopping.
Our Pick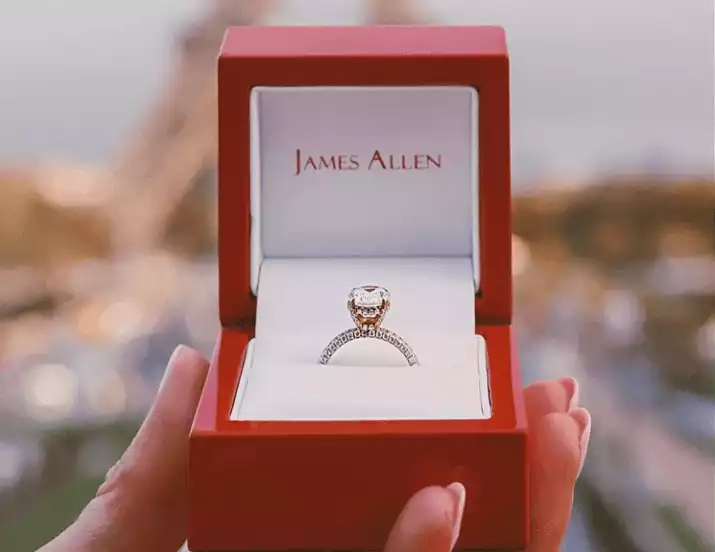 Why I Prefer James Allen
Personally, I love the James Allen 360 degree view customization options. If you want to customize the perfect ring, James Allen is THE best choice with the highest fidelity visuals. Ranked our #1 online jewelry retailer for 2021!
Save BIG With These Deals
We earn a commission if you click this link and make a purchase at no additional cost to you.
Pricing
You may find the engagement ring of your dreams but still, be unable to afford it. That's why it's so important to get as much information as possible–not only at checkout but as you shop.
The good news is that both James Allen and Tiffany Online offer prices online, but how they're priced and what information you get does differ. Excluding James Allen's custom ring process, prices are generally listed as you hover over different engagement rings.
While you can tweak options, such as carat size and diamond shape, and the price will change, with James Allen, you'll see that price right when you make your exact selections. With Tiffany Online, it works a bit like James Allen's start to finish custom rings, in that the price adds up depending on what selections you make. All said both are on fairly equal footing–with a slight caveat.
Winner: James Allen. While both are fairly transparent in terms of normal pricing, James Allen has a more user friendly interface, in that it's easier both to navigate and see how costs are adding up before you become too invested. Plus, Tiffany Online lists their rings as 'starting at', which can be misleading before you click on the ring style and make your selections.
Diamond Varieties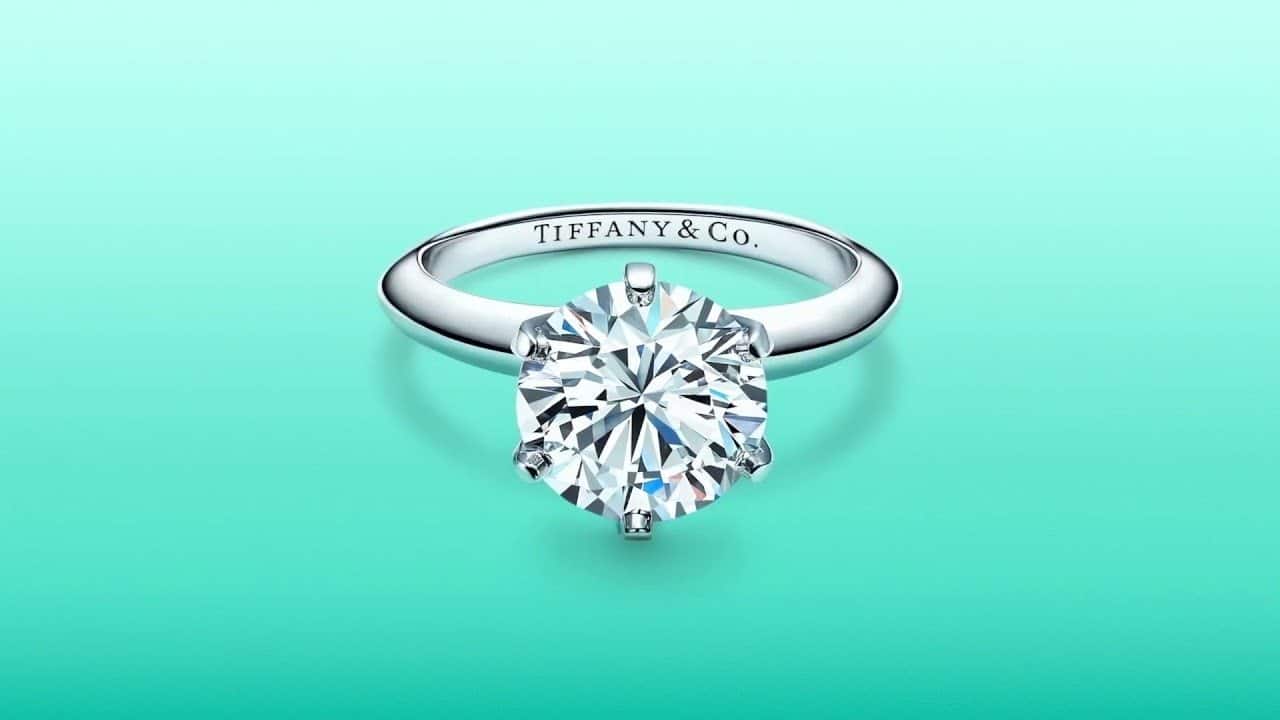 Both James Allen and Tiffany Online jeweler offer an array of different diamonds. With James Allen, you can opt for either classic colorless diamonds, or select amongst their fancy color diamonds, which includes yellow, pink, purple, red, gray, blue, green, orange, brown and black. Tiffany has a lovely selection of yellow diamonds, but at least without a custom order, that is the extent of their colored diamond collection for Tiffany setting options.
Winner: James Allen. This is purely based upon wide selection of inventory, so if you want a colorless diamond or a yellow diamond, either James Allen or Tiffany Online would be a nice pick. If you do want a different fancy color diamond, though you'll have to turn to James Allen over Tiffany Online.
Diamond Sourcing
While many of us understandably focus on what the diamonds look like, as well as their overall value, and the classic characteristics such as cut, carat, and clarity, there actually is something else you might want to consider. Where and how diamonds are sourced has been an area of contention for quite a while.
With lack and oversight, and even sometimes partially with it, some diamond harvesting techniques and practices have been linked to environmental damage, funding of civil wars, unfair labor practices, and even the use of child labor.
Luckily, increased oversight and regulation have cut back on such practices. Still, it's important to look at each company before you consider purchasing if you're looking at buying a diamond engagement ring.
James Allen diamonds are certified conflict-free through the Kimberley Process, which has become a baseline standard to ensure ethical sourcing. Diamonds approved through the Kimberley Process simply means that profits are not used to fund civil wars.
Tiffany Online diamonds does not directly state that their diamonds are certified conflict-free. However, they do source mostly from mines they have relationships with, and state that all mines are dedicated to both social and environmental responsibility, as well as sustainability; the company also provides a map of the different locations where their diamonds are sourced from.
Winner: James Allen. While we love the idea of sourcing diamonds through direct and personal connections with mines, it would be difficult to verify some of the claims Tiffany Online makes. In particular, Tiffany Online states that their diamonds are sourced primarily from mines dedicated to social and environmental responsibility and overall sustainability practices–but there simply is not enough specific information. Plus, unlike James Allen, Tiffany diamonds are not certified conflict-free.
Company Reputation
As we've mentioned, both James Allen and Tiffany are fairly popular when it comes to engagement and wedding rings, and even fine jewelry. But perceived popularity or sales alone doesn't provide a full picture.
On Better Business Bureau, James Allen holds an A-plus rating and had been operating and accredited for 19 years. On WeddingWire, the company holds an average four point eight-star rating out five based on over thirteen hundred reviews; customers gave it a more average three-star rating on Yelp. Users generally report a positive experience.
Tiffany has been in business for nearly two centuries, but obviously Tiffany Online is much newer. The general company has been accredited since 1926, but since Tiffany Online is part of Tiffany and Company, Tiffany online would not have separate accreditation. It also holds an A-plus rating. On Trustpilot, Tiffany holds an average of two stars and just 1.4 stars on Consumer Affairs. Do keep in mind these are reviews for the company as a whole, not just Tiffany Online, and that they are based on far fewer consumer reviews.
Winner: James Allen. Though it seems at face value Tiffany should have a better reputation, Tiffany has a far higher ratio of customer complaints.
Pre-Purchase Previews
If you want to convenience of shopping online but are skittish when it comes to not being able to see the engagement ring you've created, you might want to know what degree of preview you get before you purchase. Tiffany, as also a traditional storefront, offers the options of shopping in person, though it's unclear how much you get to see of a custom ring before you purchase. They offer stock photos to give you an idea online. With James Allen, there are no storefronts. Your option is to take them up on their 30-day return policy, and you get free shipping with it.
Winner: Tiffany Online. While neither James Allen or Tiffany Online offer previews to the degree we might like, with Tiffany, you can visit storefronts; although James Allen does offer a return policy, there's still is a degree of more reassurance with at least having traditional storefronts available.
Other Products
Of course, James Allen and Tiffany Online don't only offer engagement rings. You can also shop wedding rings and fine jewelry. James Allen offers earrings, necklaces, and rings, as well as an option to customize and a nice selection of gemstone engagement rings.
Tiffany Online sells among the same other options, but also pendants and charms. Plus they have a robust selection of luxury jewelry, gifts, and even a line of home accessories. While many of these can be quite expensive, Tiffany offers more variety when it comes to special gifts, but cannot match James Allen in other ways.
Winner: It Depends. If you really want some customized diamond jewelry, James Allen is the better bet. They also offer more in terms of gemstone rings and matching wedding band sets. When it comes to other types of gifts, Tiffany Online in some ways has a more innovative and diverse selection.
The Verdict: Tiffany or James Allen?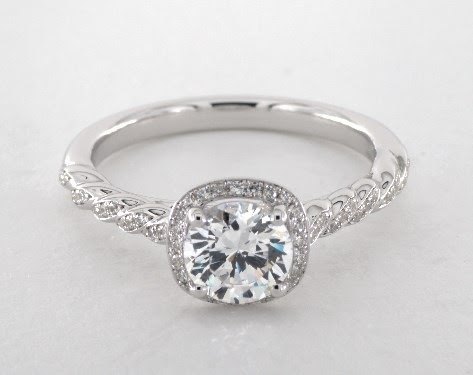 If we had to choose between Tiffany Online and James Allen jeweler….we'd go with James Allen.
Compared side by side, James Allen just offers a lot more for customers looking to purchase an engagement ring online.
While not perfect, James Allen offers more transparency as a jeweler in terms of customization, diamond pricing, customer service and diamond sourcing. You also have a wider selection of both gemstones and diamonds. But the main selling point is ratings overall.
James Allen consistently stands far above Tiffany Online when it comes to customer ratings, and customer service. PLUS, I personally have never been disappointed.
Our Pick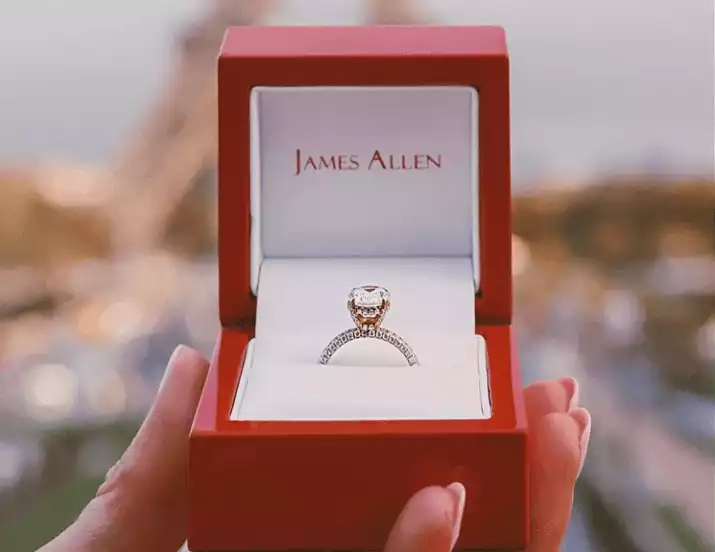 Why I Prefer James Allen
Personally, I love the James Allen 360 degree view customization options. If you want to customize the perfect ring, James Allen is THE best choice with the highest fidelity visuals. Ranked our #1 online jewelry retailer for 2021!
Save BIG With These Deals
We earn a commission if you click this link and make a purchase at no additional cost to you.
Recommended Reads: