Cushion cut engagement ring with halos are gaining in popularity. It's a cut that is vintage with a modern appeal for many women. The cut itself has many benefits. Unlike some other cuts, it doesn't have any sharp edges. The ring itself will not break because of the rounded edges. It's also called a pillow cut since it has those edges that are rounded.
We are delighted to bring our favorite cushion cut engagement rings that are surrounded by a halo of other gems. Cushion cut engagement rings are the perfect shape for a halo. They don't have to be diamonds, either. Many of the choices on this list are not cushion cut diamonds, but unique colors and gemstones that will give her a truly unique engagement ring.
Forever Classic Cushion Cut Moissanite Halo Engagement Ring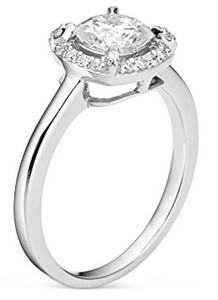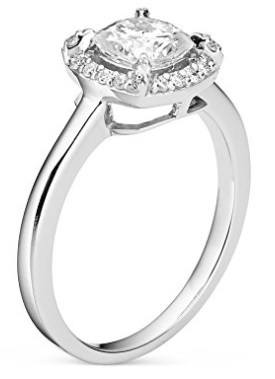 Moissanite is a man-made stone that looks exactly like diamond. It's resilient and has incredible sparkle. Since the Moissanite weighs less than diamond, it's measured in terms of millimeters instead of carats. This halo engagement ring has a main stone of 6 mm by 6 mm and 20 stones surrounding in the halo. The total gem weight of the small stones is 1.03 carats or 1.0 mm for each stone. The lab created diamond has a faint color that allows you to see the wonderful facets of the stone itself. The ring is sterling silver with a plating of platinum for durability and shine. This ring is available in sizes 6 through 9.
---
10k Yellow Gold Cushion Cut Smoky Quartz and Diamond Halo Ring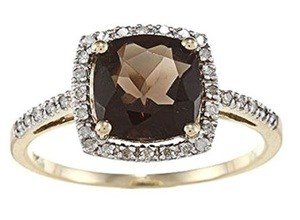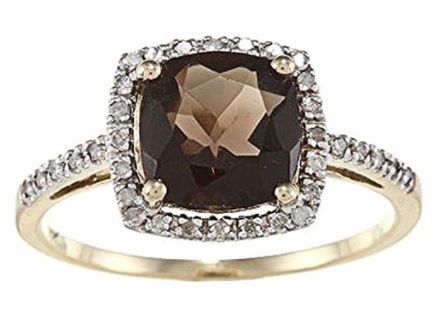 If you're looking for an uncommon engagement ring, this cushion cut halo ring will surprise and delight her. This unique colored gemstone is a smoky quartz. Not all women want a diamond for their engagement ring. They want to be daring and different. The smoky quartz has a clarity of I2-I3 and is natural but heat treated to enhance the color. There are 33 diamonds in this ring with many of them surrounding the quartz in a halo. The diamonds have a minimum color of I-J and clarity of I2-I3. It's available in a range of sizes, and the yellow gold metal means you should be able to have it resized if necessary.
---
Cushion Cut CZ Halo Wedding Ring Set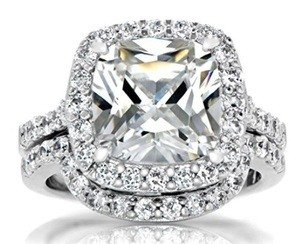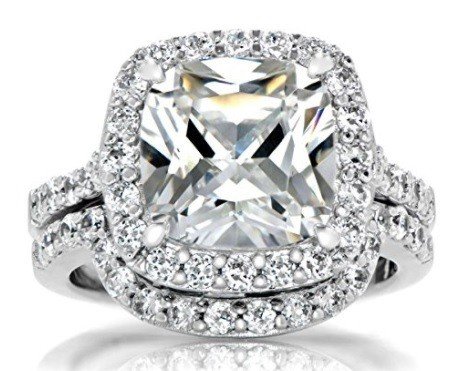 If you and the love of your life plan to do some traveling, this wedding set is a great alternative to spending thousands of dollars and being targeted by thieves. The entire ring has 3.87 carats of cubic Zirconia. The metal is brass but covered with a rhodium electroplating. It's a ring set, so there are two rings that are covered with lovely CZ stones. We love this ring because it's a stunning ring set that you can wear without worry. A cushion cut wedding set encrusted with real diamonds could get lost or stolen. This set is available in sizes 4 through 11.
---
10k Diamond Cushion Halo Engagement Ring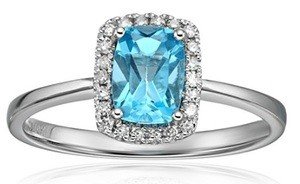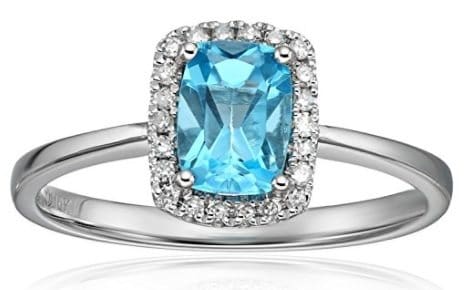 As an engagement ring, this is available in a variety of colors. Not every woman wants a colorless gem like a diamond. You can buy her a blue topaz, tanzanite, opal, garnet, amethyst or aquamarine cushion cut ring with a halo of diamonds. All the stones are surrounded by white diamonds that are H-I in color and have a clarity of I1-I2. There are 23 stones total including the main solitare gem, and it comes in sizes 6 through 8, but can be resized to fit. It comes with a gift box for presenting this to the love of your life.
---
10k Yellow Gold Cushion Cut Citrine and Diamond Halo Ring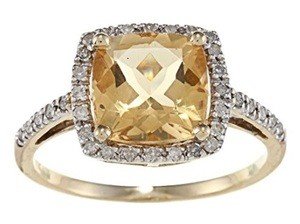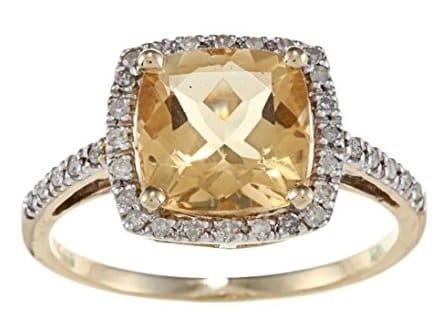 The cushion cut citrine looks like a beautiful canary diamond, and measures 8 mm around. The band of the ring is made of 10k yellow gold, which helps enhance the color of the citrine. The citrine is heat treated to enhance the yellow of the stone, too. The natural, untreated diamonds flow in a halo around the citrine and down the band on each side. There are 33 diamonds in total. They have a minimum color of I-J and a minimum clarity of I2-I3. The ring comes in a few sizes, but it can also be resized since the band is made from 10k yellow gold. The ring comes with a presentation box free of charge. You can immediately give her the ring as soon as you receive it.
---
With the cushion cut stone, the large facets are able to disperse light in a way that doesn't lend itself to a flashy brilliance. It's a great choice for colored stones since the facets will really highlight the colors. Deep, massive stones are perfect for cushion cut engagement rings, which is why we've shown you a variety of stones that are not traditional diamond, colorless, choices. Cushion cut engagement rings with halos are a stunning choice for the love of your life, especially if she loves vintage style.
Recommended Reads: