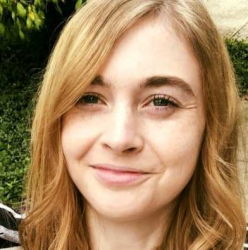 Latest posts by Erin Jamieson
(see all)
Deliberately different. That's how emerging company With Clarity describes its New York-based model for selling diamond engagement ring and wedding rings to a modern consumer base.
With Clarity claims to be among the most innovative and quickest growing companies that allow customers to shop for rings online from the comfort of their homes. That's a hard claim to make–with countless competitors such as Blue Nile, Ritani, Angara, Jared, and even more traditional retailers like Tiffany and Company.
Even as the price of the average ring increased almost fifty eight percent from 2017 to 2018 and continues to rise, there are also signs that customers are pushing back. In 2019, outlets reported that Millenials and Gen Z are more likely to at least express views that spending less makes more sense, bucking trends of the traditional two to three months' salary rule.
With Clarity promises innovative rings and a model in contrast to companies that outsource many of their diamonds. With tech at the center of its mission statement, does With Clarity really stand out from its competitors?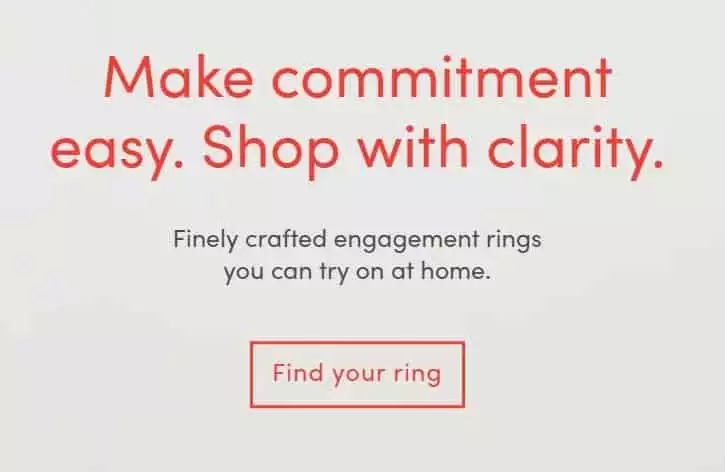 Is With Clarity Worth it?
At first I was a bit skeptical, but after testing it out I'm thoroughly convinced it's the right way to buy high-end jewelry. There's nothing worse than returning the REAL diamond, so try on different styles FIRST before committing.
pick Your Ring Styles
We earn a commission if you click this link and make a purchase at no additional cost to you.
Is With Clarity as innovative as it claims to be?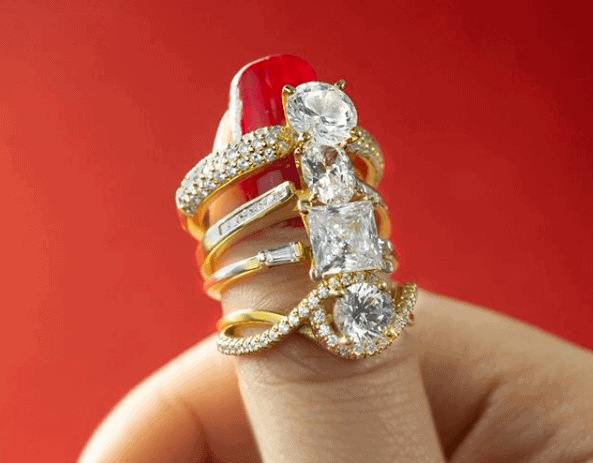 In this review, we'll be investigating a few things.
First, we want to take a look into who's behind With Clarity, the business model, customer service policies, and, of course, the quality of the diamonds being sold. We'll look at whether or not With Clarity is innovative as it claims, and if it means anything for you.
What is the model behind With Clarity?
With Clarity is a unique model that combines a jeweler service with the ability to try rings on at home. Customers select one to two rings and are allowed to try the rings for up to three days. After that period, you make your decision. You also have the option to make adjustments.
If you're wondering if this sounds risky to the company, you won't be receiving the actual ring. Instead, you'll be getting a 3D printed replica of the actual ring, giving off the same experience without the value or risk. Both the metal and diamond simulant is meant to very closely mimic the perfect ring you'll be getting.
Verdict: This innovative model may hold some promise–with caveats. Undoubtedly, this is a more unique model and offers benefits both of shopping online an experience to mimic going to a physical store. 3D printing allowing a replica to be sent is clever, and understandable–but it's up in the air how well you can assess the quality.
What should I know about the quality With Clarity's diamonds and rings?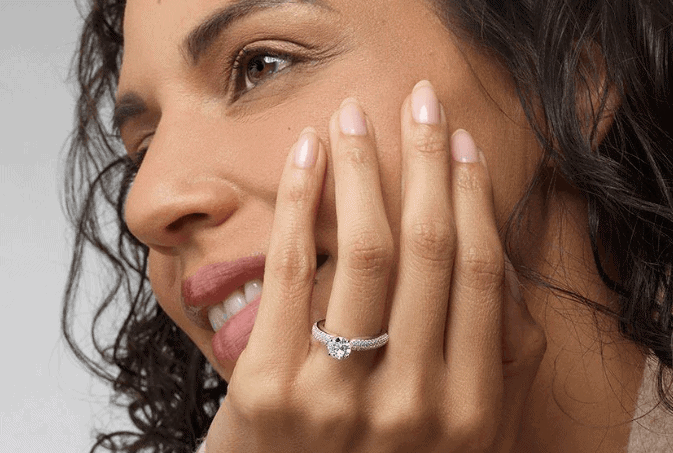 In addition to their hybrid, try at-home model, With Clarity mentions that their lab-grown and natural diamonds are GIA and/or IGI certified, and that customer service is also a priority.
Metals are labeled as "eco-friendly" though not many details are provided.
Diamonds comply with the Kimberley Process, meaning that they are certified conflict-free, and proceeds do not go towards funding civil wars.
Diamonds a from Zimbabwe are limited–a step not all companies take. This is due to consistent reports of human rights abuses. They state they inspect all diamonds for both quality and compliance, though there are also companies that go a step further and do not purchase from Zimbabwe at all.
With Clarity states, it has direct relations with suppliers but also does not provide further information.
Verdict: With Clarity goes beyond minimum engagment ring standards, but doesn't provide as much information as we'd like. Adherence to conflict-free diamonds, connections with suppliers, and safeguards for diamonds from Zimbabwe are all notable benefits. That said, more information about specific suppliers and regions, as well as what safeguards are taken would be ideal. Further, the claim of using environmentally friendly metals needs factual support.
How does With Clarity manage shipping and handling?
Shipping and handling all include insured shipping–an important factor no matter where you shop for a ring online. Shipments can be sent within the United States via FedEx, with a required signature upon delivery.
Two day shipping is free for all engagement ring shipments; there is a twenty-dollar charge for overnight shipping. You can also opt for USPS Priority Mail
Alternative delivery addresses are permitted, as long as you are available to sign upon delivery and confirm the secondary address via email.
Orders are processed within the same business day. Loose diamond selections are shipped with a week, while other jewelry and orders are shipped within twelve business days.
Verdict: There's nothing to dislike about With Clarity's policies, aside from the absence of international shipping. Mostly free, and secure shipping, in addition to established timelines for orders, and even options to have packages shipped to other addresses are all excellent features.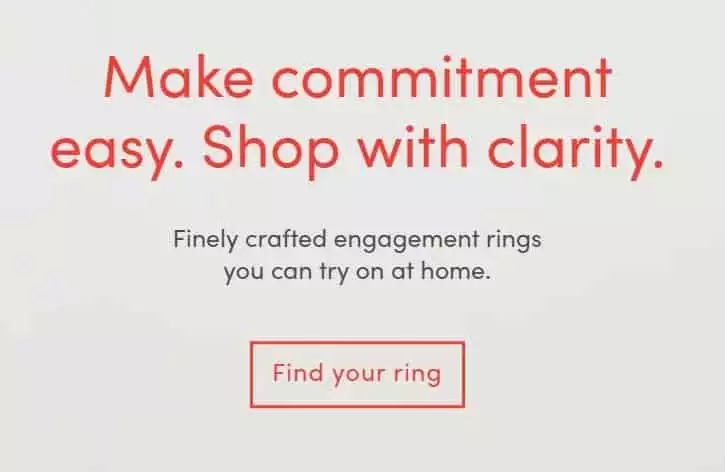 Is With Clarity Worth it?
At first I was a bit skeptical, but after testing it out I'm thoroughly convinced it's the right way to buy high-end jewelry. There's nothing worse than returning the REAL diamond, so try on different styles FIRST before committing.
pick Your Ring Styles
We earn a commission if you click this link and make a purchase at no additional cost to you.
Does With Clarity accepts returns and exchanges?
44
In theory, at least, With Clarity offers a model which reduces the chance you'll want to make a return by allowing you to try a replica at home first. But in the case you are buying in secret for someone and you need to make changes–or the item arrives substandard–then you need to be aware of the exchange and return policy.
Returns are accepted within a 30-day window. This is started on the date of receipt, You can directly call to begin processing a return, especially in the case of shipping delays. However, if you make another purchase in the next six months, that purchase cannot be returned.
Exclusions include upgraded diamond engagement ring options and custom engagement rings. Any damaged products on the customers' end are also excluded
Free shipping is provided for returns. Pre paid postage and shipping insurance will also be included.
An important note is that all returned diamonds must be returned with a GIA certificate; you pay three hundred dollars if not.
Verdict: Return policies are fair, but you must read the fine print. What's admirable about With Clarity policies is that they re upfront and provide details. While you do have to be careful, they are not unreasonable.
Is there any way to contact With Clarity?
You may contact With Clarity via online chat, direct line, or email. The company is headquartered in New York, in the diamond district, but there's no physical address listed. You can find the physical address on the public business listing on the Better Business Bureau.
Verdict: There are ample ways to contact, but it would be nice to have the address readily listed. There's nothing too concerning–not only can you find the physical address publicly listed, but it may be because they operate solely online, with the mail-in replica taking place of something like a physical showroom, as companies like Brilliant Earth have.
What's the selection of engagement rings like at With Clarity?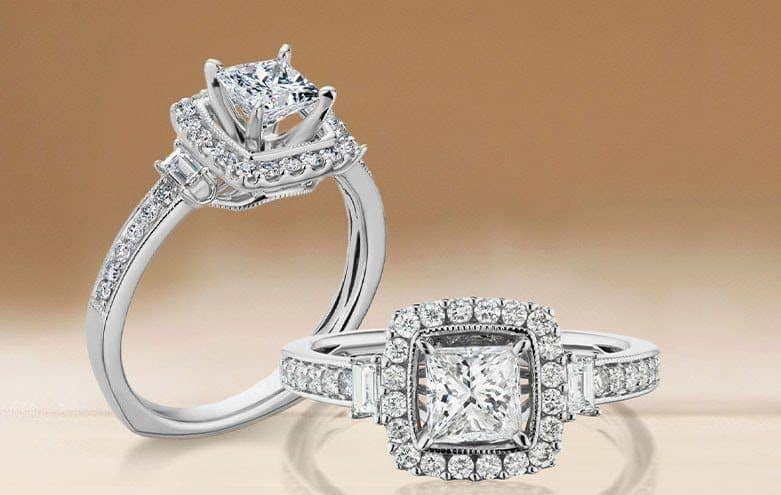 With Clarity allows two options for engagement rings: making one from scratch (custom) or selecting a preset option.
Custom Rings
Under the "Craft a Ring" tab, you'll be directed to a page with a simple layout and easy navigation.
Select from a collection (contemporary; halo; classic; solitaire; three stone), metal type (14K/18K White Gold; 14K/18K Yellow Gold; 14k/18K Rose Gold, or Platinum); and diamond shape (round, princess, cushion, radiant, Asscher, emerald, oval, pear, marquise). You also have the option to filter by natural and lab-grown diamonds.
From there, you can filter by price, carat, cut, color and clarity, so you get precise details as you shop.
Premade Engagement Rings
Premade engagement rings have a few different options. If you're looking for gemstones, you won't find them here; these are exclusively diamond engagement rings.
Four Collections include Aura, Lumina, Adorn, and Flora. These collections blend classic with romantic and beautiful designs. While you could argue that there is some modern appeal to a feel, the themes seem to be more towards classic, timeless, and even vintage options.
Shapes include round, princess, pear, emerald, and oval. You'll still have the ability to filter by price and carat size.
Prices starts at $1,600 and go up to just under seven thousand. There are no extraordinary cheap rings, nor are there many options for rings at "luxury" prices. You can add an engraving to any ring (just keep in mind that then it won't be eligible for a return.
Verdict: Engagement rings appear well crafted, intricate, and classic–but they aren't for everyone. While you won't find an extreme budget ring, prices are reasonable, and there are enough options to satisfy anyone looking for a timeless diamond ring. There are no gemstone options, and fewer shapes and overall options than some competitors. That said, in many ways, these designs seem a bit less cookie-cutter, and it can be easier to shop when not faced with so many options.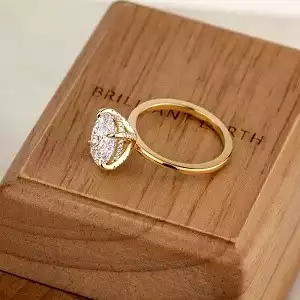 Planning a Proposal?
Make that proposal happen! Get started designing and create an engagement ring as unique as the wearer. To help pull off the perfect engagement, head over to Brilliant Earth's proposal guide.
Check Prices
We earn a commission if you click this link and make a purchase at no additional cost to you.
What wedding rings and other products does With Clarity offer?
With Clarity wedding bands for men and women, as well as loose diamonds.
Women's Wedding Bands are available in plain metal, diamond, and eternity, in the same metal options as you have for engagement rings. Prices start at $350 for a classic solitaire band to a little over $2,500 for a three-stone princess diamond band. As such, the price range is much like what we saw with the engagement rings: there is not an especially inexpensive option, but all fall within a modest range. It's a decent-sized collection, with a tendency towards more classic and understated bands.
Men's Wedding Bands are available in either metal bands or diamond bands. Prices start at $270 for a Classic low dome wedding band to a little over $4,000 for a Channel diamond wedding band.
Loose Diamonds can be purchased as lab-grown or natural. Cuts available include round, princess, cushion, radiant, Asscher, emerald, oval, pear, and marquise. You can sort by color, clarity, price, carat, cut, and filter by price. There's also a direct comparison option for making shopping more intuitive.
Verdict: Options are limited, but it's a nice collection. If you want a wedding band that is strikingly modern or innovative or one with a splash of color, you won't find it here. Nor will you find luxury rings–but the collection is easy to search through, provides information, and makes for a reasonable shopping experience. The biggest drawback is not disclosing the exact origin of natural diamonds.
What do customers think of With Clarity?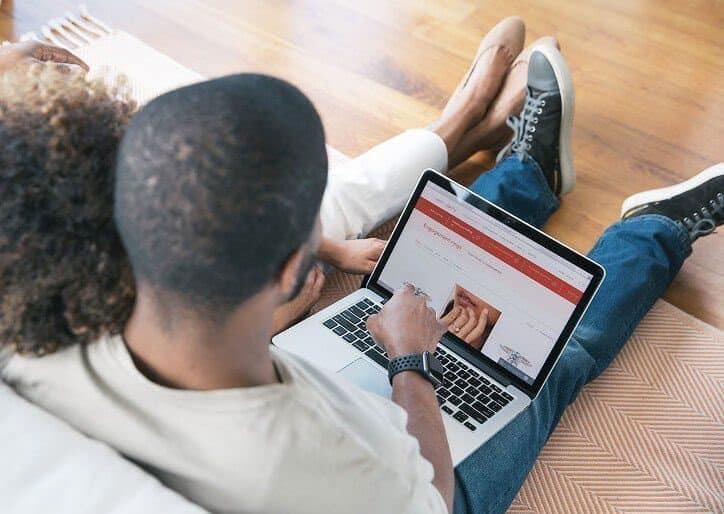 A final, critical part of our review is customer reviews, as well as company reputation. With Clarity has been accredited with the Better Business Bureau since May 2018 and holds an A-plus rating.
On Yelp, With Clarity averages 4.5 out of 5 stars based upon sixty customer reviews, and an even higher average on Wedding Wire (4.9 out of 5 stars, based upon forty-five reviews). Customers highly praised the quality customer support and quick service, as well as the quality of the rings themselves. There were a few negative reviews, though there was no pattern and seemed relatively confined to a certain scenario.
Verdict: Overall, most customers were quite pleased with With Clarity.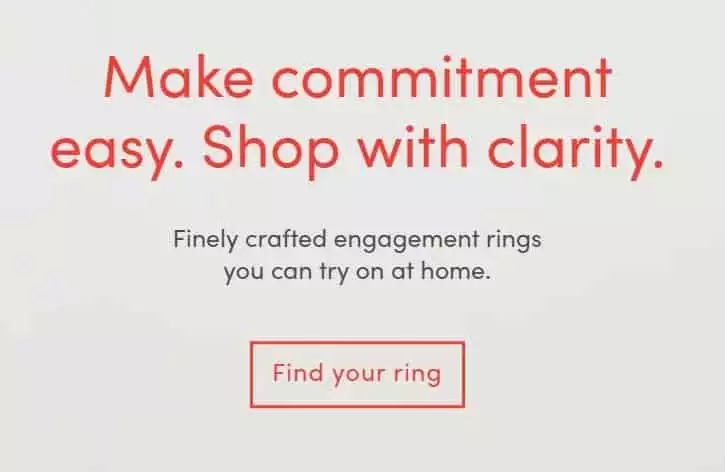 Is With Clarity Worth it?
At first I was a bit skeptical, but after testing it out I'm thoroughly convinced it's the right way to buy high-end jewelry. There's nothing worse than returning the REAL diamond, so try on different styles FIRST before committing.
pick Your Ring Styles
We earn a commission if you click this link and make a purchase at no additional cost to you.
Conclusion: With Clarity Review
If you want an innovative, smaller place to shop for diamond rings, With Clarity, it is a reasonable choice.
While not perfect, you'll have the convenience of trying rings on at home, access to GIA certified conflict-free diamonds, and a collection of classic and timeless lab-grown and natural diamonds. This company may not be for you if you want something more expensive, or if you're looking for a gemstone ring.
Where to Buy: If With Clarity sounds like a good choice for you, you can start shopping on the With Clarity website.
If you are also looking for gemstone rings, check our review on Brilliant Earth or Blue Nile.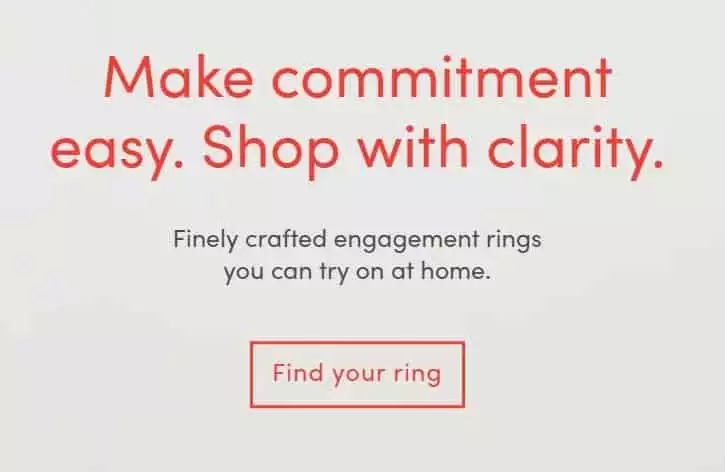 Is With Clarity Worth it?
At first I was a bit skeptical, but after testing it out I'm thoroughly convinced it's the right way to buy high-end jewelry. There's nothing worse than returning the REAL diamond, so try on different styles FIRST before committing.
pick Your Ring Styles
We earn a commission if you click this link and make a purchase at no additional cost to you.
FAQs
Question: What does clarity in rings means?
Answer: Clarity Clarity refers to the degree of inclusions or blemishes and is graded on a scale used by the GIA (Gemological Institute of America) among other professional grading organizations.

The higher the clarity, the greater the value of the diamond, and the fewer imperfections. Natural diamonds have more inclusions and blemishes than lab-created diamonds because they are not in a controlled environment, but there are natural diamonds graded at all levels of clarity. Clarity grading levels are as follows:

– Included (I1, I2, and I3): This is the lowest grade of diamond in terms of clarity. Inclusions can be seen at ten times magnification and can greatly subdue brilliance and overall quality. No diamonds should be sold at this grade.

– Slightly Included (SI1 and SI2): Inclusions can be seen at ten times magnification but are less significant, yet still fairly noticeable.
Very Slightly Included (VS1 and VS2): At very slightly included, inclusions are considered minor and more suited to fine jewelry. Though they can be seen at ten times magnification, they are not substantial.

– Very, Very Slightly Included (VVS1 and VVS2): These clarity grades include diamonds that typically is not noticed by consumers, but can be seen by experts under ten times magnification. Still, some more astute consumers may notice.

– Internally Flawless (IF): Internally flawless diamonds have no inclusions that can be noticed under ten times magnification.

– Flawless (FL): A flawless diamond has no inclusions or blemishes that can be noted. A blemish is a superficial imperfection, while inclusion is an internal imperfection.
Question: Is Clarity important important in a diamond?
Answer: Clarity is one of the 4 C's of diamonds, and thus, it is an important factor to keep in mind, but it is not the only important factor, nor is it necessarily the most important. Some experts suggest that the color grade of the diamond should be considered with as much or more gravity.

Color has an impact on not only the hue, but also how clear a diamond is, and how well light passes through it. Another important factor is cut: brilliant-cut are known to be especially helpful with reflecting light. Taken together, color, cut, clarity, and carat are all important–but a diamond need not be flawless if the other factors are of high quality.
Question: What is the best clarity and color for a diamond?
Answer: The best clarity grade we've already touched upon–it's Flawless, or FL, and tends to be both rare and quite expensive. Color grade, as we mentioned, is important when it comes to the overall appeal of your diamond. For a diamond, aside from rare diamonds and fancy color diamonds, the closer to colorless, the higher the quality and value, from D to Z:

Z: This is considered the least desirable and is yellow to brown.
D: The most desired and most expensive, these are considered colorless.

Most diamonds on the market will fall somewhere between these; refer to the chart above.
Question: Is K color diamond bad?
Answer: Referring to the GIA scale above, a diamond with a K grade is the palest within the faint category–just before the "near-colorless" options.

That said, more respected and higher-end diamond sellers tend to sell K grade and above, so these will often be the 'least desired' of a higher-end jeweler. A K grade is considered acceptable but not as desirable as most diamonds on the market.
Question: Are clarity enhanced diamonds real?
Answer: Clarity enhanced diamonds is a term that some may not be familiar with. Essentially, a clarity enhanced diamond is simply a natural, mined diamond that's been treated to reduce the number of imperfections.

This common practice involved a microscopic laser to remove inclusions and smooth discoloration. In some cases, the same technology is used to heal fractures.