Latest posts by Jeanette Kierstead
(see all)
The Marquise cut, also known as the Navette, resembles the hull of a ship. This is why it's known as the Navette cut, or "little boat". This beautiful elongated cut makes a smaller diamond look quite large. For the money, you're getting an elegant navette diamond ring that looks larger than other diamonds of similar weight.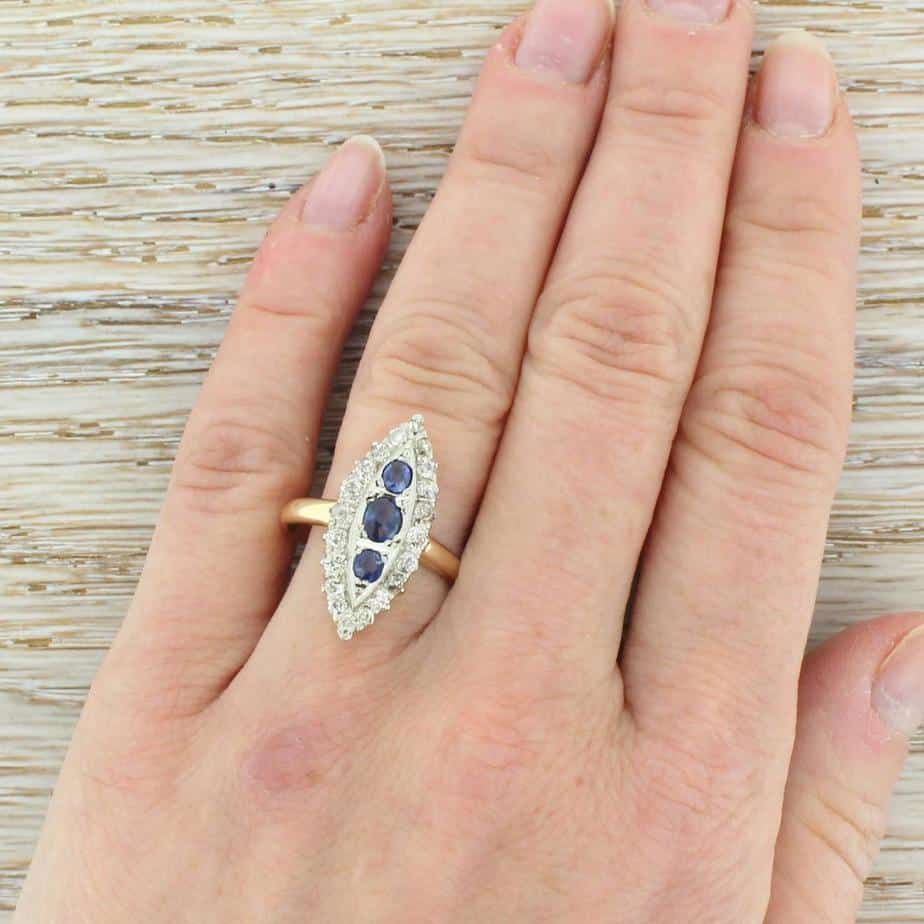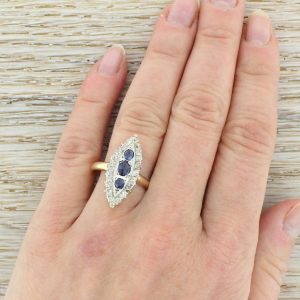 Marquise Diamond Ring Fun Facts:
King Louis XV had the diamond created to match the shape of his mistress's lips.
The shape of the stone can make the finger look elongated and elegant. It flatters many women.
Our Top 7 Navette Diamond Rings
Simple Elegance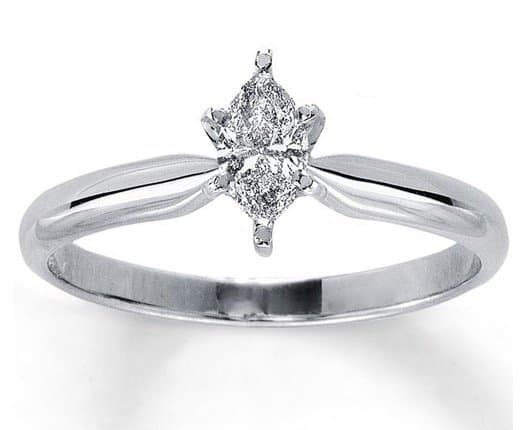 Pompeii3 has this simple, solitaire white navette diamond ring for the woman who doesn't need a cluster of diamonds to make her feel special. It's 0.25 carats in a Marquise shape set in white gold. The diamond isn't enhanced, and is available in I2-I3 clarity. A woman who likes simple gestures of quiet love will adore this ring. It's available in sizes 4 through 10, so it'll fit many women. Even though it's not a full carat diamond, the shape of the Marquise makes it seem larger.
---
Dark Refinement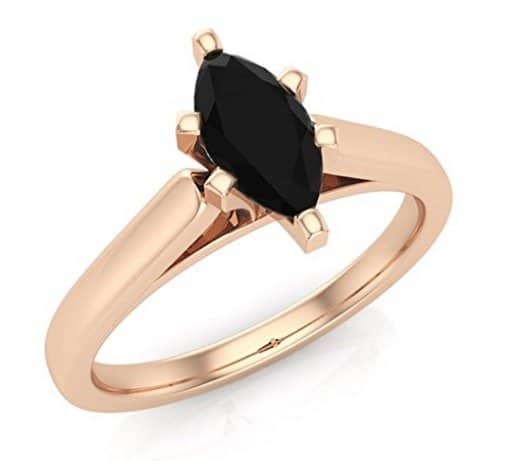 This rose-gold marquise diamond ring lovingly holds a black diamond of 3/4 carat. The setting is a cathedral style with 6 prongs to hold it firmly in place. The solitaire is a simple style, but the dark diamond gives it drama and style. The black diamond is a natural, mined precious stone, and the 14k gold band is a comfort fit. If your intended is a woman with a wild side, she'll love the drama of the black diamond with its rose-gold band. It's also available in yellow gold and white gold.
---
Engagement and Wedding Bliss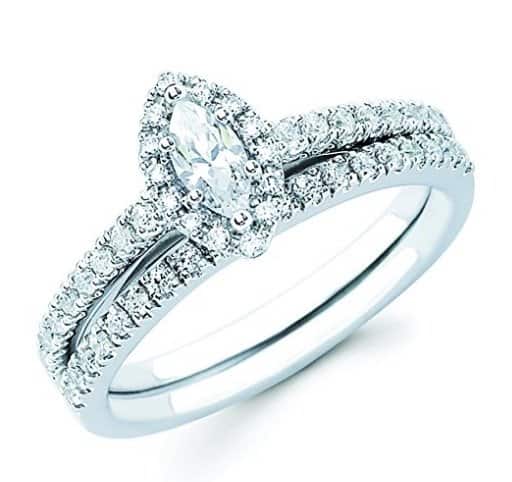 This marquise engagement ring set from Boston Bay Diamonds has a 1/4 carat Navette diamond ring in the center of a halo. The halo diamonds total 1/4 carat. A total of 1/6 carat total weight diamonds flow halfway down the bands. This amazing wedding ring set has an H1 center stone with the surrounding diamonds SI1 – SI2. It's available in half sizes from 5 to 9 to fit many women. Once she says, "I do," you'll be able to slip the second ring on her finger and call her your wife with this stunning diamond ring set.
---
Black and White Glitz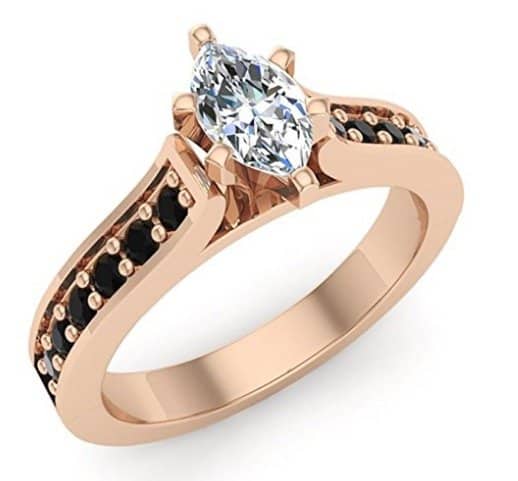 This Glitz Design engagement ring has a cathedral design Marquise diamond weighing almost 0.42 carats. Down the sides of the band are 12 brilliant black diamonds, which brings the entire weight of the diamond between 3/4 and 0.78 carats. All the diamonds are genuine, natural stones. The ring measures 21.5 mm in diameter, 26 mm in height, 21.5 mm in length, and 6 mm in width. The band is available in 14k rose-gold, white-gold or yellow-gold depending on your lady's preference. It's available in half sizes from 4 to 9, too.
---
Channels of Diamonds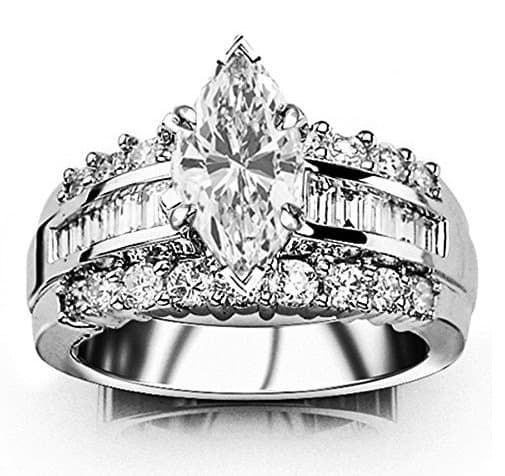 The Houston Diamond District has a unique 1.6 carat total weight engagement ring with a Navette cut, a channel of baguettes and round diamonds extending away from the middle solitaire. All of the diamonds are natural and not treated in anyway. The band itself comes in 14k white gold, yellow gold, rose gold, or platinum. It's available in sizes from 3 to 11 including half sizes. The diamonds are all G-H for color and VS1-VS2 for clarity. The ring has a width of 0.40 inches.
---
A Rose Full of Diamonds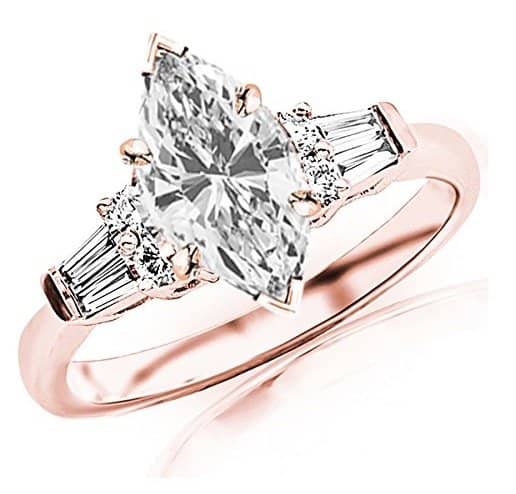 This 14k rose-gold ring has a total amount of 1.1 carat total weight. The massive Marquise cut diamond in the middle is stunning along with the round diamonds on the sides into baguettes trailing down the band. Whether she loves Marquise, round or baguette diamonds, it's all available in this incredibly beautiful ring. The color of the diamonds range from I-J while the clarity is VS1-VS2. All the diamonds are 100% natural and untreated. The ring is available in platinum, white gold, and yellow gold in sizes 4 – 9 with half sizes, too.
---
The Infinity of Your Love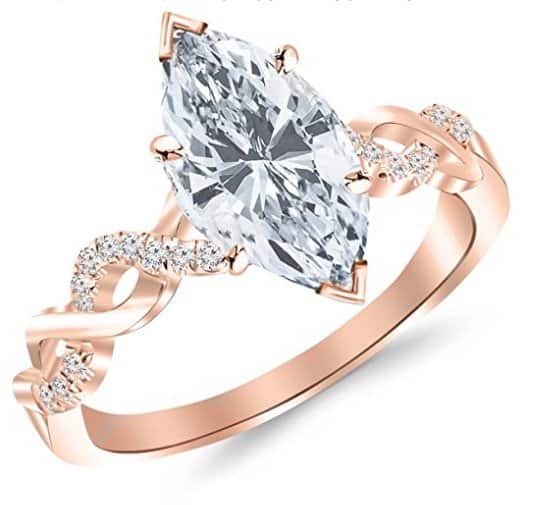 This beautiful, twisting infinity ring features a split shank shaped in an infinity symbol that will speak of your neverending love for her. The Marquise cut diamond in the center is 0.61 carat in F color and SI2 clarity. A string of pave diamonds trails down one side of the infinity symbol on the shank of the ring. This ring is presented by the Houston Diamond District and totals 0.74 total carat weight. It comes in rose-gold, white gold, and yellow gold. Sizes range from 4 – 9 with half sizes available, too. All diamonds from Houston Diamond District are natural and untreated. When you propose with a diamond full of symbolism speaking of your undying love for her, there's no way she could say no.
---
Navette Diamond Rings – Final Thoughts
The Navette or Marquise Diamong Ring is one that will show her how much you love her. Whether she wants a fancy diamond or one that's elegant in its simplicity, the Marquise cut will never disappoint.