Latest posts by Jeanette Kierstead
(see all)
Stackable rings are a great way to create a unique, stylish look all your own. Recently, we talked about stackable rings under 100 bucks, but today, we're going to cover beautiful stackable rings that have gemstones in them for under $200. Stackable rings have an advantage over other kinds of rings because you can mix and match the metals and styles.
#1 – Hammered Band with Diamond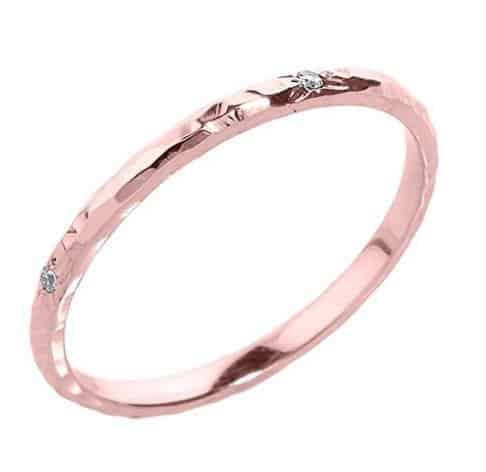 This slim rose-gold stackable ring has beautiful diamonds on 4 sides. The diamonds are a total weight of 0.025 carats. They're untreated, natural white diamonds. They have a minimum clarity of I1 – I2, and a minimum color of J – K. The interior of the band is stamped with 10k meaning the band itself is created with 10k rose-gold. It measures 2 mm in width and has sizes from 4 to 12. The smaller sizes mean you can choose this as a knuckle ring if you have no more room on your fingers for this beauty.
---
#2 – Gemstone Quartet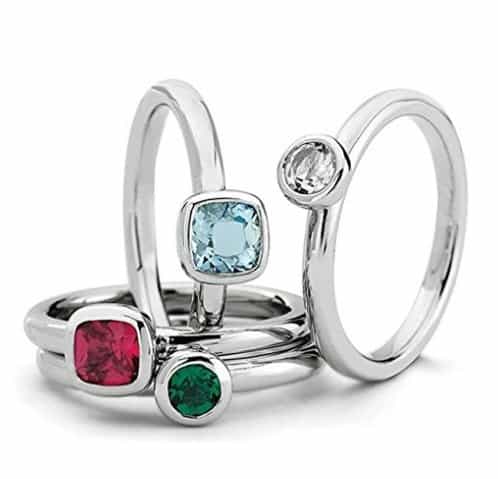 This group of rings has a total gemstone weight of 1.85 carats. These rings are sterling silver with a tarnish-resistant rhodium plate finish. The four gems are a cushion-cut ruby, a round white topaz, a cushion-cut blue topaz and a round emerald. The blue and white topaz are genuine, but they are heat treated to give them a richer color. The emerald and ruby are lab created. Each gem is in a bezel setting. When stacked together, the four rings measure 9 mm in width. The rings come in 5 to 10 for many different sizes of women.
---
#3 – White Gold Diamond Band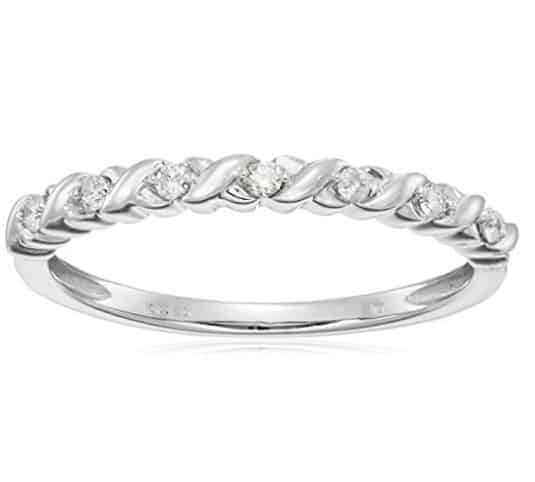 The 10k white gold band is thin enough for stacking with other rings. The twisted band on the upper side of the ring along with the diamonds create an x and o pattern that is quite subtle. The diamonds are round cut of I2 – I3 and a minimum color of IJ. The natural diamonds are in a prong setting on a ring that measures 1.45 mm in width. The ring comes in a size 5 to a size 7, and is able to be resized.
---
#4 – Stackable Silver with Tourmaline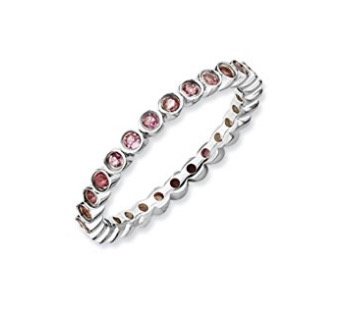 The stackable ring from Stackable Expressions measures 2.25 mm wide and is set with pink tourmaline gemstones. The entire carat weight of the stones depends on the size. The size 7 ring has .46 carats of total weight tourmaline. The band is sterling silver with rhodium plating. It's available in sizes 5 through 10. The band itself is stamped with 925 sterling on the interior. This is a great ring for anyone born in October since this is their official birthstone.
---
#5 – Sterling Silver Stackable Rings Set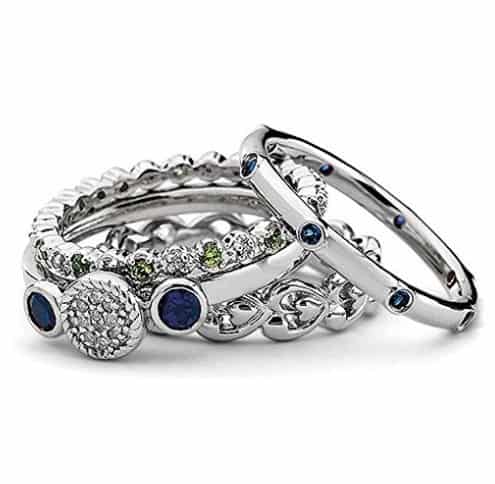 There are 4 rings in this set of stackable fashion rings from Stackable Expressions. The total combined width of these rings is 11.25 mm. The rings are sterling silver with rhodium plating to keep them protected. There's one ring featuring a diamond, another has a peridot, the third ring has a diamond and a sapphire and the fourth ring has silver hearts and sapphires. The diamond and peridot are natural stones while the sapphires are natural, irradiated gems. The total gem weight is 0.53 carats. The rings are available in sizes 5 through 10.
---
#6 – Trio Heart Ring Set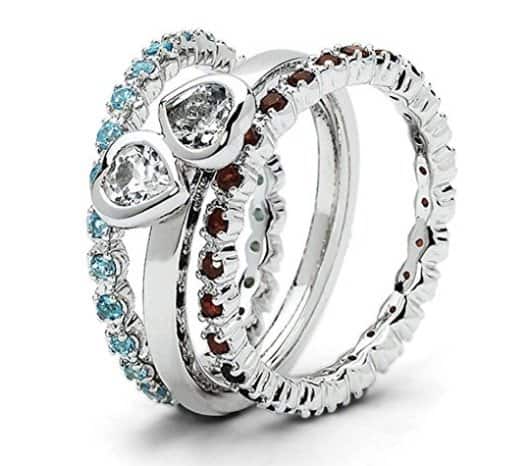 The trio of sterling silver rings are rhodium-plated with a highly polished sheen. The gems are blue topaz, white topaz and garnet. The gems are a combined weight of 1.54 carats. That weight is based on the size 7 ring. The combined width of the rings are 6.75 mm. The blue topaz gemstones and the garnets circle eternity bands. The white topaz is in the shape of double hearts. They can be stacked in any order you like. They range from size 5 to 10, so they can be worn on any finger and combined with other stackable rings.
---
#7 – Diamond Stackable Bow Rings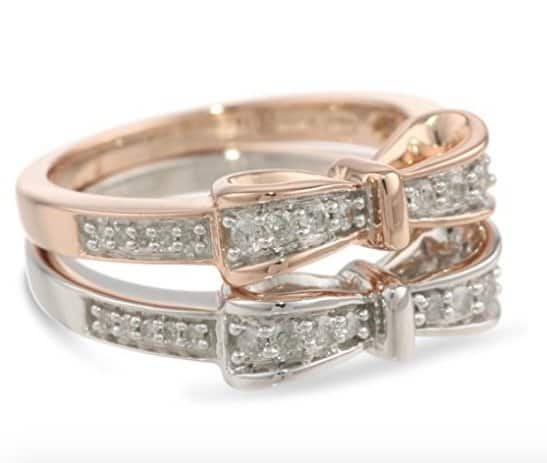 This set of two bow rings are rose-gold and sterling silver. They have 1/3 total carat weight of diamonds. The color and clarity are a minimum of I – J color and I3 clarity. The diamonds are set in a channel along the band of the ring as well as the diamond shape on the top. The sterling silver is stamped with 925 and the metal on the rings weighs 5.75 grams. You can stack these rings together or give one to a friend. They're easily stackable with other slim rings, too.
---
The stackable rings on this list have beautiful gemstones and unique designs that will allow you to exchange and interchange rings from different sets. When you switch these rings, you're creating a style that is unique and personalized just for you. You might even trade rings with your friends occasionally to give yourself some variety in gemstones and styles.