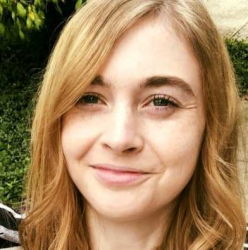 Latest posts by Erin Jamieson
(see all)
The wedding industry has shifted during the pandemic – and that comes to trends as specific heart-shaped diamond rings.
As someone who's written for the bridal industry, I was interested to see what changes might happen. The wedding industry, which is reported to be worth $73 billion, is always interesting to watch. Some of the changes, reported by the Seattle Times, are ones that are easy to predict.
For instance, several tiered cakes are being swapped in favor of more modest cakes – likely due to both changes in restrictions for social gatherings and more scaled back weddings altogether. Another trend? More and more brides are open to searching for the best places to find wedding dresses online, as opposed to in-person shopping.
But even though couples may have less to spend, that doesn't mean that they aren't spending at all. In fact, for many who had to postpone their wedding, funds are being transferred.
Instead of focusing on spending most of their money on a lavish wedding ceremony and reception, couples are increasingly investing more instead on small plate dishes and more expensive diamond engagement rings.
In fact, Signet Jewelers, the parent company of Kay, Zales, Jared, James Allen, and other popular jewelry designers has seen a shift not only in how much couples are spending on rings but even in style. The quickest in accelerating demand engagement rings now? What they call novelty, or unique shapes – including heart-shaped diamond rings.
In this article, I'll explain the difference between diamond cut vs shape, how to select the best heart-shaped diamond ring, and my ideas for the best heart-shaped diamond rings you can buy online now.
What is the difference between diamond cut vs diamond shape?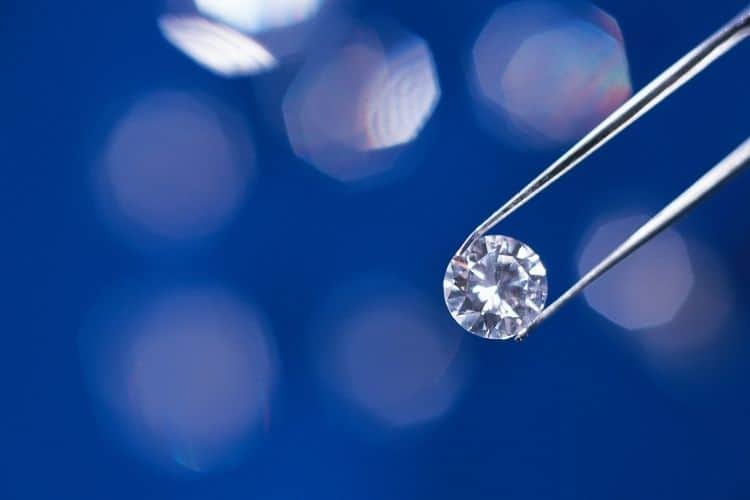 Diamond cut and diamond shape are two important – but distinct factors – that you should consider when searching for the best diamond engagement ring, no matter your budget and no matter if you prefer a modern look or even something like art nouveau engagement rings. Often confused with one another, diamond cut and diamond shape will also play a role in how much the completed engagement ring will cost.
Diamond Cut
Diamond cut is considered one of the most important factors in determining a diamond's value, alongside clarity, color and carat. A diamond's cut, of these four critical factors, will have the greatest impact on the scintillation, or amount of sparkle radiating from the diamond as sunlight strikes.
In other words, diamond cut measures how light is reflected or absorbed by a diamond, and is influenced by the various facets to a diamond cut, including symmetry and the surface of each of the diamond's facets.
Generally speaking, diamond cut is rated on a scale including: Poor and Fair (which is not sold by reputable jewelry stores); followed by Good, Very Good, and Ideal.
There are a few companies, including Blue Nile, that are said to optimize light reflection above ideal cut. Aside from the above ideal declaration, diamond cuts are graded officially by the Gem Institute of America.
What is the best cut for a diamond?
The best cut for a diamond is one that exhibits the greatest degree of brilliance. An ideal cut, according to the GIA scale, is the best cut. The closer to ideal the cut, the more expensive the diamond will generally be. Ideal and brilliant cuts sparkle the most.
What is the rarest diamond cut?
The most rare diamond cuts include asprey, or cushion cuts, eighty-eight cuts, royal asscher cuts, and jubilee cuts. These are harder to find, but not necessarily preferred.
Diamond Shape
Diamond shape, on the other hand, is not considered one of the 4 C's of diamonds, and comes down a little more to style preference – though there are pros and cons to different diamond shapes.
Shape instead refers to the actual shape – as classified under geometric shapes – that the diamond is. Diamond shape and cut do go hand in hand in determining the level of brilliance, to a degree.
What is the best shape for a diamond?
The best shape for a diamond depends on what you're looking for. The most popular diamond shape for the greatest level of brilliance is a round cut. That said, round cut diamonds, by nature, tend to be the most expensive diamond shape, and are less distinct or unique than other, or fancy cut, diamonds.
By opting for a heart-shaped diamond over a round shaped diamond, you're sacrificing a little bit of brilliance, but you're also getting a more unique style and potentially excellent ring.
Are heart-shaped diamonds more expensive?
Compared with round and ideal cut diamonds, heart-shaped diamonds tend to be less expensive. However, when compared to other fancy cut shaped diamonds, they are a bit more expensive, in part because heart-shaped diamonds are rarer – and those, all that much more unique.
Heart-shaped diamonds are worth an average of $900 to $1200 for a half-carat. While some new to the trend may worry that heart-shaped diamonds could be seen as tacky, heart-shaped diamonds actually can make for beautiful and unique engagement rings.
If you're still on the fence, consider the meaning behind a heart-shaped engagement ring. As far back as the 16th century, a heart-shaped diamond engagement ring has come to symbolize a deep and lasting connection.
Though not the cheapest of diamond shapes, the heart-shaped diamond is a great option if you want a one of a kind engagement ring that is still meaningful and can suit a variety of styles.
How do I find the best heart-shaped diamond?
Now that you know the key differences between diamond cut and shape, I'll provide a few ways you can identify the best heart-shaped diamond rings – and hopefully give you some ideas to inspire your own search. All of these criteria can help you navigate the ever-shifting world of countless online diamond sellers.
Carat Size
Carat size, as one of the 4 C's for selecting a diamond, of course, needs to be a consideration. While my personal taste is actually more modest carat sizes, for a heart-shaped diamond, you may actually be better going for a slightly larger carat size than you originally intended.
Heart-shaped diamonds, compared to other diamond shapes, tend to have less fire and scintillation, especially at a smaller size – due to a more narrow shape. I recommend aiming for a heart-shaped diamond of no less than a half-carat, with one carat being ideal if it fits your budget.
Color
Color greatly determines the diamond's overall value and beauty, no matter if you're opting for a heart-shaped diamond or a pear-shaped diamond, or even a brilliant cut. Diamond colors are officially graded on a scale of Z to D, with D being the least desirable and the darkest, to D indicating the ideal, colorless hue.
D, E, and F graded diamonds are all considered to be in a reasonable color range. The only exception to this grading is fancy colored diamonds, which are rarer and quite expensive. For your heart-shaped diamond, aim for color of no lower than F, but preferably D or E.
Clarity
Clarity is always important when selecting even the best loose diamonds, but it's even more so when opting for a heart-shaped diamond. Clarity, also determined by the GIA as is the color and cut of a diamond, measures the number of imperfections, or inclusions, on a natural diamond's surface.
From scratches to blemishes and discoloration, diamonds with a low level of clarity will be far less brilliant and transparent. Diamonds are typically sold from slightly included (S ratings) through FL, which indicates a flawless diamond. Aim for very slightly, very very slightly, or nearly flawless diamonds if you're buying natural.
Diamond Cleft
Diamond cleft is something you may not think of, but something I encourage you to ask about if you're opting for a heart-shaped diamond. Though it'll be hard to tell on your own, the jewelry should be able to answer your questions. The cleft must be symmetrical, meaning that the diamond halves are identical. In addition, heart-shaped diamonds should include loves that are distinct and form a v-shape.
Ring Style & Metal Types
The good news about the heart-shaped diamond trend is that there are many style possibilities. The most popular ways to buy heart-shaped diamond rings include three stone, solitaire, side stone, and vintage themed engagement rings. Heart-shaped diamonds can look updated, but learn towards modem and vintage styles. They are beautiful in rose gold, yellow gold, white gold and platinum.
If you want the focus to be on the heart-shaped, you may consider a solitaire style. If you want more brilliance, on the other hand, adding side tones can enhance the overall appeal.
Where to Buy Online
If you're thinking of at least shopping for a heart-shaped diamond ring online but have some trepidation about it, I don't blame you. It's true that there are some less reputable sellers, and for an investment important as a ring, you need to feel confident in your choice.
Aim to never buy from a business that has lower than a B+ rating from the BBB; no lower than an average of 3 out of 5 stars for external reviews, and is fully transparent about its products.
Natural diamonds should always come with a complimentary report from the GIA or AGS. Lab-grown diamonds should be specified as so – and you need to distinguish between diamonds vs diamond stimulants (which are far cheaper but not valuable and don't last well).
All diamonds should specify color, clarity, cut, spes and carat before you buy. If you opt for a natural diamond, make sure the company follows the Kimberley Process, the basic requirements to ensure that the diamonds aren't financing civil wars.
Heart-Shaped Diamond Rings: My ideas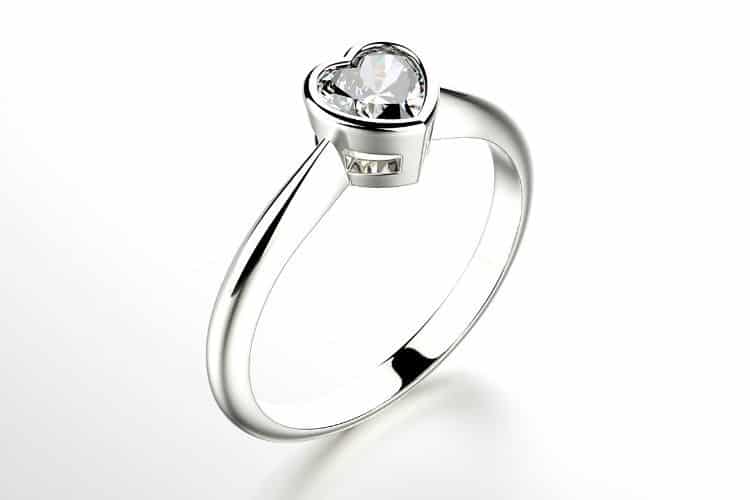 Now that I've shared how to find the best heart-shaped diamond rings- and tips for some desired styles, here are a few of my picks for favorite heart-shaped diamond rings you can buy now – perhaps as great ideas for yourself, partner, or at least ways to inspire you to come up with your own ideas.
Create Your Own Engagement Ring
Heart-shaped diamond rings are rarer – which means you may have fewer options. If you're struggling to find a heart-shaped ring, or even want a truly one of a kind option, I recommend building your own heart-shaped ring, which you can do through Brilliant Earth.
Brilliant Earth diamonds are also eco-friendly and responsibly sourced. After you select a heart-shaped diamond, you can then filter by carat, color, cut, and clarity, as well as price and metal type. Create Your Brilliant Earth Heart Shaped Ring Here.
Premade Heart Shaped Rings
Your other option, of course, is to buy a premade heart-shaped engagement ring, and luckily there are some great options, from Brilliant Earth to Kay, Angara, Hared and more. Here are just a few of my favorites, at relatively affordable prices.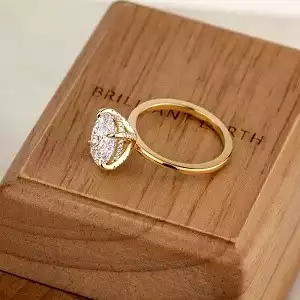 Planning a Proposal?
Make that proposal happen! Get started designing and create an engagement ring as unique as the wearer. To help pull off the perfect engagement, head over to Brilliant Earth's proposal guide.
Check Prices
We earn a commission if you click this link and make a purchase at no additional cost to you.
Under $7K
Ellora Diamond Engagement Ring with0.75 Carat Heart Diamond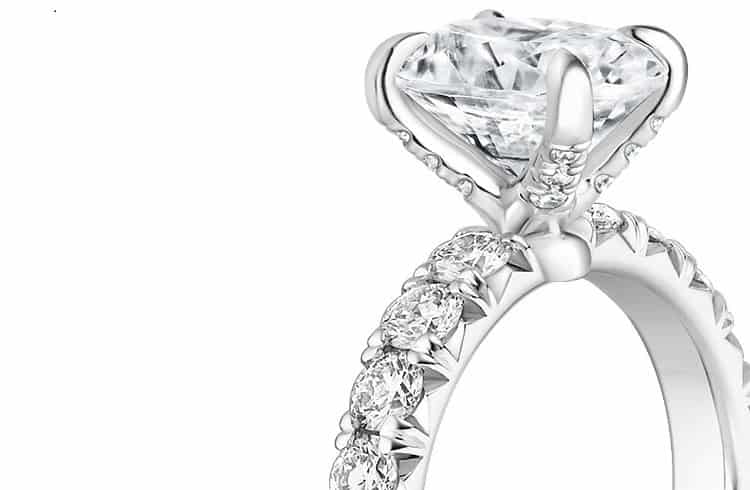 From Brilliant Earth comes an exquisite heart-shaped diamond ring for someone who wants modern glamour. The heart-shaped, 0.75 carat diamond of the highest quality color, VS1 clarity and ideal cut shines with a thick band of smaller diamonds and a design that looks suited for a classic modern look. Buy Here.
Under $6K
Poppy Halo Diamond Engagement Ring

This stunning and modern forward ring from Brilliant Earth retails for just over $5,000 and features a 0.75-carat heart-shaped diamond center with a D color, VS1 clarity and ideal cut.
Set on platinum, this exquisite ring features smaller diamonds around the band for optimal brilliance at a reasonable price – great if you're focused on overall fire and reflection. Buy Here.
Demi Diamond Engagement Ring (1/3 ct. tw.) with 0.75 Carat Heart Diamond
With a bigger focus on the heart-shaped diamond but still exhibiting the glamour of diamonds around the elegant band, this diamond engagement ring, also from Brilliant Earth, straddles a classic and styled look, with a 0.75-carat diamond center with ideal cit, VS1 clarity, and D color. Buy Here.
Under $4K
Kay Diamond Engagement Ring 1/2 ct tw Heart-Shaped 14K White Gold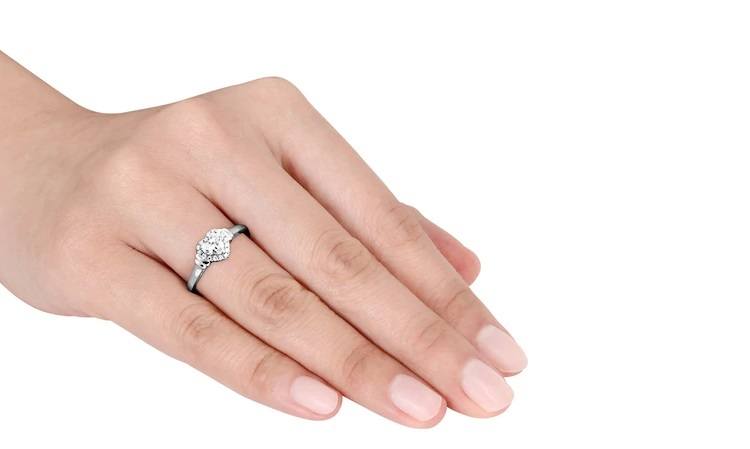 This simply elegant engagement ring from Kay comes in at just over two thousand dollars and places the central focus on the .5 carat heart-shaped diamond, set on beautiful 14K white gold.
Small round diamonds are subtle additions of brilliance to the heart-shaped, brilliant cut diamond, with a structure of vertical ribbons to capture light. Buy Here.
Jared Diamond Engagement Ring 1/2 ct tw Heart-Shaped 14K White Gold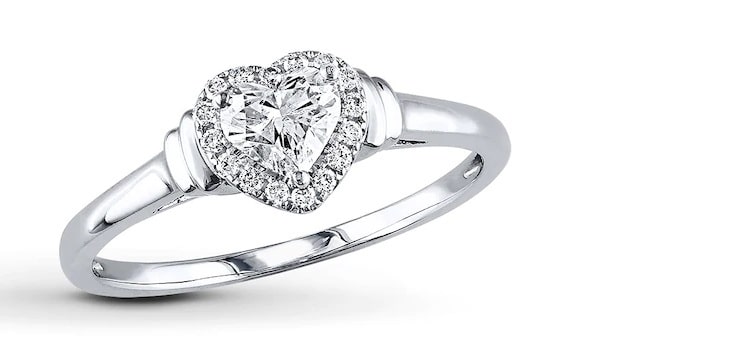 Another affordable heart-shaped diamond ring idea, this ring comes from Jared's Now & Forever® Bridal Collection and stuns with vertical center ribbons, and 14K white gold band, and delicate diamonds along with the center heart diamond, which comes with a lifetime warranty. Buy Here.
James Allen Heart Shaped Solitaire Engagement Ring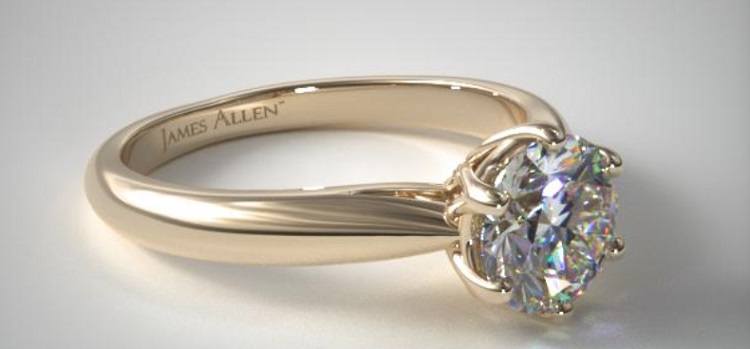 James Allen offers a beautiful more minimalistic take that is one of my favorite options for someone looking for an elegant design and all eyes to be on the heart-shaped diamond. A modern tulip engagement ring style is set on 14K yellow gold, certified by the GIA. Buy Here.
James Allen Heart Shaped Knife Edge Ring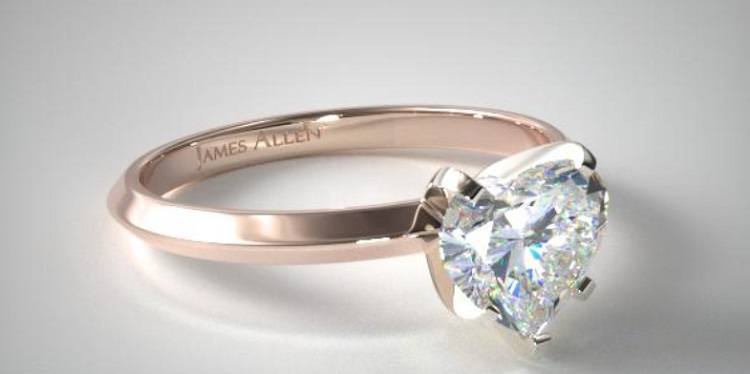 Available in rose gold, this ring would suit even more vintage styles, with a unique knife-edge design and beautiful metal to enhance the beauty of the 1-carat heart-shaped diamond. Priced at under $2,500, it is a beautiful look at a reasonable price. Buy Here.
Frequently Asked Questions
Question: Are heart-shaped diamonds tacky?
Answer: While heart-shaped diamonds may not be for everyone, they are not considered tacky. In fact, they symbolize long-lasting love. Heart-shaped diamonds are also a great option for unique rings, whether you're shopping for a modern or vintage ring look.
Question: How can you tell that a diamond is real?
Answer: All real diamonds vs diamond simulants, should come with officially grading for color, cut, and carat. A real diamond will also sink to the bottom of the water. Diamond simulants/ alternatives may float instead.
Final Thoughts
Though not as conventional, a heart-shaped diamond ring can make for a unique look and stand out. The heart shape is a beautiful symbol and offers a unique beauty of its own.
Not sold on diamonds or looking for more affordable options? See if moissanite or cubic zirconia is a good alternative for you.