Latest posts by Jeanette Kierstead
(see all)
If even the idea of spending thousands of dollars on a wedding dress has you cringing and rethinking the whole ceremony, you don't have to fret any longer. And you can cancel your plans to elope to the nearest city hall. You can get an affordable dress by shopping online. There are plenty of places where you can get stunning dresses for a fraction of the price you'd spend in bridal boutiques.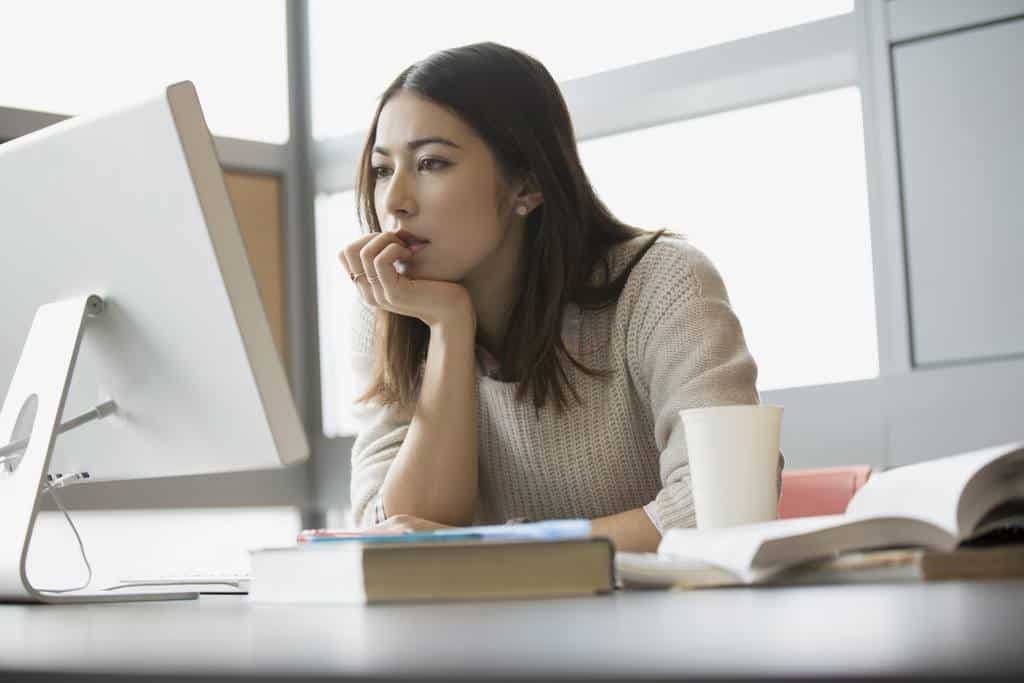 Along with spending a fraction of the costs, you'll spend a fraction of the time searching for a bridal gown, too. Instead of driving to dozens of boutiques and bridal barns, you can pick a stunning dress online while getting the dress for your reception, your wedding shoes, and your bridal jewelry set, too.

So Where to Order the Dress?
Known for its elegant and romantic designs, BHLDN offers a wide range of dresses and attire for brides, bridesmaids, and wedding guests. Ordering a dress online from BHLDN comes with several advantages and reasons why it may be a preferred option.
Check BHLDN Collection at Anthropologie
We earn a commission if you click this link and make a purchase at no additional cost to you.
You definitely don't want to head to Google and search for wedding dresses. You'll end up with a poorly made knock-off designer gown from a third-world country. Instead, we've gathered a list of some of the best places to buy a wedding dress online along with some of our reasons for choosing them.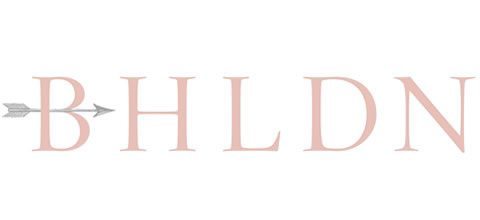 While some bridal shops specialize in traditional, modern shapes and designs, others are able to appeal to a different audience. You might not want a princess ball gown because you have no desire to be Cinderella swept off her feet by a prince.
If you like a vintage, romantic Bohemian style, BHLDN has exactly what you are looking for in a wedding dress. They have lace gowns that were inspired by lace makers of the 19th century. The styles and colors lean towards vintage and lace and romance. They're the kind of dresses you can wear for your destination beach wedding while barefoot in the sand.
The dresses range in price from approximately $200 and up, which gives you a lot of room in your budget for a beautiful wedding dress.
Our Romantic Dress Pick from BHLDN
---

Most brides have heard about David's Bridal, but not many think to shop online. You can easily get a designer gown from a well-known like Vera Wang or Oleg Cassini for under $1,000. In fact, you can take advantage of clearance sales online that will give you immediate savings of almost 60% off the ticket price for many styles.
Side Note: Another advantage of David's Bridal is that you can easily get all of your bridesmaids dresses planned, fitted and reserved as well. Due to their many national locations, there's typical a location near everyone (good if your bridesmaids are all over the place!).
David's Bridal has a great search and filter system that allows you to find Wedding Dresses Under $100 or Plus Size Wedding Dresses as well as filtering for your favorite silhouette or type of material you'd like in your dress. This is actually one of our top picks. There are some stunning choices whether you choose to go with a designer gown or not.
Our Designer Dress Pick from David's Bridal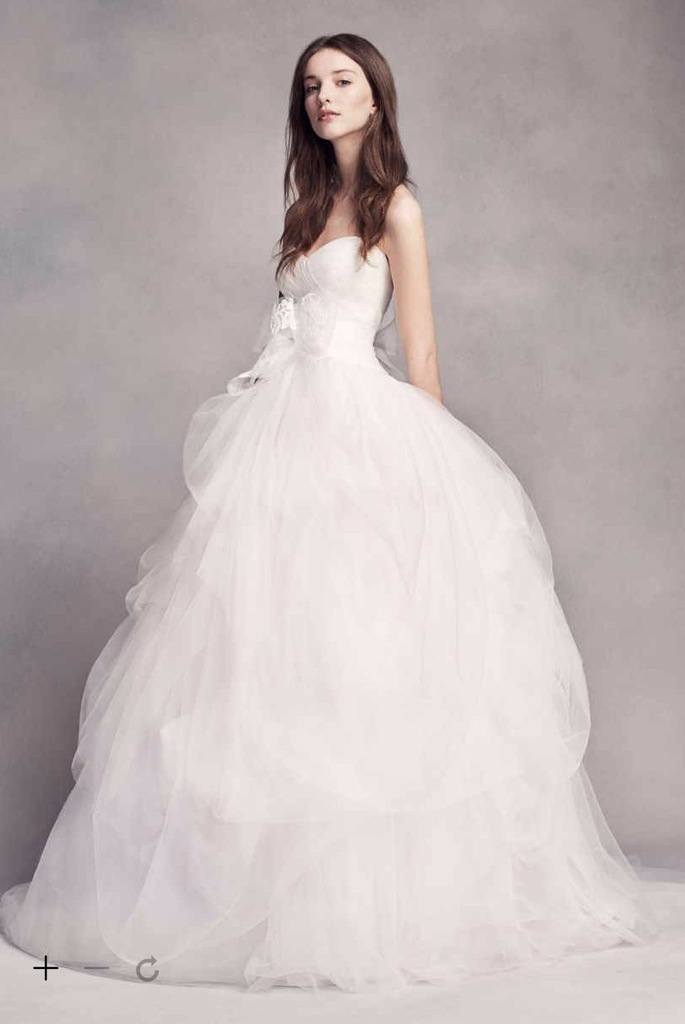 Visit this dress on David's Bridal for more details
---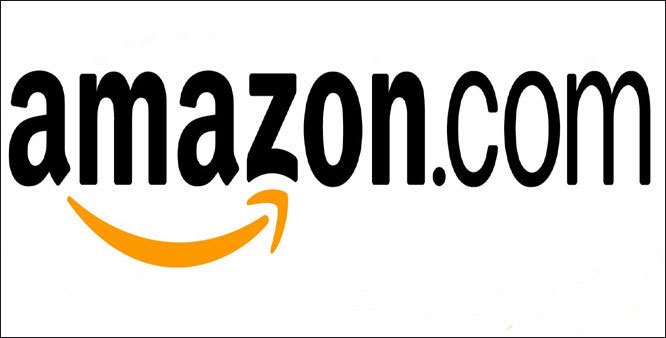 You might be surprised to see Amazon on the list, but it's a great place to purchase a wedding gown for the big wedding day, as long as you do your research. There's a range of prices as low as $50 for some dresses. You'll want to make sure that you're purchasing from a retailer who has great reviews and has dresses that are true to size. You can see plenty of pictures of people wearing the gown, which will give you a better idea of how it'll look on you as well as the quality of the dress itself.
No bride wants to wear a dress on her big day that looks or feels cheap. An advantage to buying with this retailer is that you can take advantage of Prime Membership for shipping costs and to get faster shipping.
Our Traditional Dress Pick
Fair Lady Chapel Train Wedding Dress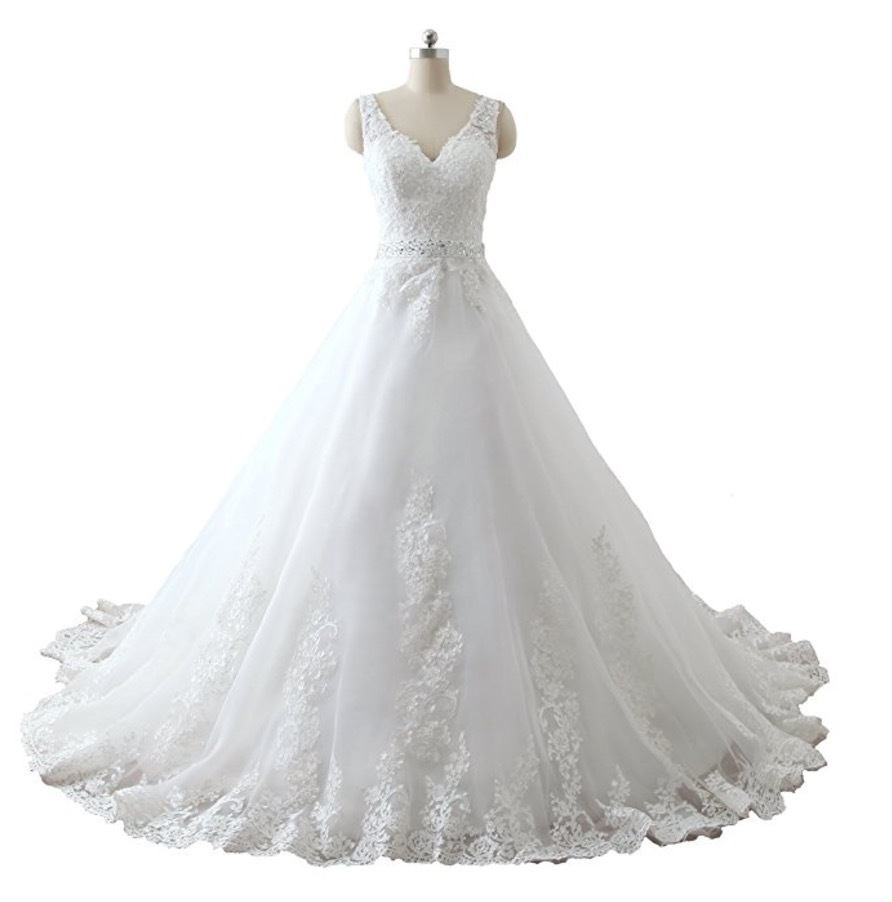 Visit this dress on Amazon now
---

The British clothing retailer Missguided offers wedding dresses and gowns that are trendy and beautiful while being cutting edge and daring.
These looks might not be for every bride, but they are a bold alternative for those brides who absolutely do not want "traditional" for their wedding. There are sequined wrap dresses and simple bandeau white maxi dresses that aren't thought of as traditionally bridal, but they work for the bride who wants to be casual and trendy.
Many of the dresses are less than $100, which make them an incredible bargain. Even if the bride wants to go traditional during the ceremony, she could pick a simple white on-trend dress from this store that will make her feel like a knockout during her reception.
Our Daring Pick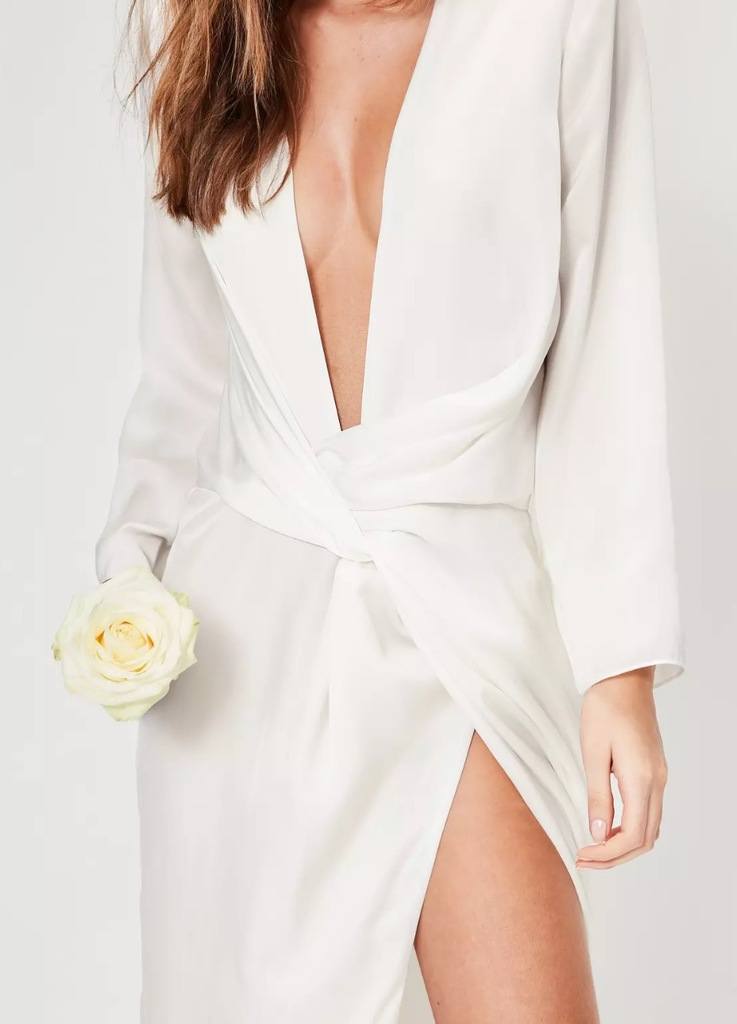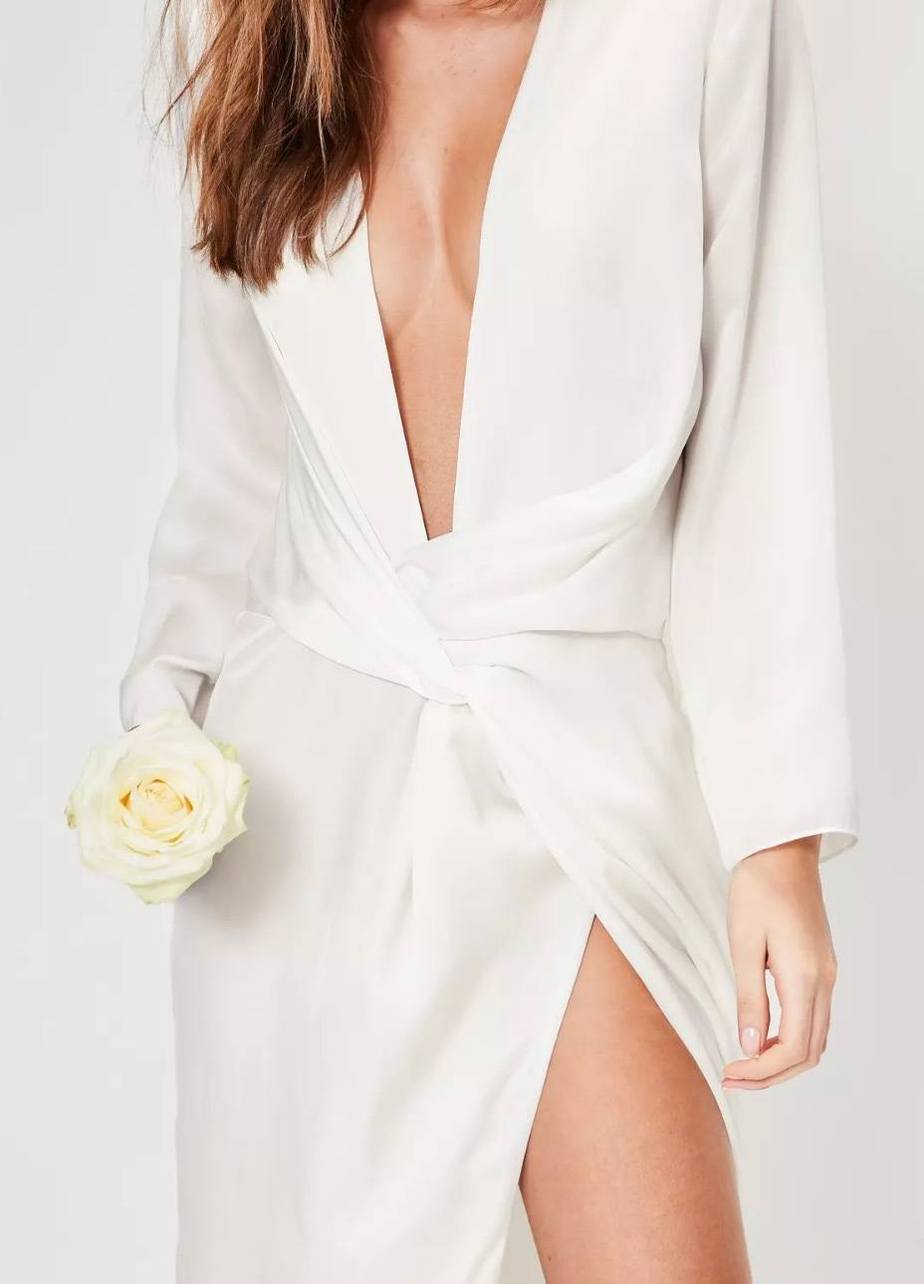 Visit this dress on Missguided now
---
New Zealand bride Jayde Hunt had no intention of spending thousands of dollars on a wedding dress. She wanted a wedding dress she felt beautiful in, and when she ordered her dress online she felt certain she'd gotten one for under $300. (One New Zealand dollar is equal to about .066 US dollars). But when her wedding dress reached her home, it wasn't what she expected when she ordered online.
The good news was that it did resemble the dress, and it wasn't falling apart. But it was so ill-fitting that she ended up having to spend another $200 on alterations-two thirds the cost of the dress itself.
A Lesson in Caution
Some women get truly fortunate when they order wedding dresses online. But just as common is a story like Hunt's. Perhaps contrary to popular belief, outright scams, or 'catfish dresses', are not as common as simply ordering and getting something like Hunt's dress, which requires a good amount of alterations to make it wearable.
The problem, of course, is that an experience like this is not only stressful but undermines one of the main reasons most brides opt to buy a wedding dress online: to save money. But that doesn't mean everyone should write off buying a wedding dress online.
One way to avoid a last-minute dilemma, or breaking your budget, is by knowing where to buy wedding dresses online–and where to avoid.
Two Unexpected Places to buy Wedding Dresses Online
For this review, we've picked two slightly less conventional options as places to buy a wedding dress online. There were many factors in our selection, including:
Variety of selection
Customer service
Return/ Exchange Policies
Price & Discounts
Payment Methods
Frequency of listings
Company Information
Quality of selection
Unique Selections or Customization
None of these retailers are perfect or without risks. Whenever you're buying a wedding dress online. Just like when you shop online for anything, it's crucial to read and fully understand privacy policies, payment methods, and security measures. Some of these retailers have big benefits in one category and are weaker in others. The purpose of this review is to highlight some features so you can decide what online retailer sounds best for you and your situation.
Our focus here is niche: both options offer specific types of bridal gowns (custom vs designer).
For Custom Gowns: Etsy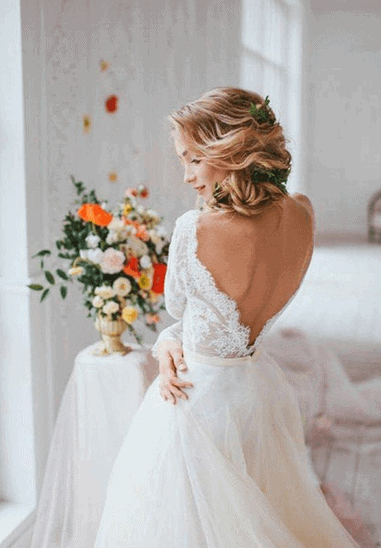 While this may seem an odd place to start, it's quite possibly the most inspiring place to buy a wedding dress online from our list. Even if you haven't ever shopped on Etsy, chances are you've heard of it.
Launched in 2003, Etsy is an online marketplace for handcrafted and vintage goods and has some truly unique items. That includes an entire wedding section, which features not only wedding dresses, but accessories, decor, and invitations.
Customer Service: Customer service appears to be a little limited. There's a general contact email if you're concerned about Etsy's terms of use. A help center offers general information about policies. You do have an option to pose questions or concerns on their forums, but this is more of a community-based thing. For better or worse, Etsy is a little more hands-off.
Returns and Refunds require you follow a specific process. In order to return something, you must first establish an agreement with the seller.
Payment and Security: Etsy offers customers a few ways to verify sellers, and feel more confident about their purchase:
Reviews
Seller profile pages
Seller Service Level Standards
Secure Communication
Etsy's Case System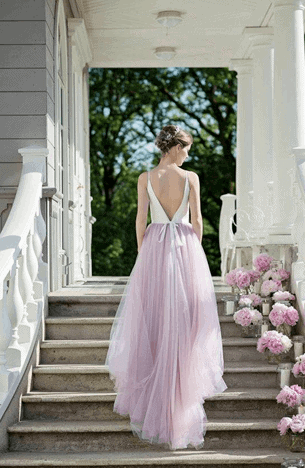 Reviews are just what they sound like: customers provide feedback on seller's pages. While this can be a good indicator, it appears that feedback skews very positive. That either could be in part because it's mostly satisfied customers; it could be a sampling error (sellers exceptionally pleased are more likely to leave a public review than customers only somewhat pleased), or there could be other possibilities.
Seller profile pages provide, or should, what else the seller sells; where the seller is based; and how long the seller has been open for business. If you can see if you can verify this information: some sellers are connected, for instance, to bridal boutiques. Of course, this is not always the case, and individual sellers are harder to verify.
Seller Service Levels refers to Etsy's regulatory system: "Etsy's teams monitor problematic behavior" and will ban sellers who "persistently contribute to a negative buyer experience". Etsy employs what they term a "Trust and Safety" team, who work to review accounts, reported cases, and consistently low reviews. This is a safeguard you won't find with other online retailers often, and it's definitely a plus.
Another plus is Etsy's Case System, where customers can file a report concerning fraudulent or misleading (or missing entirely) orders.
Finally, Etsy claims to monitor your profile and will report any fraudulent activity they notice. They will also temporarily suspend your account until the problem is resolved.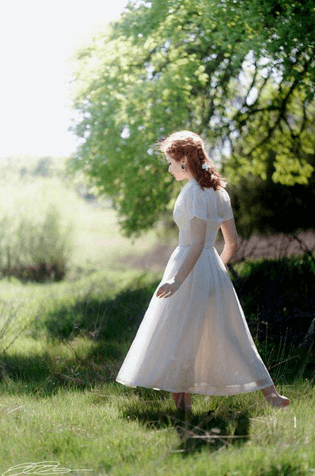 Prices and Shopping: You can shop within different budget ranges, but these ranges tend to be a little less useful for wedding dresses since they only go up to "$100 and above".
You can also filter by national or international, and custom (as opposed to vintage, used, etc). To avoid wading through all wedding attire ( a search for "wedding dresses" will also bring up bridesmaid dresses, flower girl attire, and more), go to the main menu and select the subcategory of wedding dresses under wedding attire. Unfortunately, you'll still get a few other items, and if you filter by price, you'll see fabric swatches at the lowest end.
Current price range: $25 to $50,000. This is a huge range until you consider very expensive dresses are rarer, and there's a healthy number of dresses in the $300-$5,000 range. It's not hard to find dresses where you'll still be saving a lot.
Finding a dress may take a while (Etsy is not as organized as some sites), but using keywords in the search engine does help.
What can you find? With a large and growing selection of wedding dresses, there's plenty of styles you can find. Certainly, there are some more classic gowns, but Etsy's wedding dresses are mostly things you'd have more trouble finding in a traditional bridal suite–which is a draw for some and maybe less enticing to others.
Here are the most popular styles you'll find:
Bohemian: Flowing chiffon, relaxed A-lines, and sheaths, and casual elegance are all very popular styles on Etsy. Since they're custom-made, you'll be hard pressed to find elsewhere.
Colored: If you're open to bucking the white tradition, Etsy is a great place to start your online shopping. You'll find dresses in blush and shades of pink, but also grays, blues, golds, silvers, and even more bold colors. Pastels are most common, but you can certainly find bold primary colors, prints, and patterns.
Vintage: You may have heard of "vintage inspired" trends in bridal fashion, but Etsy has plenty of wedding dresses that are truly vintage. They might need some alterations or updates, but it's hard to find real vintage dresses and this is a hot spot.
What are the worst parts about shopping on Etsy?
If you want something ultra-modern or sleek, there are far fewer options. You also won't find much in the way of (contemporary) designer gowns, or the latest fashions.
Beyond selection:
More basic search filters
Taking a chance on third-party sellers (through Etsy's security measures and company standards do act as a safeguard)
Constantly changing selection–which is a big plus, but you could also find something and have it not available the next time you shop
For Designer Gowns: Used Wedding Dress Sites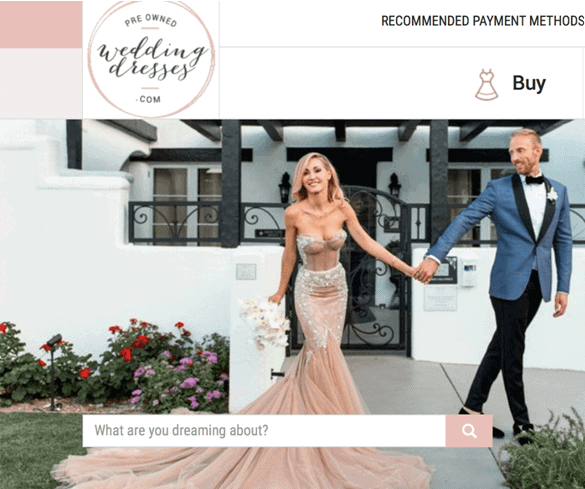 There are too many used wedding dress sites to easily include in this entire review. But they do exist, and these ones are specifically catered towards selling wedding dresses alone.
Technically, Amazon and eBay also sell used wedding dresses, but the difference between sites like eBay and Amazon and these sites. Once Wed, Pre-Owned, and Still White are perhaps the best known. And while each company does things a bit differently, they operate on somewhat the same models (Be sure to check out our full review on these sites).
The model:
Sample and lightly-worn dresses are sold by past brides
Payments are handled between seller and buyer, with some company oversight
Anyone can become a seller; the seller usually pays a listing fee
Dresses are listed with information on their condition (normally, used/ sample/ new)
Customer Service: In most cases, these sites, like Etsy, provide some support services but also rely on general help/ FAQ centers, as well as community forums. Some sites, like Pre-Owned, offer a direct contact email, though it's more or less a simple query form.
Returns and Refunds: Like Etsy, these sites, unfortunately, don't offer much in the way of refunds. Basically, you must be aware of, and agree to, the seller's own terms and conditions. Once Wed suggests you follow steps to avoid a purchasing mistake. Still White claims that "you can always sell" the dress if you change your mind.
Payment & Security: In a departure from other online retailers, these sites typically frown on using major credit cards and instead lean towards secure payment methods like Paypal and Escrow. Each site has a slightly different policy of "buyer protection":
Still White refers you to Paypal's Buyer Protection Program. All disputes must be submitted through a Paypal account; Still White does not handle disputes.
Once Wed also has a hands-off approach, but suggests you direct disputes or inquiries through Escrow.
Pre-Owned suggests either Paypal or Escrow, though does not seem to demand it. Like the others, however, it considers itself merely a listing service and therefore not liable in disputes.
Unlike Etsy, you're also likely working with one-time sellers. Because of that, you are unable to see reviews. The one thing on these sites that is an improvement when it comes to buying a security is that sometimes a seller is willing to let you try on a dress if you live locally. Of course, this is infrequent, and you still need to exercise precaution when meeting anyone you do not know.
Another option: assuming the dress is indeed what's listed, specific designer names and dress style numbers allow you ostensibly to find that same dress to try on in person at a bridal store. One of the hardest things about shopping for a dress online is not knowing what it looks like on you.
Prices and Shopping: As you can imagine, this can vary greatly and change at any time. The current range for Pre-Owned (as of the writing of this review) is $25 to $22,000. With new listings constantly, it shouldn't be hard to find dresses at a variety of price points. Prices depend greatly on the original retail price. Most sites will advertise how much the original retail price was so you see how much you're saving.
As far as shopping goes, the experience is a good deal more streamlined and user-friendly than Etsy, in part because these retailers are solely providing listings for bridal wear.
Advanced search engines and a variety of filters make finding a wedding dress far more simple. Typical filter options include:
Designer
Street Size (bridal sizing is different, so this is a smarter way to list–you can also find brides with proportions comparable to yours)
Price
Style
Material
Silhouette
Neckline
Sleeve Style
Color
Length
Location
What can you find?
These sites lean heavily on name brand and designer labels, though you can also find bridal chain brands (David's Bridal; the now-defunct Alfred Angelo, etc). There is no specific emphasis on style because these are all individual sellers offering different brands. In general, you won't find as many custom or vintage dresses. Dresses tend to be a bit more classic or modern, and while you can find colored wedding dresses, the options vary more than Etsy.
What are the worst parts about shopping on these sites? Pre-Owned, Still White, and Once Wed don't offer some of the security options that Etsy does through its review process. While Etsy is more hands-off than some online retailers, these sites essentially consider themselves a venue for sellers to list their dresses. Because of this, you have to have confidence in who you are buying from, and also be familiar with Paypal's or Escrow's policies.
The chart below summarizes the best place to shop for different dresses or services.
| Etsy | Pre-Owned/ Once Wed/ Still White |
| --- | --- |
| Ability to get custom sizing | Ability to try on in a bridal store |
| Vintage Dresses | Bridal Boutique Dresses |
| Bohemian Dresses | Designer Dresses |
| Colored Dresses | On-trend/ current styles |
Final Thoughts on The Best Places to Buy Wedding Dresses Online
These are a few of the best places to order the perfect wedding dress for you (and your personality!). While we love the designer BHLDN, we enjoy the vast range of choices that David's Bridal offers, too.
A bride can spend hours searching and narrowing down her choices for a bridal gown while also placing her shoes, bridal jewelry, reception dress, and accessories in her shopping cart and have it all delivered at once.
This is a fantastic option for the woman who has no time to shop for everything she'll need to wear for her big day.

So Where to Order the Dress?
Known for its elegant and romantic designs, BHLDN offers a wide range of dresses and attire for brides, bridesmaids, and wedding guests. Ordering a dress online from BHLDN comes with several advantages and reasons why it may be a preferred option.
Check BHLDN Collection at Anthropologie
We earn a commission if you click this link and make a purchase at no additional cost to you.
Further Reading on Wedding Dresses