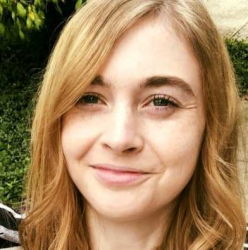 Latest posts by Erin Jamieson
(see all)
Finding the best shapewear for a wedding dress is no easy task. But with some guidance, it can be empowering–and even take off the all too common pressure to lose weight before the big day. Plus-size model Lauren Chan learned to value her body at a young age. In her first attempt to enter the modeling world, she struggled to fit into a tiny size until she realized the value and beauty of her healthy body, which was curvier than typical models.
When it came to her wedding day, Lauren Chan wanted to look as stunning as possible, but she also was against losing weight to fit into a wedding dress. Instead, she embraced her beauty and picked a silhouette that fit her best.
Of course, not everyone has Chan's confidence, and some brides still want to hold true to her principle but also want the most flattering look for their wedding day. A good compromise? Use one of the best shapewears for wedding dresses to look your best!
What even is Shapewear? Before you go shopping, it's good to get a general idea of what shapewear is and what it does. Chances are, unless you've lived under a rock, you've at least heard of shapewear and have an idea of its general purpose. Shapewear is not only meant to make you look slimmer, however.
Shapewear is meant to work on "problem areas" and target specific areas of the body for an overall thinner, but also smoother shape. The best shapewear is considered effective at making you look slimmer by also enhancing natural curves and reducing attention on excess fat. Shapewear can:
Present an overall slimmer appearance
Smooth outlines
Enhance natural curves
Add support
You can see why shapewear is so popular, and especially so for wedding dresses that might show more of your body than you're used to. Before we get into the best shapewear for wedding dress discussion, let's take a step back to talk about Shapewear.
How does Shapewear Work?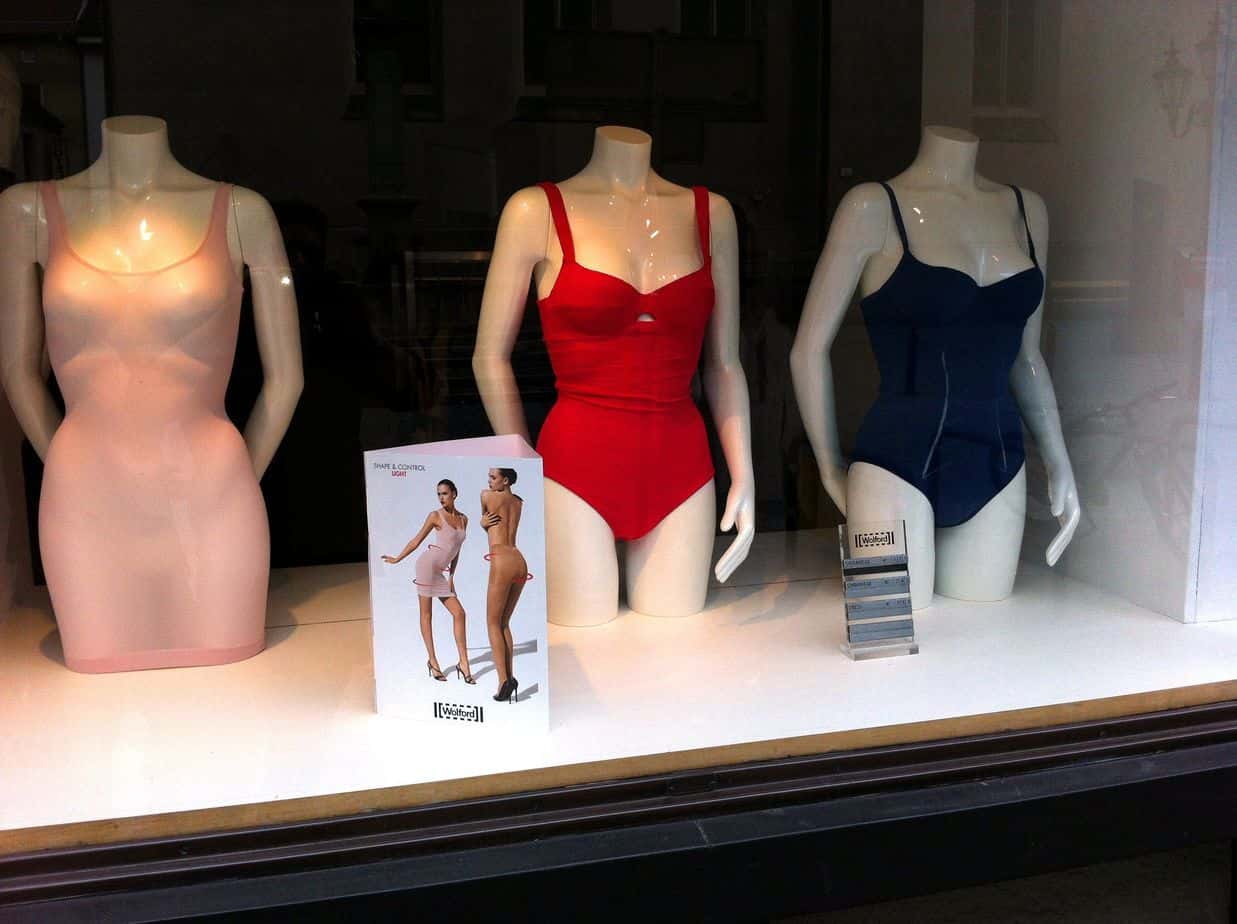 There are, however, a number of misconceptions as to what shapewear can, and does accomplish. Shapewear supports and smooths, but what it cannot do is actually flatten your stomach or make your waist (or any body part) actually smaller. Shapewear, for instance, should not be confused with the controversial waist trainers, which act like corsets and literally shape your stomach.
That's good news because those products are highly controversial and pose numerous health concerns. Shapewear, instead, "mimics the effect of sucking in your stomach: and is far more commonly used. Are there any risks involved with Shapewear?
If you've never worn shapewear before (and maybe if you have) you might not be aware that there are some risks involved with wearing shapewear. While far less risky than a controversial corset and waist trainers, shapewear, if not worn properly, can pose some health concerns.
In general, the biggest reasons someone might suffer health consequences from wearing shapewear is if the shapewear is worn either too tight or for a long time. Just how long is too long is up for debate; most experts recommend only a few hours at a time, with over eight hours presenting the most risks. For a wedding, a single evening or afternoon shouldn't be a problem, so long as it fits well. (You also don't want to wear shapewear several consecutive days in a row). However, if shapewear is too tight, you could suffer from:
Digestive issues, such as acid reflux
Rashes or other skin irritation
General concerns related to circulation
Anyone with a condition like diabetes is not advised to use shapewear at all (see the end of this article for "alternative options). However, for most brides, simply finding the right fit and using common sense means you want have to worry about having any of these health concerns.
How do I make sure my Shapewear isn't too tight (or loose)?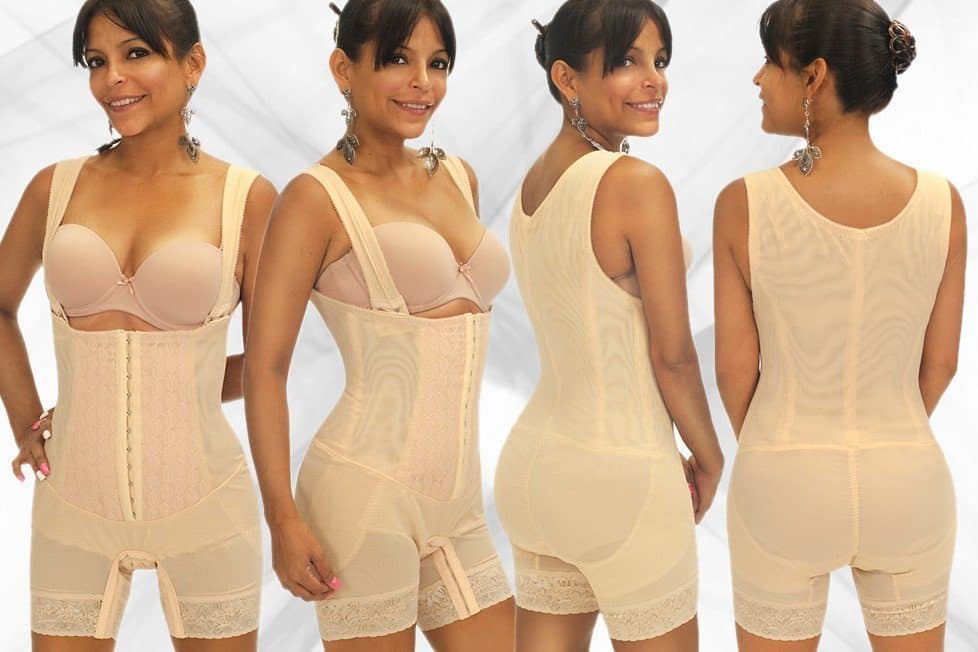 As you've seen, finding the proper fit for your shapewear is absolutely essential if you want both the best results and to avoid any serious discomfort or health problems. Instead of relying on dress size, Hourglass Angel recommends you take exact measurements, or ask an expert to help. If you're looking for all over shapewear, you should measure at the fullest point of your bust and hips, but the narrowest part of your waist.
For full-size shapewear, you might want to go with the bigger size if you're in between sizes. Here's a sign your shapewear fits properly:
It's a tight fit, but movement should not be greatly restricted or cause shortness of breath
You shouldn't have to fight to get in or tug and adjust a great deal
There shouldn't be any hanging or excess fabric
How you wear it is also important. Some of the most common shapewear mistakes include selecting something that rolls or rides down (it's too big), and opting for shapewear that has obvious seams. Since most wedding dresses are ivory, white, or some shade of white, you also want to go with neutral or white shapewear that cannot be seen under the dress.
What Types of Shapewear are There, and What's Right for Me?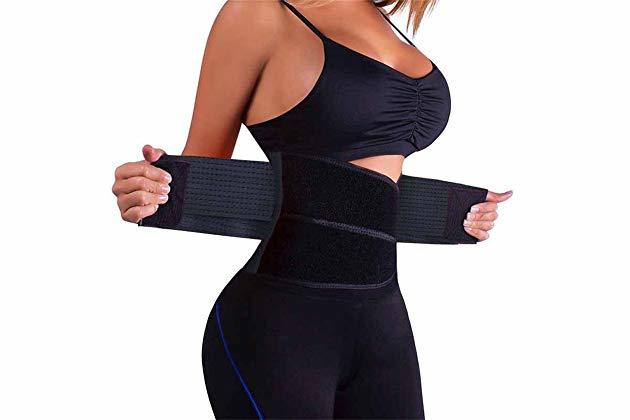 Shapewear, with so many options, can also target specific areas or can be purchased as full body shapewear. Your body type, the actual wedding dress, and what areas you specifically want to target will determine what kind of shapewear will make the most since for you.
In addition, different types of shapewear, no matter the brand, are designed for different levels of support and control. Different levels of control general follow on a scale of three different categories:
Light: used for small bulges and everyday wear
Firm: more targeted, with overall slimming
Extra-Firm: maximum contouring, usually very tightly fitted to the body
While it's a matter of personal preference, many brides opt for firm or extra firm for wedding dresses, especially dresses for slimmer silhouettes, like fit and flares, mermaids, and sheaths. If you're wearing a fuller skirt and a natural or high waist, you might be satisfied with the light control (which also tend to me more comfortable), but many brides will still opt for a firm or extra firm option.
Another consideration when it comes to finding the best shapewear for you? What you want to target. Shapewear usually is classified by overall purpose, and what body part it is supposed to be toning or slimming.
For All-Over Shaping, opt for body shapers or slip shapers.
Bottom: toning underwear
Torso: control camisoles
Thigh Slimmers
Stomach: waist cinchers
Selecting the Best Shapewear for Wedding Your Wedding Dress: The shapewear market is booming, to put it mildly. By 2024, the compression and shapewear global market is projected to reach an astounding $6.4 billion, should it meet the target of a nearly 6 percent growth rate.
And by no means is there a monopoly. The number of brands and options are seemingly endless. While the expansion of shapewear options means more body inclusivity, styles, and designs for different needs, it also can be downright overwhelming.
While there are countless options, shopping for your wedding dress is a little different instead of what you might go for for everyday wear. Fit, design, and quality is especially important. Luckily, there are a number of bridal specific collections out there. While you may pay a little more, bridal collections are generally shapewear designed to fit and work with common wedding dress silhouettes and fabrics.
The Best Shapewear For Wedding – Our List
All of our recommendations keep this in mind, as well as overall performance and appearance so you can look and feel your best in your wedding dress.
1. Spanx-Wedding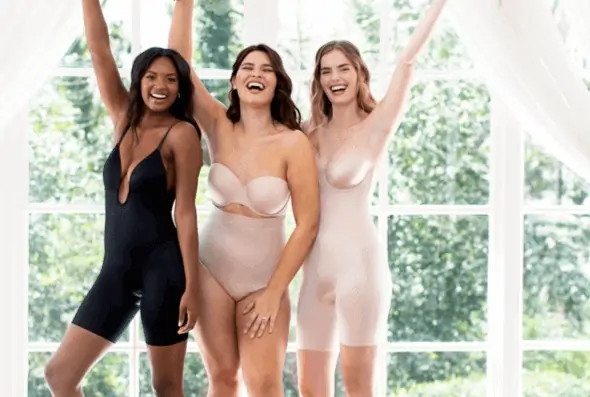 Spanx is perhaps the most well known and iconic brands of all shapewear, so it's no surprise that the brand made our list, especially because they have an entire bridal collection. You'll find everything and anything you need, from push-up bras and bralettes to bodysuits, shorts, power capris, slips, and waist cinchers. Some are rather plain, while others feature lace details. Strangely, while their products come in tan, they also come in black.
In the 26 piece collection, prices range from $24 (for panties) to $168 (for a couture slip), with many products falling in the $60 to $100 range. While not exceptionally cheap, Spanx lands on best shapewear lists and offers enough variety that it's definitely worth taking a look at. What we especially love is how many different options there are for different wedding attire, including suits, if you're a nontraditional bride. Here are a few standouts from their collection: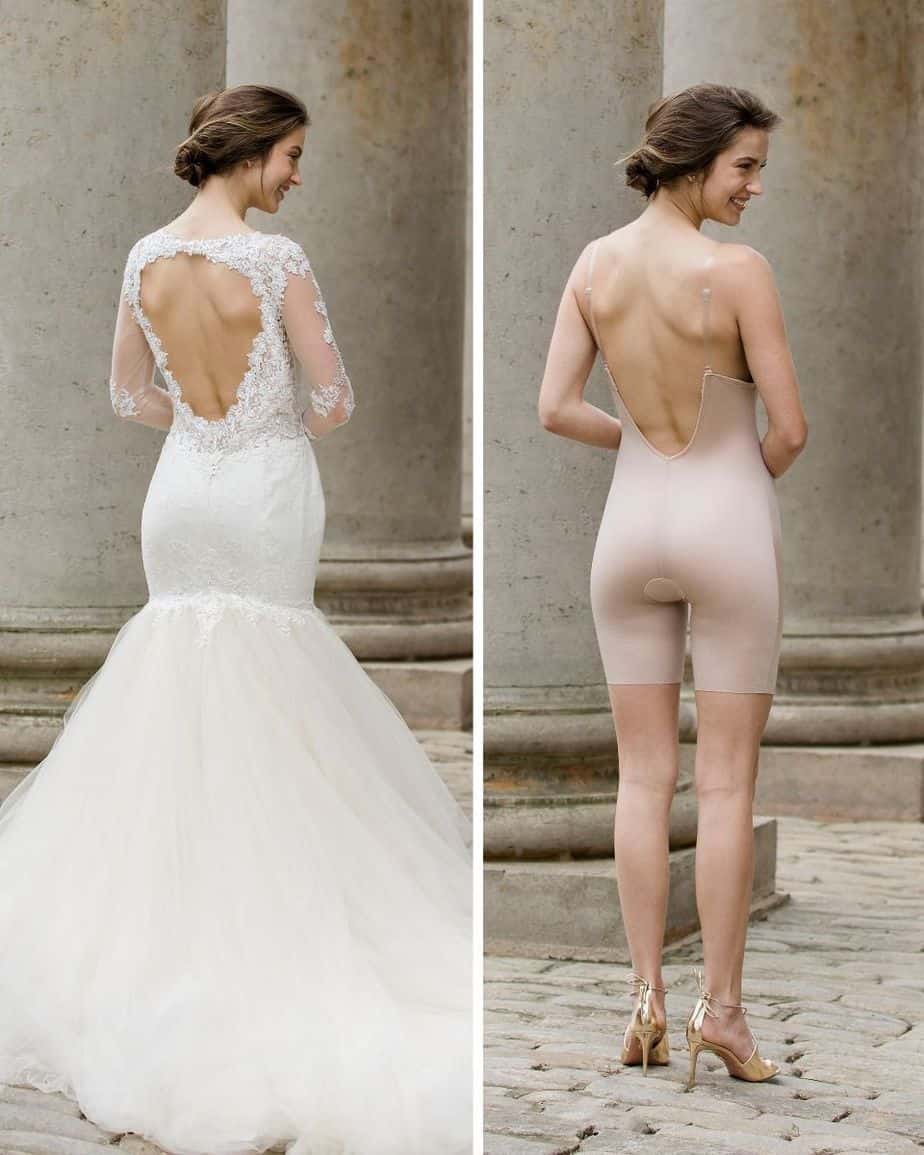 Long name aside, this bodysuit by Spanx is a fabulous option if you want all over body smoothing and control but you're wearing a less traditional option, like a suit with a plunging neckline. It also works for dresses with low backs. Sleek-shaping fabric ensures the smoothest fit, and the straps are adjustable. The main support is focused on the stomach and thighs, though there is some support in the bust area. It's an investment at $148, but this is also a staple you can use for other low cut or low back dresses.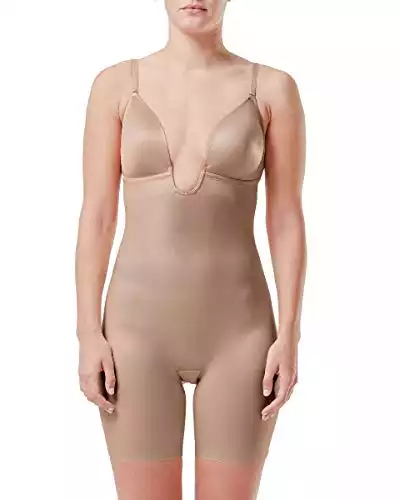 SPANX Suit Your Fancy Plunge Low-Back | Amazon
This SPANX shapewear bodysuit will keep your look sleek and smooth while staying hidden, even in the most plunging necklines.
Buy at Amazon
We earn a commission if you click this link and make a purchase at no additional cost to you.
10/01/2023 08:46 am GMT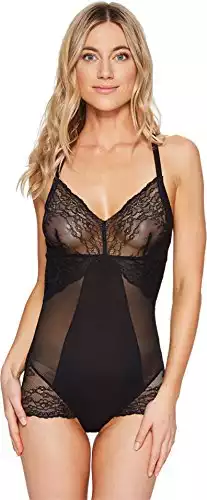 A feminine, beautiful option if you care about what your shapewear looks like underneath your dress. In fact, this shapewear almost looks just like lingerie. While it appears a bit lighter than other shapewear, it's anything but not supportive, with targeted tummy control and shaping. There's also no underwire, making this a more comfortable fit. It retails at $74 to $78 and is a great option for anyone looking just for some stomach coverage.
If you are specifically looking for shapewear to create a narrower waist, this is a great option. The very simple style is fuss-free and can easily slip under a wedding dress. Microfiber and flexible boning also makes for a more comfortable fit, and at $48, it's one of the more affordable options.
Honorable Mentions: Spanx has your legs covered, too: we'd be remiss not to mention a variety of panties and thigh shapers. While most are fairly plain, there are pantie and thing options that come with delicate lace details.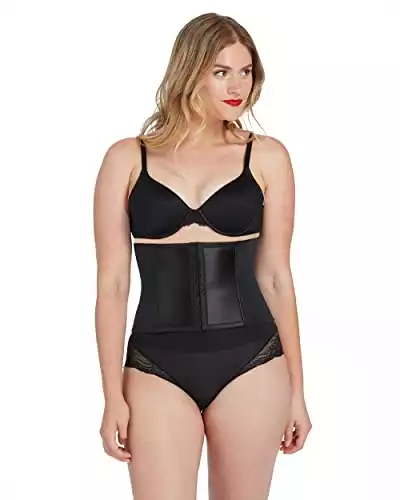 SPANX Women's It's A Cinch Waist Cincher | Amazon
This modern style is comfortable, sculpting, and creates an hourglass figure. Trying to get that on-trend cinched-waist style? Look no further! For an instantly flattering effect, wear it as a fashion statement with your favorite jeans or add some drama to a formal look.
Buy at Amazon
We earn a commission if you click this link and make a purchase at no additional cost to you.
10/01/2023 09:33 am GMT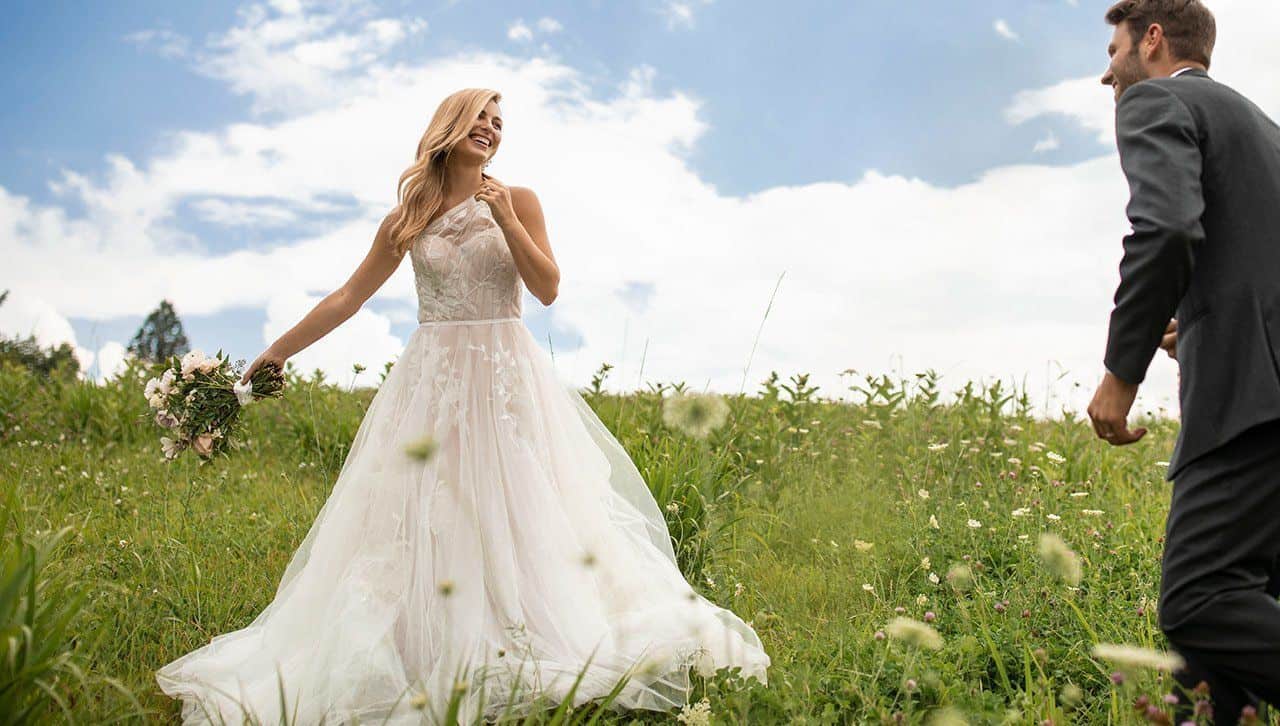 In case you didn't know, BHLDN has made a name for itself primarily not in the shapewear industry, but the bridal one. The brand is actually owned by Anthropologie, an eclectic retailer offering women's clothing and home decor, mostly in a bohemian or new age style, and their bridal collection is known for similar stunning and unique looks.
Their shapewear collection is specially designed for wedding dresses. And unlike Spanx, the collection comes in not just tan and black, but lighter nude, blush pink, and shades of white. Aesthetically, there is also more focus on soft details, whether it's the color, design, or fabric. Prices are comparable with Spanx, ranging from $24 for panties to $160 for a shaping slip. It should be noted, though, that they actually do sell some Spanx as part of their collection, but the Spanx they sell does not appear available on Spanx's main website.
Our Top Choice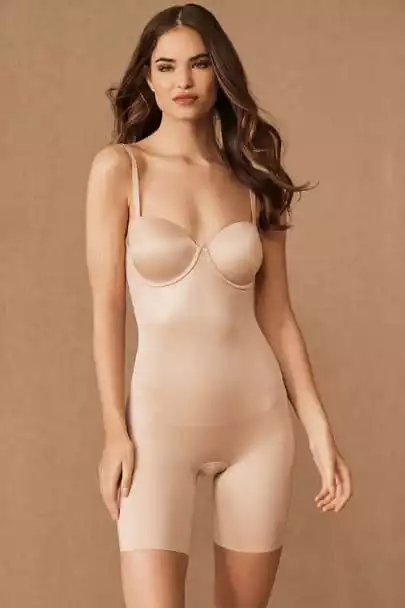 With fewer options, this is a slightly more targeted collection, but with not quite as much versatility. Here are our top picks:
Angelique Corset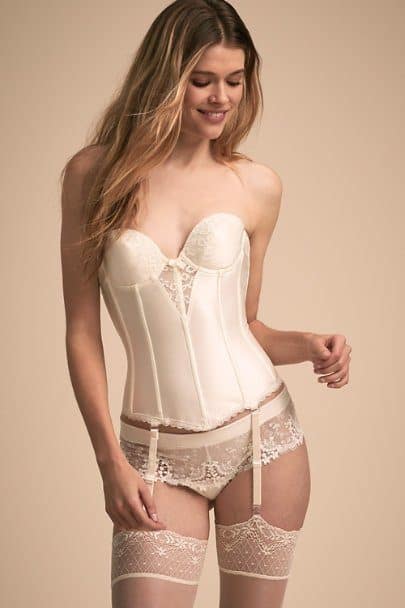 Available in ivory, this is a beautiful, lace option for a more traditional approach to shapewear. While the satin and lace detailing make this an aesthetically pleasing option, it's also a good option for shaping a smaller waist. While there are adjustable shoulder straps, it's only available currently up to a bra size 36C, and it may not be as comfortable as other shapewear.
Lace Brief
Available in soft rose, this high rise brief features Spanx technology with stomach smoothing paneling, and retails for $64. The sizing is more inclusive, in sizes extra small to extra large. Plus, it's available in nylon, spandex, and cotton, for comfort and breathability.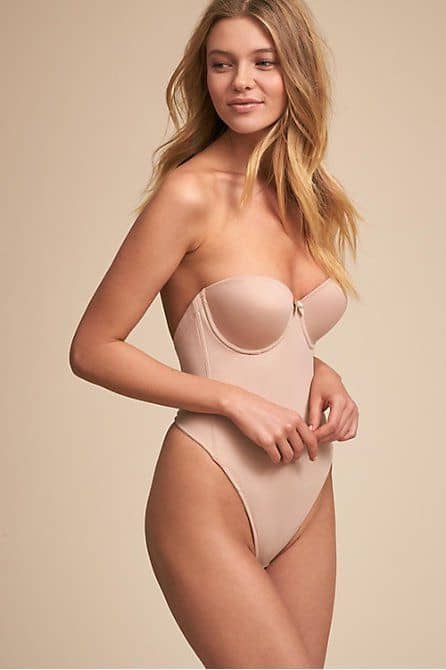 This underwire based bodysuit is simple and elegant in nude, and retails for $85. Nylon and spandex make for a comfortable, but still supportive fit. The backless design is also a great option for low back dresses. This works as one as the best shapewear for wedding for those low back dresses.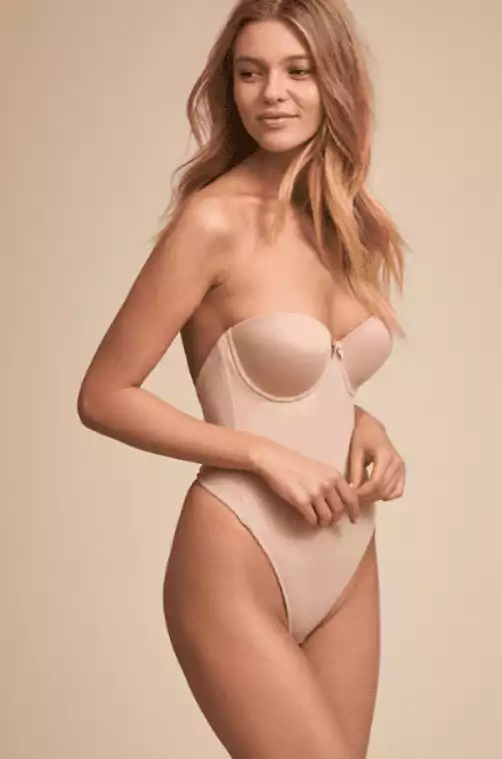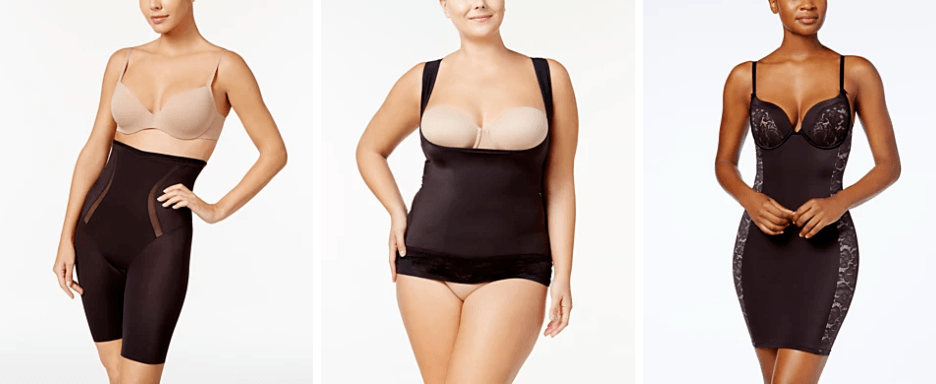 Perhaps second only to Spanx, Maidenform is one of the best sellers in the shapewear industry, and they offer a bridal collection through Macy's. While this huge company has mixed reviews, on Amazon, and through Macy's, they are mostly positive. This is also a slightly more practical and expansive collection than BHLDN's. Bodysuits, shaping briefs, bustiers, and slips are all offered.
Prices range from $20 to $68, making this the most affordable of our selection of best shapewear collections. We also like this collection because it's a compromise between BLHDN's visually appealing options and Spanx's technology. Here are a few highlights of the collection: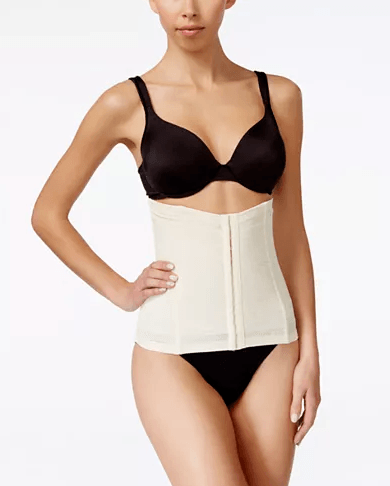 Available in nude or black and retailing at around $43, this waist cincher offers a longer torso for fuller coverage but is still a more minimalist approach to shapewear for a wedding dress. It also boasts a 4-star rating based on over 140 reviews and microfiber provides shaping and control for your midsection.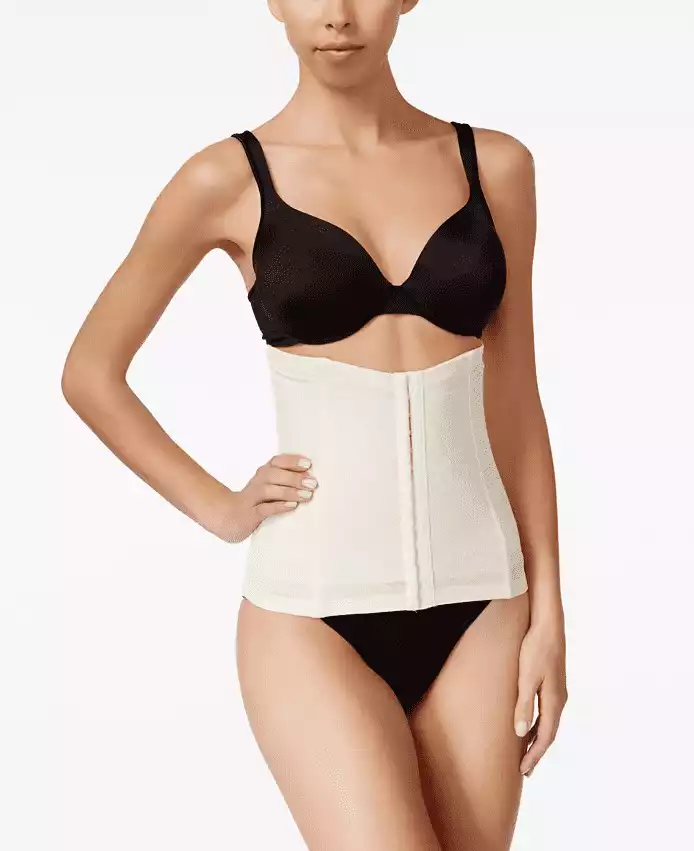 Women's Firm Control Instant Slimmer | Macy's
It helps even out and smooth your body for a more natural, sleek and slim look and minimizes those unsightly bumps and bulges so you feel confident in your outfit.
Check price
We earn a commission if you click this link and make a purchase at no additional cost to you.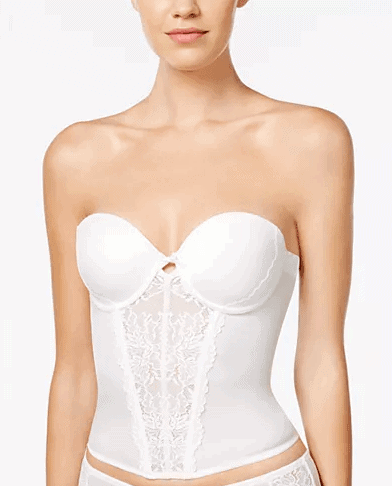 The only bustier on our list, this is an attractive piece of shapewear that exudes bridal with a simple design and lace detail paneling. The push up bra pairs with a sheer mesh back. While there is not as much here in terms of shaping, it is a useful piece for lifting and supporting the bust. You can get this Macy's exclusive for around $68.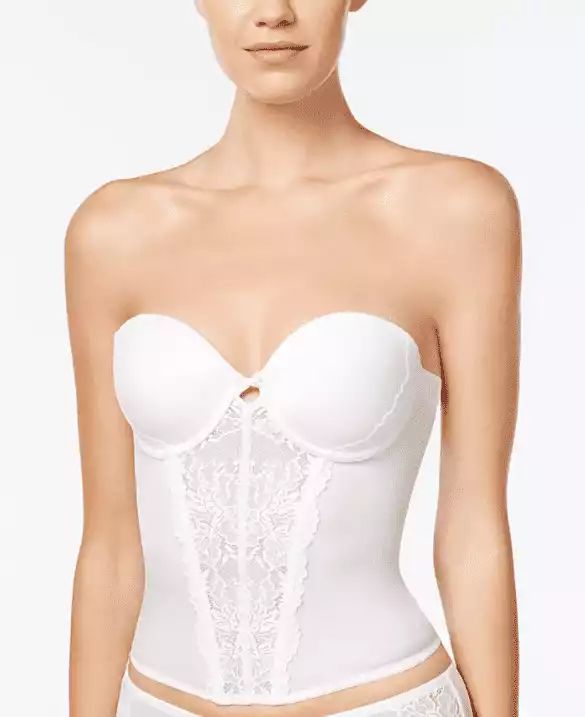 Firm Control Strapless Convertible Slip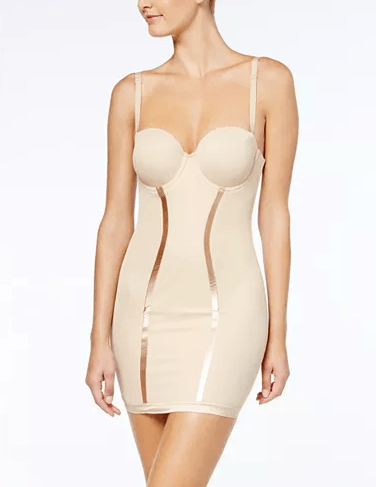 Available in latte or black, this sleek slip is useful for most dresses, except for ones that featuring plunging or illusion backs. It features an underwire bra with padding, compression for the stomach and midsection, and straps you can remove or convert. Satin contours at the front are a nice additional touch. The slip costs around $24.
Alternatives to Shapewear: Shapewear can be a solution for many brides hoping to look their best in their wedding dress, but it isn't for everyone. For anyone who has a medical condition like diabetes, it's important to put health first. That doesn't mean you have to be free of insecurities, or in love with your look when you go for your first dress fitting.
First of all, know the power of alterations. When a wedding dress fits correctly, some of your larger insecurities might be mitigated with careful tailoring and custom additions. For anyone who simply feels uncomfortable wearing compression wear, it might be a good idea to start by trying light control first, and see if you are pleased with the look.
Another worthwhile option to at least consider?
Target launched a line of "skin-nourishing" shapewear that is meant to control and shape with less constriction. Miracle Toning Skin-Eez has a more athletic look, and it wouldn't work as well with backless or plunging dresses, but it can offer some of the features brides are looking for, with a little more comfort.
The Best Shapewear for Wedding Dress – Final Thoughts
Finding the best shapewear for your wedding dress is a process, just like finding your wedding dress in the first place is a process. Shapewear comes in countless varieties, and the only way to tell which one is best for you is by trying it on with your dress. Fit, comfort, and desired effect are all important. But by knowing a few signature collections to begin, the process does not need to be overwhelming.