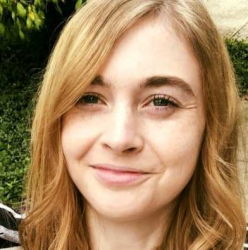 Latest posts by Erin Jamieson
(see all)
There are few things in life as precious as friendship. This year, there is more demand and ideas than ever before for friendship rings for a group of 3.
The popularity of friendship bracelets has never been doubted, but it's friendship rings that are getting the spotlight. According to some reports, Pandora's Friendship Rings Are Taking Over Tik Tok. This phenomenon was spotted not only by Tik Tok users but also by media outlets like In the Know and Yahoo News.
Best friend jewelry is becoming once more popularized by influencers. It's gaining traction as a way to show loyalty and companionship. For many, it's merely another trend. There's no denying that Pandora's pinky finger rings are stylish. They're creative and artistic.
But I sense something more to this trend that media outlets aren't covering. I don't see friendship rings as just a trend. I see friendship rings as a way to connect during a time of ongoing uncertainty. I see friendship rings for 3 as a recognition that you can have more than one friend who is very dear to you. Finally, I see best friend rings and rings for 3 as a way to remind us all that we are never alone.
My analysis aside, I do think that this year is a wonderful year to buy friendship rings for 3. I'll guide you through how to buy the best friendship rings for 3. Next, I'll give you my top ideas for beautiful rings that are cheap or affordable and can be worn every day.
Friendship Rings for 3 – Summary
Bottom Line Up Front Summary: If I had to select just one set of best friend rings for 3, it would be CHENVA 3 Sisters Ring Set Three Heart Rings. This set of rings is made with stainless steel and is both nickel and lead-free. Not only are they hypoallergenic, but they're adjustable and affordable.
My Top Picks
Purpose of Friendship Rings for 3

These rings are meant to show your bond and loyalty. Just as engagement rings are used to express commitment to getting married, friendship rings express a commitment to friendship. While rings for 2 are more common, rings for 3 are being offered more. It's important to recognize that we can have more than one best friend. This, a ring a friendship is given as a gift or bought together.
Friendship rings are worn on the left hand. The most popular friendship rings are worn as pinky rings. However, you can wear friendship rings on any left finger you want.
Difference between Friendship Rings for 3 vs Promise Rings
You can even stack them. The difference between a friendship ring and a promise ring is intent. A promise ring is meant for romantic couples and a friendship ring for platonic relationships. While it's okay to buy a promise ring for a friend, it shouldn't be called that. Finally, promise rings tend to be more expensive and many even include diamonds. I wouldn't recommend buying diamond rings for 3 friends, for obvious reasons.
Styles of Friendship Rings for 3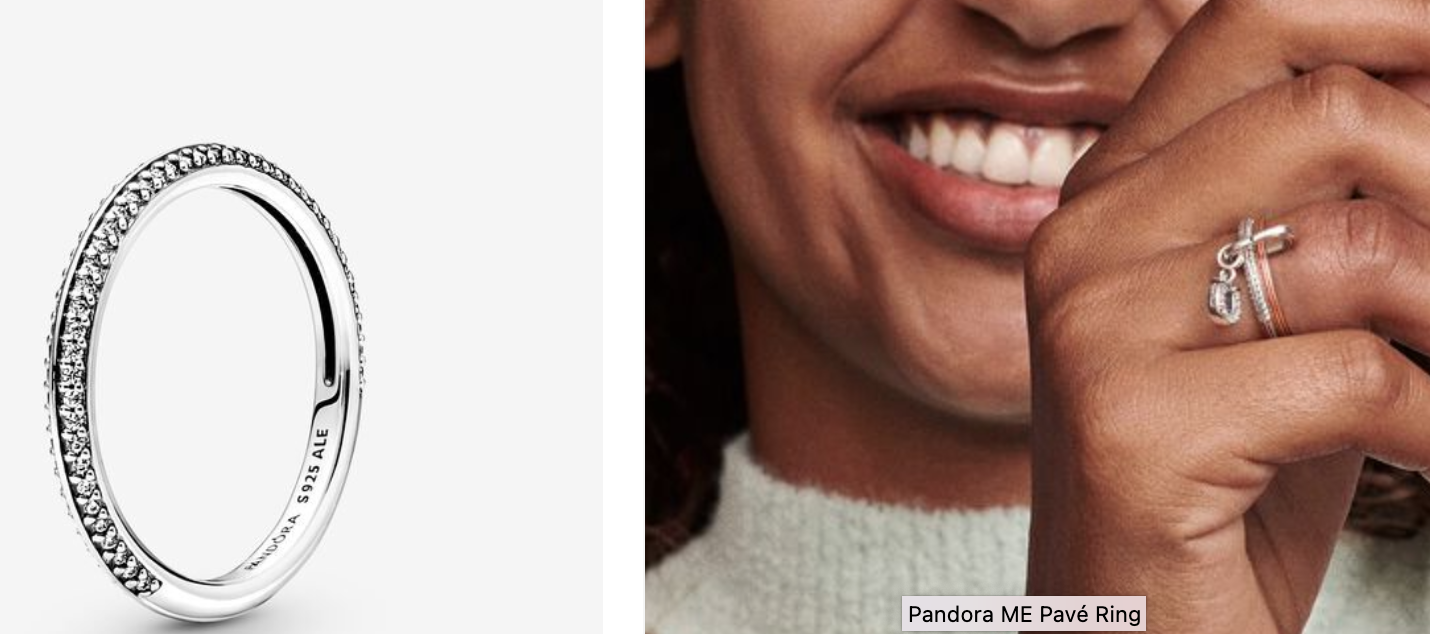 If you're looking for sets of 3 rings for best friends, you'll be a little more limited on styles and quality. Some of the most popular styles are gold and gold tone, as well as edgy looks like black. Dainty and minimalist friendship rings are also in.
If you have a larger budget, I love birthstone best friend rings for 3. I'd shy away from diamond rings, which are associated with promise and engagement rings. Butterfly rings and other motifs are beautiful symbols of friendship. If you buy a personalized ring, there isn't one answer for what to engrave. Initials, names, and shared expressions are all great ideas.
Where to Get Friendship Rings For 3
Sets of 3 best friend rings can be tricky to find. If you're looking for cheap rings, Amazon and Walmart are options. Etsy sells affordable, handmade sets. If you're open to buying individual pinky friendship rings, designers like Cartier and Pandora may be the right choice for you. Younger friends can even find some options at Claire's.
Friendship Rings for 3: My Picks
Here are some of my top recommendations for the best friendship rings for 3. These rings are from Amazon and Etsy. Both Amazon and Etsy are safe and secure websites with clear customer return policies. The ring sets I selected are rated well by customers and crafted thoughtfully. It was important to me to find best friend rings for 3 at fair prices and with versatile designs. These styles can be worn with everyday outfits. Finally, my selection includes different styles. I hope you can find a set of friendship rings that works for you.
Amazon Best Friend Rings for 3
Amazon is one of the best places to shop for best friend rings for 3 if you're on a budget. While Walmart and Claires have a few options, Amazon wins. The reason is that Amazon offers updated styles and meaningful sets. These ring sets have more detailed customer reviews. I like how all of these best friend rings for 3 sets are modern and stylish without denting your wallet too much. Shop All Amazon Best Friend Rings for 3 Here.
CHIVA 3 Sisters Ring Set Three Heart Rings of 3
The dainty friendship rings for three come in several variations. They're made with stainless steel, making them nickel-free and hypoallergenic. These lead-free rings provide a flexible fit that can be resized with a simple pinch. Choose from rose gold, yellow and silver tones. The set of 3 rings comes with a velvet bag. I love that these rings are versatile but also elegant. The interlocking heart design is symbolic and a touching gift for your very best friends. Buy Here.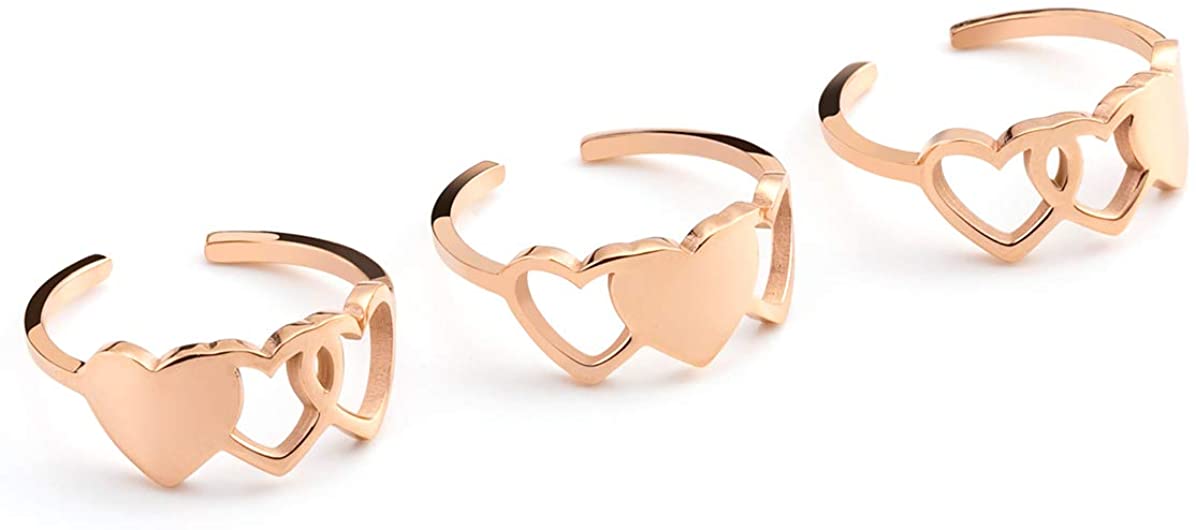 Pros
Hypoallergenic
Rose, Yellow, and Silver Tones
Comes with Velvet Bag
Cons
Runs Small
Only Available with Heart Motif
JJTZX Adjustable Sideways Arrow Ring Celebrity Style Double Wrap Layering Stackable Knuckle Ring
These sideways arrow rings are a clever twist on best friend rings for 3. The set of three features the same arrow design, but the rose gold, yellow gold, and silver tones distinguish each ring. I love how this allows you to look cohesive with your friends, but also express your personality. The rings can be stacked or worn alone. The metallic sheen is pretty but subtle. Every ring is easy to adjust. Buy Here.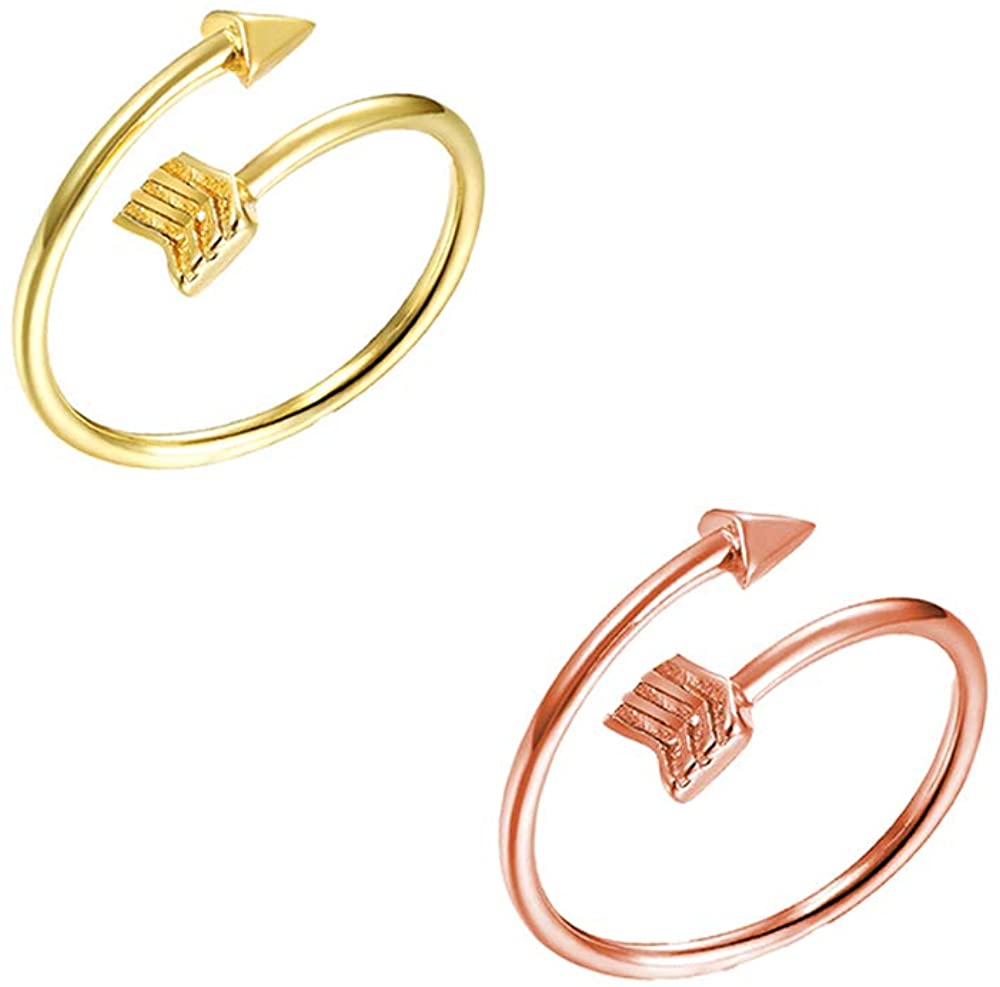 Pros
3 Tone Set
Modern Arrow Design
Great Price
Cons
Can be Flimsy
Can Tarnish with Use
3PCS Personalized Custom Engraved Name Initial Rings with Simulated Birthstones Customized Best Friend Rings
Make your friendship rings more personal. Best friend rings for 3 with custom engravings are sure to make an impression. Engrave the names of each of your friends with no added cost. You can also select a unique simulated birthstone for each ring individually. The 3 ring set comes in a gift box to make the surprise that much more special. I also love that these rings come with a 90-day warranty against any defects. Buy Here.
Pros
Custom Engravings
Custom Simulated Birthstones
90-Day Warranty
Cons
Not Genuine Gemstones
Font is Small
Gem Stone King Stainless Steel Rose Yellow Gold and Silver 3 Tri-Color Stacking Set of 3 Band Ring
These gorgeous stainless steel rings are a choice for someone who wants a minimalist band for friendship rings. These stainless steel rings are classic and timeless. The band is 4mm wide and features rose gold, yellow gold, and/ or solver finish. These rings can be stacked or worn alone. The set is 100 percent refundable and comes with free returns and a lifetime warranty. The set of rings ships in an elegant jewelry box. Buy Here.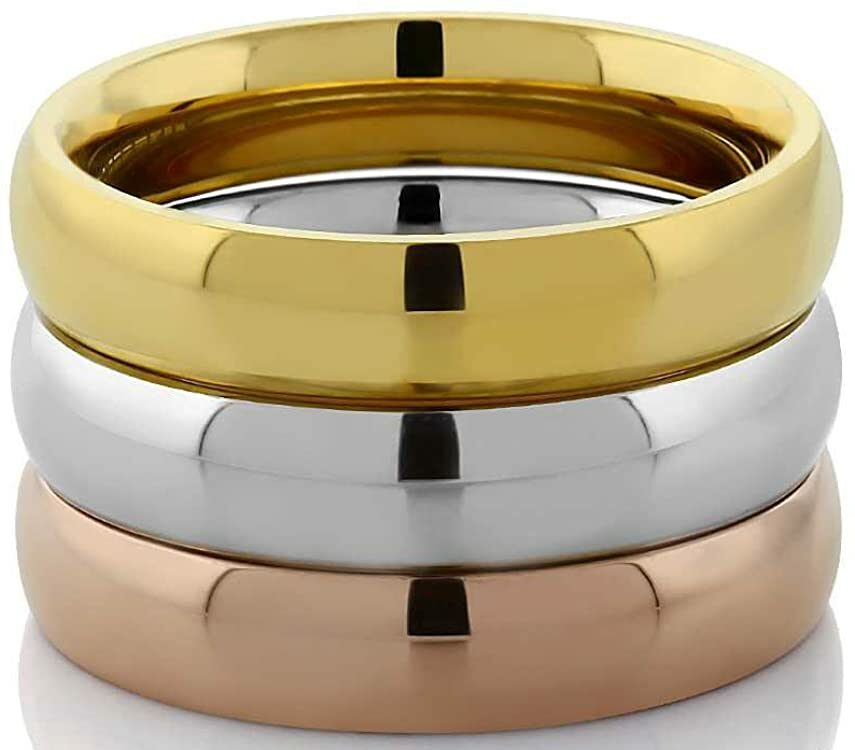 Pros
Durable Stainless Steel
Classic Look
Lifetime Warranty
Cons
Must be Around Same Size/ Resizing Required
Plain Band Not Typical for Friendship Rings
Inspirational Positive Message Engraved Thin Finger Opening Rings 3 in 1 Set
These inspiring rings are a great way to show your friendship and support for each other. The brass rings come in a set of three, with yellow gold, rose gold, and silver tones. Every ring is adjustable with a simple press. The rings are engraved with your choice of one of 28 inspirational phrases. I love how these are wearable for every day but also more inspirational than your average best friend rings for 3. They're also quite affordable. Buy Here.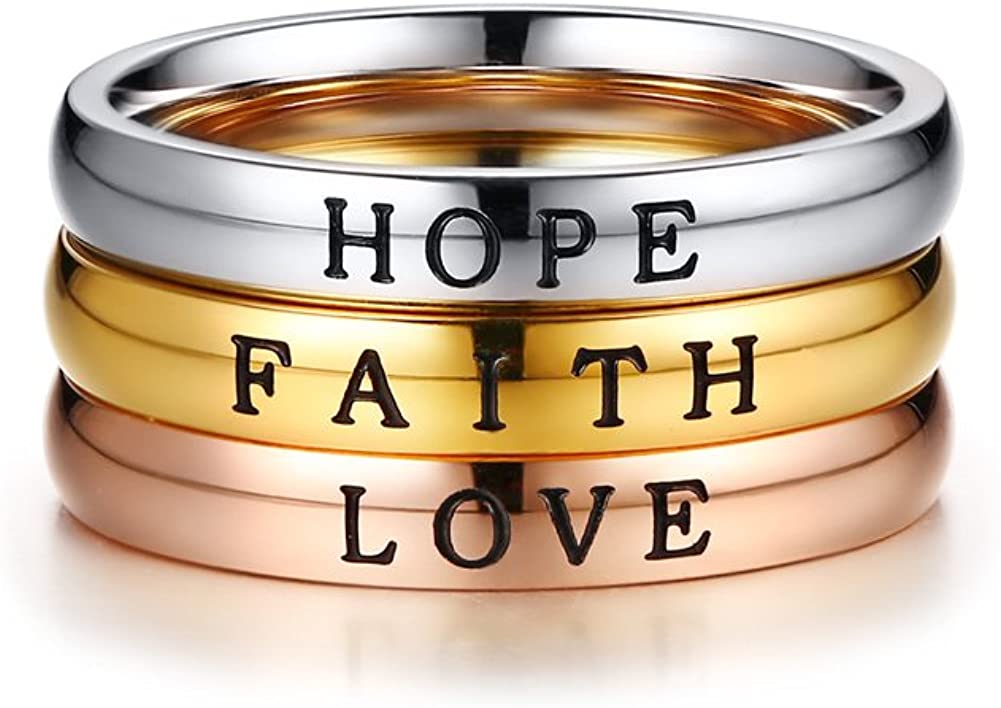 Pros
Rose Gold, Yellow Gold, and Silver Tones
Inspirational Phrases
Easy to Adjust
Cons
Brass Can Tarnish
Brass May Cause Sensitive For Some
MJ Personalized BFF Friendship Jewelry Pinky Promise Pinky Swear Minimalist Polish Stainless Steel Flat Stackable Knuckle Ring
This set of 3 best friend rings is versatile and charming. These rings are made with stainless steel and can be ordered in widths of 4mm or 6mm. The set of 3 best friend rings is unisex and can be stacked with other rings. You can order them plain, as black rings, or with 18k rose or yellow gold plating. I love that the rings feature free laser engraving. Engrave names, initials, dates, quotes, or anything meaningful to you. The company also offers a 100 percent refund if you're not satisfied. Buy Here.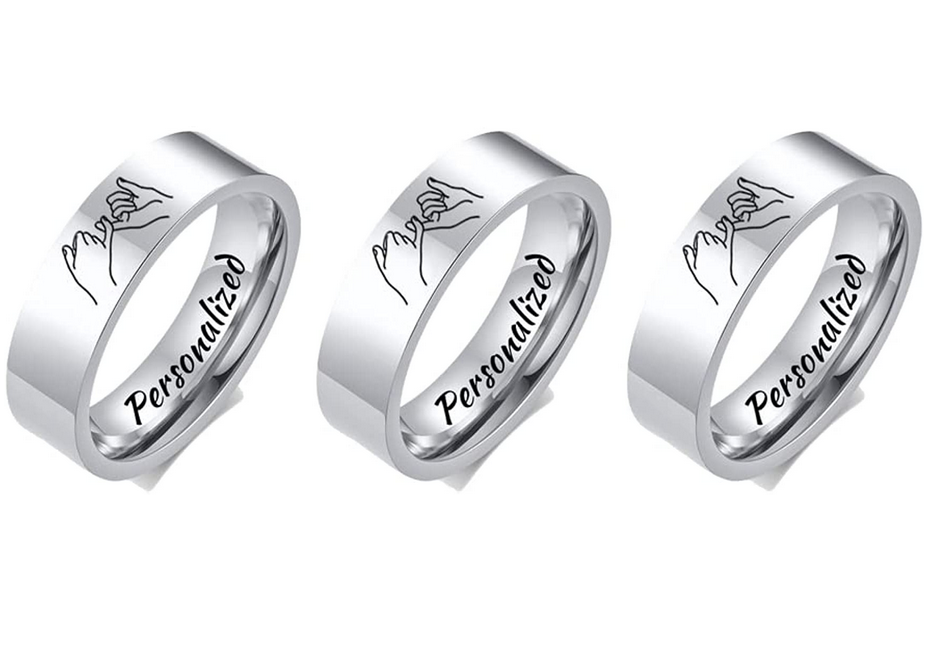 Pros
Stainless Steel (Choice of Black or Gold Plating)
Laser Engraving
100 Percent Guarantee
Cons
Shouldn't Be Worn Exercising, Showering, Cleaning or with Lotions
May Need Resizing
Etsy Best Friend Rings for 3
Longing for customization and truly unique rings? There's a lot to love from Etsy's collection of best friend rings for 3. These rings are handcrafted and can be made to order. I love how many are minimalist, but there are touches of tradition, too. By buying from Etsy, you're supporting individual artisans and small businesses. Still, these ring sets are about as affordable on average as the sets sold on Amazon. This collection is a great option for a group of 3 friends who want rings that are useful and meaningful. Shop All Etsy Friend Rings for 3 Here.
3 Hug Rings in Silver Rose Gold Friendship Hugging Hands Adjustable Rings
These handcrafted rings are truly unique. The hands wrap around to symbolize a hug. They're symbolically giving you and your friends a hug. The set of 3 rings comes in your choice of silver, yellow gold, and rose tones. They're easy to adjust and lightweight. It's a smaller online store but the ratings are very high. Buy Here.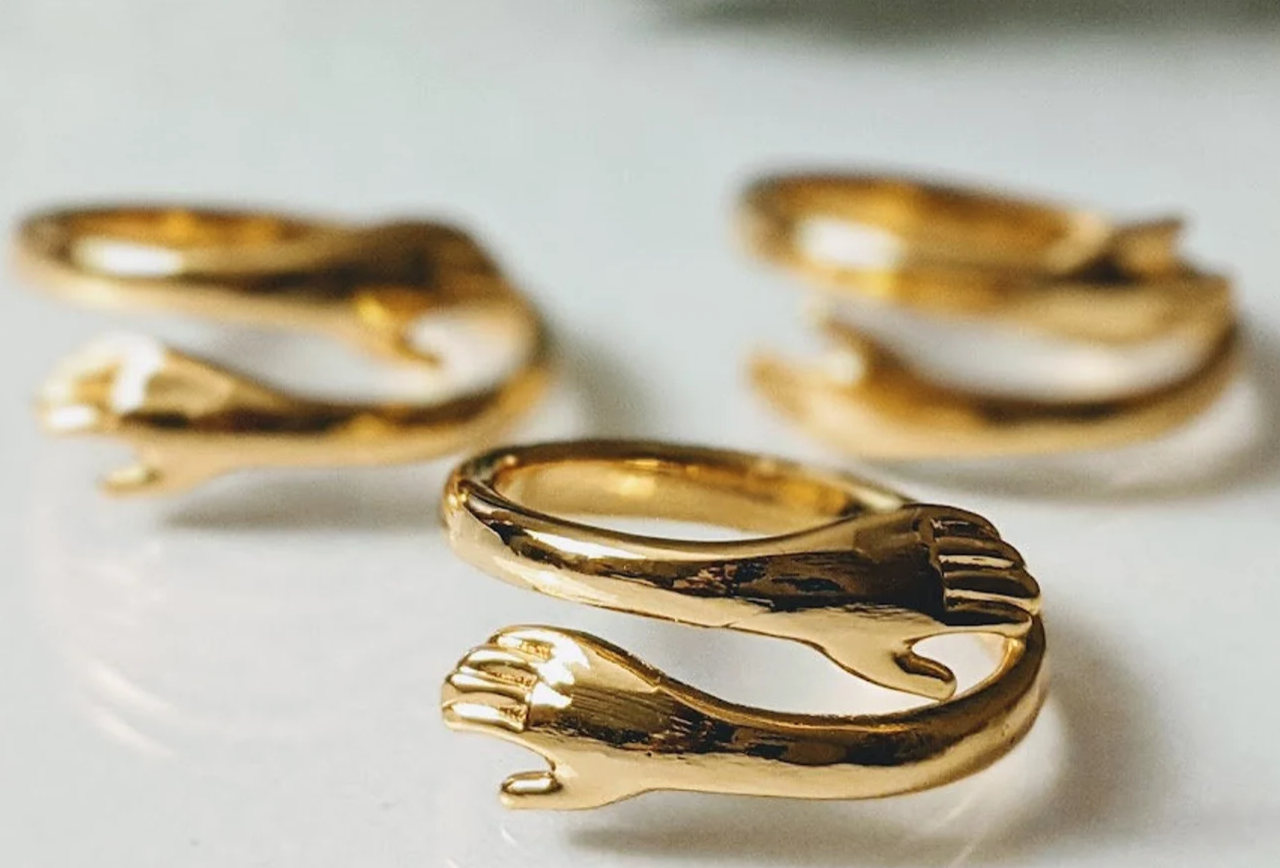 Pros
Beautiful Silver and Gold Tones
Unique Hug Design
Easy to Adjust
Cons
Can Tarnish Over Time
Slightly bulky
Dainty 3 Birthstone Ring • Custom Birthstone Jewelry
If your friends have a similar ringside, these customizable best friend rings are a good option. The dainty friendship rings are made with gorgeous 925 sterling silver. You can order it with 18K yellow gold or rose gold finishes. The rings come with your choice of cubic zirconia stones. The set of three rings is made by hand and to order. Buy Here.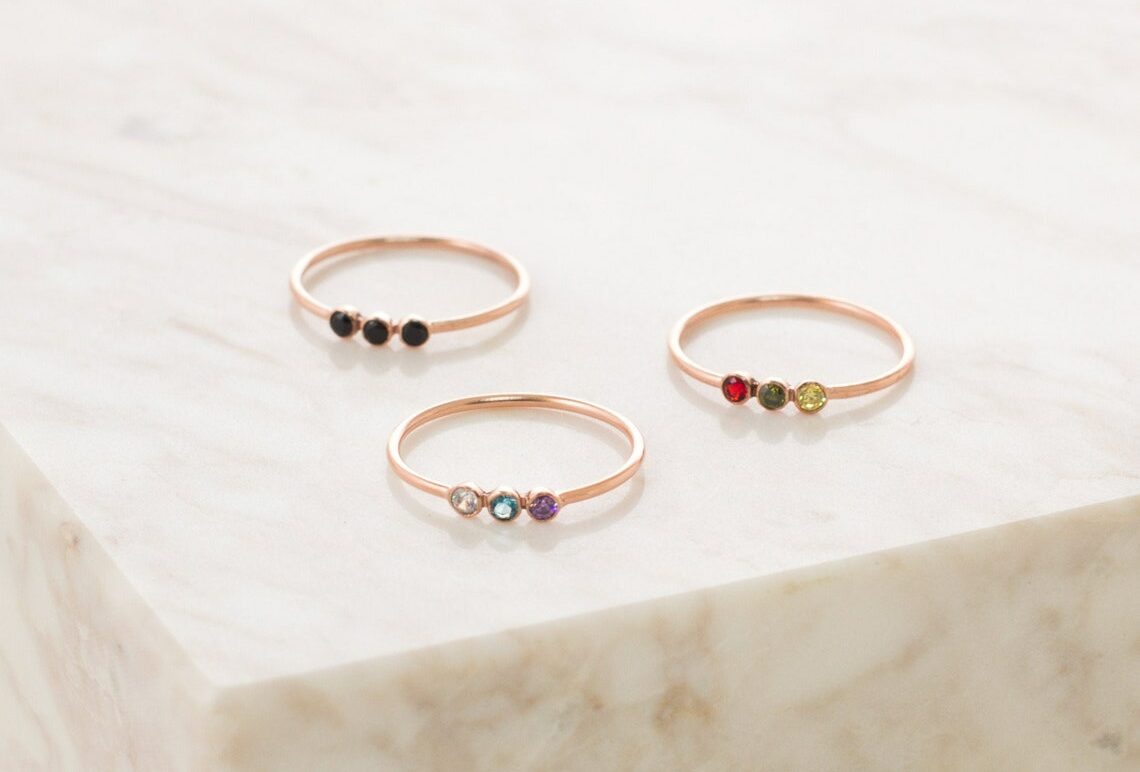 Pros
Dainty and Beautiful Design
Choice of CZ stone
Choice of Gold Finishes
Cons
Can be Resized
Silver Requires Upkeep
6pcs Moon Rings Set, Couple Rings, Friendship Rings
If you and your friends love astrology, you'll love this best friend rings set. The set includes size rings, so each friend can enjoy two. All rings are fully adjustable and feature a moon motif. There are thicker ring bands and slender, minimalist rings. This set includes silver, black and gold tones. The rings are made out of recycled materials, so they're also Eco-friendly. Buy Here.
Pros
Great for Astrology Lovers
Recycled Metal
Very Affordable
Cons
Ships from the UK
Can Tarnish
Best Friend Rings for 3 | Rock Paper Scissors Ring Set
Any solid friendship is built upon a couple of good games of rock paper scissors. This ring set is a great option to consider if you're looking to buy something a little more sentimental for your best friends. It's custom made and the adjustable bands make these rings a great fit for anyone. Plus, this ring set is super unique, so you can be sure nobody else will steal your BFF ring idea! Buy Here.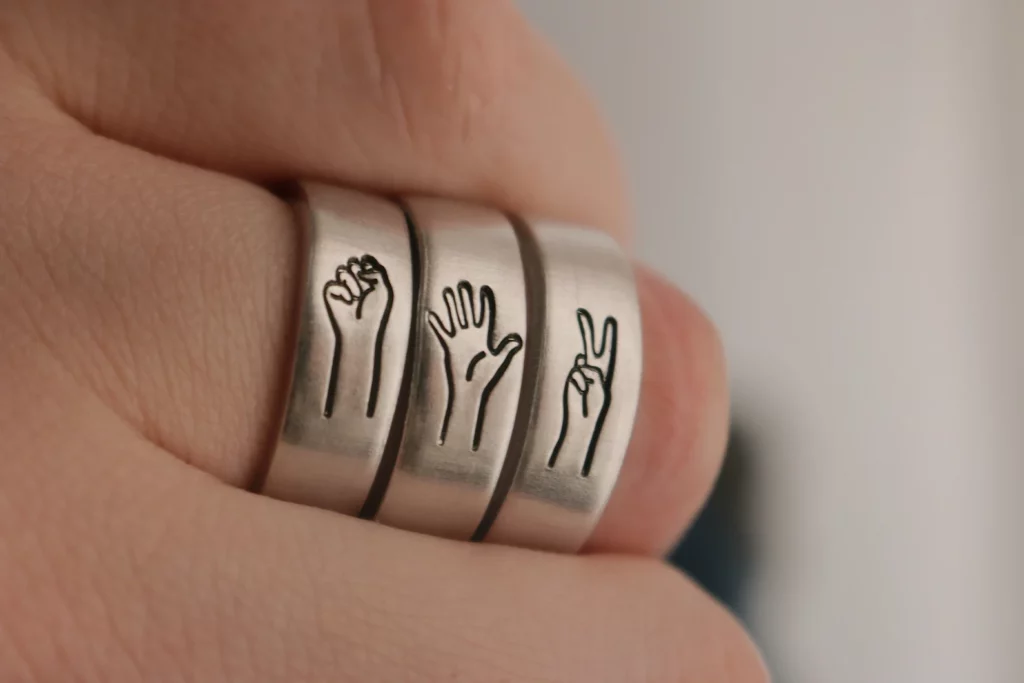 Pros
Choice of Aluminum or Silver
Very fun design
Adjustable ring band
Cons
The aluminum ring band bends easily
No other color options available
Final Buying Recommendations: Pandora Friendship Pinky Rings (Singles)
Pandora is one of the most popular places to buy fashion and friendship rings. They don't sell in sets of three, so each friend would have to buy a ring for themself. This collection of pinky rings is a little expensive compared to Amazon and Etsy. However, Pandora rings are considered affordable, designer friendship rings. These rings are understated stylish and very versatile. You can mix and match styles. For instance, each friend can buy the same design with a different metal tone. Shop All Pandora Friendship Pinky Rings Here.
Pandora ME Pavé Ring
This dazzling designer ring can be bought as a single ring or in sets of three. You can customize it with styling accents for an additional cost. It's available in silver or plain rose gold plating. I love how elegant and classic it looks. If you can't find your size, you could also opt for the smooth texture version. Though these rings are a little pricey, they are undeniably pleasing and crafted with care. Buy Here.
Pros
Designer Rings
Minimalist and Chic
Custom Order
Cons
Expensive
Silver Requires Care
Frequently Asked Questions
Question: Does a promise ring mean marriage?
Answer: A promise ring is neither an engagement ring nor a friendship ring. Promise rings are most common for religious couples. A promise ring means that a young couple plans to get engaged and married in the future. It's a sign of commitment for couples who aren't ready to get married but want to show their commitment to each other.
Question: Can I get a promise ring for my best friend?
Answer: You can buy a promise ring for your best friend, but it isn't usually called that. A promise ring is associated with pledging to a romantic partner. Some buy promise rings to serve the purpose of a friendship ring. It's ultimately up to you and your level of comfort.
Question: What does it mean when a girl wears a ring on her left ring finger?
Answer: In the United States and other Western countries, wedding rings are usually worn on the left ring finger. Sometimes, someone will wear a different ring on this finger for comfort. It varies in other cultures as well.
Question: What does it mean when a woman wears a ring on her right ring finger?
Answer: The right ring finger is reserved for fashion and cocktail rings in Western countries. While the left ring finger symbolizes marriage and commitment, the right ring finger is about self-expression. It's not uncommon to see multiple rings stacked on top of each other, too.
Question: How do you make a friendship ring?
Answer: Friendship rings can be made by almost anyone with yarn. This ring won't last as long as a metal ring, but it's a fun DIY craft. You can make an affordable friendship ring by selecting multiple colors of thread. The thread or warn is woven in an overlapping, braided pattern. A double or triple knot is a simple way to secure the ring. Watch DIY Daisy Chain Flower Rings Here.
Question: What jewelry should I buy my friend?
Answer: Buy your friend something meaningful to them. Friendship bracelets, necklaces, and rings are popular. However, you can also buy jewelry with a symbol of friendship. Symbols of friendship include the Claddaugh knot, yellow roses, lotus flowers, and chrysanthemums. Gemstones like blue topaz and lapis lazuli are also associated with friendship.
Friendship Rings for 3 – Final Thoughts
Friendship doesn't always come in pairs. Three best friends should be able to celebrate their friendship with each other. While there are fewer options for sets of 3, there are still different styles to choose from. I recommend shopping with your friends to make sure you select a style that works for everyone. Friendship rings are a beautiful way to express how deep your bond is. No matter what style you decide on, there's a set to express the beauty of your friendship.
Looking for more interesting readings? Check out: