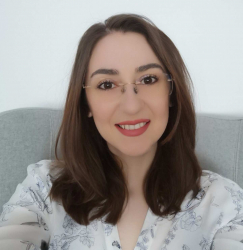 Latest posts by Alexandra Gavrilescu
(see all)
If you want to celebrate the love that connects you and your best friend, one way to do it is by offering her a necklace that symbolizes your strong friendship. These tokens of affection will remain close to both your and her hearts while looking great around your neck at the same time.
In today's post, I have gathered many types of friendship necklaces that have hidden messages or symbols, from celebrating an anniversary to making the distance between you and your BFF more bearable if there's a long-distance friendship involved.
Without further ado, here are some of the best friend necklace ideas you should consider.
If you are also interested in getting a matching ring, here are some of our top favorite best friend ring ideas.
Top 11 Best Friend Necklace Ideas that Your BFF Will Love
I personally love lucky charms but I am also a fan of eco-friendly alternatives which are the ideal option for nature lovers. What I would offer to my BFF would be a charm that has a deep symbolic meaning and a whimsical design. But that's a matter of personal preference.
With the following necklaces, you and your special friend can celebrate your commitment to each other. Through any of these tokens of love, you can show how much you appreciate your friend's presence in your life. Real and strong friendships are blessings that life offers us and we mustn't take them for granted.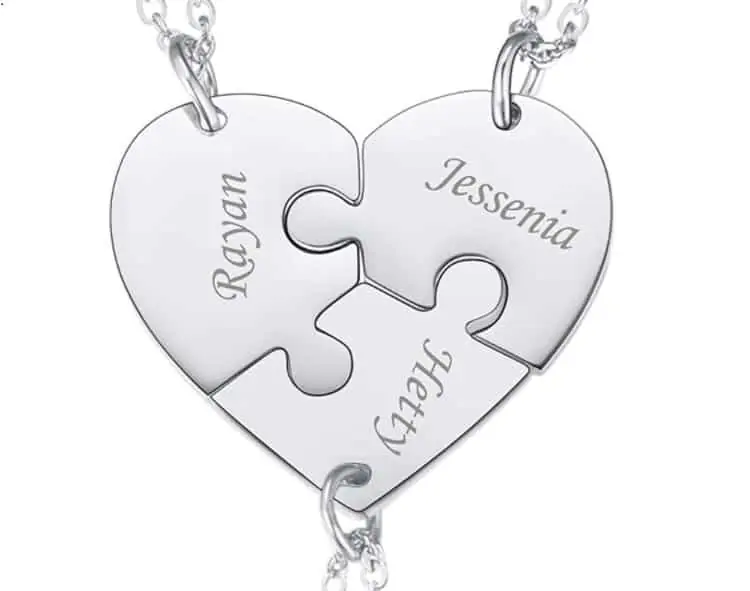 This necklace is made from two pieces that when you place them together they form a full heart. Both pieces are customizable so that the users can personalize them with their names or any other friendship messages. The chain is made from stainless steel and it is durable.
The two engraved heart pendants are stylish, classy, and subtle. They express how you and your best friend love and support each other and share the same values. The color is long-lasting and the smooth polished finish makes these necklaces very comfy to wear.
Before ordering them, you must choose your favorite color and then customize the items by writing the content you want to be featured on the pendants. These necklaces are delivered in a gift box and they also come with a black velvet pouch.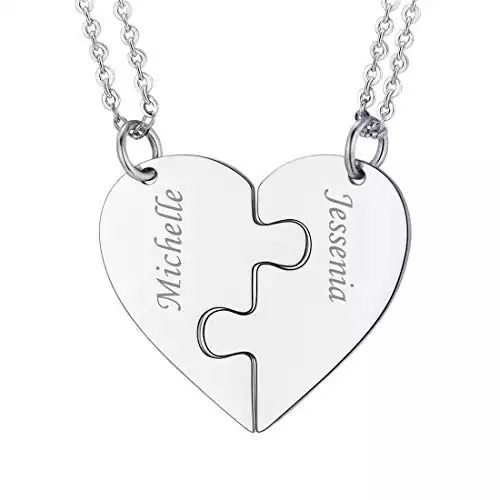 Broken Heart Pieces Necklaces | Amazon
Heart Necklace Set: couple heart shape pendant for best friend, express love between couples, lovers, friends, family, Comrade and so on.
Buy at Amazon.com
We earn a commission if you click this link and make a purchase at no additional cost to you.
10/01/2023 02:46 am GMT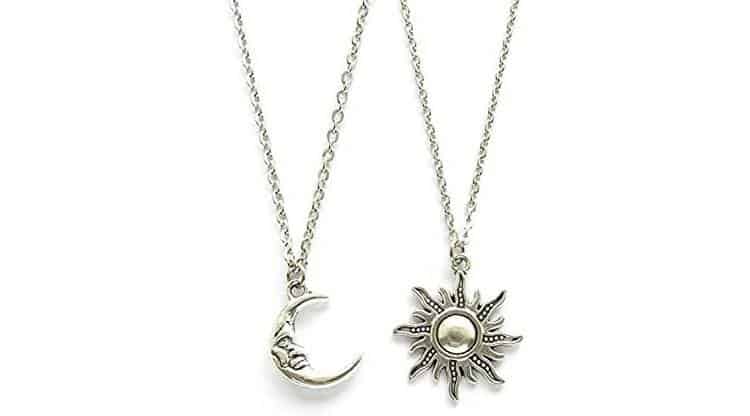 These pendants with celestial symbols show how well you and your BFF complete each other. It is the best choice for two loyal friends who feel very connected to Mother Nature. The sun and the moon have the ideal symbiotic relationship, just like you and your BFF do.
When it comes to these two symbols, I would opt for a minimalistic design; something that is subtle and elegant but won't go unnoticed. In general, minimalistic jewelry features great attention to detail. You could opt for golden necklaces, silver pendants, or a combination of these two colors.
These two pendant necklaces are comfortable and versatile and they can be worn with pretty much any type of outfit, from casual to smart casual and more elegant dresses. They are also considered charm necklaces.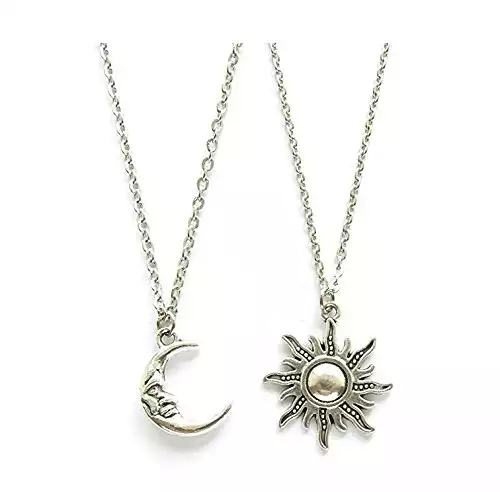 Sun and Moon Necklaces | Amazon
Perfect gift for any occasion. for yourself, or for others. Simple and easy to wear with any outfit to either dress it up or make it funny.
Buy at Amazon.com
We earn a commission if you click this link and make a purchase at no additional cost to you.
10/01/2023 06:50 am GMT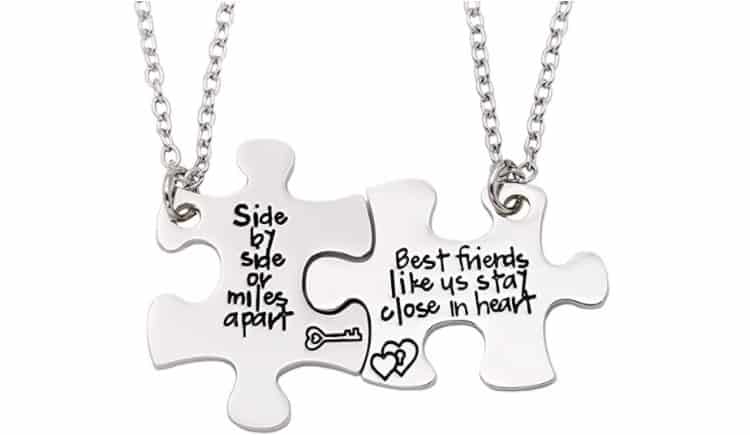 These two friendship necklaces have two pieces of a puzzle as pendants. You and your BFF go together as well as those two pieces of puzzle fit one next to the other. If you want to catch the very essence of your friendship in a highly inspiring manner, then puzzle pieces will certainly do the trick.
These two pieces of delicate jewelry show exactly how much you care for one another and how well you complete each other. One thing that could increase their sentimental value is to engrave your names or initials on these two pendants.
The best part of choosing puzzle pendant necklaces is that you can buy and offer as many as you want for all your BFFs. All these accessories are delivered in cute jewelry gift boxes. They are timeless items that will compliment any of your looks and outfits.
Puzzle Pieces Necklaces | Amazon
Make your best friend feel special with our cute and charming BFF necklace. Share your stories and the hearts of the necklace to remind each other of your special bond.
Buy at Amazon.com
We earn a commission if you click this link and make a purchase at no additional cost to you.
10/01/2023 07:43 am GMT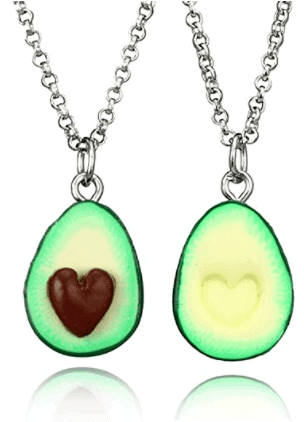 Having a best friend is essential for a happy life. For me, it is like finding the missing link that will complete my life. This necklace set with two halves of avocado pendants portray the very thought I've mentioned in a very creative way.
Each charm necklace has one half of the avocado fruit and one side features the seed in the shape of a heart, whereas the other half has a heart-shaped hole in its very center, where supposedly the seed left from. This necklace set is a great gift for you and your BFF to show her how well you complete each other and how much you value her presence in your life.
Both products are made from durable materials such as high-quality alloy that won't break or fade.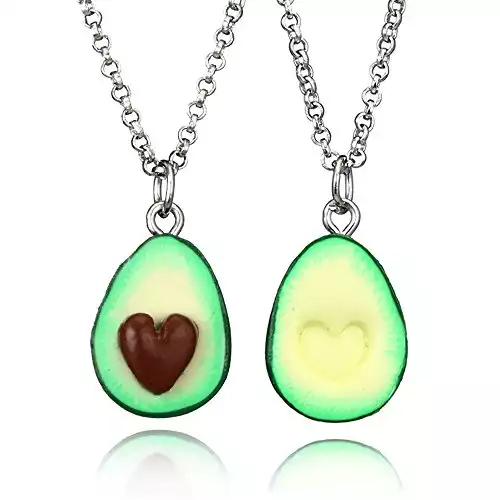 Avocado BFF Necklaces | Amazon
Souarts 2 pcs best friends engraved necklace with broken heart charm pendant set BFF friendship necklace.
Buy at Amazon.com
We earn a commission if you click this link and make a purchase at no additional cost to you.
10/01/2023 10:50 pm GMT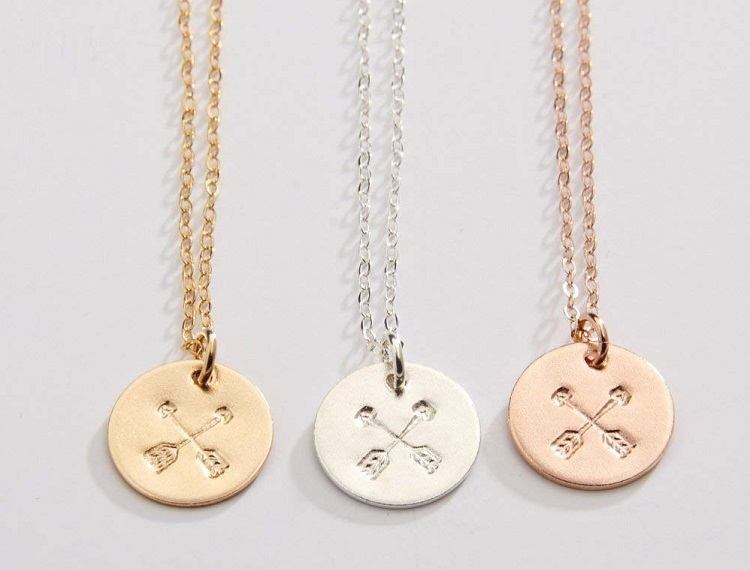 These necklaces are a very stylish option for you and your best friends. But they aren't just simple accessories. They are full of deep meaning. The crossed arrows symbol represents the message of peace and ending all hostilities, in the Native American culture.
The symbol of the two arrows is protecting your friendship and safeguards the connection between you and your best friend. These necklaces are also a very good idea if you had a recent fall out with one of your close friends and now you're ready to mend fences.
This particular friendship necklace set is also an excellent choice for your bridesmaids, in case your wedding is approaching. There are three available colors that you can choose from: silver, gold, and rose gold.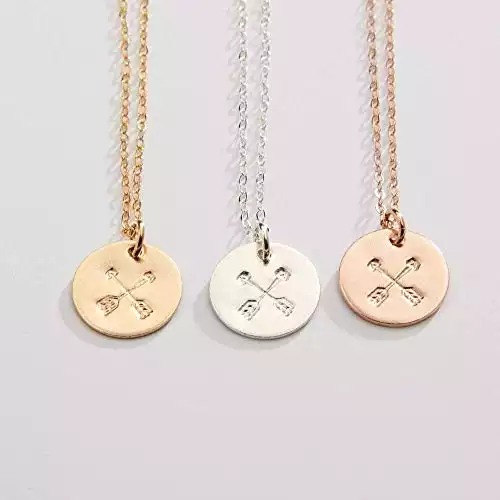 Crossed Arrows Necklaces | Amazon
Two crossed arrows are commonly interpreted as the symbol of friendship in Native American culture. This meaningful necklace is a perfect gift idea for bridesmaids and girlfriends! You can wear one for yourself and one for your BFF!
Buy at Amazon.com
We earn a commission if you click this link and make a purchase at no additional cost to you.
10/01/2023 04:57 am GMT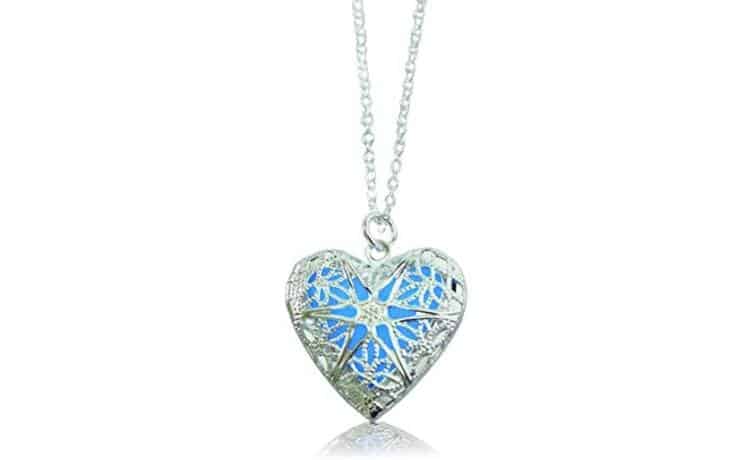 These necklaces have heart locket pendants that glow in the dark. They have a beautiful minimalistic yet antique appeal. They are a great way to celebrate true friendship. The necklace is simple but very elegant and it will embellish anything you wear as clothing items.
Each item comes in a delicate gift bag made of floral organza. The locket can be opened so that you can insert a photo in it and keep it close to your heart all the time. The way these accessories have been crafted and customized makes them really memorable and unique. It shows thoughtfulness.
Inside, they have a glowing charm that charges all day long from the sunlight and glows after the sunset. It is one of the best friend necklace ideas that are suitable for nightlife enthusiasts.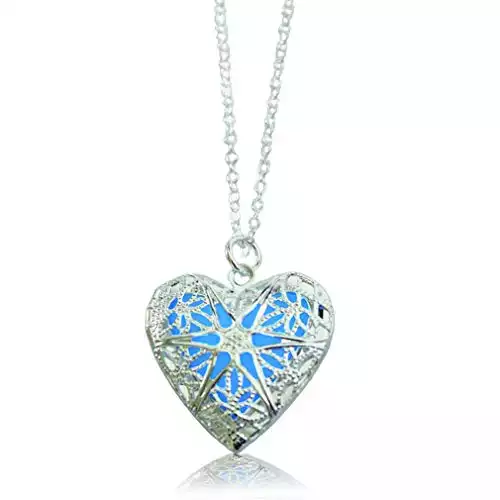 Necklace Set with Heart Lockets | Amazon
The glowing pendant necklace does not only look awesome in the day, but it also glows in the dark! It is the best present for mom, wife, girlfriend, best friend, girls, sisters. Well, match to most occasions such as Halloween party, Bachelor party, Christmas, Birthday, Anniversary, Valentine's Day.
Buy at Amazon.com
We earn a commission if you click this link and make a purchase at no additional cost to you.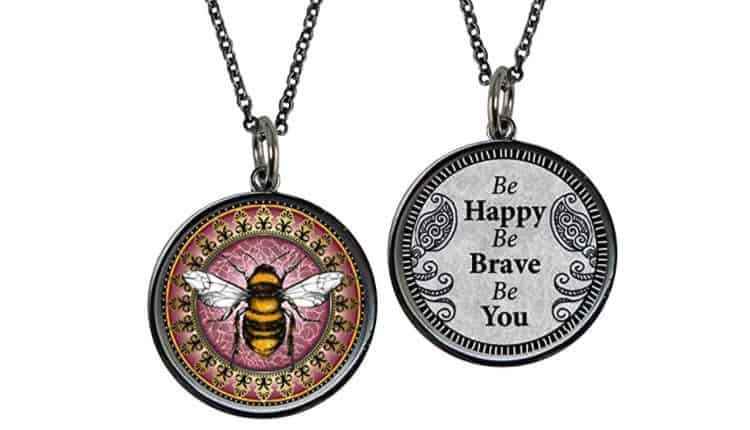 If you want to celebrate your friendship and go all the way, you should consider these two necklaces that feature reversible sterling silver pendants. There are plenty of options to choose from in terms of details, messages, and the images that appear on one side of the pendant.
Some of you might choose pendants with birds on them, while others might prefer trees or bees, or anything else for that matter. The other side of the pendants will feature an engraved message that briefly describes the love and friendship between you and your BFF.
These round-shaped pendant necklaces have a very bohemian appeal and they are real pieces of artwork. Each necklace is shipped in a pretty gift box that comes in handy for when you want to store the necklace. Both the pendant and the chain are made of durable stainless steel.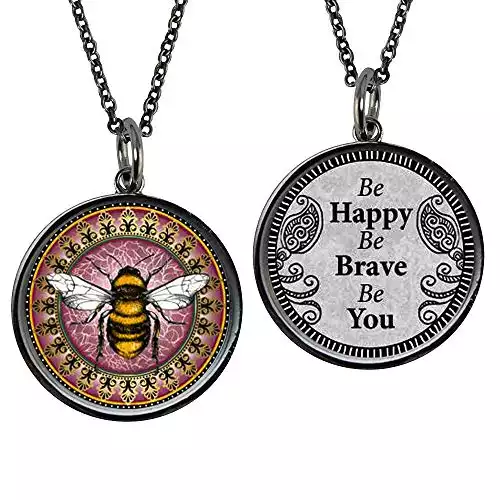 Bestie Friendship Necklaces with Permanent est. Date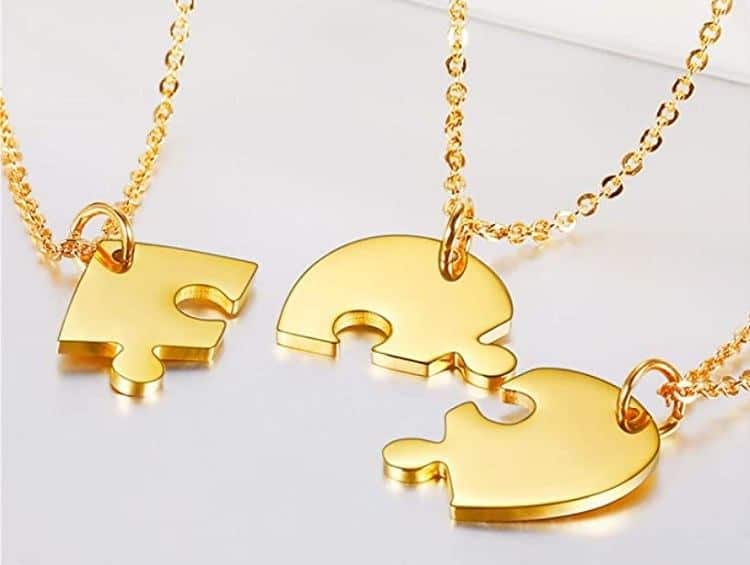 A more unique version of a friendship necklace would be the one that features the date when you and your BFF first met. It marks that event in a simple yet charming manner. On the pendant, there's the word Bestie plus the year in which you met and your strong friendship began to develop.
It is the perfect gift idea if you're celebrating your friendship anniversary. Moreover, these two items' sentimental value will certainly increase as the years go by. Some brands add a glass pearl bead that has a specific color that corresponds to the month in which you two met. This extra detail makes these necklaces really memorable.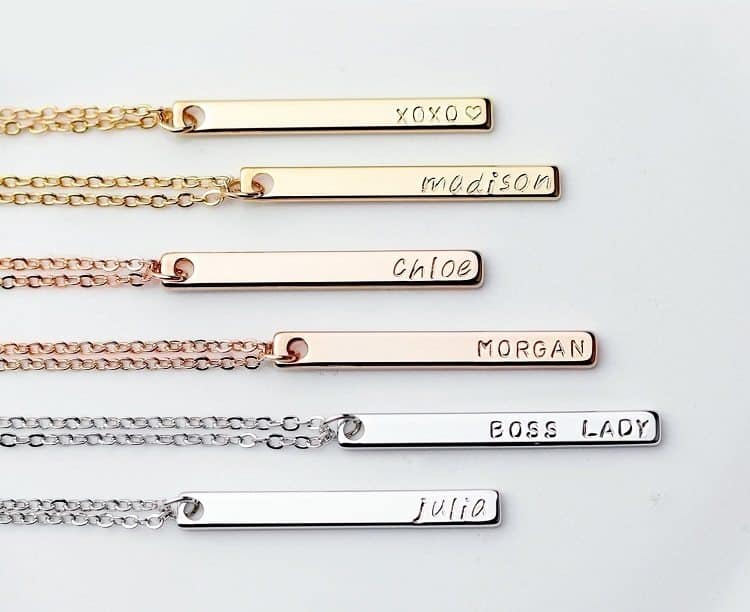 BFF bar necklaces are very adorable, mostly because, besides their cute design, they are usually worn by those who like to commemorate special and long-term friendships. They come in three different colors (silver, gold, and rose gold) to match each of your friend's personal tastes and preferences.
Purchase one for any of your closest BFFs and make good use of these items' customization feature to boost their sentimental value. These necklaces are simple and stylish enough to suit your everyday outfits. They can even complement fancier or dressier looks.
If you can afford it, you can opt for precious metals like silver, gold, or platinum instead of alloy or stainless steel. Most of these products normally arrive in elegant gift boxes or cute velvet pouches.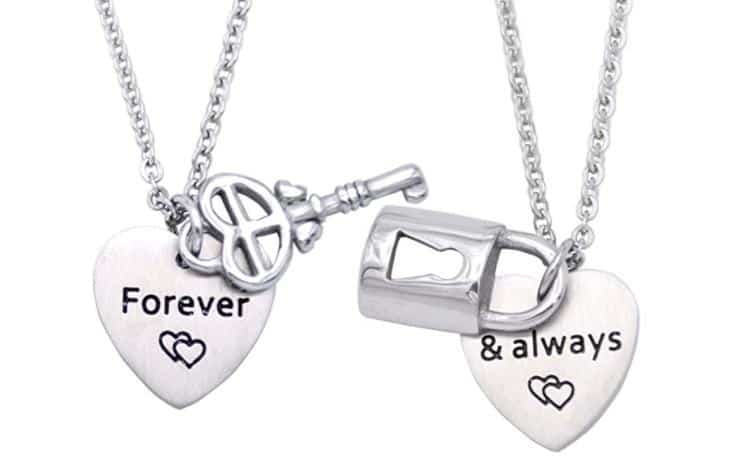 Most of us have that special person who makes us feel joyful just thinking about her. It is almost like we would feel incomplete without that individual. Necklaces with symbols such as locks and keys, heart, or messages like "forever and always" can perfectly define the way we feel about each other.
Hand-stamped necklaces are ideal for best friends as well as for lovers. Numerous options are very affordable, being made from stainless steel. These lock and key charm pendants look so very cute and they hold so many meaningful messages and feelings.
They sum up your love and affection in the greatest possible way, not to mention how elegant and ornate they look.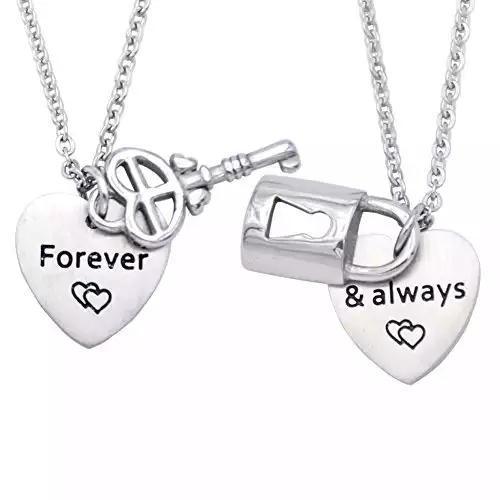 Lock and Key BFF Necklaces | Amazon
This is a hand-stamped necklace set. Perfect for couples or even your best friend! The lock and key charm accent this hand-stamped stainless steel heart necklace and make it a perfect set!
Buy at Amazon.com
We earn a commission if you click this link and make a purchase at no additional cost to you.
10/01/2023 04:48 am GMT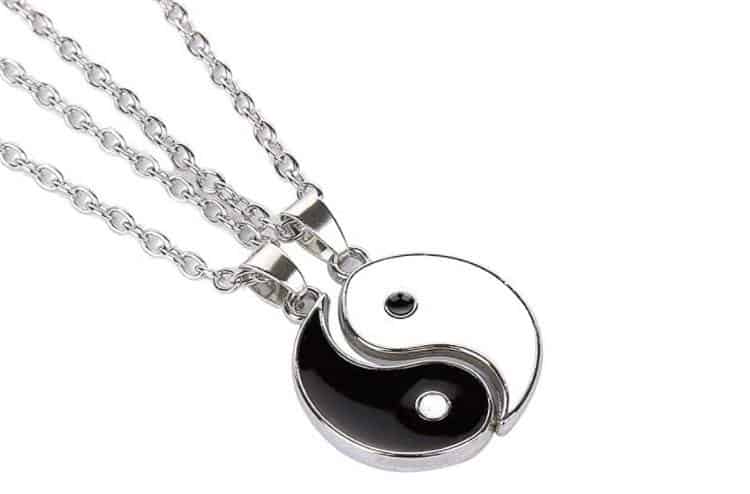 These yin and yang friendship necklaces are the perfect statement for your relationship with your BFF. The Asian symbol represents the perfect balance between two elements that keeps you both in perfect sync. The material of these accessories is durable and hypoallergenic. The finish is thick yet smoothly polished.
The yin and yang symbol is another timeless option, just like the two pieces of the same heart. These necklaces come in a cute jewelry pouch that's ready to be offered to your best friend.
FAQs About The Best Friend Necklace Ideas
Question: How Should You Choose a Certain BFF Necklace Model for You and Your Friends?
Answer: Friendship necklaces symbolize many things like honesty, affection, care, loyalty, and more. First and foremost, you should know your close friends' preferences, style, and taste when it comes to looks and accessories.
What is their preferred style? Are they romantic, courageous, or introverts?
Do they like minimalistic looks or would go for statement jewelry pieces? Secondly, think about the pendants. They must represent something meaningful like a relevant symbol that could describe your friendship. Choose necklaces that can be personalized and that are made of high-quality materials.
Opt for unique shapes and colors as well as memorable engravings. Look for something pretty yet lightweight and versatile that can be worn to any occasion.
Question: What Are the Best Words and Messages to Engrave on Friendship Pendants?
Answer: There are numerous messages and words that you can have engraved on your friendship pendants, all of which are delightful and they will show your BFFs how special they are to you. Here are some excellent ideas you should consider:
• Always together;
• Always and forever;
• Never alone;
• Nothing can stop us;
• Our friendship is forever;
• Blessed to call you my friend;
• We inspire each other;
• Partners in crime;
• Besties for life;
• Fun and friendship;
• We got each other's back;
• Yesterday, today, tomorrow, always…
Question: What Are the Latest Trends When It Comes to Friendship Necklaces?
Answer: Although trends are important, especially if you're into fashion and you want your appearance to be updated at all times, I have always believed that we should always wear those things that make us look good and, most importantly, feel good when wearing them.
The classic and timeless type of friendship necklace is the one that features a broken heart pendant; half of it goes to your BFF and the other half remains to you. Others would rather customize the pendants so that they show a symbol with special meaning for all the besties in the group. Perhaps something that meant something for all of them back when they were kids.
Apparently, the latest trend that's going strong this year is the pearl necklace, especially pearls that display unique and unconventional colors and shapes.
The Best Friend Necklace Ideas – Final Thoughts
Having a best friend (at least one) is a very special thing that you should never take for granted. Therefore, small yet important gestures like offering her a friendship necklace will only make your connection even stronger.
Any of the necklaces and pendants presented above is a great choice for you and your besties. The final choice is yours based on your preferences but I would definitely opt for something simple and timeless because that way you can wear it forever without going out of style.