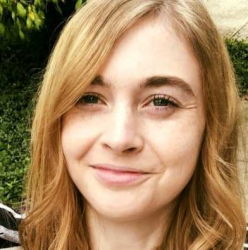 Latest posts by Erin Jamieson
(see all)
If you're like me, you have some friends that mean a lot to you, but sometimes it's hard to come up with gift ideas. A new option? A friend diamond ring.
Since the blockbuster feature film, Titanic, captured hearts, many fans have been rooting for co-stars Leonardo DiCaprio and Kate Winslet to get together in real life. In a turn of events, DiCaprio recently presented a ring to Winslet–a friendship ring.
While it wasn't the diamond engagement ring many fans may have hoped for, it brought to light to grow, but slow popularity of best friend rings and even best friend diamond rings– with ideas now abounding as it becomes a more common practice.
The ring in question was a personally engraved ring, meant to showcase DiCaprio's and Winslet's platonic love' and strong friendship for one another.
The two have said in the past that they've been for each other during life's ups and downs, and they are purported to 'talk constantly' with their 'brother-and-sister chemistry. While there isn't much information just how much is true or speculation, DiCaprio giving Winslet a friendship ring at very least shows that the two are close.
Of course, you don't need to be a celebrity to buy a best friend ring. In this article. I'll tell you about the less usual twist on a diamond ring, how to find the best ring for your friend, and my own picks for the best friendship rings you can buy now.
What is a friendship ring?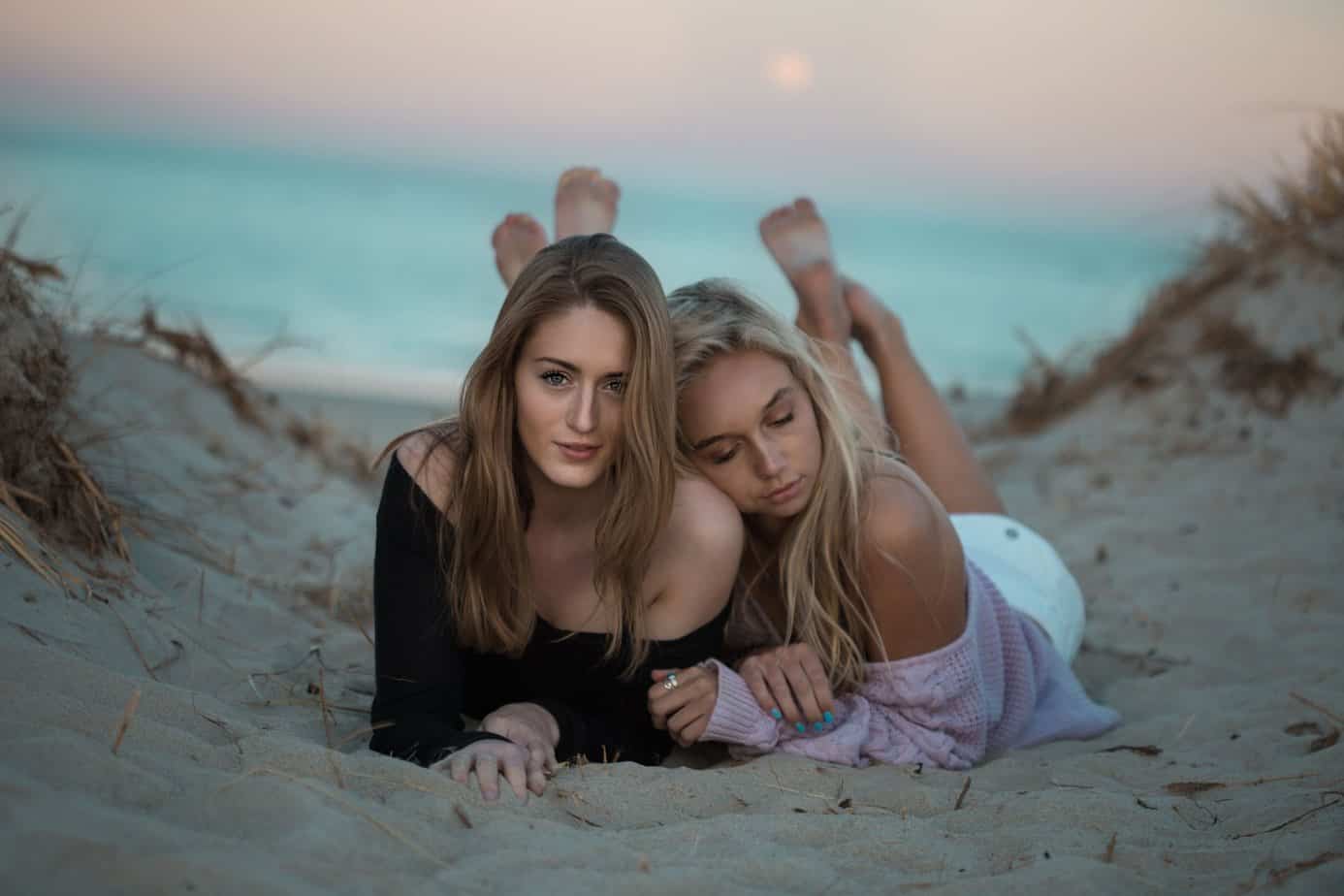 A friendship ring may seem like an odd idea, but it's actually become more popular and normalized. You don't have to be searching for an engagement ring to buy a nice or even diamond ring. A diamond friendship ring, as it sounds, symbolizes a very close and tight bond that you feel means a lot to you, and is lasting in its connection.
What was the first friendship ring?
While a ring for a friend may seem like a modern idea, it actually can be dated as far back as the 17th century. What is now considered the first recognized ring for a friend is the Claddagh ring, which originated in Ireland and is still widely used today. The Claddaugh ring includes two hearts holding a hand, topped with a small crown.
The hands, of course, symbolize a tight bond between two friends, while the crown and heart embody loyalty to one another and platonic love.
What does a modern friendship ring symbolize?
The meaning really hasn't changed for a modern friendship ring. It's meant to showcase nonplatonic love and a special bond between two people. Typically given to a friend who'd been there during the most difficult times, a ring marks not only a friendship, but one that stands out for either is longevity, depth, or likely both.
Sometimes referred to as best friends forever, these rings are meaningful in many ways. But a diamond friend ring may add additional symbolism. A diamond in itself can symbolize countless things, including an unbreakable bond; promise, and commitment. While often associated with a romantic relationship, it can also apply to a non-romantic relationship as well.
What is a promise ring?
Despite popular perception, a promise ring is a ring that can mean many things and can be exchanged both among friends and romantic partners.
In general, a promise ring is meant to showcase commitment and love. For romantic partners, it may serve as a predecessor to an engagement ring, and showcase an intent to become engaged sometime in the future. Promise rings are sometimes used for religious couples or couples who know that wedding planning is well in the distance, but who still want to showcase their intended commitment.
For friends, a promise ring is a great option for showing your commitment to a long-lived friendship. Promise rings are often more expensive than a typical friendship ring and available in diamond versions for a stunning and lasting ring.
Above all, the takeaway is that a promise ring and a diamond friendship ring really are interchangeable– it's the intent that differs.
What are promise rings for friends?
One thing that gets tricky is what a promise ring is vs a ring for friends. In fact, a promise ring has romantic roots, but now promise rings also include diamond rings for friends. When you're looking for a diamond ring for a friend, you're actually best off searching for promise rings.
What finger do friendship rings go on?
Friendship rings have traditionally gone on the ring finger of the left hand. This stems from a myth that that finger has a vein connected to the heart. That said, you can wear a friendship ring on whatever finger you wish; I just recommend against your right ring finger, so it is not mistaken for an alternative engagement ring.
How do I find the best diamond ring for my friend?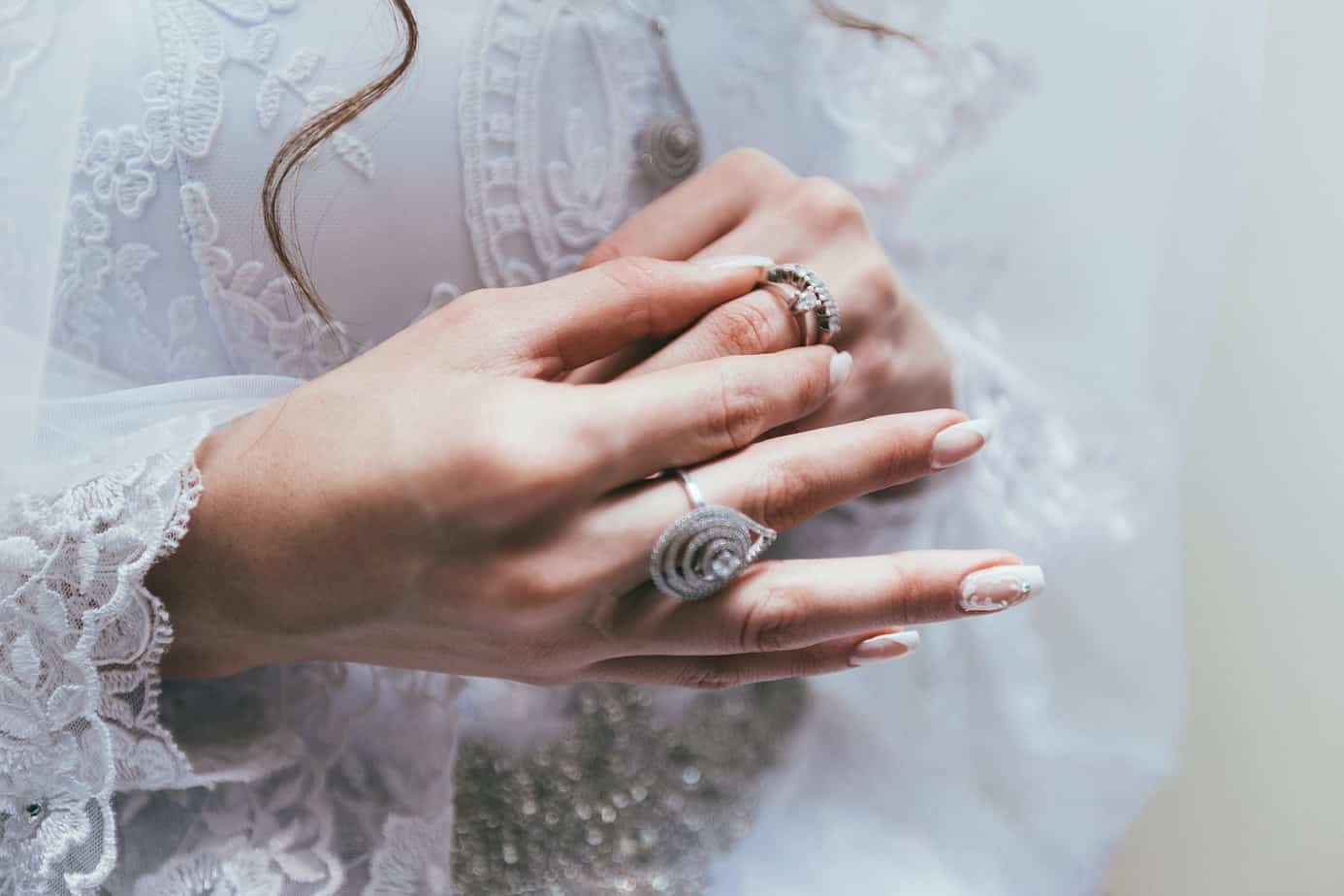 Now that I've clarified the symbolism of a friendship ring, and also established that promise and friendship rings are essentially the same thing, I want to give you some helpful tips that can help you brainstorm your own ideas for selecting to best ring for your friend.
Styles
Promise rings for friends come in a variety of styles, and what's best for you depends on personal preference. Diamond ring options for friends include heart-shaped diamond rings, interlocking hearts, engraved rings, solitaire rings, three stone accents, ribboned, and rectangular facets. Occasionally you can find a Claddagh ring, those are often without diamonds. Most friend rings are classic or modern in look. They tend to be understated, rather than over the top, and the focus is on geometric design, not diamond carat.
Some ideas for more specific styles include interlocking layers; a fine band of diamonds; shapes like hearts, and other plays with geometry. Go for something that can be worn for any event, and doesn't make too loud of a statement.
Metal Types
White gold, rose gold, and yellow gold, as well as sterling silver, are the most common metals for friendship rings. While sterling silver isn't as durable, it is favored in some cases both for its symbolism and for its cheaper price point.
I do recommend selecting a 10K gold or higher if it's within your budget. Alternative metals are fairly unusual for promise or friendship rings. While you can find as high as 18K gold, for a promise ring, 10K tends to be more affordable, and a great compromise.
Price Point
For a friendship ring, I recommend spending no more than $1,000 if possible. There are many reasonable options priced at around $500 or $600, and much less if you want only small diamond accents or you opt for sterling silver. Always compare the shop, but also understand what you're getting for the price point.
Diamonds
I tend to be less picky about promise or friendship rings in terms of diamond sourcing, but you'll still need to ensure you're buying a real diamond (likely lab-grown) vs a stimulant.
Lab-grown diamonds are going to be more plentiful and affordable and a much more typical option for a ring for a friend. If possible, go with a company that provides some information about the diamonds, and that has a record of good customer service and quality.
The Best Diamond Rings For Friends: My Picks
Now that I've given you some ideas and criteria for selecting rings for a best friend, here are my recommendations. All of these rings are perfect for gifting a friend (or could even work as a maid of honor, to pair with a bridesmaid dress). I am including different styles and price points, so you can be sure to find a ring that fits your budget and preferences.
Without further ado, here are my picks for the best diamond rings you can buy for your friend.
Zales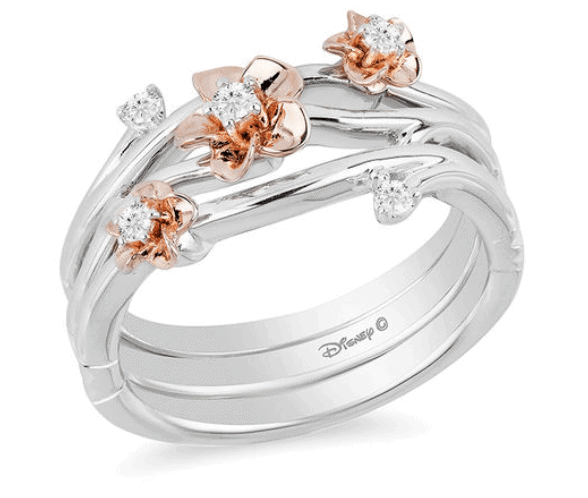 Whether you're looking for a best friend who's a Disney fan, or someone who just loves whimsical, nature-inspired rings, this beautiful and unique ring comes in at under $500 with just a hint of sparkle, and a showcase of the floral design.
The stackable ring is a blend of 10K rose gold and sterling silver, featuring a flower with diamond accents. The attention to detail, play with textures and unique structure make this even a great gift for a maid of honor in your wedding. Buy Here.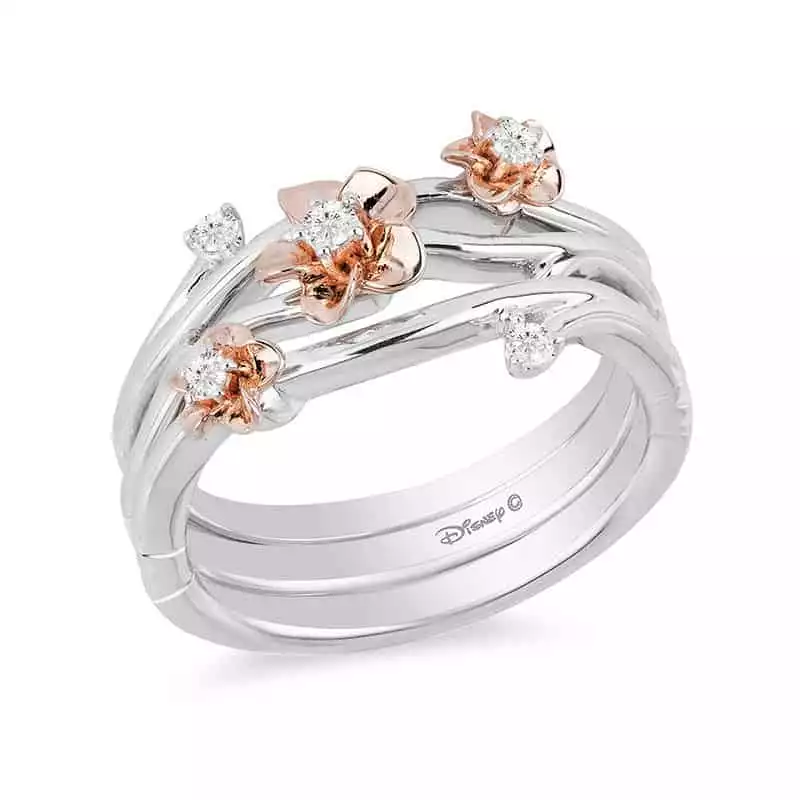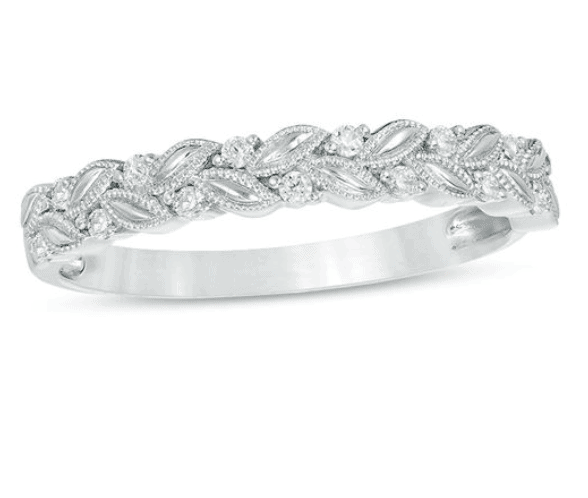 The Laurel Leaf is steeped in tradition, meaning victory, but also prosperity and success, making this a great message all around. This brand is a subtle but innovative design set on 10K white gold, with milgrain detailing, plus small diamonds scattered throughout the marquise-shaped leaves. Buy Here.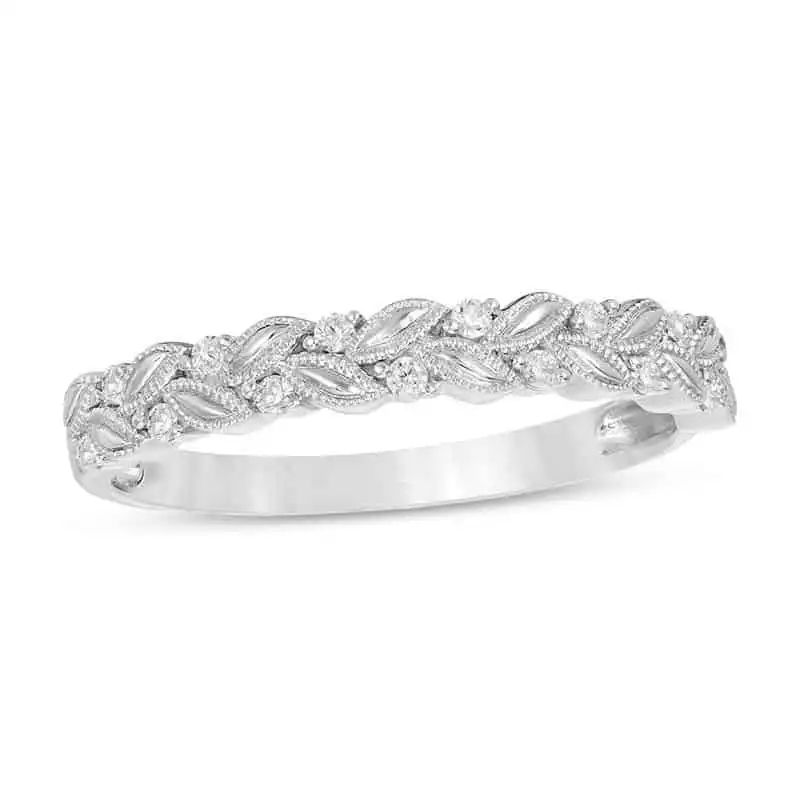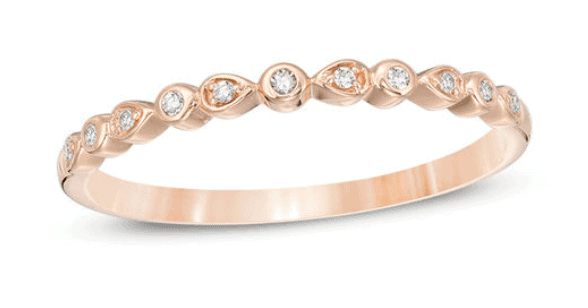 If you're looking for a best friend diamond ring under $200, consider this simple but elegant option. They can wear this ring for any event, with a slender 10K rose gold band and alternating diamonds in teardrop shapes. It'll also add some sparkle as jewelry for a black dress. Buy Here.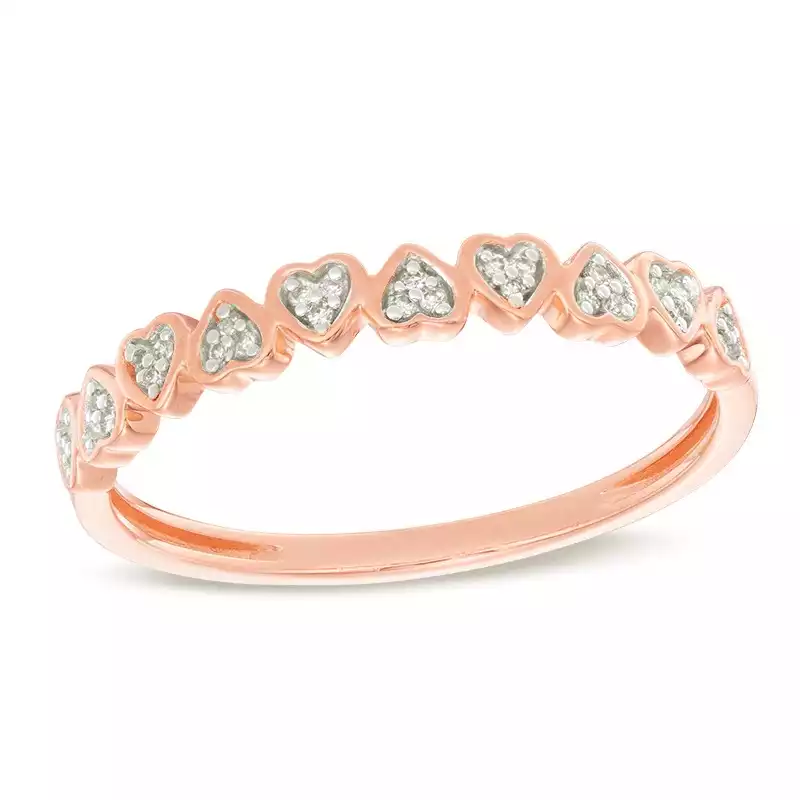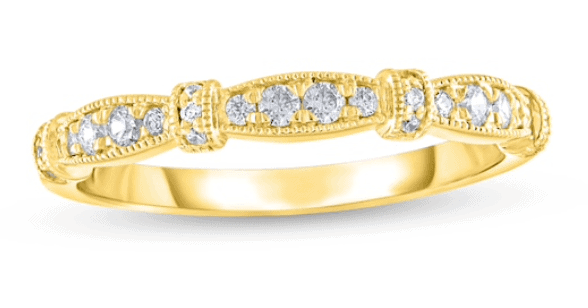 It's hard to find any friend rings that have diamonds, a vintage style, higher quality gold– and still under $500. This ring satisfies all of those criteria, with a graduated diamond pattern alternating of milgrain borders, curved collars, and ⅕ carats of diamonds for just a bit of sparkle. Buy Here.
Jared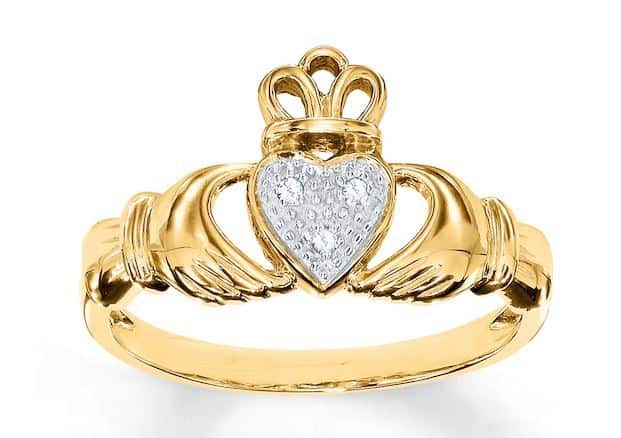 This is one of my absolute favorite ideas for a ring for a friend–as the original friendship ring, the Claddaugh is a great way to go, and Jared offers many versions to suit your style preferences. Rings are more affordable than most diamond ring options and range from a little over $100 to just over $200. I prefer the options in 10K yellow, white, or rose gold. There are even a few where you have the option to add a personal engraving.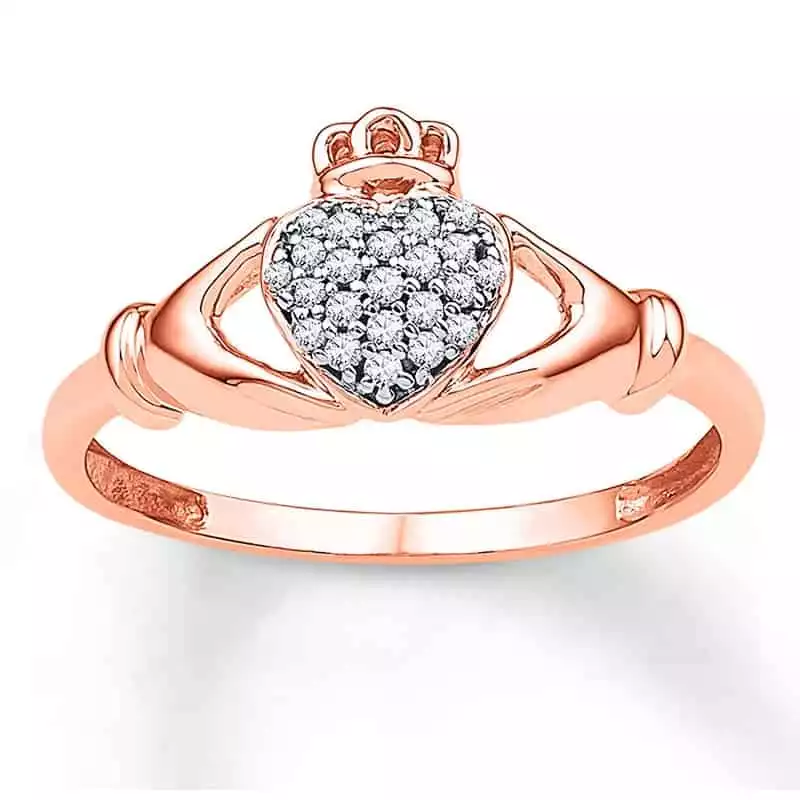 Claddagh Diamond Rings | Jared
Filled with shimmering diamonds, the heart in this Claddagh ring for her contrasts beautifully with the 10K rose gold band. Representing love, friendship and loyalty, the sentimental ring has a total diamond weight of 1/10 carat.
Check Prices
We earn a commission if you click this link and make a purchase at no additional cost to you.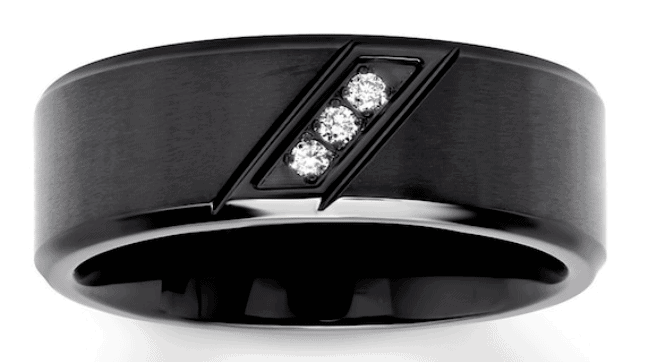 One thing that is sorely missing from most friend and promise ring collections is any masculine options, which is why I appreciate this ring collection from Jared. There actually are a few options for diamond accents as well, and rings are priced at $100 to several thousand dollars.
Of the diamond rings, my favorite options under $250 include this men's diamond band in black stainless steel, with 1/20 carat diamonds along with a slick band; this dual-colored band featuring stainless steel with black and rose gold, and others that have a unique enough design that they don't scream wedding ring.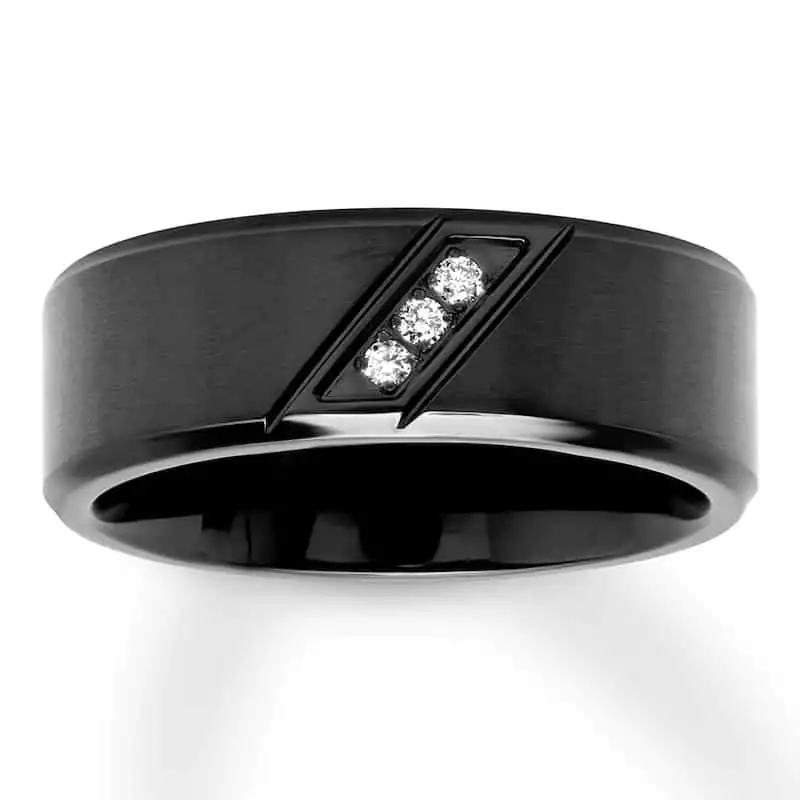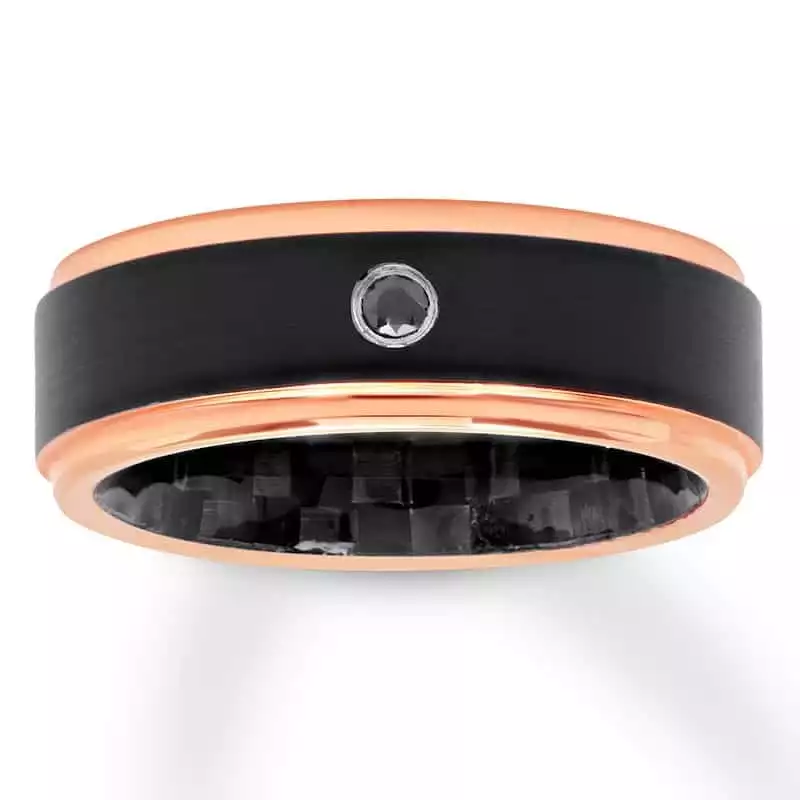 Men's Black Diamond Band 1/20 carat Black/Rose Stainless Steel | Jared
This elegant 8mm band for him features a round 1/20-carat black diamond bezel-set in the center of a black stainless steel band. Rose-gold-tone edges complete the look. Black diamonds are treated to permanently create the intense black color.
Check Price
We earn a commission if you click this link and make a purchase at no additional cost to you.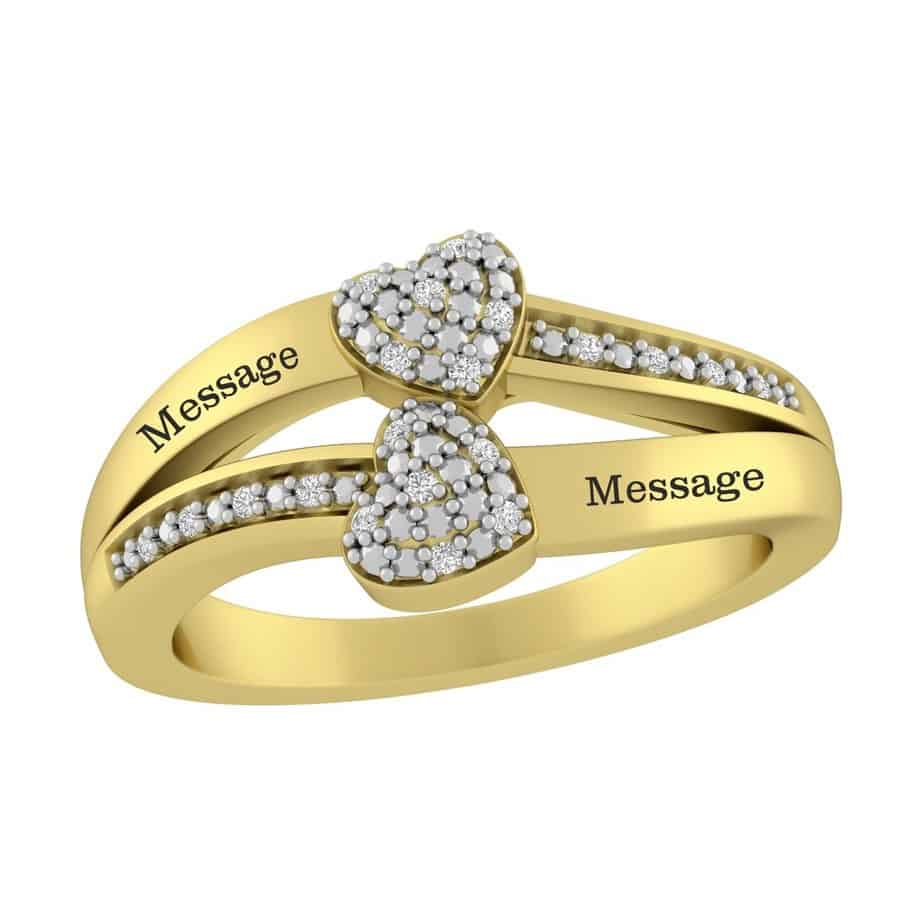 While many may label this as a couple's ring, it can actually work for a friend ring, with the option to add your own personal message through engraving. The ring features options for sterling silver, or 10K rose/yellow/ white gold, and a modern ribboning style for added interest and dimension. Buy Here.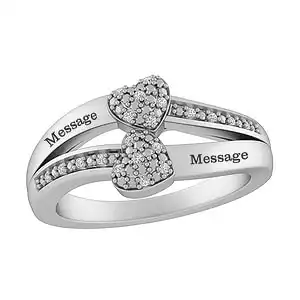 Personalized Engraved Heart Ring | Jared
Create a personalized ring and make it your own with your favorite gemstones and engraveable precious metals to create a treasured, giftable piece of personal jewelry.
Check Prices
We earn a commission if you click this link and make a purchase at no additional cost to you.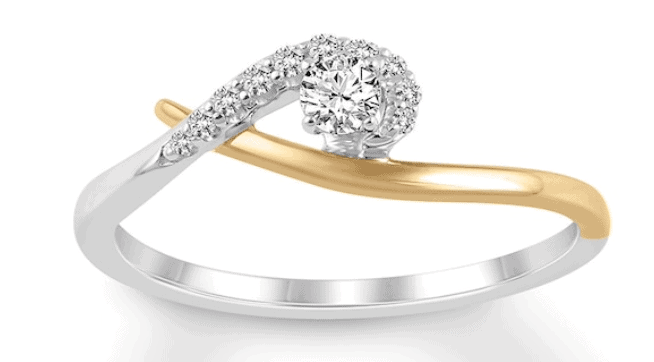 This sophisticated ring features a dual-tone 10K yellow and white gold, with a small diamond center and accent diamonds along with the ribbon, curved structure. At once sleek and a bit glamorous, it's a great option for just under $500. Buy Here.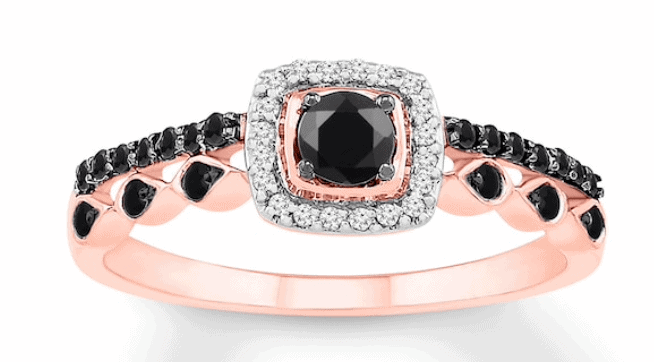 This is the most expensive idea I have for a diamond ring for a friend– but if you have a friend with a bold and unique fashion sense, it may be one of the best. This is an intense take on a classic, featuring round black and white diamonds alongside a warm 10k rose gold band, and intertwining strands. A stunning, elegant, and daring design, it retails for just a little over $500. Buy Here.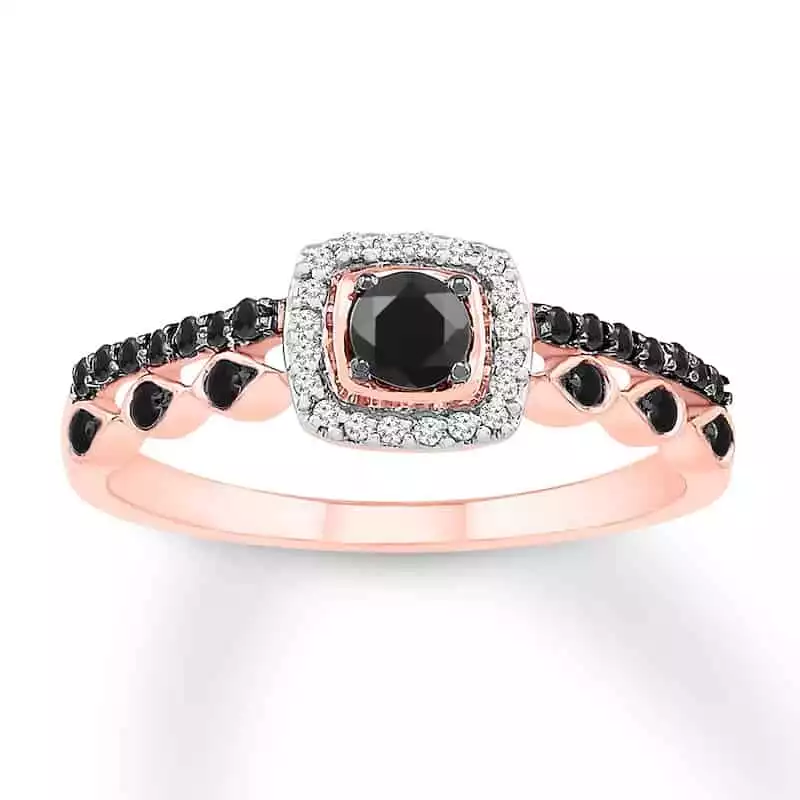 Kay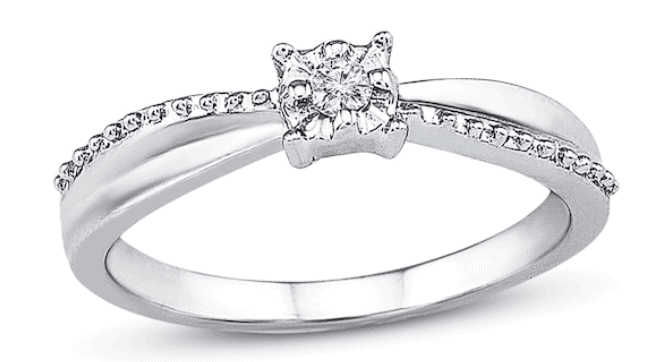 Looking for an option under $100? This comes right at that price point, with a pleasing design that can be worn with almost anything. It is all sterling silver, so it may require more upkeep and care than solid gold. The $99 ring features a center diamond accent and a thin band of diamonds. Buy Here.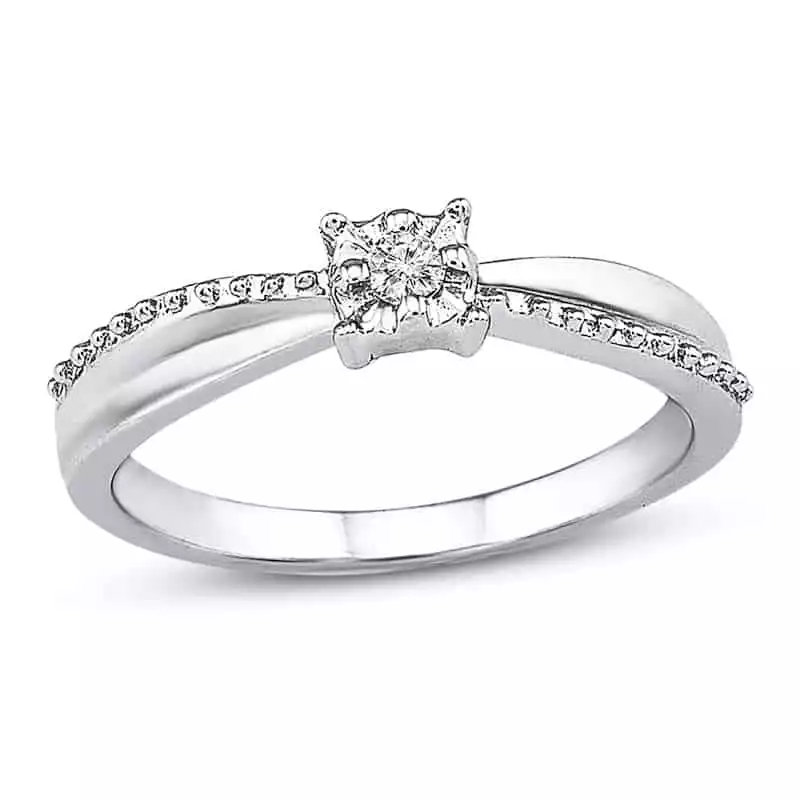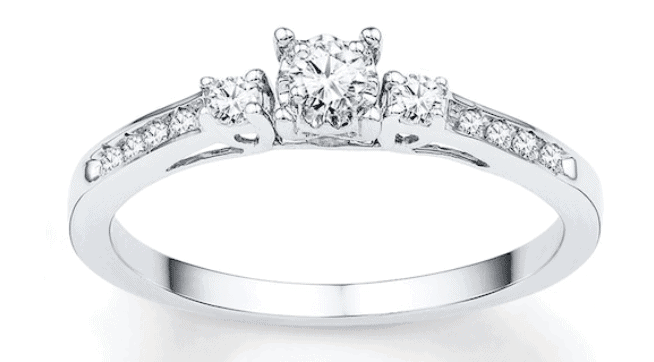 This three-stone ring is a great option for a friend who has a modern and classic style and plans to wear their ring on a more regular basis. Set on 10K white gold, the ring adds sparkle to any outfit, with a three-stone center and accent diamonds along with the band. Buy Here.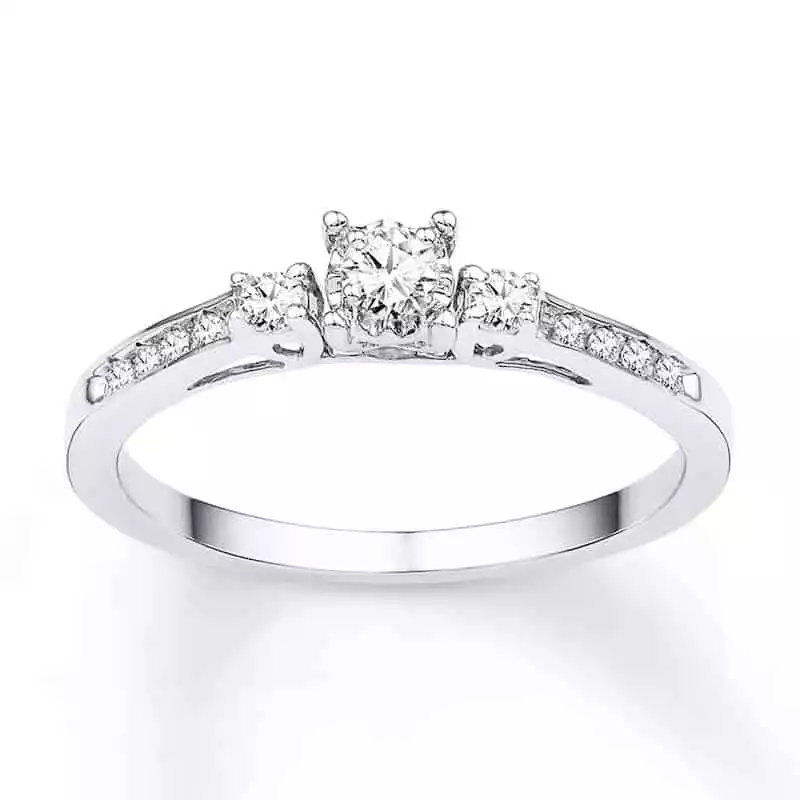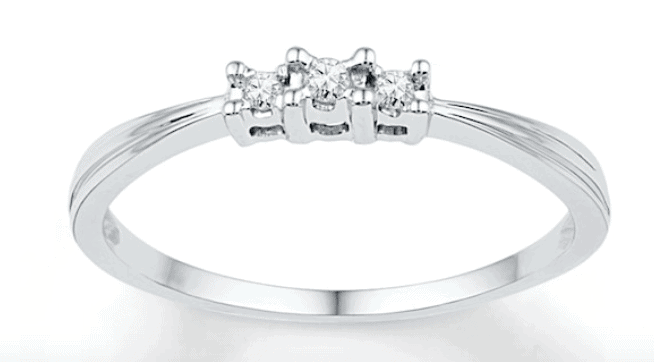 A sleek band places the central focus on the modest diamond center– a great option for under $250 on 10K white gold for a more modern look. A cluster of three diamonds is at the center, and there's a nice shine to the band. Buy Here.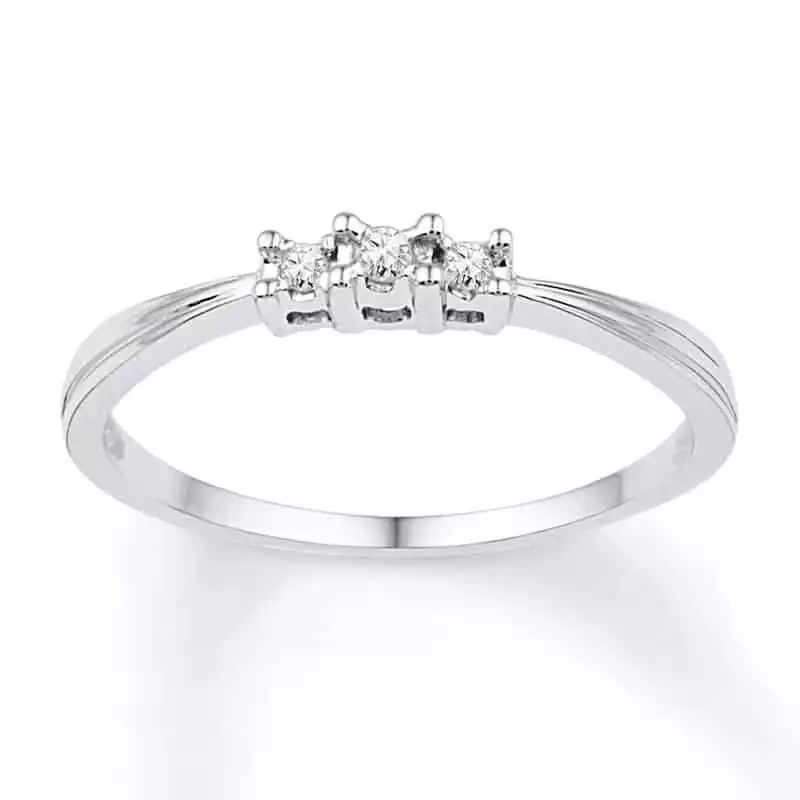 FAQs
Question: Is it weird to give your best friend a ring?
Answer: There is no right or wrong answer to whether or not you should give your friend a ring. The truth is that it depends on the relationship itself. You need to feel comfortable, but, as the trend is becoming more popular, it's becoming more normal to do so. That said, if you're especially concerned about gifting your best friend, consider the Claddagh ring, which is almost always seen as a symbol of friendship. Plus, it doubles as jewelry for any event.
Question: Are diamonds really a girl's best friend?
Answer: Diamonds as a girl's best friend is a popular saying that is often tied to advertising and 'diamonds are forever' campaigns. In reality, not everyone loves diamonds, nor are diamonds the only option, no matter what kind of ring you're buying. For engagement rings, for instance, many are now seeking alternatives like moissanite diamond rings.
Final Thoughts
A ring for a best friend, especially a diamond ring, can be tricky to buy. You'll have to balance style, budget, and metal type. You'll also need to think about what would showcase your friendship best. Hopefully, some of these ideas have stirred up some of your own so you can show appreciation for the special friend in your life.
Thinking of starting from scratch and designing your own ring? Here are the best places to buy loose gemstones online.