Latest posts by Jeanette Kierstead
(see all)
When you're looking for something unusual to wear around your neck, one of these stunning blue beauties should be a fantastic accessory for any outfit. While blue sapphires are the birthstone for September, you don't have to have been born in that month to enjoy the deep, rich blue of sapphires. These are some of our our favorites among the unusual, unique, and beautiful world of blue sapphire pendants.
Jewelili Blue Sapphire Pendant Necklace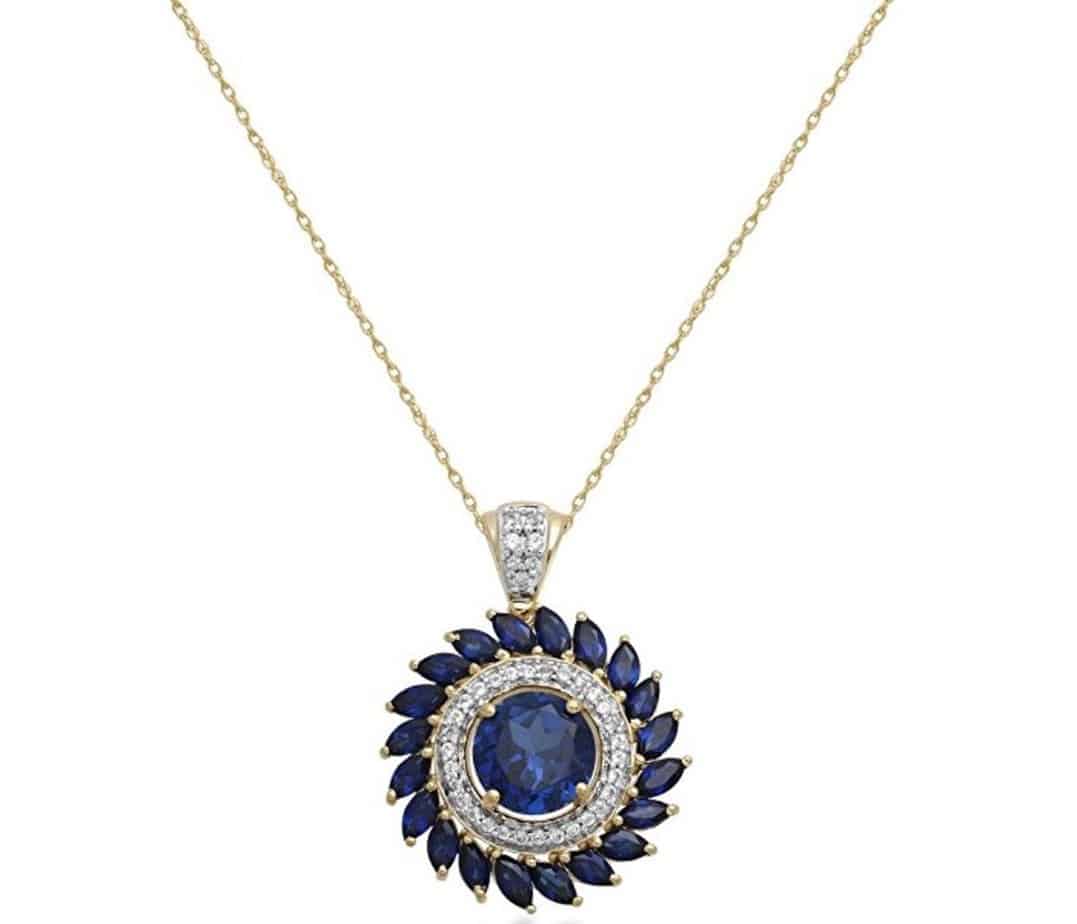 We can't decide if this is a Native American flower design or a sunburst, but we love it either way. The metal is 10k yellow gold with a round blue sapphire at its center. The main sapphire is a natural stone that's been heat treated to enhance the deep blue.
The halo of white sapphires and the marquise blue sapphires are synthetic and not treated. There are a total of 58 stones that measure 0.83 inches across and 0.88 inches in length. The pendant comes with a rope chain of 18 inches.
---
Trio of Sapphires and Diamonds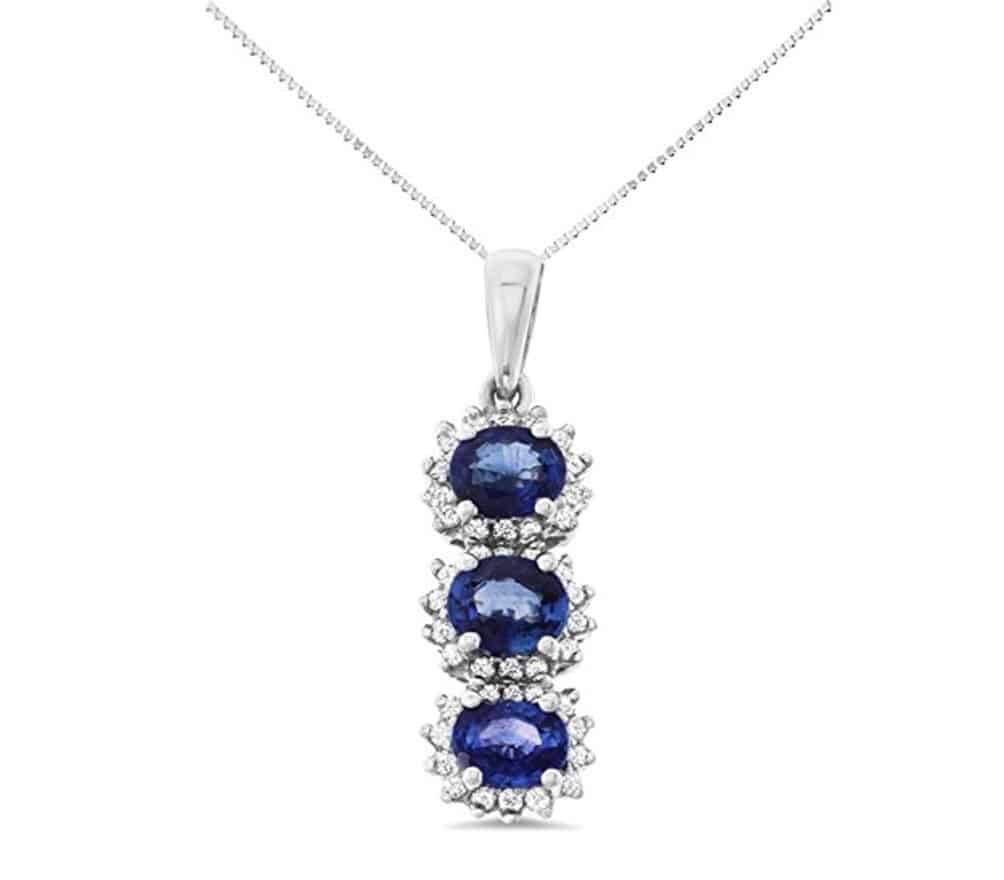 We chose this set of trio sapphires because one sapphire is stunning, but three together its magnificent. We couldn't resist this pendant. Each of these blue sapphires is a genuine natural gemstone surrounded by natural diamonds. The sapphires weigh a total of 1.29 carats while the surrounding diamonds are 0.17 carats. The diamonds have a minimum color of I-J and a clarity of SI1-SI2. They're natural and not treated in any way.
The entire pendant measures 0.25 inches across and 0.88 inches in length. This measurement includes the bale. The pendant is set in 18k white gold and includes a square box chain. The 18k white gold is authenticated with a 18k marking.
---
Design by Contessa Sapphire Pendant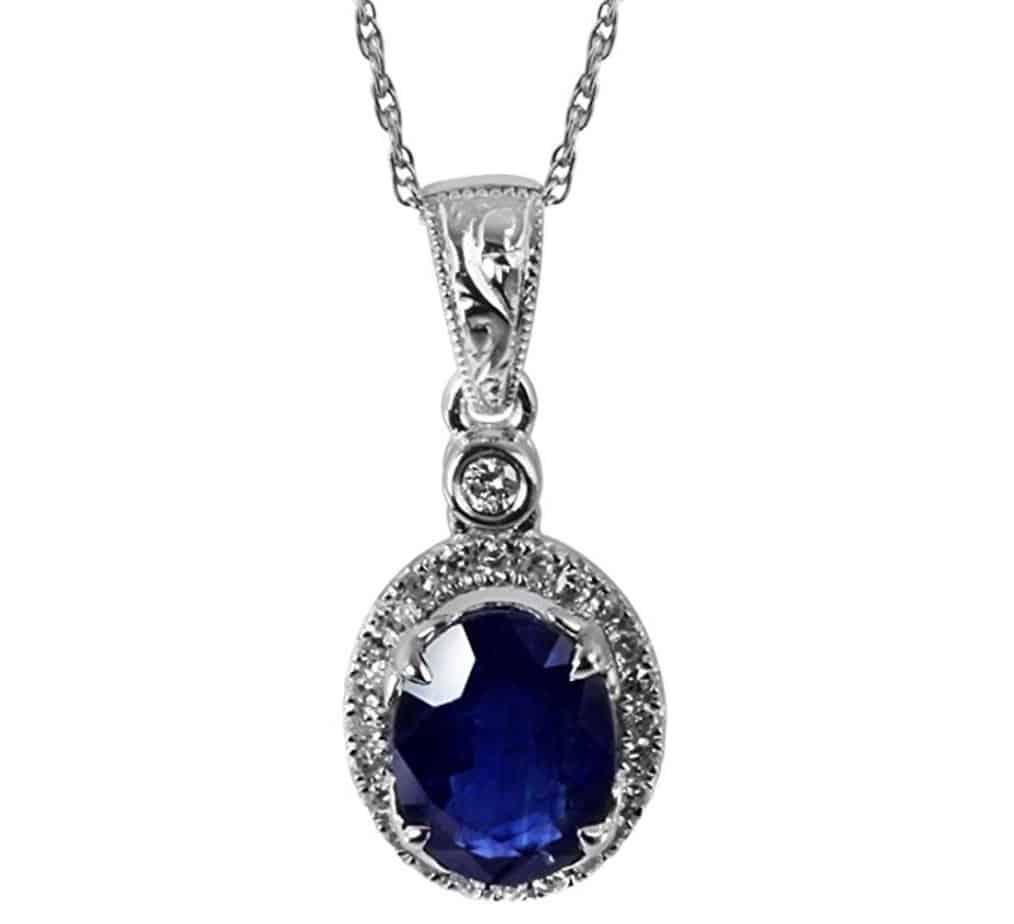 One of our favorites on this list, the sapphire pendant included here has the look of a vintage piece. The pendant has lovely scrollwork detail in 14k white gold on the sides, which is raised to give the pendant depth. The center sapphire is 1.45 carats in an oval shape surrounded by 0.15 carats of white diamonds. The oval blue sapphire is a saturated blue that is clear with only a few inclusions. It's a brilliant oval shape that's been heat treated to enhance the color of the gemstone. This is common with blue sapphires to deepen their color.
There are 25 round brilliant diamonds in this unique pendant. They range from G-H in color and SI-I in clarity. They're untreated natural stones. The entire pendant measures 9 mm in width and 20 mm in length. It comes with a rope chain that is 14k white gold to match the pendant.
---
Horseshoe Sapphire and Diamond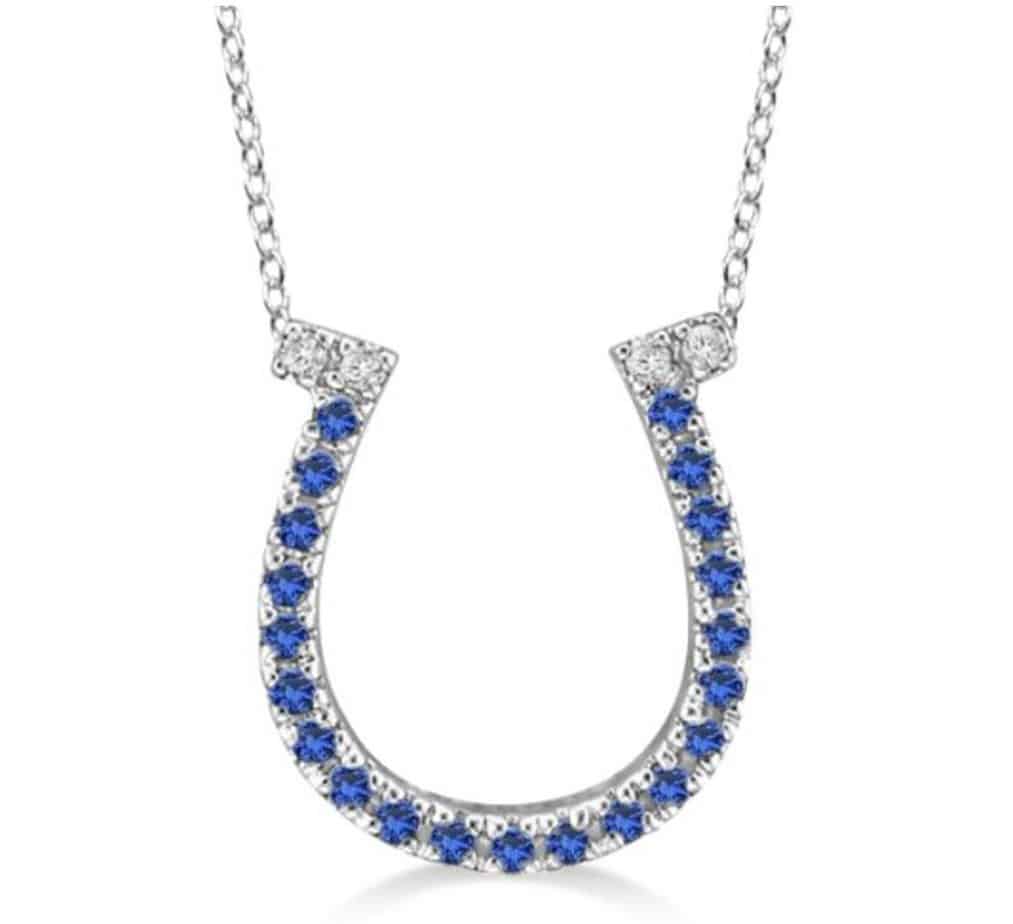 If you're feeling like you need a bit of luck, this horseshoe pendant is a great addition to your wardrobe. The pendant has blue sapphires and white diamonds in a horseshoe pattern.
The horseshoe is said to bring luck to the person who wears it. The blue sapphires are round cut with a minimum clarity of SI. They're natural, but heat treated for color enhancement. The round diamonds are a minimum color of G-H and a minimum clarity of SI. The round white diamonds are natural and untreated.
This pendant has 25 stones on it that measure 0.21 carats total. The chain is 18 inches and the pendant itself is 0.99 inches in width. In the pendant, there are 21 blue sapphires and 4 round nearly colorless diamonds near the top of the horseshoe. The chain is 14k white gold with a white gold stamp. It has a lobster claw clasp.
---
Sapphire and Diamond Royal Key Pendant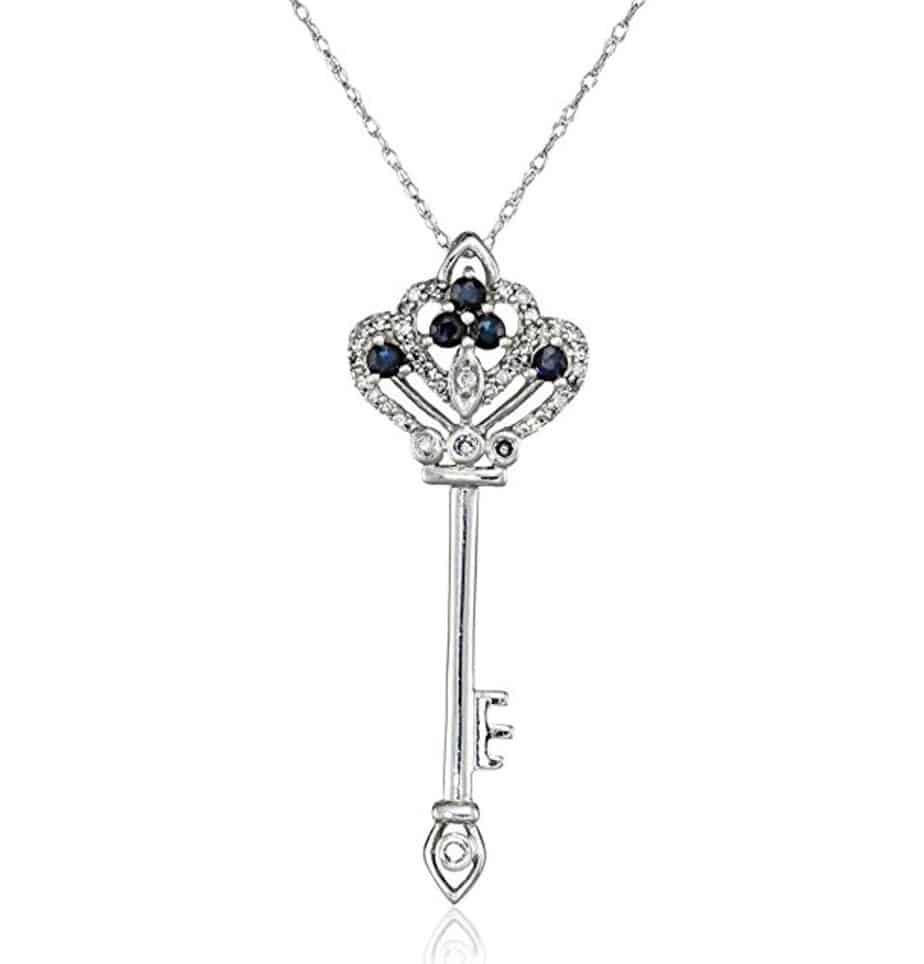 Last on the list is a 10k white gold sapphire and diamond key. It's from the Amazon Curated Collection. The pendant is curated from XPY Jewelers. All of the diamonds supplied for the collection are confirmed supporters of the Kimberly Process of diamond mining, which means they're conflict free.
There are 5 blue sapphires accenting this key pendant. They're a round shape weighing a total of 0.23 carats. There are different sizes of white diamonds on this pendant. They are 0.004, 0.032, and 0.08 carats. They all have a minimum color of I-J and a minimum clarity of I2-I3.
The 10k white gold measures 1.38 grams and is stamped to reflect its type as 10k white gold. The pendant measures approximately 1 1/2 inches. The bale on the key pendant is small, which requires a delicate chain, the pendant comes with a chain. It's also 10k white gold.
---
That concludes our list of exquisite, unique blue sapphire pendants. We had a hard time narrowing the list because there are so many great sapphire pendants to choose from, but we included those that really stood out as unique.