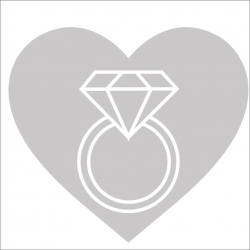 Latest posts by Love You Tomorrow Team
(see all)
As we sometimes do, we recently stumbled on an interesting artist and jewelry designer that we think is worth talking about. Surely, you know how it goes…these things catch you off guard and suddenly you find yourself blabbing about it uncontrollably. In this case, the person we're going on about is none other than Meg Leslie! She's a ceramic jewelry designer from Canada who also specializes in very creative and detailed mosaics.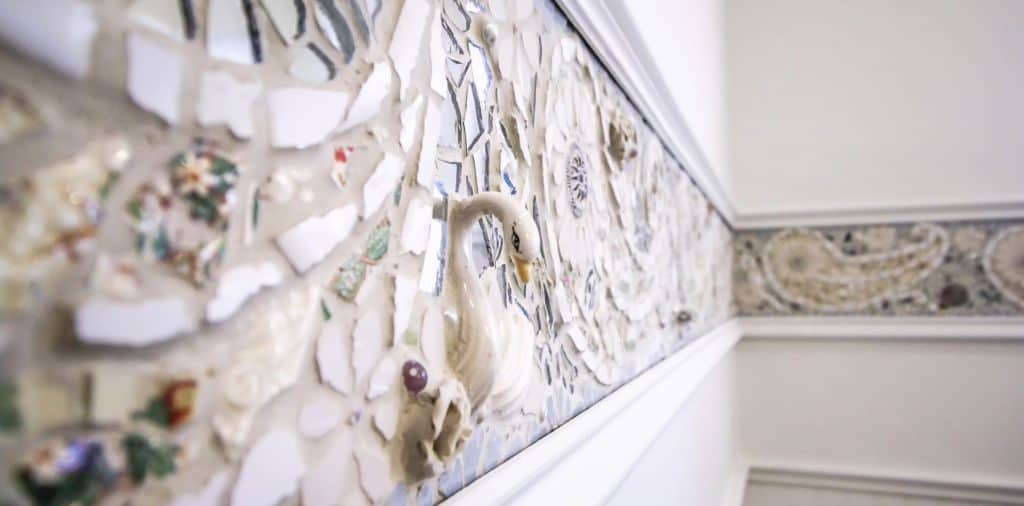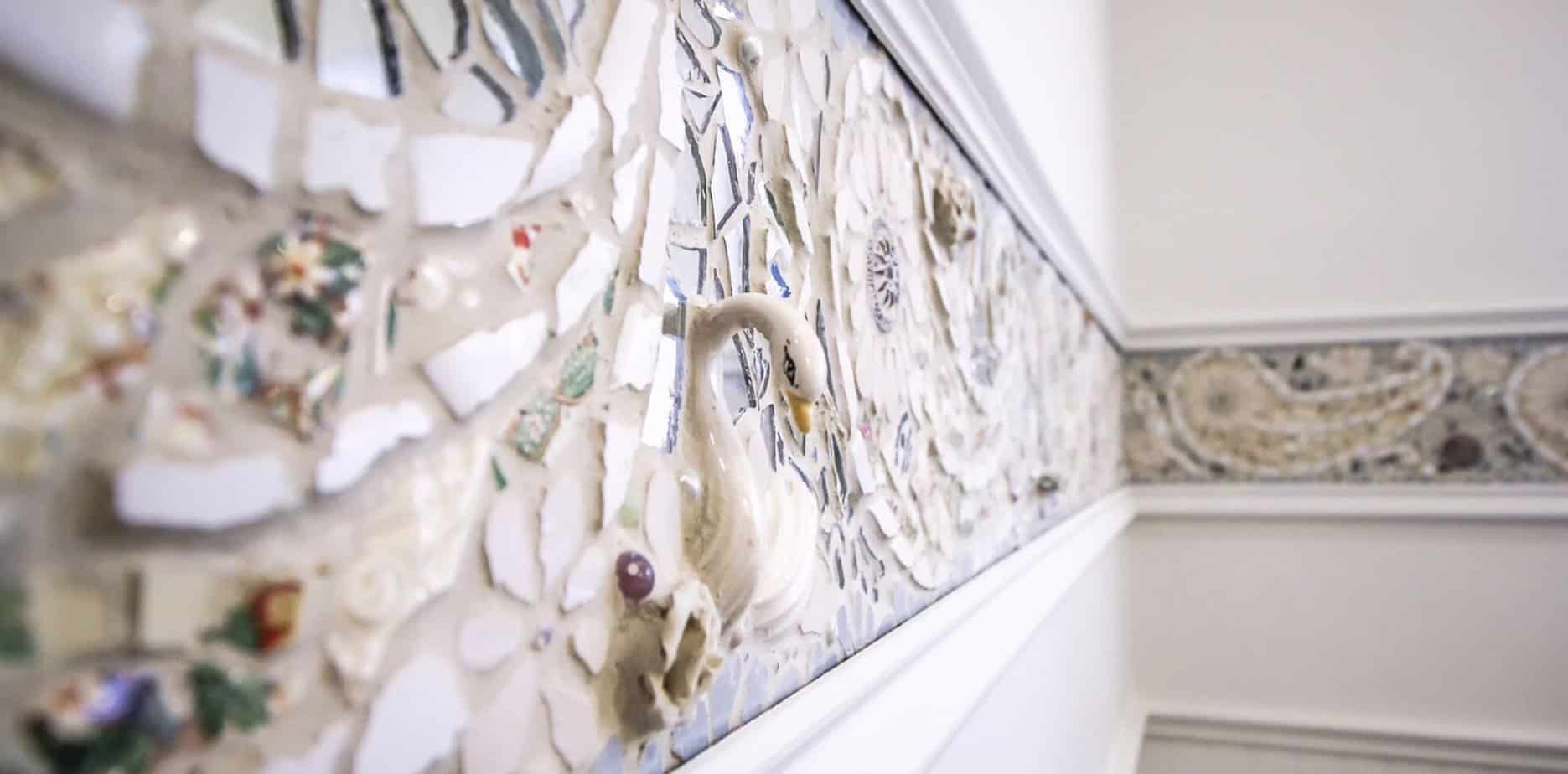 Leslie's Ceramics Overview
Born in the arts-positive Sunshine City of Orillia, Ontario, Meg Leslie has been creating since she was a little girl. Indeed, her art still manages to capture a childlike wonder.
Although she is an Interior Designer by diploma, Meg's work spans many disciplines and mediums. The uber-talented, multi-disciplinary artist and designer excels in creating ceramic jewelry, mural-sized mosaics, and you can also add painting to her formidable resume of artistic skills, which is evident in both her mosaics and her jewelry as you will find many delicately painted areas to keep the viewer fascinated and taking another look.
Some of the larger pieces, such as her mosaics, do speak of a fair amount of time being required of the artist. The work definitely shows, and that is to it's benefit. Yes, she is only human, but seems to have the ability to get a lot done. Imagine a bathroom or bedroom containing one of these mural / mosaics. Awesome!
Meg is currently immersed in creating a line of porcelain jewelry, which is said to be both organic and inspired by nature. We can't wait to see what this exuberant artist comes up with!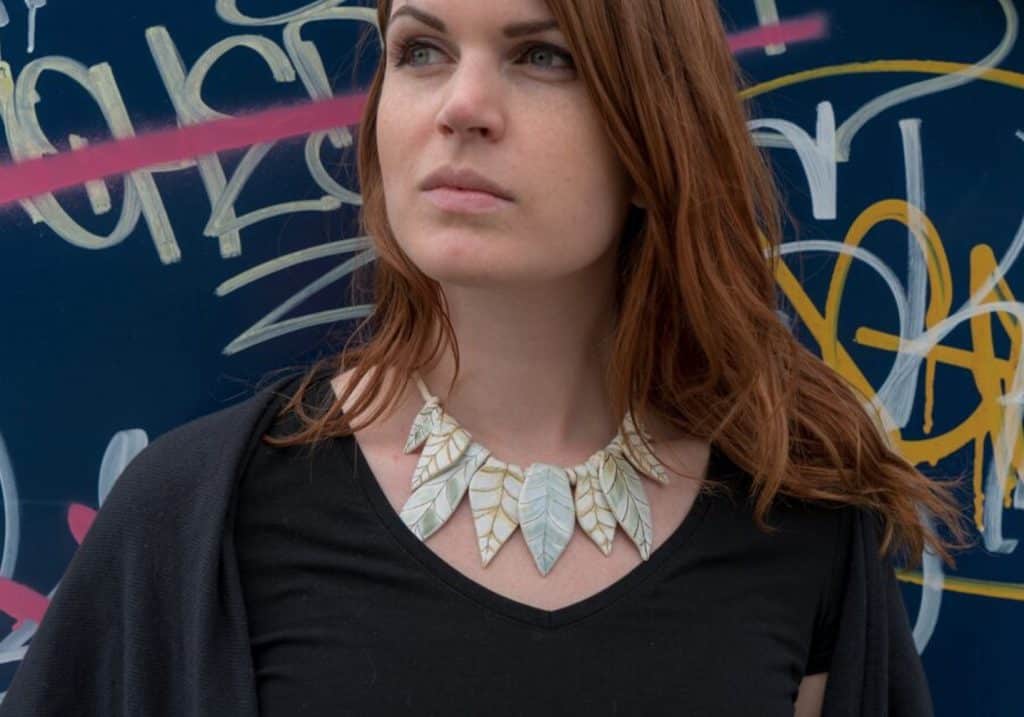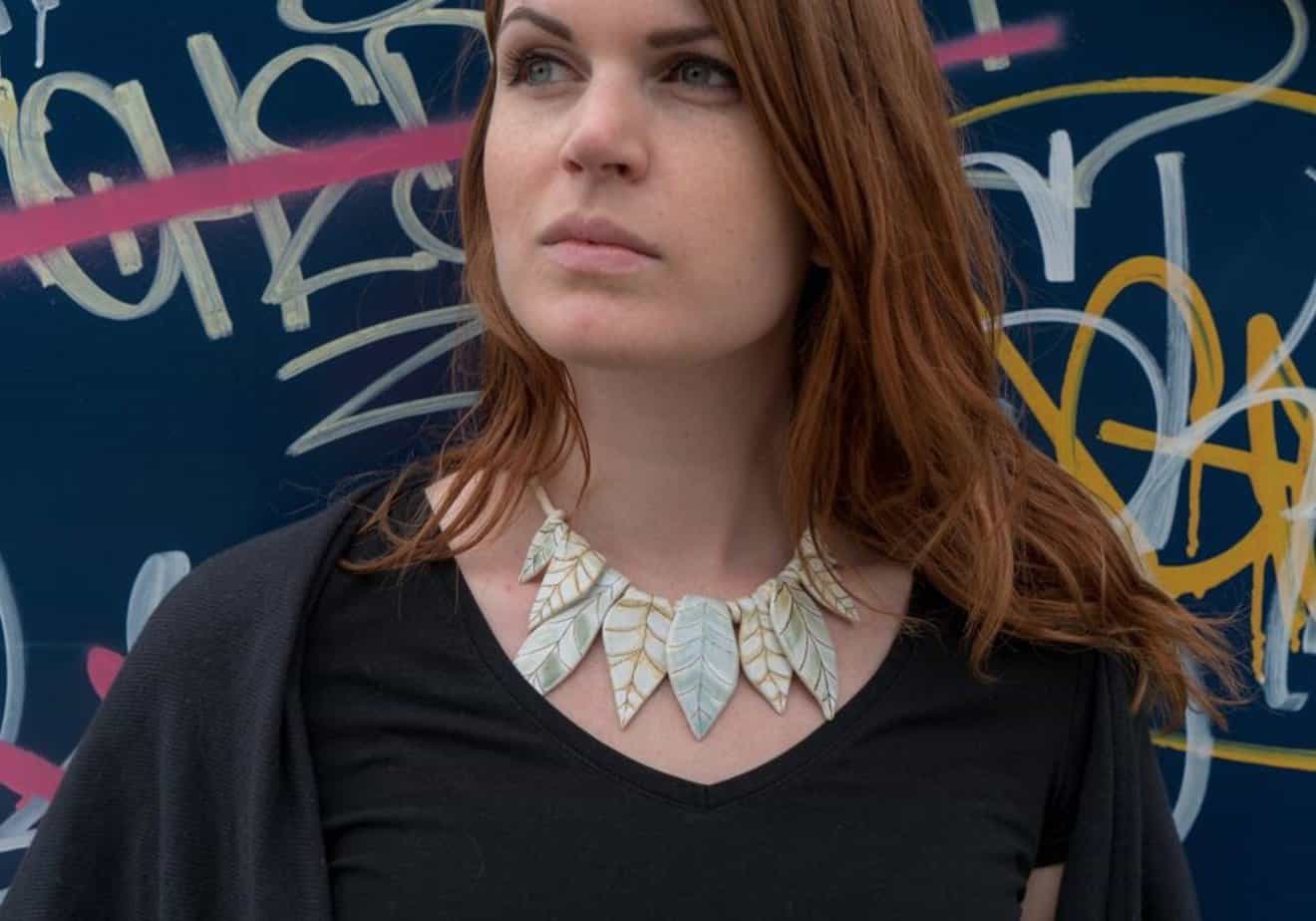 Does this lady get cooler? Yes. Meg has accumulated several awards to her name over her career including the KW Awesome Foundation Award, and the Wayne Busch Scholarship for Excellence in Design. For those not familiar with these credentials, you should know that they are generally given to those who are not only prolific in their craft, but dedicated to it as well.
That's it…right? Wrong. Meg also donates a portion of the proceeds from her paintings to supportive housing. Artist, interior-designer, jeweller, and overall inspiring human being, Meg Leslie does it all! Ok, we're done gushing about her. Let's take a closer look at more of her intricate work…
Leslie's Ceramics Jewelry
If you are looking for a cool, calm, and down-to-earth look then this collection is just for you. Still in the works, the collection of porcelain necklaces is sure to impress anyone with a passion for nature and ceramics.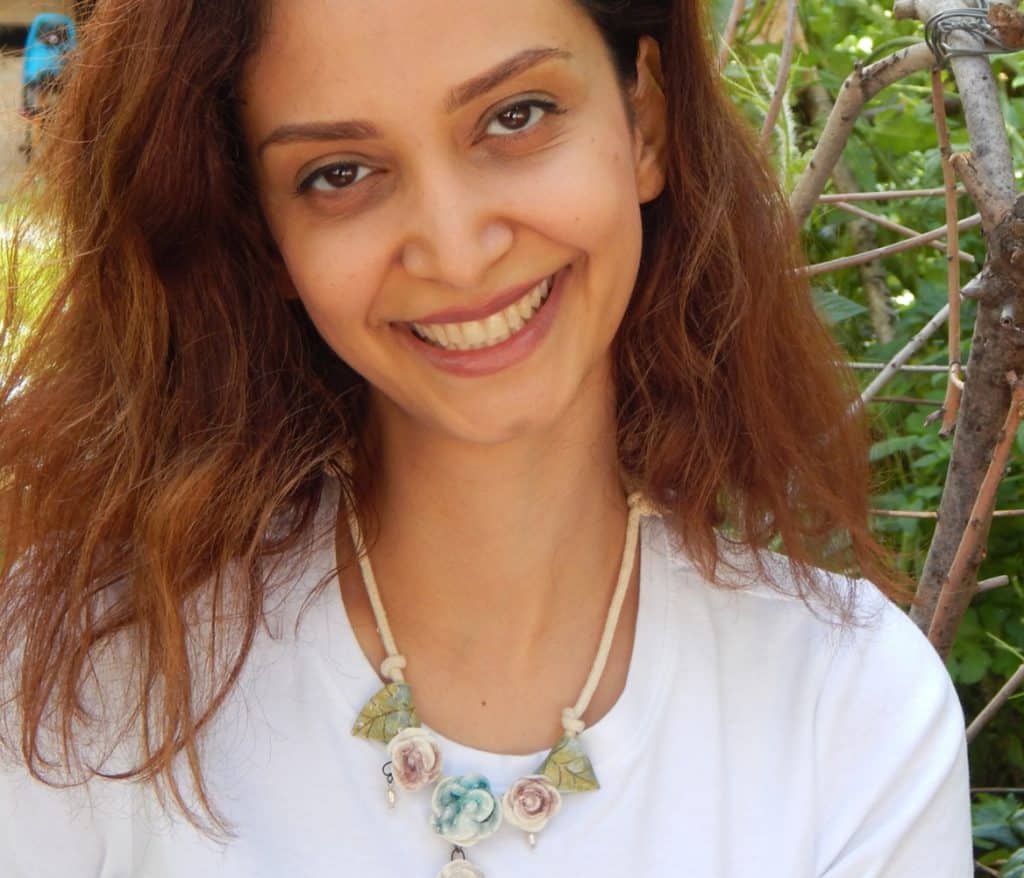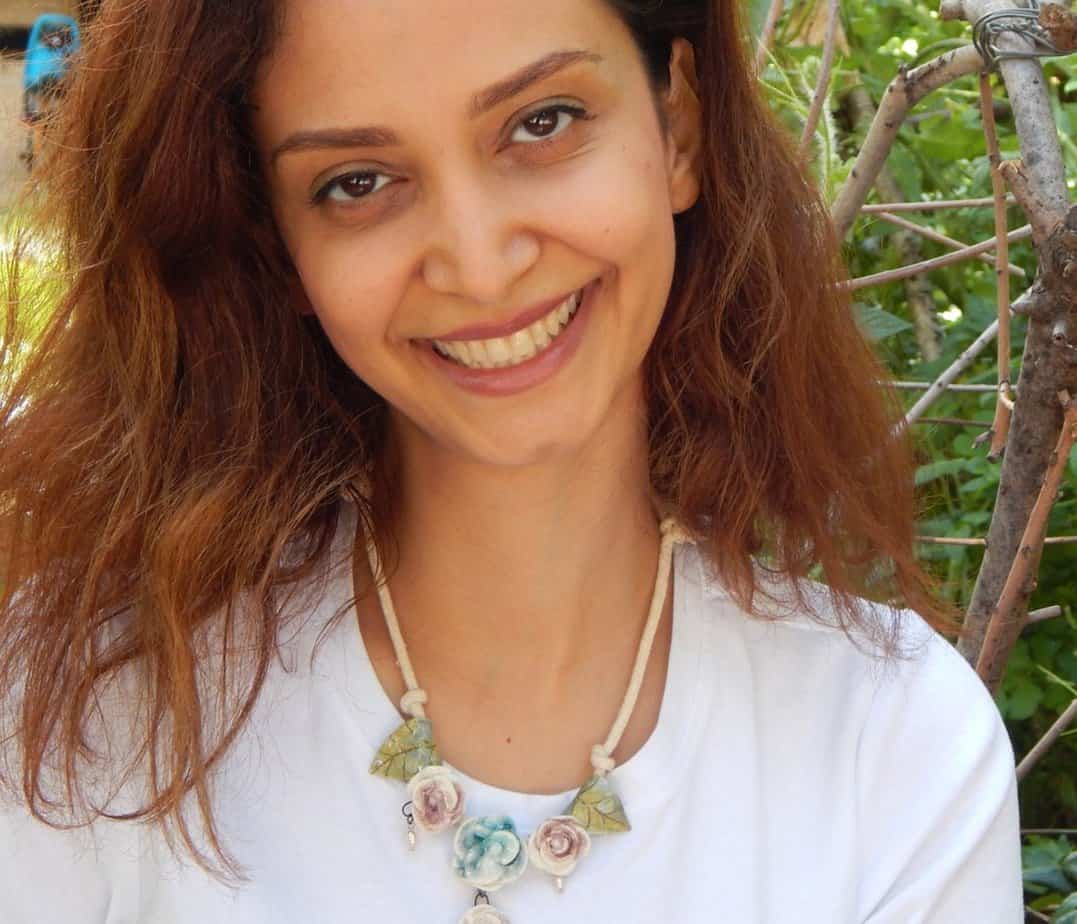 As with most of her work, the attention to detail in the necklaces is immaculate. The leaves and petals bend and wave in the most natural and organic ways giving them an energetic and serene feeling. Whether you're dressed up for a fancy dinner, or just hanging out, the classy yet playful vibe makes this versatile accessory a great compliment to your outfit.
NATURE-INSPIRED MOSAICS
Meg clearly enjoys working with ceramics, and employing them in mosaics are quite clearly her forte. The studied compositions are gracefully abstract and expressive, while the attention to detail is immersive and captivating.
Each section is full of intricate and unique pieces leaving you with something new to discover upon every glance. The pieces tell a story as a whole, but a new world can be explored within every tiny cross-section of the work.
Is it really any wonder she has won an award for Excellence in Design?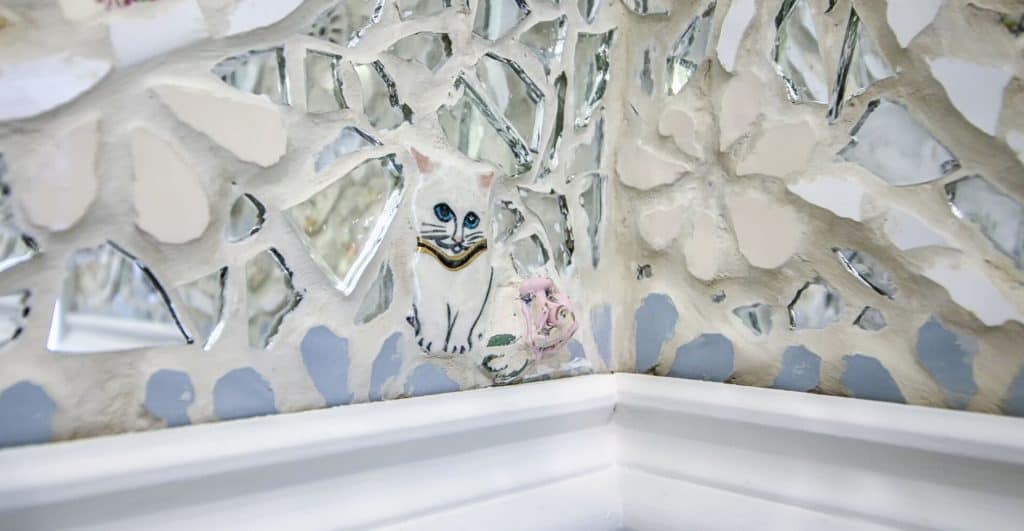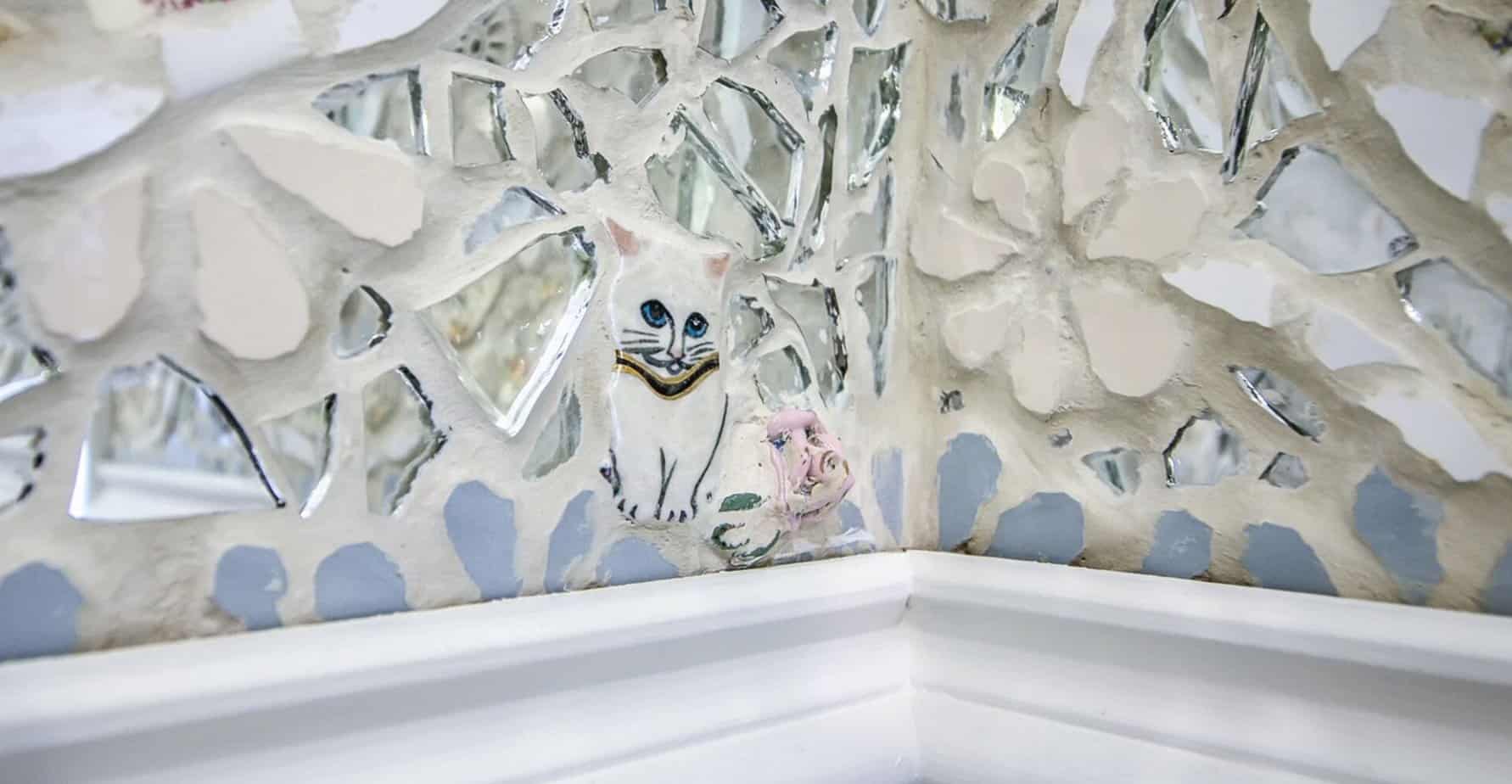 "LEFTIE SELFIES"
Currently available for sale on Meg's website is a collection titled Leftie Selfies. Interestingly, these pieces are created as a daily practice.
What exactly is a leftie selfie? Well, it's pretty much exactly what it sounds like. A self-portrait drawn with your left, or non-dominant, hand. The use of the non-dominant hand results in very playful, and visually stimulating, portraits.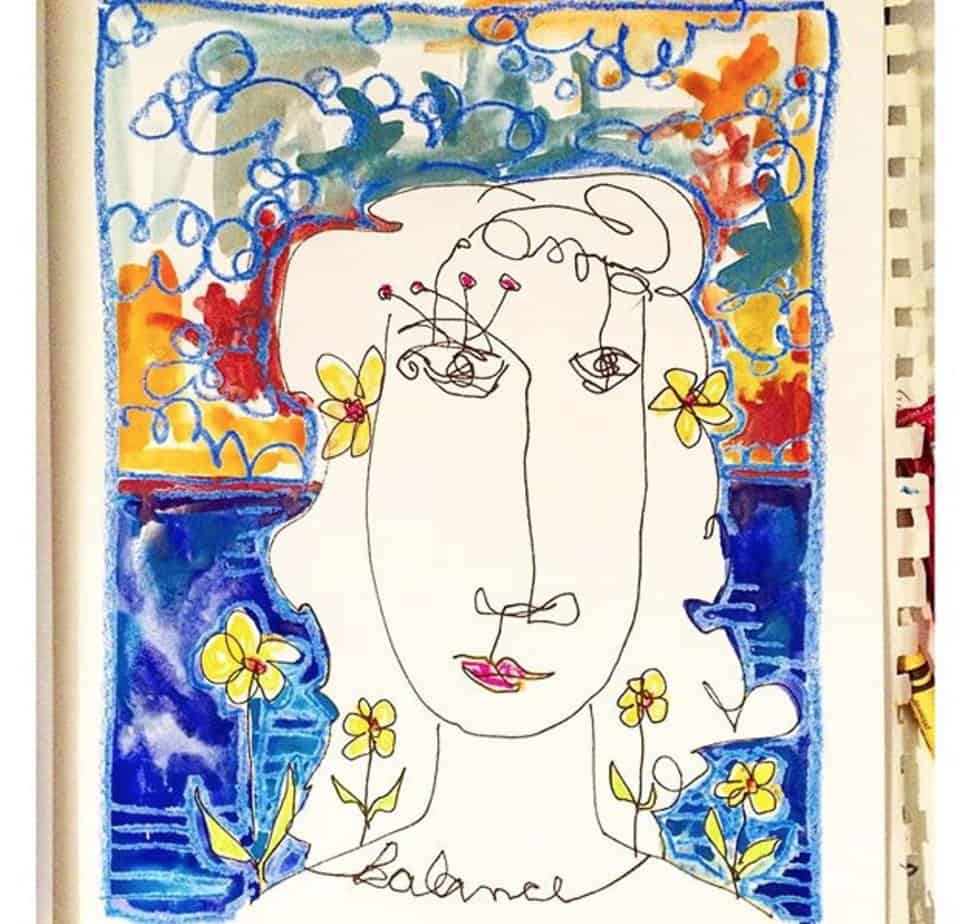 The self-portraits are created with ink, wax resist, and watercolours. Each piece measures to about 8.5×11", and costs only $50. As mentioned earlier, a portion (5%) of the proceeds is donated to supportive housing. Not only are you improving your own life by owning one of these, but you are also contributing to a great cause.
The pieces make a great addition to any home, and with an interesting background story they are a must-have. If you haven't yet, you certainly need to get your hands on one of these unique works of art.
Meg Leslie's work is available by contacting her directly via her website, or by visiting the Gardiner Museum in Toronto, one of Canada's premier ceramics museums where her work is also featured.