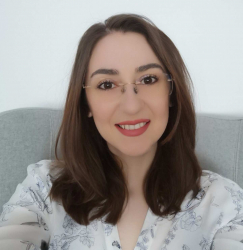 Latest posts by Alexandra Gavrilescu
(see all)
Every woman knows that a little black dress is definitely a must for any wardrobe because it can be easily worn on different occasions. Moreover, when it comes to accessorizing it, there are plenty of choices to opt for.
But what are really the rules of appropriate jewelry for black dresses? Should you go with statement pieces or create a more of minimalistic look?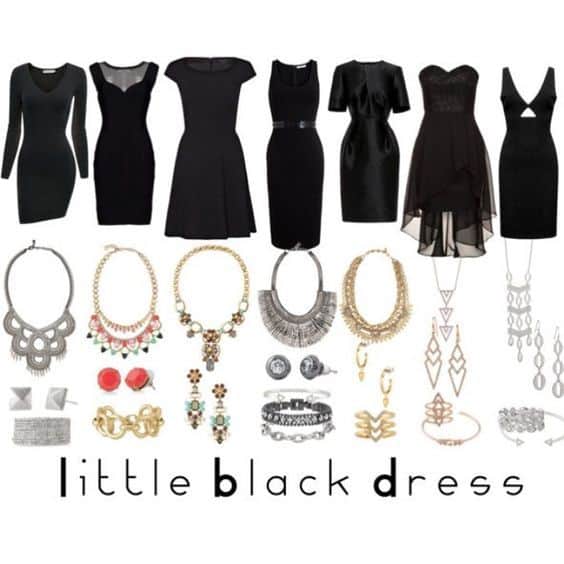 On the one hand, a black dress goes with almost any kind of accessory. On the other hand, there are certain fashion rules you should follow to achieve a flawless look. I've written this article to offer you as many useful tips and guidelines as possible. So let's dive in and find the best jewelry for black dress.
How to Find the Best Jewelry Items that Go Perfectly with a Black Dress
Picking the Right Color
Well, when it comes to color jewelry, everything goes with a black dress. It's not really rocket science. So, feel free to let your imagination fly. You should perceive the dress as a blank canvas that's waiting for you to complete it with different items, shapes, and colors in order to obtain the final piece of art. Still, depending on what you're trying to achieve, you must follow some small rules.
For instance, let's say you wish to get a more sophisticated appearance. In that case, I would suggest you opt for gold or silver jewelry.
These pieces go well with other colors such as black and aquamarine. If you have a modern and daring personality, try to choose those accessories that come in bright shades like yellow, emerald green, red, and even orange. These simple yet effective tricks will surely help you stand out, receive compliments, and be noticed in a crowd.
Matching the Necklace with the Dress Neckline
The type of necklace your black dress comes with is very important in deciding which type of jewelry you should wear and by that I mean you must pay closer attention to the shape and length of the necklace. For example, if your gown has a turtle neck, you can either opt for a longer type of necklace or just skip it altogether.
Long pearls on a pearl necklace are also a good option if you're wearing a halter neck. For those of you who are brave and prefer statement neck pieces, you should know that these accessories work perfectly with both sweetheart and bateau necklines.
Probably the easiest dress necklines are the V ones which go hand in hand with medium-sized chains and even chokers. However, these shouldn't have a very complex pattern. Instead, focus on simple designs but attach a motif or a little pendant that will hang from the chain.
The combination of a V neck and this kind of necklace will make your neck seem longer and leaner. Strapless gowns can usually be worn with chunkier and rounded neck accessories (which is the only right jewelry option) which will give your outfit that special touch.
Wearing Different Jewelry Based on the Occasion/Event
It's essential to match your black dress with your accessories but it's even more important to make sure the mix fits the occasion:
If you want to wear a day black dress, you can complete a casual look by adding playful and colorful jewelry. For an outfit that draws attention, you should consider picking a statement piece. Another fashionable option is wearing a long necklace that is also very thin.
An office black frock goes perfectly with slimmer and simpler jewelry such as a neck chain or a small pendant necklace or a minimalistic bracelet. Also, try to avoid very shiny accessories at work;
Things can get a tad more complicated when you attend a formal occasions or events. When wearing a classic black evening dress, many women are eager to achieve the well-known Audrey Hepburn look which is both elegant and classy. For that to happen, pearls are a must. Still, if you aren't a person who enjoys being in the spotlight that much, you should opt for fine jewelry instead. Of course, there's always the alternative of shiny accessories for a bling overall appearance. And, finally, why not, you could wear diamonds which will turn a lot of heads, for sure.
Accessorizing with Earrings, Rings, and Bracelets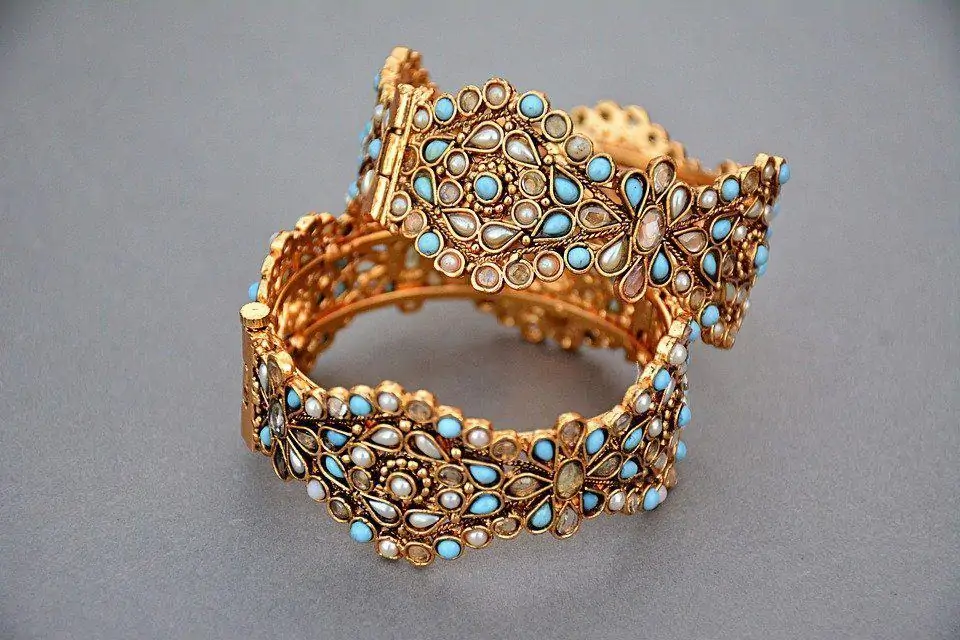 We have mostly focused on necklaces so far but other accessories like earrings, rings, and bracelets can make or break an outfit, too. As always, the secret lies in the balance and you can achieve the proper level of equilibrium by wearing one single chunky piece of jewelry. In other words, don't overdo it! For example, if you go with a statement pair of breathtaking earrings, choose discrete additional accessories. Another great trick is to pair the dress with very long earrings but skip the necklace.
Finally, to create a well-balanced effect, you must also consider the material of the jewelry, not only colors, shapes, and sizes. Simply put, make sure to pick items that are made from materials similar to the one of the dress.
Additional Expert Tips and Tricks
As a rule of thumb, you should always wear simpler jewelry if your black gown is more sophisticated while a simpler dress calls for bolder accessories;
Black is a pretty plain color. So, for a completely coordinated look, pair it with the proper jewelry but don't forget to include appropriate shoes and purses;
You can bring the dress to life with bold colors and chunky stones to create a funkier look;
If you want a more conservative appearance, select neutral metallic jewelry;
Tattoo-inspired necklaces that come with intricate patterns will give you a perfectly modern aspect;
Instead of a ring, earrings, or necklace, you could be more original and wear either a brooch or an elegant and delicate watch. If you like to think outside the box, you should add a brooch that features ribbons or feathers.
What Jewelry and Accessories Go Best with a Black Dress?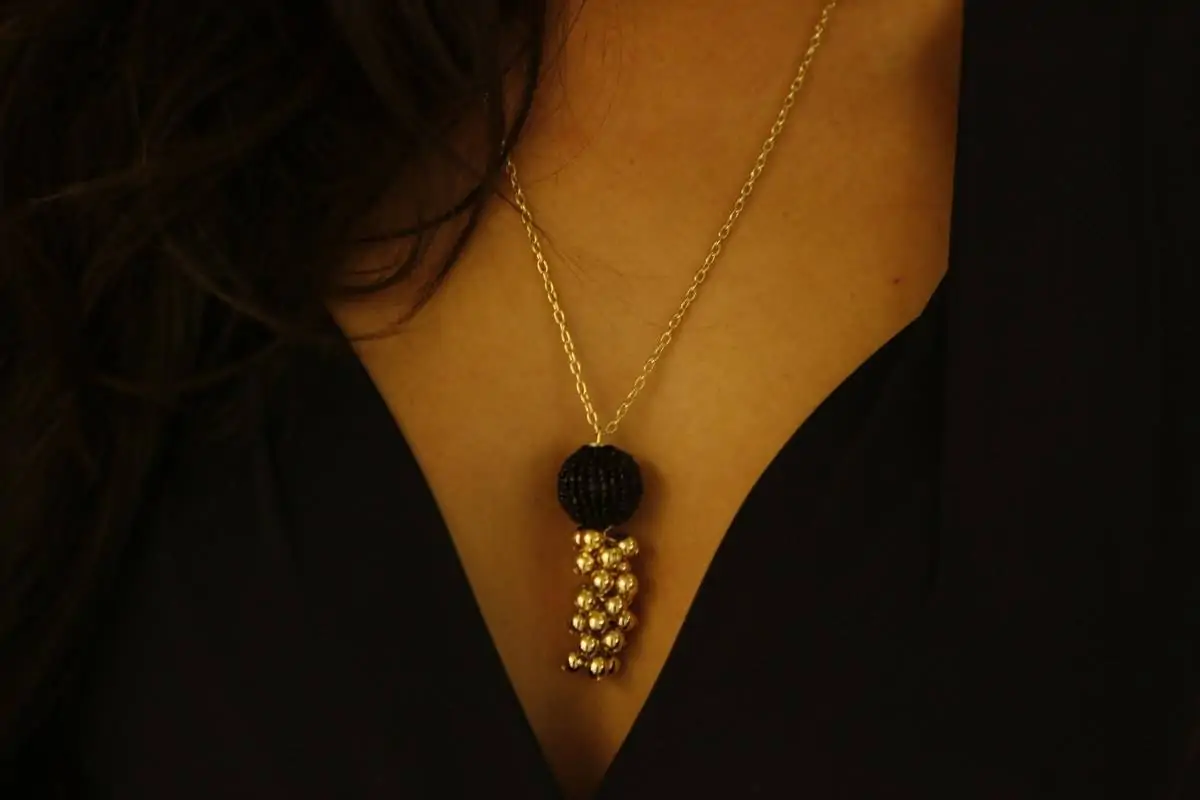 Pendant necklaces are an amazing choice for black dressed with deep V necklines – they will provide a classy appearance. Nevertheless, choose one that isn't too long because, otherwise, the jewelry will get lost in the cleavage.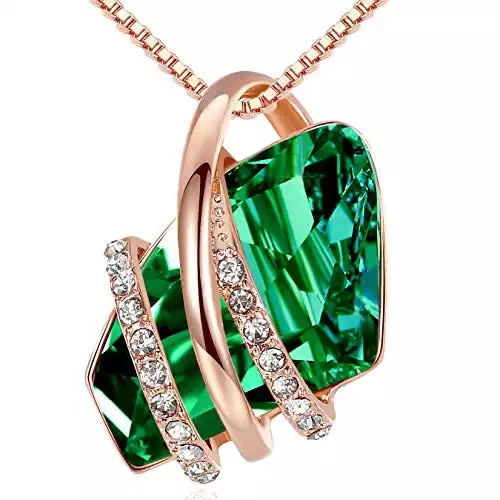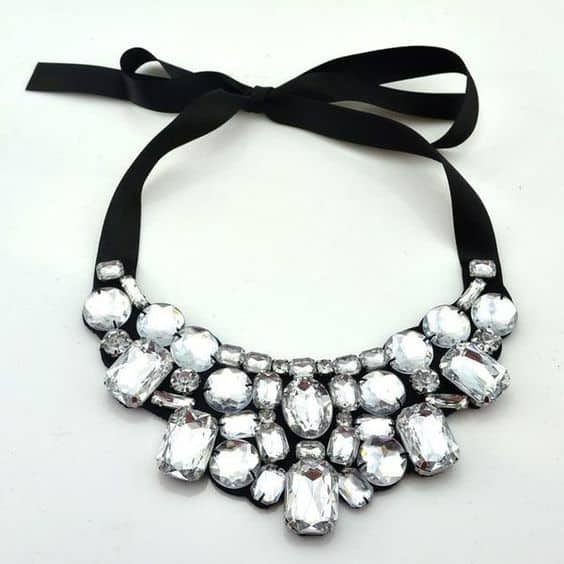 In the case of black gowns with sweetheart necklines, the best alternatives are short statement necklaces. This specific kind of neck opening creates an excellent frame that fits a bold accessory. As long as the necklace is short enough not to overlap with your cleavage, you should be fine.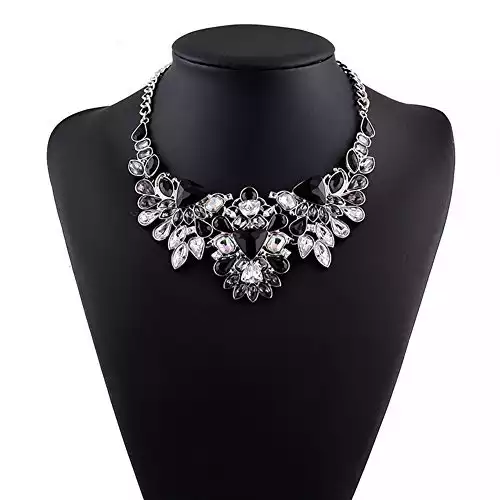 Truecharms Women's Crystal Statement Necklace | Amazon
This choker statement necklace made out of a combination of zinc alloy and rhinestone is a great budget option for occasions such as: Anniversaries, engagements and weddings.
Buy at Amazon
We earn a commission if you click this link and make a purchase at no additional cost to you.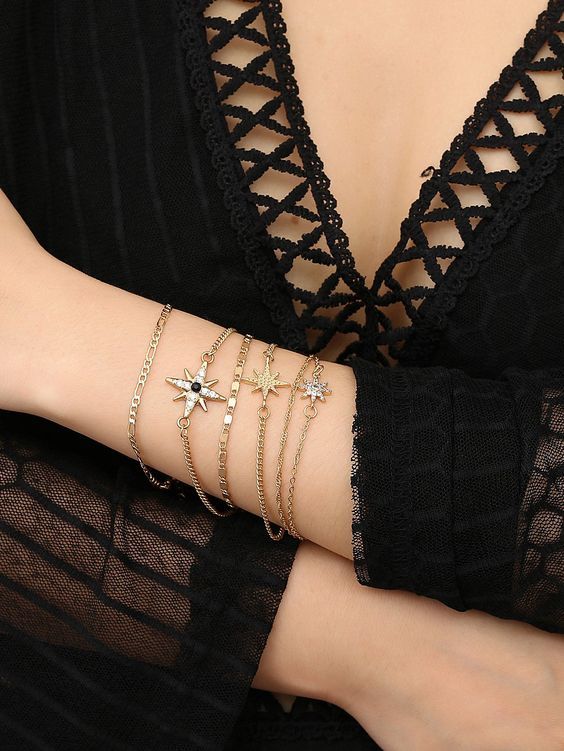 Most of the time, when wearing halter dresses, or faux fur dresses you can skip the necklace and opt for trendy layered bracelets. This is a wise option because it helps you avoid crowding your face area. So, try to keep the focal point more on your exposed arms by stacking some interesting bracelets.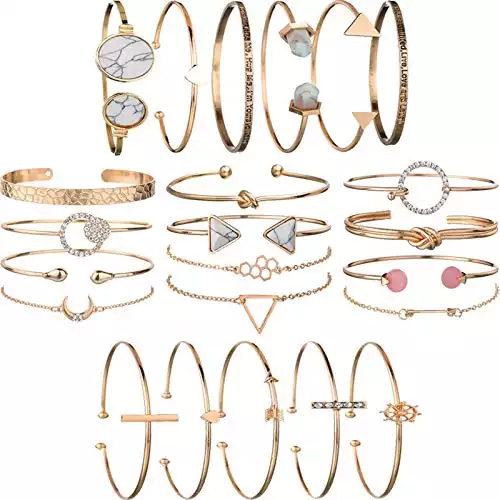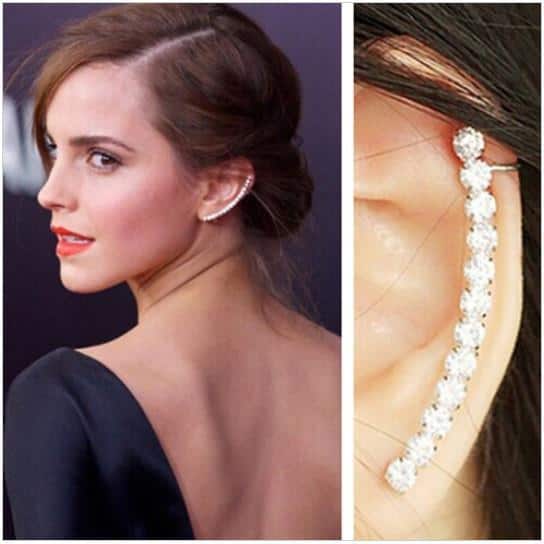 Layered rings and/or ear cuffs represent a very cool outfit addition, especially if you're wearing a casual black tank dress. While ear cuffs draw just the right amount of attention towards your face, layered rings will balance the overall appearance without making it look jammed or congested.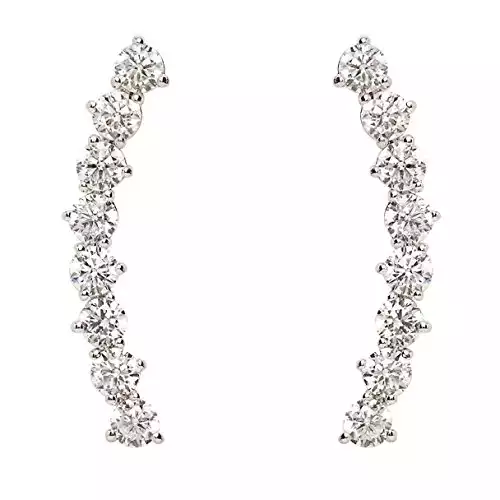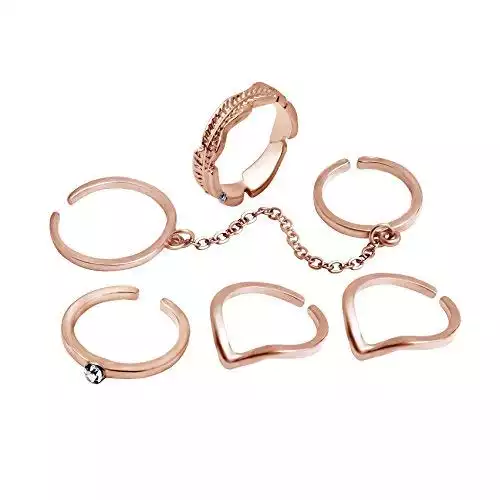 Coucoland 6pcs Stack Rings Set | Amazon
These rings are adjustable because of the non-closed design. You can gently bend them in the back to fit your fingers.
Buy at Amazon
We earn a commission if you click this link and make a purchase at no additional cost to you.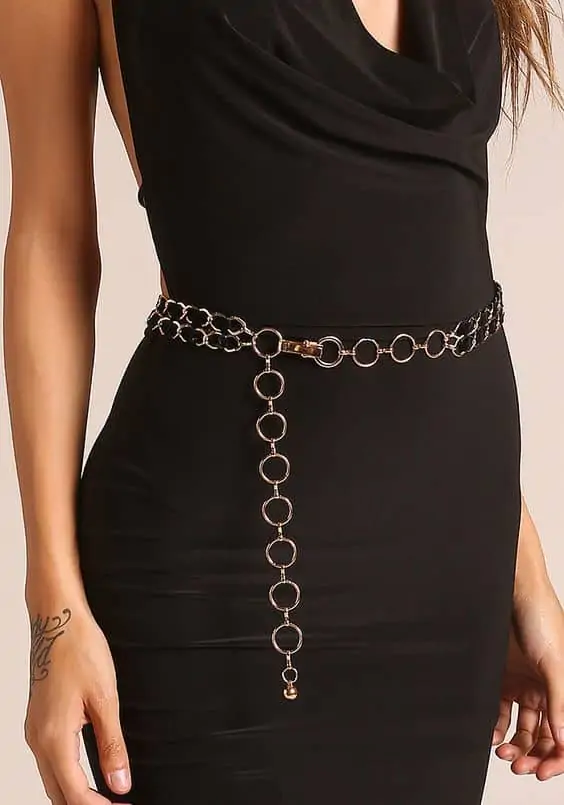 Who said belts cannot be considered as jewelry? As long as they have metal parts and come with precious elements such as rhinestones and crystals, they can be easily worn with backless black dresses. In fact, a fancy waist belt will make you look slimmer and emphasize your hourglass body shape without overshadowing the main attraction of your dress which is the back part.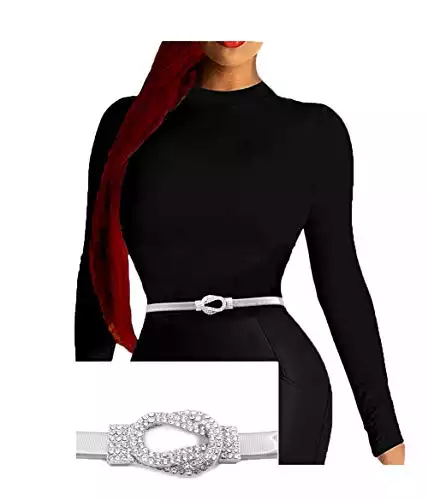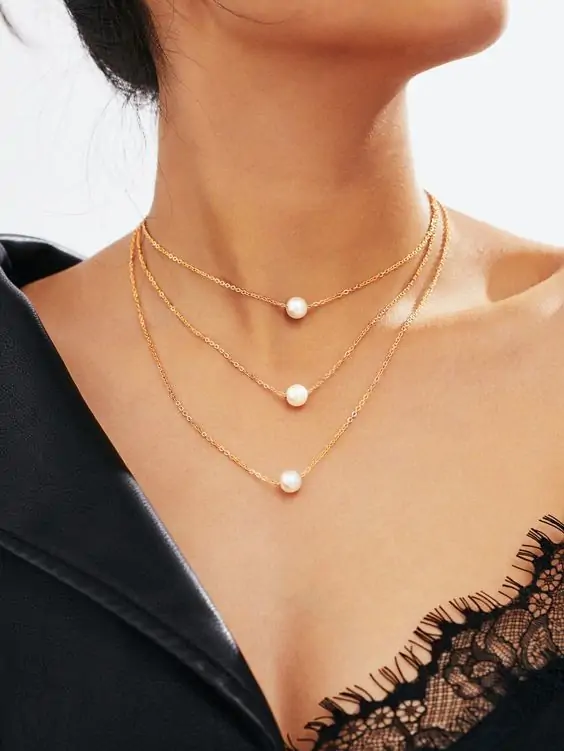 Not only layered rings or bracelets are an inspired idea to pair with a perfect little black dress. Layered necklaces can also be a great addition, especially if your gown has a covered upper part. Rather than choosing statement pieces that can feel a bit heavy, a beautifully layered choker necklace that will add an interesting and disruptive factor without dominating your entire outfit.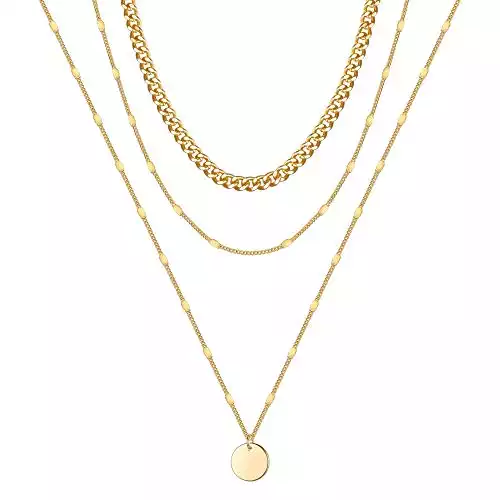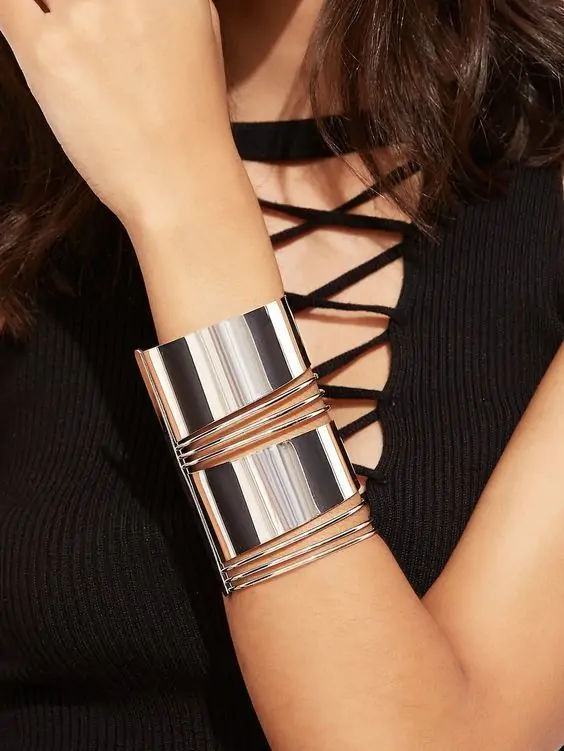 This particular accessory item works amazingly with one-shoulder black frocks. These types of dresses look uneven. Therefore, it's an amazing idea to balance them a little bit by wearing a statement cuff bracelet on the wrist that has the exposed shoulder. The properly-sized earrings are another good alternative but only if the covered shoulder doesn't have any embellishments.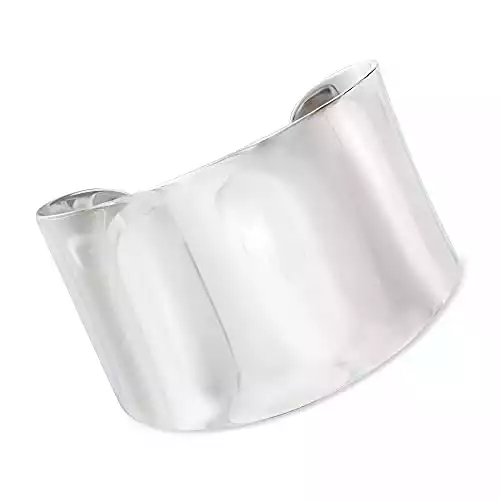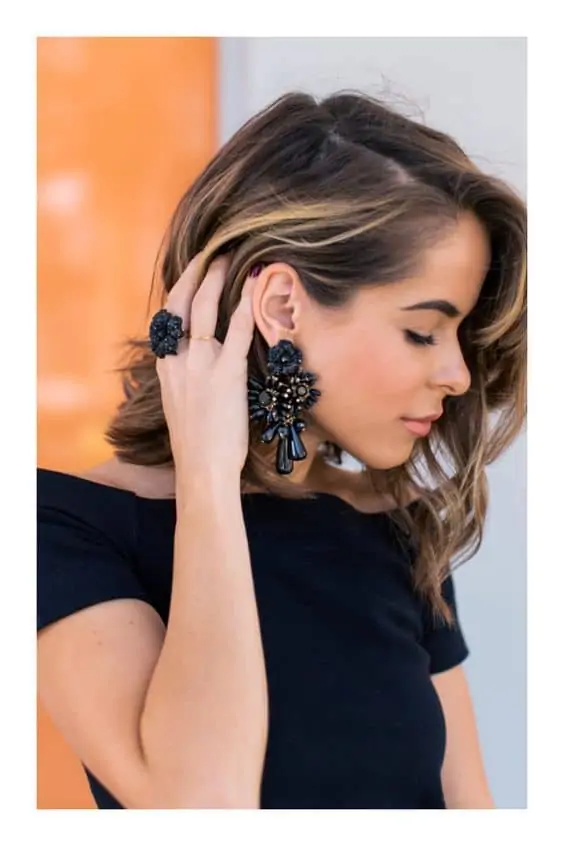 Large bold earrings should be your go-to jewelry whenever you wear a strapless black dress or shoulder dress. They bring attention to your face and are considered an out-of-the-ordinary accessory. Moreover, they show your daring personality and are suitable for almost any type of event or occasion, from weddings and parties to a simple night out on a weekday.
Luxury Gift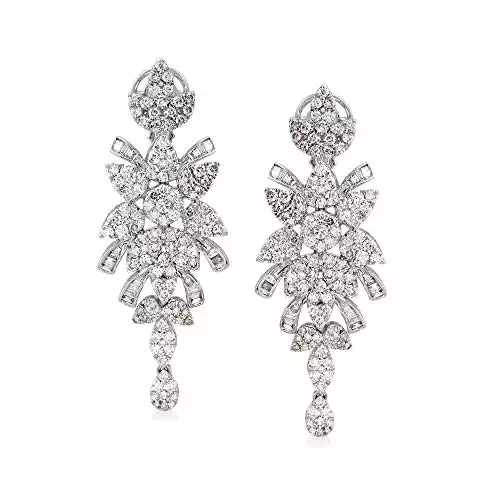 How to Update a Black Dress
Wear Scarfs
Jewelry is important in any outfit but is not everything. Other elements such as scarfs can also transform the way you look. You can accent your appearance with a scarf that draws attention to the neckline area. A delicate neckerchief made from silk will create a great semi-formal or office outfit. If you plan to wear your black dress during a chilly day, you can easily pair it with a cashmere pashmina which is larger and it can easily cover your shoulders.
Wear Colorful Tights
A black dress allows you to go creative when it comes to accessories. One edgy idea is to wear it with a pair of colorful and eye-catching tights which will keep you warm while shaping up a stylish yet trendy look. Obviously, you should stick to black tights for those moments or events where you must feature a traditional appearance. If you're into retro jewelry, you could combine it with polka-dotted leg garment.
Experiment with Layers
Another effective way to upgrade your outfit is by adding a delicate and classy top underneath the dress. Try picturing the following: having a classic day black dress (somewhere between elegant and office style), wearing a white formal shirt under it, and completing the look by placing a statement brooch directly on the dress or connecting the shirt's collar with a chained neck brooch.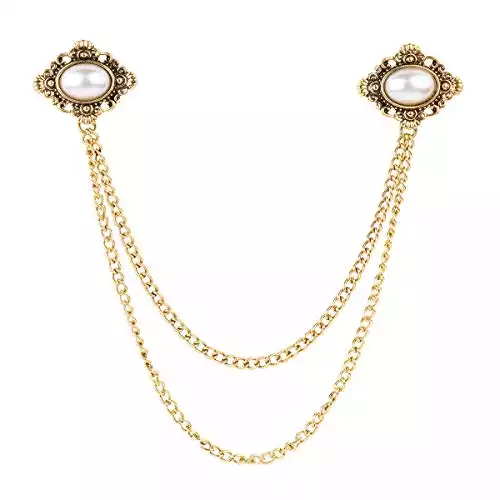 Use Hair Accessories
Jewelry can mean plenty of items, not just the traditional rings, earrings, and necklaces. For instance, you could wear your black gown with inspired hair jewelry. First of all, style your hair to achieve more volume and then add a sparkly bobby pin, an embellished headband, or another type of jeweled headpiece.
All these accessories will help you achieve a more feminine look. If you're participating in a day event, you can even consider wearing a simple yet stylish hat which will undoubtedly make you more distinguished.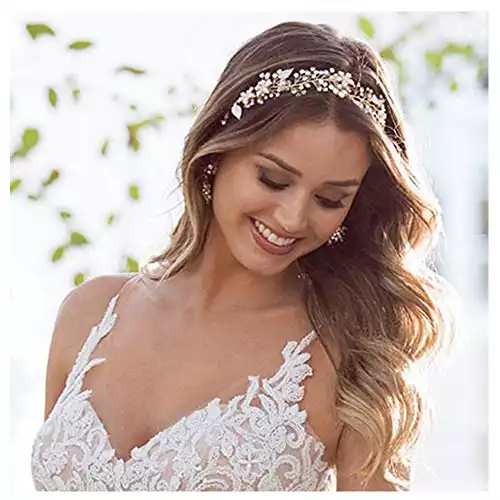 Sweetv Gold Bohemian Headband | Amazon
A mix of clear crystals and acrylic pearls are set throughout with 4 pearl-encrusted flowers and enamel leaves. Set on flexible metal, the wedding hair accessories can be gently shaped to suit your hair perfectly.
Buy at Amazon
We earn a commission if you click this link and make a purchase at no additional cost to you.
08/18/2023 03:08 am GMT
How to Find the Best Jewelry for a Black Dress – Final Thoughts
Now that you know the best accessories and jewelry pieces that go perfectly with a classic black dress, you can go ahead to create dozens of different outfits.
All these ideas and recommendations described above will definitely compliment your outfit. Whenever you want to pull off a perfect overall appearance, a black dress will always be a timeless choice. It's not that hard to accessorize it and it flatters any body type; not to mention, it is and will forever be a fashionable clothing item.
No matter what kind of jewelry you decide to wear, always remember to pick those pieces that suit and express your unique style and personality.
The right kind of accessories will make you feel graceful and confident. Last but not least, don't forget to have fun during the process of embellishing your black gown with jewelry of your choice.
Bonus Tip! When it comes to accessorizing a black dress with jewelry, you should always choose a centerpiece and build your entire outfit around it. Of course, the main role is played by your little black dress. However, important parts can be played by other items as well such as jewelry. Let's say you've chosen e necklace as the centerpiece. If that's the case, stick to minimalistic secondary accessories like small rings or tiny earrings that can be of many gemstones like turquoise or emerald etc.
FAQs
Question: Does gold jewelry go with black?
Answer: Yes, gold jewelry is always a good option with a black dress, especially when the neck is very opened and the jewelry can be visible.
Question: How do you wear pearls with a black dress?
Answer: Peals are always a good combination with a black dress that has an open cleavage that will emphasize the pearls, but they can also be worn with a turtleneck or V neck as well.
Question: Is turquoise jewelry a good option for black dress?
Answer: Yes, turquoise is a good jewelry option, but be careful when combining them not to put emphasis on the necklace instead of the dress (if you want the dress to be the focal point). If you have an open dress, go for a small pendant necklace or choker with turquoise stones, and if the front is fully closed, then you can go for an oversized necklace instead.