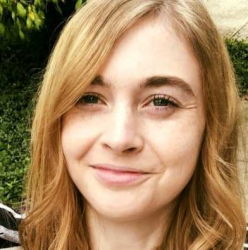 Latest posts by Erin Jamieson
(see all)
In this article, I'll tell you the main differences between a pendant vs a necklace, the types of necklaces and pendants you can choose from, and where to buy the best necklaces and pendants so you'll feel like royalty, too. When it comes to fine jewelry, there is little more regal than a collection that comes from royalty themselves.
This spring, the heirloom jewelry of the late Patricia Knatchbull, the 2nd Countess Mountbatten of Burma (and cousin to Prince Phillip of Britain) will be sold in London. A total of 350 unique pieces will be sold, with a few signature pieces capturing public attention.
One of those pieces? A diamond pendant. While the estimated value–at under two thousand dollars– is not jaw-dropping, it's undoubtedly a signature pendant, feature agate and diamond, and originally commissioned by Prince Albert.
But whether you're into royal jewels or just shopping for jewelry for an event, both pendants and necklaces are beautiful ways to finish off your look.
Main Differences Between Pendant vs Necklace
The Main Differences Between Pendant vs Necklace are:
Pendants refer to an adornment for a necklace-type, whereas necklaces refer to a large category of jewelry
Pendant necklaces mainly focus on pendant style, whereas Necklace classification focuses on length
Pendants can be bought alone or as a pendant necklace, whereas Necklaces are usually bought as is
What are the differences between a pendant vs necklace?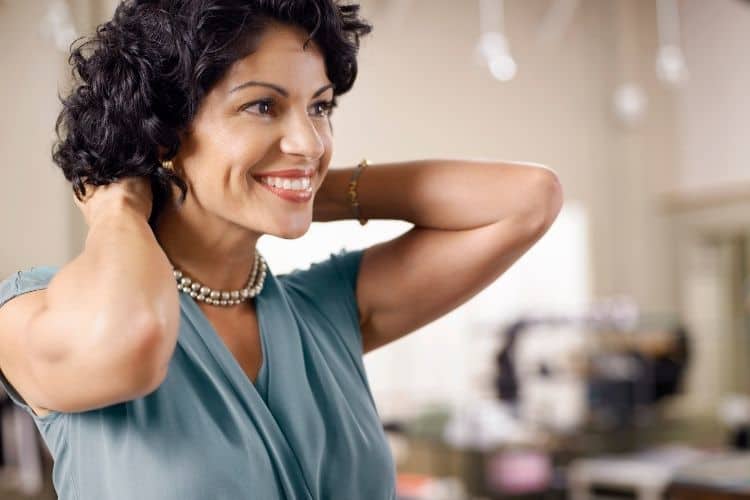 Ever been getting ready for an event and feel like your look isn't finished? Or have you ever been shopping for an at a loss for the best type of jewelry for a gift? You likely have come across the choice between a pendant and a necklace -but may not have been entirely sure of the main differences, or which one to choose.
In fact, the differences between a pendant and a necklace are a bit tricky in that a pendant is actually one of many types of necklaces. A necklace is a broader term that encompasses countless varieties.
Pendants
Pendants, as you can see, are just one of the many gorgeous options you have for a necklace, and one of my favorites for gifts, special occasions, or just a beautiful option.
Pendant necklaces hang down and are attached with a small knot or loop. While for the purpose of this article, I am discussing decorative pendant necklaces, pendants have also been used for medical or even honorary purposes.
Pendants are among the most versatile forms of necklaces and the most popular, making them a still modern but also classic take on necklaces. Compared with a simple strange necklace, pendants can add a bit more dimension and texture to bring interest to an outfit.
Necklaces
Necklaces refer to jewelry for the neck. Necklaces consist of a chain or band and most commonly come in metals like platinum, sterling silver, and rose, white or yellow gold. Other materials for necklaces include pearls, wire, and even wood or brass.
In addition to a main chain or band, necklaces include clasps, such as: spring, lobster, toggle, magnetic, fishhook, barrel, toggle, and slide locks.
While some necklaces consist of a simple chain, most have an attachment to add some interest. These attachments include lockets, amulets, symbols like crosses, and also pendants.
Different Types of Pendant vs Necklace?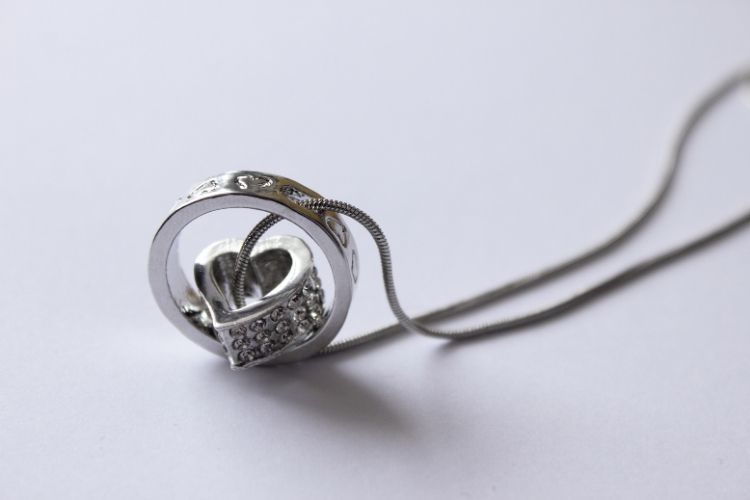 Necklaces and pendants both offer more variety than you might imagine. From classic freshwater pearls to stunning diamond pendant necklaces to precious gemstones, all can be jewelry to wear with a black dress, other formal attire, or even, in some cases, day-to-day wear.
Pendants
With pendant necklaces, classification is based on the style of the pendant itself. The pendant, or the attachment at the end of the necklace chain, really distinguishes the style, with options from classic to more daring.
Lockets
Lockets are gorgeous options that nod to tradition. Though not as common as they once were, the unique design allows you to enclose items, often a photo, making them great choices as something to pass down or even as a wedding anniversary gift.
Fashion
Fashion pendants are the most common for pendant necklaces. Modern and beautiful, fashion pendants are the bulk of the pendant necklaces you can buy and include both precious gemstones and diamonds, as well as costume jewelry.
Other Types
Other types of pendants are more related to symbolic purposes and are not typically sold through traditional online jewelry stores. These include amulets, talisman, and medallions.
Necklaces
Necklaces (which include pendant necklaces) are one of the oldest forms of jewelry and can be dated back to ancient times, even for religious and ceremonial purposes. What I love about necklaces is that you don't have to worry about sizing as you would for a ring or bracelet, and that they are universally flattering.
Types of necklaces are classified mostly by length. Keep in mind that pendant necklaces can technically fall under any of these categories, though they are most common for princess and matinee necklaces.
Collars and Chokers
If you get collars and chokers mixed up, I don't blame you. Both fit close against the skin, but collars and thicker and typically hit above the collarbone. Chokers, meanwhile, which tend to go in and out of style more, hit, much higher on the neck. Both collars and chokers tend to be fairly plain in design.
Opera
Opera necklaces can even be worn long or layered and hang loosely around the neck. Opera necklaces are excellent choices if you have a fairly simple or solid pattern outfit to add some dimension. They are especially well paired with lower or V necklines.
Princess
A princess necklace falls somewhere below the collarbone and almost always includes a dropped look and some sort of sparkle, often with diamonds or precious gemstones. It is not uncommon to find pendants on princess-style necklaces.
Matinee
Falling somewhere below the collarbone but not as long as opera necklaces, matinee necklaces are perhaps the most versatile but are best paired with higher necklines. Matinee necklaces are also nice options for pendants, and can easily be worn for both formal and more casual occasions.
How to choose a necklace or pendant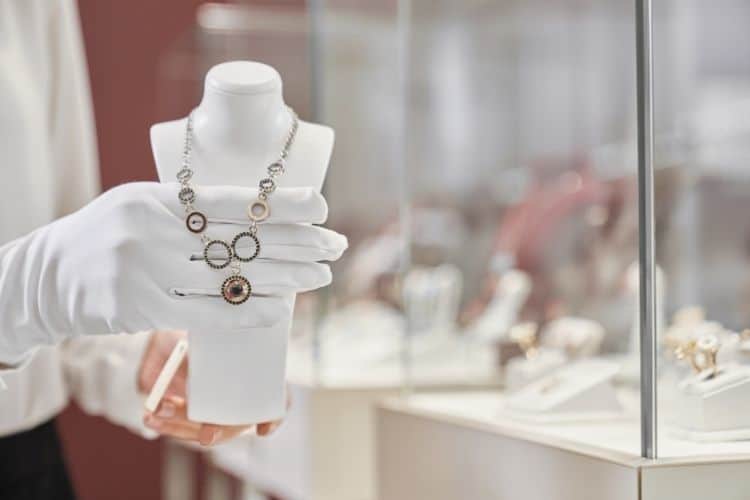 Of course, just knowing the differences between pendant necklaces and other necklaces doesn't give you all the information you need to choose your special occasion jewelry. Here's what you need to know to select the perfect accessory or gift.
Shop by Occasion
Of course, the first factor to consider is the occasion. Are you buying jewelry for a mother-in-law, or for an anniversary– or just casual necklaces for everyday wear? Special events call for precious metals, like rose/white/yellow gold, sterling silver, or platinum.
Pearls are also a great option for nearly any formal occasion. For daily wear, beaded necklaces or non-traditional pendants can add a bit of personality– I especially love looking to individual artisans or creators from Fair Trade companies or from places like Etsy.
For more formal occasions, I opt for well-trusted names with a high BBB rating, such as Brilliant Earth and James Allen.
Select Necklace Length
Necklace length should be selected with attire in mind. If you or the person you're buying favors higher necklines, necklaces and pendant necklaces should hit below the collarbone, perhaps near the bust, or longer. Lower and V-shaped (or sweetheart) necklines, on the other hand, are best paired with collars, chokers, and short necklaces and pendants.
Opt for a Pendant or Plain Chain
Whether you decide to go for a pendant or other necklace depends a little on personal preference, but also what you hope the necklace will bring to an outfit. Pendants can bring extra textures, colors, and will draw more attention to the neckline. Pendants are also a little more expressive in showing other styles or even certain values.
While plain strands are a good choice for an outfit that is either heavily patterned or, for something like a wedding dress, where you want more attention on the dress itself, I often prefer pendant necklaces for a more unique and personal touch.
Select a Pendant Type
Often, you can buy necklaces with pendants (pendant necklaces) but you also have the option of buying a pendant separately. Keep in mind that the pendant should be lighter than your necklace chain – otherwise, the chain will wear or even break over time. Opt for as simple of a chain style as possible so that attention goes to the pendant.
For metal type and color, the pendant should match. Even if you like the idea of mixing metals, the result usually is distracting rather than fashion-forward. If your pendant includes any gemstones or diamonds, make sure you are aware of the sourcing, cut clarity and carat before you buy– you can read a guide to selecting diamonds here.
Consider all styles of pendants. Cross necklaces or other religious symbols can be useful not only for religious occasions but some of faith for daily use. Symbolic pendants can provide comfort, but you should select these carefully, and only if you're buying for yourself or someone you know well.
Lockets are great for anniversaries or passing something done. Shaped pendants can add some whimsy or even be suited for younger recipients. Meanwhile, luxury pendants, featuring fine gems or diamonds, will make for a gorgeous statement at nearly any occasion.
Comparison Shop
Shopping by price is also important. I recommend setting a budget, then searching around and noting a few necklaces or pendants that both fit within your budget and your preferences. Instead of buying the first one you see–or the cheapest–make sure you're shopping with someone reputable, and you've had time to compare other places.
Chances are, the best necklace or pendant necklace isn't the first one you lay your eyes on. And also keep in mind that, even when shopping for a necklace or pendant with a diamond, you can find something within any budget by tweaking the cut and the carat.
Where to Buy Pendants and Necklaces
Where is the best place to buy necklaces and pendant necklaces? The problem is that there are actually so many options that, for many, it can be truly overwhelming. The good news is that you can be choosy. I always check the company's reputation and overall selection.
Most reputable gemstone and diamond retailers are good to go's. Below, I've provided three of my current favorite picks for pendant necklaces and other necklaces. While far from an exhaustive list, all of these offer some great options for nearly everyone.
Pendants
For both pendants and necklaces, I am sticking to my favorite options at Ritani, Brilliant Earth, MiaDonna and James Allen. All of these companies are well respected, offer a range of necklaces and pendant necklaces for special occasions, and provide options for different budgets.
Brilliant Earth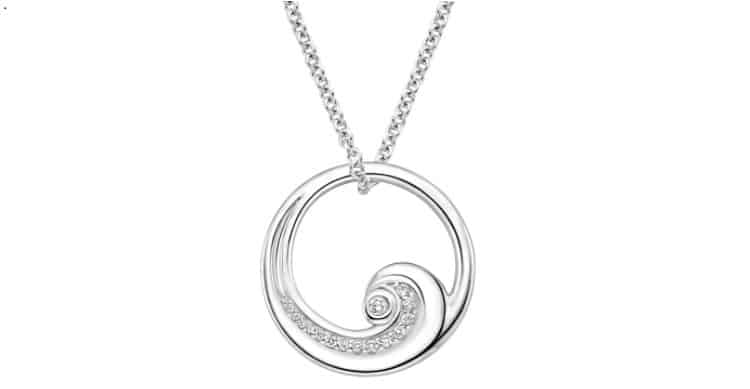 Brilliant Earth is perhaps my favorite collection of fine jewelry pendants you can buy online. The company is not only focused on ethical and eco-friendly sourcing; it also offers a spirited collection for classic, stunning looks.
The collection ranges from a little over one hundred dollars to a little over a thousand dollars. You'll find everything from cultured pearls to gemstones like citrine, aquamarine, sapphire, and diamonds.
Some of my favorites include the Silver Bouquet Pendant, with a bright and dazzling arrangement of yellow sapphires, morganite, and diamonds; the stunning elegance of the Premium Akoya Cultured Pearl and Diamond Pendant; an affordable and very wearable Celctic Knot Diamond Pendant; and, as a symbol of peace, the Silver Olive Branch Pendant.
MiaDonna Pendants

MiaDonna may not be as well known of a name, but it is well respected for quality and detailed designs. With the MiaDonna pendant collection, this is for truly special occasions or even great pendants for a wedding. Diamonds are the star of the show, with exceptional beauty at affordable prices.
My favorite pendants from MiaDonna include: the Antique Oval Pendant, for a touch of vintage glamour; the Halo Twist Pendant, which features a S1 clarity lab grown gemstone on a delicate chain; and the Diamond Halo Pendant for a showstopping, bold look.
Ritani Pendants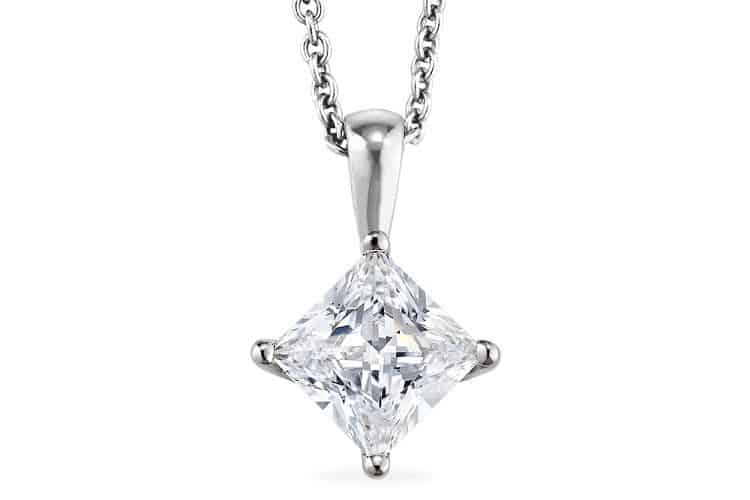 Looking for a classic look that will go with almost anything– with touches of glamour? I love this pendant collection from Ritani. Ritani offers a stunning collection of diamond pendants with a refined style for a special anniversary gift– with prices ranging from under $500 to over $27,000.
This is one of the largest collections of high-quality diamond pendants, with customer-friendly options like price matching, warranties, and professional gemologist reports.
From the Ritani collection, my favorite affordable options under $2,000 include: the Round Four-Prong Diamond Pendant in yellow gold or in white gold; a dazzling Cushion Halo Diamond Pendant in 18K white gold, and a Princess Four Prong Solitaire Diamond Pendant.
Necklaces
If there are many options for pendants, that's only that much more true for necklaces. From companies like Brilliant Earth, James Allen and MiaDonna, to more casual or offbeat options from Etsy, there's no shortage of gorgeous necklaces you can buy. In line with the same theme of pendant necklaces for special occasions, these are some of my favorite collections for special events.
Brilliant Earth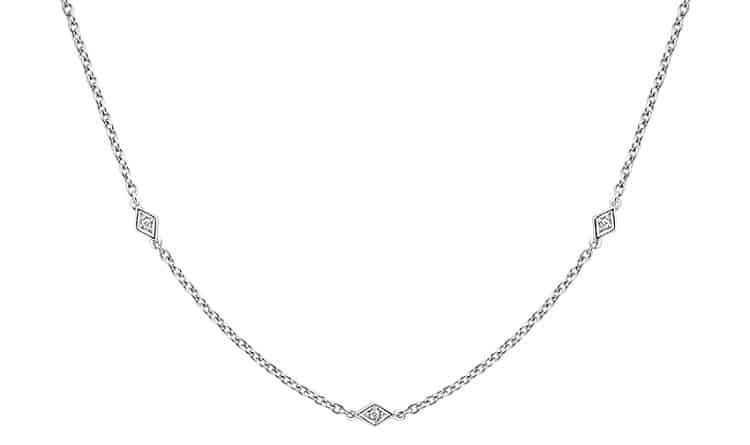 Brilliant Earth impresses just as much with its necklaces as it does pendants– providing the same variety of styles and colors, all with nearly timeless appeal. While most of their collection is pendant necklaces, you can also buy chains in high-quality gold, sterling silver, and platinum. Shop both necklaces and pendants here.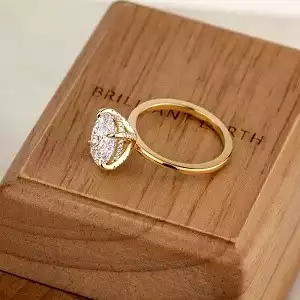 Planning a Proposal?
Make that proposal happen! Get started designing and create an engagement ring as unique as the wearer. To help pull off the perfect engagement, head over to Brilliant Earth's proposal guide.
Check Prices
We earn a commission if you click this link and make a purchase at no additional cost to you.
James Allen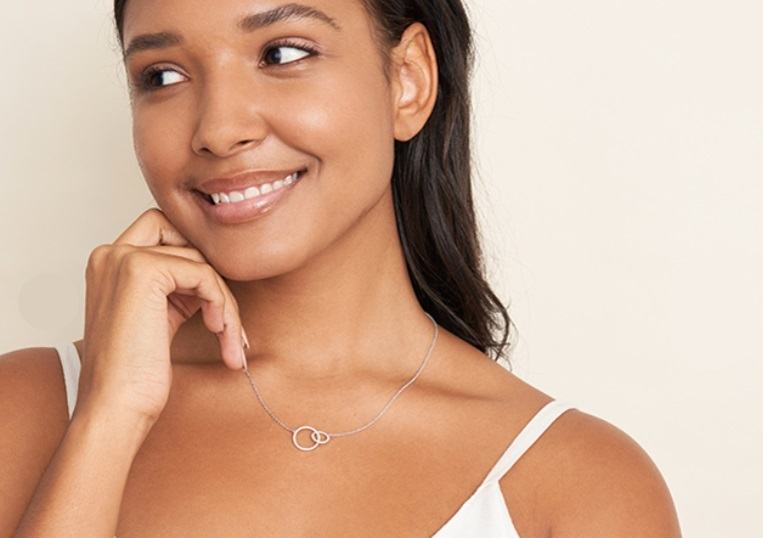 James Allen is a big name for ethically sourced and well-crafted diamond engagement rings, but they also offer an impressive collection of necklaces. You'll find gorgeous single and layered chains, in rose, yellow, and white gold, as well as even more unique options, such as paper clip chain necklaces.
Classic meets more innovative and modern designs, coupled with plenty of variety for unique looks. While the collection does also offer pendant necklaces, I am especially impressed with the attention to detail that goes into their necklaces. Shop the collection here.
MiaDonna Necklaces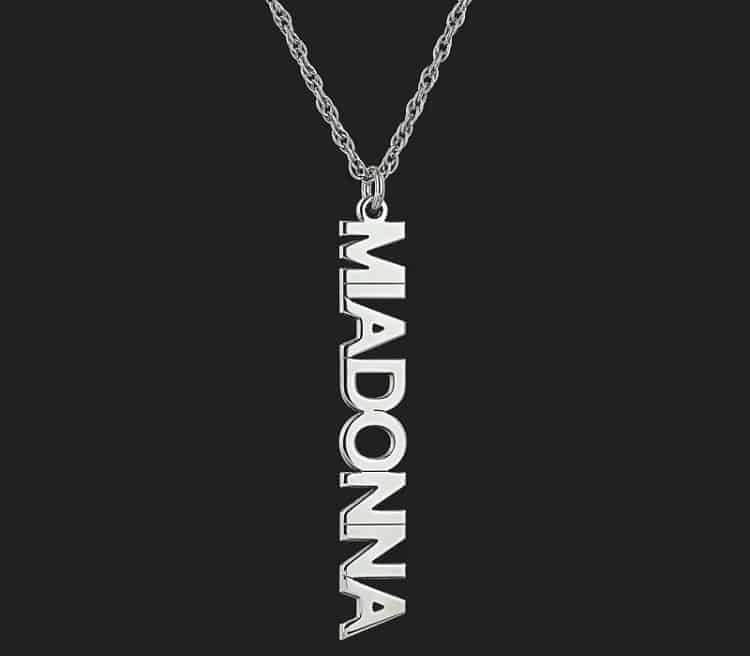 Diamond necklaces, without a pendant, actually aren't quite as common as you might think. If you want strands of diamonds without the focal point of a pendant, MiaDonna offers elegant options that work for many different formal outfits.
My favorite MiaDonna necklaces include the Yard Necklace, featuring lab-grown diamonds, which can be layered or worn by itself; the minimalist and modern Geometric "Y" Necklace; and the Diamond "V" Necklace.
Frequently Asked Questions
Question: Do pendants come with chains?
Answer: Pendants do not always come with chains– you can also buy pendants separately. However, it's quite common for online jewelry retailers to sell pendant necklaces. Pendants can sometimes be swapped with other pendants, so long as they are suited for the chain style and weight.
Question: What type of chain is best for a pendant?
Answer: The best chain depends on the style and weight of the pendant. Simple and modern chains, such as a single strand, curb, or snake chain are best suited for a modern look. A pendant that has a more traditional style may be better suited with heavier or more ornamented chains. You should match the metal type of the chain with the pendant, and make sure that the chain is heavier than the pendant.
Pendant vs Necklace: Final Thoughts
Both a pendant vs necklace can be beautiful options for anniversary gifts or just a way to finish off a bridal look.
Settled on a pearl necklace? Here's Where to Buy Pearls Online.