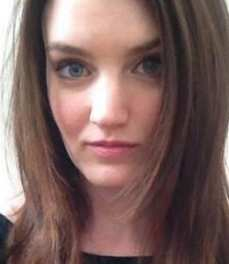 Latest posts by Crystal Schwanke
(see all)
You'll be able to skip the necklace when you're looking for jewelry to wear with a halter neck dress. Why? The neckline almost acts as the jewelry itself and doesn't leave any space for a necklace. Wearing a necklace could just make the area around your face look too cluttered and confusing to the eye (kind of like wearing intense eye makeup and a bold shade on your lips).
You can best accessorize a halter-style dress with a pair of stunning earrings or a statement-making bracelet. Rings are an option, too, but on your big day, you'll probably want to leave your wedding set to speak for itself, without any competition. I'll add some rings for your right hand, just in case, but anything goes when it comes to your hands and wrists.
I chose these pieces because they can add sparkle or visual interest without competing too much with the gorgeous halter neckline.
A Quick Note Up Front
The TL;DR answer to what to wear with a halter neck dress: Skip the necklace and wear dangling earrings. Finish your look with a statement bracelet. As with any rule, there are exceptions; you could still rock a dainty pendant with a halter neck (especially one that creates a deep V-neck), but it's more streamlined to just accessorize with other types of jewelry.
What Jewelry to Wear with a Halter Neck Dress
Accessorizing a halter neck dress is a little trickier than, say, a V-neck dress. The way to avoid looking like you're wearing too much is to skip the necklace (even the dainty ones), especially if you want to wear statement earrings.
Halter styles are elegant and perfect for the bride who doesn't necessarily want to wear a lot of jewelry or worry about choosing (and buying) a necklace and earrings.
Necklaces
In most cases, letting the halter neckline shine on its own is the safest bet. Focusing your jewelry elsewhere will let your dress garner all the attention it deserves.
If the halter neckline is somewhat simple and you want to jazz it up, you could choose a choker-style statement necklace that covers the straps and looks like part of the dress. How well that will work will wholly depend on your specific dress. Finding the perfect statement necklace to go with a halter could feel a little like searching for a needle in a haystack.
However, trying to find that perfect necklace could just end up being stressful, and you may be preoccupied with whether it's laying just right during your ceremony.
The Chriselle Factor demonstrates how a dainty necklace can pair with an understated halter neckline. She's not in a wedding dress, and the necklace she has isn't necessarily bridal jewelry, but you can get an idea of how to pair your pieces if the neckline of your dress is similar. Here's some inspiration:
Ana Luisa Elise Pendant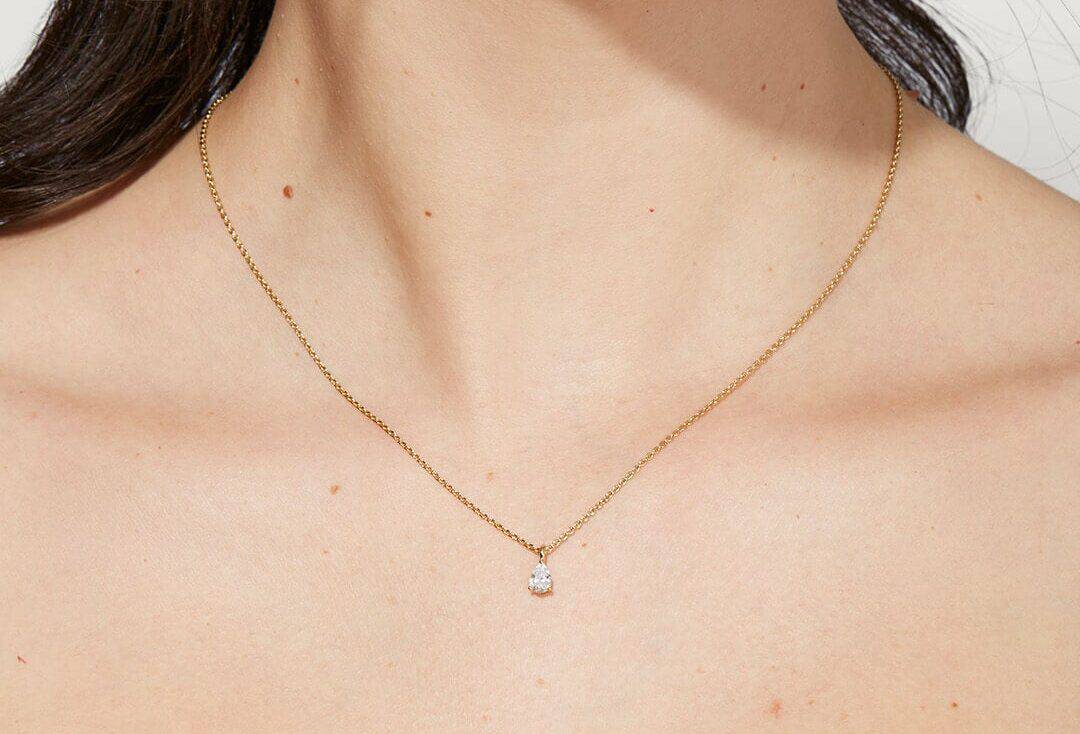 The Ana Luisa Elise Pendant is delicate and simple enough to flatter a halter neckline if you decide to wear a necklace.
Pros
It's inexpensive (under $50.00), beautiful in its simple design, and simple enough to wear every day once the wedding is over.
Cons
It's 14K gold-plated brass and cubic zirconia, which might not be everyone's preference, especially if they're hoping for a piece of jewelry to hand down to future generations.
Alex and Ani Lariat Pearl Necklace
Here's another necklace option that could go with a halter neckline. The Y-shape gives it extra length while the chain itself can hug in closer to the halter neckline.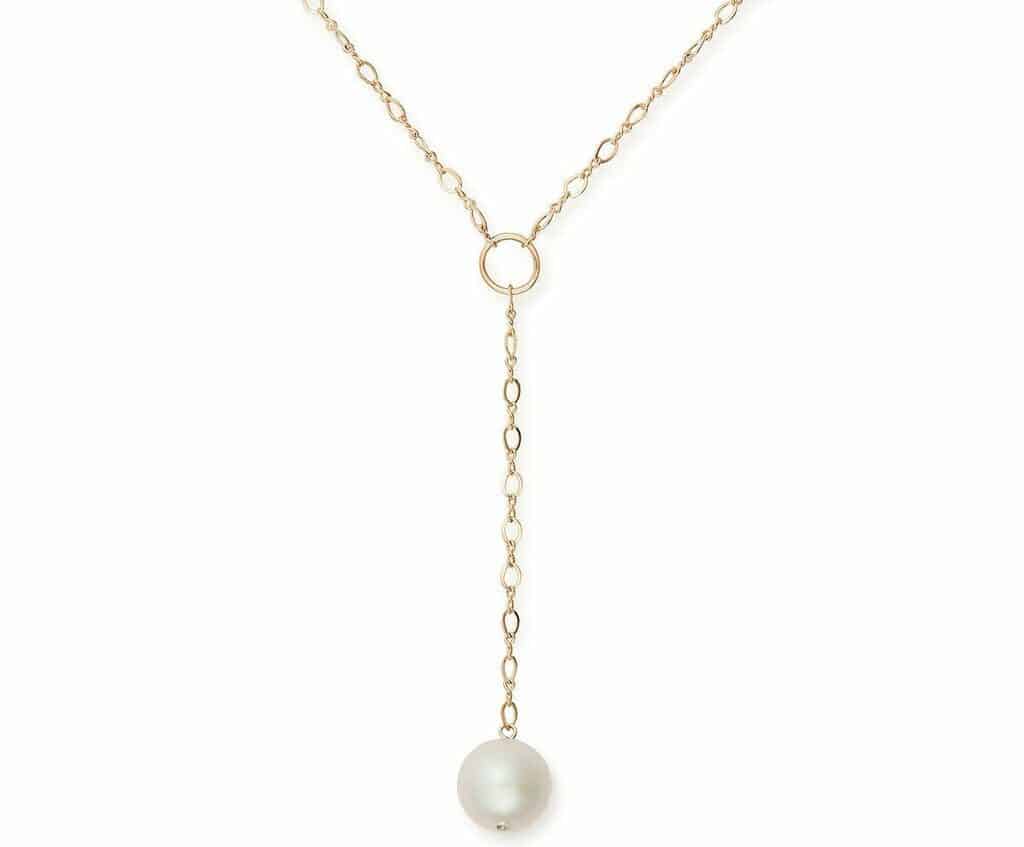 Pros
It's delicate and comes in 14K rose gold over sterling silver (white pearl) or sterling silver (deep gray pearl), plus it costs less than $100.00.
Cons
It may tarnish over time since it's sterling silver, and the rose gold may wear off over the years if you choose that option, so they won't be something you can pass down to future generations, either.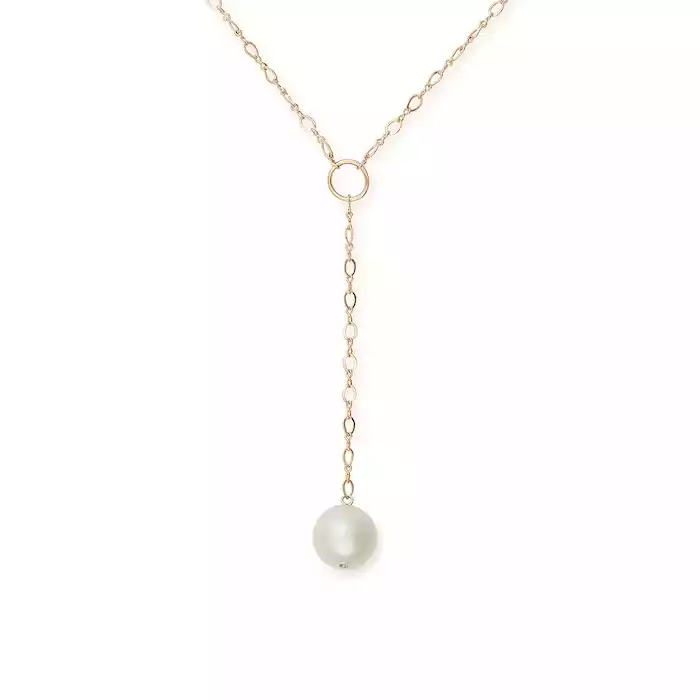 Lariat Pearl Necklace | Alex and Ani
Pearls are believed to offer the wearer protection, ability to strengthen valuable relationships, in addition to being a token of good luck and wealth.
Check Price
We earn a commission if you click this link and make a purchase at no additional cost to you.
A Caveat to the Necklace Guideline
Some halter styles hug the neck at the sides but leave an open area at the chest, like a V-neck. In this case, you may still wish to go necklace-free, but a delicate pendant will be incredibly flattering with this style of halter.
Bracelets
This (and your earrings) is where your jewelry selections can shine without interfering with the neckline of your halter neck dress. If your style is more delicate, you can always choose that, but if you're looking to make a statement with your jewelry, try something like one of these:
This statement bracelet with yellow crystals gives a sunny, elegant look. If you love yellow diamonds, you'll want to glance at this one.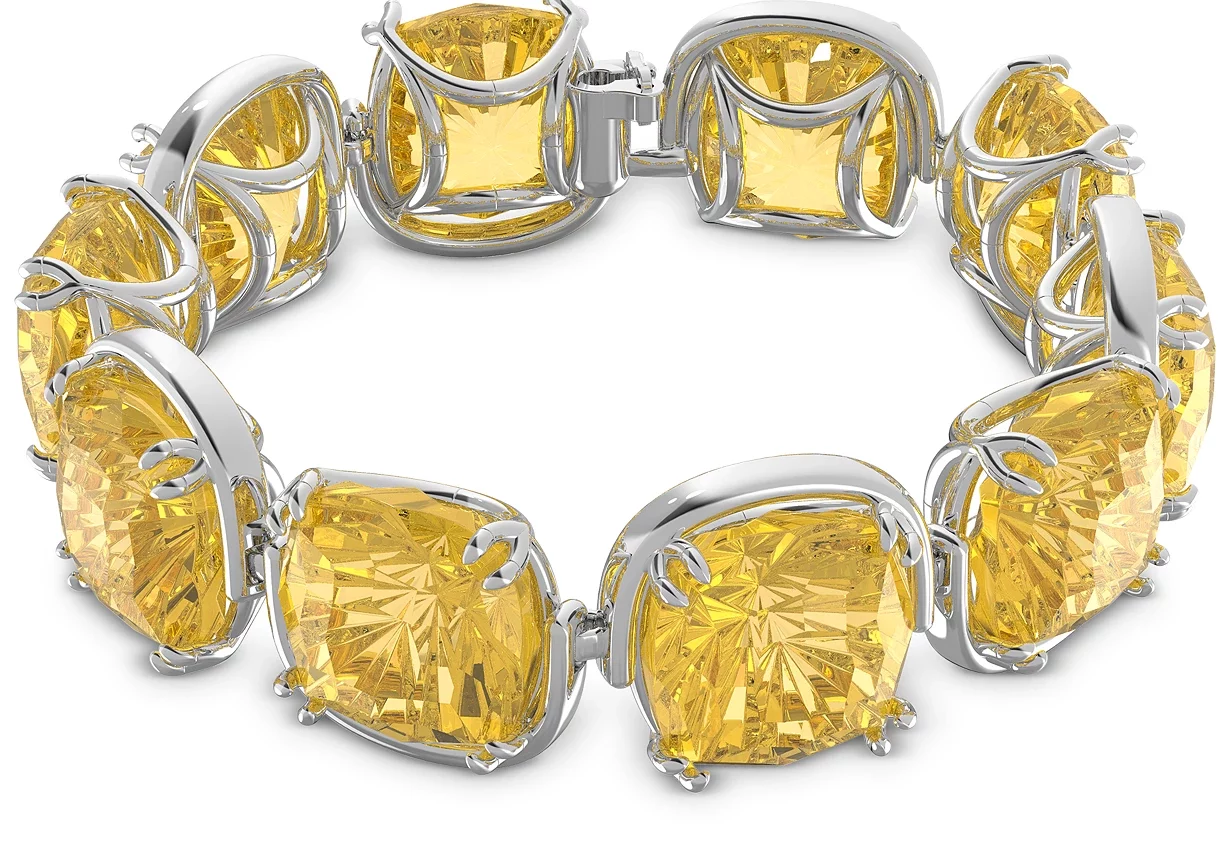 Pros
It's a way to subtly add color to your ensemble.

If you're wearing saffron or canary diamond on your finger, it'll complement it well.
Cons
It's on the pricy side at just under $400.00.

It's silver, not white gold.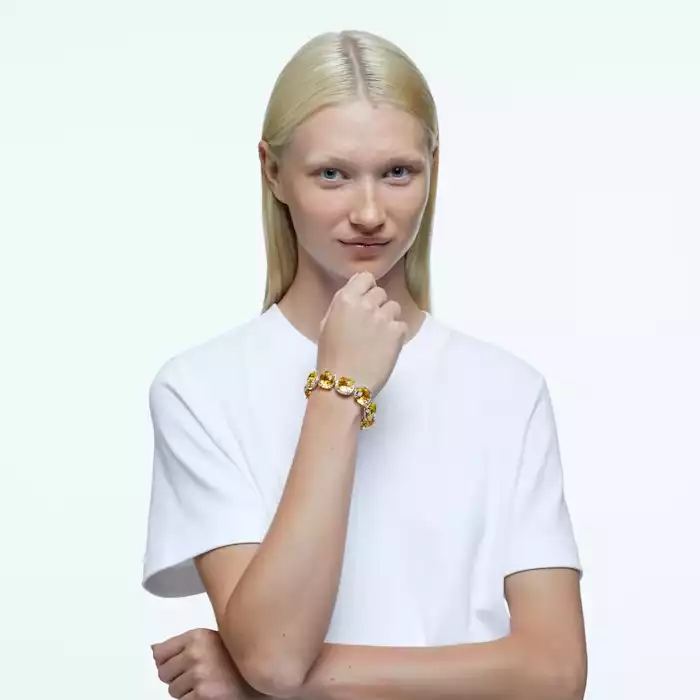 If you want all of your jewelry to glow in shades of white and silver, you'll love adding this shimmering crystal addition to your wardrobe.
Pros
The crystals and silver will complement any other diamond and white gold, silver, or platinum jewelry you're wearing.

The different shapes of the crystals make the bracelet especially visually appealing.
Cons
It's a bit pricy but could be worse, at just under $300.00.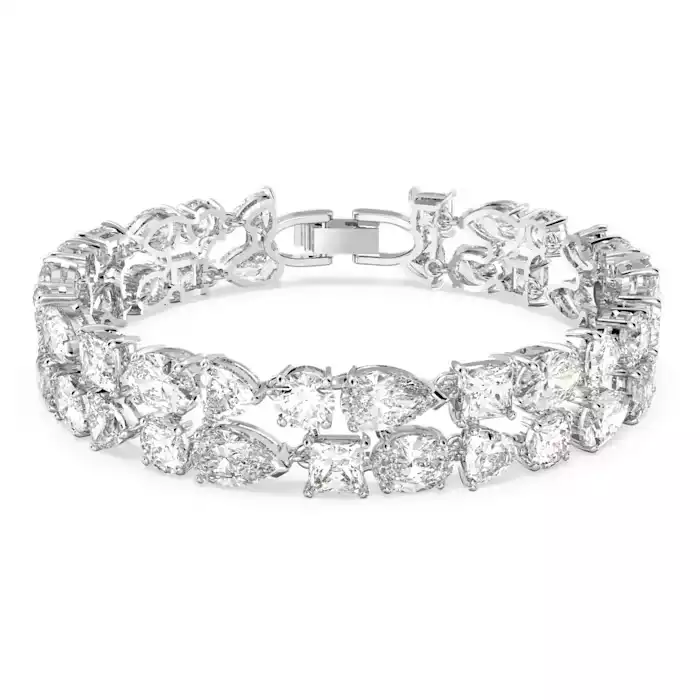 LuxuryBridalDesigns Vintage Bridal Bracelet
If you have a vintage or boho vibe to your wedding, you may love to make this vintage-style bracelet your "something blue."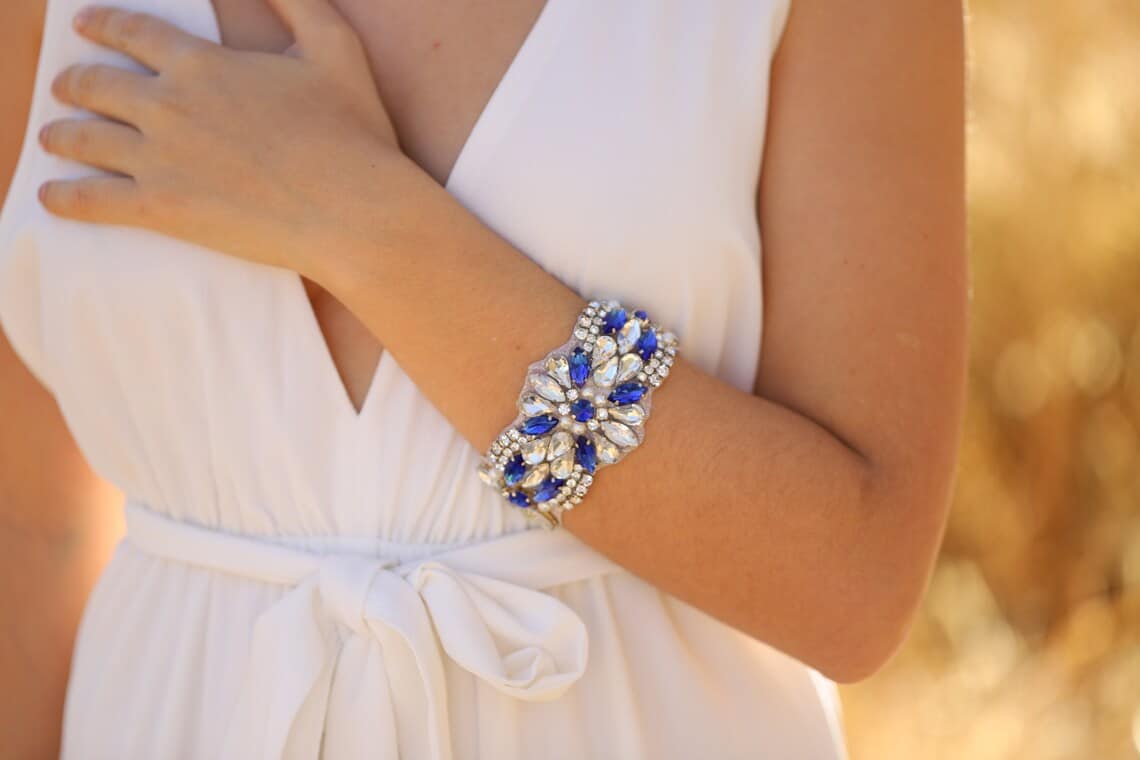 Pros
It's relatively inexpensive, at under $100.00.

It's unusual and could also be worn with other clothes without looking out of place.

It's handmade and can be personalized.
Cons
It may take a while to get to you (check shipping estimates before placing your order).
Vintage Bridal Bracelet | Etsy
Silver navy blue bracelet, makes a perfect bridesmaids gift. Made out of crystal adjustable bracelet.
Check Price
We earn a commission if you click this link and make a purchase at no additional cost to you.
Earrings
Earrings are another way to go bold with your jewelry in a halter neck dress. You could go minimalist with a pair of diamond studs, but don't shy away from statement earrings if a pair catches your eye. Take a look at these for inspiration:
You can find these earrings on Etsy. If you're looking for an elegant, dangling pair of earrings to complement your dress, these may be the ones.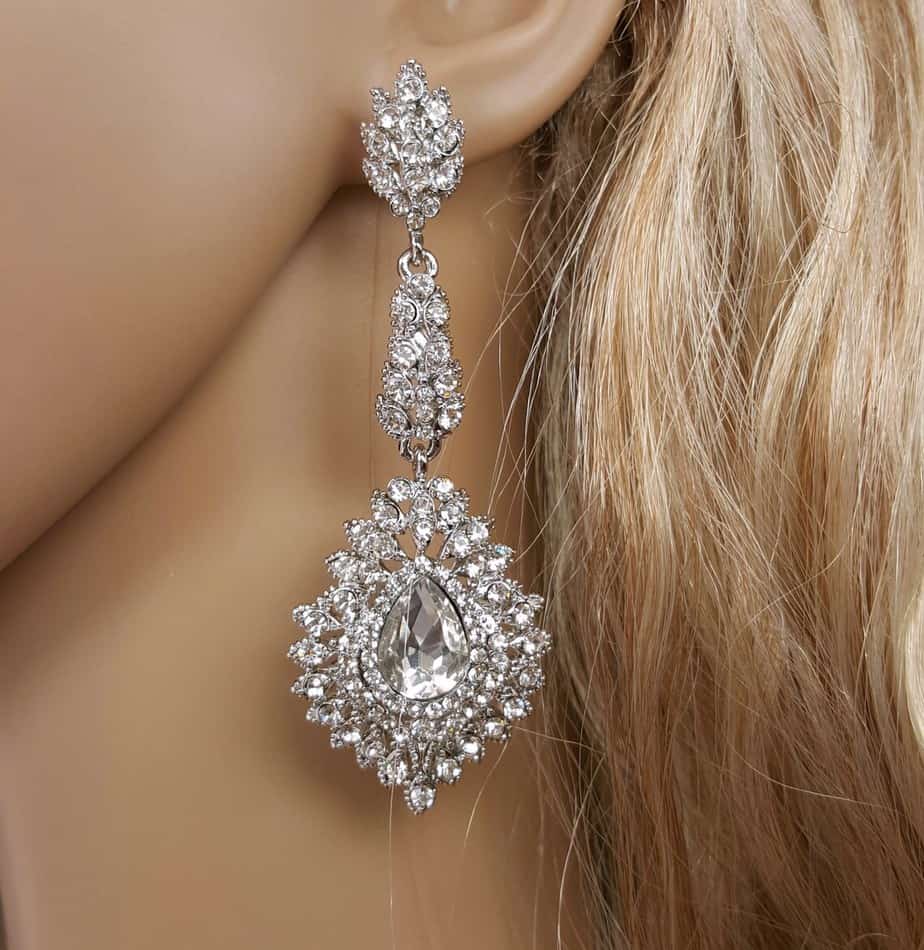 Pros
The white cubic zirconia and silver metal mean they'll work well with almost any dress.

They're under $50.00.

They're made to order.

Reviewers say they're not heavy.
Cons
They may be longer than some brides would like.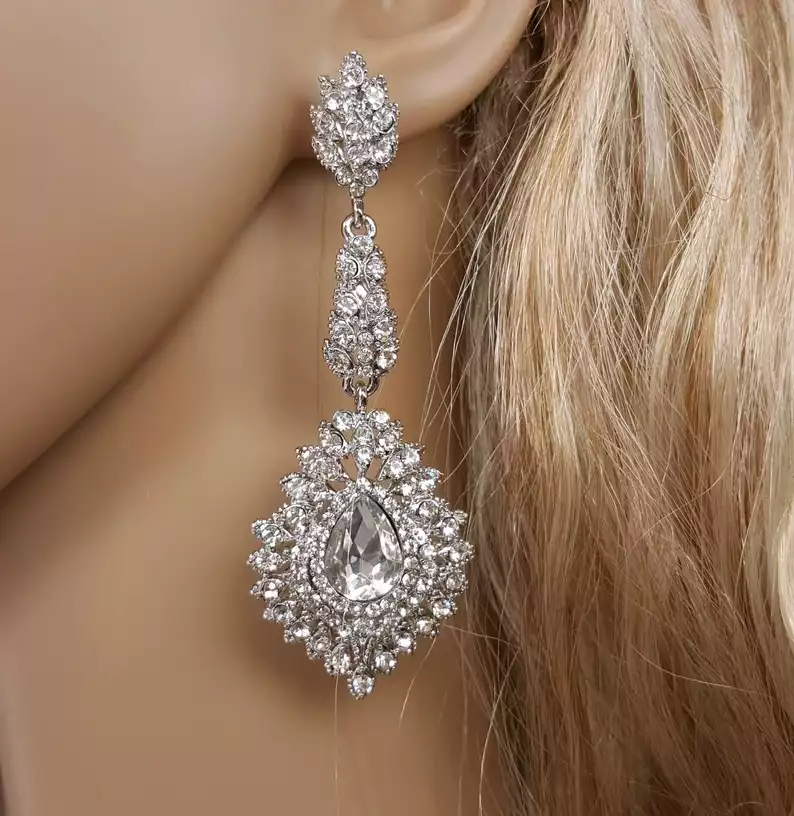 Bridal Chandelier Earrings | Etsy
Modern vintage earrings made with a cubic zirconia teardrop crystals. These exquisite earrings are classy and beautiful, great for wedding, prom or any formal occasions.
Check Price
We earn a commission if you click this link and make a purchase at no additional cost to you.
These earrings could be your "something blue," and they're attention-grabbing without being too over-the-top. They're dangly but not too long (only about one inch), which means they'll go with almost any wedding dress that veers toward the vintage or classic styles.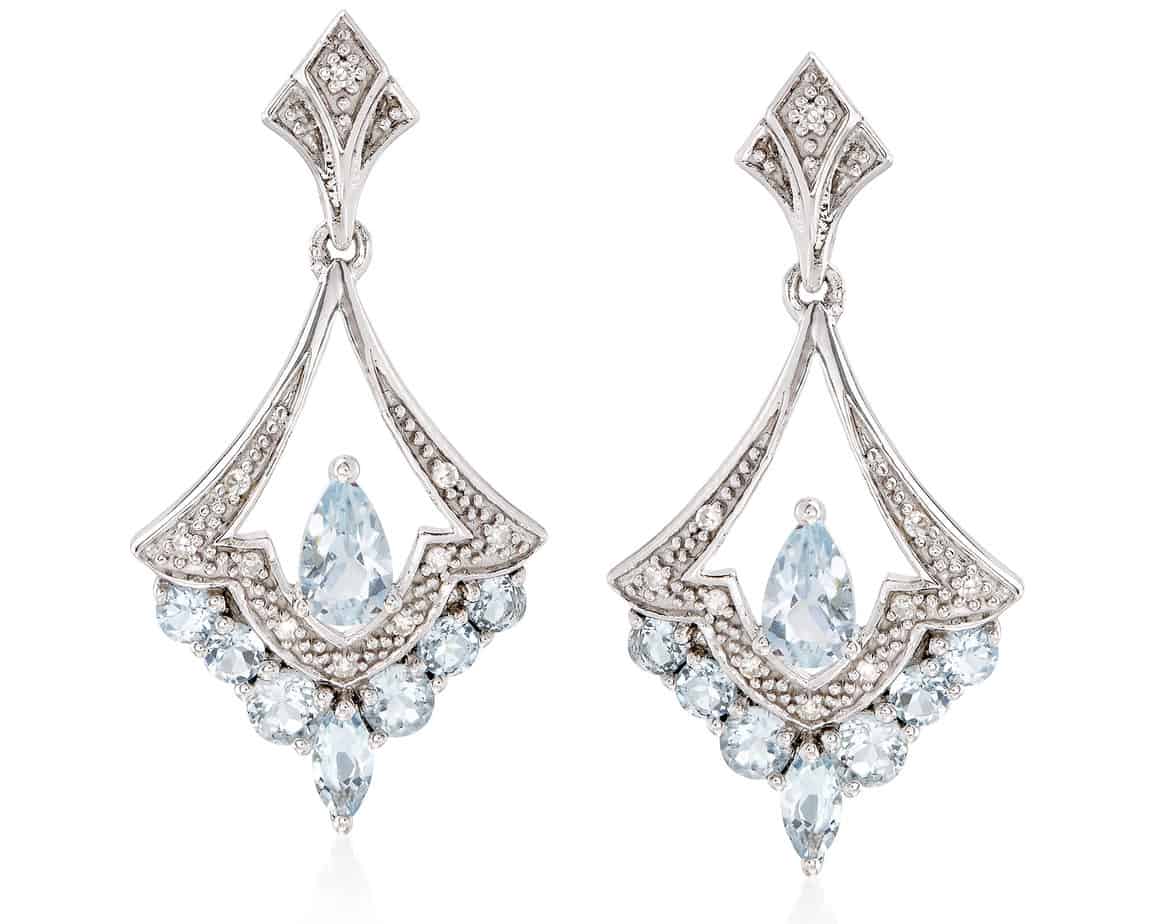 Pros
These are versatile.

They can double as your "something blue."

They're not especially expensive, at around $200.00.
Cons
They're sterling silver, not white gold.
These Brilliant Earth earrings border on statement pieces, but they're understated enough not to compete for attention with a busy neckline or other statement jewelry.
I chose the London blue topaz and aquamarine set to share here. Still, they're available in amethyst (two combinations, one of which includes garnet), morganite, and citrine, as well, so you may find the perfect accent to match your wedding colors.
The top stones are cushion-cut, while the bottom stones are emerald-cut.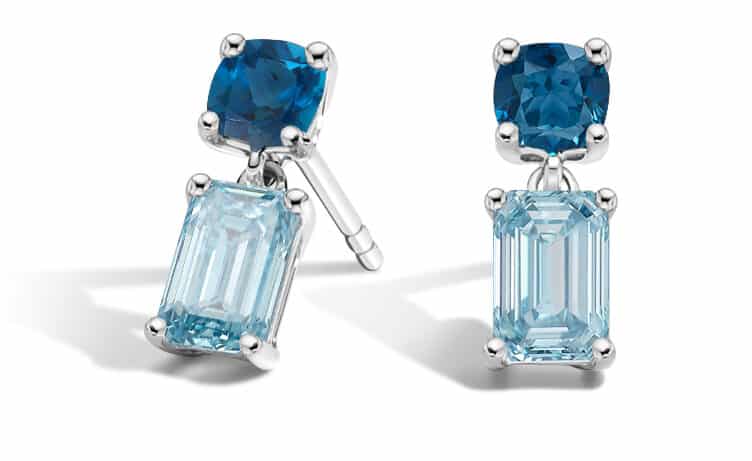 Pros
They're available in several colors.

They'll catch the light grab attention, but they're not as large as other options, which is perfect for a more understated look.
Cons
They're more expensive than other options, at almost $400.00.

They're not exactly statement earrings, so they may not be for everyone.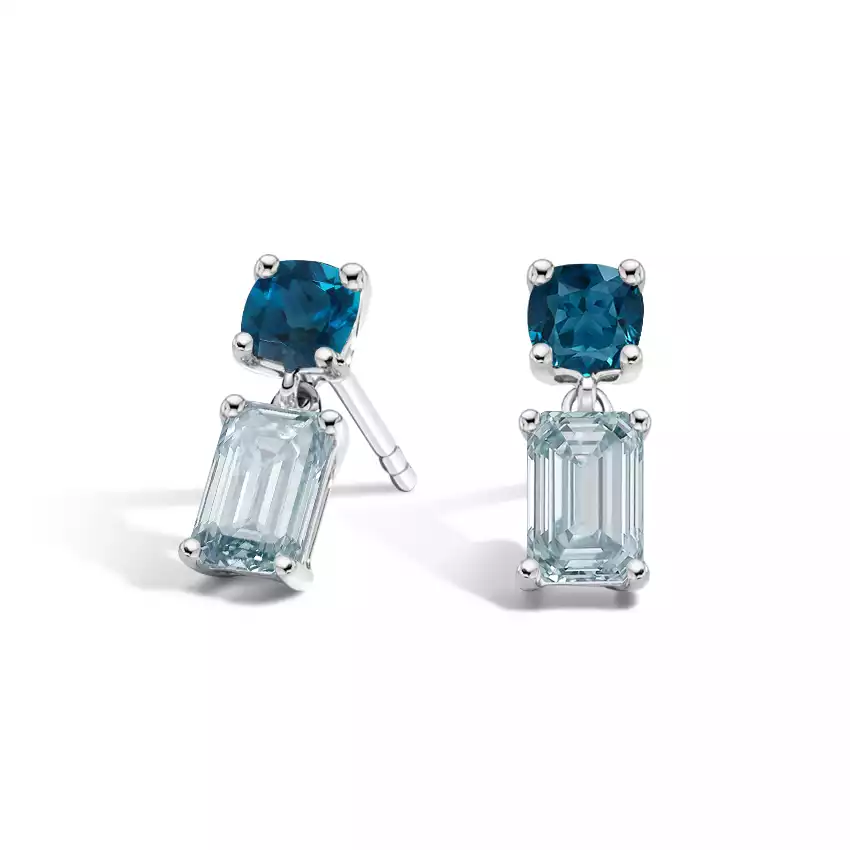 How Do I Choose Jewelry for My Neckline?
A lot of choosing the right jewelry to wear with a halter dress will come from trial and error or just what your intuition pulls you toward. Look around online to get an idea of what you like. You could even collect a few photos on Pinterest or other places around the internet before heading out to look in person.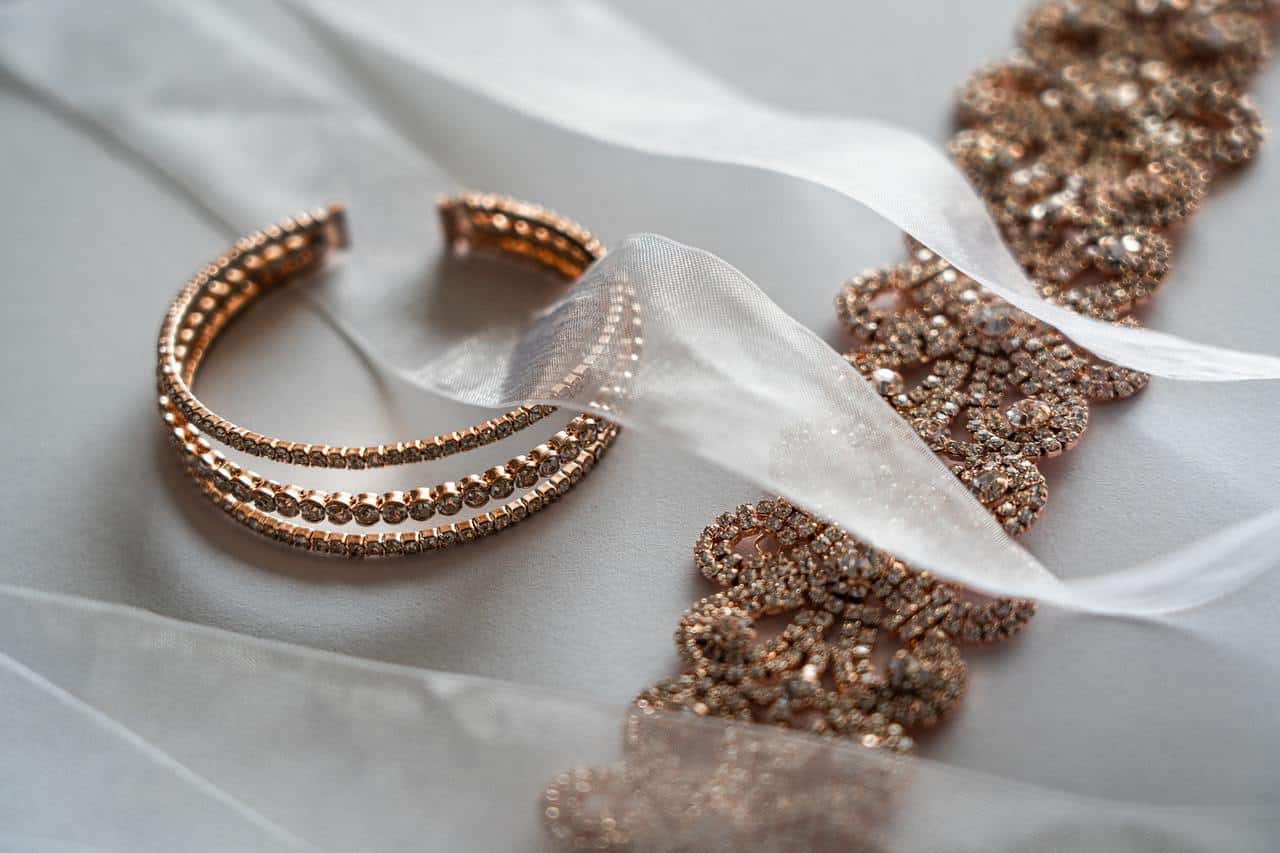 General Guidelines
Mimic the shape of the neckline

Go for the opposite length (if your neckline is high, let your necklace hang low)

Keep your necklaces on the shorter side if you're wearing something strapless

Off-the-shoulder necklines look good with short or long pendants, as long as the pendant doesn't end along the top edge of the shirt or dress.

With deep V-necks, you can fill the open space with a statement necklace or wear a daintier, long pendant that ends above the bottom of the "V."

When you want to wear statement jewelry, it's usually a safe bet to go with any bracelet, earrings, or rings regardless of the neckline.

You usually can't go wrong with a face-framing, sparkling pair of dangly earrings unless there's a lot of beading or other detail on the dress that's positioned near the face.
Rules Are Made to Be Broken
If you want to wear a chunkier necklace with a halter neck dress, keep it in line with the shape of the dress's neckline (it'll almost look like the necklace is part of the dress).

If you want to wear a short necklace with a high neckline, consider a chunky statement necklace or a delicate pendant (around 16 to 20 inches).
FAQs
Question: How do you accessorize a halter neck dress?
Answer: Don't add competition to the neckline with a necklace unless you have one that will follow the shape of the halter neckline so well, it looks like it's part of the dress. Do add balance with dangly earrings, if you like. Hoops or studs will also look beautiful. A chunky bracelet is one way to add some pizzazz to your look, but something more delicate would work just as well.
Question: What kind of necklace do you wear with a halter?
Answer: Skip the necklace or wear one that closely follows the neckline of the top or dress. Another option would be to wear a delicate pendant that extends just below the neckline.
Question: Do you wear a necklace with a halter dress?
Answer: It's better to add visual interest from jewelry at the ears or wrists when you're wearing a halter dress. Otherwise, your necklace and neckline will be competing for attention. I'd skip it.
Question: What jewelry do you wear with a halter neck dress?
Answer: Make sure it's not a necklace (unless you're very choosy about the necklace). Instead, a pair of statement-making earrings or a chunky bracelet (or both, if you're feeling bold) add personality to your outfit without creating competition for attention right at your neck. Let the halter neckline stand on its own.
In Conclusion
In searching for the perfect jewelry to wear with a halter neck dress, you'll find a plethora of statement and more delicate pieces that you can wear. Keep a few things in mind as you look:
How will the jewelry look not only with your dress but your wedding set?
Do you want to use it to introduce color to your look (like blue), or would you rather keep things simple and go with yellow or white gold (or silver) and white stones?
Is this jewelry something you hope to pass down to your children and grandchildren?
Will you want pieces you'll be able to use with your everyday wardrobe, or will you be okay with wearing them once and then setting them aside in a keepsake box when the wedding day is over?
If you hope to use a statement piece, which type of jewelry in your first pick? A cascading pair of earrings or a dazzling, wide bracelet?
If I had to choose or give you advice, I would say go for the chandelier earrings from Etsy (unless the halter neckline is "busy" with broadband of crystals and/or beads). Earrings will help frame your face and add light and sparkle to all of your photographs. Bracelets and rings won't always be shown.