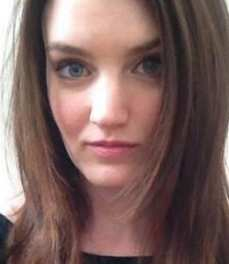 Latest posts by Crystal Schwanke
(see all)
Depending on what you're looking for and who will be wearing it, there are a few routes you can take in the pursuit of the best two initial necklace ideas. Some will be minimalist and could work for almost anyone in any situation. Some will allow you to incorporate other details that celebrate the wearer and a special relationship, like birthstones, hearts, stars, arrows, and more.
Initial necklaces can be a gift for your significant other or bride-to-be. They can be a gift from a friend to a newly engaged or married friend. A bride could even have them made for her bridal party. These make beautiful gifts that can be given within a romantic relationship but aren't limited to that scenario.
I used to wear an initial necklace almost every day. It was a thoughtful gift from a friend and it went with everything. I could even layer it with other necklaces because it was a simple short silver chain with a single silver disc that held the engraved initials. I loved it because it was classic, versatile, and understated.
Two initial necklaces will probably always be around in one form or another. I'd like to help you find the one you want to wear or give to someone special in your life.
Bottom Line Up Front
Searching for a two initial necklace isn't necessarily straightforward (you've probably already found that to be true since you're here). You can choose the minimalist style with two letters positioned in the middle or on one side of a chain.
Those letters may have pavé stones attached or merely reflect the light with their metal finishes. Other necklaces may have the initials engraved on charms (in this case, you may be able to add more initials later, if desired).
In some cases, you'll be able to add other things that have special meaning to you and/or the person who will wear the necklace. Maybe it's a birthstone from the month you met or will get married. Perhaps you'll be able to add two birthstones–one for each of you. You could also choose a gemstone just because it's a favorite color, or a heart, star, or another type of charm because it symbolizes something sentimental about your relationship.
How I Chose the Best Initial Necklaces
So what are the criteria for the "best" two initial necklaces? Here's what I considered while gathering a whole range of options for you to consider:
Value for the price (if the idea comes from a store where price information is readily available)

Interesting details in addition to the initials

Placement of the initials

Style (minimalist, glam, and everything in-between has a place, so I found examples across types)

The range of recipients the necklace would be suitable for and the type of relationship or moment in time it could represent (For example, will you be giving it to a

best friend

/maid-of-honor you've known since childhood and will always love like a sister, a bride who wants to start a family soon, yourself, your significant other, etc.?)
Things to Consider Before You Begin Your Search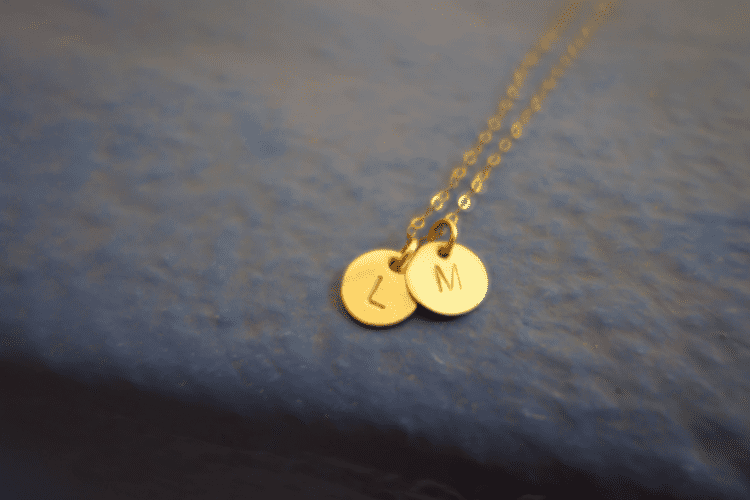 Since there are quite a few styles of two initial necklaces to choose from, narrowing down what you might want from the beginning will be helpful. Here are a few things to consider:
Who Is the Necklace For?
Are you buying this for yourself, your bride, a maid-of-honor or your bridesmaids, or a bride-to-be? Some styles lend themselves to a celebration of a romantic relationship (and in some cases, there will be room to add initials for a growing family). In contrast, others can serve as a reminder to your best friends that you will always love them and want to stay close even as you move into this new stage of life.
With any jewelry purchase, you'll need to take general style into account, along with personality (will they enjoy wearing initial jewelry?) and metal preferences. Will they like pavé letters, or should they be plain? Would a birthstone be an excellent addition? What about a non-initial charm? Trendy or classic (or somewhere in-between)?
If you're buying it for yourself to celebrate your love story, the decision will be easier. Just buy what you love. Everything will fall into place.
Will You Need to Add Initials as Time Goes On?
If you're planning to start a family or you're giving a two-initial necklace to a bride you know well enough to know that she wants children someday, consider styles that will allow you to add extra charms and/or birthstones to the chain to celebrate the growing family.
If you're part of a close-knit friend group and they'll all be in your wedding, you may want to leave the option open to add charms, too. If the recipients would like to add charms or further personalize their necklaces, they could add the first initial for each friend in the group.
Is It Timeless (and Does It Need to Be)?
How long do you see yourself or the gift recipient wearing the necklace? Will you wear it often in the short-term, during the engagement and a while after the wedding, before you retire it as a keepsake? Would you prefer a necklace that will stand the test of time as an ongoing reminder of deep friendships, romantic love, or possibly even a growing family?
You'll want to think about the metal quality (solid gold will be better than gold fill, for example, and if you feel that one color of gold will travel through future decades more elegantly than another, you'll probably want to consider choosing that one). This point also ties in with how easy it will be to add charms.
If you don't think the necklace will be a staple for decades to come, you can be more flexible with your options.
Does It Fit Your (or the Recipient's) Style Better Than All the Other Choices?
I touched on this above, but make sure you compare a few different-but-similar two initial necklace ideas to determine which one is the absolute best fit. Small details could make a difference.
What's Your Budget?
Before you start your search, it's best to have a general budget in mind. That doesn't mean you shouldn't cast a wide net when you first set out and look at all the styles.
As you find the things you like, you can narrow your search. You may find a style for $600.00 when your budget is $100.00 or less. Figure out what you love about "the one" and then get more specific in your search terms to find more affordable options.
The 13 Best Two Initial Necklace Ideas You Can Buy
You may be surprised by just how many different styles of two initial necklace ideas there are out there. It's almost endless. Each one tells a story–about the person, the relationship, the past, the present, and/or the future. Each one is beautiful in its own way, and there's something for everyone from the minimalist to the one who loves unique pieces that spark conversation. Here are 13 of my favorites: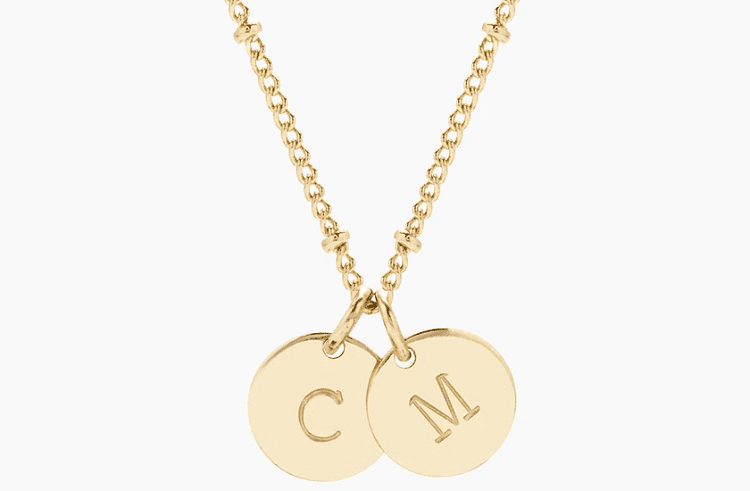 This Brook & York Madeline Personalized Two Initial Pendant is beautiful in its simplicity. This classic style comes in gold-filled, sterling silver, or rose gold filled and has two discs. If you're getting this one and hope to add initials as your family grows, you'll be able to add new discs, but keep in mind you won't be able to just slip them on.
You'll need to open the jump ring on the disc with pliers. That's easy to do, and if you've ever had a charm bracelet you added charms to, you probably already know what I'm talking about. The chain is 16 inches with a 2-inch extender.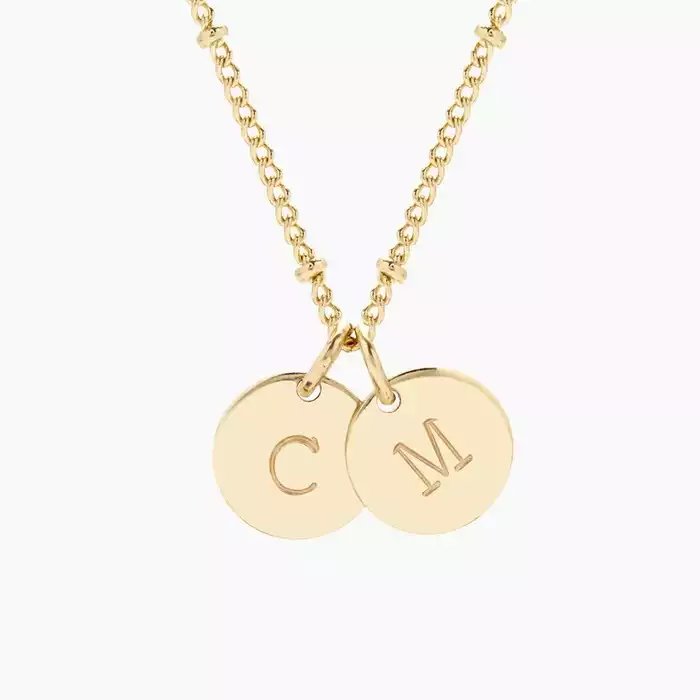 Madeline Two Initial Pendant | Brook&York
No matter where you are going, deck your neck with our classic Madeline two initial pendant. We love its delicate design and versatility. Rock it alone or as the base of an on-trend layered look.
Check Price
We earn a commission if you click this link and make a purchase at no additional cost to you.
Caitlyn Minimalist Sideways Initial Necklace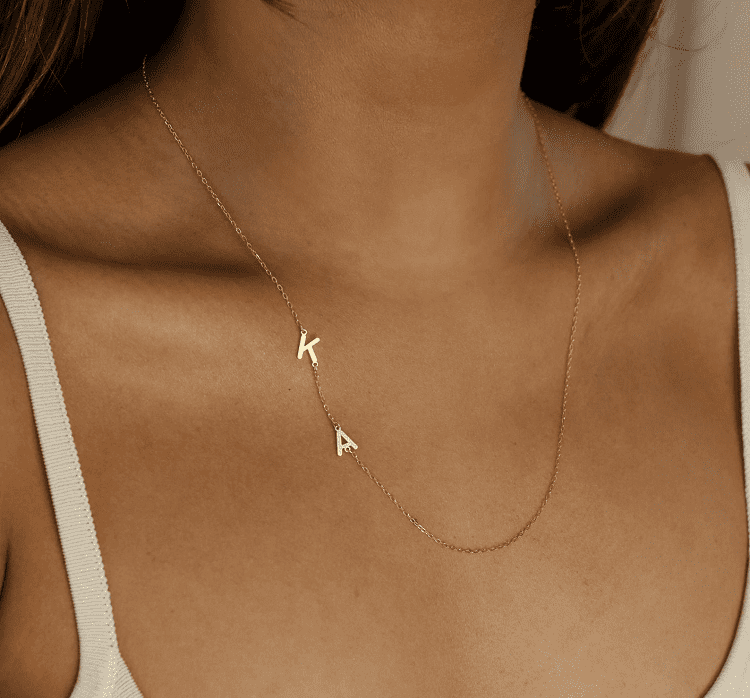 The Caitlyn Minimalist option made the list because it's a much less expensive option for someone who doesn't need a piece that'll last a lifetime and just wants something inexpensive. This one's around $30.00.
It has a similar minimal look to other, much more expensive options on the list. The two letters are spaced apart on the chain and set to one side instead of falling to the center. You can choose between 18K gold, sterling silver, or rose gold finishes in lengths between 14 and 22 inches.
Caitlyn Pave Sideways Initial Necklace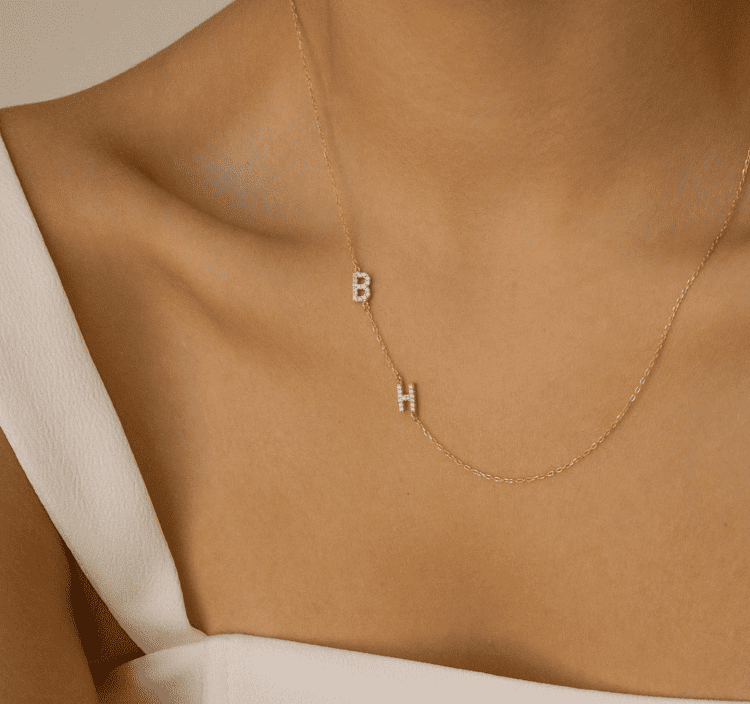 This option is identical to the one above in all ways, except the letters have a little extra sparkle. This one's perfect for the person who loves the idea of minimalist jewelry but wants to incorporate a little glamour here and there, too.
Maya Brenner 14K Gold 2 Letter Necklace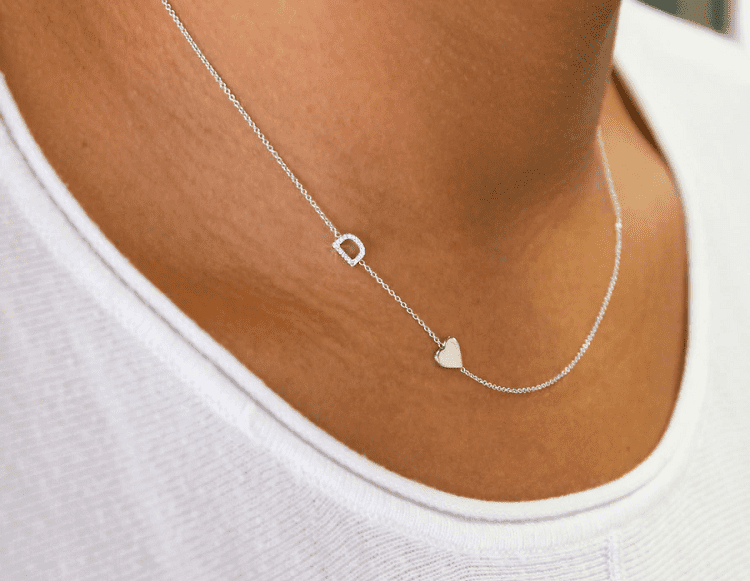 Suppose you like the Caitlyn Minimalist design above, but you're ready for a bit more of a commitment to your two initial necklace. In that case, you may be looking for something in solid 14K gold.
That's where the Maya Brenner option comes in. You can get 14K yellow, white, or rose gold in chain lengths from 16 inches to 20 inches, with adjustable chains as an option, as well.
Maya Brenner 14K Gold 5 Letter Necklace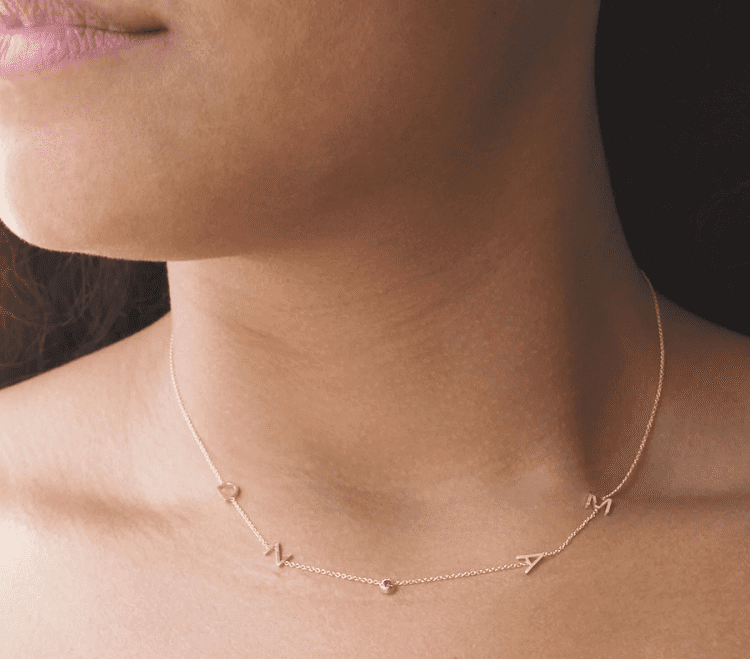 By its name, the Maya Brenner 14K Gold 5 Letter Necklace looks like it doesn't belong on the list. However, you can leave it at two initials and customize the necklace further with beautiful gemstones, hearts, or stars.
There's also a pavé option for the letters. The overall look is balanced and more personalized than some of the other options on the list. These necklaces come in yellow, white, or rose gold. (Quick note: There are also 3-letter and 4-letter options available from Maya Brenner that can be customized in this way.)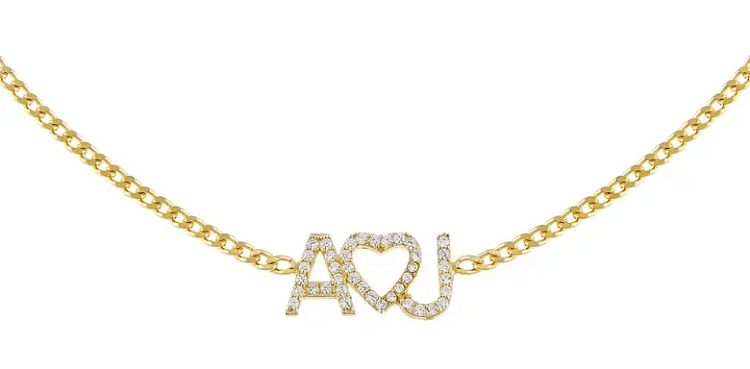 This option by Adina's Jewels is all about romance with some bling. It's a choker style, making it stand out from the rest. Its shorter length will allow you to wear it alone or make things more interesting by layering with pendants and other chains.
Even though this is one of the flashiest options of the bunch with its glimmering cubic zirconia accents and bright yellow gold chain, there's a simple sweetness to it, too. It's almost reminiscent of initials carved into wood by teenagers experiencing their first love.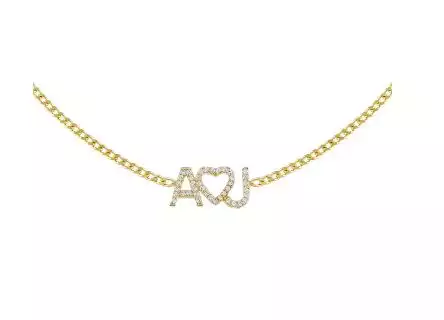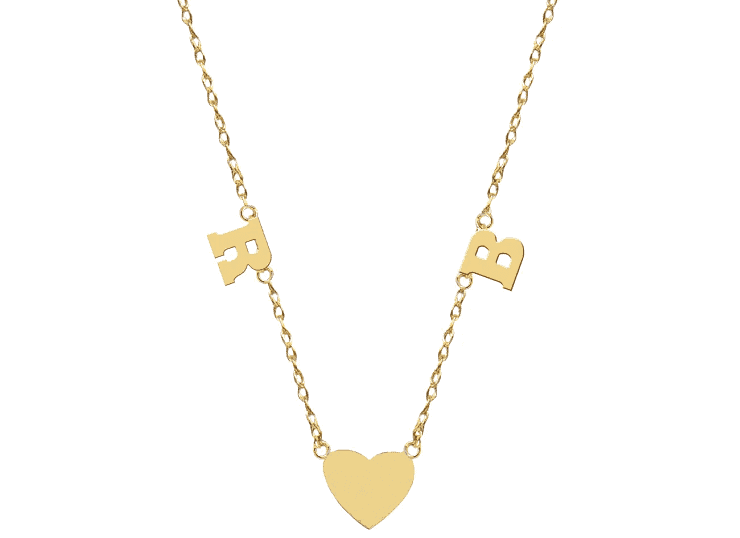 This Jane Basch Designs Two Initial Heart Necklace has a similar vibe with initials on either side of a heart (though these are more spaced out), but with less sparkle and more length on the chain. You could layer this one with a simple choker if you love that look but want a more understated style for your initial necklace.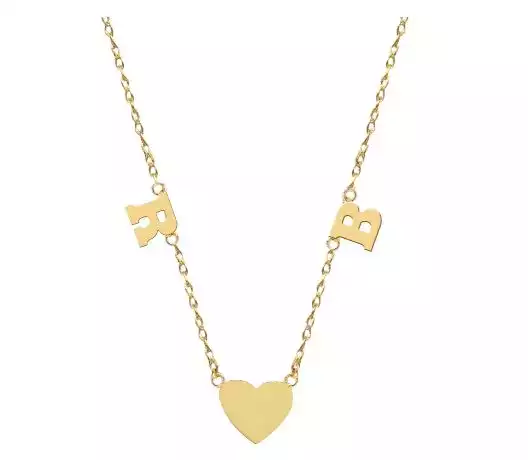 Two Initial Heart Necklace | Nordstrom
Jewelry is personal for Jane Basch, who designs every piece of her eponymous line to express delicate femininity and heartfelt meaning.
Check Price
We earn a commission if you click this link and make a purchase at no additional cost to you.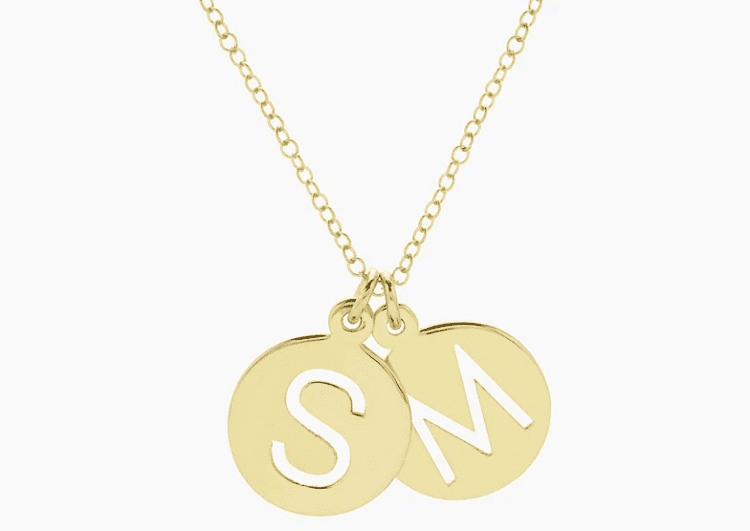 The Brook & York Halsey Two Initial Pendant is a modern twist on a classic initials-on-a-charm style. Instead of engraving or initials made of metal, these are discs with the letters cut out in a simple, easy-to-read font. In this case, you can choose from yellow gold, sterling silver, or rose gold.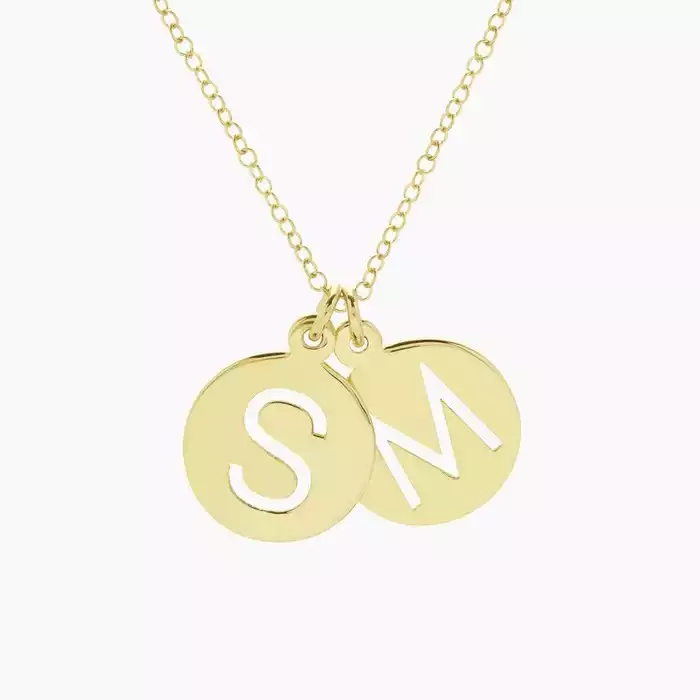 Halsey Two Initial Pendant | Brook & York
Wear your initials in a cool cut-out style with our Halsey Cut Out Two Initial Pendant. Choose your initials, which will be cut out to give the look of a simple, modern font, and pick the finish that will make this necklace fit your personal style.
Check Price
We earn a commission if you click this link and make a purchase at no additional cost to you.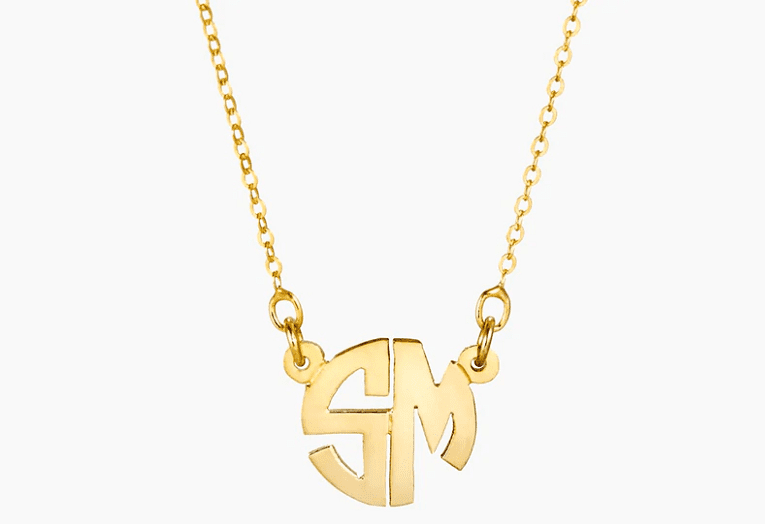 If you love monograms on just about everything, you need to check out the Brooklyn Mini Block Two Initial Monogram style. You can get it in yellow gold, silver, or rose gold. It's a modern yet classic style that could complement just about any jewelry collection.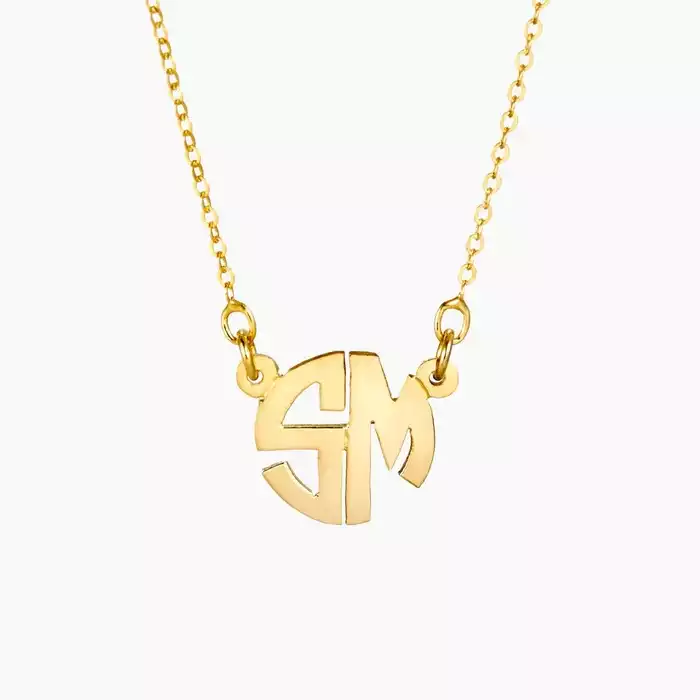 Brooklyn Mini Block Two Initial Monogram | Brook & York
The Brooklyn Mini Two Initial Monogram features two custom letters written in block font. Wear your own initials or create a couple's necklace with this classic design.
Check Price
We earn a commission if you click this link and make a purchase at no additional cost to you.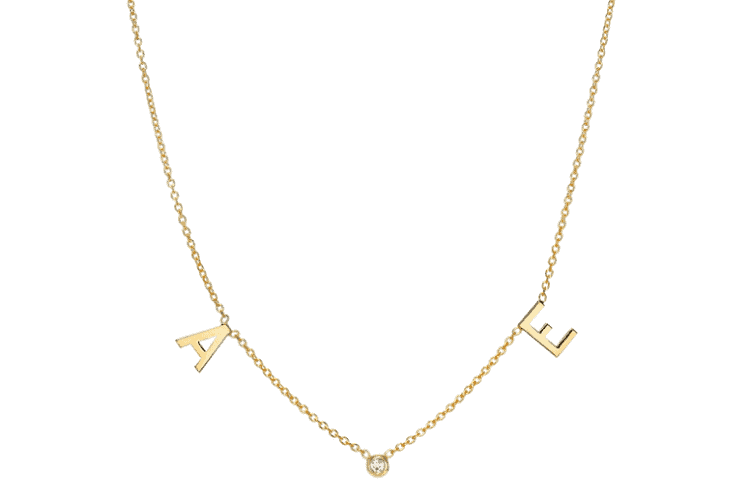 When your true love is forever, sometimes you're willing to commit to a piece of jewelry with your intials and a diamond, all set in 14K gold (yellow, white, and rose are available). A style like this one from Zoe Lev is simple, elegant, and meant to last. It can float along your décolletage by itself or you can layer it with other necklaces in varying lengths. It's not boring on its own, but it does play well with others.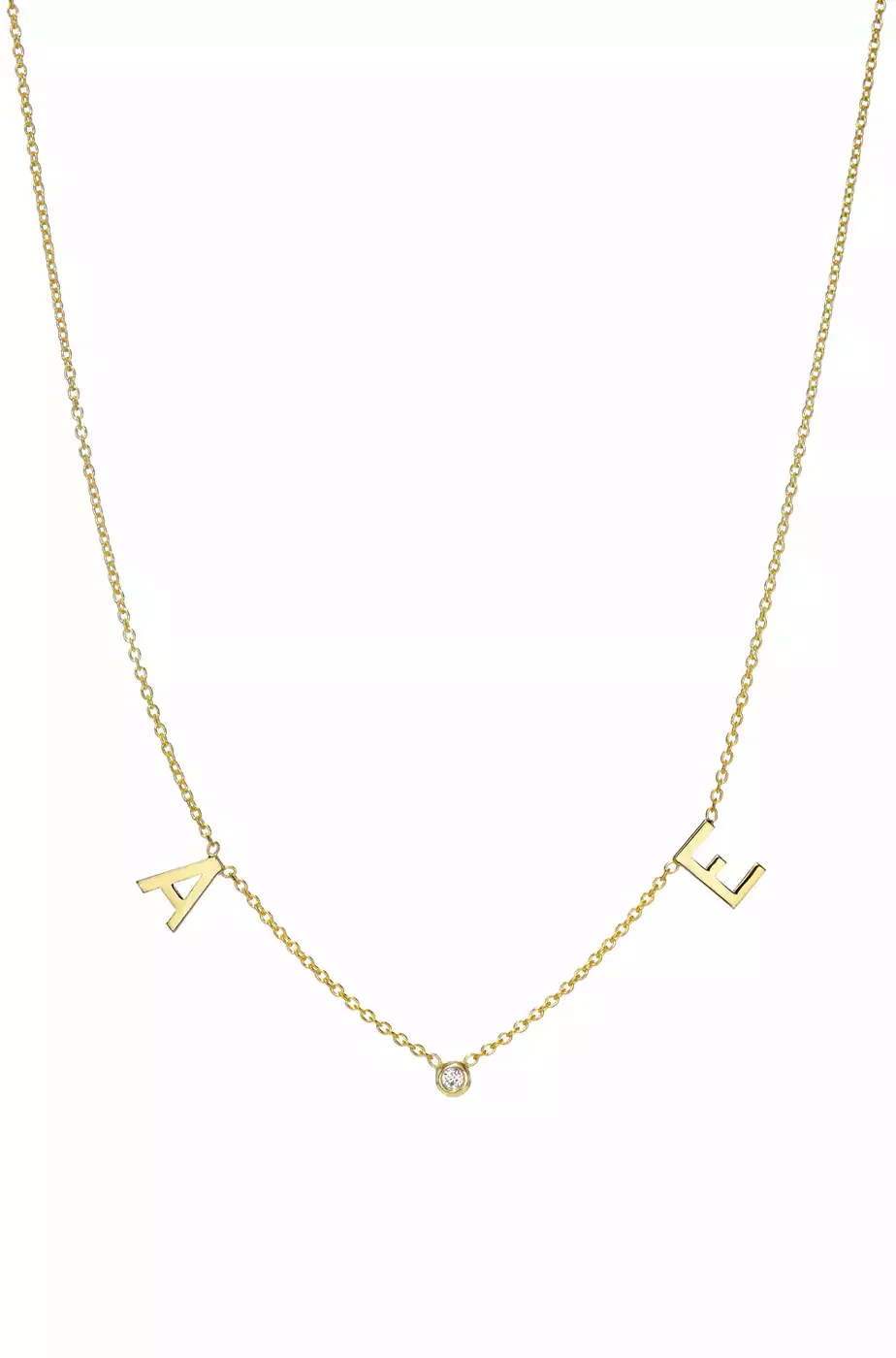 14k Gold Space Initial and Diamond Bezel Necklace | Zoelev
Create the perfect pairing with this double space initial and diamond bezel necklace. Select your initial equation to add on a dainty cable link chain necklace, available in 14k yellow, white and rose gold, it makes for the perfect bespoke necklace with a modern twist.
Check Price
We earn a commission if you click this link and make a purchase at no additional cost to you.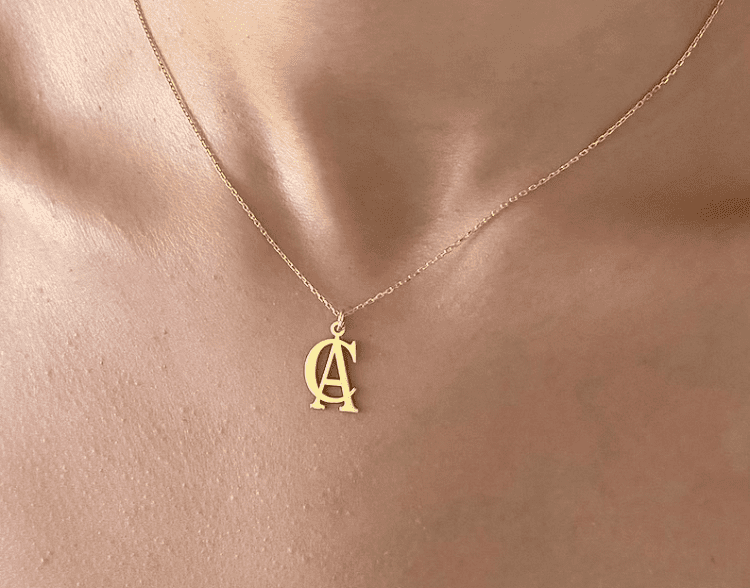 Etsy is a wonderful place to find a variety of designs to fit anyone's tastes. The OnzeJewellry Double Initial Necklace has an exciting look you won't find just anywhere. It has the minimalist design that seems to be a favorite among initial necklaces, but in this case, the two initials are layered, so it looks as if one sits on top of the other instead of spaced apart on the chain or engraved on two separate discs.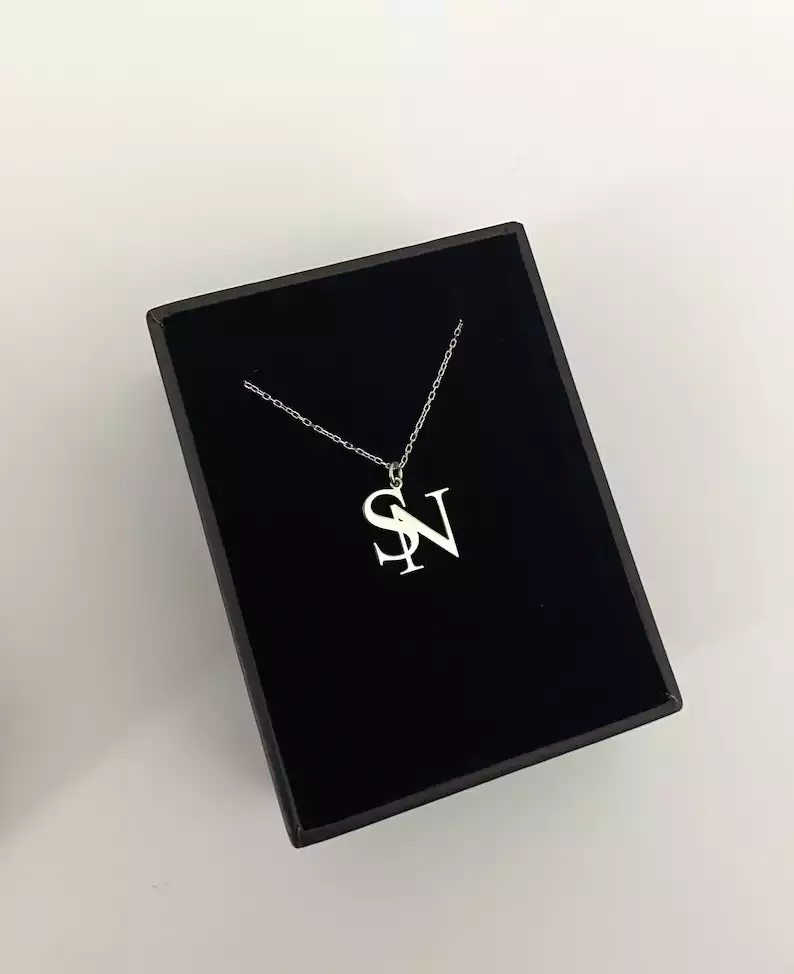 OnzeJewellry Double Initial Necklace | Etsy
This double Initial Necklace is a perfect unique gift for Women. You can customize your own Initial and someone you love.
Check Price
We earn a commission if you click this link and make a purchase at no additional cost to you.
MonogramPersonalized (on Etsy) has its own take on the layered look. In this two initial necklace idea, the initials are different sizes.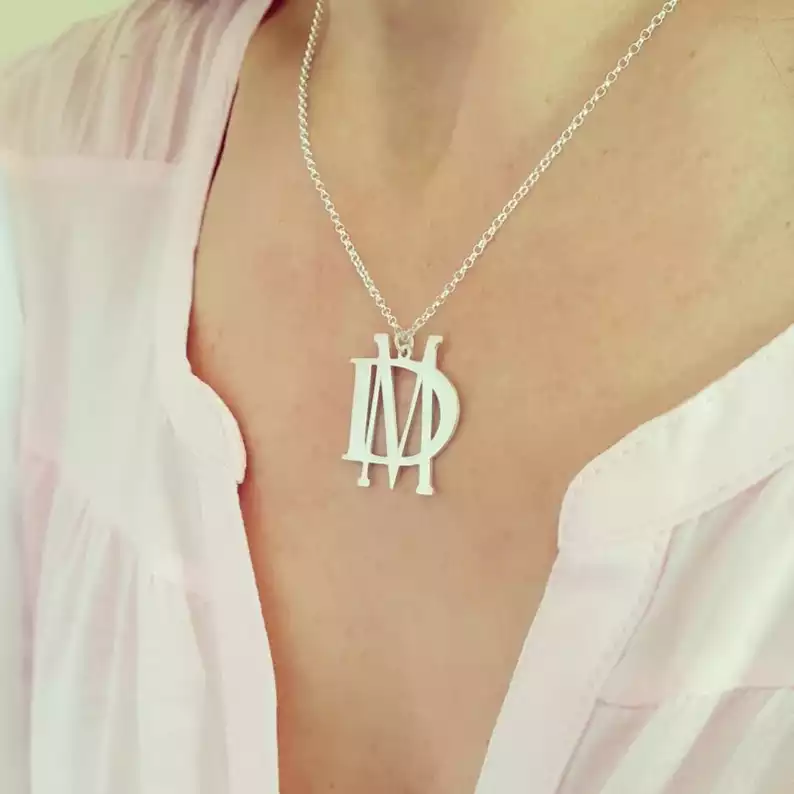 MonogramPersonalized Initial Necklace | Etsy
New design, 2 Initials in a special monogram design. You can choose any 2 letters you need. It can be your initials or letters of the one most special to you.
Check Price
We earn a commission if you click this link and make a purchase at no additional cost to you.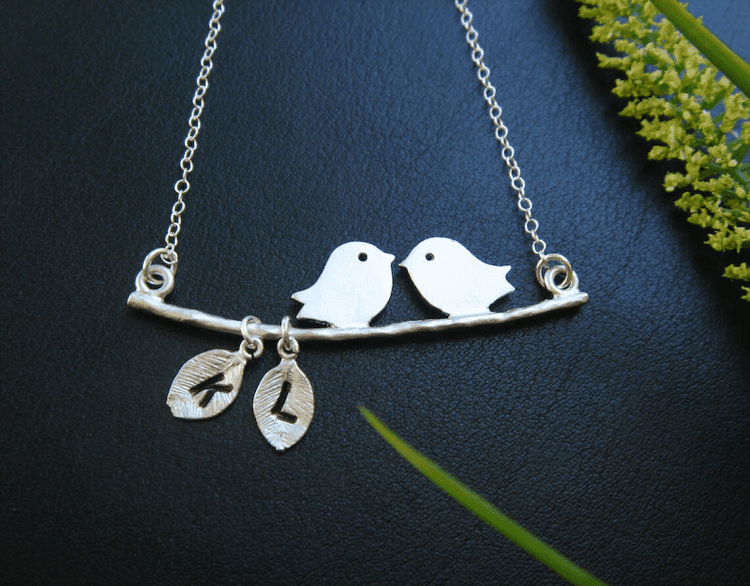 If minimalist and understated are far from what you're going for, you'll love something like what DanglingJewelry has to offer. Instead of simple initials standing alone or on discs, they're cut into metal leaves that dangle from a branch where two birds are perched.
In its own way, it tells a whole story of romance and the future to come (after all, the birds are practically sitting in a tree, looking as if they're about to kiss…).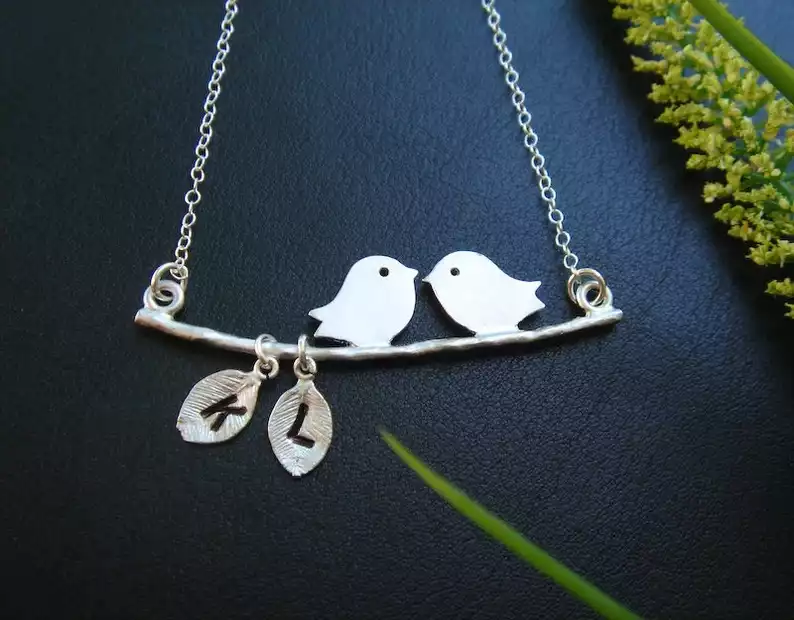 DanglingJewelry Relationship Necklace | Etsy
Super cute pendant necklace of two love birds on a swing of matte white gold plated with hand stamped of two initial leaves. This necklace is 17inch long in sterling silver chain and sterling silver Spring ring clasp.
Check Price
We earn a commission if you click this link and make a purchase at no additional cost to you.
FAQs
If you're not sure whether any of the best two initial necklaces are for you or a recipient you have in mind, let these FAQs help you make up your mind:
Question: What is the Most Popular Necklace Style?
Answer: Simple link chains, sometimes with charms at the end (pendants).
Question: Do People Wear Initial Necklaces?
Answer: Absolutely. People still wear them, and there's a variety of styles to choose from. They'll probably never go out of style.
Question: Is it Weird to Get Your Girlfriend a Necklace with Your Initials?
Answer: A necklace with the initials of each of your first names is a cute gift for a significant other. Just make sure the overall style of the jewelry will fit in well with her jewelry collection.
Question: What Initials Should You Get on a Necklace?
Answer: Usually, you'll be putting first-name initials on the necklace. As far as whose initials go on there, there are options. You could have you and your significant other's, your own first and middle or last initials, your kids' initials, or the whole family's first initials.
If you're giving it as a gift to a best friend or bridesmaid, you could go for the grown-up version of the "BFF" jewelry from elementary school and put each of your first initials on the necklace.
Or you could just give each bridesmaid a necklace with her own initials, of course. It really depends on the style of the necklace, whether it's for you or someone else, and–if for someone else–the relationship you have with them.
Question: Should Initial Necklaces be First or Last Name?
Answer: First names are the most popular for initial necklaces, but if you have a sentimental reason you'd like to use your last names, go for it. That's the beauty of customized jewelry–you get to do what you want.
Question: Are Initial Necklaces Weird?
Answer: Not at all! If you like them, wear one. They've been around for decades, so people are definitely buying (and wearing) them for themselves and to give as gifts.
Question: What is the Most Popular Necklace Length?
Answer: According to Borsheims, the most popular necklace length is 18 inches.
Conclusion: There Are More Options Than You Might Think
The best two initial necklace ideas are varied enough to work in several situations. The necklace you choose could be for best friends in your wedding party to a gift for the bride (whether you're the bride, you're marrying the bride, or you're a close friend of the bride who'd like to give her a personalized gift).
There's something for every personality and style. Keep the selection guidelines listed above in mind as you search for the perfect piece that will be a reminder of a special time in your (or her) life.
Looking for more interesting readings? Check out: