Latest posts by Kristen Swain
(see all)
Are you and your bestie and your other bestie, the Three Amigas, all looking for a friendship bracelet?
We all want to celebrate our special friendships with those we love, and our Besties deserve a special piece of jewelry to commemorate that wonderful relationship. Let's find some Best Friend Bracelets for Three and see what unique and fun ideas we can come up with for your not-so-common friendship.
What are Friendship Bracelets?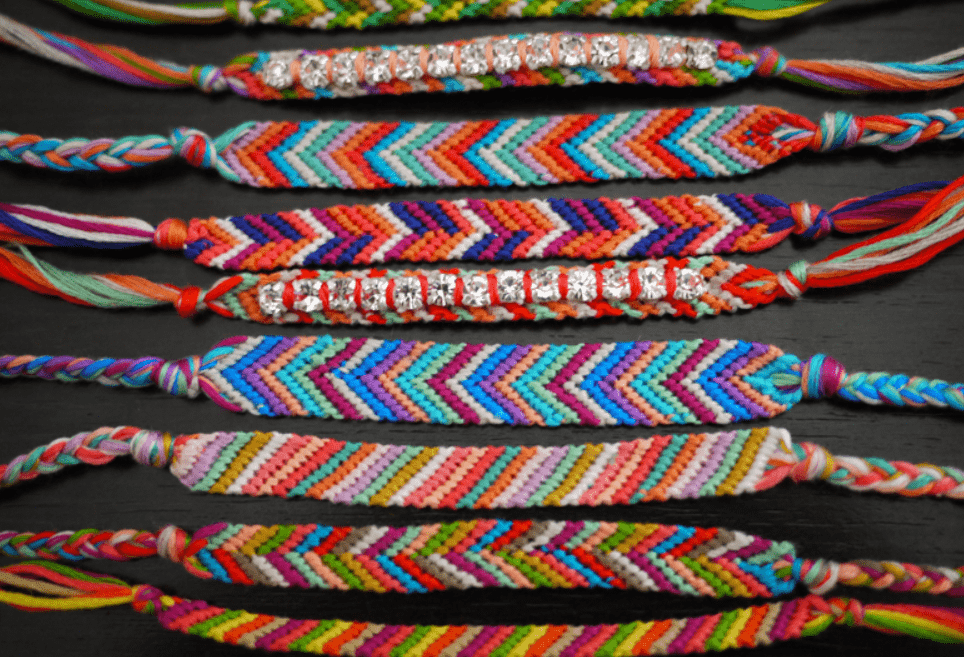 A friendship bracelet is a single or set of decorative bracelets given to a friend to celebrate a unique friendship. Often made of thread, these bracelets may combine knots and beading as a form of macrame to create a soft, inexpensive bracelet. Traditionally these bracelets are tied on by the best friend onto their friend's wrist. The friend makes a wish and wears the bracelet continuously, which at whatever point the bracelet breaks off, the wish is then granted. The bracelet is worn continuously to honor the time and effort put into creating the crafted bracelet.
The bracelets should be chosen to exemplify the relationship in a significant way. The choice can be made to reflect the relationship as a whole, but also can be made to reflect each of you in the friendship.
The bracelets can be a matching set, totally the same, or can be bought with slight variations. Consider similar colors, styles, beading, or design, but unique for each person. It's less likely to be as significant a set if the styles and designs are not similar. However, if your friendship group is crafty, consider making bracelets to give to each other in a small ceremonial setting.
Different Styles of Bracelets
The varieties of bracelets available for friendship-style bracelets are almost unlimited. Choices are only limited to your particular budget and style, and that can be decided by your trio. Fiber bracelets made with yarn, floss, twine, jute, or thread are the most popular style of bracelets for friendship bracelets. These are also the cheapest and most bohemian in style, with a typical half-hitch knot design.
Moving on from the knotted variety are those jute and leather bracelets with metal charms and decor sometimes, an engraved plate or just a singular charm are the only decorations. Metals vary, but a Sterling Silver charm will be longer-lasting than Nickle, and the potential of name engraving or an initial can personalize the charm. Metal bracelets are the next step up in cost and value, as well as the addition of gemstones or charms. Again, the cost of the bracelet will be decided upon by your particular group, but there are many styles and brands that can meet your needs.
The Origins of Friendship Bracelets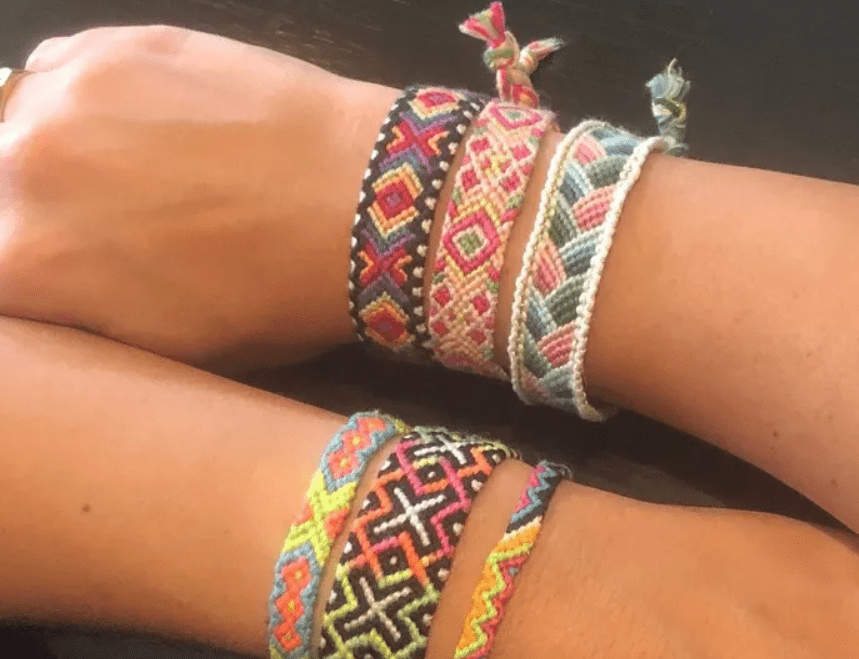 Although the knotting techniques of some of these unique rope bracelets date back to ancient China, about or around 400 BC, these bracelets were created first by Native Americans in Central, South, and North America.
Revived in the 1970s, they were first used politically in protests of the disappearance of Mayan and Guatemalan people during the Guatemalan Civil War.
The Best Ideas for Friendship Bracelets
While the traditional knotted bracelet is the topmost idea for friendship-style bracelets, there are many types of friendship bracelets. The desired choice for your group could be one of these styles of bracelets. Consider the following-
Metal Bracelets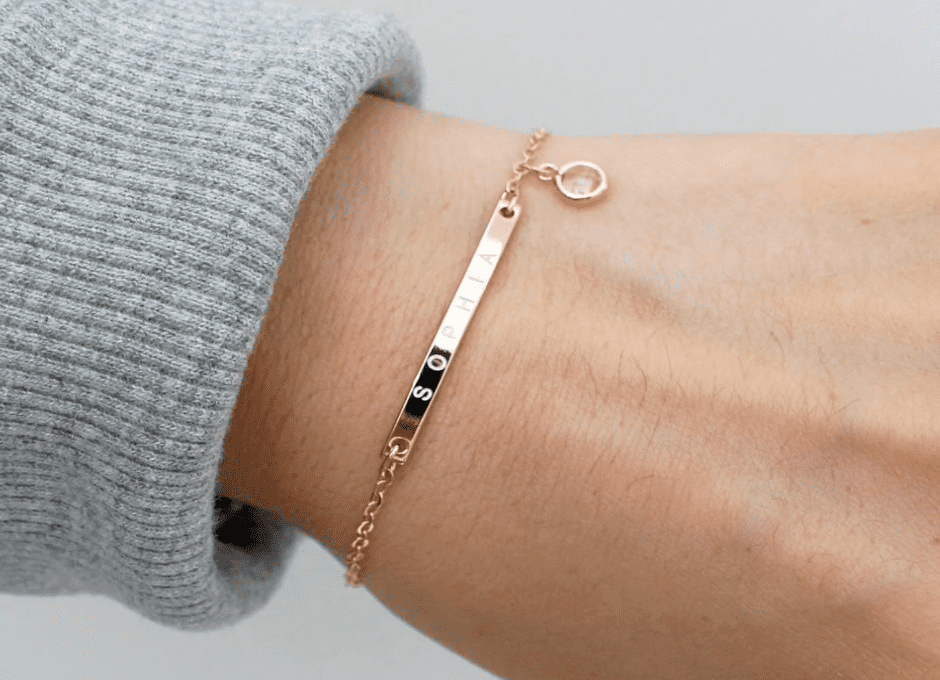 This delicately beautiful bracelet is customizable but can be purchased in rose gold. Soft and pretty pink rose gold is such a lovely jewelry metal. This bracelet has a thin but engravable bar that can hold a name or a phrase. The chain that holds the bar and encircles the wrist is secured with a lobster claw clasp. A small and dainty gemstone also hangs from one side of the bracelet, which can be customized to each individual birthstone.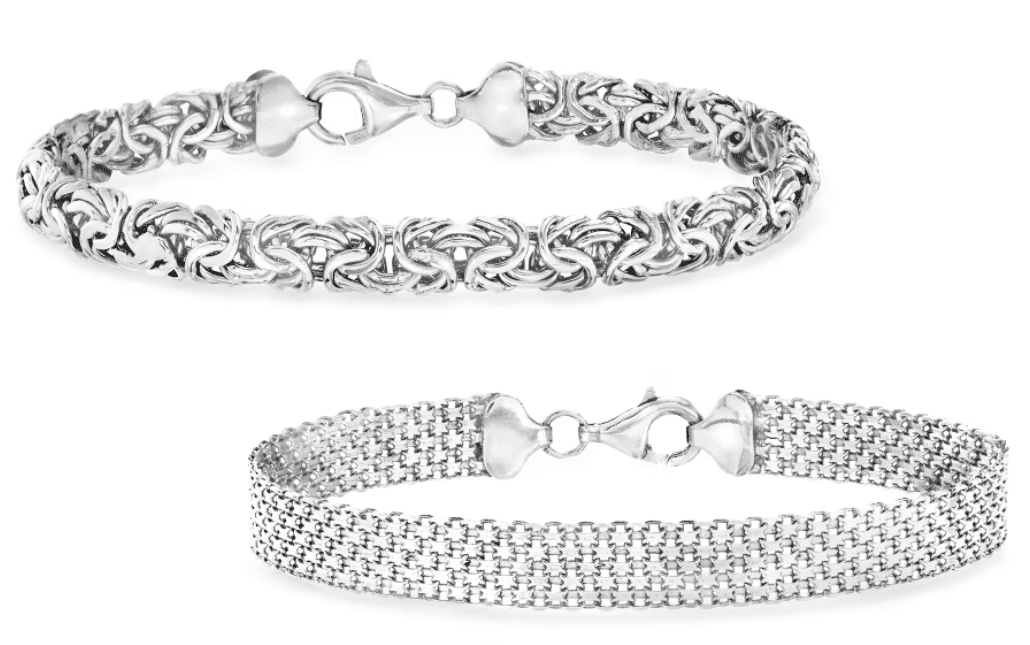 Why purchase individual pieces when you can purchase a set. Three sterling bracelets that can match three personalities. These bracelets are a set, but because they are so unique and individual, their significance can be your secret. Like your special bond, it's doesn't have to be an advertisement of your friendship to anyone but yourselves.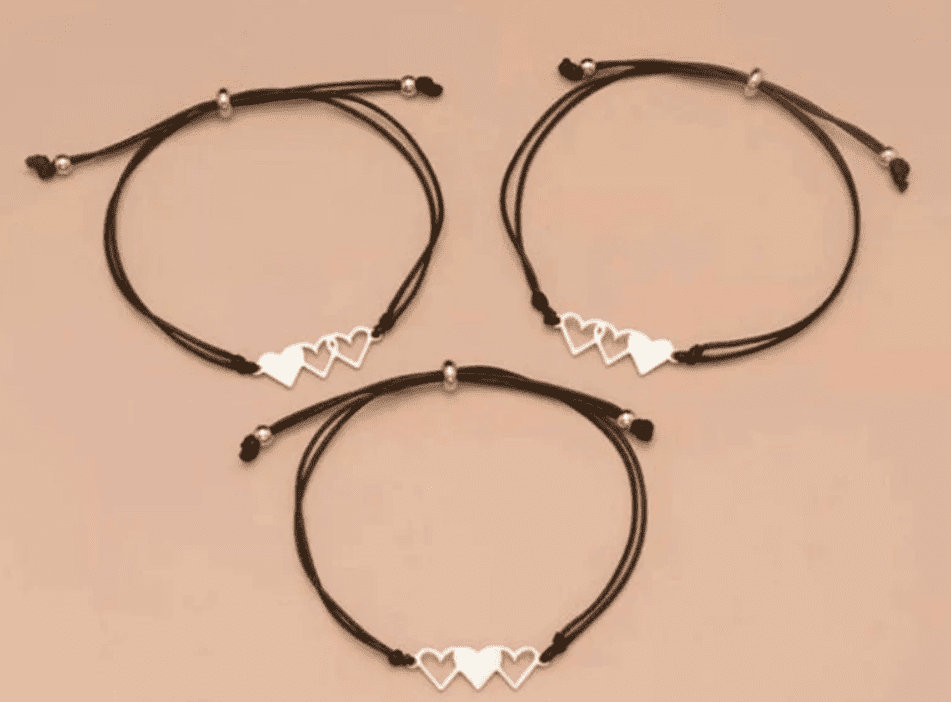 This unique black corded set is a set of three unique heart charms; each charm has a different heart filled in. First, middle and least hearts are solid compared to the open hearts that make up the charm. Each corded bracelet is fitted with a silver tightening bead as well as two decorative silver beads that help to give a finished look at the tied ends of the cording. A beautiful set that is perfect for your trio.
Cord Bracelets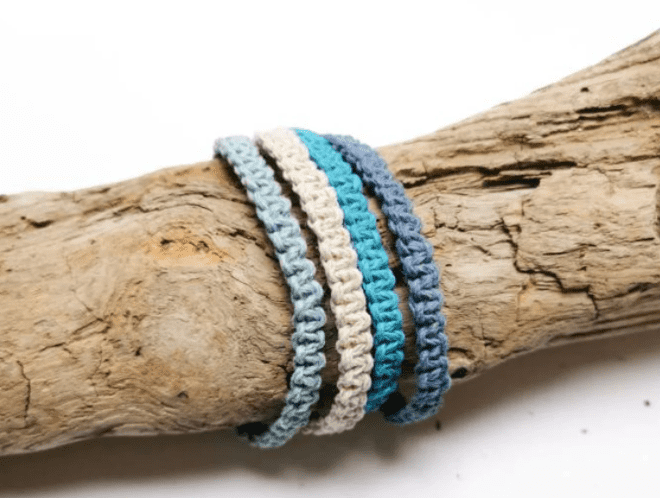 This macrame-crafted jute-based corded bracelet is the typical style of a friendship bracelet. Simple styling and a slide knot clasp keep the accessory low-key and understated. No need to spend a lot of money; these bracelets are pretty indestructible and come in a multitude of colors.
These are the more crafted kind of friendship bracelets, the ones that your talented friends could whip out in a night. Made of embroidery floss, the patterns of these bracelets are unique and varied. Colors and style are almost limitless. Tie the loose ends of the cord around the top loop and wear them until you cut them off because they aren't breaking off any time soon.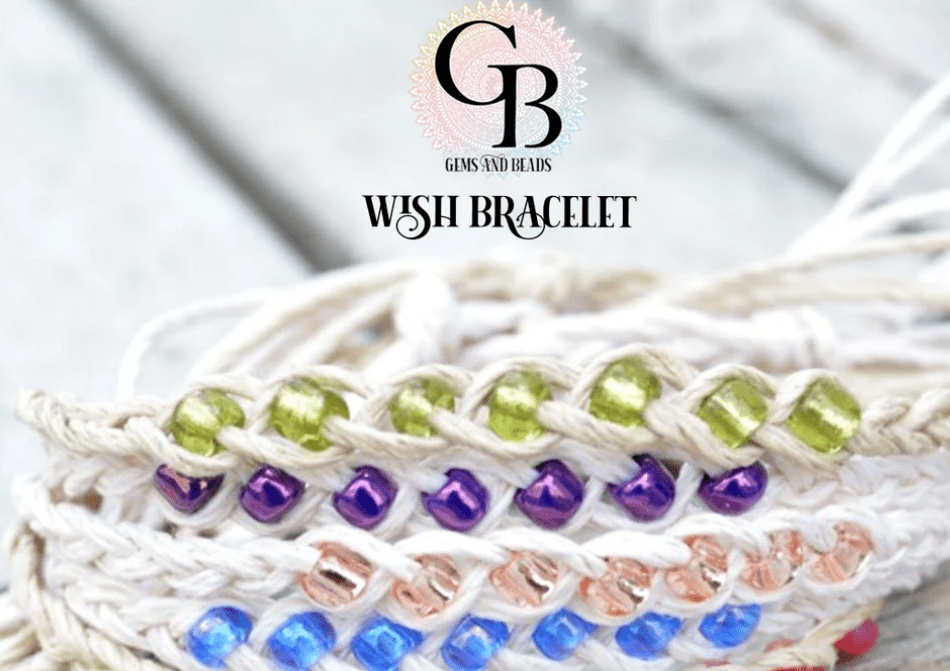 These beaded hemp bracelets are knotted with white hemp cording. Any color bead is your choice, as well as multicolor, black and clear. The styling of these bracelets is sweet and cute and would go well with younger friend trios. Tie the bracelets on your wrist to secure them and wear them until the hemp starts to fray.
Gemstone Bracelets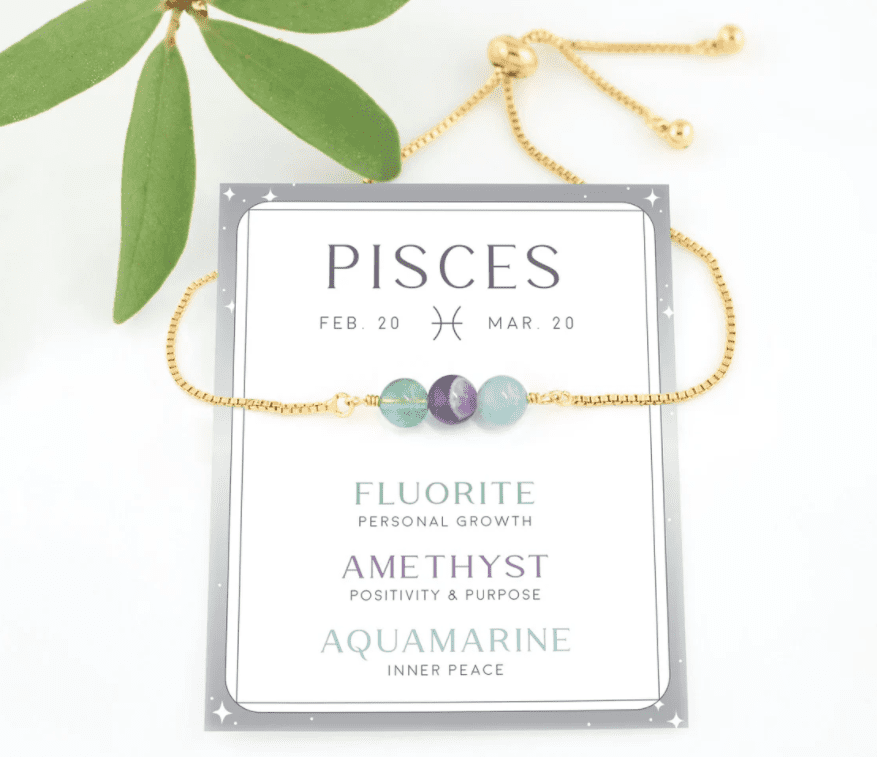 These bracelets represent various birthstones or iconic words. The base of the bracelet is a solid link gold-toned box chain. A single wire holds three gemstone beads onto the bracelet that is attached to the box chain. The bracelet is secured onto the wrist with a pull-through style bead, and each chain end is beaded as well. The trio of gemstones can represent words or persons in your friend group or can be their own birthstone representation. Each bracelet comes with a card explaining the meaning behind the gemstones.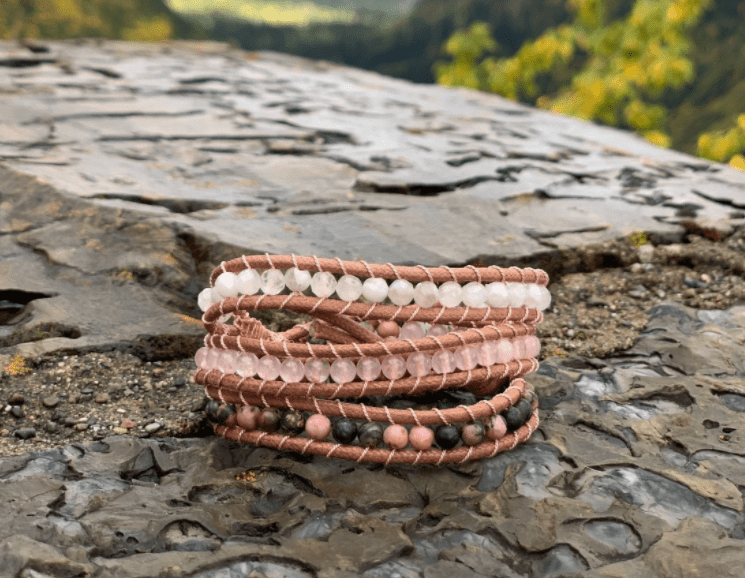 Moonstone, Rose Quartz, and Rhodonite feature on this single wrap bracelet. Each time you wrap the bracelet around your wrist, the gemstones change to a new stone. This beautiful boho wrap bracelet is lovely for a more rustic feel with gorgeous softly colored stones. Buy one for each of your besties, match or coordinate your set.
Bead Bracelets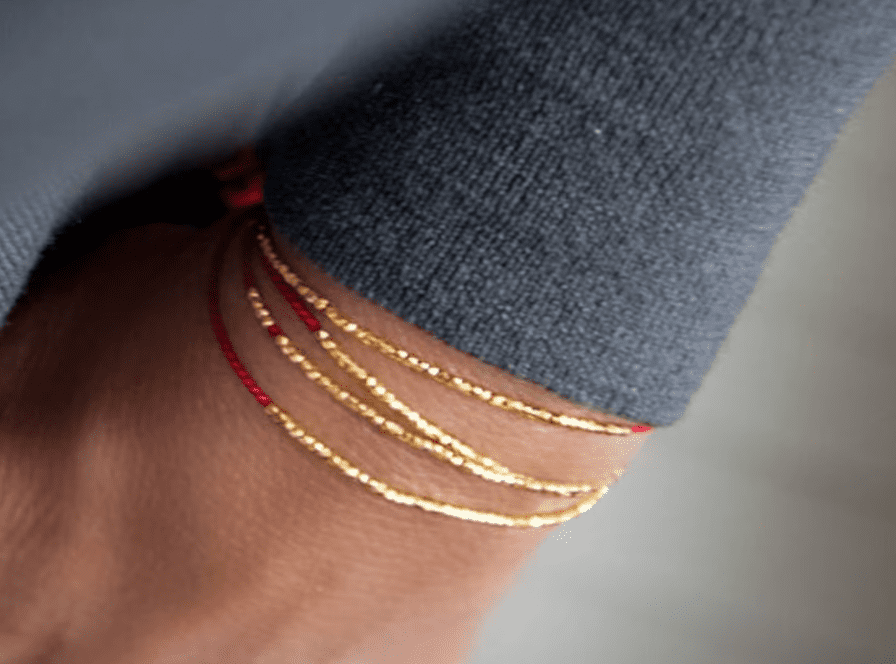 So delicate it's almost a thread, this sweet little bracelet is beautifully created on silk thread with the tiniest of gold beads. The beads give a look of a thin gold bar, and the red silk thread gives the bracelet an Asian flair. A single gold bead allows the bracelet to be loosened and tightened to the desired length on your wrist. Two tiny little gold beads finish out the ends of the bracelet to have just the small touch of additional beauty on the ends of the thread that hang down.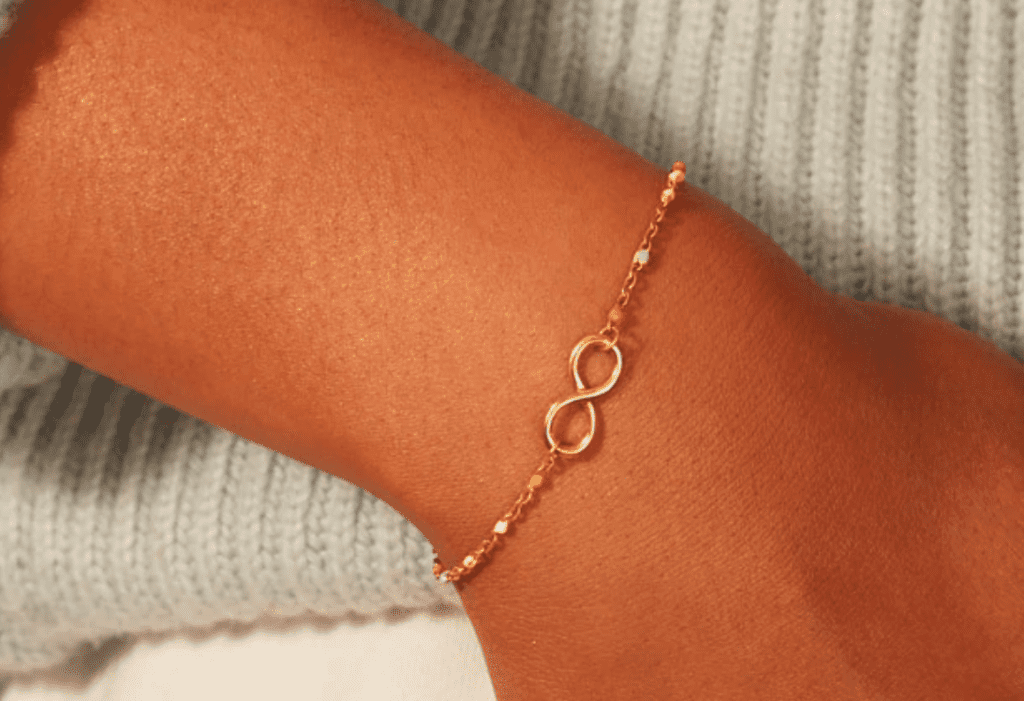 An infinity charm centered on a beaded chain, interspersed on the chain are beads of delicate color. The pastel colors of ocean blue, petal pink, peach, sunflower, and cream are the tiny little accent beads that are woven onto the chain of the bracelet. A small golden toggle finishes off the extra chain, and the bracelet is clasped with a lobster claw clasp.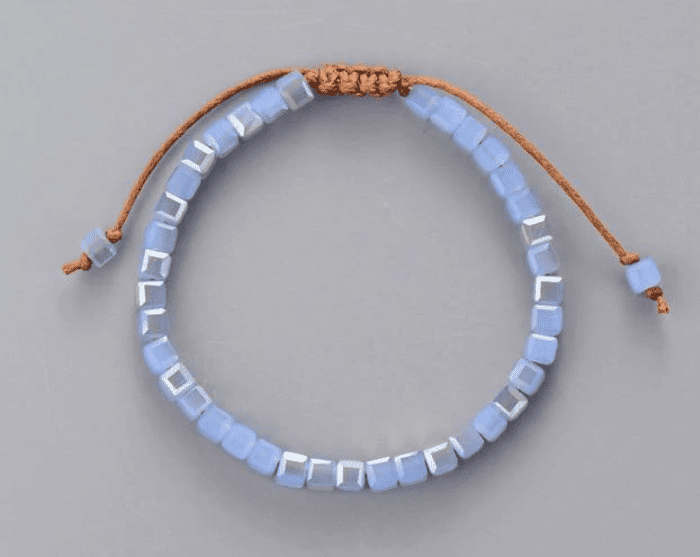 This natural stone bracelet features incredibly beautiful beads that feature a soft blue color that also has an iridescence to many of the stones. The copper colors of the stone beads match well with the color of the cording used to tie the bracelet. Natural but sophisticated this bracelet has a boho feel without being scratchy rope cording. Long-lasting and stackable, this gorgeously colored bracelet is sure to match all your friends' personalities.
Charm Bracelets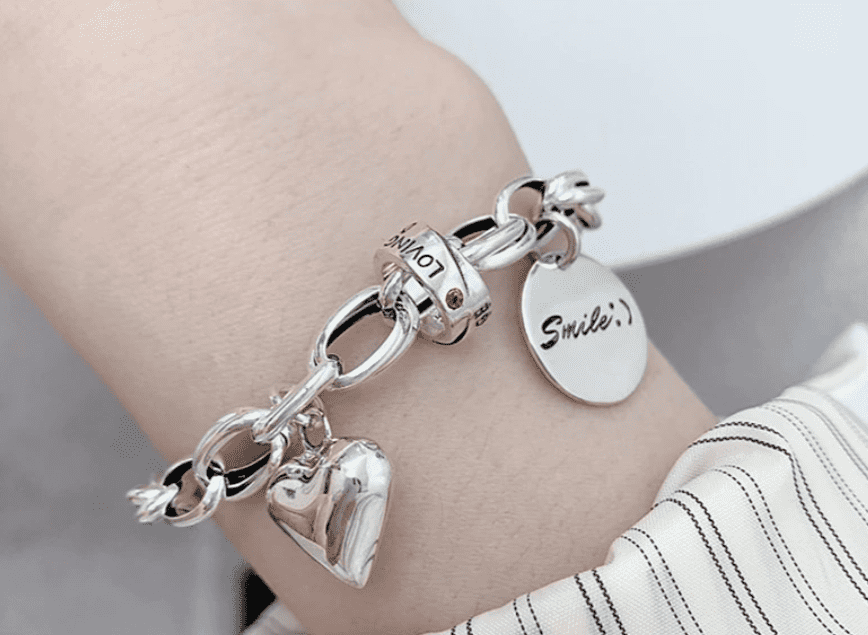 This sweet chunky bracelet has a smiling face charm that says smile, a wrapped bead that says love gives you courage, with a small red gem. The Tiffany style bracelet features a bold chain, large puffy heart, and smile flat charm. A sturdy lobster clasp makes for easy wear and removability. The three charms can be chosen to represent each person of your trio, and the pretty bracelet will match most outfits.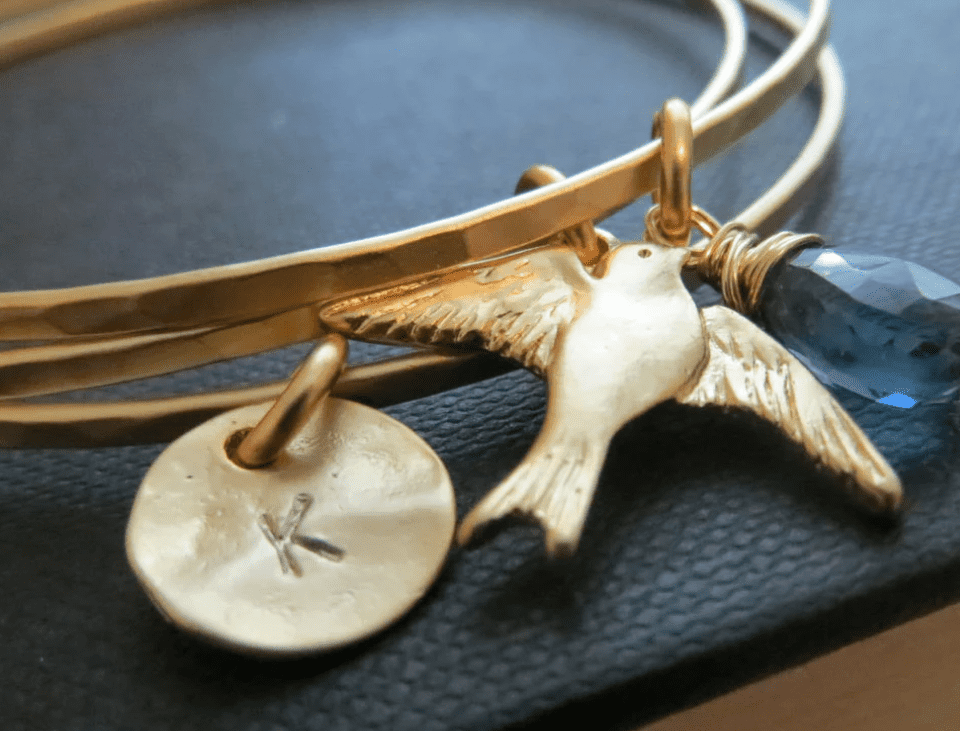 These three hammered metal bracelets each feature a charm or gemstone. The price for the set can be stretched to accommodate each friend in your trio or buy sets for each person. Add in your favorite colored gemstone, bird charm, and flat initial disc charm to create a set that matches but is unique for the three of you.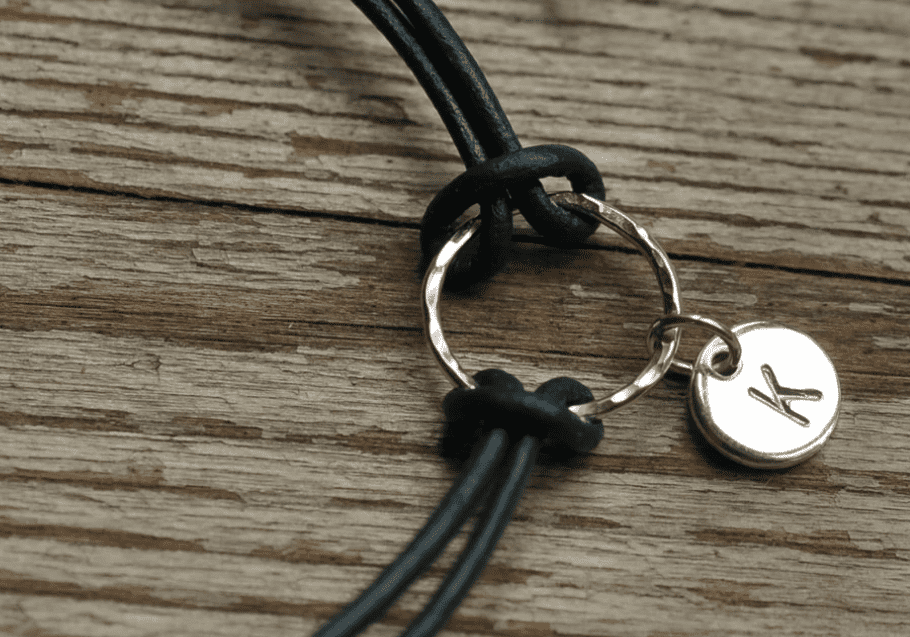 A leather cord is tied around a center ring that also dangles a stamped initial charm. The ring is the center point of the bracelet and is lightly hammered to let of sparkles of light when the flat parts of the ring reflect the light. The cording is finished with sliding cord knots to loosen and tighten without additional hanging cord ends. This is a very simple and understated bracelet.
Other alternatives to Friendship Bracelets
Jewelry isn't always the best choice in a friend group. Jobs and uniforms don't always allow jewelry. Perhaps a rope bracelet isn't safe or appropriate for certain employment positions. There are other alternatives to fiber bracelets that may fit your friend group better.
Tattoos- Getting a trio of matching tattoos is a great idea. Coloration or shape can be the same or individualized. This also works great for siblings and organizations that become intrinsic in your life.
Necklaces– Matching necklaces can be an ideal solution to the friendship jewelry idea. Purchase the same pendant or create pendants with individual birthstones that are the same for the friendship group. Long-lasting sterling silver is an inexpensive option, and there are many pendants that feature single gemstones for the individual to select the color gemstone that best fits them.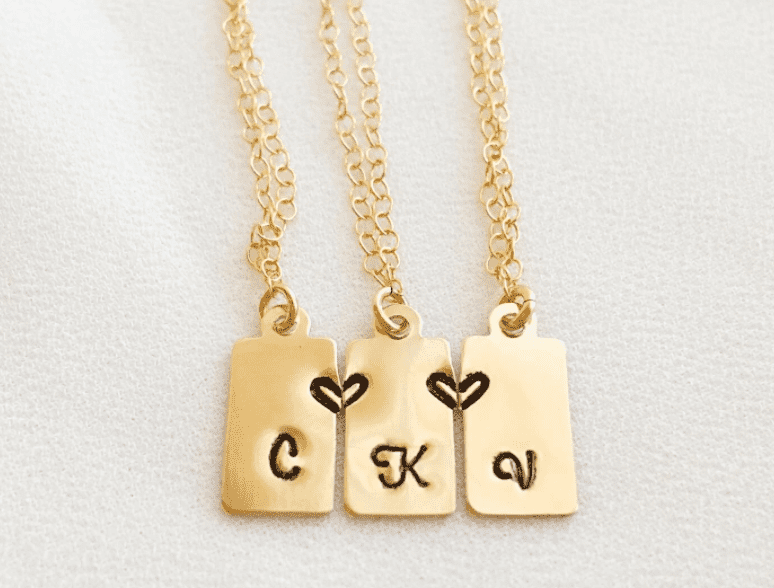 Rings- Rings for female friends are always in fashion, even a stack of rings that represents each individual of the trio. And like your high school ring, it can be easy to personalize your rings with color, metal, decoration, or even an agreed-upon phrase.
Other options could be Notebooks, Water Bottles, Coffee Cups, Vases, Personalized Memorialbilia, Cutting Boards, Wine Glasses, Socks, and Stuffed Animals are all wonderful ideas for you and your besties.
FAQs
Question: Do adults wear friendship bracelets?
Answer: Adults do wear friendship bracelets. String and jute type bracelets are very popular tourist purchases, and many individuals purchase them while on vacations, especially at tropical resorts and while on cruises. With having so many styles of knotting ideas, making and creating your own at home is a very easy craft to create.
Question: Are friendship bracelets still a thing?
Answer: In 2021 the trend came back in a big way. The runway featured them in a glitzy Dior show, and department stores were bringing them in for the perfect accessory. The braided style bracelets reemerged last year and are still on trend in 2022.
Question: What is the most popular type of bracelet?
Answer: One of the most popular bracelets is initial bracelets, which are also tied with bangle bracelets in popularity. However, depending on the source, the most popular bracelets are tennis and single-chain bracelets.
Question: What are those yarn bracelets called?
Answer: Yarn bracelets tend to look very cheap and homemade; a better fiber to use for a friendship bracelet is embroidery floss or soft jute. Most bracelets are made using macrame knots, of which the most popular knot is the half hitch knot. There are many various patterns and shapes that can be combined to create a plethora of designs.
Question: What hand do you wear friendship bracelets on?
Answer: If you want to follow the age-old rule, then men wear bracelets on their left wrist, and women wear them on their right. However, in today's society, whichever hand you prefer is up to you. Some people who wear watches prefer to wear their bracelets with the watch, and others prefer the bracelet on the other wrist.
Question: What do the colors in friendship bracelets mean?
Answer: The best colors for friendship bracelets are orange, yellow, purple, blue, pink, and white. These colors exemplify traits like loyalty, friendship, happiness, friendliness, kindness, and kindness.
Conclusion
On the cheaper end of the cost spectrum, in Sisterhood of the Traveling Pants style, creating a knotted bracelet with a single color could cost you as little as a dollar or two. Enjoying a crafty afternoon and creating keepsakes for the three best friends can be an entire memory of a fun time, wishes created, and a keepsake to remember the day. On the higher end of the spectrum, in Sex and the City fashion, three beautiful etched silver or gold bracelets for your trio is the ultimate bougie accessory to commemorate your unique friendship.
My recommendation is to go with a set of three metal bracelets that, while matching, also has unique features for each individual, such as three colored gemstones, metal coloration, or even an etched design of flowers to celebrate your friendship. While thread and jute bracelets are pretty and bohemian, not being able to remove a thread bracelet can be uncomfortable to wear, especially after a shower; the bracelet stays wet and soggy, which isn't the nicest feeling on the skin. And a lower-end metal such as Sterling Silver will look good for everyday wear but need not be as expensive as a high-quality piece of jewelry meant for an upscale evening.