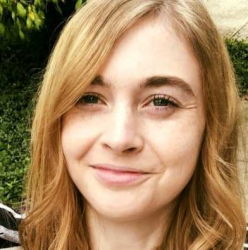 Latest posts by Erin Jamieson
(see all)
One of my first pendant necklaces was a cross necklace from my mother. To this day, it's one of the most meaningful accessories I've been gifted, as a symbol of both my faith and my mother's love. But as pendant necklaces are becoming more and more popular, many don't realize the main differences between a pendant vs a necklace.
In this guide, I'll explain not only what a pendant is, but how to select the best style for you. I'm excited to share my buying tips, from sterling silver to birthstones, custom and so many more. I'll finish up this guide with some pendant necklaces you can buy online today. Hopefully, you'll find or gift a pendant that's meaningful to you.
Bottom Line Up Front Summary: A pendant necklace is a type of necklace with a pendant (piece of material, gemstone, or metal) attached to it. If I had to select just one pendant, it would be the 10K Yellow Gold Initial Pendant. While not as brilliant as my other ideas, it's budget-friendly, personalized, and can be paired with most chains.
My Top Picks
Differences Between Pendant vs Necklace
The Main Differences Between Pendant and Necklace are:
First things first. I've seen a lot of confusion about the term pendant vs necklace. If you look at the definition, you'll find that a pendant refers to a part of a necklace, while a pendant necklace is a type of necklace. In other words: all pendant necklaces are necklaces, but not all necklaces have a pendant. The term pendant alone does not include a chain, while a pendant necklace does.
Bottom Line: A Pendant is the Piece of Jewelry Attached to a Necklace Chain
Types of Pendants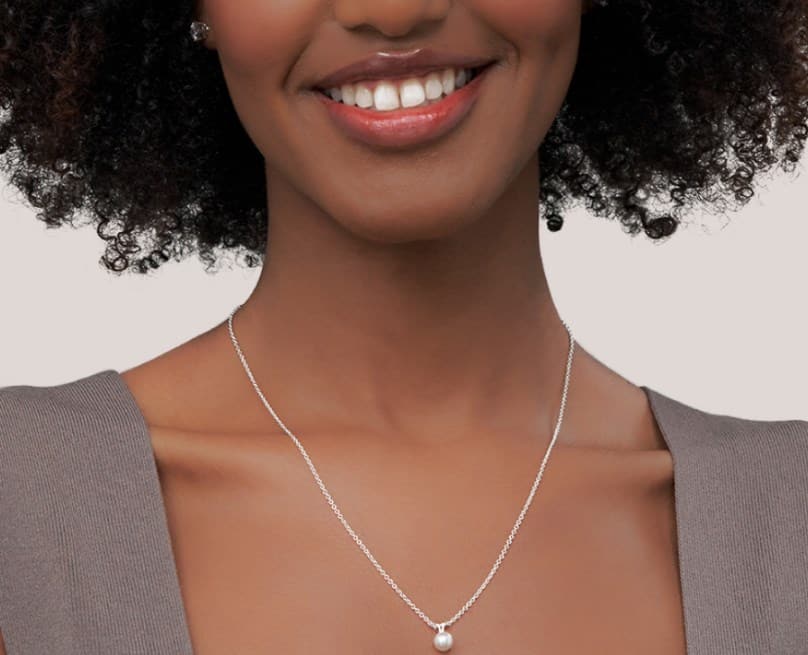 A necklace refers to the chain that goes around your neck. A pendant refers to the material that attaches to a chain. Pendants can include:
Lockets (open and close)

Medallions (Large Coins, often symbolic)

Charms (smaller than 25mm)

Amulet (tied with spirituality and protection)
Thus, the main difference between a pendant vs a charm is merely the size. The main difference between a locket vs pendant is that a locket is a type of pendant that opens and closes.
Necklace Types
Necklaces come in many different styles. But the umbrella term is used a lot in ways that don't always make sense. Necklaces are classified by their chain types and their chain lengths. Why is this important or why should you care? Well, understanding different chain types and lengths will help you find the best pendant necklace for you.
Chain Types
| | |
| --- | --- |
| Chain Style | Description |
| Ball Chain | Stylish, modern, and sleek with tiny beads, constructed with bar links; versatile |
| Box Chain | Very popular; links, usually rectangular or square for an urban, hip look |
| Byzantine Chain | Ornate, oval links; heavier and more formal necklace |
| Cable Chain | Versatile and classic; constructed with rounded links (closely related to rolo chains) |
| Cord Chain | A cord chain is about as simple as it gets, as it is made with a corded soft material, leather or faux leather; very casual |
| Curb Chain | This is very close to a cable chain– the main difference is that it's flat. It's versatile for both casual and formal styles |
| Link Chain | Link chains cover a broad range of styles, including paperclip, oval, and other rounded shapes; very versatile and popular |
| Mariner Chain | The best part about a mariner chain is that it's one of the most durable. Oval shapes are connected with bars between every link |
| Rope Chain | This classic chain is easily the most used in the jewelry industry. A slightly twisted band adds a bit of brilliance to precious metals; versatile |
| Snake Chain | Elegant and simple, a snake chain is made with tight bands that are smooth and gently curve |
Chain Lengths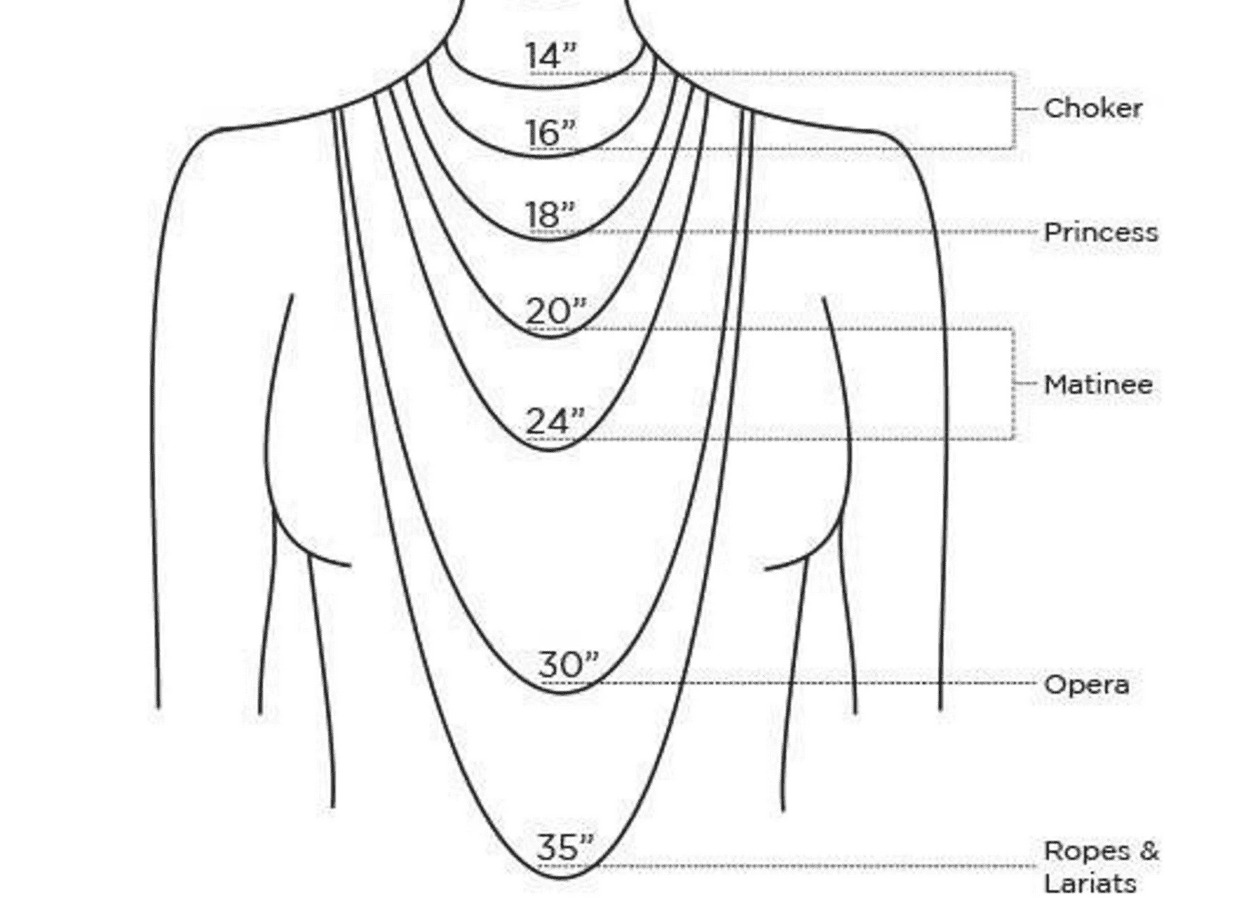 Even if you buy a shorter necklace length, you can buy an extender if you want your pendant to hang lower. The picture above is a necklace length chart, available for purchase on Etsy. As you can see, a choker is the shortest chain length, sitting snuggly around her neck at roughly 14 inches. Princess and matinee chains (18 to 24 inches) are the most popular pendant necklaces. Above 24 inches is more unusual for a pendant.
How to Select a Pendant Necklace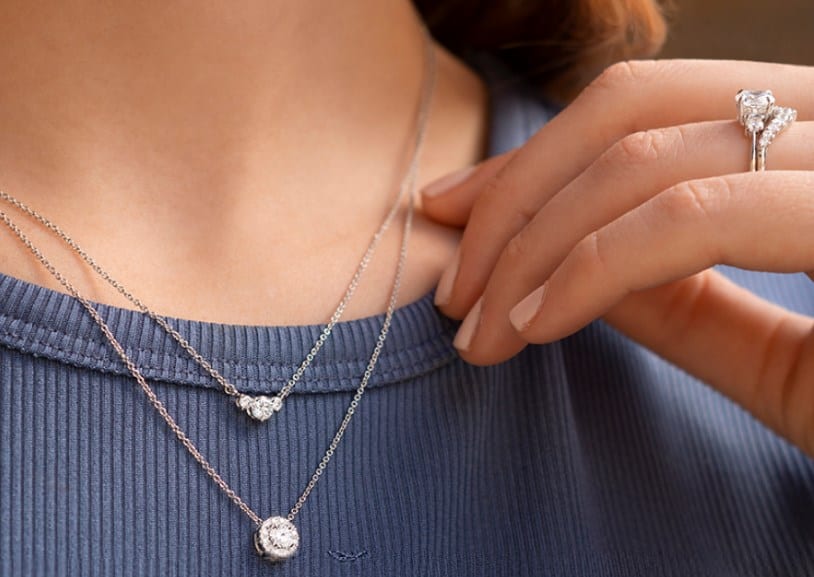 But how do you find the best pendant necklace for you? I always consider the materials, chain type, clasps, and, of course, the style of the pendant. Instead of buying a cheap pendant, spending a little extra can make a difference in how long you can wear it..
Best Chains for Pendants
Styles
While many chain styles will work for pendants, not all will. I recommend a chain that is both strong and relatively versatile. My favorite chain styles for pendants include:
Ball Chains

Box Chains

Cable Chains

Curb Chains

Link Chains

Rope Chains
I'd avoid delicate chains, like snake chains. The chain must be able to withstand the weight of your pendant. I'd also recommend against ornate or heavy chains, like byzantine chains.
Materials
Pendant necklaces come in precious metals and more casual materials. If you want a casual look, you may see faux leather. Base metals and metals with gold plating are common too. But if you want a necklace that is strong and won't easily tarnish, I recommend:
Platinum

Expensive but Durable

High Shine

Stainless Steel

Great for Sensitive Skin

Lightweight

Solid Gold (10k to 18K)
Sterling silver will save you money, but be aware that it will tarnish and requires regular cleaning.
Best Pendant Styles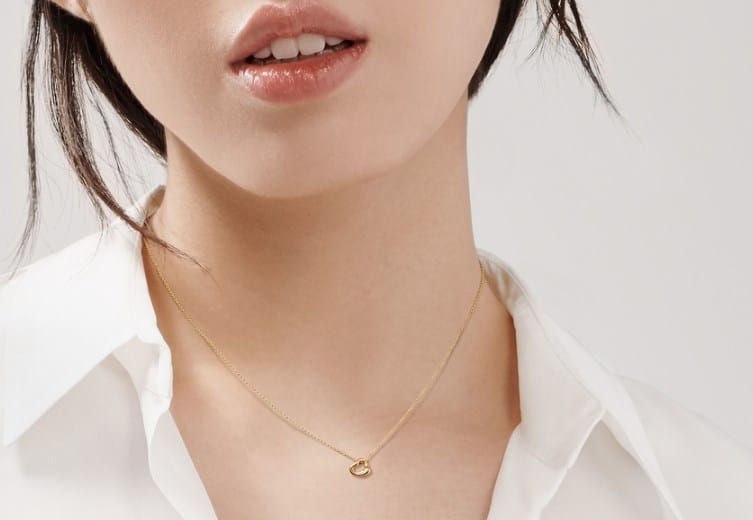 From casual to formal, simple to sophisticated, pendants come in so many forms. Formal pendants include gemstones (birthstones, emerald, opal, rubies, quartz, diamonds, and more). Popular styles include meaningful pendants, such as butterflies, Evil Eye Medallions, crosses, hearts, and more. Some pendants are customized with initials or engraved with someone's name. I love pendants as bridal gifts, dainty accessories, and even vintage-inspired pieces.
Where to Buy Pendant Necklaces
You don't need me to tell you that pendant necklaces are incredibly popular. But where is the best place to buy them?
For Cheap and Everyday Pendant Necklaces
Cheap means the necklace probably won't last you long, but if you're on a very tight budget, you can shop at Amazon, Walmart, and even find some great styles through places like Asos, Urban Outfitters, H&M, Kohl's, and Costco. Macy's has some nice casual pendant necklaces, and you can find both cheap and nicer casual necklaces on Etsy.
For Designer and Luxury Pendant Necklaces
Looking for a luxurious gift? Pendant necklaces from Tiffany & Co, Louis Vuitton, Dior, and Ana Luisa are very popular. Luxury brands that are more accessible include Kate Spade, Kendra Scott, Pandora, and some brands at Nordstrom.
For Fine Jewelry Pendant Necklaces
Macy's, James Avery, Hared, Ernest Jones, Angara, Blue Nile, Brilliant Earth, Kay, and other fine jewelers are great options for fine jewelry pendant necklaces. Here, I look for gemstones, birthstones, and diamonds. They are also excellent choices, however, for genuine gold and platinum necklaces. If you shop wisely, you can also find formal pendant necklaces on Etsy.
Pendant Necklaces: My Top Picks
Ready to go shopping? I love pendant necklaces, but they're certainly not all created equal. Here are my top picks for pendant necklace styles, from chic and elegant to meaningful. All of these pendant necklaces were selected by their cost, quality of materials, unique craftsmanship, and producer. These pendants are crafted to last and are beautiful enough for a bridal gift.
18K White Gold Diamond Halo Pendant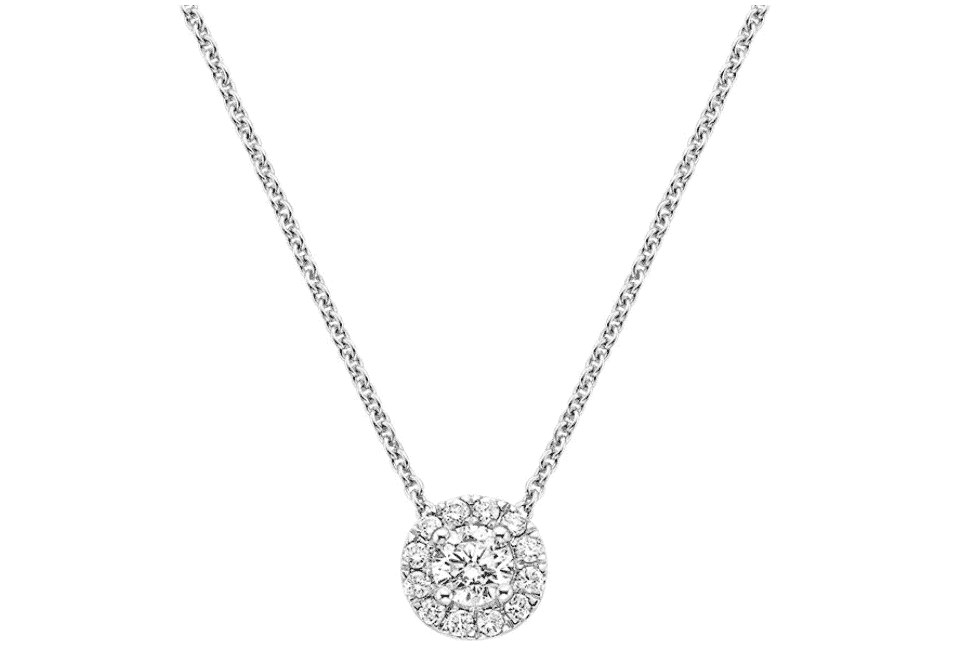 If you're spending money on a diamond pendant, paying attention to the quality of the diamonds is critical. First, I look for diamond sourcing standards: they should be lab-grown or certified conflict-free. Secondly, I look at diamond quality. I aim for a colorless or nearly colorless diamond with only very slight inclusions. And finally, I make sure it's a reputable seller skilled in excellent diamond cuts. Brilliant Earth's gorgeous diamond halo pendant checks all of these boxes. A center diamond sparkles with a halo of pavé-set accent diamond accents. Crafted in your choice of 18K white or 18K yellow gold, this stunning diamond pendant is simply enchanting. The 16 to an 18-inch chain is perfect for most outfits. The necklace is also Eco-friendly and made out of recycled materials. Buy Here.
Pros
Excellent Quality Diamonds

Sparkling, Brilliant Halo

Beautiful Craftsmanship
Cons
Expensive

Not Practical for Everyday Wear
Birthstone Personalized Pendant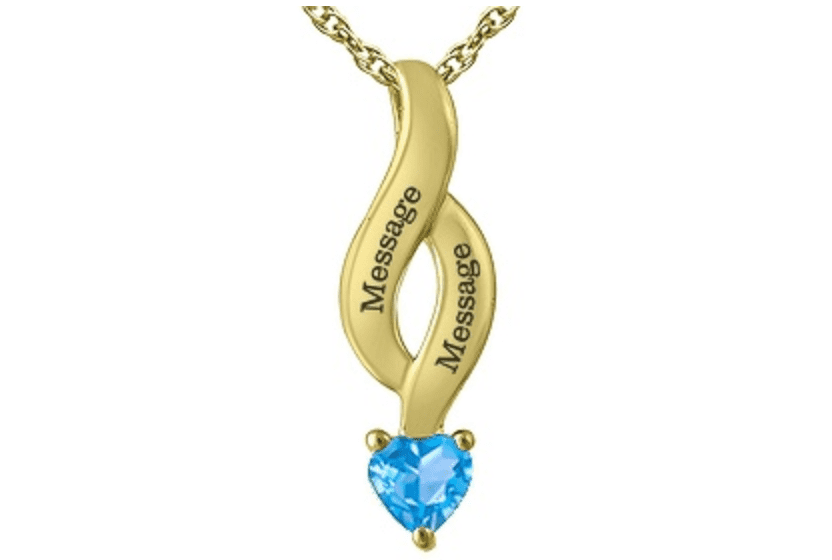 While there are many gorgeous gemstone pendants you can buy (Brilliant Earth, Blue Nile, and the Angara are my go-to's), I wanted to include a meaningful option that's perfect for gifting. What better way to express your love than a personalized birthstone pendant? Crafted by Jared, the pendant allows you to select one to three birthstones of your choice, as well as your choice of sterling silver, 10K gold, or 14K gold (white and yellow). The infinity twisted pendant can be engraved with a custom message at no additional cost. Buy Here.
Pros
Custom Engraving

Select up to Three Birthstones

Meaningful Infinity Pendant
Cons
Chain Not Included

Can't Select Highest Gemstone Quality
Premium Akoya Pearl Pendant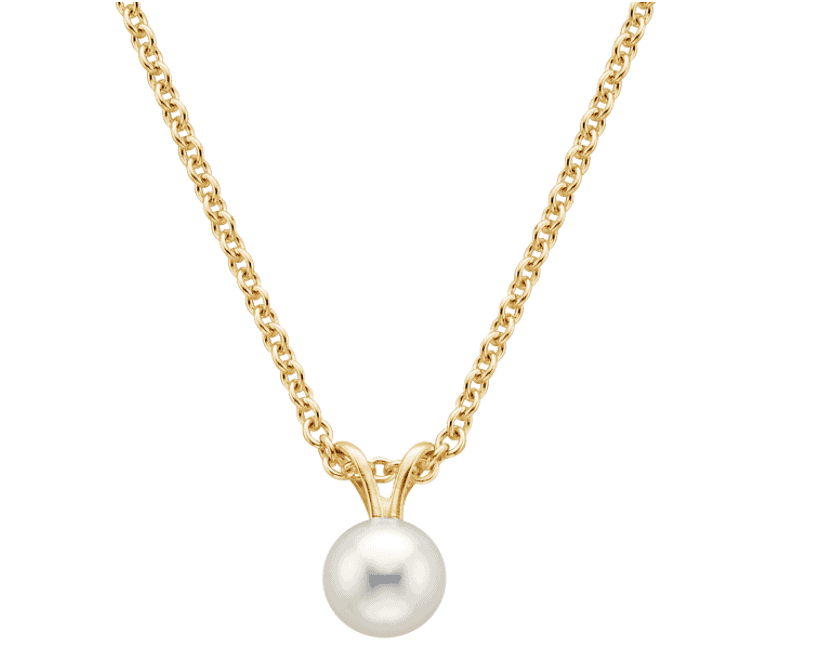 Are you looking for a timeless pendant necklace that is effortlessly elegant and looks at a place both with casual and formal attire? I recommend one of my favorite pendant styles, which is a pearl pendant. The problem? There are many faux pearls and poor-quality pearls that are not only not valuable, but also not durable or truly beautiful. Akoya pearls are rarer than freshwater pearls and are noted for their gorgeous luster. This Akoya pearl pendant is sold by Brilliant Earth and features exquisite shine. It's set on a classic cable chain necklace crafted with 14K yellow gold or sterling silver. Like almost all Brilliant Earth necklaces and pendants, it's Eco-friendly and crafted with elegant precision. Buy Here.
Pros
Genuine Akoya Pearl

Beautiful, Timeless Luster

Classic 14K Yellow Gold Chain
Cons
Modest Size

No White Gold or Platinum
Elsa Peretti® Open Heart Pendant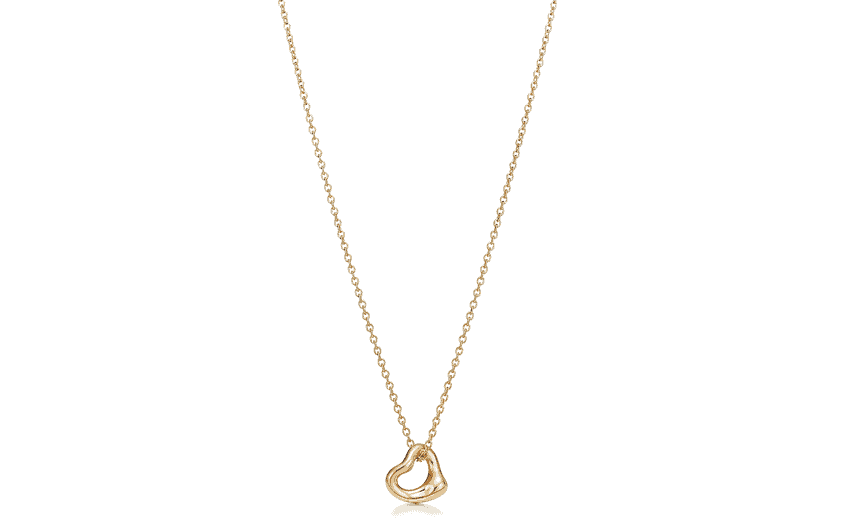 If you're looking for a designer pendant, look no further than names like David Yurman, Cartier, Dior, and more. But I was on a quest to find a designer pendant that was under $1000, versatile, and crafted in gold instead of sterling silver. This designer necklace from Tiffany &Co is all of those things and features a popular open heart motif. This dainty and elegant pendant is crafted in glossy 18K yellow gold and attached to a fine 7mm cable chain. This is effortlessly timeless and can be paired with dress shirts, pantsuits, dresses, and even jeans. This remains one of the best value designer pendant designs on the market. Buy Here.
Pros
18K Yellow Gold

Open Heart Motif

Elegant and Timeless
Cons
Expensive Compared to Other Heart Pendants

Very Small
Art Deco Inspired Bezel-Set Sapphire Pendant with Accents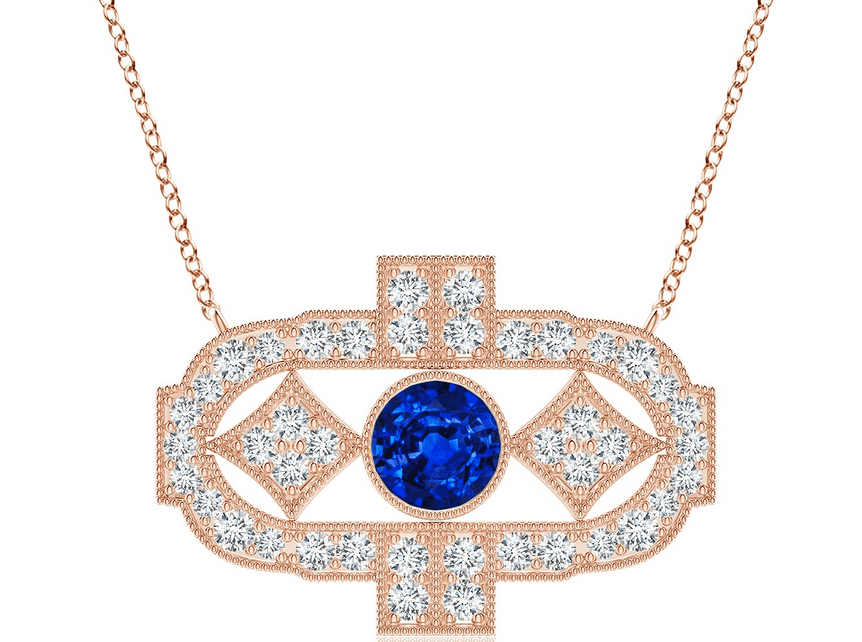 While there are many vintage-inspired pendant designs, many of them miss the mark. I see many use cheaper metals like brass or other lower-quality materials. Many simply don't capture the awe and artistic design of different eras. But if you have a heftier budget, then this Art Deco-inspired pendant is something you should consider. The stunning pendant features a bezel-set sapphire, flanked by geometric shapes and dazzling accent diamond clusters. Ornate details and exquisite quality set this pendant apart. You can choose the quality of your gemstones between 14K gold (white, yellow, and rose) or platinum. My favorite pairing is 14K rose gold, which adds a romantic touch to the design. The chain length is 18 inches. Buy Here.
Pros
Excellent Quality Sapphire

Dazzling Geometric Design

Dazzling Accent Diamond Clusters
Cons
Expensive

Vintage Inspired, Not Truly Vintage
14K Solid Gold Cross Pendant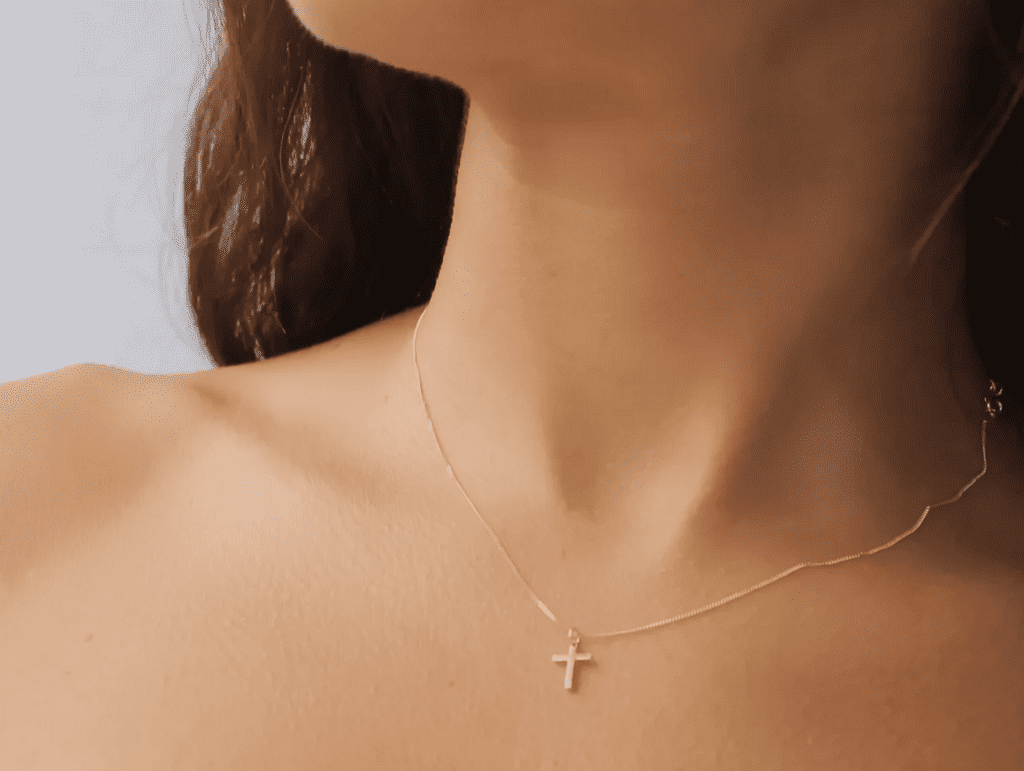 The problem with finding a cross pendant usually falls into one of two categories. Either it's quite expensive or it's very cheap and flimsy. I wanted to find a study, beautifully crafted pendant, and I finally found one on Etsy for under $100. If you love a minimalist, dainty style, this cross pendant fits perfectly. The handcrafted cross pendant is crafted in genuine 14K yellow gold. The charm itself is under $100, but you can also buy a 16 or 18-inch fine chain for a fair price as well. The pendant is versatile and sold through a store with a nearly 5-star rating and over 21,000 sales and counting. Buy Here.
Pros
Versatile, Modern Style

14K Gold

Great Price
Cons
Small

Only 14K Yellow Gold
14K Gold Moon Pendant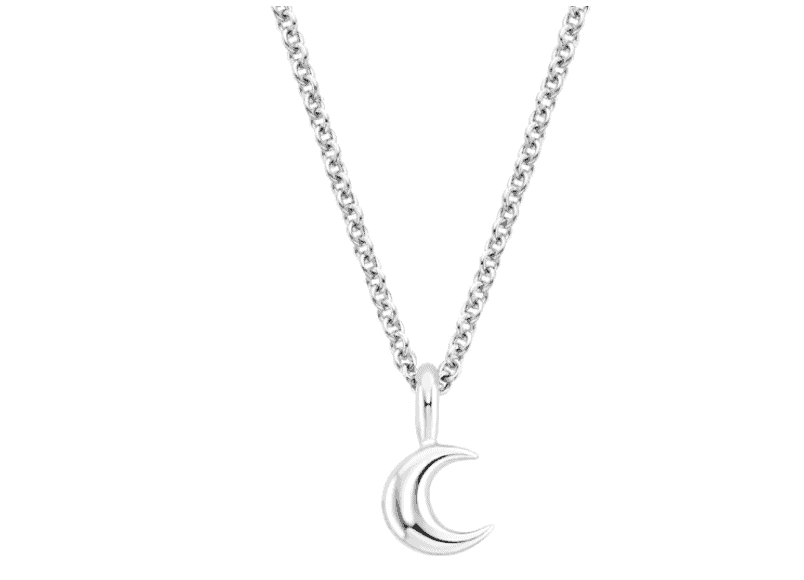 Celestial themes are very popular, especially so for charm bracelets and pendants. The moon is a symbol of a new life and feminine strength. While there are more affordable pendants, many of them lack the luster and quality of this moon crescent moon pendant. Though you pay more initially, this gold moon pendant is simply stunning, crafted with recycled 14K yellow, white, or rose gold. The clean, minimalist approach to this pairs well with the 16 to 18-inch classic cable chain. It's sturdy but still beautiful. Buy Here.
Pros
Beautiful 14K Gold

Strong Cable Chain

Eco-Friendly
Cons
More Expensive than Many Moon Pendants

Fairly Simple Design
10K Yellow Gold Initial Pendant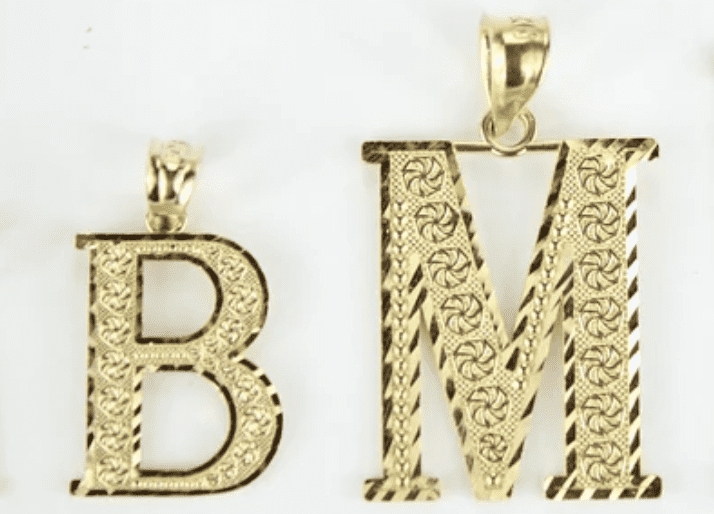 My final idea is a little different from my others for a few reasons. These pendants are more casual, less elegant, less subtle, and more affordable. An initial pendant is a great personal gift, and ordering is easy. These pendants are handmade and crafted with 10K yellow gold. You select the initial of your choice and can choose from four sizes. This Etsy seller has over 16,000 sales and a nearly 4.5 out of 5-star rating. The diamond cut adds a bit of modern style to the letters and the initials and is lightweight for daily wear. Buy Here.
Pros
Affordable

Personalized

Genuine 14K Yellow Gold
Cons
10K is Duller than Other Gold

Only Pendant (No Chain) Included
Frequently Asked Questions
Final Thoughts
Pendants are one of my favorite kinds of necklaces and for good reason. They're perfect for gift giving and expressing something personal. Whether you have one custom-made or are looking for an affordable design, the popularity is only growing. Whether you're buying a glamorous diamond pendant or opting for a simple sterling silver pendant, never just go for something cheap. I always check the seller's history, as well as the details and materials used. Finally, select a design that is meaningful to you or a loved one. It will go a long way and may become a favorite accessory for a long time to come.
Final Buying Recommendations: Pendant Necklace Making/ DIY Kits
If you're crafty or more artistically inclined than I am, you may want to consider creating your pendant necklaces. This is a way to create custom, personalized pendant necklaces either for yourself or as a gift. But if you feel lost when it comes it DIY, I recommend going the route I have before and purchasing a pendant necklace-making kit. There are pendant necklace kits for kids, but some kits for adults as well, like this unique Embroidery Pendant Kit. Many of these are casual and made with cheaper materials. You can also buy supply sets, like snake chains and lobster clasp sets, and individual pendants at craft stores.
For more interesting readings check out: