Latest posts by Kristen Swain
(see all)
Moissanite is forever? We all have heard that Diamonds are forever, but did you know that Moissanite is a wonderful diamond alternative? Moissanite Eternity Bands are all the rage in eternity band jewelry; explore the many choices and get some ideas of eternity bands filled with beautiful, sparkling Moissanite.
What is Moissanite?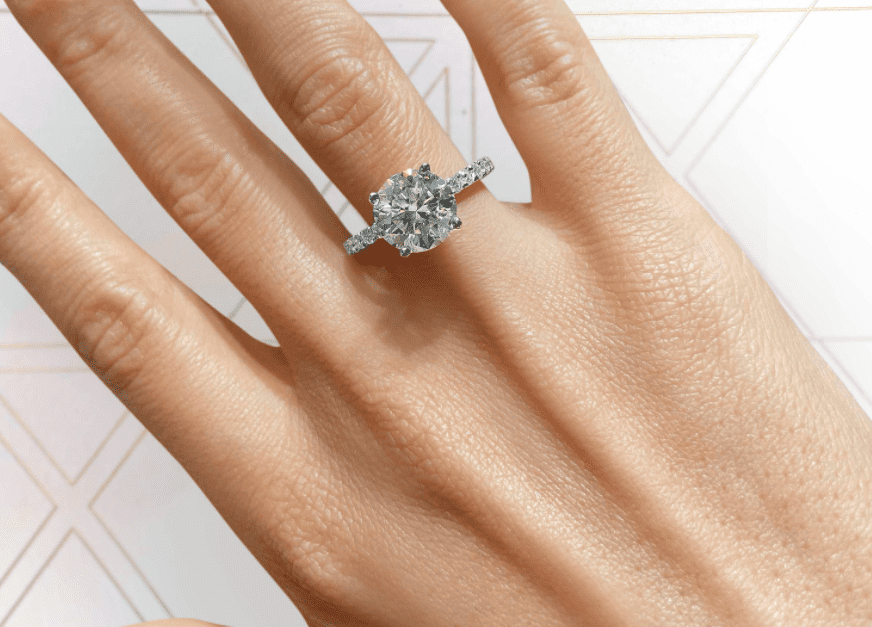 Moissanite is made of silicon carbide, a material that was first found in a meteor crater. Discovered by Henri Moissan, Moissan first thought the crystals that he found were diamonds. After several years of research, he discovered that instead of the pure carbon diamond that he thought they were, that the crystals he discovered were silicon carbide.
During this time, Edward Acheson discovered how to synthesize silicon carbide in the lab. Silicon Carbide is only useful for certain gemstone applications when produced in a certain atomic configuration. When the Cree Research company discovered a process that created single large crystals of silicon carbide, the process was patented.
Naturally, silicon carbide continues to be so rare that it only has occurred naturally in meteorite craters, and all of the Moissanite that is used in jewelry has been lab-created. Moissanite can be lab-created within just a few months. Initially, the firm Charles & Clovard held the patent on Moissanite gemstones being used for jewelry since 1995.
Still, those patents expired in 2018, opening the world market up for Moissanite gemstone jewelry. Charles & Clovard are still the premier Moissanite gemstone dealers in the world, but there are plenty of other sellers to purchase beautiful, quality Moissanites.
Moissanite, in comparison to diamonds, is almost as hard as diamonds. They are a 9.5 on the Moh hardness scale, and a diamond is considered a perfect ten on the scale. Moissanite is more brilliant than diamonds and has more rainbow sparkle than diamonds do, although diamonds tend to produce a more of a white light sparkle effect.
Because Moissanite is almost as hard as a diamond on the Moh scale, they are considered appropriate as an everyday stone to wear. They will take the abuse of daily life and will withstand most bumps and knocks, although care should always be taken with any jewelry to protect it from the worst care. Moissanites won't dull, lose their shine, scratch as easily as most gemstones, or darken with wear.
Moissanite has become one of the best diamond alternatives on the market. The gemstone is clear and looks like a diamond, and is almost indistinguishable from a diamond. Moissanite can fool a diamond detecting tool. Most jewelry dealers can distinguish a Moissanite from a diamond by the color of fire in the gemstone.
Average onlookers will not be able to differentiate a Moissanite from a diamond, especially in smaller stones. Moissanite is more noticeable in larger-sized stones, especially ones over five carats. That is when the stone's fire and brilliance become more noticeable than it would be in a diamond.
Moissanite cost is extremely low in comparison to a diamond; the cost of a high-quality Moissanite is still about four times less than a smaller, lesser quality diamond. And because of the sparkle, which again is greater than a diamond in both brilliance and fire, they make wonderful alternative gemstones in wedding rings, engagement rings, and eternity bands.
Moissanite is sized in millimeters instead of carat size for one reason, the weight of a one-carat diamond is much heavier than the weight of a one-carat Moissanite. The difference in size is the biggest reason for the two methods of measuring the size of a gemstone. A one-carat Moissanite is equal to only about .88carat of a diamond. Carat weight is according to weight, and a heavier gemstone doesn't always increase the size of the stone, even if the carat weight increases.
What do eternity bands symbolize?
An eternity ring or infinity ring is a ring worn on the hand usually given to a wife from a husband to make a significant occasion. This ring is comprised of gemstones of equal shape and size set into a continuous line in a solid band.
Eternity rings began sometime in early Egypt. Although not given as gifts for specific occasions, these bands were given as a gift symbolizing eternal love and life. The first infinity rings were plain bands, bands with stones set on top all the way around the ring, and bands that were shaped like a snake eating its own tail. The snake symbol is called Ouroboros, and its meaning is literally eternity.
Eternity rings symbolize eternity and are typically given to a spouse or lover at a significant anniversary. A milestone anniversary could be the first, the tenth, fifteenth, or any other special date in a couple's eyes.
An alternative reason to give an eternity band is new life. Some couples celebrate the birth of a child with the gift of an infinity ring, celebrating the circle of life using the symbolism of the band. Often this symbolism is to celebrate the beginning of the family when a child is born to a wedded couple.
Alternatives to Eternity Bands
Not every couple enjoys the thought of a wedding ring or eternity band; some view the practice of wearing rings as an outdated practice. Some couples cannot wear wedding jewelry for their jobs for safety reasons or dress codes. Other couples may have allergy issues as well with the various metals.
Whatever the reason, there are alternatives to wearing traditional bands. Other choices for wearing an eternity band could be to wear another type of jewelry, such as a necklace which could also hold an eternity band, bracelets, watches, and anklets. Another alternative is tattooing on the wedding ring finger.
Infinity bands can also be a less decorative ring instead of buying a ring encircled with gemstones. Instead, the choice could be to add in an engraving, a name engraving, multiple colored gemstones, or even a simple band with no decoration at all.
One thing to consider when beginning your search for an eternity ring is that most rings have no gemstones on the band between your fingers. This creates a comfortable band that sits close to your finger and does not push a gap at the base of your finger where you wear your ring.
Eternity bands have gemstones in this space and can be less comfortable to wear as they will push against the fingers on either side. Decide before you purchase if you will be comfortable with this style of ring or if you want a more delicate ring that doesn't push out against your fingers as much.
Alternative Stones to Moissanite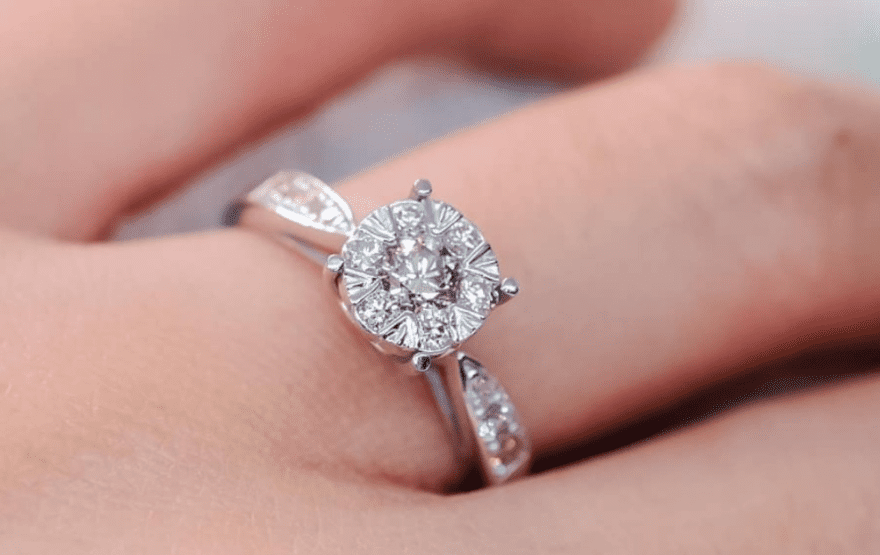 Diamonds– Always a great gemstone, Diamonds are the stone that usually Moissanite replaces, so it can also work in reverse and be the alternative stone to Moissanite. Diamonds are clear, sparkling, and the most highly durable element on earth.
White Sapphire– Sapphire in its purest form is clear or white in coloration. Impurities turn the corundum colors, and well-polished Sapphire is a beautiful clear, sparkling gemstone alternative for Moissanite.
White Topaz- Another beautiful, clear gemstone, Topaz is naturally colorless. Although it is not as hard as diamonds and Moissanite, it does make a sparkling diamond-like gemstone that is a low-cost alternative gemstone.
Cubic Zirconia- Cubic Zirconia is a well-known cheap alternative to Moissanite; most people wouldn't want this gemstone because of the negative press the stone has gotten. Inexpensive, clear, and sparkling, Zirconia is a gemstone, not a plastic alternative, and does make an inexpensive alternative stone. Zirconia is also a wonderful accent stone alternative in rings as the smaller size of accent stones shows a beautiful sparkle in even the tiniest stones.
Moissanite Eternity Band Ideas
Round Stone Rings-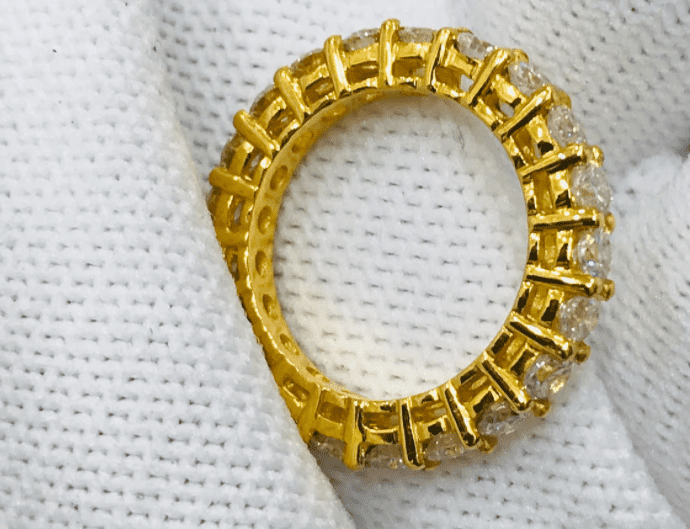 One point eight carats of Moissanite gemstones encircle this band. About twenty-five round cut three-millimeter gemstones adorn the eternity band. Customize the setting in a variety of metals, including rose gold, gold, and white gold. This is a newer style of an eternity band, using round stones instead of a more emerald cut, and this style works really well as a wedding ring or third in a wedding set.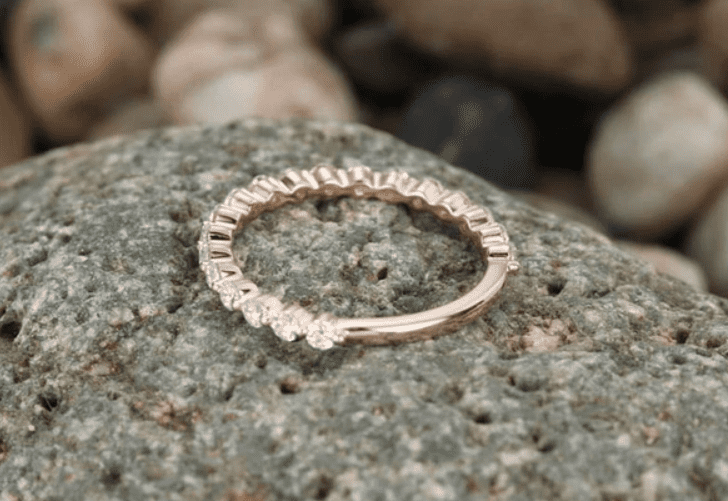 I chose this delicate infinity band for the size alone. The small stones create a ring that is more finely detailed, smaller, and fits on a thin-fingered hand better. An eternity band is too large a thickness can create a look that is off-balance, too large for more delicate hands.
I was surprised that the gemstone weight is still around one-carat total weight for the ring, but that is because the stones encircle the finger, and the carat weight is distributed around the finger instead of centered on the top of the finger. The rose gold setting is lovely against the stones, and one single prong bead is between each stone, again giving the ring a very delicate look.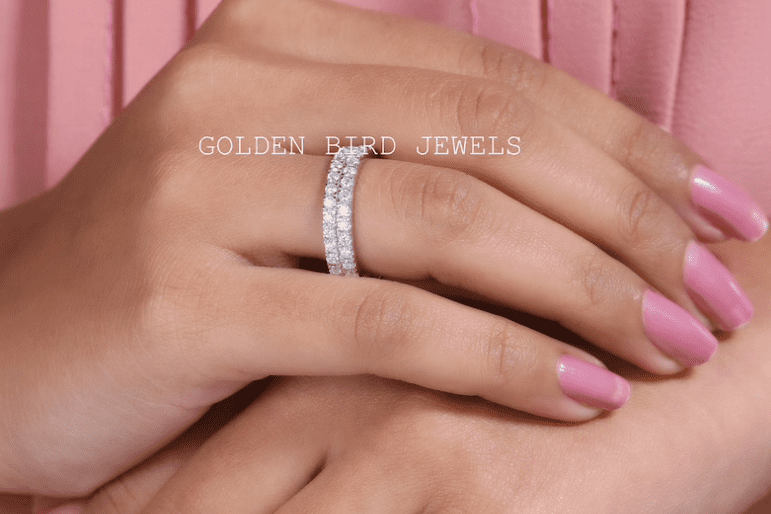 This band, or double band, features round-cut Moissanite. Two thin single rows of Moissanites are lined along with this band, slightly offset from each other. The carat weight of the ring is dependant on the size; the larger the band, of course, the larger the carat weight of gemstones.
You may choose your setting color; from platinum to silver, gold and rose gold are also offered. This pretty ring could mean two lives that are connected but living in conjunction with each other. This lovely eternity band could serve as both an anniversary ring as well as a wedding ring; the band is thin enough to not add bulk to your wedding set.
Emerald and Baguette Cut Stones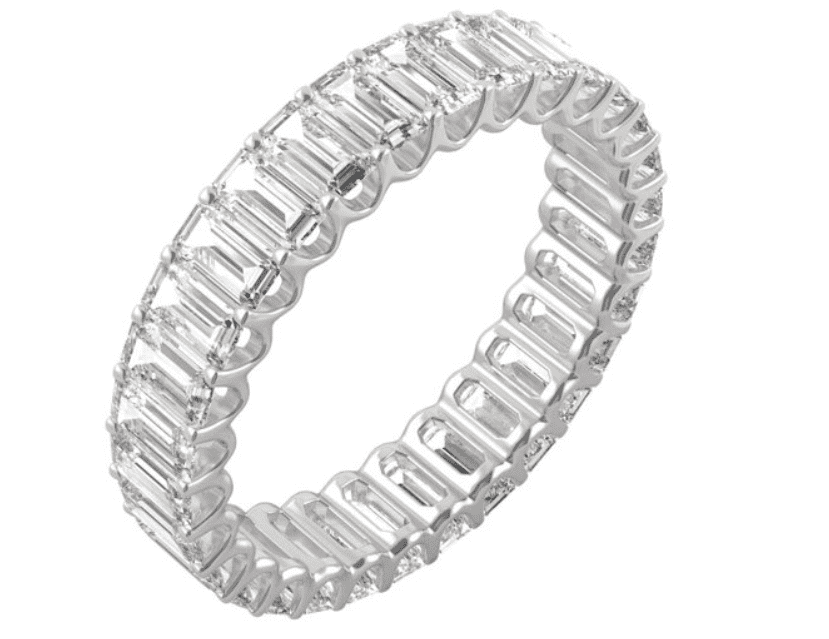 This is the eternity band that most people think of when speaking about Eternity Bands. A three-carat emerald-cut Moissanite band, stones held in a setting with almost no metal showing, just glittering stone next to glittering stone in a continuous unending ring.
The setting is just enough to hold the stone securely and to allow the greatest sparkle to come from them, and in a color that is silver so as to not distract from the stones. At the three-carat weight, the band isn't delicate but does have a solid feel and will be a lovely ring to stack with your wedding set.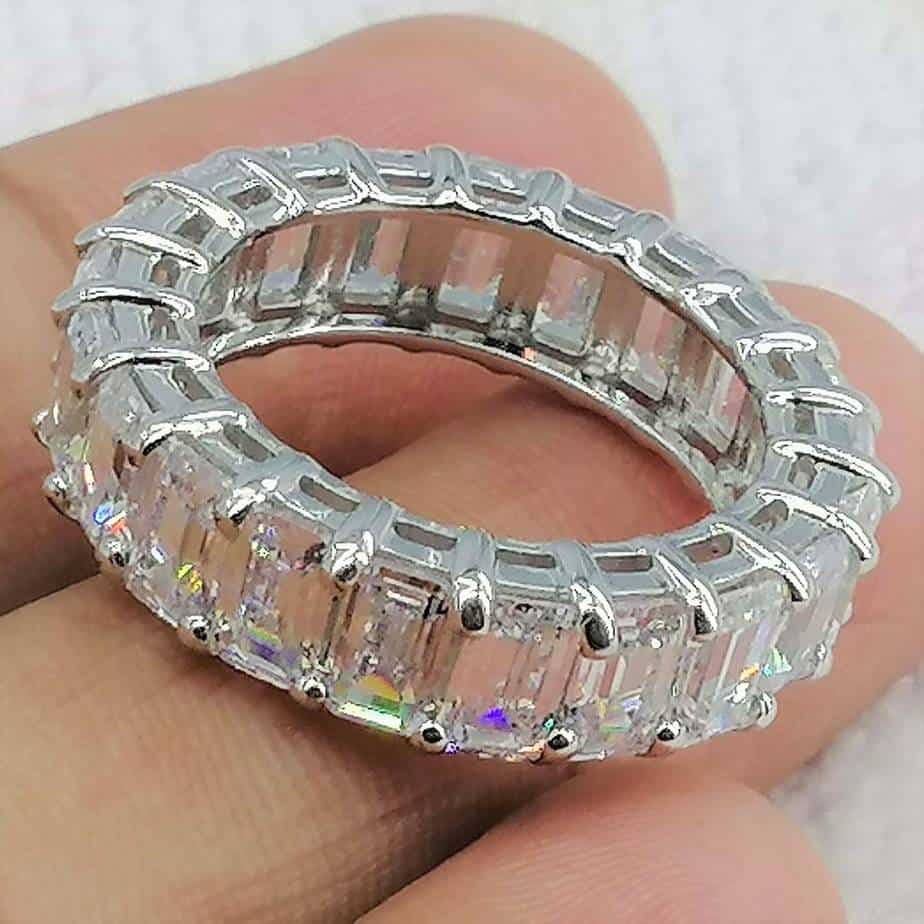 The setting for this ring is mostly hidden, only showing the prongs of the 14K white gold setting. Over seven carats of Moissanite are encased in the center of this band.
The emerald cut stones form the edge of the ring, so they allow light in from the top and bottom of the stone, allowing for maximum sparkle, but this also leaves the stone vulnerable to damage from hits and bumps. This is a larger style ring with a heavier setting that will really glitter in a good lighting situation. The prongs actually hold two stones in place so as to not cover too much of the Moissanite sparkle.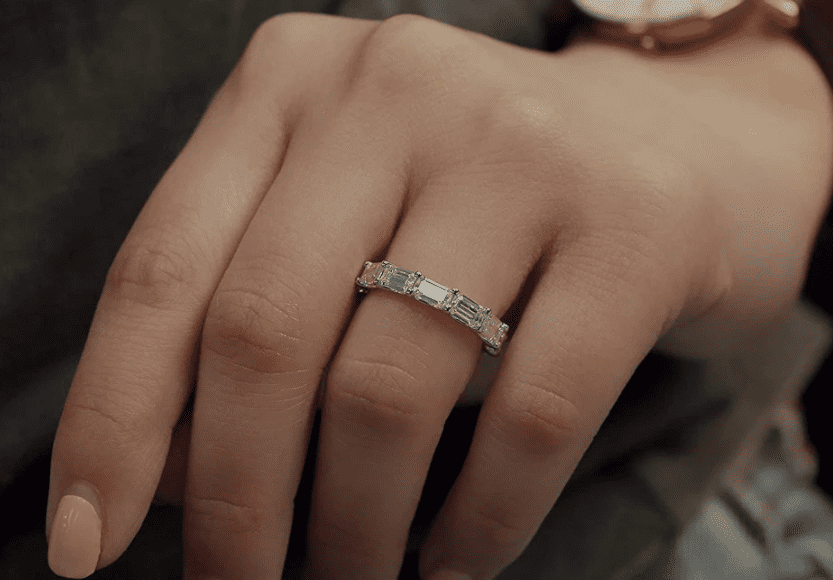 Twelve oblong emerald cut Moissantites sit tail to tail, forming this ring. The setting shows curved arches on the sides of the stones to allow more refracted light to enter the stones at the sides.
This helps your Moissanites to sparkle as much as possible. The backs of the stone are also open, allowing for the stone to sit up on your finger and potentially catch light underneath, as well as show off the clarity of the stones themselves. The top-to-bottom orientation of the stones keeps the ring more delicately thin instead of side-to-side for a chunkier-looking ring.
Unique Eternity Bands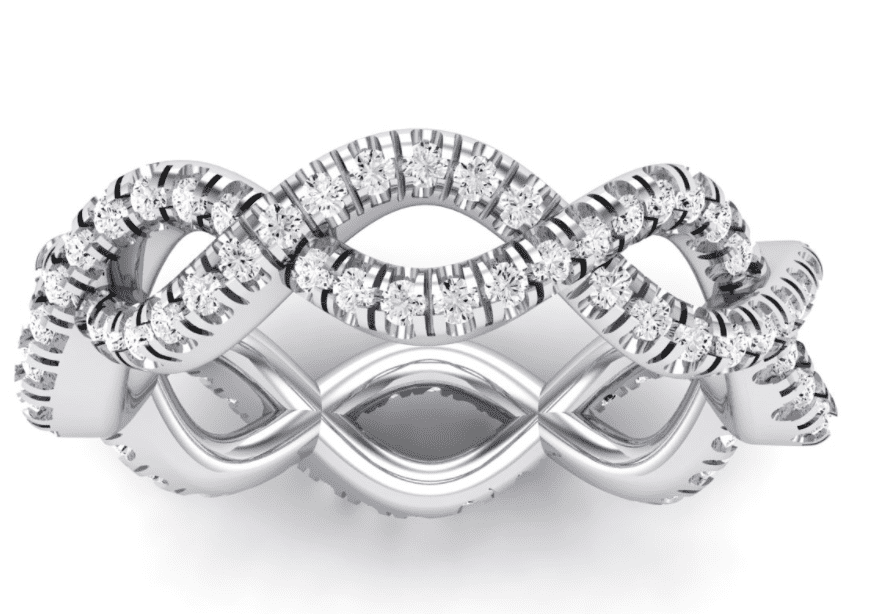 The undulating style of this band, with its double lines, curves up and down in a never-ending loop. This understated ring has just about a half-carat of Moissanite stones that will shimmer and glisten in the light in a soft subtle way. There are twelve round-cut Moissanite stones to every up and down curve of this ring, with ten curved pieces that are about one hundred twenty stones set into the white gold setting. A perfect ring to celebrate two lives that have lived separately and yet converged together.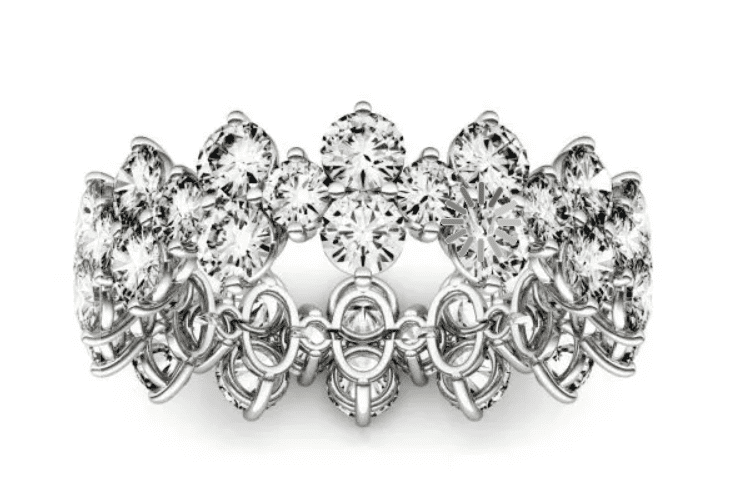 This unique band features alternating stones of two and one in an eternity band. Perhaps a ring for an extended family or the perfect ring to celebrate two becomes one, creating a family. This ring could symbolize a lot of meanings for a couple, one that can be the most meaningful to you.
The setting on this band is really the background of the Moissanites, just support for the gemstones, not really being shown aside from the prongs holding multiple stones in place. The band is not large in size; however, with over three and a half carats, there is plenty of Moissanite to catch the light.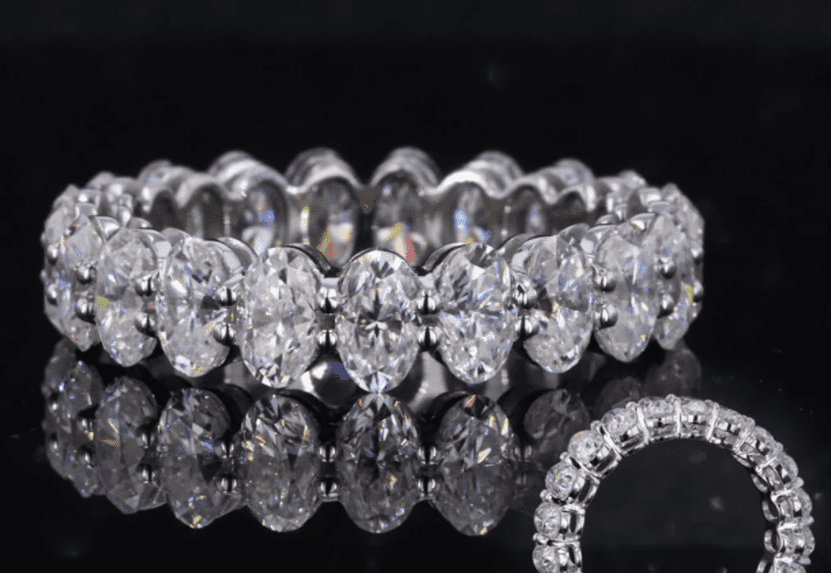 This ring can be customized for gem size as desired. The choices are for a more delicate two-carat ring with up to twenty stones or a larger seen carat ring with about fourteen Moissanites. Depending on the size of the ring that you would enjoy having, of course, having a large carat ring will mean a lot more glitter, or having a smaller ring might sit on your hand easier and be less bulky.
This is the choice that should be discussed when deciding eternity bands. The oval gemstones in this ring give it more of a scalloped effect than most smooth edge bands, and that gives a touch of fun to the ring.
FAQS
Question: Is a moissanite engagement ring tacky?
Answer: Moissanite is almost identical to diamond and is a beautiful alternative. They aren't tacky at all. Instead, they are an inexpensive alternative to diamonds, with a neat story on the origin of the gemstone. They are more eco-friendly than diamonds without environmental destruction, and they are almost as durable as diamonds are. 
Question: What do three stone rings symbolize?
Answer: Popular in bridal jewelry, three bands as well as three stone rings are symbolically important. The three stones can represent the past, present, and future. This style of the ring means that one stone represents one of the three tenses. The rings can also be attributed to the less well-known symbols of friendship, fidelity, and love. Either meaning can be symbolized in a trio of stones or in a trio of rings. Called Trilogy rings, these rings can be purchased as a single ring or a set to be given throughout the marriage.
Question: Can you wear an eternity ring if not married?
Answer: Yes! You can wear the ring to showcase whatever it means to you. Some generations wear the ring as a promise ring, to wear as a reminder for whatever single important promise that ring symbolizes. Some use an eternity band as a ring of celebration, a celebration of life, a celebration of another's life as well. The ring can also be worn as a stackable ring; they make for lovely thumb rings. 
Question: What is a divorce ring?
Answer: An idea of buying yourself a piece of jewelry for your new-found independence, divorce rings can help mitigate the feeling of loss when you remove your wedding and engagement rings. Celebrate yourself with a divorce ring, a piece of jewelry that represents the future and all the potential your life has. 
Question: What does it mean when a girl has a ring on her middle finger?
Answer: Wearing a ring on the middle finger, the most noticeable finger, means that a woman is not engaged or married and also symbolizes balance, power, and stability for her. The ring can also be left open without symbolism, and can a delicate, simple ring is the preferred ring for this finger. 
Question: What does it mean if a woman wears a ring on her thumb?
Answer: The larger the ring, the bolder the statement when wearing a thumb ring. The most popular reason for wearing a thumb ring is to show independence and individuality as well as potentially to also show strength. For women alone, thumb rings have been known to express their freedom, whatever that means to the individual wearing the ring. 
Conclusion
I am all about gemstones, Moissanite is a particular favorite, so of course, I would be just as encouraging about purchasing a Moissanite Eternity Band. Moissanite is one of the best gemstones available; in my opinion, the sparkle and fire are outstanding. Purchasing a Moissanite stone allows you to buy a beautiful, large, sparkling stone that looks like a diamond but with more fire, has the clarity of a diamond, and is just as durable as a diamond. All stones need cleaning if they are worn daily, but Moissanite doesn't need any special cleaning, polishing, or resurfacing even after being worn daily, as some other diamond alternatives do.
Moissanite is currently not considered a heritage gemstone, one that would leave lasting value to the next generation, but I think any ring that is passed down to a younger generation has intrinsic value in that it was offered as a gift from a caring relative.
Moissanite is so relatively new on the market that it's just not well-known, and of course, diamond dealers would prefer that we continue to invest in diamonds, even though there is a limit of natural diamonds, they are environmentally destructive in being mined, and the cost of them is ever increasing. Moissanite is a safe, less expensive, and more beautiful alternative. And I would be proud of an eternity band of Moissanite that is offered to me. I will be back later; I am off to purchase a new Moissanite Eternity Band.
Looking for more interesting readings? Check out: