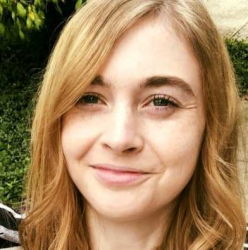 Latest posts by Erin Jamieson
(see all)
Where to Buy Anklets Online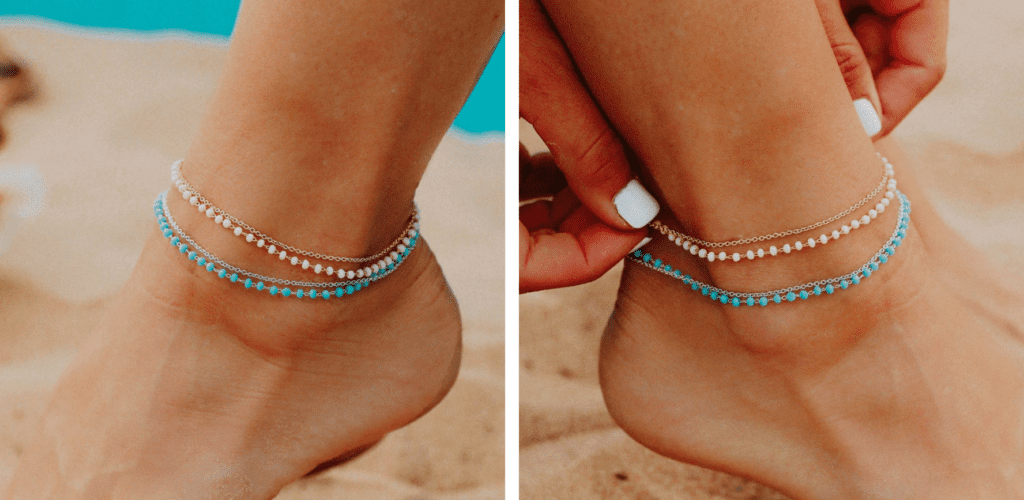 One of my first anklets still holds meaning for me today. I was gifted it while I was battling a wave of deep depression. It was a dainty design, with letters and a symbol to remind me that I was loved. No matter if you're looking for an anklet to wear in the water or a gorgeous diamond one from a fine jeweler, it may be one of your most meaningful online purchases.
In hopes you'll find a stylish anklet to buy as a gift or for yourself, I've put together this short guide. I'll explain how to select the best anklets for you, no matter your budget. Plus, I'll share my favorite places to buy anklets online. You can avoid wasting money on anklets that break easily and find something truly beautiful.
Bottom Line Up Front Summary: If I had to select just one anklet, it would be this Oval Mirror Link Anklet. Crafted with genuine 14K yellow gold, it's a staple that pairs well with both casual and formal outfits. It's a perfect gift for just about anyone and will quickly become a wardrobe staple.
My Top Picks
Ankle Bracelet Meaning
Something I love about ankle bracelets is the symbolism behind them. That symbolism has roots way back to Ancient Egypt but is mired with myths and has evolved. So before you assume what wearing an anklet means, read on.
Anklet Origins
I know that anklets seem like a modern accessory, but they've been worn way back into history. No one knows the exact date, but they were likely worn as far back as during the Bronze Age. Within Egyptian civilization, both gold and silver and other precious metal anklets were worn as a sign of prosperity. They were also popular amongst wealthy women in Ancient India and some Middle Eastern countries. They eventually evolved and became accessible to the middle and lower classes.
Anklet Myths
One unfortunate effect of being steeped with tradition and history is that some people, especially those of religious backgrounds, are questioning if it's okay to wear an ankle bracelet. Everyone, including those who identify as girls, boys, men, and women can rock this trend. Wearing an ankle bracelet is not a sin, nor is it specific to gender or sexuality. Nor does wearing an ankle bracelet mean you are sexually available. The one exception is that some conservative sects of Islam generally do not wear jewelry on their ankles.
Modern Symbolism
So what does an anklet symbolize? That depends on the type of ankle bracelet, as well as your culture. In the end, you can create your meaning. In the past, wearing the anklet on a right foot mean you were single while wearing it on your left foot meant you were married or taken. However, now you can wear it on any foot. Ways people use ankle bracelets in a meaningful way today include:
Ankle Bracelets to Show a Zodiac Sign

Anklets Tied to a Lifetsyle, Such as Yoga or Meditation

Anklets as a Gift to Friends or Romantic Partners

Anklets with Meaningful Motifs, Such as Hearts and Butterflies

Anklets as a Good Luck Charm
The many varieties of modern anklets mean you can use this fabulous accessory type to fully express yourself, no matter what that means for you. Whether you
How to Choose an Anklet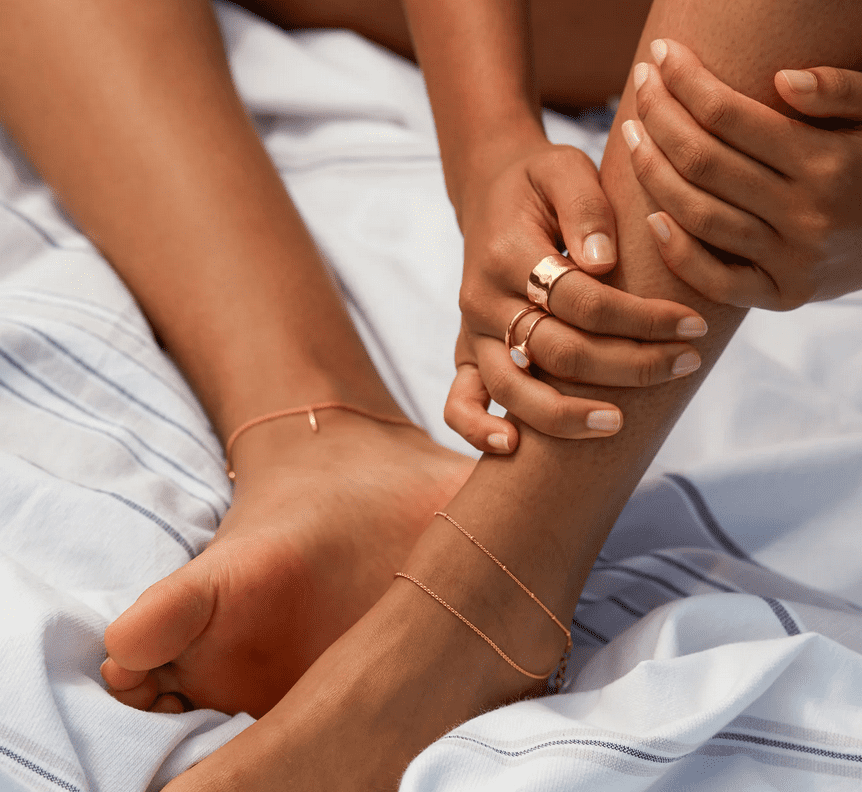 Anklets are still popular, stylish, and attractive. No matter who you are, I firmly believe that there's a style of anklet for you or one to gift a friend. But what you're expecting is going to make a dramatic difference in how you shop. To sort this out, here's how I shop. I consider the style of anklet I'm looking for, then how often and where I'll wear it. There's a huge difference between a casual anklet vs one you want to wear in the water vs a diamond anklet for a special occasion. From there, I determine what quality of materials I need.
Anklet Styles
Anklets range from casual to formal. Formal anklets include birthstone and diamond anklets, often crafted in precious metal such as 14K or 18K gold or 925 sterling silver. Beachy anklets are usually made with beads and string or warn material. Anklet designs include initials for names or other meanings; butterflies, hearts, bells, and much more. I also love trends like layered anklets, chain anklets, simple anklets, and pearl anklets.
Based on the style, different materials are appropriate.
| | |
| --- | --- |
| Anklet Style | Common Materials |
| Formal/ Dressy | Diamonds, Gemstones, 10K Gold, 14K Gold, 18K Gold, 925 Sterling Silver, Platinum, Gold Plating, Gold Vermeil |
| Casual and Sporty | Leather, Silicone, Polyester, Rope/ Thread |
| Beachy | Shells, Pearls, Yarn, String |
Best Materials For Anklets
With my table below, you can see what makes the most sense and is realistic for the type of anklet you're searching for. But I do have criteria within each category. Here's what I recommend for the best materials so your anklet doesn't break as easily and can be worn for longer.
For Dressy/ Formal Anklets
If you're buying a statement anklet, you might as well spend a little extra money so that it lasts and is made with the best quality. I recommend against gold-plated anklets. They're popular and attractive but they tarnish within a matter of a year or two. If you're trying to save money, a gold vermeil anklet is still going to be a better choice. Sterling silver will be okay for casual use and if you don't go near the water, it'll tarnish and last less long than genuine gold or platinum. For diamonds and gemstones, make sure they are truly natural or lab-grown. Check for both clarity and color. Diamonds should be nearly colorless and have only slight inclusions.
For Sporty and Casual Anklets
If you're on the go and active, you may not want a precious metal anklet. But many of the choices are not going to last very long. I would recommend cotton yarn over plastic for casual anklets. Cotton is a fairly durable material and easy to clean. Plastic materials can break. For higher activity levels, something, however, with polyester would be great, because it won't collect sweat and moisture.
For Beachy Anklets
If you're going to wear an anklet in the water, it has to be some material that won't tarnish. Waterproof anklets are often made with beads. These are also popularly referred to as surfer anklets.
Where to Buy Anklets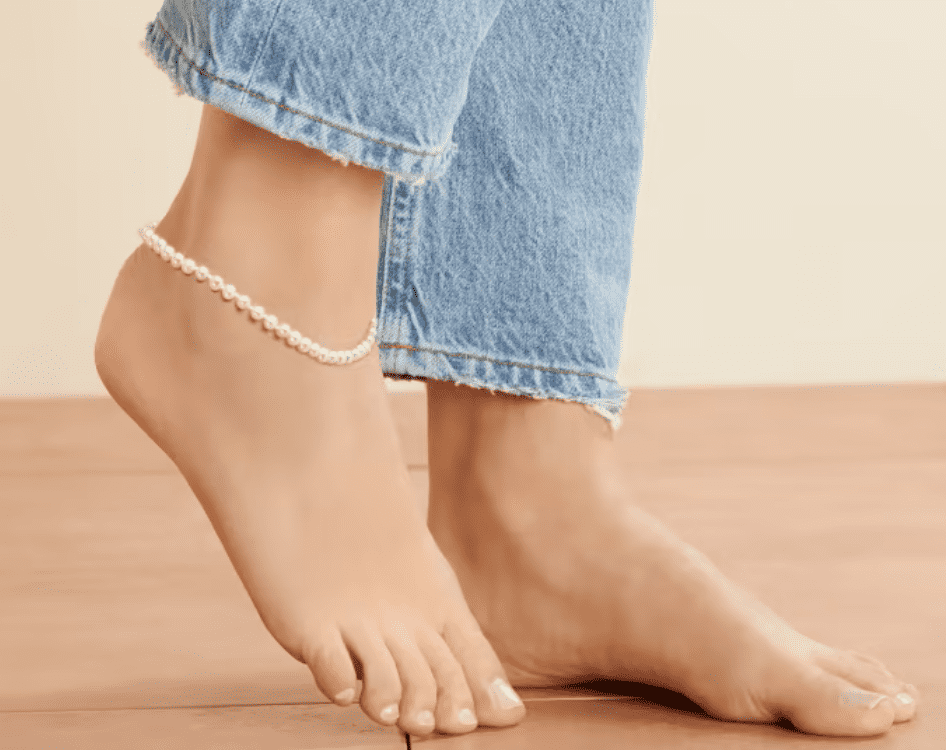 There are many places to buy anklets online and in stores, more than even I realized. I organized them into different categories based on their general appeal.
| | |
| --- | --- |
| Anklet Type | Places to Buy |
| Cheap and Casual | Claire's, Walmart, Amazon (Includes Pandora), Kmart, |
| Beachy/ Surfer/ Waterproof | Etsy, Classy Women Collection, Pura Vida |
| Semi-Formal | JC Penney, Kendra Scott, Nordstrom, Kohls, Macy's, Etsy |
| Formal | Jared, Kay Jewelers, Zales, Macy's, Etsy (Includes Engraved and Custom), Bloomingdale's |
| Places to Avoid | Shein, H&M, Zara, Wish, James Avery, Kaylan Jewelers, Fashion Nova, Karma, and Luck |
Now I want to explain my list. These places were selected based on their variety, prices, and materials. I wanted to match the needs of the anklet type to both materials and prices. Some places are rather variable. On Etsy, for instance, you must check listings separately, and I recommend buying from Star Sellers or sellers with over 4.5 you of 5 stars and at least 1,000 sales. I included places to avoid, either because their variety is quite poor, or, more often, they have a record of customer complaints and quality issues. I'd only recommend Amazon and Walmart and Claire's for cheap anklets.
I also made sure that every one of these places offers safe and secure shopping and has return and refund policies in place. I recommend being the most selective about formal anklets. Buy this style from reputable jewelers who are prepared to share the details of quality and sourcing standards.
Stylish Anklets: My Top Picks
To get you started, I selected a few of my favorite designs for the hottest trends. Each of these anklets was selected based upon versatility, innovation, and the materials used. I also want to include only reputable listings, so you can get your online shopping for anklets to a great start.
Pura Vida Beach Life Anklet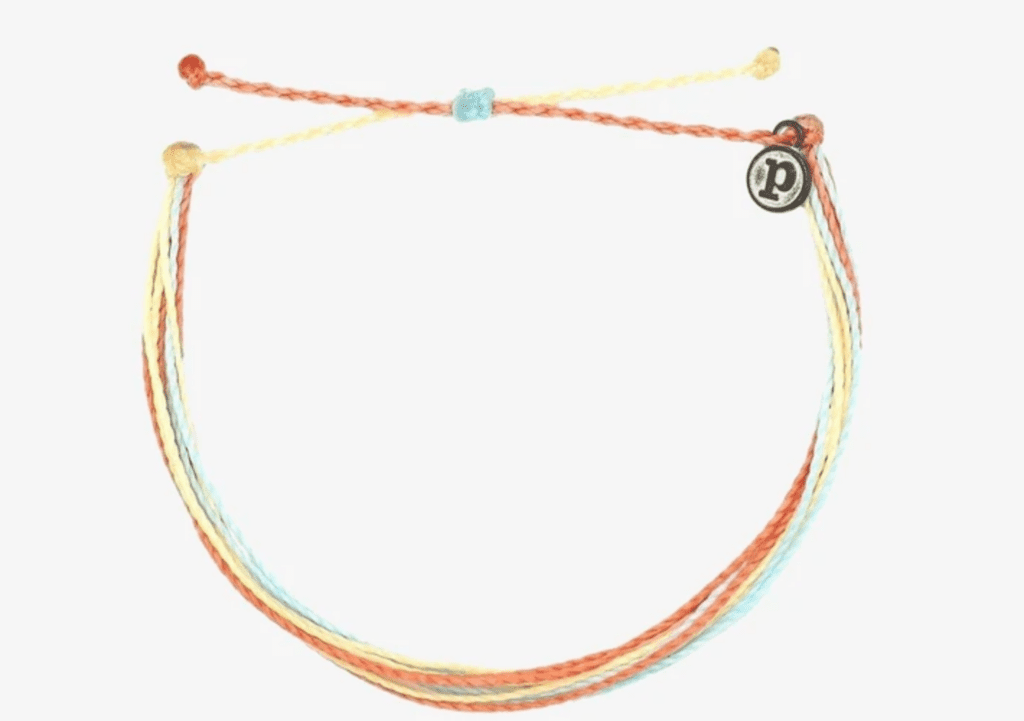 I'll say it right up front: Pura Vida is one of my favorite companies for anklets, period. You won't find many high-end or formal anklets from them, but their anklets are highly rated, colorful, and stylish. Better yet, they're offered at a fair price and practical even for your most active days. This anklet is 100 percent waterproof, making it the perfect anklet for beach life and surfing. You can get in the power, shower, or go snowboarding with this playful accessory. It's made out of strong, recycled materials and ships with Eco-friendly packaging. The company supports Artisans around the world and has donated to a myriad of non-profit organizations. Buy Here.
Pros
100 Percent Waterproof

Goes Towards Non-Profit Organizations
Cons
Can Tear or Fray with Heavy Use

More Expensive than Other Simple Anklets
Bloomingdale's Diamond Bezel Droplet Ankle Bracelet in 14K White Gold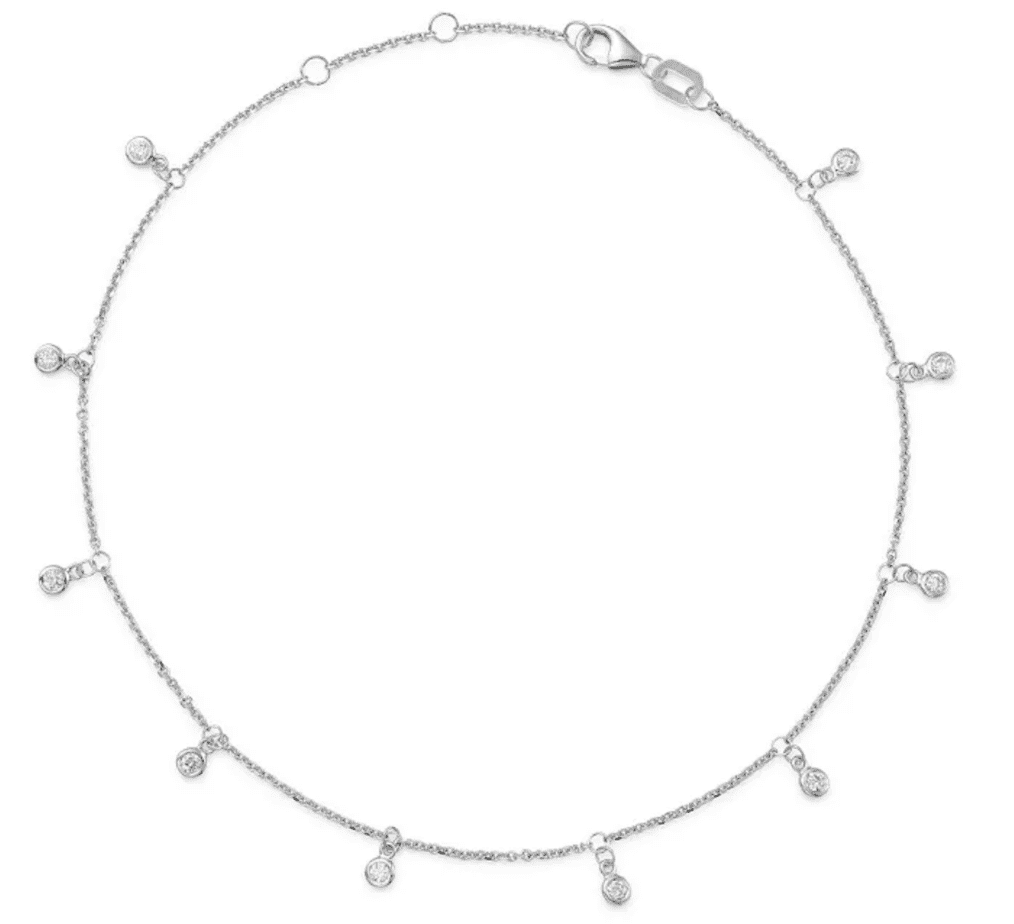 If you want a statement diamond ankle bracelet, look no further. This gorgeous anklet is a Bloomingdale exclusive. The dainty band is crafted with icy 14K white gold. Nearly colorless diamonds hang in delicate droplets for a touch of sparkle as you move. The lobster clasp closure is a classic style. What I love about this anklet is that it's timeless yet also versatile. It's an anklet that would look beautiful paired with a dress or pantsuit. And unlike so many diamond anklets on the market, are crafted with quality. Buy Here.
Pros
Nearly Colorless Diamonds

Beautiful 14K Gold

Timeless Elegance
Cons
Expensive

Modest Carat Weight
Jared Gemstone Custom Anklet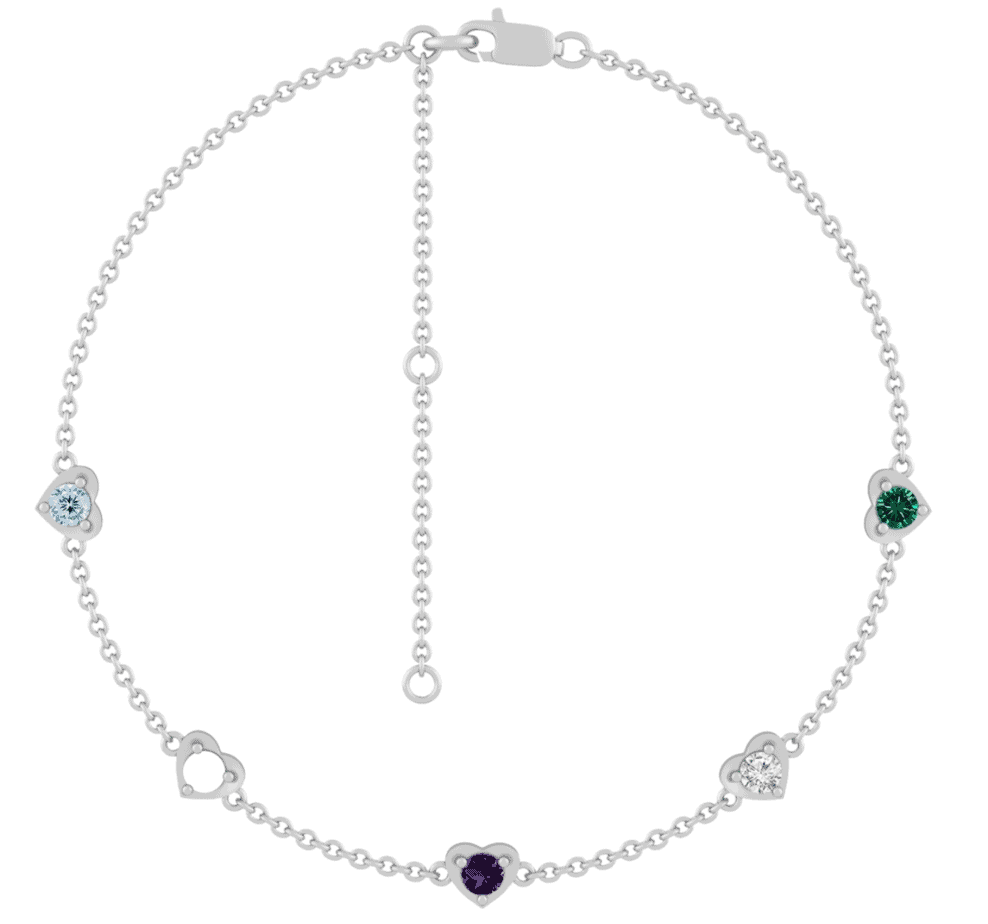 A custom anklet with genuine gemstones? Sign me up. This meaningful ankle bracelet would make for a beautiful gift. Sold by a reputable jeweler, you have an option of 5 gemstones of your choice. The gemstones are lab-grown and represent each major birthstone. You can select any combination of gemstones. I love the idea of choosing birthstones of those mean to you, while a couple could alternate their birthstone. The genuine birthstones come on a dainty chain, crafted in your choice of sterling silver or 10K yellow, rose, or white gold. Buy Here.
Pros
Genuine Lab-Grown Birthstones

Customize Your Order

Meaningful Gift
Cons
10K Gold is a Little Dull

Cannot Select Gemstone Saturation/ Quality
Jared Oval Mirror 14K Yellow Gold Anklet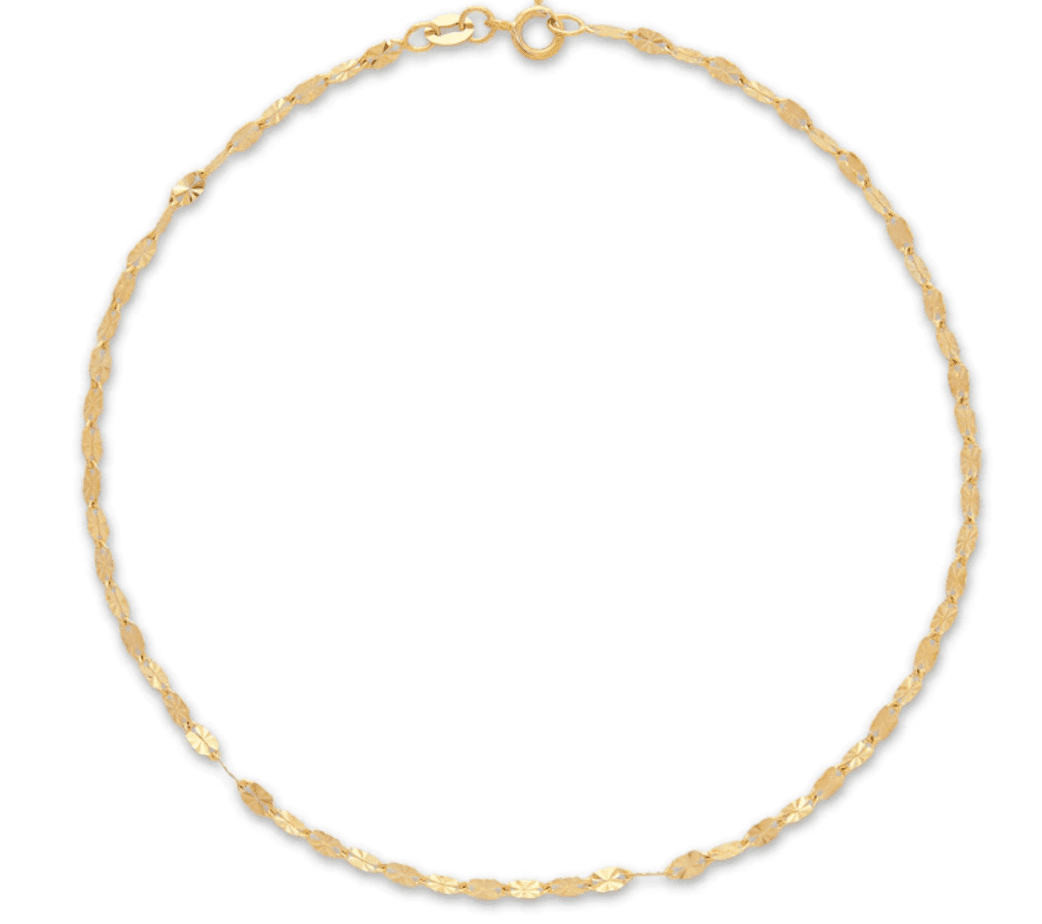 Want a classic anklet that you can wear with nearly everything, is sold at a fair price and should last you years? It may sound too good to be true, but this 14K yellow gold anklet from Jared just may check all of those boxes. This stylish ankle bracelet features a grooved chain that measures 10 inches. The spring ring clasp makes it easy to take on and off. You can order a jewelry protection plan, which covers loose hinges or clasps and free cleaning and polishing. This gorgeous anklet radiates warmth and is the perfect go-to if you just want a staple in your wardrobe. Buy Here.
Pros
Cons
Not as Comfortable

More Expensive than Some Gold Anklets
Giani Bernini Beaded Singapore Link Ankle Bracelet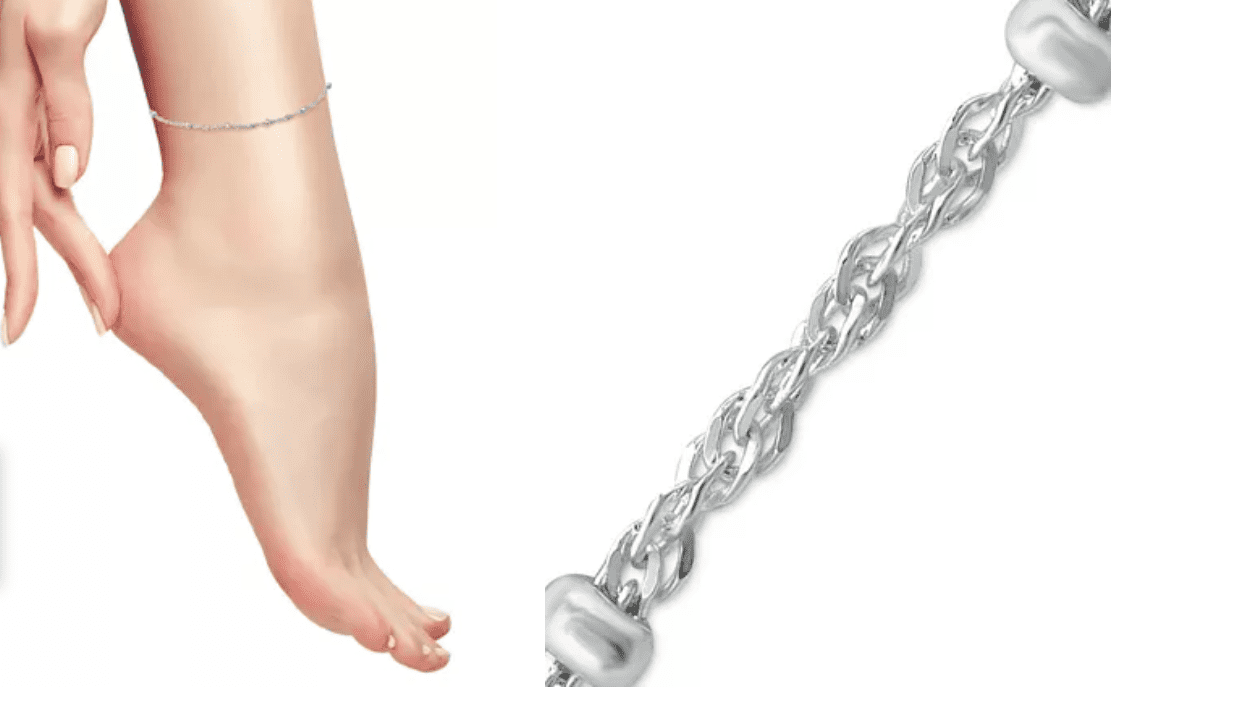 This ankle bracelet is also available with gold plating, but you're better off with sterling silver. Not only will you save money, but gold plating tends to wear off easily. If you want a classic sterling silver ankle bracelet, Giani Bernini delivers with this popular beaded style. Tiny beads add pops of modern textures. I love the classic fine chain style and the seamless way this anklet transitions from day to evening. Wear this ankle bracelet with jeans or a skirt. It can be purchased immediately or with financing. Buy Here.
Pros
Cons
Silver Can Tarnish/ Requires Cleaning

Very Understated
Monica Vinader Beaded Double Chain Anklet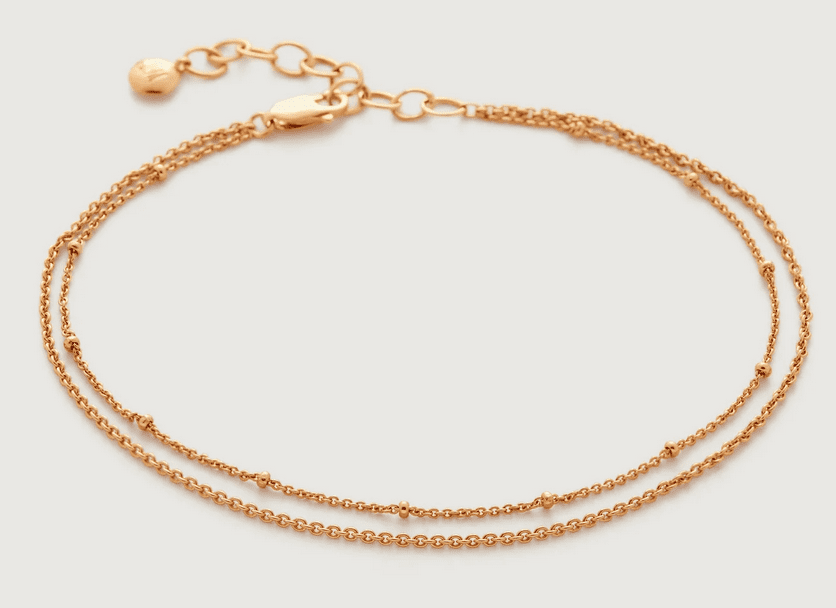 There's one exception to be gold plating rule, and that's for gold vermeil. Gold vermeil is much for durable than your typical gold-plated anklet because it's made a bit differently. Apart from typical gold, gold vermeil is quite durable and can last many years. However, it shouldn't be used during any water-based activities.
This anklet features a stylish layered design. The look is effortless, modern, and versatile. I love that you have the choice between rose, yellow and white gold finishes. It also pairs beautifully with some of this company's other accessories like their layered necklaces and bracelets. Plus, this is the perfect type of anklet to accessorize and layer with other anklets. Buy Here.
Pros
Beautiful Layered Style

More Durable than Typical Gold Plating

Dainty and Refined
Cons
Cannot Get Wet

Can Fade Over Time
Gold Vermeil Flat Curb Chain Anklet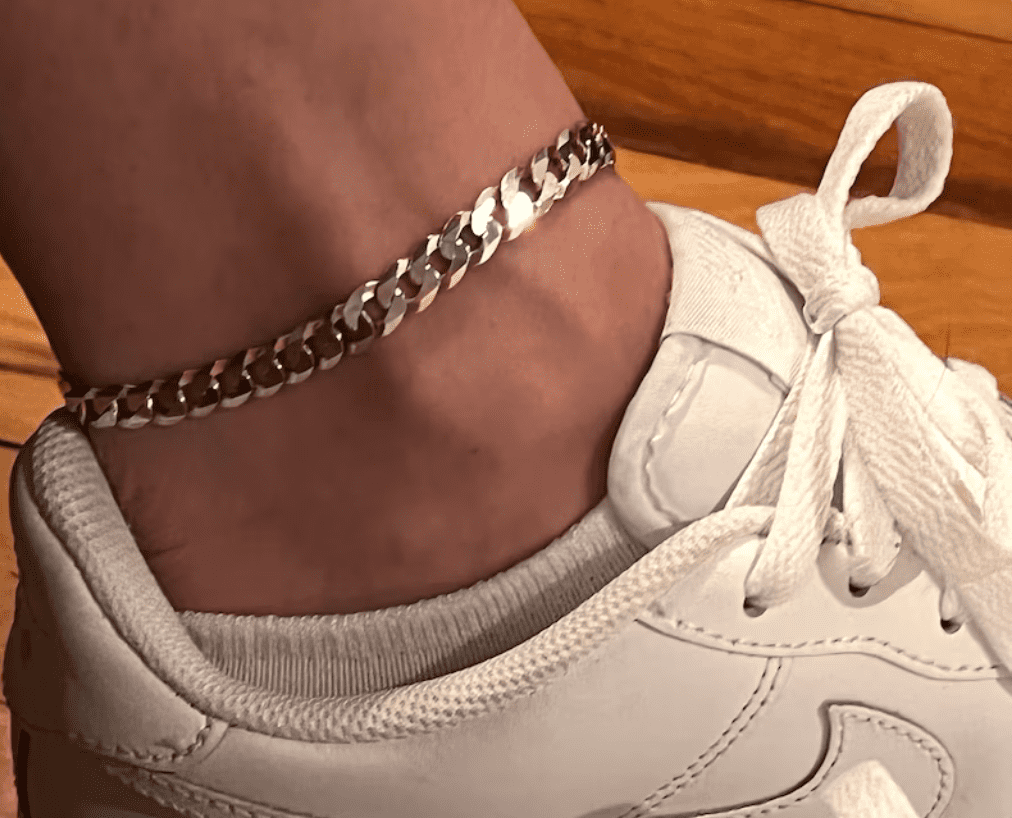 Cuban and curb link chains are more popular than ever. So I was excited to see that trend transition to anklet designs too. This flat curb chain anklet is made by hand by an independent store on Etsy. the 14K yellow gold vermeil chain is hypoallergenic for most sensitive skin. The 9-inch chain comes with an extension for an additional two inches. This is the type of anklet that can be more with bright heels but also looks specular to tennis shoes. It's stylish and you're supporting a small creator. Buy Here.
Pros
Great for Sensitive Skin

Pairs Well with Tennis Shoes/ Sneakers

Extender for More Length
Cons
Can't Get Wet

Shipping May be Slower
Pura Vida Beaded Chain Anklet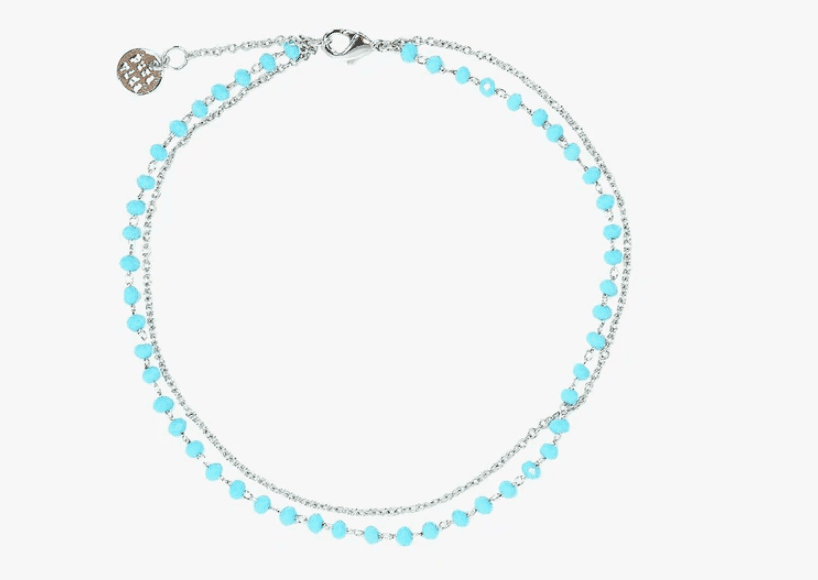 Whether you're looking for a beachy or summery look, this anklet sprinkles in a bit of both. The bright turquoise beaded chain is delicate in the best way. Tiny opal or turquoise beads are attached to a beautiful chain. I love pairing this anklet with another one or wearing it alone for an understated style. This would look at home with a flowy, boho skirt or pair with a sundress.
As a bonus, this is also from Pura Vida. That means your purchase goes towards non-profit organizations and it's also shipped in sustainable packaging. While you can be careful wearing this, it's sturdier than many beaded anklets, which tend to break easily. Buy Here.
Pros
Tiny Turquoise Beads

New, Chic Style

Goes Towards Non-Profits
Cons
Easier to Break

Cannot be Worn in Water
Ross Simmons Cultured Pearl Anklet with 14kt Yellow Gold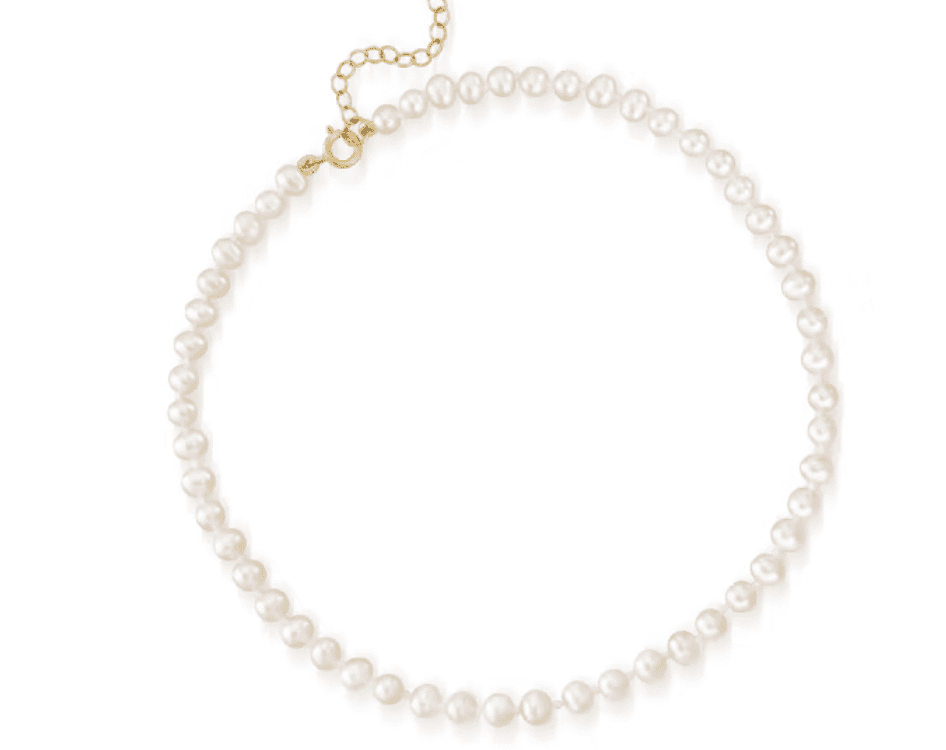 A confession: I'm a sucker for pearl jewelry, but I'm also picky. That's why this chic and elegant pearl anklet caught my eye. Pearl anklets are in style, but pearls never go out of style. Instead of buying faux pearls, I found an anklet with genuine freshwater pearls. Ross Simmons is a respected jeweler, and it shows with this gorgeous accessory. Beautiful freshwater pearls are polished for extra shine. Set on a band of genuine 14K yellow gold, this is my favorite anklet you can buy online right now. Dressy as it is, it also looks spectacular when paired with light wash jeans. Buy Here.
Pros
Genuine Freshwater Pearls

Glossy 14K Yellow Gold

Timeless Elegance
Cons
Protection Plan Only at Extra Cost

Fairly Small (4.5 mm)
Frequently Asked Questions
Final Thoughts
Anklets aren't offered as widely as bracelets, but there are many places you can shop online for men, women, girls, and boys. What I love to see is that styles continue to evolve, both for formal anklets and for casual anklets. The hottest trends range from minimalist anklets to edgy chain anklets, surfer beach anklets, and dazzling diamond anklets. Rock your look barefoot or paired with tennis shoes or pumps. The only consensus I've seen is that women don't wear hose with their anklets. Style or gift them as you like– the options are endless.
Final Buying Recommendation: Zodiac/ Charm Anklets on Etsy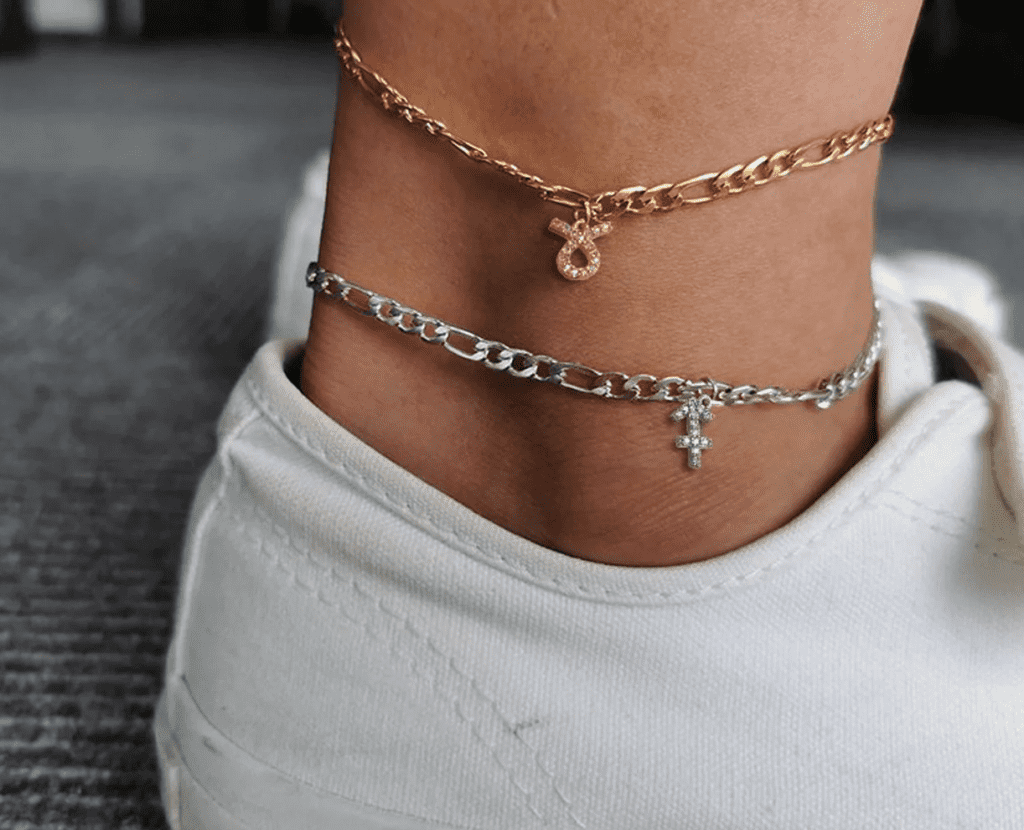 Zodiac signs are becoming more and more popular, even amongst people who aren't into astrology. Both zodiac signs and other charms are meaningful ways to express yourself. I love that this trend is catching on for anklets too, and they pair perfectly with streetwear and leisurewear. Etsy is one of the best places to buy, though you have to be selective.
One of my favorites? This Stainless Steel Zodiac Anklet by GiorgioBergamo. The seller has over 11,000 happy customers and counting. Stainless steel is a lightweight, affordable material that works for those with sensitive skin. It is also offered with gold plating but opts for plain silver. You can select any of the zodiac signs.
Looking for more interesting readings? Check out: