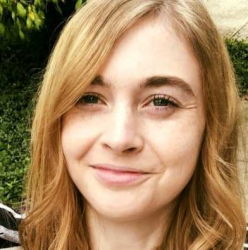 Latest posts by Erin Jamieson
(see all)
Sparkling rings with fire and brilliance for under $500 or even $100? It sounds too good to be true, and sometimes it is. But what excites me most about the jewelry industry this year is that I really can find stunning rings at a great value. Sterling silver moissanite rings are available in gorgeous designs, from floral to vintage and everything in between.
If you're looking for stunning ideas for where and how to buy moissanite sterling silver rings, I'm here to help. Mark off those designer brands and find out how to buy a real moissanite ring, and where you can buy the best sterling silver bands. Whether you're considering a budget-friendly solitaire engagement ring or a dazzling eternity band, there are a few tricks you need to know.
Best Online Moissanite Retailer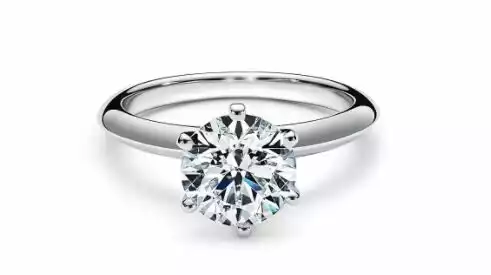 I love a great value ring, and I don't want you to waste your money. Here's how to find, care for, and buy the very best moissanite sterling silver rings online today. Where you'll find dazzling moissanite sterling silver rings may surprise you as much as it surprised me.
Bottom Line Up Front Summary: If I had to select just one moissanite sterling silver ring, it would be this Moissanite Solitare Ring. This ring is crated with exceptional quality. The round, brilliant-cut center stone radiates with fire and brilliance. But mostly, this exquisite ring is crafted with a timeless design that will never go out of style.
My Top Picks
Why Get a Sterling Silver Moissanite Ring?
Maybe you've had your eye on a moissanite ring for a while. Moissanite is a real gemstone that occurs naturally but is almost always sold as lab-grown. As one of the most common diamond alternatives, it's comparatively cheap and at first, glance looks like a diamond. Sterling silver, meanwhile, is elegant, timeless, and is a great choice if you're willing to care for it properly. But as stunning as a moissanite sterling silver ring is, the facts are that it isn't for everyone. Here's why I would– or wouldn't–buy a sterling silver moissanite ring.
| | | | | | |
| --- | --- | --- | --- | --- | --- |
| Pros | Cheaper | Ethical Sourcing | Gentle on Sensitive Skin | Can be Resized | Small Carats Look Like a Diamond |
| Cons | Not Valuable | Silver Can Tarnish | Limited Options for Designers, Insurance | Requires More Care/ Won't Last Forever | Brilliance is Distinct From Diamonds |
It comes down to what's most important to you. On the plus side, a sterling silver moissanite ring will save you a lot of money. At its best, moissanite has beautiful clarity and brilliance, complemented with the timeless cool tone of sterling silver. While sterling silver isn't technically hypoallergenic (it may contain a small amount of nickel), it does tend to be gentle on sensitive skin. Most moissanite sterling silver rings can be resized, too. I love the style, and I love that it's practical for someone on a budget.
At the same time, a moissanite sterling silver ring simply is not valuable, nor does it have a high resell value– nor will it go up in value. While moissanite is very durable (Mohs Hardness rating of 9.25, second only to diamonds), sterling silver is less so. Sterling silver can tarnish and must be treated with care. While you can wear moissanite every day, a sterling silver ring isn't the best option for something that will be worn every day– unless you plan on very regular care. Finally, I have to caution that moissanite does not purely look like a diamond. The higher the carat, the more noticeable the differences become.
What to Look for When Buying Moissanite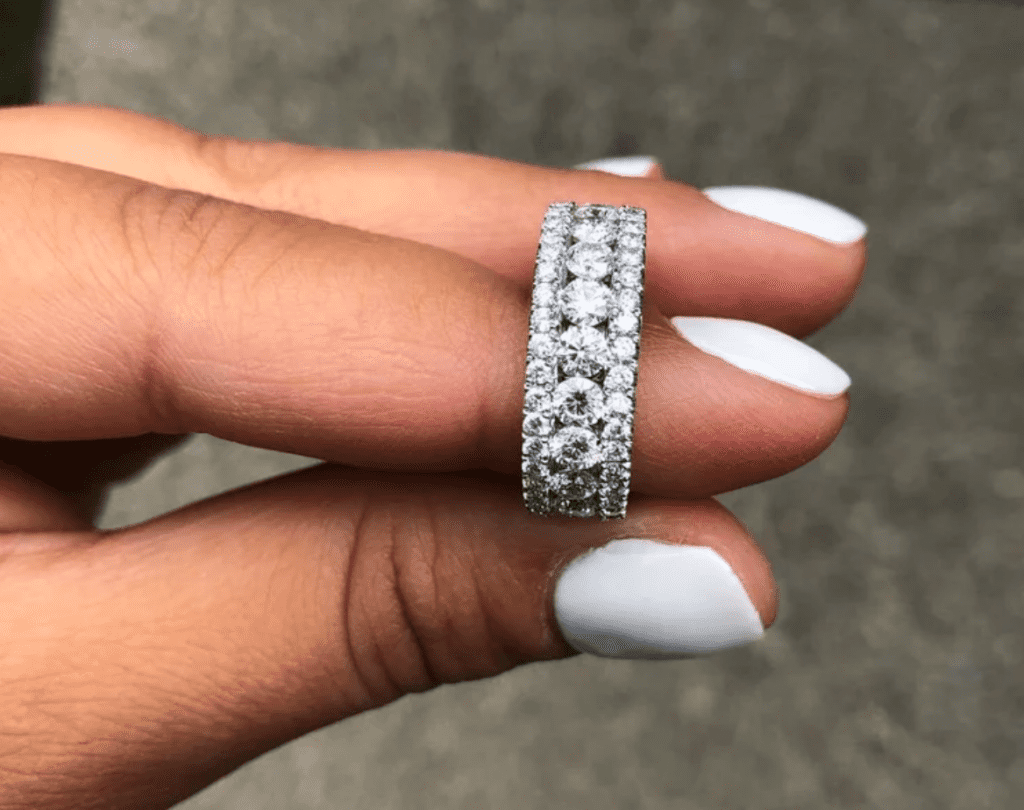 I'm picky when it comes to shopping for moissanite rings. Why? Because while moissanite can certainly be worth it, the cheapest stones are a poor option. Knowing how to tell the difference between fake vs real moissanite and poor vs high-quality moissanite makes all of the difference. The last thing you want to end up with is a discolored gemstone that cracks.
Spotting Fake Moissanite
Most moissanite is lab-grown because natural moissanite is very rare. Lab-grown provides the same quality and durability as natural moissanite (it's just less valuable). But stay away from anything that says 'man-made.' This usually means they're selling you a stimulant, like cubic zirconia, that they're trying to pass off as moissanite. While moissanite is affordable, it also isn't dirt cheap. If you see a stone for $10, it's almost always not genuine moissanite.
Finding the Best Quality Moissanite
Color and Clarity
You should never go off of pictures alone. If you care about finding a moissanite ring that will sparkle, you need information about the color and clarity. The color should be colorless or nearly colorless if you're looking for a style closest to a diamond (D, E, F grading or G, H. J). This is the most important factor, because other moissanite may have a yellowish tint. I also recommend checking the clarity– very very slight to very slight inclusions are ideal. Together, this means you'll have a moissanite stone that sparkles.
Cut
The cut is somewhat a matter of preference. The most popular and brilliant cut is a brilliant cut, a round-cut, or a cushion cut. Oval and radiant cuts are excellent options to save money and still have plenty of brilliance. I love a more unique cut, like princess cut moissanite which offers subtle brilliance. Deeper cuts, like emerald, have vintage appeal but the sparkle tends to be more muted.
How to Choose a Silver Ring
I've also loved the look of silver jewelry. But it was only after I started writing for a bridal boutique that I fully appreciated how many different types of silver there are. Only buy 925 sterling silver when possible. Plated silver is made with a fine layer of silver, placed over a base metal that can rust and even turn your finger green. The 925 stamp means that the ring is certified to have 92.5 percent silver, and the rest a metal alloy. Pure silver is far too soft to wear every day. Rhodium plating improves durability.
Where to Buy Moissanite Sterling Silver Rings
We've all made mistakes when buying something. I know I've bought jewelry for a great price, only to have it disappoint. But worse is buying from somewhere that isn't trustworthy. Here's where you can buy moissanite sterling silver rings– and where to avoid.
Places to Avoid
Red Flags
AliExpress, Flawless Moissanite, and Glamira all sell moissanite rings but have concerning reviews. Any company with consistent consumer complaints and a poor rating through the Better Business Bureau needs to be avoided. And I never buy from an online store with an insecure connection.
No Details
Kohl's, Helzberg Diamonds, and Macy's all sell moissanite sterling silver rings. I was disappointed to see that nearly all of their listing says nothing about the quality (color and clarity) of the moissanite that they're selling.
Where to Buy
Brilliant Earth allows you to create your moissanite rings, while Charles and Colvard sell premium Forever One stone– the problem is known of these are sterling silver rings. Platinum, 10K, and 14K gold rings are more common amongst jewelers. For moissanite sterling silver rings with detailed descriptions, your options are:
Not all rings are created equal, and I prefer the quality of rings from Etsy and Amazon. Hopefully, other places like Pandora, Tiffany, Zales, and JC Penney will one day sell moissanite silver rings too.
Stunning Moissanite Sterling Silver Rings: My Ideas
Here are my favorite designs for elegant moissanite sterling silver rings. My ideas include fine-quality moissanite set on a genuine 925 sterling silver band. I wanted to select one of the best rings for you, so I carefully inspected the craftsmanship, quality, and price. But what's the fun of shopping for a gorgeous ring if you don't look for variety? For this reason, I selected design ideas that range from modern to vintage-inspired. From a glamorous halo setting to a unique three-stone band, here are my very top picks.
Blue Green Moissanite Ring in Sterling Silver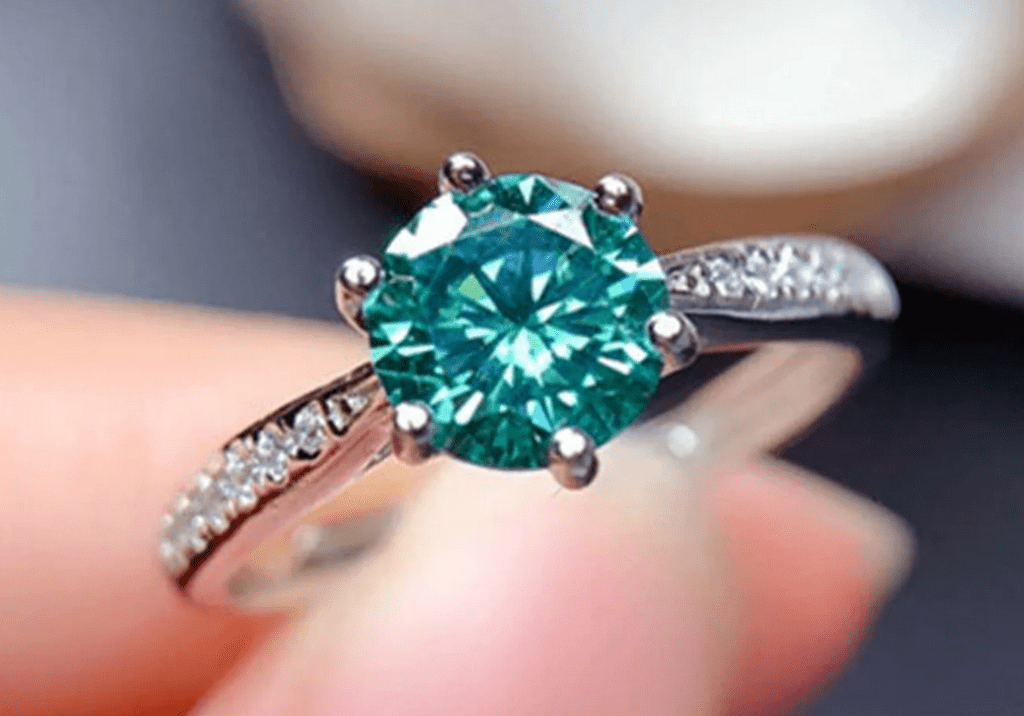 This gorgeous and unique moissanite ring would be perfect for a cocktail party or other occasion. This is one of my personal favorites, even if it doesn't suit everyone. When selecting colored moissanite, you want to pay attention to color grade but also the level of saturation. The vivid hue of the 1 carat, round-cut moissanite reminds me of the ocean. This stunning ring is crafted with a classic four-prong setting. The handmade ring even comes with a certificate is authenticity. Accent moissanite stones sparkle along with the sleek 925 silver band. I really can't take my eyes off of this ring, and you won't be able to, either. Buy Here.
Pros
Unique Vivid Blue-Green Hue

Very Very Slightly Included Clarity

Dazzling Accent Stones
Cons
Doesn't Look like a Diamond

Takes 15 to 20 Days to Make to Order
Art Deco Marquise Moissanite Ring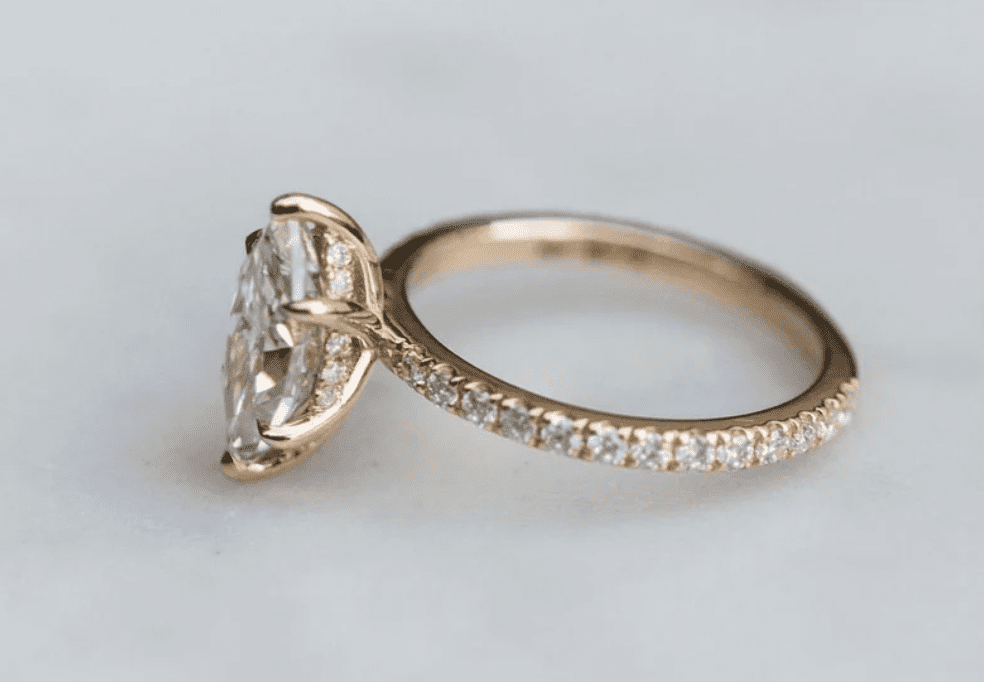 This ring can be ordered with a 925 sterling silver band or 10K, 14K, or 18K gold. The Art Deco era was defined by a play with geometry and ornate designs. This vintage-inspired ring captures one of my favorite artistic eras with perfection. The conflict-free moissanite stone provides subtle sparkle with a unique marquise cut. A hidden halo of accent stones enhances its beauty and brilliance.
This ring is statement-worthy but surprisingly dainty and it's certainly a show stopper. I recommend buying the 925 sterling silver ring for cocktail occasions, or a 14K or 18K gold band for a beautiful engagement ring. The moissanite is eye-clean and captures sunlight in a uniquely elegant way. If you love vintage jewelry as much as I do, this exquisite ring may be the one for you. The center stone and accent stones together are 2 carats. Buy Here.
Pros
Unique Art Deco Style

Beautiful Hidden Halo

Excellent Clarity
Cons
Marquise-Cut Has Subdued Sparkle

Sells Fast
Princess-Cut Moissanite Ring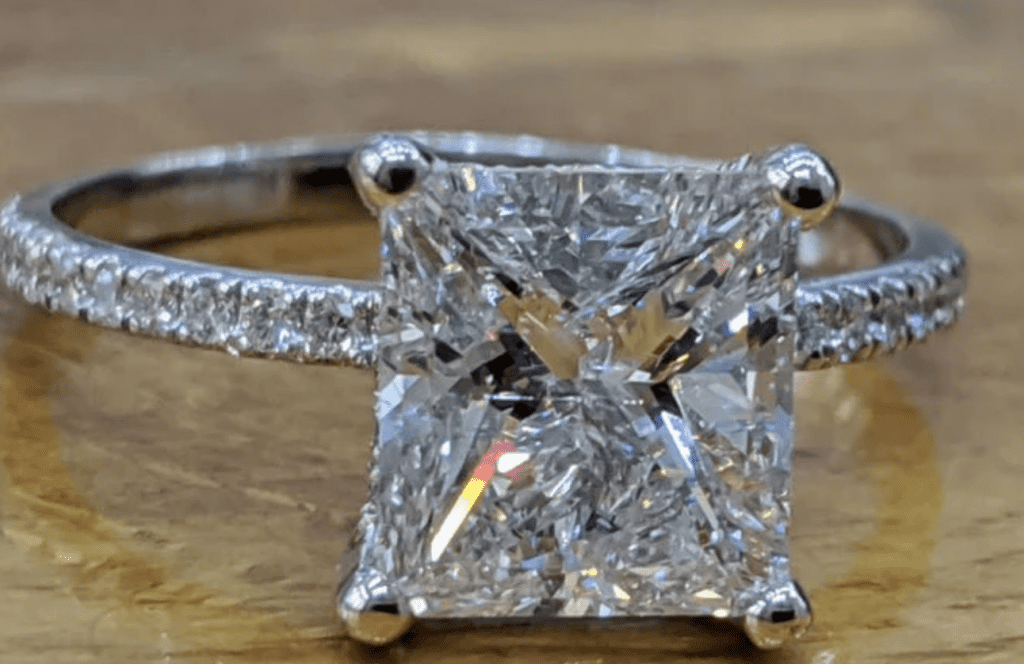 I know that round cuts are the most popular for both moissanite and diamond rings, but one cut that's underappreciated is the princess cut. What I love about the princess cut is that it's still a great choice for fire and brilliance, but it's a bit more subtle. This is an advantage, in my opinion, if you're longing for a larger center stone.
This 3-carat princess cut moissanite ring is crafted as beautifully as I could hope for. The princess cut moissanite is secured with four prongs. 0.42 carats of moissanite add splendid sparkle along with the 925 sterling silver band. This ring is exquisite and breathtaking without trying too hard. I also love that this ring is environmentally friendly: it's made out of recycled materials and ships in Eco-friendly packaging. Buy Here.
Pros
Eco-Friendly

Excellent Cut Quality and Clarity

Round Accent Stones
Cons
Not as Brilliant as Round Cut

Larger carat Weight: Not a Diamond
Round Halo Moissanite Ring

I knew I wanted to include a classic halo ring, and this handcrafted one is simply exceptional. The certified moissanite ring is set on a 925 sterling silver band. A stunning round moissanite stone is surrounded by a halo of accents. That sparkle also radiates along the perimeter of the elegant band. This dramatic moissanite sterling silver ring is crafted with rhodium plating to improve durability. I love that it ships with your choice of either a simple gift box or a luxury velvet gift box. If you're looking for classic glamour and just a bit of drama, then this halo moissanite ring is the one for you. Buy Here.
Pros
Gorgeous Brilliance

Excellent Color and Quality

Star Seller
Cons
Limited Stock at Times

Only up to Ring Size 9
Sterling Silver 925 Chevron Ring with Moissanite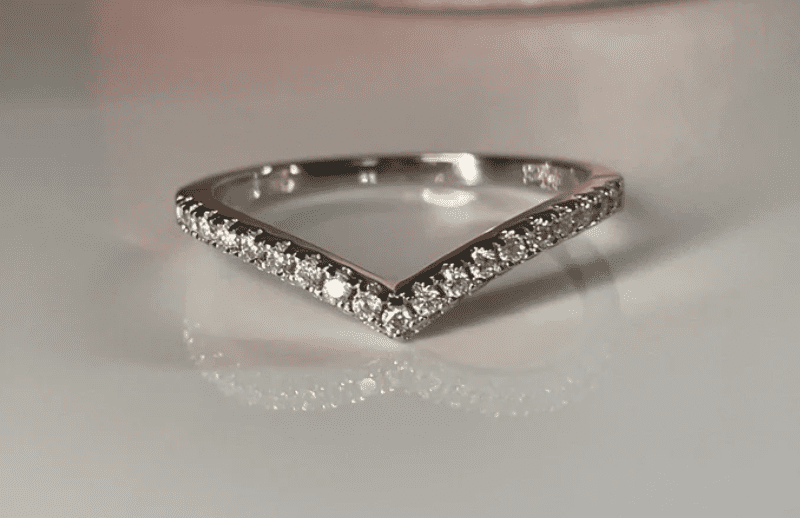 The v-shaped ring is perfect for stacking. I love how more and more people are experimenting with how they wear rings and wearing stacked rings is very in. This chevron ring is dainty and minimalist, ideal for every day and semi-formal outfits. 0.26 carats of round brilliant moissanite are set on a sleek 925 sterling silver band. The unique shape is stylish, unique and the perfect touch to make this ring stand out. You don't need to worry about deceptive marketing: this ring is crafted by one of the highest-reviewed sellers on Etsy. Buy Here.
Pros
Unique V Shape

Perfect for Stacking

Brilliant Cut
Cons
Very Modest Carat

Only up to Size 9
Half Eternity Moissanite Band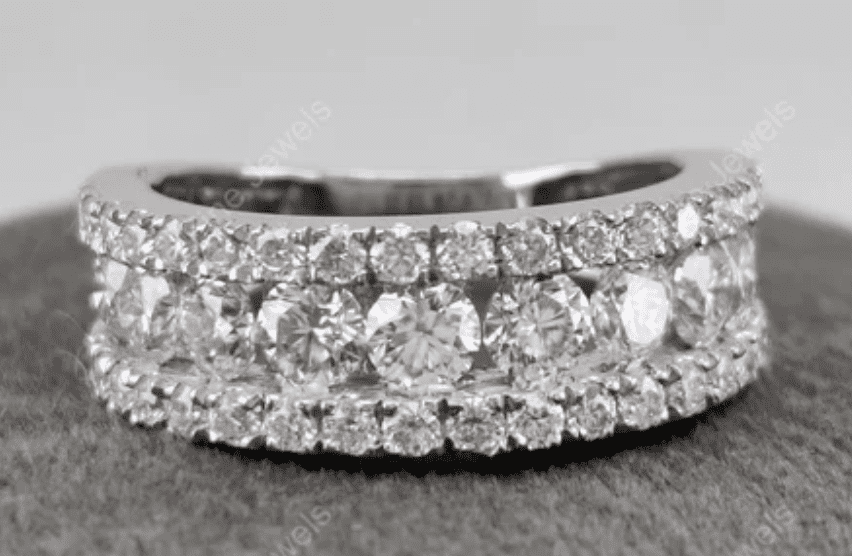 I find a personalized ring truly touching, and this eternity band allows just that. This gorgeous moissanite eternity ring is crafted with a 925 adjustable sterling silver band. You can order a custom engraving at no extra charge! But even without the engraving option, this moissanite ring would make my list. Just over 2 carats of moissanite sparkle with brilliant clarity. The fire is even more noticeable with rows of round cut stones. This exquisite ring is timeless and enchanting. Buy Here.
Pros
Free Engraving

Round Brilliant Cut Moissanite

Adjustable
Cons
Slow Shipping

Limited Stock
Round Brilliant Solitaire Moissanite Ring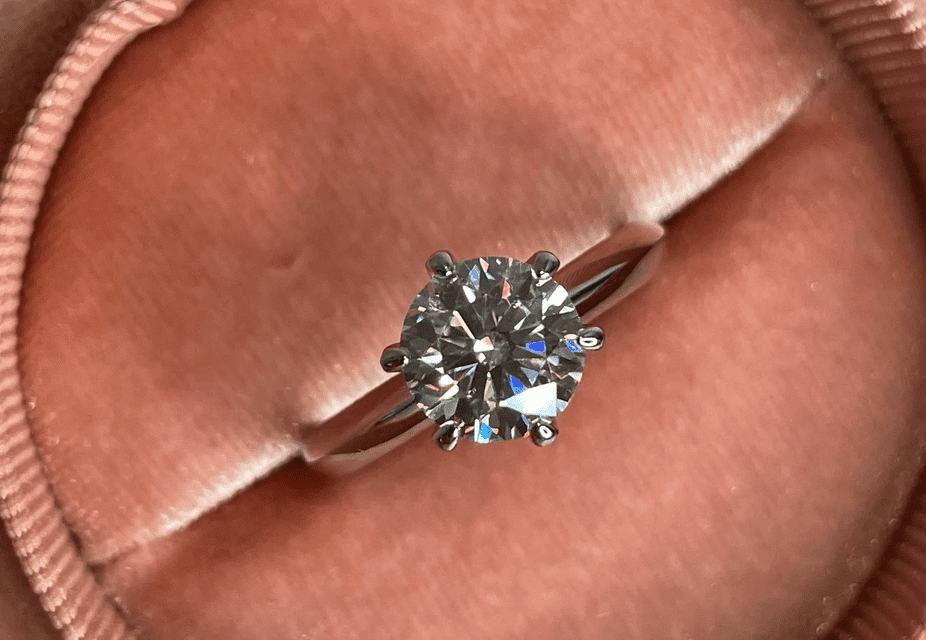 If you're unsure what 925 sterling silver moissanite ring to buy, I recommend this idea. This ring is crafted with a timeless, effortlessly gorgeous style. A 2 carat, round brilliant-cut center stone is secured with a sleek 6 prong setting. The 925 sterling silver band has a beautiful luster. The band is kept simple and minimalist to draw attention to the center stone. The stunning color and clarity showcase the very best of what a moissanite ring should look like. Buy Here.
Pros
Round Brilliant Cut

Minimalist, Sleek Band

Gorgeous Clarity and Color
Cons
Limited Ordering Options

Fairly Simple
Frequently Asked Questions
Question: How do I care for a moissanite sterling silver ring?
Answer: Sterling silver will tarnish quickly if it gets and stays wet. If you're not wearing your ring, store it in a low-humidity environment. Don't wear it when swimming or working with chemicals. You can clean your ring yourself, but taking it in for professional cleaning or using an ultrasonic cleaner are both great ideas.
Question: Is there any financing or insurance available for a moissanite ring?
Answer: Financing may be available through jewelers if you're buying a more expensive moissanite ring. Brilliant Earth, for example, offers flexible financing options, as well as optional insurance through Lavalier. I wouldn't recommend insurance for a ring under $500.
Question: What size moissanite ring looks fake?
Answer: Moissanite is not a fake stone, but some people are concerned about how much it does or doesn't look like a diamond. A notable surface-level difference between moissanite vs diamonds is the multicolored brilliance. The greater the carat size, the more noticeable this is. If your goal is to pass your moissanite ring off as a diamond ring as much as possible, I recommend a carat weight of no greater than 1 carat. Dainty moissanite rings are my favorite.
Final Thoughts
I love the wedding and the jewelry industry, but I have a secret. I don't like the pressure people put on themselves to spend a lot of money. Moissanite is a truly beautiful alternative to a diamond ring, and if you shop smart, you can find one that is truly elegant and exhibits beautiful brilliance. If you want a casual or cocktail ring, sterling silver can do the trick. But at the same time, if you're shopping for an engagement ring, I recommend saving for metal like platinum or genuine (not plated) gold.
Final Buying Recommendations: Create Your on Moissanite Ring
Both platinum and 14K gold rings will last longer and require less upkeep than a sterling silver ring. If you're buying a moissanite engagement ring, and you can afford it, one of my favorite options is to design your ring. Not only does this mean you'll have control over the quality, but it'll also be unique.
I think there's something undeniably special about a custom engagement ring. Brilliant Earth is one of my favorite jewelers, and they deliver custom moissanite engagement rings. A step-by-step process allows you to select the moissanite carat, cut, color, and clarity of your choice. From there, you select a set of your choice (18K gold and platinum) and can visualize your finished ring. It's not cheap, but it's certainly breathtakingly beautiful. Design Your Moissanite Ring Here.
Best Online Moissanite Retailer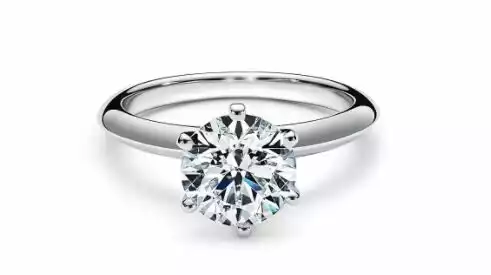 Looking for more inspirational readings? Check out: