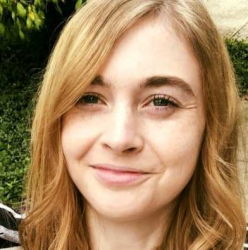 Latest posts by Erin Jamieson
(see all)
Dazzling, ethical, and perfect for vintage and modern engagement rings, bracelets, necklaces, and even earrings– and I'm not talking about black diamonds. One of my favorite trends right now is unique alternatives, and black moissanite makes for expressive and beautiful jewelry.
The problem? You can't just walk into your average jewelry store and find a wide selection of black moissanite jewelry. At the same time, even shopping online can be tricky. To help you find only the best black moissanite jewelry pieces, I've put together this guide. From black moissanite pros and cons to buying tips, here's to finding a beautiful ring, bracelet, or necklace.
Best Online Moissanite Retailer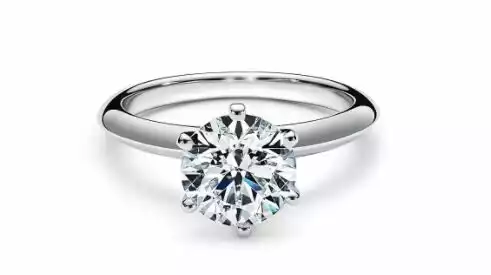 Bottom Line Up Front Summary: If I had to select just one piece of black moissanite jewelry, it would be these black moissanite stud earrings. They're simply gorgeous, with high-quality, genuine black moissanite surrounded by sparkling moissanite accents. They're easy to wear, unique, but also versatile.
My Top Picks
What is Black Moissanite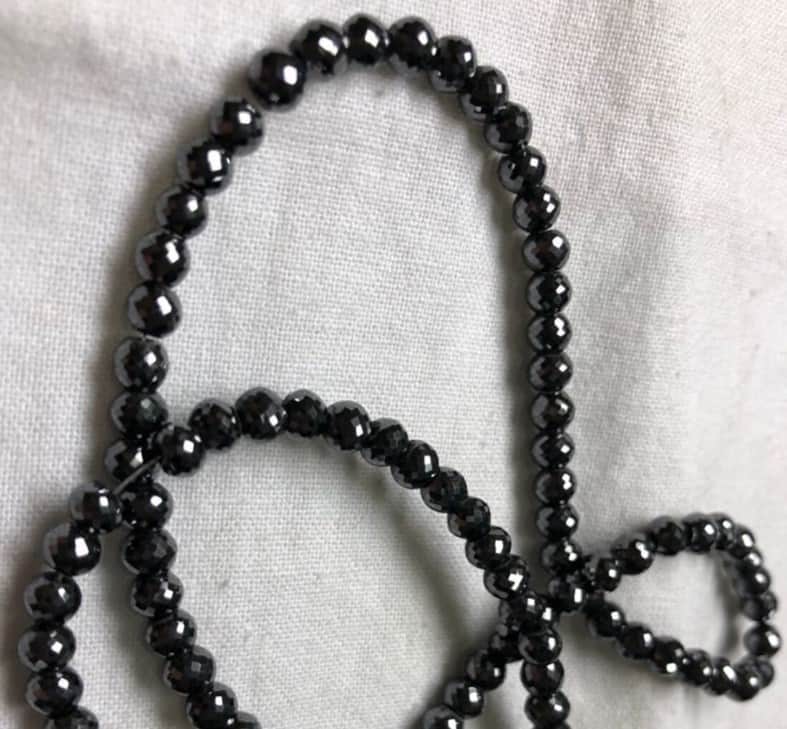 I've seen it called a fake black diamond, but I think that's a great disservice to black moissanite. While black moissanite is sometimes used as a black diamond alternative, there's more to it than that.
How Black Moissanite is Made
Black moissanite, unlike a simulant like cubic zirconia, isn't man-made. It's either lab-grown or comes from natural moissanite. While white/ colorless moissanite can be found naturally, colored moissanite is treated. Usually, a CVD( chemical vapor) is applied to achieve the desired color. So in other words, the color itself isn't natural, but it's still a genuine gemstone. A pure black hue is most common, but varieties also encompass rainbow black moissanite, as well as black moissanite with blue undertones.
Black Moissanite Symbolism
One of my favorite things about the jewelry industry is that you get to understand the deeper meaning behind the beauty of a gemstone. Moissanite is associated with spiritual connection, food fortune, and promise for a future. Some associate it with healing properties for the physical body, as well as one's personal life.
Black Moissanite vs Black Diamonds
As I was looking into the best black moissanite jewelry, I saw a consistent pattern. Many customers were offered black diamonds instead, and listings were mixed. Since black moissanite is sometimes used as a black diamond alternative, I want to state clearly: black moissanite isn't better or worse than black diamonds. Nor will it test as a black diamond. I prefer to look at it in terms of pros and cons.
Type of Stone
Pros
Cons
Black Diamond

Valuable
Very Durable (Mohs Hardness 10)
Unique
Less Expensive than White Diamonds

Not as Valuable as White Diamonds
Not as Brilliant as Regular Diamonds
Still Expensive

Black Moissanite

Less Expensive than Black Diamonds
Unique
Durable (9.25 Mohs Hardness Scale)

Not Very Valuable
Hard to Find- Limited Selection
Not as Brilliant
I don't think that black moissanite looks cheap or fake– just different. Black moissanite has distinct scintillation vs a black diamond. Even if you are buying mostly to find a black diamond alternative, black moissanite jewelry has plenty of pluses in itself. The worst part is how limiting your buying options are, even online.
How to Choose Black Moissanite Jewelry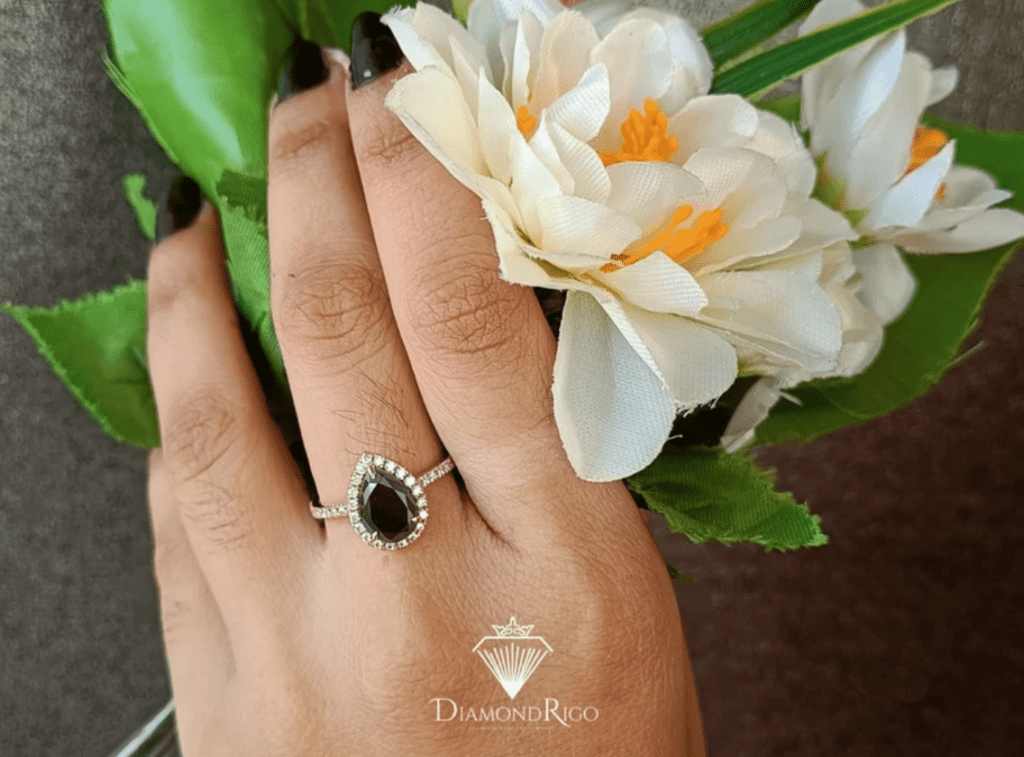 Black moissanite loose stones, bracelets, necklaces, rings, and even rough crystals are sold, but I am quite selective about what and how I buy. By investigating the quality of the jewelry being sold, you'll save yourself from wasting your money.
Color and Clarity
Black moissanite is graded on a colored gemstone scale, which is a little different than how you'd select colorless or nearly colorless moissanite. Color and clarity are sometimes combined with a letter grade scale. Acceptable grades are as follows:
AAA

: the very best grade for black moissanite. Black moissanite under this color grade will be saturated and richly hued. These have very few to next to no imperfections and are the most brilliant.

AA:

a good quality black moissanite. These stones will be still evenly and richly hued, but a little less so. These have minor imperfections.

A:

the minimal quality I'd ever buy for black moissanite. These are not as saturated and have minor but noticeable inclusions that impact clarity.
In addition, clarity may be graded separately. Look for a VVS or VS under the rating (very very slightly included or very slightly included).
Price Point
I want you to find a great deal, but I also think going for the cheapest black moissanite is a mistake. Black moissanite ranges from as little as $30 to $500 or more for a carat. Black moissanite is comparatively cheap vs a diamond but notably more expensive than a less durable alternative like cubic zirconia. A black moissanite ring can be quite cheap– under $100– or over $2000. Your price point will vary greatly depending on the quality of black moissanite. If you see a very low price per carat, look closer. It's probably black moissanite of poor quality, or perhaps it is not genuine moissanite.
Metal Types
Whether you're buying a statement black moissanite necklace, a black moissanite engagement ring, or beautiful stud earrings, metal type matters, too. Your main options are sterling silver, 10K gold, 14K gold, 18K gold, and different forms of gold plating. Of these, 10K gold is to hardest to damage, but it's also dull. 14K to 18K gold are the most suitable options for formal jewelry. If you buy sterling silver, make sure it has a 925 stamp and be aware that it will require regular upkeep, as silver does tarnish. Since most gold plating wears off within a year to three years, I only recommend gold vermeil– a more durable form of gold plating.
Where to Buy Black Moissanite Jewelry
My final buying criteria for finding the best black moissanite jewelry is all about the seller. Instead of focusing on where to buy cheap black moissanite, I look for jewelry for sale on a reputable listing. While you can find a few options on Walmart or Amazon (and eBay for auctions), I prefer Etsy and, Sears. Etsy has many talented independent jewelers. I investigate the seller's history of sales and ratings before making any recommendations. Oddly, Sears offers black moissanite rings with superior clarity to many fine jewelers.
Gorgeous Black Moissanite Jewelry: My Picks
Given the above criteria, I'm sharing some of my favorite options for black moissanite jewelry you can buy online. These stood out to me for their quality and craftsmanship.
Unique Black Moissanite Eternity Band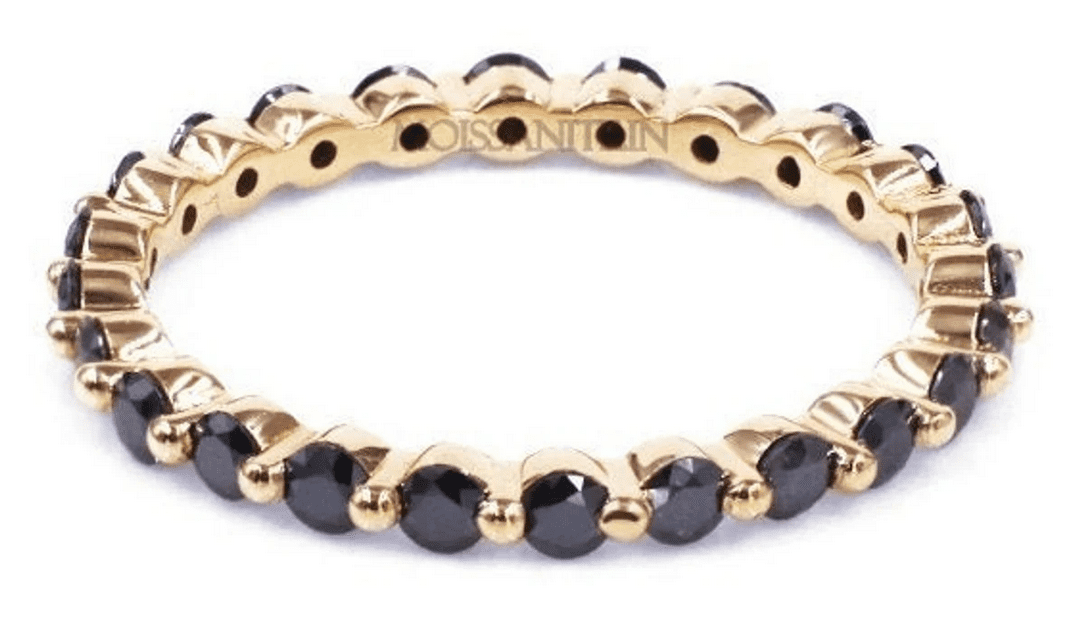 An eternity band symbolizes undying faithful devotion or love. This is unlike most any eternity band on the market, and it's so elegantly crafted that I had to mention it. The round-cut black moissanite stones are mounted between beaded accents. The looks are stylish, sophisticated, and minimalist. You can order this enchanting ring in 10K, 14Kor 18K yellow, white, or rose gold. I love that it's handcrafted with recycled precious metals and can be made to order. Timeless but also unique, this moissanite ring is fairly priced and is certainly worth a look. The ring comes with a warranty and the seller also offers free shipping and additional services. Buy Here.
Pros
Choice of 10K, 14Kor 18K Gold

Gorgeous Eternity Style

Handcrafted with Recycled Metals
Cons
Band is Thin

Not a Comfort Band
Black Moissanite Floral Engagement Ring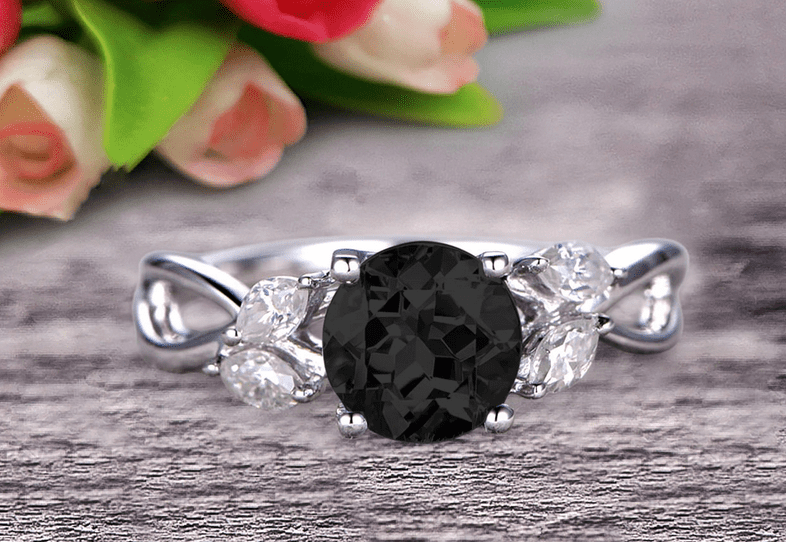 Floral motifs are very popular for vintage-inspired rings, and this black moissanite ring shows why. For a ring unlike most engagement rings on the market, this design is simply enchanting. The ring design blends boho and modern styles, with an impressive 1.5 carat round center stone. The exceptional quality of this moissanite is only further complemented by the marquise moissanite stones on each side. The subtle floral details are beautifully crafted on a 10K white gold band. Buy Here.
Pros
Dazzling Floral Design

Marquise Accent Stones

Fair Price
Cons
Only in 10K White Gold

10K Gold Is Duller vs 14Kor 18K
Pear Black Moissanite Halo Engagement Ring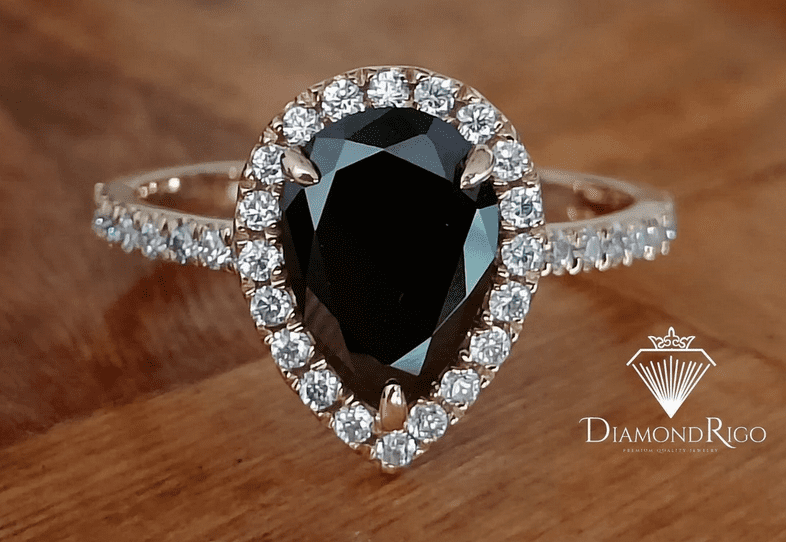 A halo moissanite ring is an excellent option for someone that loves a bit more sparkle and glamour. Halo rings are defined by a center stone framed by sparkling accent stones. I also love that halo rings provide the illusion of a larger center stone. Here, a 2-carat black moissanite stone of exceptional clarity is accented with a halo of sparkling moissanite stones, which also extend to the band. The striking mid-century, Art Deco style is a touch vintage, a touch sleek and modern. You can order this one-of-a-kind ring in 925 sterling silver, 10K gold, 14K gold, or 18K gold, so there are plenty of options for different budgets and lifestyles. The ring comes with a limited lifetime warranty, free engraving, and a 14-day full warranty against defects. Buy Here.
Pros
Limited and Full Warranty

Gorgeous Art Deco Design

Sterling Silver, 10K Gold, 14K Gold or 18K Gold
Cons
Slow Shipping

Pear Shape is Less Popular vs Round
Trillion Cut Black Moissanite Vintage Ring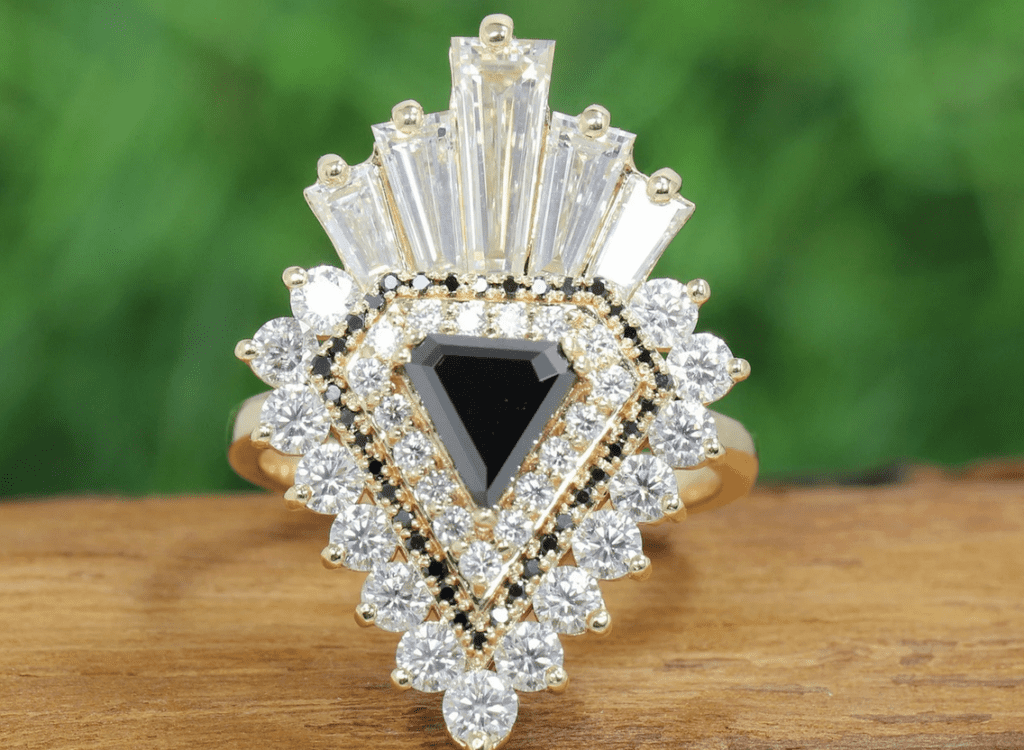 Get ready to make a statement with this signature trillion cut black moissanite ring. While it's also listed as an engagement ring, the stunning details and over-the-top design scream the cocktail ring to me. A unique 0.90 carat trillion cut black moissanite stone is surrounded by graduated tapper baguette-cut white moissanite. The play with geometry is stunning and gives me 1920s vibes. The moissanite crystals at the back of the ring make it truly exceptional. Not only that, but every moissanite stone sparkles because of its high clarity.
I love that there are several options for your ring metal, too. Choose from 925 sterling silver, 935 Argentium silver, 10K gold (w, r, y), 14K gold (w,r,y), 18K gold (w, r, y), or platinum. The ring comes with a free engraving, certificate of authenticity, and limited lifetime warranty. Buy Here.
Pros
Stunning Graduated Accent Stones

Wide Choice of Precious Metals

Limited Lifetime Warranty
Cons
Sells Fast– Some Styles May Go Out of Stock

More Expensive
Black Moissanite Halo Wedding Earrings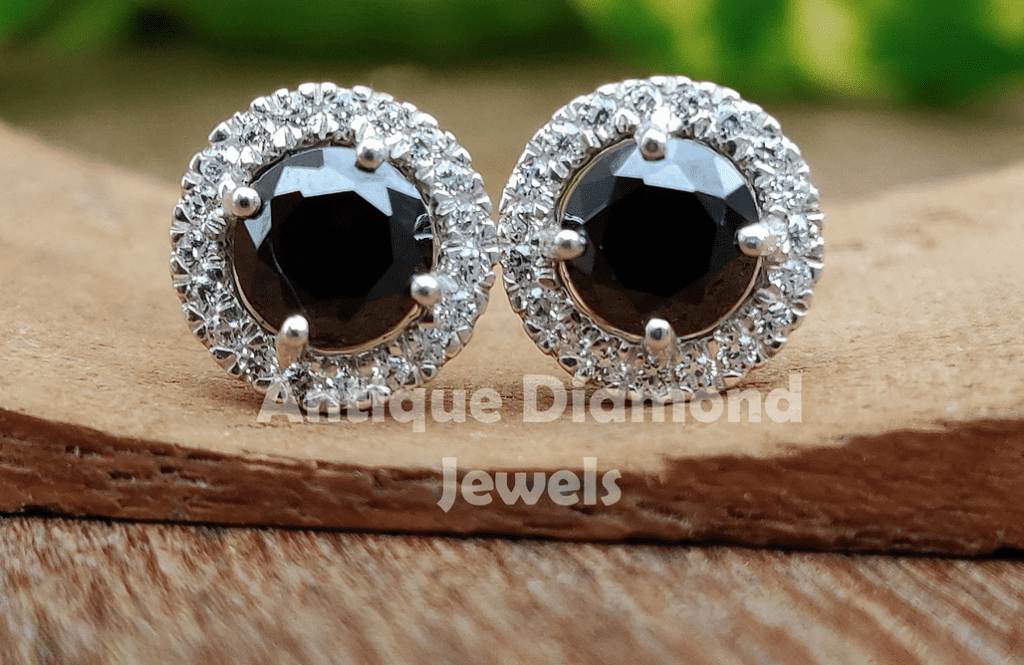 I love finding a great pair of earrings that are versatile and will become a staple. How do I judge if a pair of earrings fit that criterion? I look for a pair of classic earrings that can go from day to evening. These moissanite halo earrings fit the bill, with a simple design with a bit of glamour. These are some of the best pairs of stud earrings with high-quality black moissanite, hands down. The push-back earrings are unique with richly saturated center stones, accented with sparkling white moissanite. These earrings are crafted in your choice of 925 sterling silver, 10K gold, 14K gold, or 18K gold and total just over 1 carat together. I love that the seller has a YouTube channel to showcase the earrings in more detail and that all earrings come shipped with gift-friendly packaging. The stunning clarity and craftsmanship of these stud earrings alone would get my vote. Buy Here.
Pros
Stunning Sparkling Halo

Versatile

Beautiful Clarity and Sparkle
Cons
Slightly Expensive

Doesn't Include Warranty
16 Inch Black Moissanite Beads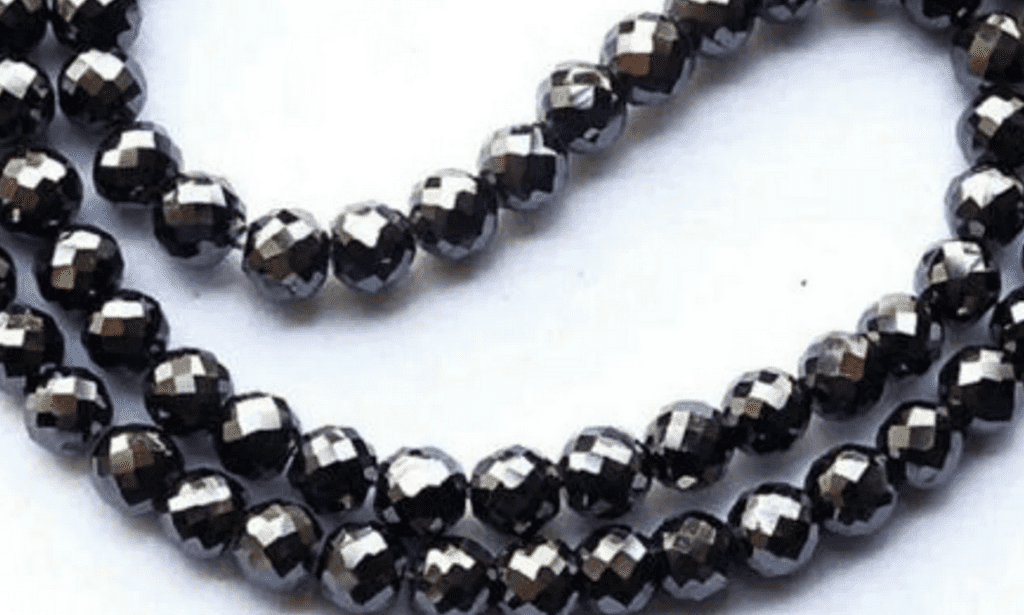 If you love a boho look and you're crafty, you'll want to consider this strand of glossy, AAA black moissanite beads. Black moissanite beads are polished and selected for the best quality possible. The handmade beads feature round and fancy cuts and are simply stunning. They offer worldwide shipping and are one of the few suppliers who sell black moissanite beads. Buy Here.
Pros
AAA Quality

Gorgeous Round Cut

Rare Listing
Cons
Newer Seller/Fewer Ratings

DIY
Jet Black Moissanite Necklace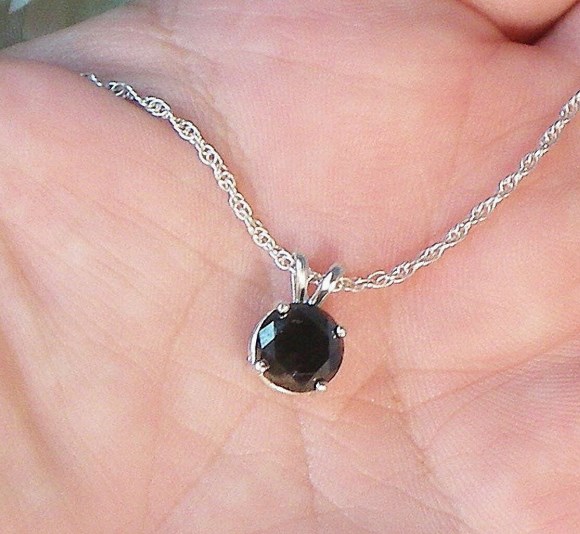 Not gifted at stringing together a necklace yourself? Me either. That's where this classic pendant necklace comes in. There are several black moissanite necklaces out there- but less than you'd think. Many I came across featured poor-quality moissanite and didn't meet my expectations. That's why this handcrafted black moissanite necklace was a great surprise. A rich, AAA moissanite stone is set with four prongs. The look is sleek and minimalist and, of course, very versatile. The sterling silver chain is available in many lengths and with yellow or rose gold filling for a pop of color. I love that you can personalize this necklace and that it also comes with complimentary shipping for domestic orders. Buy Here.
Pros
Sleek and Minimalist

AAA Black Moissanite

Customizable
Cons
No Warranty

Only Sterling Silver or Gold-Filled
Unique Locking 7ct Moissanite Tennis Bracelet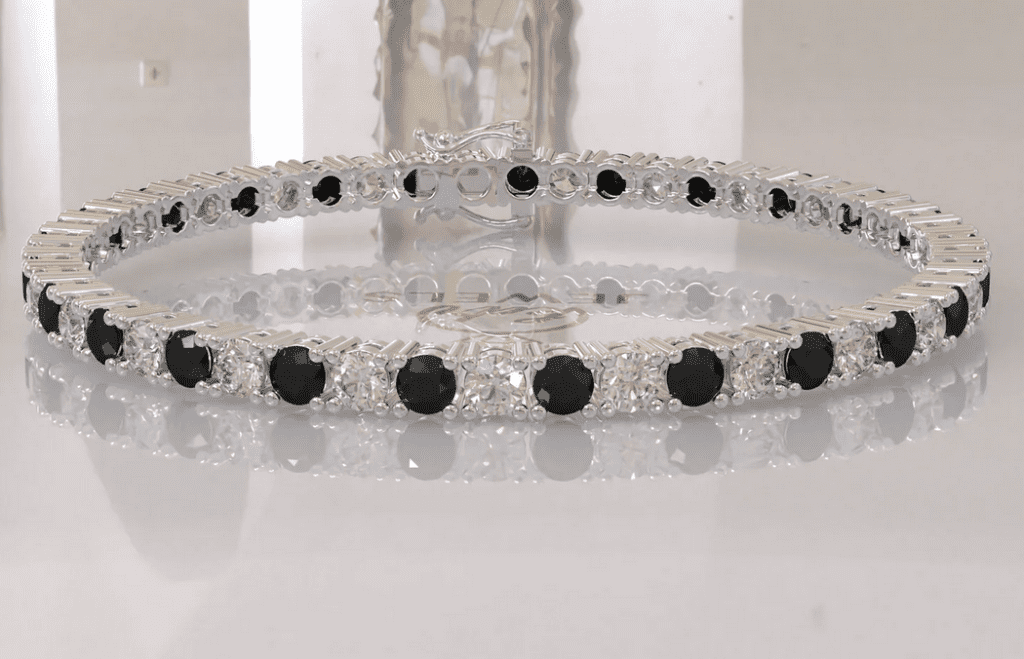 If this stunning tennis bracelet doesn't convince you that black moissanite can be beautiful, I'm not sure what will. Round brilliant black moissanite stones glisten on an intricately designed band. The band is constructed with your choice of 925 sterling silver, 10K solid gold, 14K gold, 18K gold, or platinum. The bracelet measures 6, 7, 8, or 9 inches and wows with 7 carats of stones in total. This tennis bracelet is nothing short of luxurious and can even be ordered with personalization. All bracelets come with free insured shipping. Buy Here.
Pros
Glamorous Tennis Bracelet with AAA Moissanite

Customizable

Stunning Precious Metals
Cons
Expensive

Stock Runs Low; Popular
5.00 MM Black Moissanite Beaded Bracelet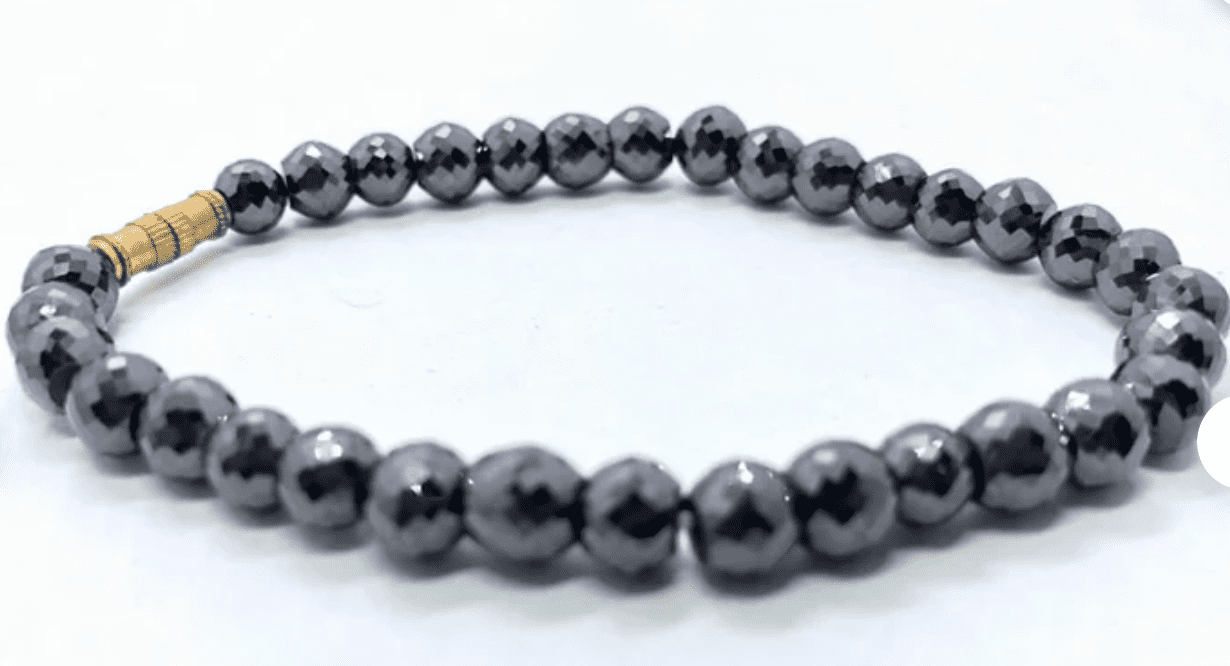 Stunning as the tennis bracelet I recommended was, I also wanted a more simple, down-to-earth style. This black moissanite beaded bracelet is excellent for a boho or beachy style. With its simple design, you could even pair this bracelet with jeans. The bracelet is adjustable, with simple snap closure, and made out of recycled materials. This Eco-friendly bracelet features faceted, AAA round moissanite, so it's sure to add a bit of shine to anything you wear it with. Buy Here.
Pros
Eco-Friendly

Versatile

Faceted AAA Moissanite
Cons
Ships from India

Not as Well Known of a Seller (see Etsy's Return Policies)
Frequently Asked Questions
Final Thoughts
Instead of seeing black moissanite as a fake black diamond, I challenge you to see it for its unique beauty. Black moissanite jewelry is unique and ties in incredibly well with popular vintage-inspired designs, such as Art Deco. While I love the glamour of a black moissanite cocktail ring, I also appreciate the simplicity of black moissanite beads. Pay attention to the sellers' history of sales and customer service policies. Coupled with the quality rating of the moissanite they're selling, you can get a pretty good idea of what to buy vs what to avoid. I think the future is bright for unique stones like black moissanite, and I hope it reaches more jewelers in the future.
Final Buying Recommendations: Moissanite and Black Diamond Rings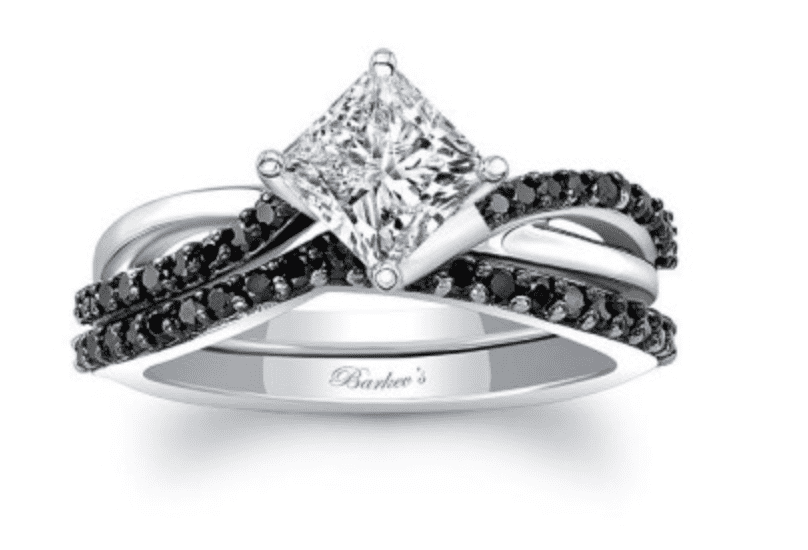 If you love the striking look of a black moissanite ring but want something a little more valuable, one of my favorite ideas is playing with a few varieties. One example is a gorgeous black diamond engagement ring with moissanite accents. You're still saving some money with moissanite accents vs diamond accents. A lab-grown black diamond will save a good deal of money vs natural. These rings have a vintage, Art Deco appeal and are truly beautiful. Use the same standards to select the best quality diamond and best quality moissanite. My favorites include this Oval Moissanite Moissanite and Black Diamond Twisted Band Ring and this gorgeous Princess Cut Moissanite and Black Diamond ring. You'll need to order online or perhaps have one custom-made.
Best Online Moissanite Retailer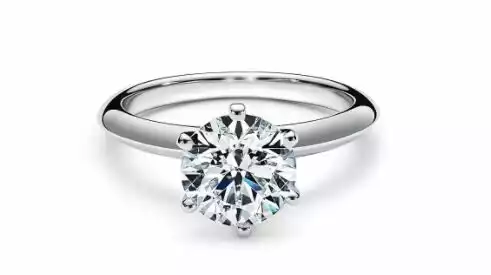 Recommended Reads: