One of the most important decisions you'll make pertaining to your wedding or engagement ring will be the one that connects your stone to your band – the setting.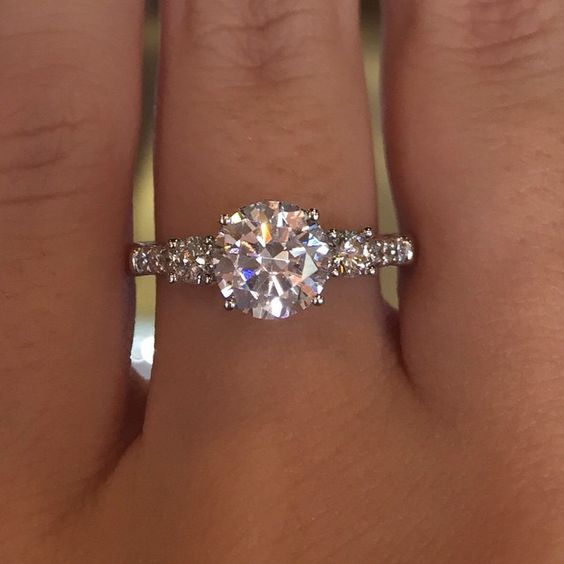 Making your way through the masses of settings can be a confusing and overwhelming fear that adds additional and unnecessary stress to planning your big day, but it shouldn't be. Because we don't think you should be stressing the small stuff, we did half the work for you and compiled an easy to follow cumulative list of setting types – as well as some wonderful finds we were able to find, showing off the various styles that are out there. Links to the respective websites where these rings can be found are found below as well, so you can get even more specifics. We hope you enjoy perusing these ring settings as much as we did!
---
Bar
A bar setting is a type of setting used with eternity bands. To rehash from our article on the variety of wedding and engagement bands, an eternity band is one that has an endless (or eternal) line of diamonds around its perimeter. These diamonds are sometimes held in place using the bar setting. The bar setting separates the individual diamonds from one another with miniature bars of whichever metal you chose for your band. The bar setting is a wonderful option for eternity band settings because the dividing metals reflective nature exposed the stones to additional light and through doing so creates more brilliance and fire. The individual bars also protect the stone from immediate damage, allowing for the ring to be worn comfortably on a daily basis.
Here is a beautiful pave diamond wedding ring that is available on James Allen.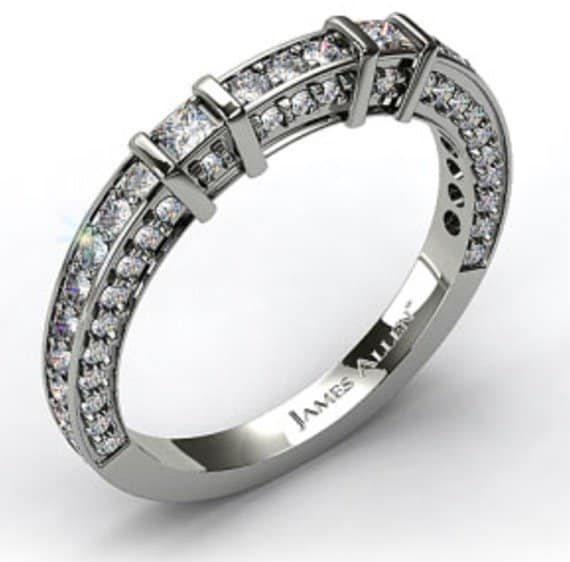 ---
Bezel
The bezel setting is the second most popular wedding and engagement rate setting, following closely behind the prong setting. This setting, which allows the stone to be placed and secured within the metal of the band, is gaining popularity in the modern era where active lifestyles are gaining prominence. The metal of the stone protects the stone, keeping it from snagging and chipping against foreign objects. Unfortunately the bezel setting does compromise the light that penetrates the stone, the result of which being less brilliance and fire in the stone. Therefore, if brilliance and fire are what you're after, the Bezel setting may not be the ideal choice for you.
Here is a beautiful bezel-set diamond ring available on the Blue Nile.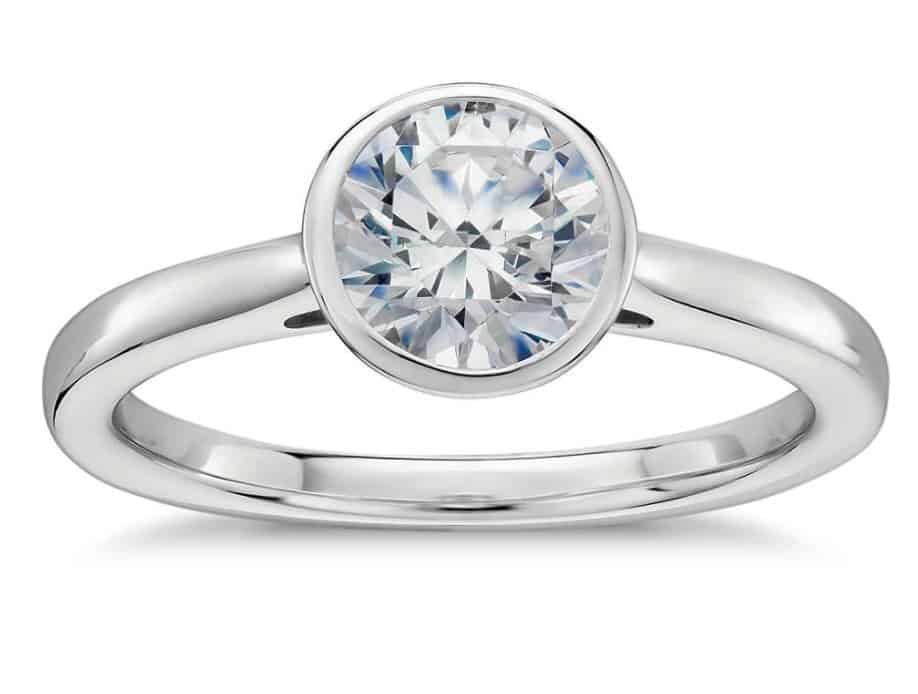 ---
Cathedral
The cathedral setting is timeless and elegant setting ideal for brides and grooms who desire additional splendor. This gorgeous setting uses the material of the band to create delicate arches on both sides of the stone, and in doing so, allow the prongs to hold the stone higher than typical prong settings. Though this setting does a phenomenal job displaying a solitaire stone, these arches can also be studded in diamonds and gemstones. As a result of the added height, the cathedral setting makes diamonds and gems appear larger than they are – making this setting ideal for a bride or groom that doesn't want to sacrifice the wow-factor of their ring for cost efficiency. Unfortunately, the height provided by the cathedral setting also carries a downfall – the protrusion of the stone makes it more vulnerable to snags and chips, making the cathedral setting one that demands a higher standard of care than some of the others.
We do love this lovely cathedral ring design we found over on GoldenMine.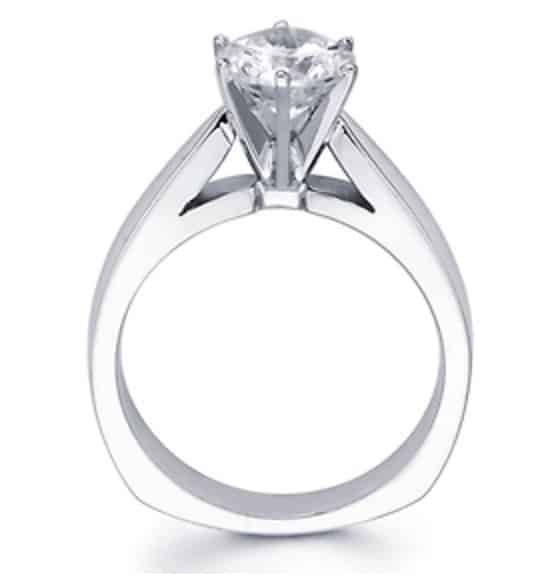 ---
Channel
The Channel setting is a setting that utilizes the magnificence of smaller diamonds and gemstones. Channel settings use these smaller stones by setting identically sized and cut stones side by side within a channel in the band, creating a stream of magnificent gemstones or diamonds. The channel is setting is often used as a design for a band with a larger prong set center stone, though this beautifully set design can also stand on its own or as a part of a set. Channel set rings are also popular options for the bride and groom that desire stacked rings, or those that find aesthetic appeal in curved settings!
Take a look at this lovely 14K white gold 0.54 CT channel set diamond wedding ring we found on James Allen.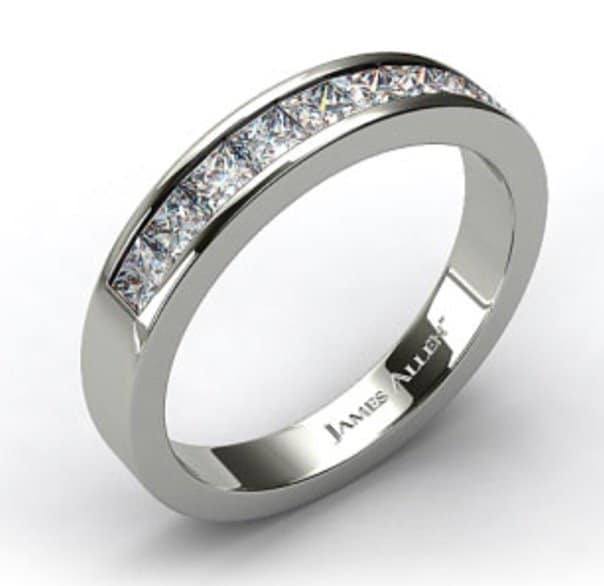 ---
Cluster
Cluster settings are the ideal option for the cost efficient bride or groom. Cluster settings combine smaller diamonds into a cluster and, in doing so, create the illusion of a large and prominent stone. On top of being a shockingly inexpensive setting, cluster settings allow for imaginative variations in color and design, making them a top notch choice for a bride or groom in search of a ring that won't be duplicated!
We came across this cluster-set hydrangea diamond ring on Brilliant Earth's website and love it!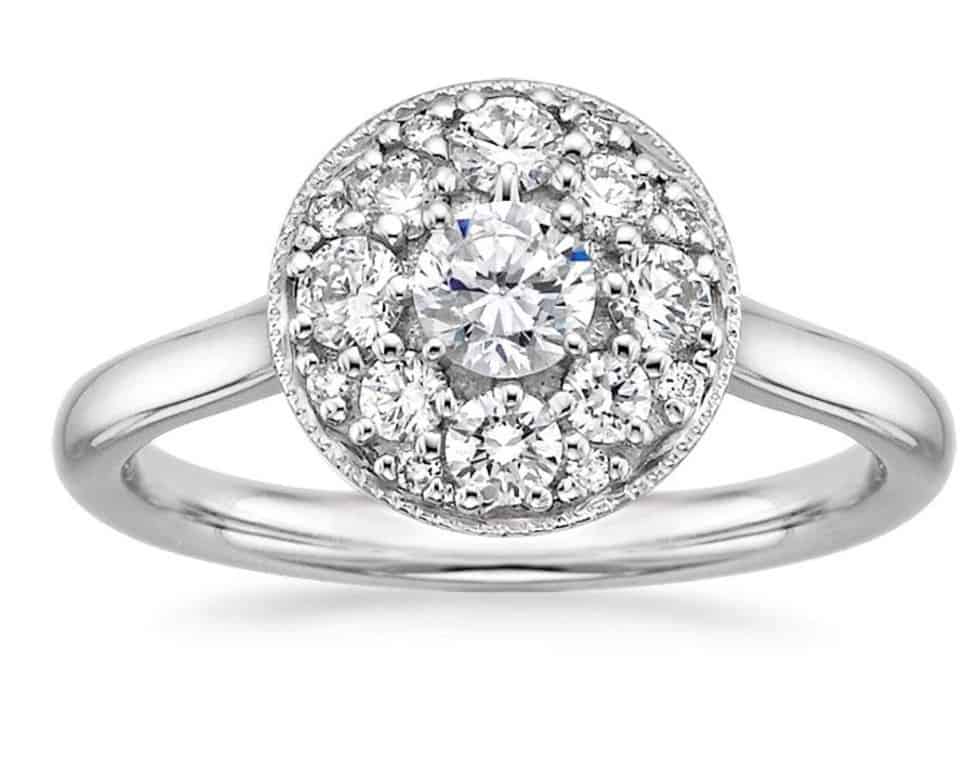 ---
Flush
A flush setting, sometimes referred to as a gypsy setting, is one in which the stone sits (you guessed it!) flush with the band. The flush setting is used to incorporate additional design to the wedding or engagement band and the stones used for it are typically small. Flush settings only work with certain gemstones, typically ones that are found on a higher level of the Mohs Hardness Scale – this is because these stones need to be hammered into place by the designer and softer stones would not withstand this process. Flush settings are an ideal choice for brides that want to add delicate designs to their engagement and wedding bands, though they are also gaining widespread popularity in male wedding and engagement ring designs too!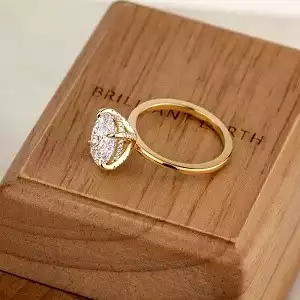 Planning a Proposal?
Make that proposal happen! Get started designing and create an engagement ring as unique as the wearer. To help pull off the perfect engagement, head over to Brilliant Earth's proposal guide.
Check Prices
We earn a commission if you click this link and make a purchase at no additional cost to you.
Take a look at this flush-set beauty we found on Pinterest.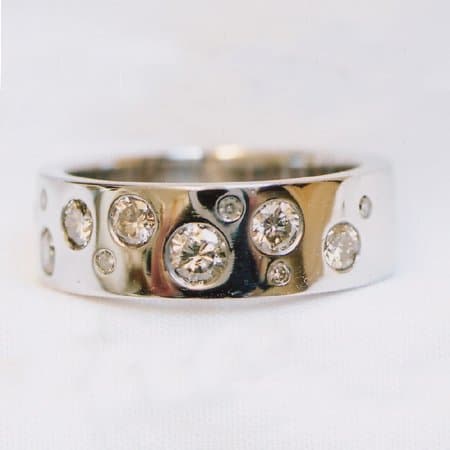 ---
Halo
Halo rings have been gaining popularity over the years as alluring, yet affordable, settings for engagement and wedding rings. A Halo setting surrounds a center stone with smaller stones creating a halo around it. A halo setting may spark your interest for more than one reason. First, a halo setting allows for a smaller center stone due to the fact that the halo will make it appear to be larger. Most stones go up in price per carat as the carat sizes grow, so this setting will help eliminate the price of one big center stone. Second, a halo setting offers room for versatility – the center stone and halo stones can differ in terms of the stone used, making the combination possibilities endless and allowing a bride or groom to customize a ring that is truly one of a kind.
Here is a great James Allen offering that we stumbled upon.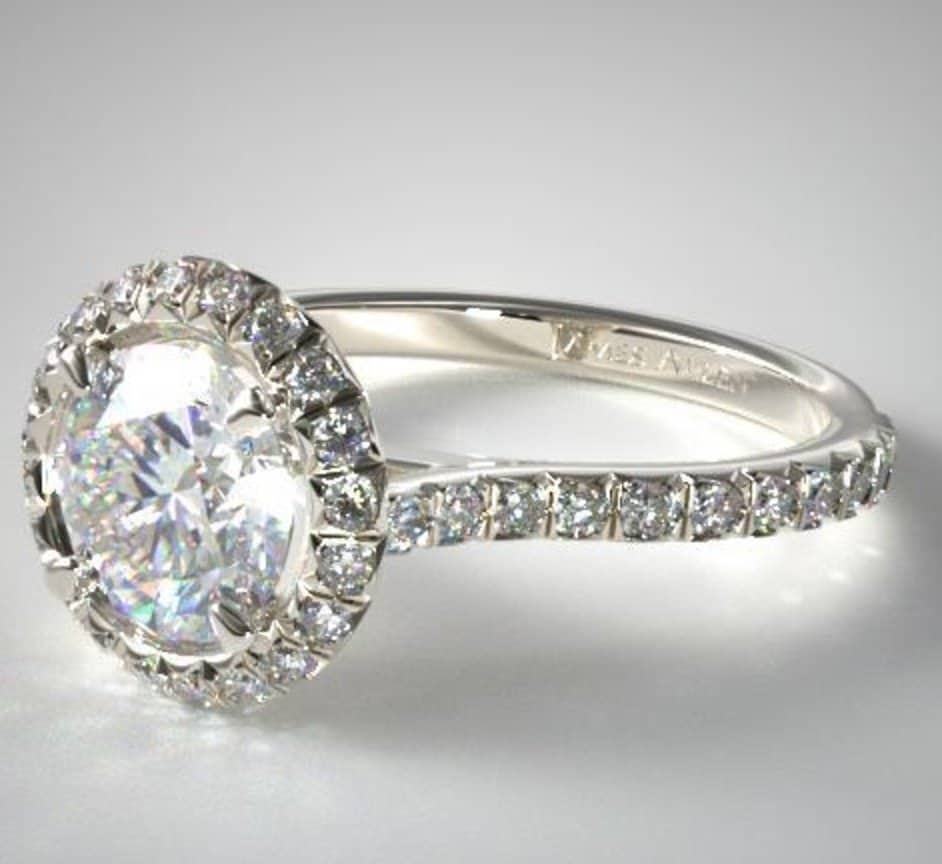 As the name suggests, a Double Halo Setting creates not one, but two halos! This setting is less popular, and more unique, than a traditional halo setting and allows for even more room for original stone selections and combinations.
James Allen offers us this beautiful ring featuring this particular stunning halo setting. We think that its beyond compare!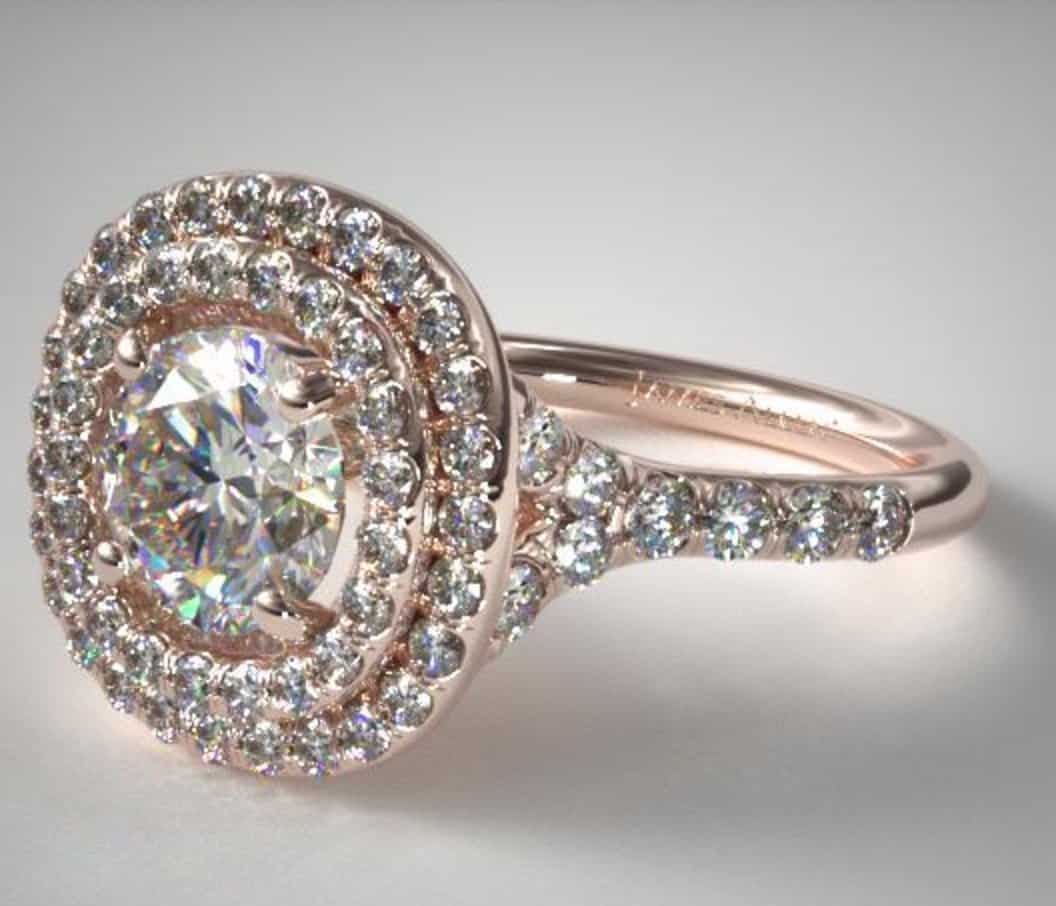 ---
Pave
The pave setting is very similar to the channel setting with both forms displaying the diamonds set side by side within the body of the band. Unlike the channel setting, in which the diamonds are set in a cohesive string with the metal banks setting them in place, the Pave setting secures each miniscule diamond in place with even more microscopic bead-like prongs. The pave setting is often used as a band setting which then utilizes a prong or bezel setting to embellish the larger center stone. The pave setting is an ideal option for a bride or groom hoping to add additional light and luster to their wedding or engagement band. It is important to keep in mind that the Pave setting wedding or engagement ring, as with most eternity style settings, may be difficult to resize – that being said, make sure that the ring fits when you buy it!
Here is a petite cathedral pavé diamond ring in 14k white gold ring we found over on Blue Nile – another great find!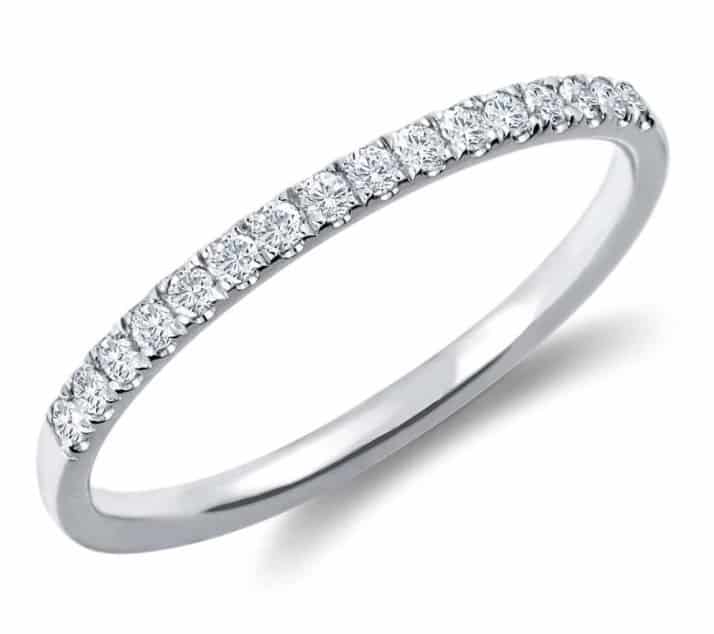 ---
Prong
There's a 100% that in your wedding and engagement ring shopping endeavours, you've come across an impressive variety of rings with prong settings. The prong setting is the most popular setting for engagement and wedding bands, and rightfully so. Prong settings feature miniature clasps, or claws, that hold the respective diamond or gemstone in place. These clasps normally come in 4's or 6's, depending on the size of the diamond or stone they're holding. Prong set diamond can be set high or low, this is a matter of preference, though a higher prong set gemstone has a more significant chance of snagging. Prong settings get their popularity from exposing the stone they hold to an exceptional amount of light – through being penetrated by the light, the stone then creates the brilliance and fire that many desire from wedding or engagement rings. The prong setting is a particularly popular choice for solitaire style rings – or rings that display a solitary gem or diamond. If you think a prong setting is ideal for you, you should know that there is also a variety of prong styles with which you should be acquainted.
Here's another prong-set ring from the Blue Nile which we adore!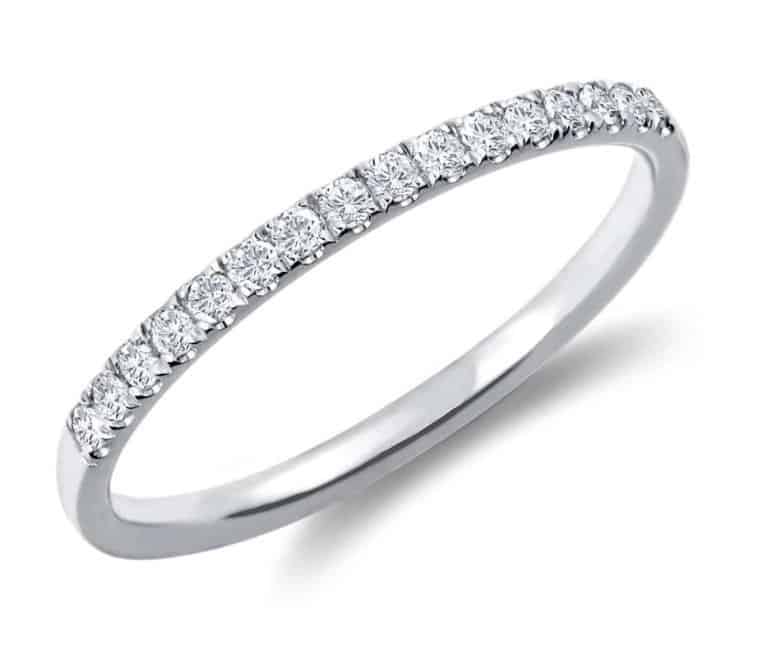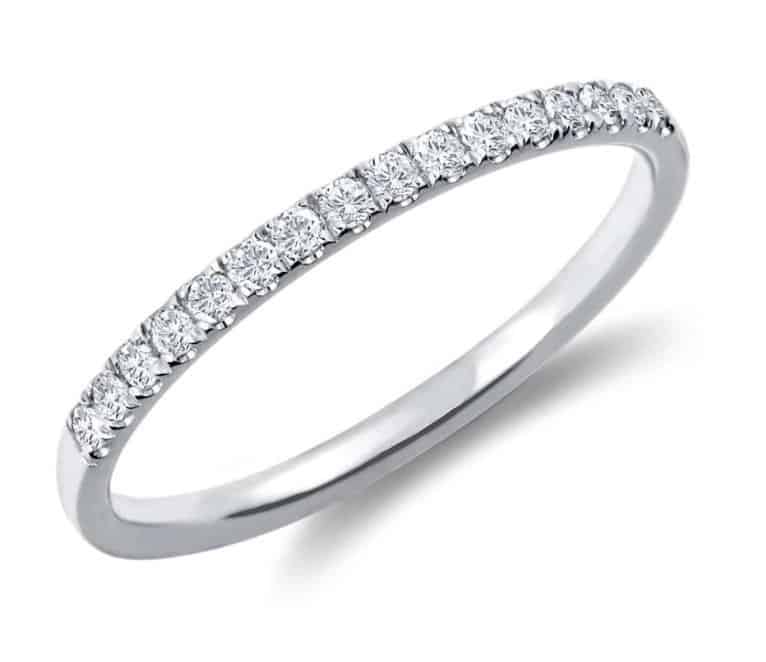 Double Claw

prongs split each individual prong into two half sized prongs that sit next to one another. Double Claw prongs add a unique touch to the appearance of wedding and engagement bands.
We found this great prong-set graduated double prong pavé diamond engagement ring in platinum, available on Blue Nile.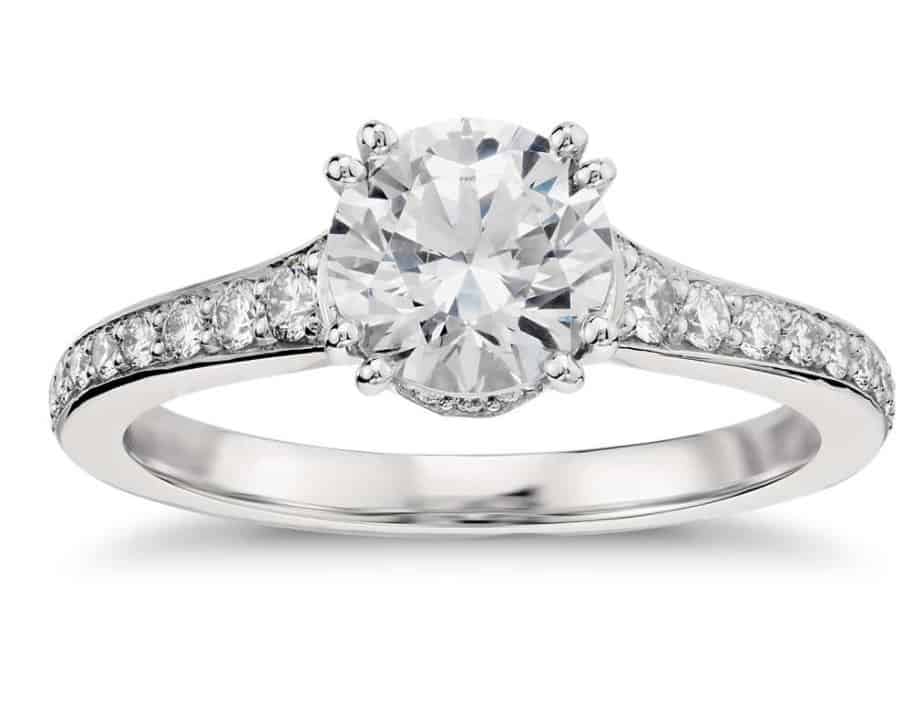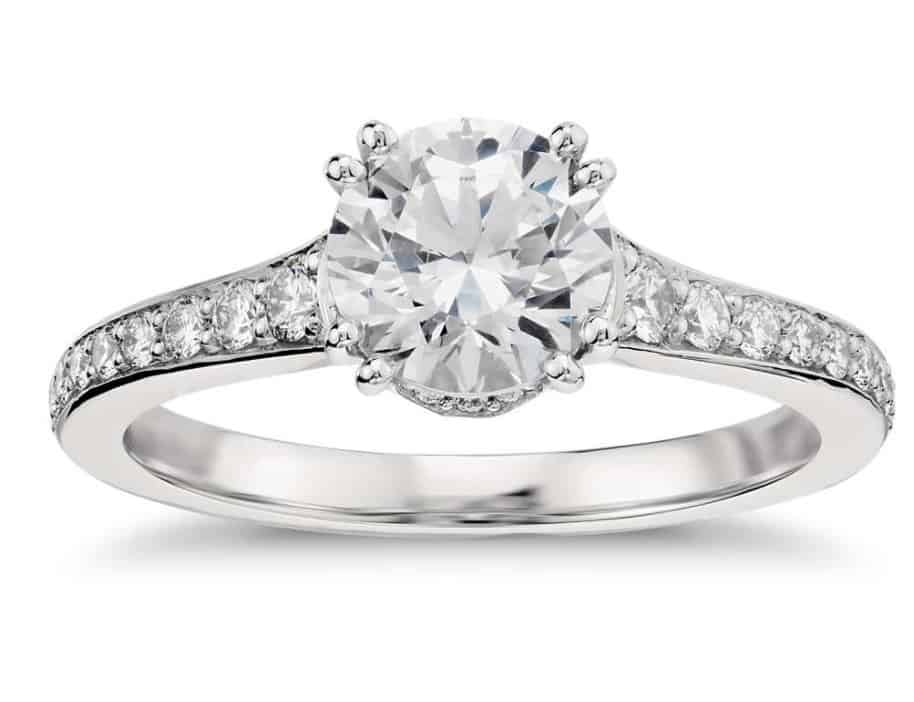 Round

,

pointed

,

flat

, or

v

prong settings describe the shape of the prong. A

round

prong setting, for example, will be the choice of a bride or groom purchasing a brilliant round cut stone, while a

v

prong setting will protect the delicate edges of a princess cut.

Heart

and

Fishtail

prongs are decorative prongs. A

heart

prong is in the shape of a heart and a

fishtail

prong squares off a stone decoratively. Particularly with the

fishtail

prong, these prong settings embellish diamonds and even make them appear bigger!
Have a look at this ring available on Zales done in a heart-prong style.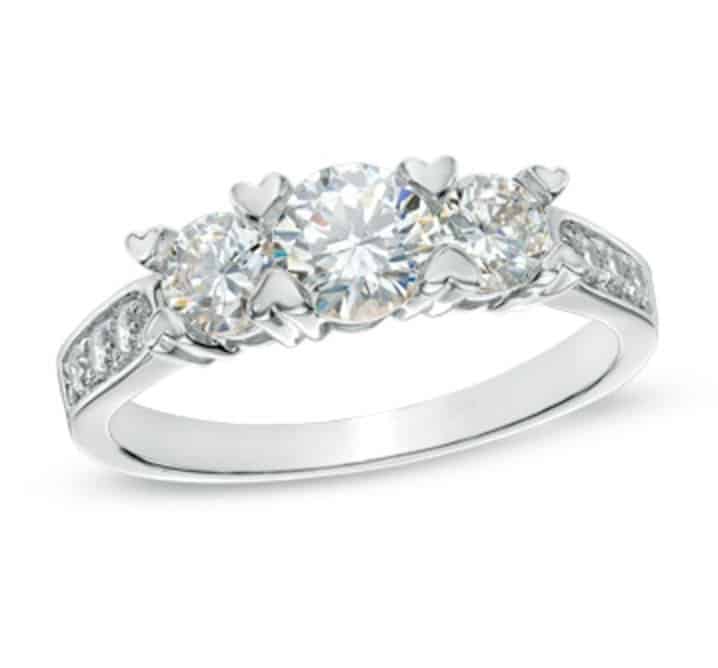 Tiffany Setting

– the Tiffany prong setting is the single most popular engagement or wedding ring setting. This setting was created for the sole purpose of maximizing the amount of light that penetrates the stone and creating the most brilliance and luster possible. The Tiffany Setting has, however, been trademarked by Tiffany & Co. and can only be used on rings purchased through their company.
---
Shank/Split Shank Setting
The shank is the part of the ring that touches the finger, so the shank and split shank settings are ones that add to its design.
Traditionally, when thinking of Rings as an entirety we are accustomed to circular shanks that hug the shape of the finger – but circular shanks aren't the only types of shanks out there! A square shank is a popular alternative to the split shank. A square shank has a flat bottom, and though it offers points in uniqueness, it also has a purpose. Unlike a circular shank, that turns around the finger and can become quite cumbersome (especially with a large center stone), a square shank keeps the ring from rotating at all.
Take a look at this stylish model from Etsy.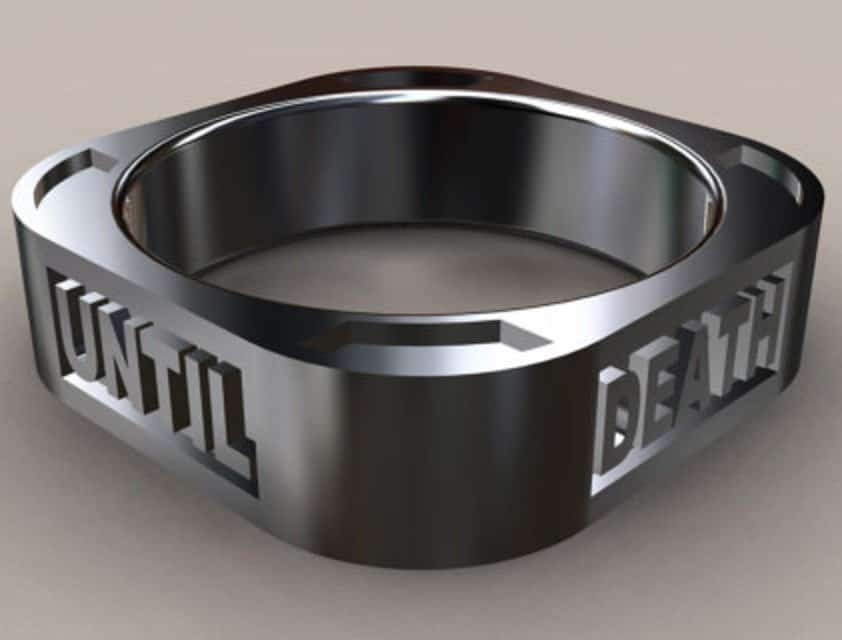 A

split shank

setting is one that splits the part of the ring going around the finger to create the illusion of one band disjoining into two, or that of two independent bands all together. The split shank is an aesthetic feature that has no functional purpose other than to make the band more appealing to the eye.
Blue Nile brings us this stunning ring, a split shank halo diamond engagement ring in 14k white gold, available on their website.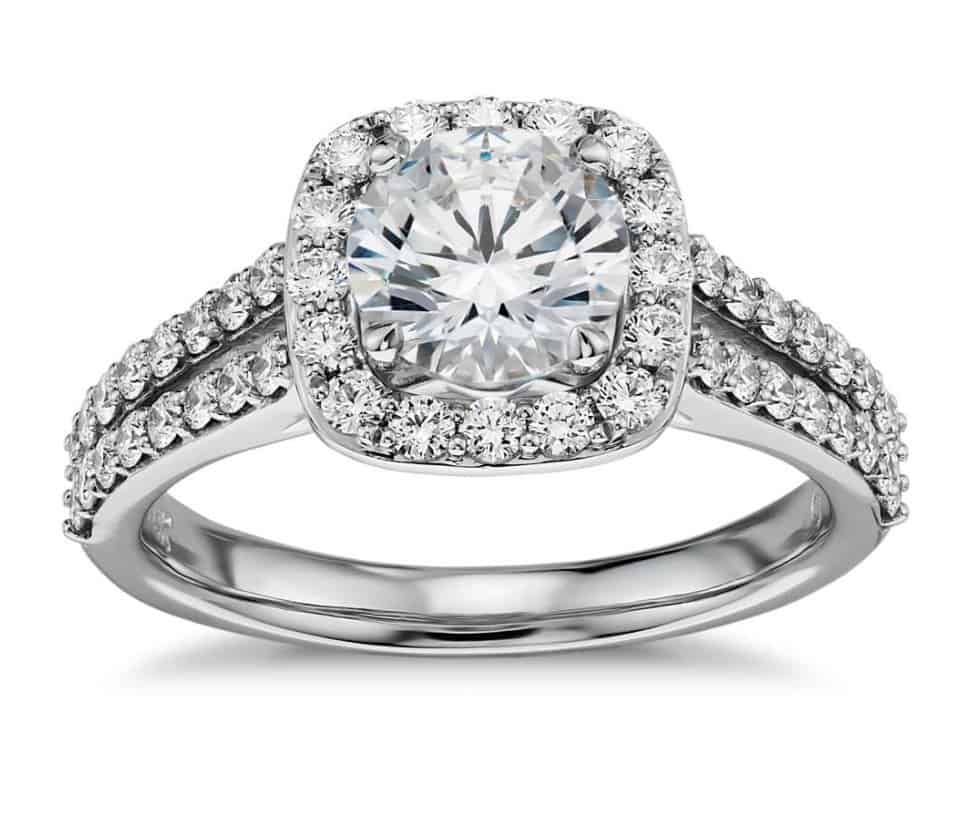 ---
Tension
Tension set rings are equally appealing as they are popular. A tension set ring holds the diamond or stone between the body of the metal through the combined utilization of little divots carved into the band material that pocket a small fraction of the stone and tension that ensures that the stone is held in place. Although the tension setting appears delicate, it is actually one of the more secure settings discussed in this piece. Tension settings are an ideal choice for the bride or groom that wants to showcase the entirety of the stone and diamond because virtually the entire diamond is exposed.
Here's a lovely tension set model available on TQ Diamonds.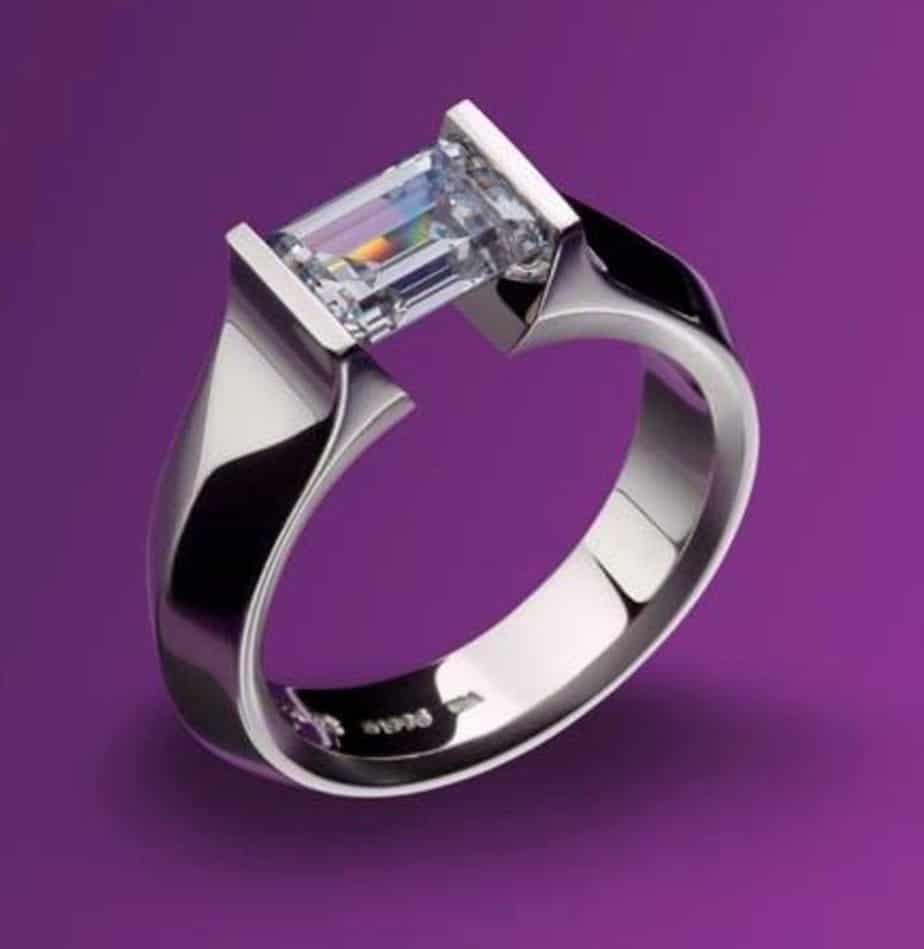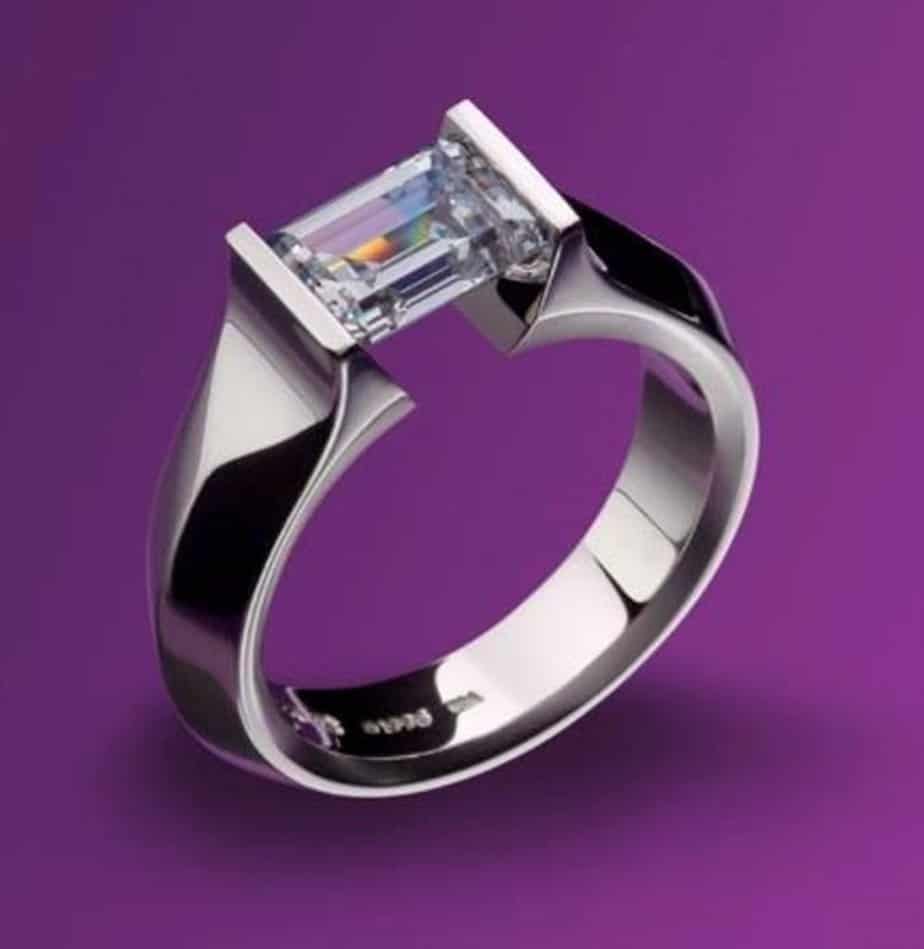 If the aesthetic of the tension setting appeals to you but the setting itself worries you, you might consider a

Bezel Tension Setting

. A Bezel Tension setting utilizes the bezel setting that holds the diamond while welding its thin frame into the remainder of the band, making it appear as though it is a tension setting but providing additional security to the diamond or stone.
PS – the settings mentioned within this list are not mutually exclusive. For example, this ring is a 6 prong, split shank and channel set ring! Talk about a lot to take in, but also talk about the vast room for originality!