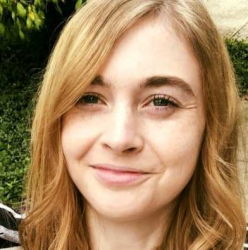 Latest posts by Erin Jamieson
(see all)
The first vintage ring I ever owned was a simple spoon ring. It was never valuable, but it was meaningful to me, with beautiful Art Deco engraving. You don't have to spend a fortune on an engagement ring for brilliance and sparkle. That's why I'm so passionate about sharing my ideas for the best vintage-inspired moissanite engagement rings. Whether you long for a floral vintage engagement ring or one with striking geometric designs, I can't wait to share my favorite designs with you. By showing you how to select the very best moissanite engagement rings, I'll make sure your purchase is worth it. No matter what ring you buy, it'll be both meaningful and crafted with exquisite vintage details.
Best Online Moissanite Retailer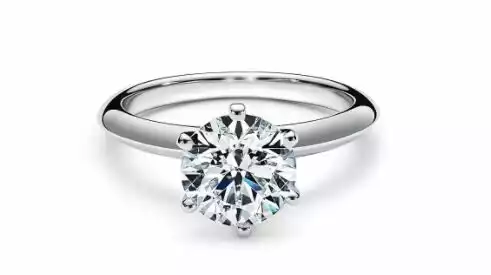 Keep in mind that Moissanite rings are technically not vintage. This is why all of my picks say vintage-inspired. To be truly vintage, a ring needs to be over 4 decades old. Moissanite was first widely offered in the 1990s within the jewelry industry, so everything would be "vintage-inspired." Bottom Line Up Front Summary: If I had to select just one vintage-inspired moissanite engagement ring, it would be this Marquise Forever One Moissanite Soliatire Ring crafted by Charles & Colvard. This ring is the most simple, but also most versatile on my list. It's ideal for someone who loves vintage designs but also modern simplicity. It's offered at a great price and it's easy to complement with other rings.
My Top Picks
Forever Moissanite Split Shank Vintage Cushion Cut: Best Overall
Marquise Forever One Moissanite Solitaire :

Best Minimalist Engagement Ring

Moissanite Entwined Celtic Love Knot Ring:

Best Meaningful Engagement Ring

Moissanite Arabesque Lab Diamond Ring:

Best Ring with Diamond Accents

Emerald Forever One Moissanite Solitaire

:

Best Ring over 3 Carats

Moissanite Lily Lab Diamond Ring

:

Best Nature-Inspired Engagement Ring

Moissanite Canela Ring:

Best Princess Cut Engagement Ring

Moissanite Black Rhodium Cadenza Halo Ring

:

Best Art Deco Engagement Ring

Cushion Forever One Moissanite Halo Ring

:

Best Halo Engagement Ring

Moissanite Reina Ring with Accents

:

Best Royalty-Inspired Engagement Ring

Forever Moissanite Vintage Floral Design Cushion Cut: Best Floral Design
Vintage vs Vintage-Inspired Engagement Rings
I want to be upfront about vintage vs vintage-inspired engagement rings because this is important if you're considering the value of your moissanite engagement ring. A vintage ring is something that is truly from another era. I've seen some rings labeled as a vintage that are either newly crafted or come from the decade I was born, which was the 90s. For a ring to be truly vintage, it must be at least 40 years old. Vintage-inspired rings are rings that mimic the designs of an era but were crafted long after. While unique and beautiful, they don't carry the same resale value. Moissanite engagement rings have only been around since the mid to late 1990s. Because of this, you can only buy vintage-inspired rings, not truly vintage rings if moissanite is your stone of choice.
Vintage-Inspired Styles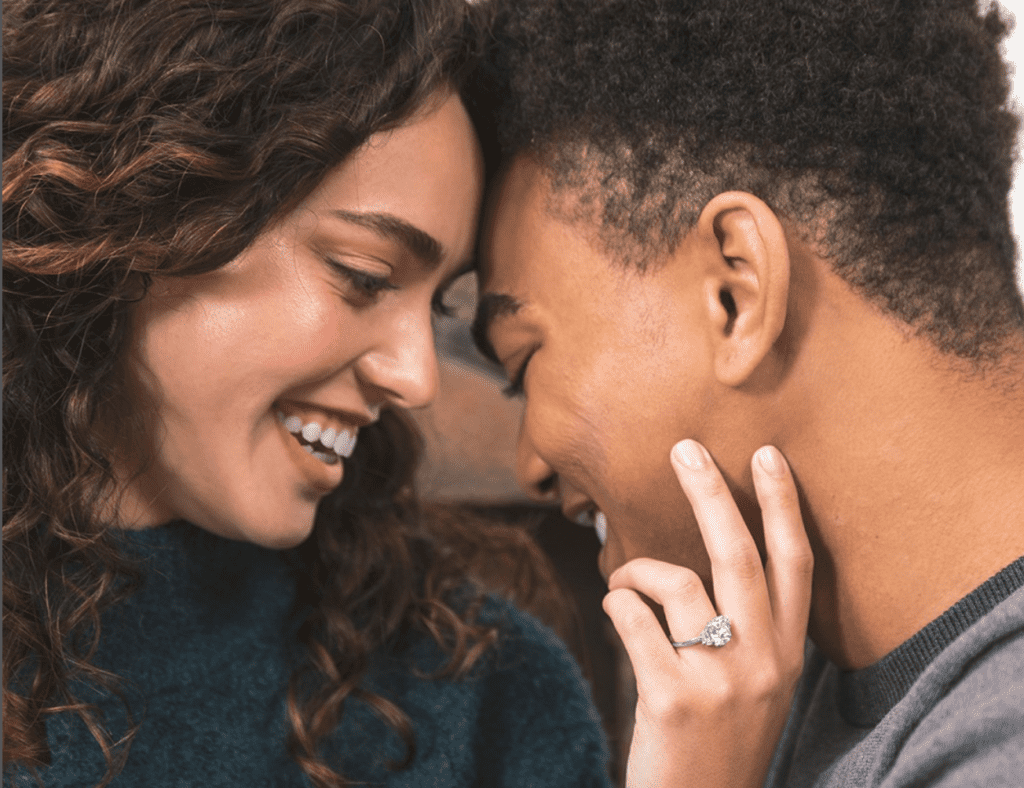 With that out of the way, I have good news: there are countless beautiful vintage designs and settings you can consider for a moissanite engagement ring. The most popular eras and styles and noted below. In general, vintage-inspired rings have more details on the band and play with angles and curves more than a modern ring. While modern moissanite engagement rings favor sleek and minimalist designs, vintage-inspired rings add gorgeous details that complement the center stone.
Popular Eras
The 1920s

The 1930s

The 1940s

The 1950s

1980s (not truly vintage)
Popular Designs and Styles
Art Deco (Geometric Shapes)

Flower and Nature-Inspired

Twisted Bands

Celtic Knot

Hidden Halo

Unique Cuts and Settings

Marquise, Old European, Emerald, Princess, Pear, Baguette, Tear Drop
Tips for Buying a Moissanite Engagement Ring
First things first: it's important to understand the main differences between a moissanite vs a diamond engagement ring (read my article to learn all of the differences). But in short, a moissanite engagement ring is not as valuable as a diamond ring. Moissanite is only slightly softer, rated at a 9.25 vs 10 on the Mohs hardness scale. White moissanite doesn't look like a diamond when exposed to light due to its rainbow scintillation. That said, a moissanite engagement ring is a good choice for its unique beauty and value, as long as you know how to select the best quality.
Tip #1: Value Color and Clarity Over Carat
Color and clarity are most important if you want a sparkling center stone. I recommend moissanite that's either colorless or nearly colorless to avoid yellow and warm undertones. Moissanite needs to have at least eye clean or very slightly included (VS, preferably VVS) clarity.
Tip #2: Consider Cut
I love subtle sparkle, especially for a vintage-inspired moissanite ring. Round and cushion cuts are the most brilliant, but high-quality oval and princess cuts are also great. The deeper the cut, the more subtle the brilliance. Some cuts and shapes, of course, are associated with different eras.
Tip #3: Make Sure It's Not Fake
I've seen deceptive listings. You might search for moissanite and come across some red flag descriptions, including:
Diamond Simulant

Man-Made

Manufactured
All of these point to a stimulant, like cubic zirconia, rather than genuine lab-grown or natural moissanite. I would never purchase a moissanite engagement ring from a seller with no reviews, from a website that doesn't have a secure connection or a listing without any details about the quality grading.
Tip #4: Buy a Metal Band the Lasts
A sterling silver moissanite ring is a beautiful and affordable option. But if you're buying an engagement ring, I highly recommend a metal don't won't easily tarnish. My favorite options are 14Kor 18K gold, as well as platinum, all of which offer a beautiful luster and are durable. I'd never buy regular gold-plated rings or base metals (such as copper) for a ring I want to wear every day.
Who Has Vintage-Inspired Moissanite Engagement Rings?
Something exciting for me is trying to find unique rings– and it's a challenge to find vintage-inspired moissanite engagement rings. JCPenney, Kohl's, Charles & Colvard, Helzberg, Amazon, and Etsy are a few places you can buy moissanite engagement rings in stores or online. But for the finest quality, vintage-inspired rings, only three places stood out to me as the very best.
Company/ Jeweler
Pros
Cons

Brilliant Earth

Environmentally Conscious

Ethical Sourcing

Beautiful Quality

Custom/ Create Your Own

A+ BBB Rating

Free Lifetime Warranty

Most Expensive

Fewer Options for Vintage-Inspired vs Modern

Charles & Colvard

Forever One Moissanite (

See My Review Here

)

Gorgeous Craftsmanship

A+ BBB Rating

Warranty Available

No Create-Your-Own

Still Expensive (But Cheaper, Usually, then Brilliant Earth)

Very Limited Options for Platinum Rings

Etsy

Handcrafted Rings

Unique Designs

Supports Smaller Jewelers/ Artisans

Wide Variety (Prices & Styles)

Quality Varies

Must be Extra Careful When Shopping

Shipping Delays

Must Check for Warranty/ Return Policies (Vary by Listing)
My Ideas: Vintage-Inspired Moissanite Engagement Rings
The last thing I want is for you to buy a moissanite engagement ring and for it to become a regret. With that in mind. I've appraised a range of vintage-inspired moissanite rings, across designers, and found the highest-quality and most unique rings. These vintage-inspired moissanite rings are gorgeous and most include financing options if you can't pay out of pocket. Finally, all of these rings offer moissanite and metal bands that are meant to last a lifetime.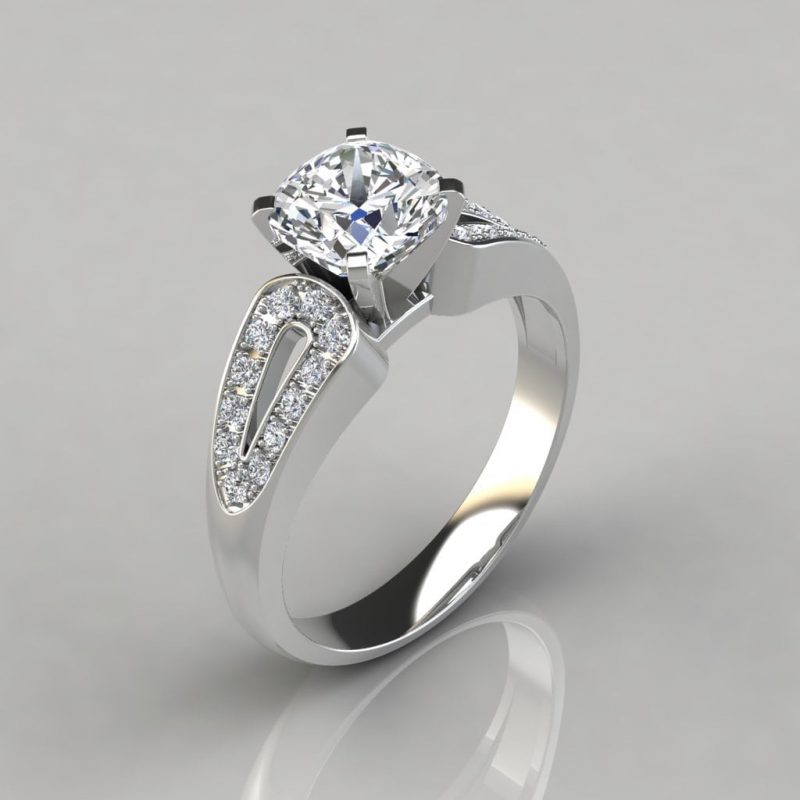 There are 24 stunning small stones that all accentuate the beautiful stone located in the middle of this ring. I love how this ring definitely has vintage vibes, but doesn't look outdated. The split shank part of this ring helps to keep this piece of jewelry updated! I know that if I were to buy a bigger stone, I would want more than four prongs to hold onto my ring. But, that's just my personal preference! Buy Here.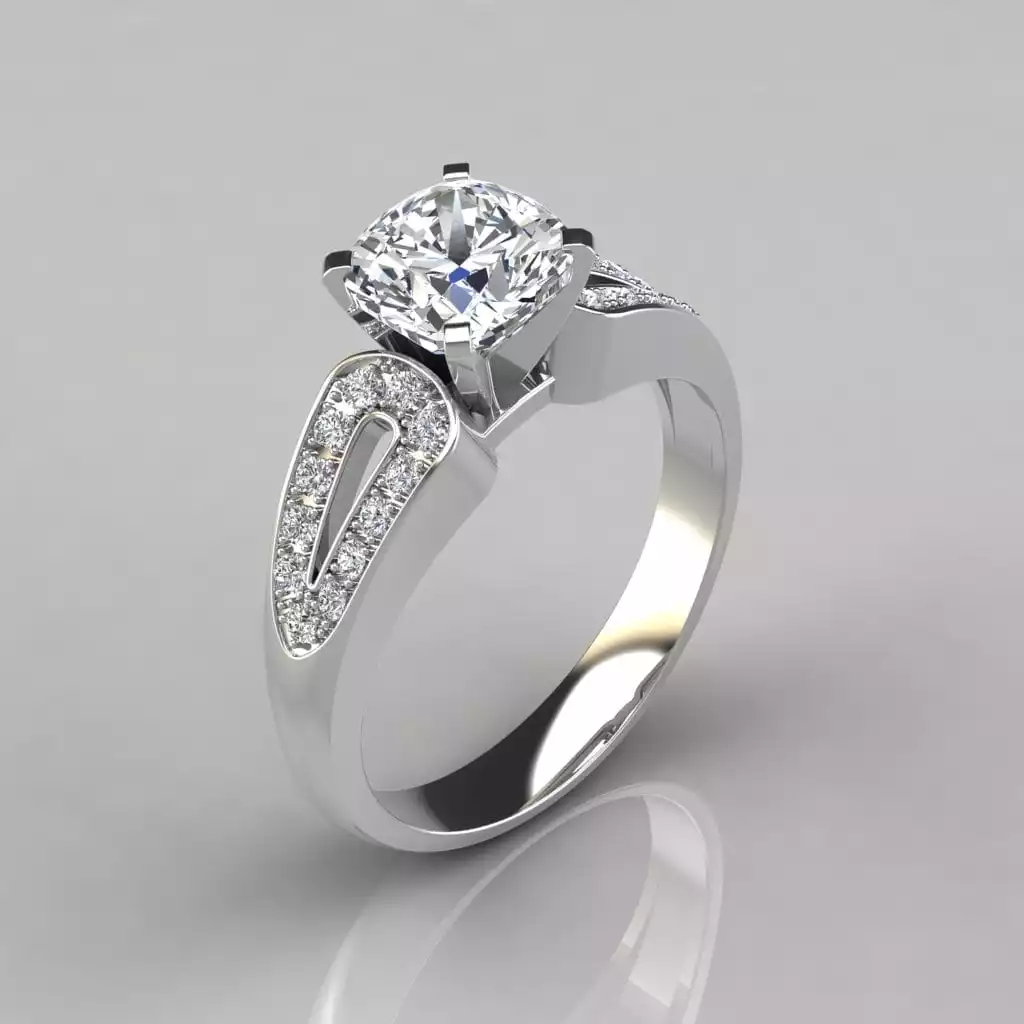 Pros
You can choose from 1.00 carat all the way up to 3.00 carats
Customizable ring; you can choose to get the ring in white gold, yellow gold, rose gold, or platinum
Added carat weight of 0.12 carats thanks to 24 added side stones
Cons
Only four prongs are available, which I don't think is very secure for a bigger stone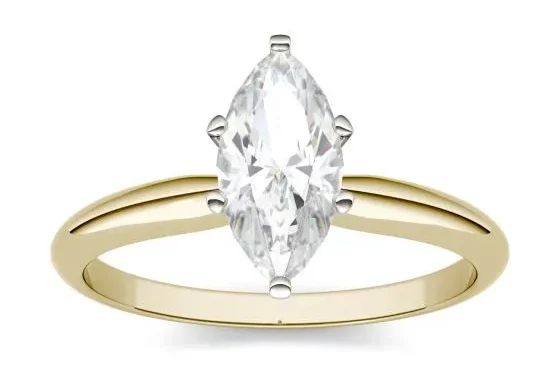 This gorgeous vintage-inspired ring is effortlessly elegant. The sleek craftsmanship blends modern and vintage styles for a beautiful sense of timelessness. The marquise-cut moissanite stone is secured with a six-prong setting. The dazzling, colorless stone is complemented by a knife-edge band. The craftsmanship here is refined and alluring in an understated way. I adore this ring for anyone torn between vintage and modern styles. Buy in Yellow Gold Here or Buy in White Gold Here.
Pros
Knife Edge Shank

Gorgeous Marquise Stone

Elegant and Timeless
Cons
Modest Carat (0.50)

Fairly Simple
Moissanite Entwined Celtic Love Knot Ring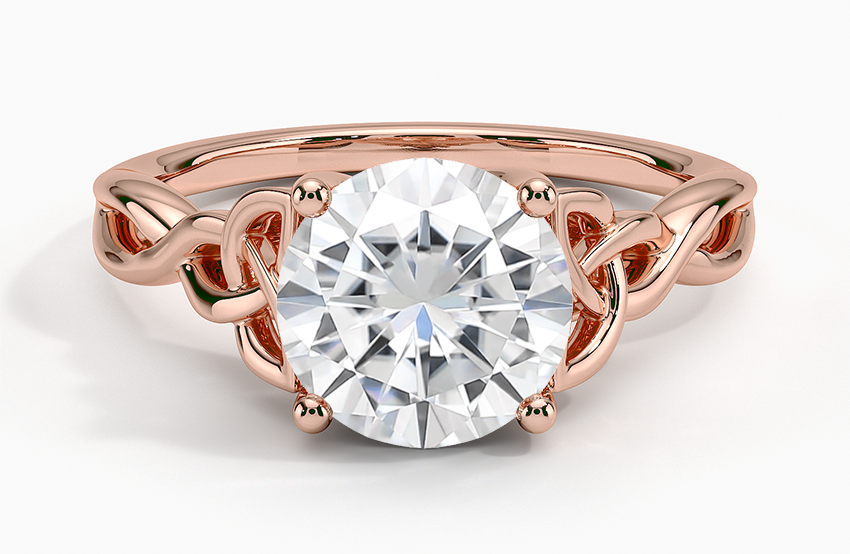 I admit a fondness for Celtic knots. Maybe it's my Irish or Scottish heritage, or maybe it's just the beautiful symbolism. A Celtic knot symbolizes eternal bond and eternal love. I also see it as a symbol of perseverance and strength. This vintage-inspired ring exudes brilliance with a prong-set, round brilliant-cut center stone. The twisted shank is simply stunning for a meaningful ring unlike most on the market. It's available in 18K white, yellow, or rose gold as well as platinum. Buy Here.
Pros
Meaningful Symbol

Gorgeous Twisted Shank

Brilliant Round Cut
Cons
No Accent Stones

Culturally Specific
Moissanite Arabesque Moissanite & Lab Diamond Ring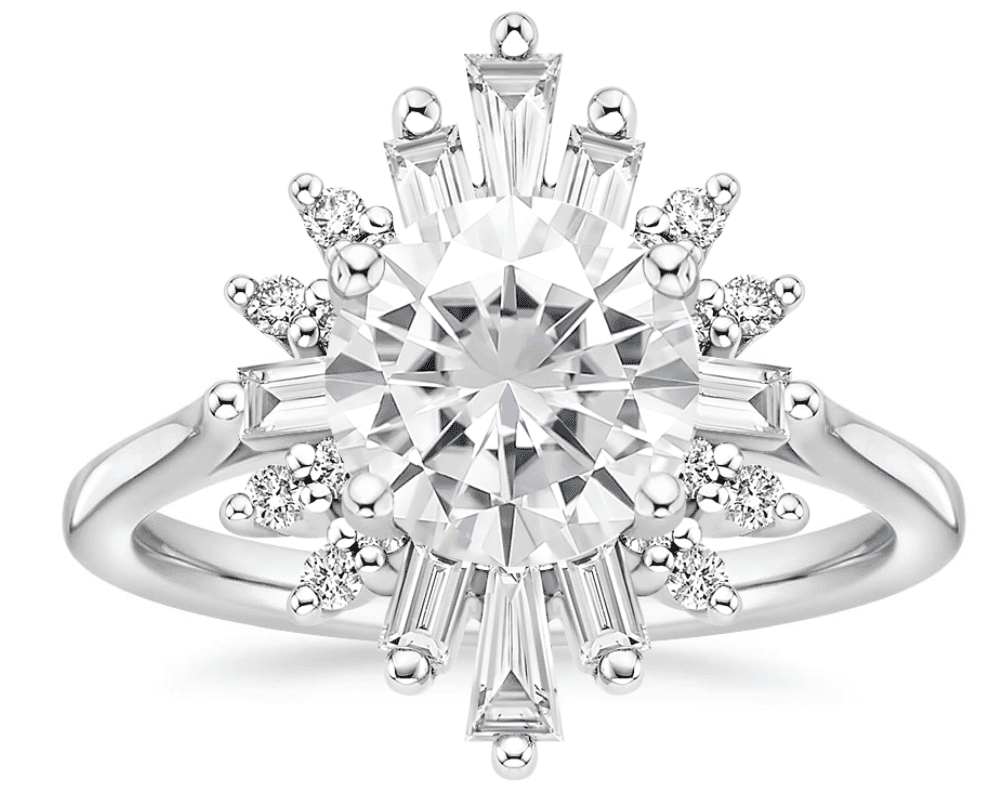 If you can't decide between a lab diamond and moissanite, you're not alone. And with this dazzling, ornate engagement ring, you don't have to. This engagement ring is fit for royalty, with an alternating baguette and round diamonds. The central round moissanite stone radiates brilliance and fire. This statement ring is simply gorgeous, with ½ carat total weight of sparkling gemstones. Choose from 18K gold (rose, yellow, white) or platinum. Buy Here.
Pros
Accent Lab-Grown Diamonds

Rhodium Finish for Improved Durability

Excellent Moissanite Clarity
Cons
Slight Inclusions on Diamonds

Modest Carat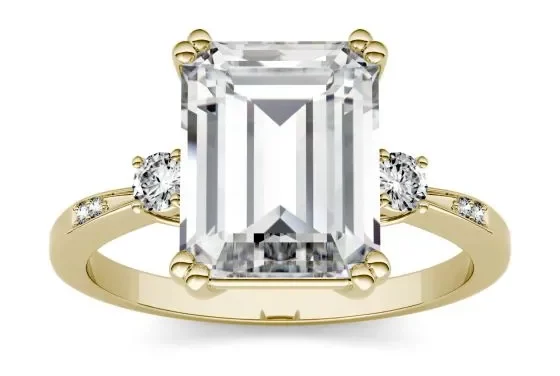 Large carat-rings and small budgets don't go together. But what if I told you there's an exceptional vintage-inspired moissanite ring over 3.5 carats and well under $5,000. This ring is crafted with attention to detail, with sparkling round accent stones. The unique emerald center stone is secured with unique double prongs. The 14K gold shank is sleek and subtle– the perfect accent to make the moissanite shine. Buy Yellow Here or Buy White Here.
Pros
Generous Carat Weight for Price

Beautiful Double Prongs

Excellent Color and Clarity
Cons
Emerald-Cut is Less Brilliant

Not as Detailed Craftsmanship
Moissanite Lily Ring with Accent Diamonds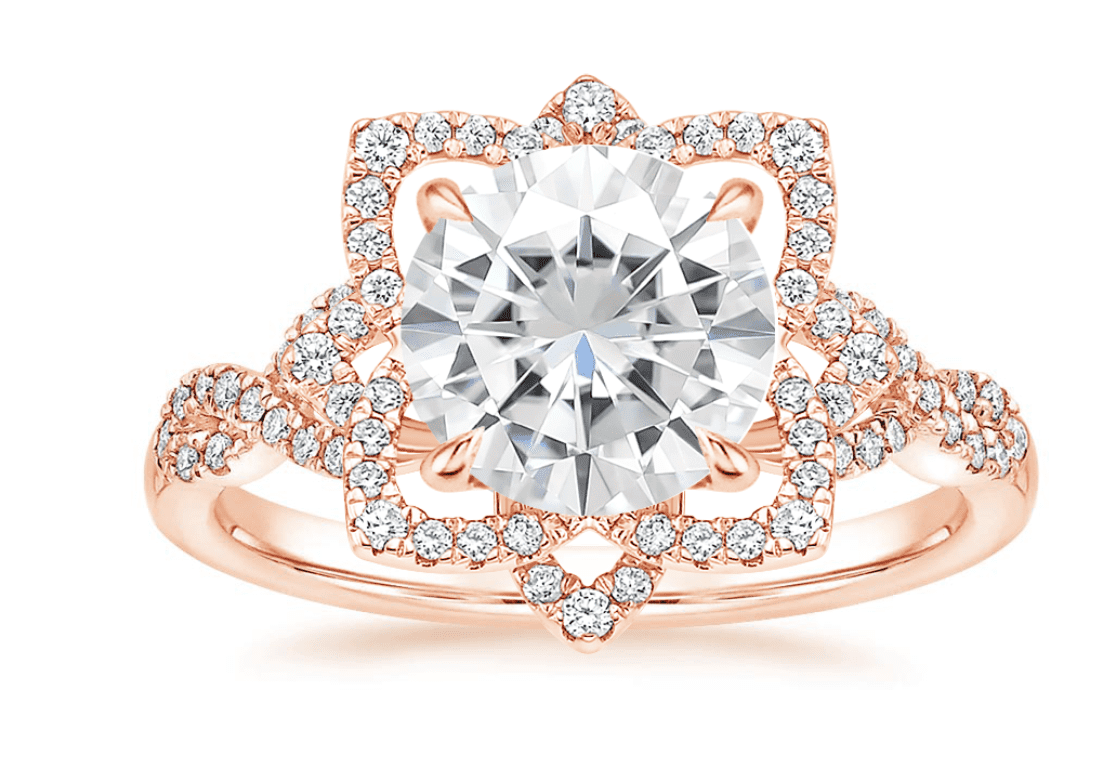 One of my favorite ideas for a vintage-inspired moissanite engagement ring? Embracing nature is a sure way to find a gorgeous ring. Not only that, but nature-inspired rings almost always bring unique symbolism. A lily is a symbol of love, beauty, and change. This ornate lily ring features a moissanite center stone. Accent lab-grown diamonds sparkle along with the petite twisted vine band. Crafted in your choice of 14K gold (yellow, white, or rose) or platinum, this is one of the most glamorous and unique rings I highly recommend. Buy Here.
Pros
3D Lily Motif

Diamond Accents on Twisted Shank

Exceptional Colorless Round Moissanite
Cons
Modest Carat Weight

Not Available in 18K Gold
Moissanite Canela Ring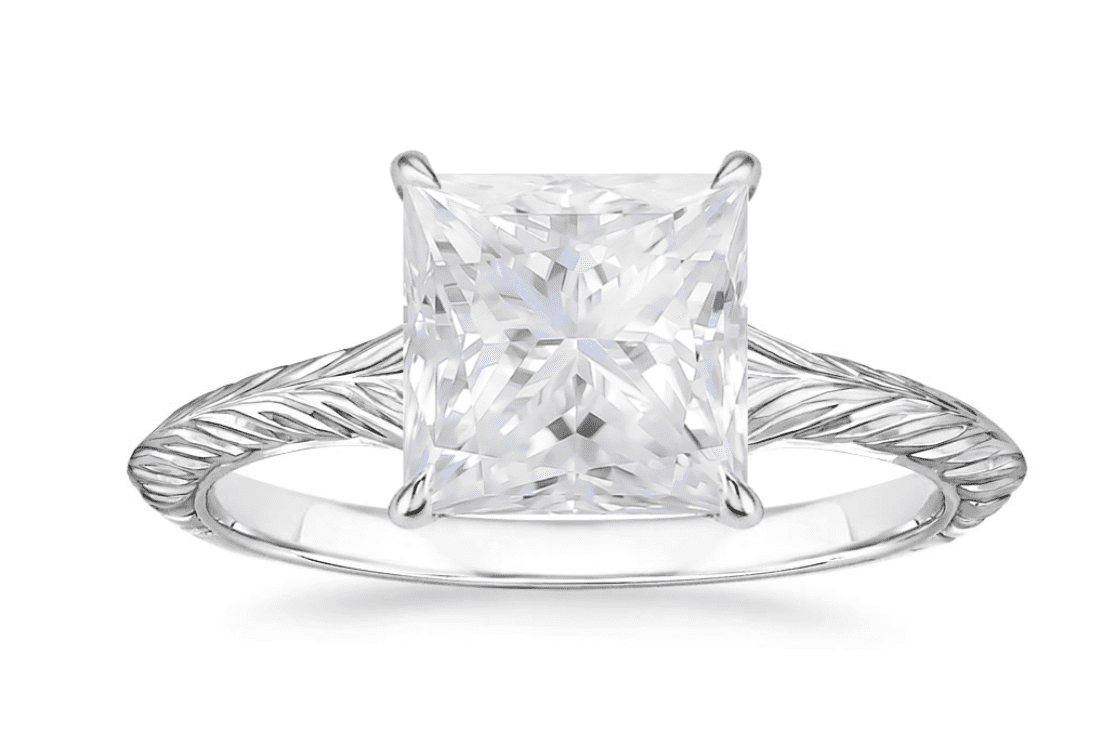 I always say that princess cut engagement rings are underrated, and my statement stands. This gorgeous princess cut ring features colorless moissanite. The brilliance of this moissanite stone isn't the only highlight, however. The center stone is situated on a unique, engraved band. The detailed craftsmanship evokes tree branches and natural elements. The luster of the metal elevates this style. I simply love the unique band paired with the princess cut. It's sleek but still vintage-inspired and can be stacked with other bands. This ring is available in your choice of 18K gold or platinum. Buy Here.
Pros
Engraved Band

Gorgeous Princess Cut Center Stone

Beautiful Clarity
Cons
Limited Sizes

Slightly Expensive for Carat Weight
Moissanite Black Rhodium Cadenza Halo Lab Diamond Ring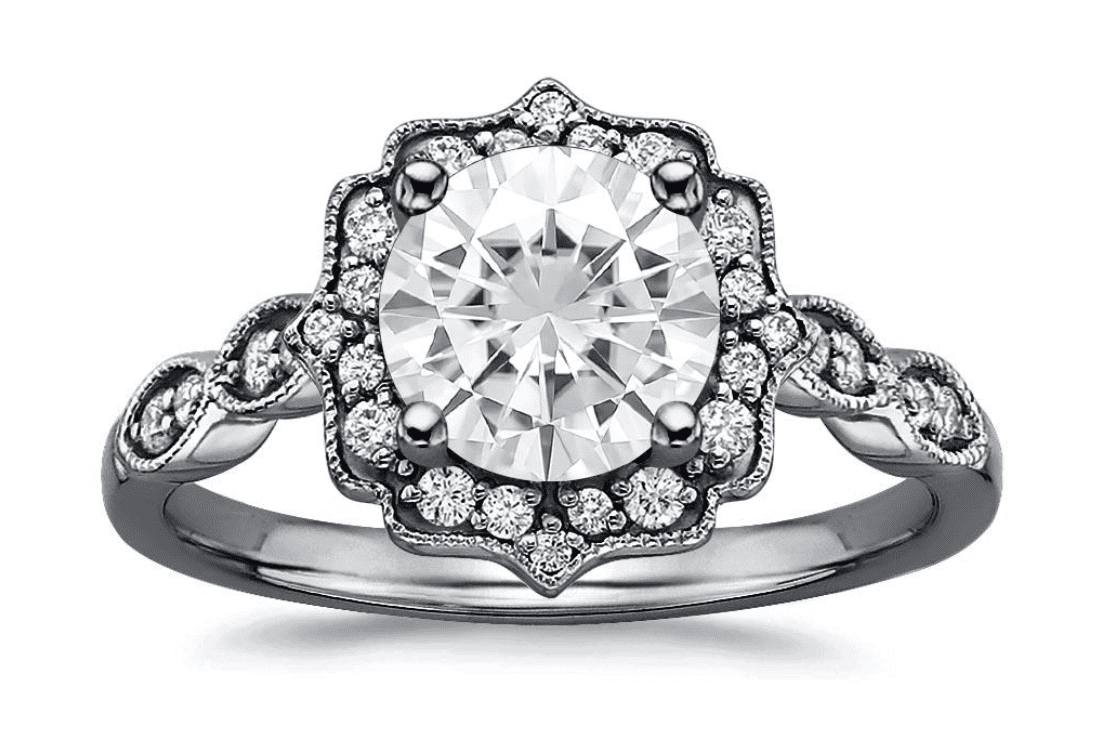 I know that this moissanite engagement ring isn't for everyone, but it's easily one of my favorites if you're looking for a truly unique design. The shank is crafted with a milgrain design, accent with lab-grown diamonds. The exquisite attention to detail is in of itself remarkable, but it's the black rhodium paired with the marquise diamonds that sells it for me. This show-stopping ring is crafted in 18K white gold. Icy hues with black details evoke both Victorian and Edwardian aesthetics. Buy Here.
Pros
Miligrain Details

Black Accents

Victorian/ Edwardian
Cons
Modest Carat Weight (⅕)

Hard to Match
Cushion Forever One Moissanite Framed Halo Engagement Ring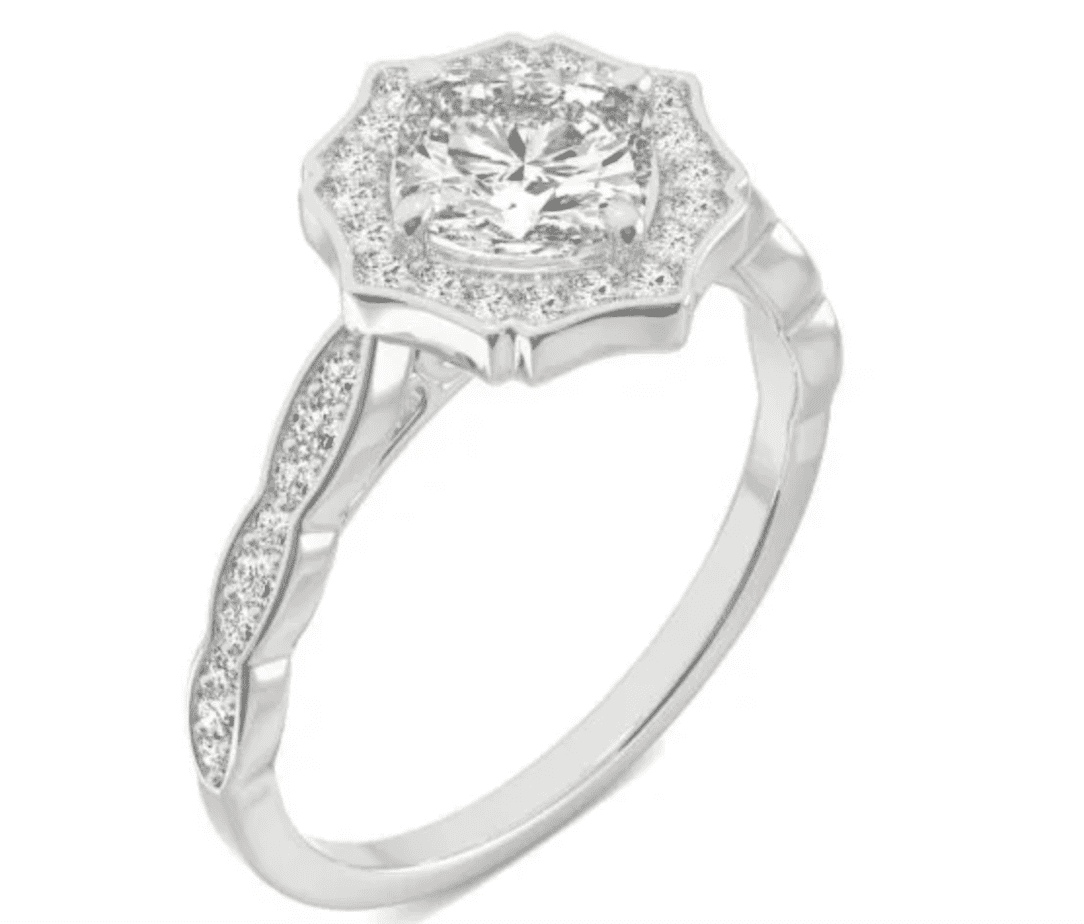 Halo rings are usually expensive, but this vintage-inspired ring is a great value. What distinguishes this moissanite engagement ring from a more modem one is the unique framework around the center stone. The ornate edging is refined, with accent pear-shaped moissanite stones. The slight curve to the 14K gold band and sheer romantic beauty of this ring make it a stunning option at a fair price. Even better, with colorless forever one moissanite along with the entire band, you're sure to notice unique brilliance and sophisticated sparkle. Buy Here.
Pros
Over 2 Carats Total

Ornate Framing

Beautiful Brilliance and Fire
Cons
No 18K Gold or Platinum

Not Quite as Unique
Moissanite Reina Engagement Ring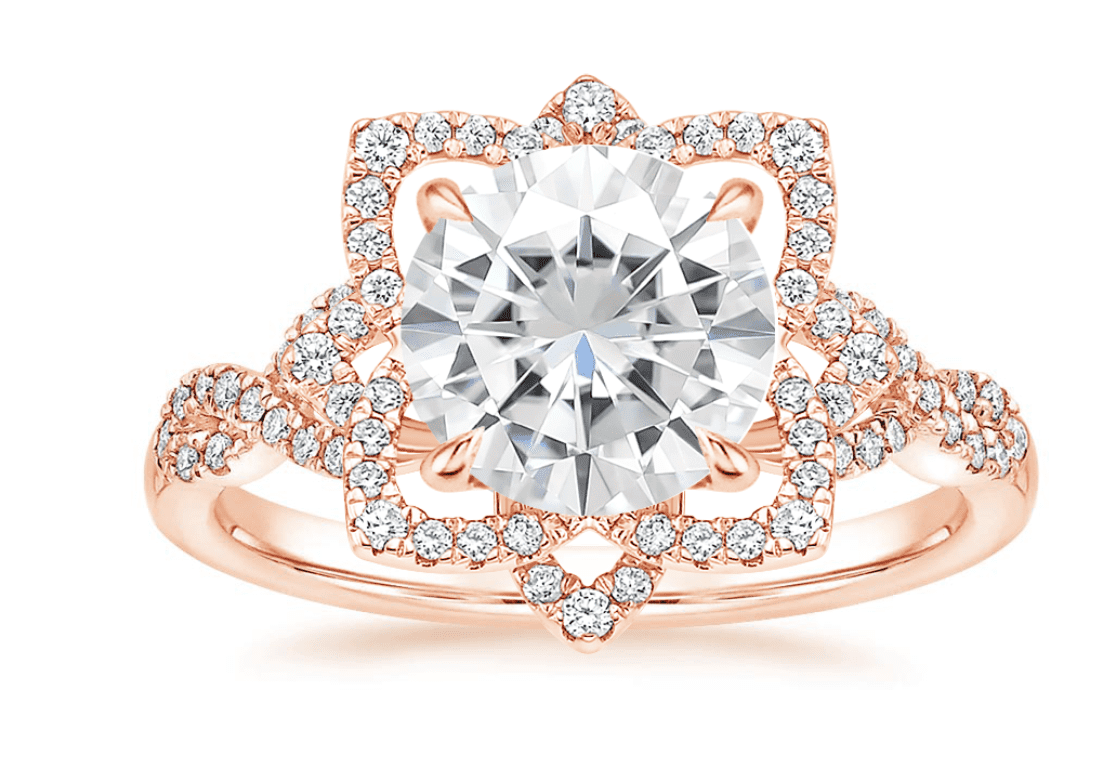 This is my personal favorite vintage-inspired moissanite engagement ring, and I hope that you can see why. This regal engagement ring takes inspiration from royalty, with ornate but refined details that are crafted with precision. A curved halo with pear-shaped cutouts provides a shimmering accent to the center moissanite stone. My favorite version of this ring is with a classic cushion cut for the center stone, along with a rose gold band. But no matter how it is ordered, The scalloped pavé diamonds perfectly accent the gorgeous moissanite stone. This is a ring that's hard to take your eyes away from. Buy Here.
Pros
Glittering Scalloped Pavé Diamonds

Ornate Halo

Beautiful Craftsmanship
Cons
Slight Inclusions on Diamonds

Less Versatile
Final Buying Recommendation: Moissanite Vintage-Inspired Engagement Rings from Etsy
While I love so many of the vintage-inspired moissanite engagement rings sold by Brilliant Earth and Charles and Colvard, sometimes you want something truly unique. Etsy has a selection of handcrafted moissanite engagement rings. These made-to-order rings cover some of the most popular vintage designs, from Art Deco to nature-inspired. What I love about this option is that you're supporting small jewelers and artists. The key is to shop smart. Make sure that the ring band is crafted with genuine gold or platinum, not gold plating. Check the description to make sure that it's genuine moissanite, with grading for color and clarity. Sometimes listings for cubic zirconia rings get mixed in with moissanite rings. Shop Vintage-Inspired Moissanite Rings on Etsy Here.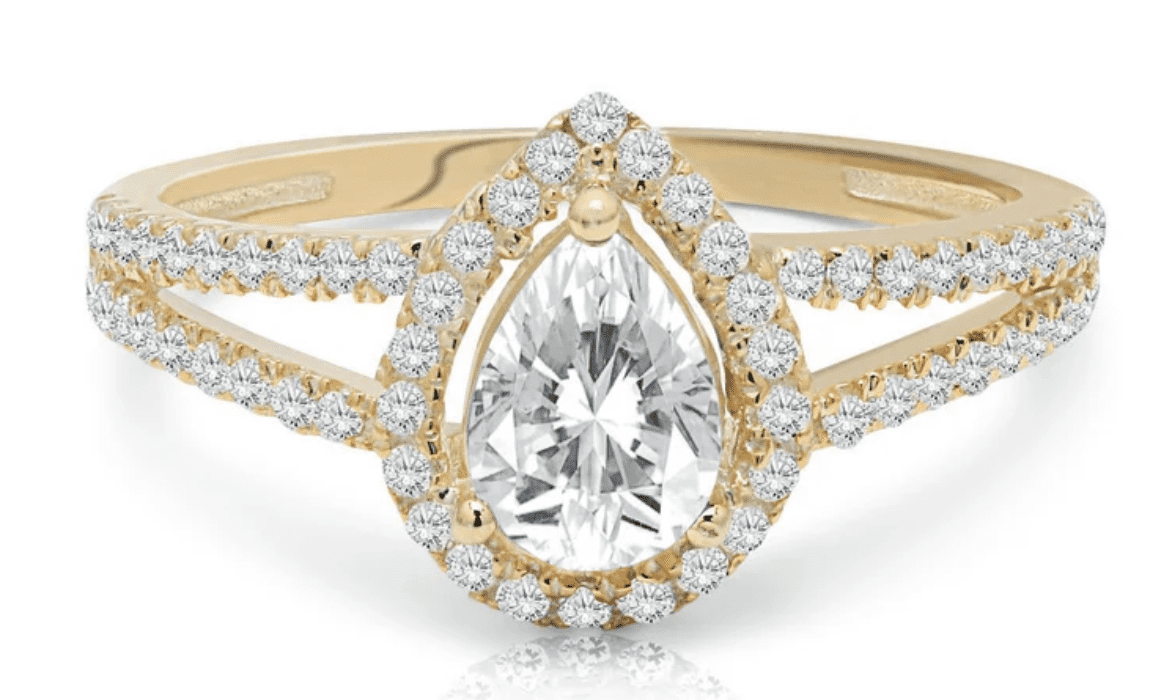 This Art Deco ring is handcrafted with beautiful details. The made-to-order engagement ring 'wows' with a colorless pear-shaped stone. This halo-style ring showcases the most glamorous side of vintage-inspired moissanite rings, and I especially love it in 18K yellow gold. The dazzling array of accent stones and the curved band provide a breathtaking dramatic look. It's available in 14K to 18K rose, white and yellow gold. Buy Here.
Pros
Cons
Slower Shipping
Limited Stock
Tyler Fine Jewelry Forever One antique-inspired Engagement Ring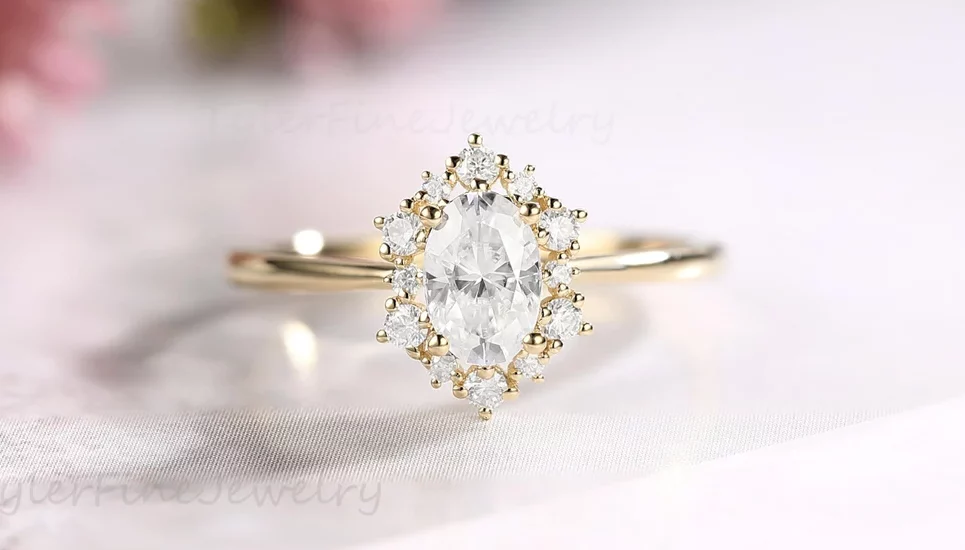 Priced at under $1,000, this unique vintage-inspired ring is one I had to mention. The stunning style has an antique allure, complemented with a genuine Forever One center stone. The sleek band is adjustable and crafted in your choice of 14K or 18K white, rose, or yellow gold. What sets it apart is how the halo of accent stones is layered to add sparkling dimension. I love that this ring displays a balance of glamour and elegant simplicity. All told, this ring proves you don't have to spend a fortune on a vintage-inspired moissanite engagement ring. Buy Here.
Pros
Budget-Friendly
Antique Details
Genuine Forever One Stone
Cons
Modest Carat Weight
More Challenging to Stack
FYM Jewelry Design Cluster Vintage Moissanite Engagement Ring Set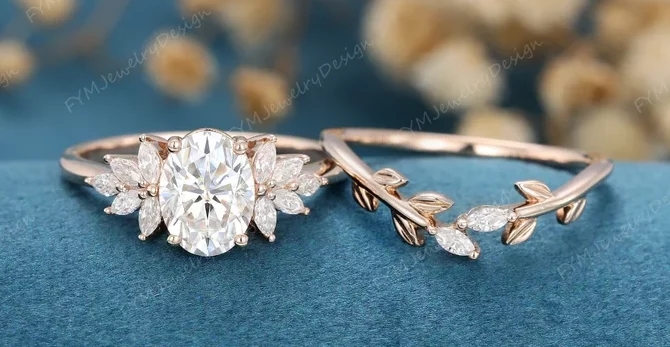 I mentioned before that floral, vine, leaf and other nature motifs all are some of the most beautiful vintage-inspired designs. This holds with this exquisite engagement ring set. The engagement ring radiates fire and brilliance with an oval-cut center stone. Five accent petals on the other side flank the stone with whimsical sparkle. Meanwhile, the marching band would be perfect for a boho-style wedding. This ring set is available in 14K or 18K white, rose, or yellow gold. To me, it proves again that diamond alternative engagement rings can be just as gorgeous. Buy Here.
Pros
Nature Motifs
Truly Unique Vintage-Inspired Style
Your Choice of 14K or 18K Gold
Cons
Modest Carat
Less Sourcing Information (if you opt for diamonds)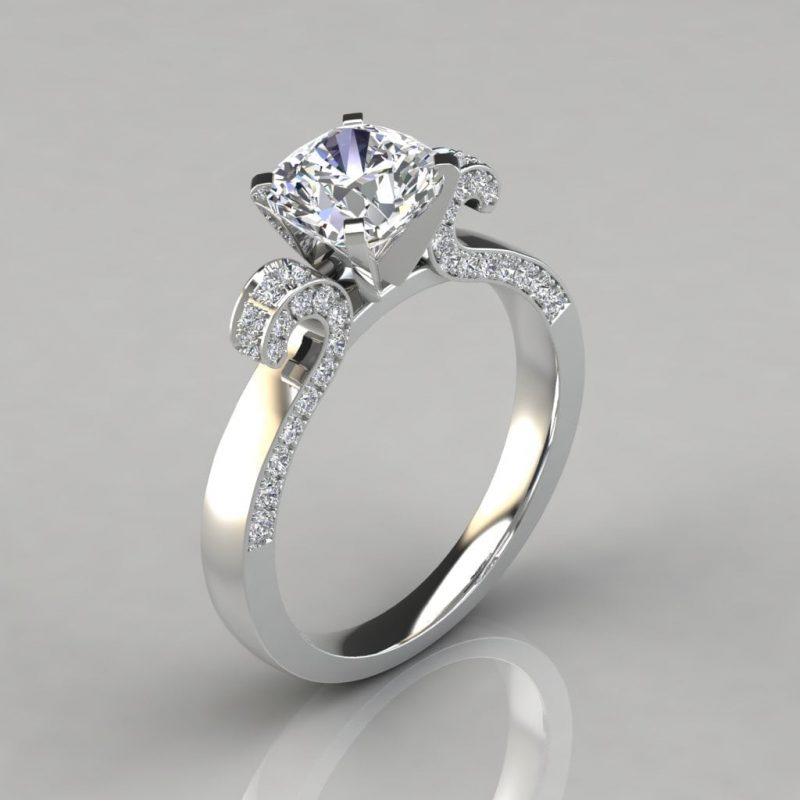 Sure, there are a lot of beautiful rings on this list. But, I think this is one of the most beautiful ones! I love how the center stone looks like a budding rose. The side stones are beautifully placed too. There are 60 side stones on this ring, which add 0.42 carats to this ring. Talk about breathtaking, am I right? Plus, I love how you can customize the rings you get from Forever Moissanite, so that's always a plus for me. Buy Here.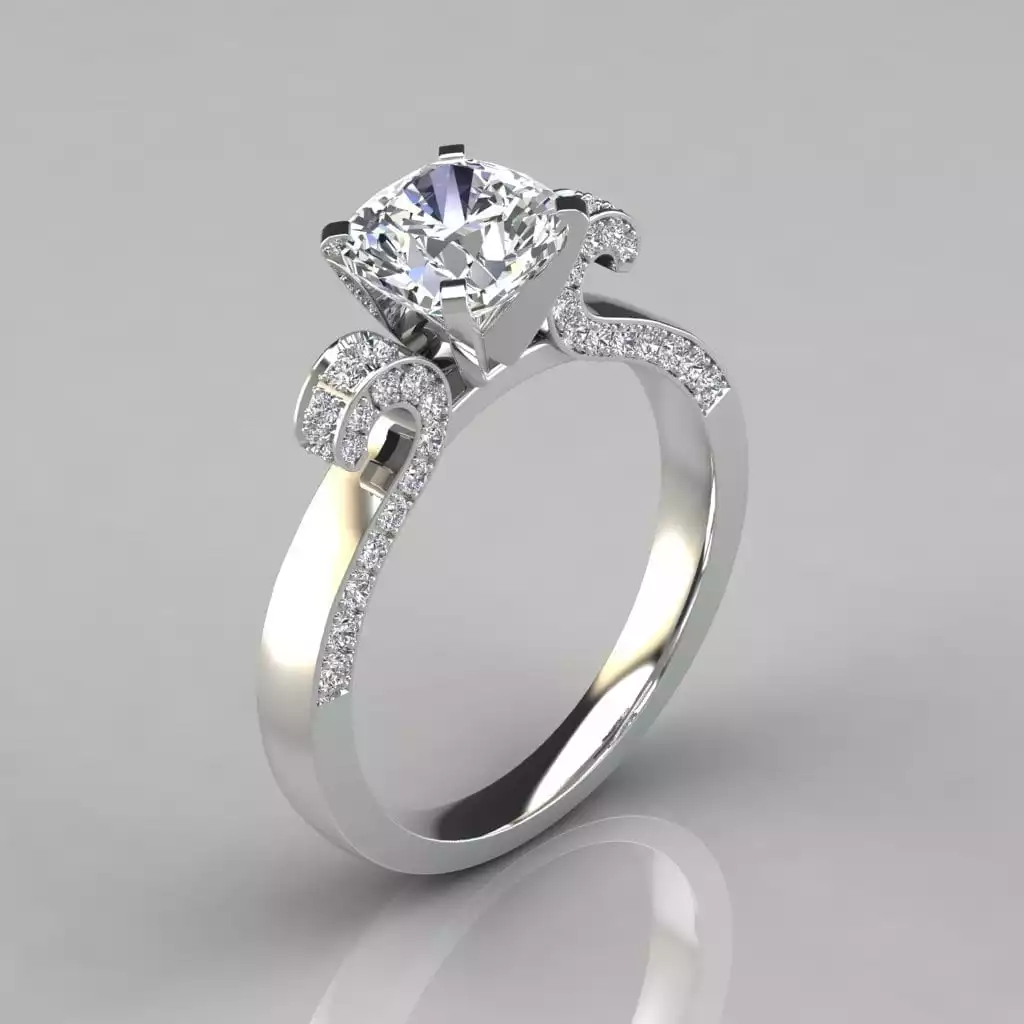 Pros
Over 60 side stones, which help to add unique detail to this ring
This beautiful moissanite ring looks like a budding rose, without the thorns
Hand cut stone
Cons
You can only go up to 3.00 carats
Frequently Asked Questions
Question: Where can I buy a vintage-inspired moissanite engagement ring for under $500?
Answer: You can find engagement rings with a vintage design under $500 if you shop wisely. Sterling silver and 10K gold rings drop the price. The carat size must be quite modest, too. I would always opt for a lower carat while retaining quality standards for metal type and an eye-clean stone. The best place to shop for cheap rings is Etsy. This Vintage Style Moissanite Ring features an antique milgrain band and is well under $500.
Question: What does a moissanite engagement ring symbolize?
Answer: The meaning and lore of moissanite aren't as well-known as a diamond, but it's still a beautiful message. Moissanite is a strong stone, pointing to a strong connection between two people. I also love that it's been tied to ambition and future potential.
Question: Does Zales, Tiffany's, James Allen, or Jared sell moissanite engagement rings?
Answer: Many traditional jewelers don't sell moissanite rings. If you want in-person and online shopping from a jewelry chain, your best option is Kay Jewelers. Surprisingly, Kohl's also sells a collection of moissanite engagement rings. Always call your local store first to check for availability.
Final Thoughts
There's nothing quite like a vintage-inspired ring. No matter what style you decide on, it's sure to be a unique, expressive ring with a sense of timelessness. While moissanite is relatively new to the scene for truly vintage rings, a vintage-inspired ring will provide the same iconic designs at a reasonable price. Moissanite engagement rings continue to rise in popularity, and while they are not the same as diamond engagement rings, they have a unique brilliance and beauty of their own. If you need even more style ideas, I love looking on Pinterest. It's a great way to create an inspiration board so you have an idea of what you're looking for even before you start shopping.
Best Online Moissanite Retailer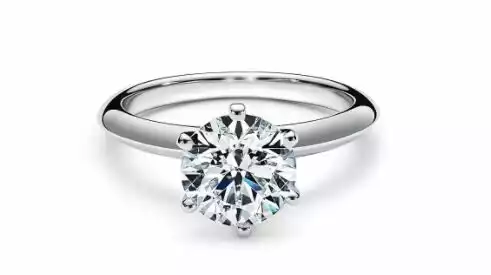 Looking for more inspirational readings? Check out: