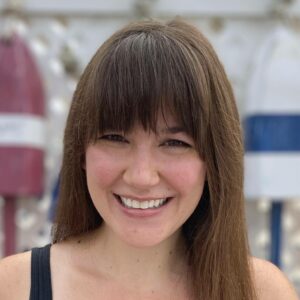 Latest posts by Lauren Vigdor
(see all)
I must say, as a relatively well-liked (at least I hope so!) woman in her thirties, I've been to my fair share of weddings. I've also been designing and crafting jewelry for quite some time, though when I rack my brain, I can't say with any certainty that I've ever seen a five carat ring up close. Five carat rings are considered to be very large (the average engagement ring in America is closer to one carat,) and they can be prohibitively expensive. If you're in the market for a larger-than-life ring, you may want to consider a five carat moissanite ring. You'll get a huge, sparkly ring and save tens or even hundreds of thousands of dollars!
In this article, I'll walk you through my choices for the best five carat moissanite rings. These rings are all large, brilliant, high-quality pieces of jewelry. They're also much more affordable than diamond rings!
Best Online Moissanite Retailer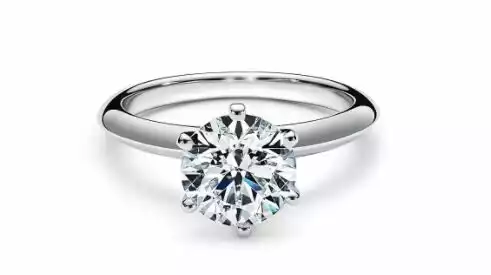 Bottom Line Up Front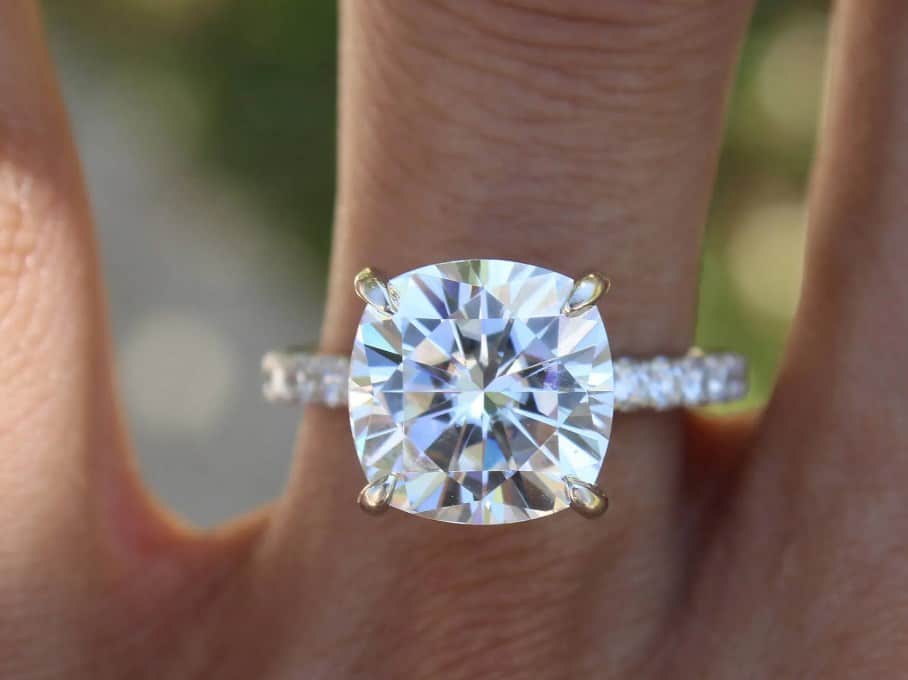 I selected all of the rings on this list because I love them all, but my favorite is this elongated cushion cut ring. I think it strikes the best balance of quality vs cost. It's a well-made ring in a classic style that looks more expensive than it actually is! For the rest of my selections and why I chose them, read on!
My Picks at a Glance
Is Moissanite a Diamond?
Moissanite is not a diamond. It is a completely different natural gemstone that is found in the Earth's crust and meteorites. It's made of silicon carbide and is extremely hard and durable. Moissanite is very sparkly, and even more brilliant than diamonds, and it is often used as an alternative stone to diamonds, especially in jewelry.
Natural moissanite is rarer than diamonds. In fact, it's so rare that almost all of the moissanite used in jewelry is made in a lab. This allows for more affordable (and eco-friendly) stones, which makes moissanite an appealing option for anyone in the market for a large engagement ring.
How Do I Choose a Five Carat Moissanite?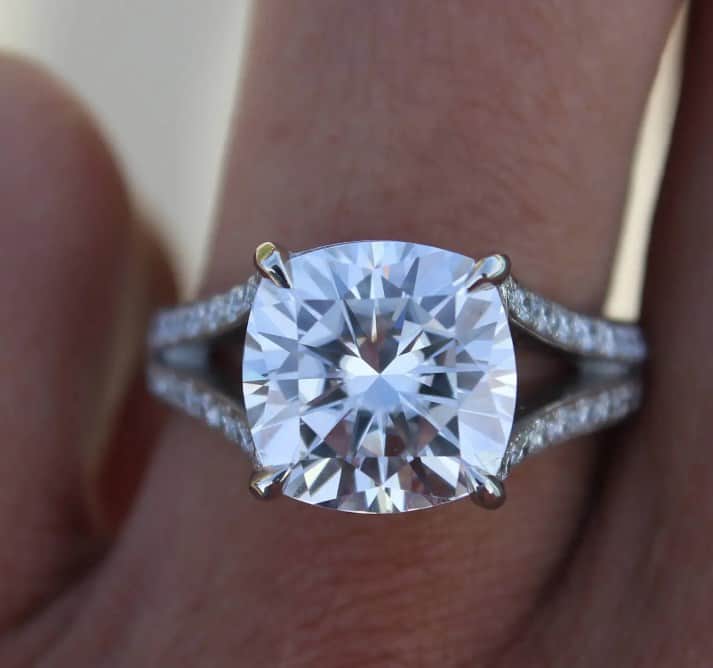 When it comes to choosing a large moissanite, quality is extremely important. It's much harder to hide flaws in a large stone, so choose the best possible quality moissanite you can afford, especially in terms of color and clarity (more on those below!)
When we talk about moissanite, we can use the same "four Cs" that we use to determine the quality of a diamond. Cut, carat, clarity, and color should all be considered when choosing a moissanite, though some of those categories have less effect on the overall quality of your moissanite than they would on a diamond.
The cut of a moissanite is a great place to start. That's the shape of the stone and is crucial to the final appearance of your ring, so choose one that you like! Cut also refers to the quality of the individual facets, which will affect the stone's brilliance. Choosing a stone cut by a reputable professional will ensure that you receive a well-cut moissanite.
The carat is the weight of a stone, specifically a diamond, and dictates its size. Moissanites are measured in millimeters, not in carats since moissanites weigh about 10 to 15% less than diamonds do. Often jewelers will measure moissanite in their "diamond equivalent weight," that is, the carat weight of a similarly sized diamond. For the sake of this article, that is what I'll be referring to when I say "five carat moissanite rings."
Diamond prices tend to increase exponentially as their carat weight increases. This is not the case with moissanite, though that's not to say that a large moissanite won't be expensive. Five carat diamond rings can cost hundreds of thousands of dollars, and even up to more than ¾ million dollars! Five carat moissanites are much more affordable.
The Color of a moissanite is one of its most important features. Since moissanite tends to exhibit off colors, you're going to want to look for one that's as colorless as possible. If you're looking for a moissanite that looks similar to a diamond, choose a stone in the DEF range (see chart below)
| | |
| --- | --- |
| Color Rating | Description |
| D E F | Colorless – stone is considered completely colorless |
| G H I J | Near Colorless – stone will display a slight tint of color, usually only visible under certain light |
| K L M | Faint – Stone will have a slight yellowish tint |
| N O P Q R | Very Light – Stone will be very lightly colored, usually yellow or brownish |
| S T U V W X Y Z | Light – Stone will be light to deep yellow colored |
The clarity rating of moissanite measures whether or not it shows any imperfections, either to the naked eye or when magnified. Clarity isn't as much an issue with moissanite as it is with diamonds, since moissanite is lab-grown and rarely has any visible imperfections. The chart below shows the scale on which clarity is rated for both moissanite and diamonds.
Clarity Rating
Description

FL – Flawless

Flawless clarity with no blemishes.

IF – Internally Flawless

Tiny internal blemishes are only visible under 10x magnification.

VVS1 – Very Very Slightly Included

VVS2 – Very Very Slightly Included

Slight blemishes that are invisible to the naked eye but can be seen under 10x magnification.

VS1 – Very Slightly Included

VS2 – Very Slightly Included

Inclusions that are easily noticeable with magnification, but still hard to see with the naked eye.

SI1 – Slightly Included

SI2 – Slightly Included

Some inclusions/cloudiness may be visible to a trained, naked eye. Most will still be hard to spot without magnification.

I1 – Included

I2 – Included

I3 – Included

Imperfections, inclusions, and/or cloudiness will be visible to the naked eye.
Some Things to Note
Keep in mind that when it comes to large moissanite, some of the properties of the stone that some people find less desirable will be more apparent than with smaller stones. That means that off colors and rainbow brilliance known as the "disco ball effect" might be more visible in five carat moissanite. For a breakdown of common moissanite problems (and information on whether or not you should care about them) click here.
My Choices for the Best Five Carat Moissanite Rings
Quality and cost are the two most important features to consider when choosing a large moissanite ring. Unfortunately, those features are often at odds with one another. It should come as no surprise that the better the quality of the stone, the more it costs. Below are my choices for the best five carat moissanite rings that are not just beautiful and brilliant, but strike a balance between quality and cost as well.
For a list of places to buy moissanite engagement rings online, click here!
Six Prong Solitaire Ring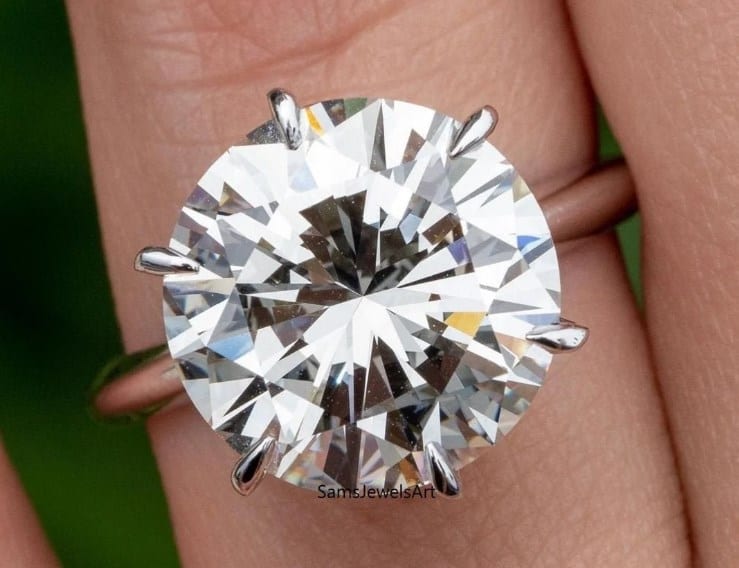 When you've got a rock the size of a meteorite on your finger, does it really need any embellishment? This ring from Sams Jewels Art on Etsy is stripped down and straightforward. The five-carat round brilliant moissanite isn't colorless, but for that price, does it even matter? Buy here for $396.20
Pros
Very affordable

Simple, timeless style

Will work with a variety of wedding bands
Cons
Moissanite is near colorless and will show some off colors

Too simple for some people
Oval Cut Moissanite Hidden Halo Ring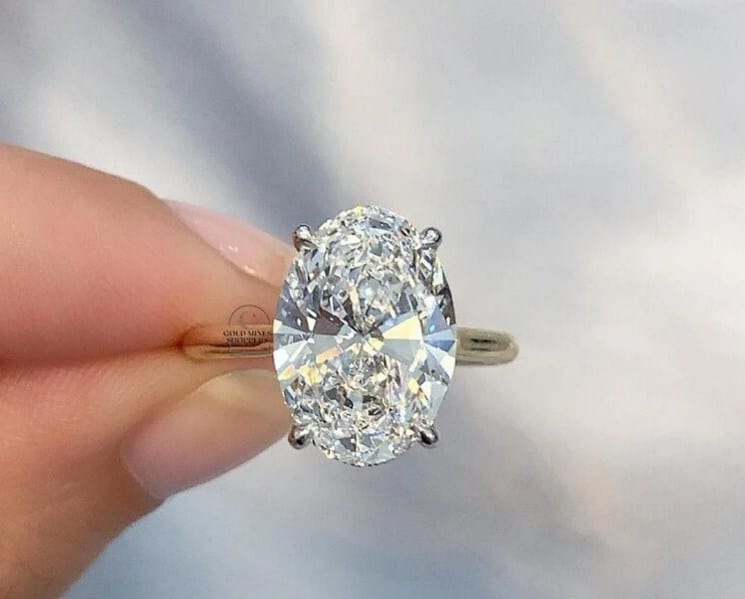 I'm floored by the size and sparkle of this oval cut ring from Gold Mines Shoppers on Etsy, especially for that price! My favorite part of this ring, however, is the hidden halo. It's an ultra-luxe detail that you don't expect to find on a ring that costs less than $500. The one thing I don't love about this ring is the metal. It's only offered in two-tone sterling silver, which will tarnish over time. The two-tone metal does give it a vintage feel, though it won't suit everyone's taste. Buy here for $432.86
Pros
Classic looking ring

Tons of size options, with a quarter, sizes 4 to 12 ¾ available

Unexpected hidden halo detail
Cons
Sterling silver will tarnish over time

A two-tone setting won't appeal to everyone

No options to swap out the metal
Moissanite Radiant Halo Engagement Ring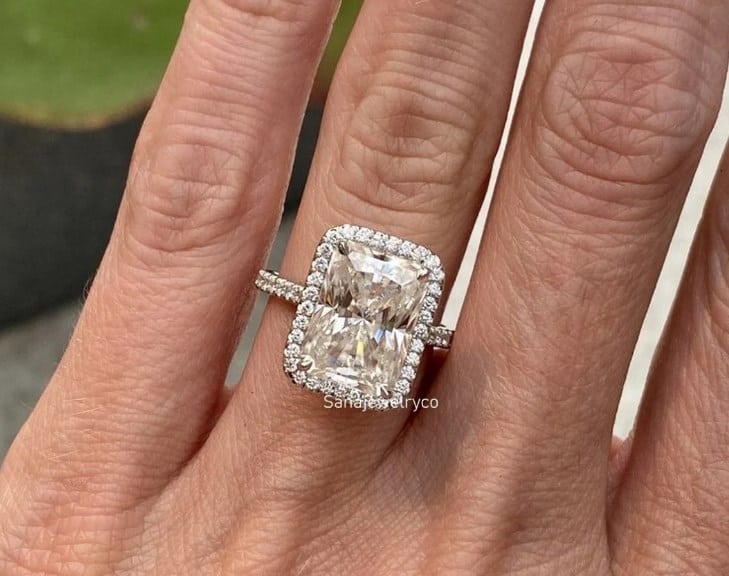 If you're here for sparkle, you've come to the right place! It doesn't get much more brilliant than a five carat radiant cut moissanite surrounded by lab-grown diamonds on a diamond band. This ring from Sana Jewelry Co on Etsy serves up some serious shimmer and is sure to draw some attention. This one's definitely not made for the meek. Buy here for $596.33
Pros
Definitely one of the most brilliant of all the rings on this list

Tons of size options

Three metal options are available, though I'd recommend the 14K
Cons
No color rating listed for center moissanite

Might show too much rainbow fire for some people
Blue Crushed Ice Moissanite Ring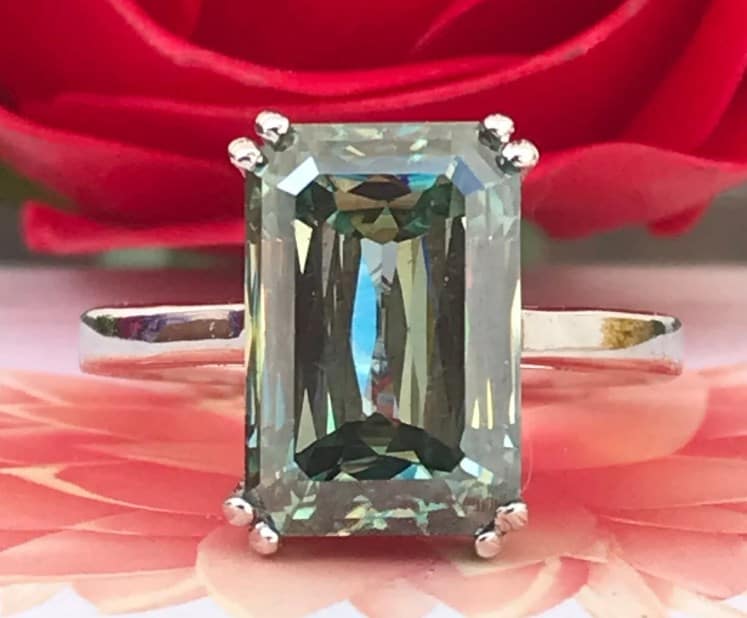 I think the color of this blue-green moissanite from Starlight2012 on Etsy is just lovely. The simple solitaire setting and geometric cut of the stone really let the sea green color take center stage. I think this would make a stunning modern engagement ring for someone looking for something unconventional, but it would also just be a great, relatively affordable addition to your everyday jewelry collection. Buy Here for $680
Pros
Unique blue-green colored stone

Many size options

Several options for both color and quality of metal (I would go with 14K for cost/durability)
Cons
The design may be too severe for some people

Might be hard to find a wedding band to pair with it
Emerald Cut Moissanite Three Stone Ring
I love the vintage vibe of this ultra-romantic five carat emerald cut moissanite ring. The emerald cut is a great choice for anyone concerned about too much artificial-looking rainbow fire emanating from their stone — essentially anyone who might want something slightly more subdued, or anyone looking to pass off their moissanite as a diamond (No judgment here! Social pressure can be real.) Emerald cuts tend to shine without too much sparkle. Though rest assured, this ring is also plenty sparkly. I think the triangular moissanite side stones are especially pretty. Buy here for $943.50
Pros
Emerald cut is great for hiding "disco ball effect" of moissanite

Many inclusive size options

Options to customize color and quality of metal

High quality colorless VVS-VS stones
Cons
Stone sits a little high and wide and may catch on things

Emerald cut may not be sparkly enough for someone looking for a lot of fire
Elongated Cushion Cut Ring with Trillion Side Stones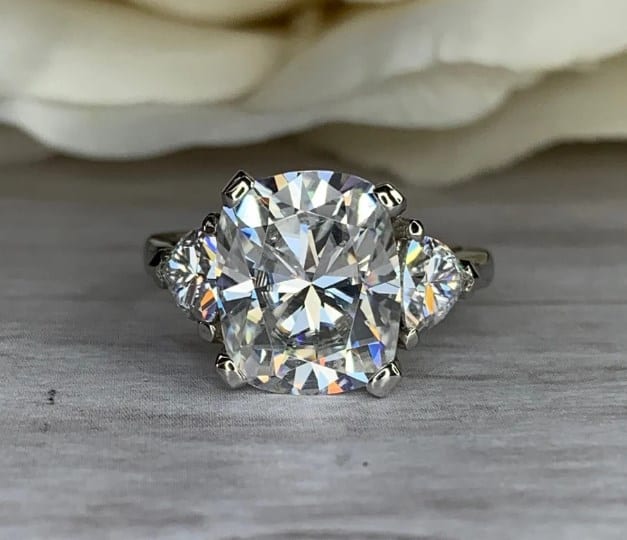 Of all the rings on this list, this elongated cushion cut from Infinity Jewelers USA on Etsy is probably the one I'd be most likely to purchase for myself. It's a great quality stone (FG color,) and while it's pricier than some other options here, it won't completely break the bank. Three stone engagement rings are also one of my absolute favorite styles. They're timeless and elegant, but not too over-the-top extravagant. This ring does run the risk of appearing bulky, but let's be honest — when you're wearing five carats worth of moissanite on your finger are you really worried about bulk? Buy here for $1,755
Pros
High quality moissanite that comes with a certificate of authenticity

Options for white or yellow gold
Cons
FG rated stone may show slight off colors in natural light

Less affordable than many other options on this list

No rose gold option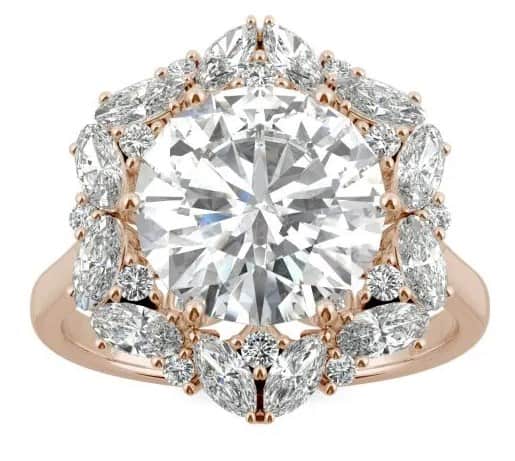 This ring is an absolute showstopper. The center brilliant round Forever One moissanite from Charles & Colvard is completely surrounded by a sea of round and marquise cut moissanite. I like that this setting is a little floral, but not too cutesy. It makes my little vintage-loving heart sing! Buy here for $4,191
Pros
Impeccable quality stones and metal

Available in other metal option on Charles & Colvard site

Free shipping and returns
Cons
May be too ostentatious for some people

Beyond some people's price range
Cushion Cut Halo Ring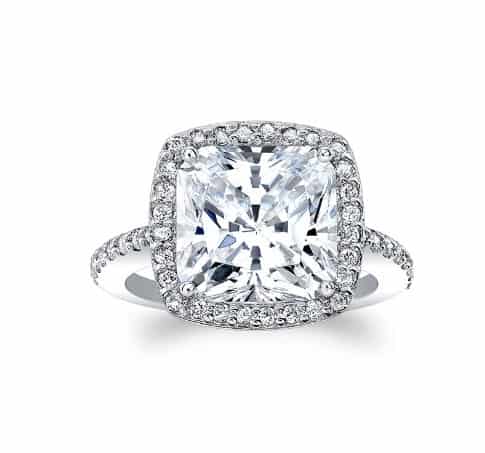 This massive cushion cut moissanite is staggering, to say the least. The halo setting and side stones on this five carat moissanite ring from Barkevs only add to its allure. If you want the look of a celebrity engagement ring, this is the one for you. This ring is composed of a high quality, DEF rated five carat moissanite and 44 accent diamonds. That's a blinding amount of sparkle! Buy here for $6,500
Pros
Very high quality stones and metal

Elegant, timeless design

Three metal quality options
Cons
Most expensive ring on this list

No options for yellow or rose gold
Honorable Mention — Blue Radiant Moissanite Ring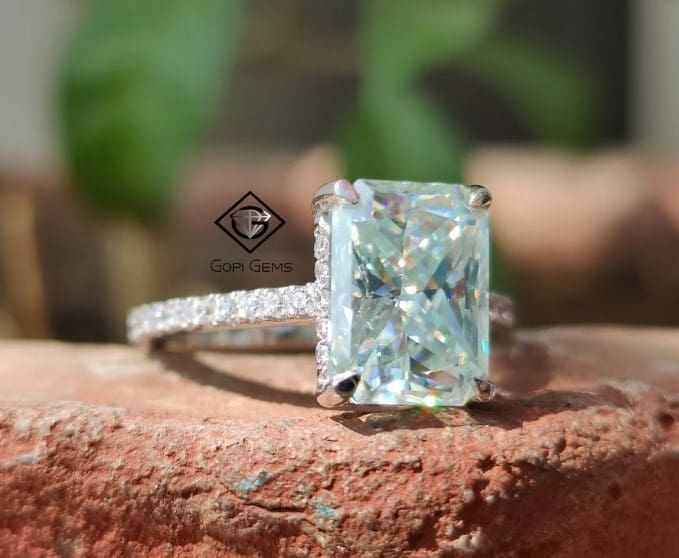 Although this ice blue moissanite ring didn't originally make the final cut, I felt like it deserved a place on this list. The blue radiant cut center moissanite and colorless side stones on this ring from Gopi Gems on Etsy are all very high quality, and the color is just gorgeous. I especially love the hidden halo detail and how delicate the band is. This ring would also be a great, extra-durable aquamarine substitute for a March birthstone ring. Buy here for $453.35
Pros
Gorgeous color

Many sizes to choose from

Options to customize metal color and quality
Cons
Blue colored stone won't suit everyone's taste

Radiant cut may show too much fire for some people
FAQ
Question: What carat size is considered big?
Answer: Any stone larger than two carats or more is considered large. The average-sized engagement ring in America is around one carat.
Question: Is moissanite a waste of money?
Answer: Moissanite is absolutely not a waste of money! It's a beautiful, eco-friendly gemstone that will last a lifetime, and any engagement ring will have significant sentimental value, regardless of what you paid for the stone. 
Question: Are lab grown diamonds the same as moissanite?
Answer: No, lab grown diamonds and moissanite are two different gemstones, though both are grown in a lab. Both are beautiful, sparkly, durable stones, but they each have distinct properties and chemical compositions.
Question: Does moissanite lose its sparkle over time?
Answer: Moissanite will not lose its sparkle over time. It will stay fiery and brilliant for generations. Moissanite also tends to repel dirt, but if your moissanite does get dirty (which can dull its sparkle) it is easily cleaned with a soft, damp cloth.
Question: Is a moissanite engagement ring tacky?
Answer: A moissanite engagement ring is definitely not tacky! It's a sparkly, eco-friendly stone that will last a lifetime, and it's made from space dust! What more could you ask for!
Question: What size moissanite looks most like a diamond?
Answer: If you're concerned with trying to pass your moissanite off as a diamond, you should probably choose a stone that is one carat or below. Anything else might look suspiciously large, and any off colors and artificial brilliance will be more noticeable.
Final Thoughts
Five carat moissanite rings are a great option for anyone looking for a large, sparkly ring that doesn't cost the equivalent of the downpayment on a house (or in some cases, the whole house.) They're just as beautiful and durable as diamond rings, and happen to be more eco-friendly as well!
My favorite five carat moissanite ring from this list is this elongated cushion cut ring from Infinity Jewelers USA. It's made with high-quality stones and metals and even looks more expensive than it is. It's also one of the more durable designs on the list, so it can most likely withstand you inevitably knocking your giant engagement ring into something. Wearing a rock that size is going to take some getting used to!
Best Online Moissanite Retailer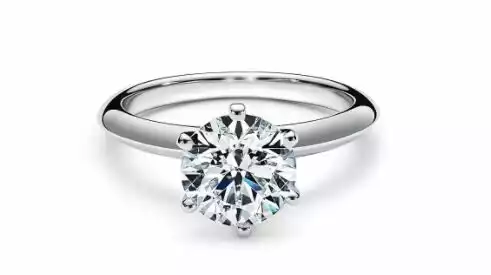 Recommended Reads: