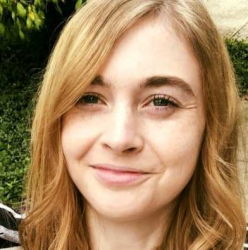 Latest posts by Erin Jamieson
(see all)
A sparkling ring with beautiful brilliance and fire—for a fraction of the price of a diamond. Sounds too good to be true? Many are worried about going for a diamond alternative. Even as moissanite is growing in popularity, I see customers claiming that moissanite gets cloudy, ages, or discolors over time.
As someone who loves to be frugal but also values quality, I want to separate myths from facts to help you decide if you should buy moissanite. The truth is not as clear– or more cloudy than it may appear. Much of how long moissanite lasts has less to do with moissanite and more to do with how you care for it and the quality of your jewelry.
Bottom Line Up Front Summary:
Despite the concerns with moissanite getting cloudy, it neither becomes permanently cloudy nor turns yellow as it ages. Moissanite can last long like a diamond, so long as it's taken care of properly. The main reason behind a cloudy or dull appearance for moissanite is build-up from daily wear. Luckily, you can prevent a dull or cloudy moissanite look by selecting the best quality stone in the first place and regularly cleaning it. I've provided some buying options for cleaners, but you can also use gentle soap and water.
My Top Picks for Moissanite Care
Connoisseurs Precious Jewelry Cleaner

:

Best Budget-Friendly

Magnasonic Ultrasonic Jewelry Cleaner

:

Best Ultrasonic Cleaner

Simple Shine Complete Jewelry Cleaning Kit

:

Best Natural Cleaning Kit
Why Moissanite Looks Cloudy or Dull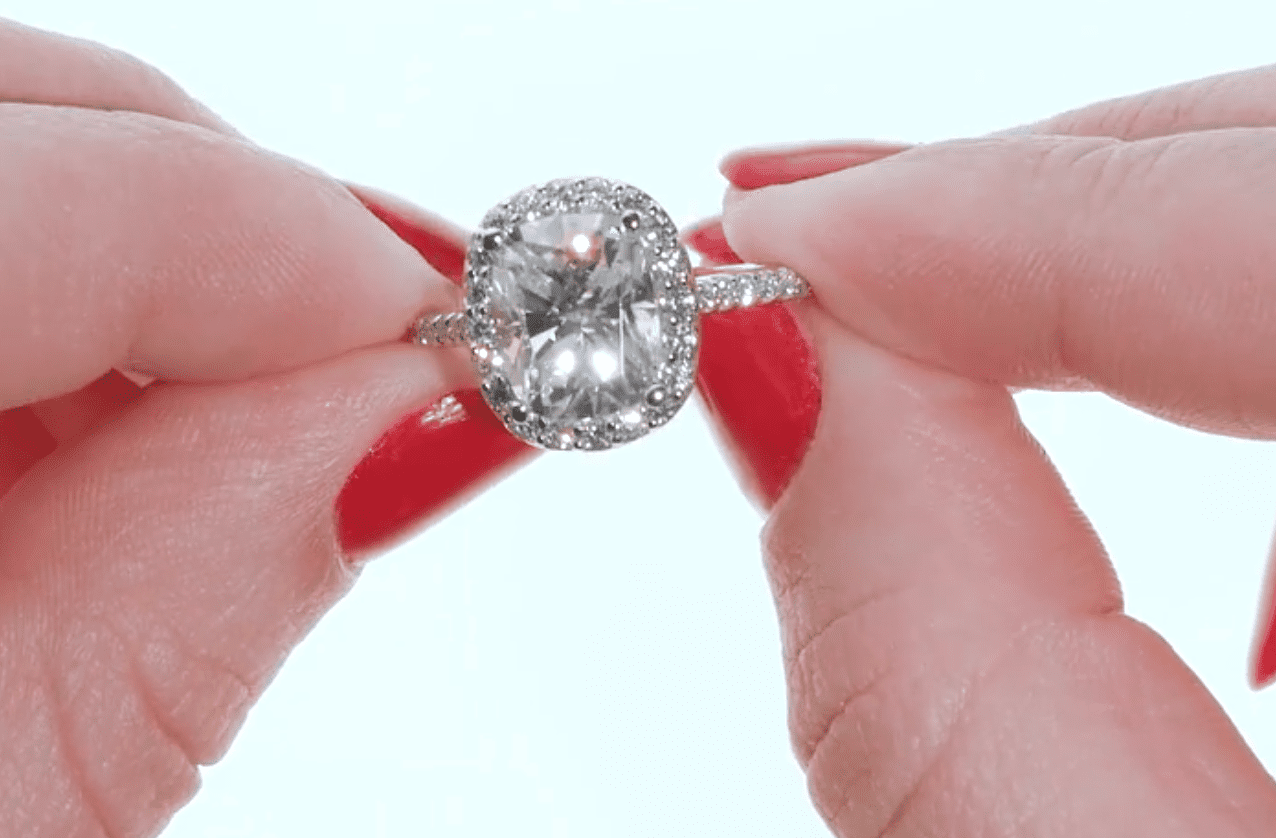 The answer to if moissanite gets cloudy over time is not a simple yes or no question. Moissanite itself doesn't degrade the way a manufactured stone would. But improper care, poor selection, or buying a fake stone can all play a part in why you're stuck with a dull moissanite stone.
Reason #1: You Selected a Poor Quality Stone
First things first: the lower the color and clarity grade, the more likely you are to end up with a dull or discolored stone– no matter how well you care for it. Moissanite stones that have a faint touch of color (J to K) will have yellow undertones. While moissanite will not get yellow, it will present as yellow if you buy within that color grade or worse. Moissanite with more than very slight inclusions will be less brilliant and appear duller. However, they should not get duller over time.
Reason #2: You're Not Cleaning/ Caring For it Properly
Moissanite can get dirty easily, so you need to be willing to provide proper cleaning and care. Everyday wear builds up dirt and natural oils. Even if you're careful, you may find your moissanite looking dull, though the 'fogginess' is gradual. Lotions, cleaning agents, and other chemicals (even soap) can speed up the process. The good news is that diamonds, professional or even at-home cleaning can clean this residue. Almost always, a dull or foggy appearance can be easily resolved.
Reason #3: You Bought a Fake
While moissanite is not as expensive as diamonds, it is more expensive than something like cubic zirconia or other manufactured options. If your stone discolors and it's permanent or is perpetually foggy, chances are you may not have bought moissanite. I will assure you that this is also easy to avoid.
How to Take Care and Clean Moissanite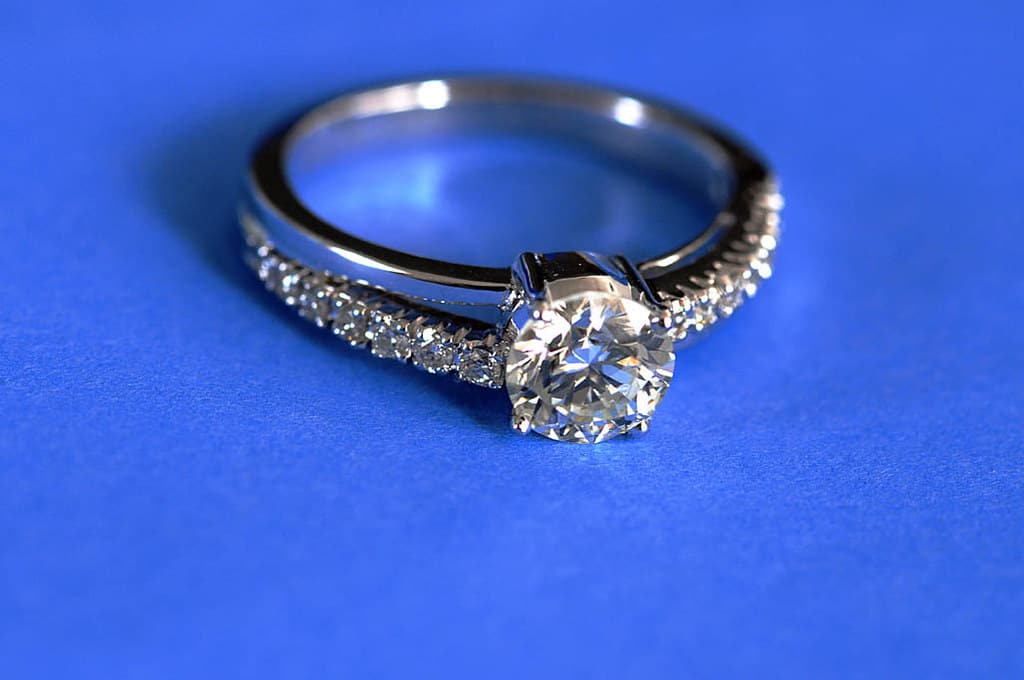 If you're willing to properly clean and take care of moissanite, you'll find that it won't be cloudy or dull. So here are a few of my top recommendations for keeping your moissanite ring or jewelry sparkling and brilliant.
Everyday Wear and Maintenance
Moissanite can be worn every day, and it doesn't scratch easily. You can shower without issues– moissanite isn't damaged from getting wet. However, even mild soap and lotion can add to build-up. The build-up will require a cleaning process at some point. I'd remove your moissanite ring while swimming (chlorine) or using harsh chemical agents. Honestly, we're all guilty of not taking the best care of our jewelry at times but I also know taking this simple step can make a difference in the durability and beauty of your moissanite. You don't need to worry about heat: moissanite can take up to around 2,000 degrees Fahrenheit before being impacted.
How to Clean
You have a few options for cleaning a moissanite ring or other jewelry. You can handle a lot of regular care at home. If you have a moissanite ring, also make sure your metal can withstand cleaning methods. Solid gold (10K to 18K, no plating), platinum, tungsten, titanium, and stainless steel can all be cleaned in these ways. Here are your options:
Once a Month: Warm Water with Gentle Soap
Use a soft cloth. A toothbrush can help clean crevices and grooves. The water should be warm, not hot. I'd avoid using a scrub brush, and make sure whatever is being used is properly cleaned. You may also use a professional cleaner designed for fine jewelry.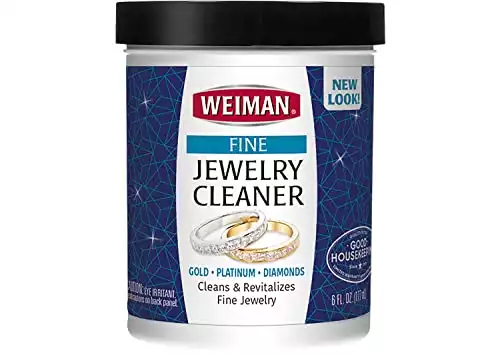 Weiman Jewelry Cleaner Liquid | Amazon
Weiman Jewelry Cleaner contains a mixture of surfactants, ammonia and ch-elating agent to remove dirt and restore shine without harming your jewelry.
Buy at Amazon
We earn a commission if you click this link and make a purchase at no additional cost to you.
11/30/2023 11:29 am GMT
1-2/ Year: Professional Cleaning
I always recommend checking with your local jewelry store for professional cleaning, and sometimes the jeweler you purchased your moissanite from also offers a complimentary cleaning. However, professional cleaning around once to twice a year is all you need at most.
Be Careful: Ultrasonic Cleaner
One mistake I see people make is using an ultrasonic cleaner on their moissanite if they don't know what they are doing. the truth is, this is an excellent option for a deep clean. The problem is that you have to be knowledgeable. Ultrasonic cleaners are quite popular but please only buy one if you fully read the instructions.
How to Choose Moissanite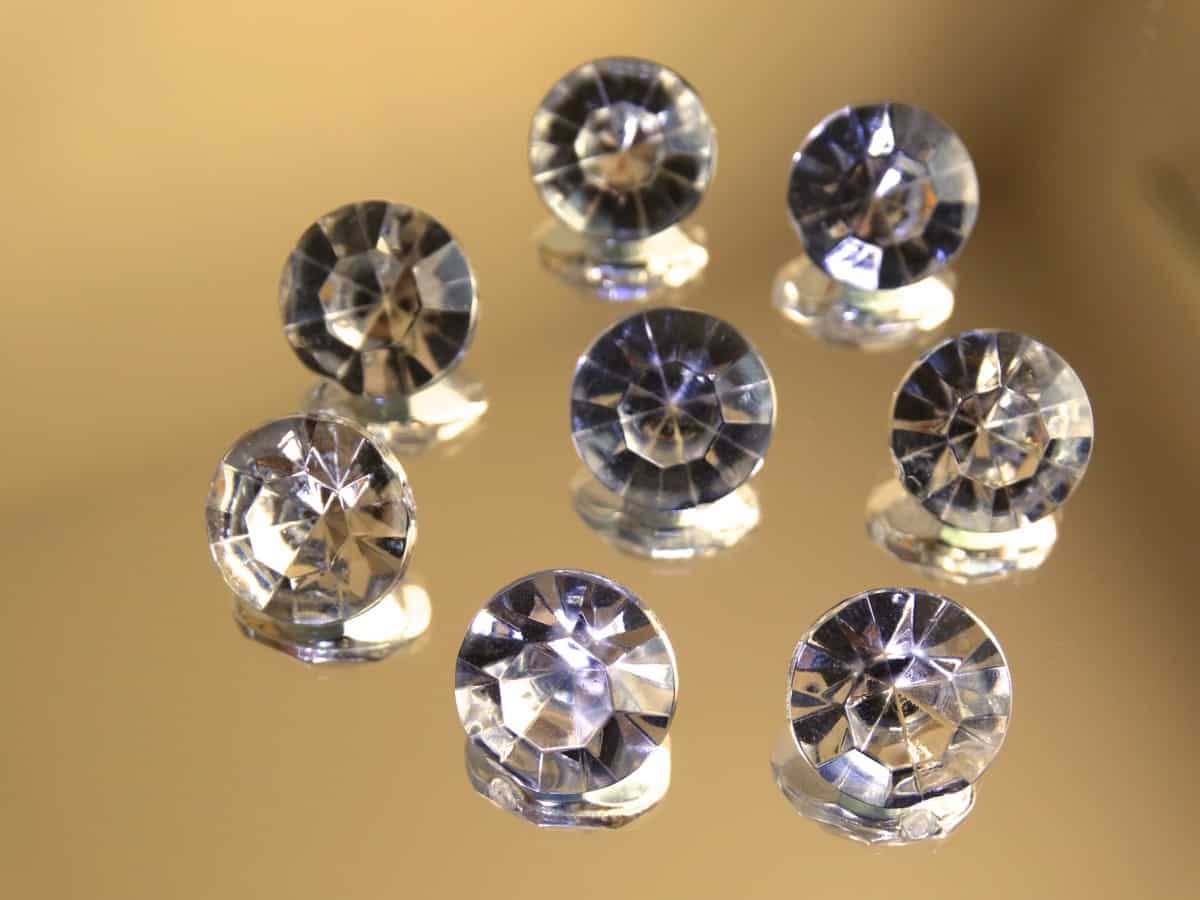 Of course, even if you take the best care of your moissanite possible, the only way it'll be any good for fire and brilliance is if you know what to look for in terms of quality. Above all, the quality specs of moissanite impact if it looks yellow, cloudy, or dull.
Quality Scale
While moissanite isn't directly rated the same way GIA-certified diamonds are, there are still very close comparisons for its quality scale. This involves the color and the clarity of moissanite (as well as the quality of the cut). This ensures that you find the best quality moissanite possible.
Color
If you want to ensure that your moissanite doesn't look yellow, I recommend buying only colorless or nearly colorless moissanite. D, E, F are the grades given for colorless moissanite. G, H, I are given for nearly colorless moissanite. As such, avoid any moissanite that either doesn't have a letter grade or description or is rated a J or above.
Clarity
Want to make sure your moissanite isn't dull and has beautiful fire and brilliance? Then clarity is also very important. See the chart below. I recommend no worse than a very slightly included moissanite, but preferably very very slightly included and above. The information on grading is provided by With Clarity.
| | |
| --- | --- |
| Clarity Symbol | Meaning |
| Fl, IF | Flawless or Internally Flawless |
| VVS1, VVS2 | Very Very Slight Inclusions |
| VS1, VS2 | Very Slight Inclusions (can be seen under magnification) |
| SL1, SL2 | Slight Inclusions (can be seen on surface) |
| I1, I2, I3 | Inclusions Are Notable |
Great Moissanite Cost
To avoid discolored or cloudy moissanite, you'll need to pay at least an average cost. That will run around $1,000 to $1,500 per half a carat. That may sound expensive, but it's about half the price of a diamond of the same quality.
Who Makes the Best Moissanite?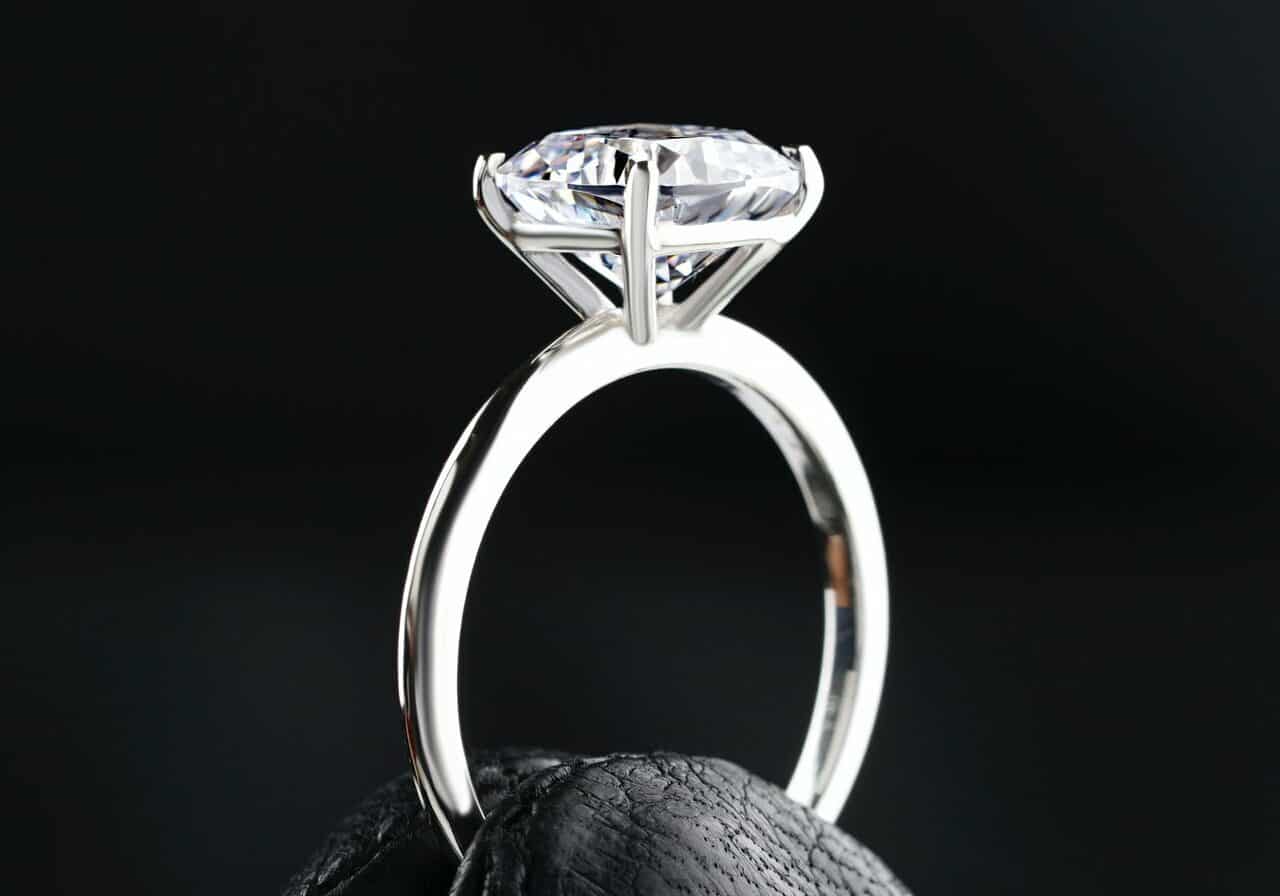 While there are several reputable sellers of moissanite, a few I've received stand out for their fine craftsmanship, selection of carat weight and styles, and consistently beautiful lab-grown stones. (Moissanite is also naturally occurring but very rare– so most are lab-grown). Brilliant Earth, a company is known for its ethical and Eco-friendly jewelry, has a gorgeous selection of moissanite. Charles & Colvard is famous for its high-quality Forever One moissanite rings and jewelry. Outside of that, there are some excellent and unique moissanite jewelry products on Etsy, but you have to shop carefully to avoid dull stones.
Best Moissanite Care Products and Cleaners
To get you started with home care for your moissanite, I'm recommending just a few products. These cleaners are gentle, designed for moissanite, and still provide a deep clean. They were selected based on ingredients, customer reviews, and prices. Remember: these are not meant to substitute for professional cleaning at a jewelry store.
My final disclaimer is that even the best products, when used improperly, can provide less than stellar results. Please be careful and only used these products as instructed. Here's to moissanite without the build-up that can mar its beauty and make it appear cloudy.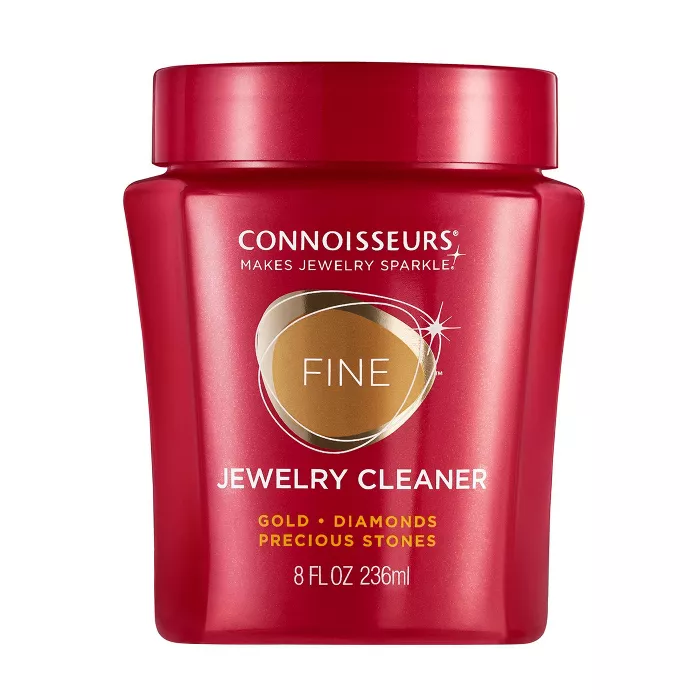 Connoisseurs Precious Jewelry Cleaner | Target
Regular use of Connoisseurs Precious Jewelry Cleaner will bring out the brilliance of your gold, platinum, diamonds & precious stone jewelry. Special polymers in our jewelry cleaning formula help to reduce the appearance of tiny scratches in settings.
Check Price
We earn a commission if you click this link and make a purchase at no additional cost to you.
If I had to select just one moissanite cleaning product (aside from soap) it would be this highly-rated, affordable cleaning product. It's available from Target's online store and is a great value. Store this for all of your moissanite jewelry for easy cleaning. The cleaner is suited for moissanite and nearly all precious metals, making it a great go-to for everything from moissanite earrings to moissanite engagement rings. The cleaner comes with a gentle bristle brush and a drip tray. It's free of ammonia and can clean in under a minute. Buy Here.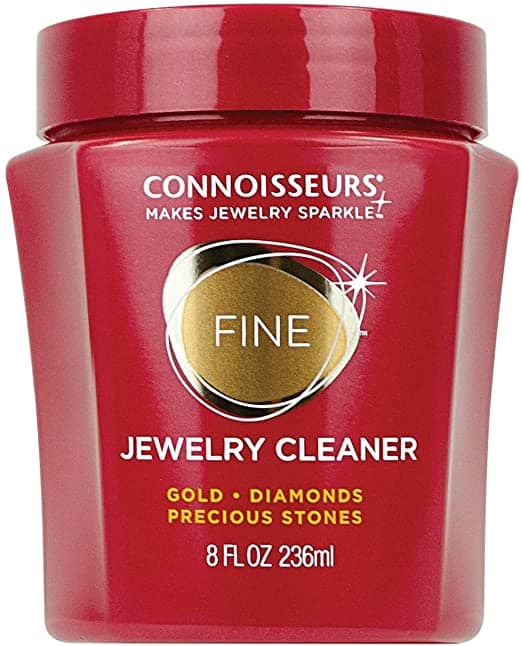 Pros
Includes Drip Tray and Bristle Brush

Cleans in Under a Minute

Use on All Precious Metals, Moissanite, Diamonds
Cons
Not Recommended for Moissanite Jewelry with Pearls

Application Can be Messy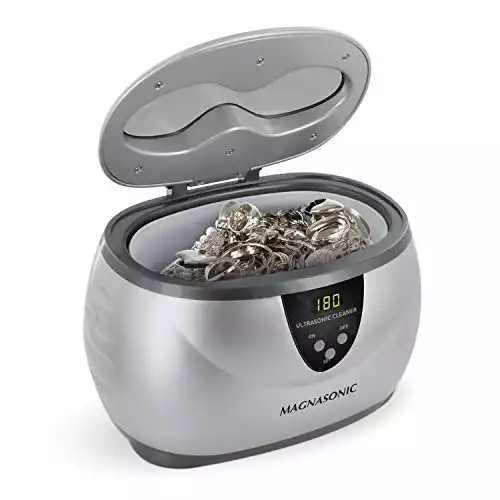 Only buy an ultrasonic cleaner if you're confident you can follow instructions exactly. That said, an ultrasonic cleaner is a way to provide a deep, professional-grade clean. This ultrasonic cleaner is one of the best on the market, for a few reasons. For one, it's not outrageously expensive. For another, it's highly rated. Add to that that it's praised by customers and is user-friendly, and you have a solid option well under $100. The ultrasonic cleaner provides up to 42,000 Hz of sound waves to clean. The bonus is that you're getting a deep clean that's still relatively gentle. I also like that you have 5 different preset cycles and an auto shut off to avoid any problems. The ultrasonic cleaner comes with a clean digital display and is suitable for moissanite and diamond jewelry. It's lightweight, at just over 2 pounds. I also appreciate that it comes with a 1-year warranty on labor and parts. Buy Here.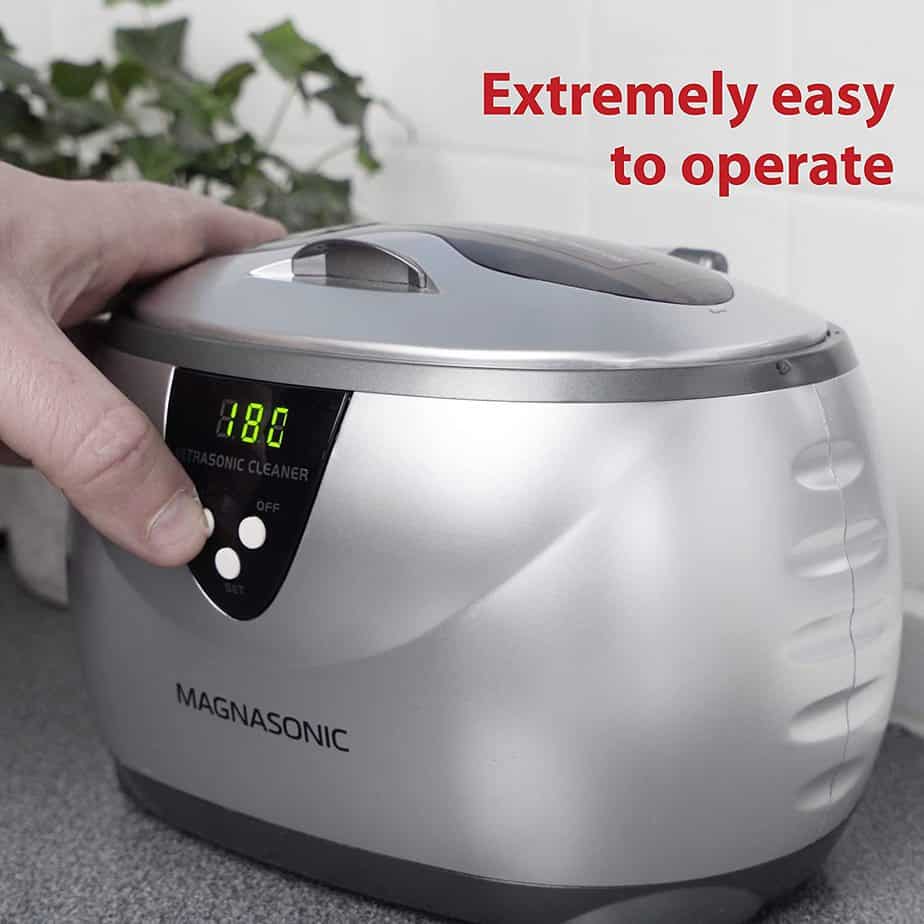 Pros
1 Year Warranty on Parts

Digital Display with 5 Clean Cycles

Automatic Shut Off
Cons
Won't Remove Heavy Tarnish

Can Cause Loose Stones if Used Heavily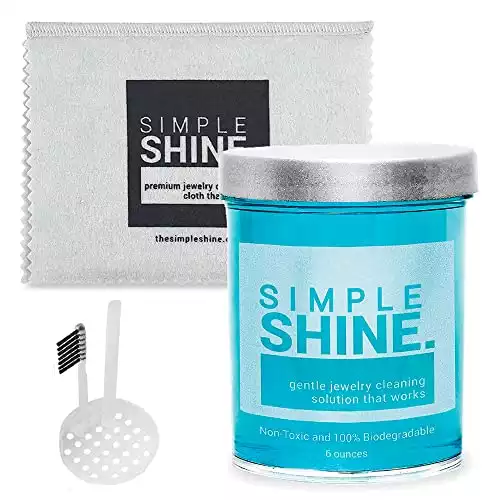 Complete Jewelry Cleaning Kit Polishing | Amazon
Simple Shine gentle jewelry cleaner is formulated to safely clean gold, palladium, platinum, sterling silver, stainless steel, titanium, diamonds, CZ, pearls, beads, porous stones, soft stones, enamel, treated gemstones & more.
Buy at Amazon
We earn a commission if you click this link and make a purchase at no additional cost to you.
11/30/2023 01:40 am GMT
I sometimes get forgetful when I'm shopping, and it's nice to have everything in one package. This Simple Shine kit is perfect for gentle cleaning your moissanite rings, bracelets, earrings, and necklaces if you want something a bit more specialized than soap and water. Unlike soap, it won't leave residue, and it's meant to enhance shine for both your stones and your precious metals. The liquid solution is formulated to work on stains and other build-ups without the risks posed by an ultrasonic cleaner. It's biodegradable and ammonia-free and won't be harsh on sensitive skin like mine. The set includes a cleaning brush, jewelry tray, cleaning cloth, and cleaning brush. It's Buy Here.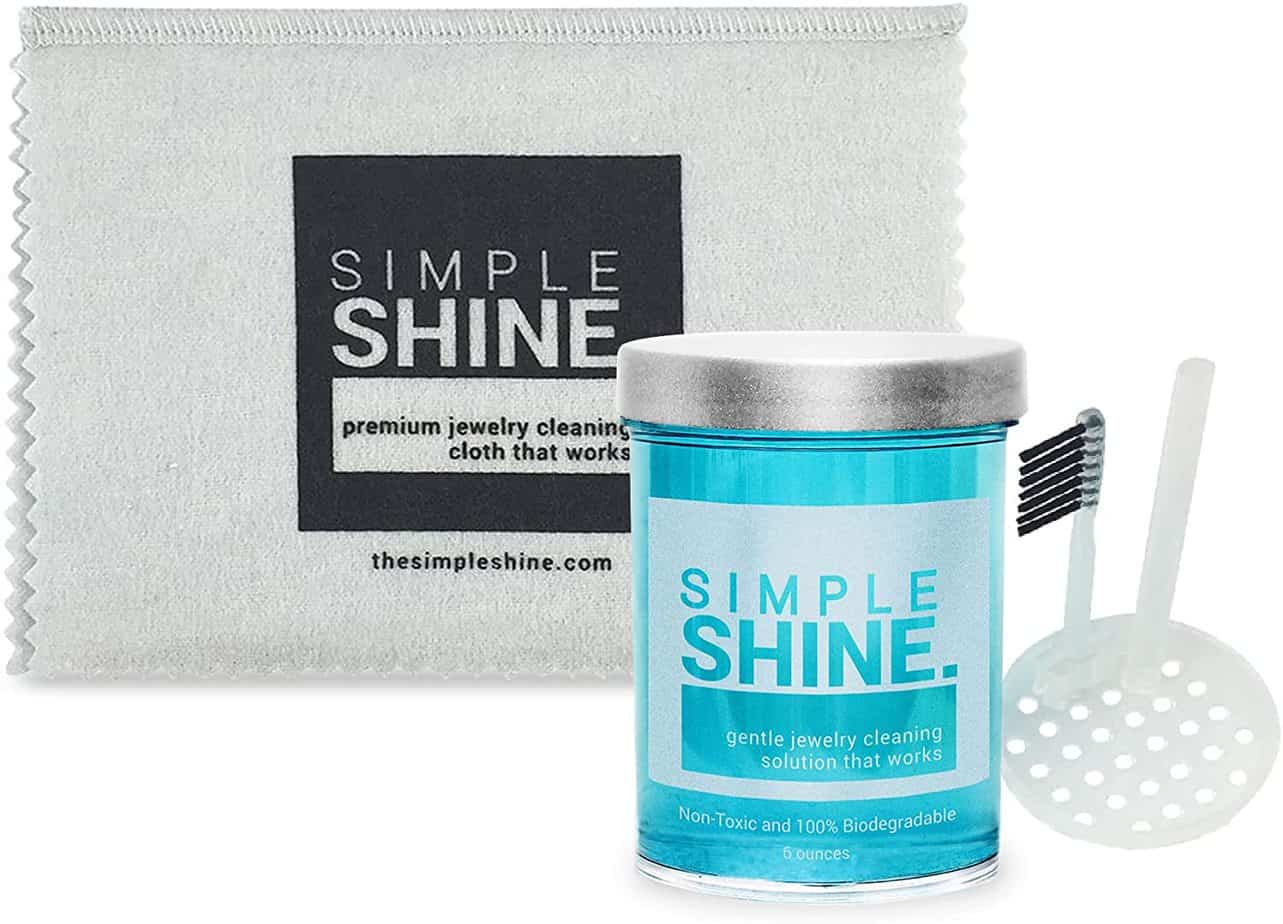 Pros
Good Price

Gentle Cleaning for Stains, Build Up

Non-Toxic and Ammonia Free, Natural Cleaner
Cons
Only 6 Fluid Ounces

Not as Specialized
Frequently Asked Questions
Question: Does moissanite have healing properties?
Answer: While there isn't scientific backing, some use moissanite for spiritual and healing purposes. Moissanite is said to be a useful stone if you have problems–like I do–with overthinking. It's meant to improve mental and emotional clarity by improving your focus and sense of balance. It's also said to 'cleanse' the mind, spirit, and emotions. 
Question: Is moissanite CZ?
Answer: Both moissanite and cubic zirconia (CZ) are popular diamond alternatives. But it's important to emphasize that moissanite isn't CZ, nor is it the same in terms of value or quality. Cubic zirconia is man-made and thus less valuable. CZ has a Mohs hardness rating of 8 to 8.5, vs a 9.25 for moissanite. While there are pros to cubic zirconia vs moissanite — such as affordability– moissanite is a more durable, beautiful diamond alternative. Read my analysis to see if moissanite or cubic zirconia is right for you. 
Question: What is better than moissanite?
Answer: Moissanite is one of the best and most popular alternatives for diamonds, but it's not for everyone. Comparing diamonds vs moissanite, moissanite is slightly easier to scratch but still quite durable (9.25 hardness vs 10 hardness). I also want to stress that you can tell the difference between a diamond and moissanite under sunlight. A diamond sparkles white, while moissanite sparkles multiple colors. There's also value to consider, as both lab-grown and natural diamonds are more valuable than moissanite.  The resale value is notably less for moissanite vs diamonds. But in terms of appearance and durability, moissanite is about as good as you can get for a diamond alternative. Ultimately, it's up to you whether or not moissanite is worth it as a diamond alternative. You can't pass moissanite off as a diamond, but it can still be a beautiful stone. 
Question: When did moissanite become popular?
Answer: Moissanite originated as far back as its discovery in the late 1890s. However, it didn't come out for the jewelry industry and gained popularity until a century later, in the 1990s. I'd argue that moissanite's popularity really picked up after, during the 2000s and especially during the 2010s as a diamond alternative. As we're getting more budget savvy and more open to not following old rules about how much to spend on an engagement ring, moissanite is emerging as an acceptable alternative. 
Final Thoughts
Bottom line? Rumors and fears about moissanite getting cloudy or turning yellow are just that: fears and rumors. There's the saying that a diamond is forever, but moissanite can be as well. Genuine, high-quality moissanite exhibits a unique but brilliant fire that makes it a gorgeous option for engagement rings, earrings, bracelets, necklaces, and more. To give you an idea of how hard moissanite is, moissanite is capable of scratching glass, just as a diamond is. It's honestly my top recommendation for a diamond alternative. But I also think more and more moissanite should be seen as a uniquely beautiful gemstone in its own right. That isn't to say, of course, that owning moissanite is care-free. Here are Common Moissanite Problems you should consider before buying a stone.
Final Buying Recommendation: Excellent Quality Colorless Moissanite
I know I focused a lot of this guide on moissanite care, but that care, as I mentioned before, goes into selecting the very best moissanite possible. You can find moissanite of top quality from Brilliant Earth's Collection and Charles & Colvard's Collection. Charles and Colvard is the most well-known supplier of Forever One moissanite, while Brilliant earth excels with luxurious precious metals and clean modern and vintage-inspired styles. You can also buy loose moissanite stones from Brilliant Earth.
Recommended Reads: