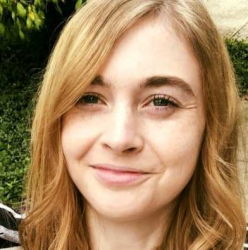 Latest posts by Erin Jamieson
(see all)
Charles & Colvard has been a name in the moissanite jewelry industry since 1995, but recently it made news not for its signature collection of moissanite jewelry, but for how the company is performing financially. Top News-Herald mentioned Charles & Colvard as a key player in the moissanite stone market, alongside other big players such as Amora, Viktor Kammerling, Stars Gem, and Moissanite International.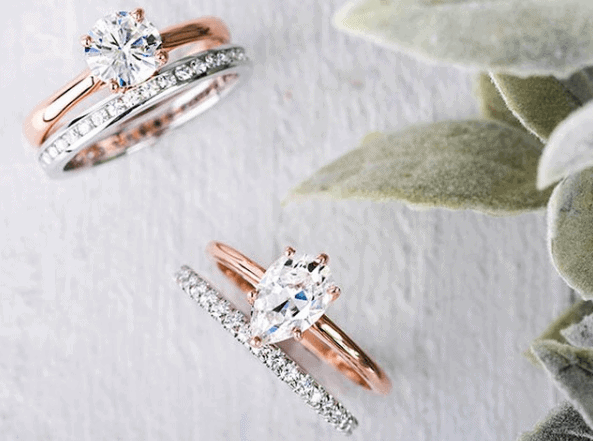 Our Charles and Colvard Reviews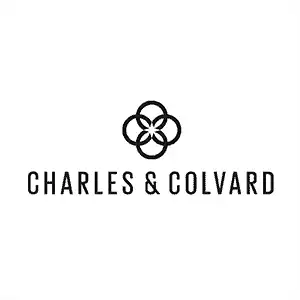 Charles & Colvard's market cap of forty million dollars, and, for further context, Charles & Colvard, Ltd. rose over thirty-eight percent in the past year. If you're wondering what any of this has to do with a review, it shows signs that the company continues to rise in sales. In other words, for whatever reason, Charles & Colvard seems to be a company many have a good deal of confidence in.
Yet that only paints a snapshot. According to Yahoo Finance, Charles & Colvard has a current ROCE of just under six percent, ROCE refers to return on capital employed, which, in laymen's terms, refers to the profit before taxes, with higher percentages being better.
Compare Charles & Colvard's rate with the average for luxury brands, which hover at around twelve percent, and it's clear that, while on the rise, Charles & Colvard is still considered, in some ways, a newcomer in terms of making profits.
Granted, this is for luxury brands as a whole, and it would be disingenuous to review Charles & Colvard as a company solely based either on its recent rise or compared with the average ROCE of all luxury brands.
Financial jargon aside, Charles & Colvard as a company is uncertain for investors, but what does it have to offer consumers? Still considered now a key player as a seller of brilliant moissanite, how does it deliver in terms of products and services?
In this review, we'll look at Charles & Colvard and tell you whether or not we recommend shopping with them.
What is Moissanite?
When it comes to popular real diamond alternatives, moissanite is frequently mentioned. Moissanite is a naturally occurring gemstone comprised mostly of silicon carbide, and as a natural form, is considered actually quite rare. Wyoming is a major place where naturally occurring moissanite can be found.
Moissanite is also interesting in that it is most often found as an imperfection on other minerals. It was actually first discovered in a meteor crater. While it does have a general appearance to a natural diamond, it should not be mistaken for one, nor is it the same as an imitation or simulant, such as cubic zirconia (cubic zirconia is sometimes reffered to simply as "CZ").
What does moissanite look like?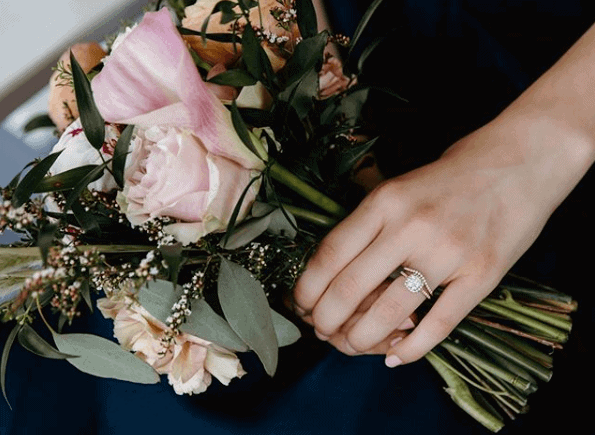 As with all crystals and gemstones, moissanite can range in both color and clarity. However, quality moissanite should have an almost colorless to colorless hue, which is quite similar to diamonds.
Unlike white sapphire, which is prone to look a bit cloudy, moissanite is about the closest you can get to a diamond in terms of color and clarity. That's one of the reasons it's among the most popular diamond alternatives, resembling that beautiful clear aesthetic.
Is moissanite as brilliant as diamonds?
Most of the time, when someone is discussing brilliance, sparkle, or any related terms, they are actually referring to the refractive rate. That shows you how much the gem or diamond will 'sparkle' in light. The brilliance refractive index is the best way to measure this; keep in mind, however, that brilliance is greatly dependent of cut. For instance, diamonds with the ideal cut will display far greater brilliance than those of good or poor cuts.
Diamonds have a refractive index average of around 2.42, compared with 2.65 for moissanite. As such, on average, moissanite is actually considered more brilliant than diamonds. However, it is also important to note that brilliance is different. The light will have a multicolored hue, sometimes described as rainbow, compared with the clear brilliance of a diamond.
Is moissanite as durable as a diamond?
Durability depends on the degree of hardness, how prone to chipping (toughness) and how susceptible to environmental changes (stability). On the Mohs hardness scale, diamonds are a ten; moissanite is just slightly more prone to scratches, as a respectful nine and a quarter.
Both diamonds and moissanite can chip but are considered tough enough to withstand regular temperature fluctuations. And unlike some other diamond alternatives, it is not prone to discoloration or becoming cloudy.
What is the best cut or shape for moissanite?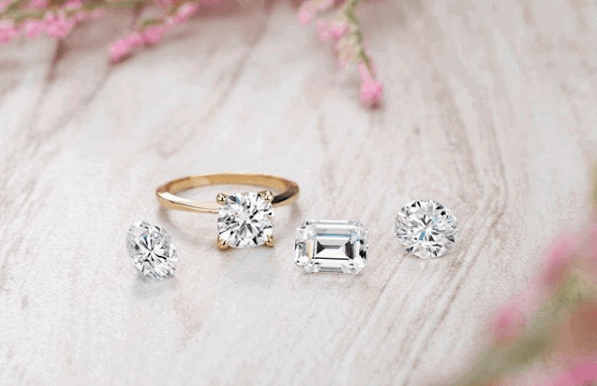 When while cut you as the most may depend on your personal preference, the most sought after shape for moissanite is a round brilliant cut (which is also the case for diamonds). Charles & Colvard asserts that, upon review, round brilliant cut moissanite accounts for the largest portion of their sales. Oval, square brilliant, emerald, cushion, heart, pear, radiant and marquise follow in cut popularity.
Why is moissanite popular as an alternative to diamonds?
In addition to all the reasons we've already mentioned, moissanite is also significantly less expensive than diamonds, at an average price of about five to six hundred dollars per carat, versus a few thousand per carat for diamonds.
Beyond that, moissanite can be purchased as high quality, lab created moissanite, making it reasonably easy to find. Still, there are less retailers selling moissanite than diamonds. The good news about that in some ways is that you'll come across retailers that specialize solely, or almost solely in moissanite, such as Charles and Colvard.
How do I evaluate a company like Charles & Colvard?
We will evaluate Charles and Colvard reviews in a number of ways, and, in fact, this set of criteria may prove helpful for evaluating competitors as well. What we want to do is cut through advertising and look at what the company offers at its core.
We also want to make sure that the company holds up to its promises, but taking a close look at company policies, reviews, and reputation. We'll be looking at the following: company philosophy; company history; customer policies; products offered; pricing; sourcing and certification; and customer and professional reviews.
What is Charles & Colvard known for?
Charles & Colvard prides itself on selling moissanite of high quality, with professional techniques for polishing, cutting, and refining. Focusing on what they call 'crafted innovation', Charles & Colvard is focused on providing new ways to make moissanite appealing and elegant.
They specifically mention Research Triangle Park in North Carolina, where a process for creating pure silicon carbide (SiC) was developed (and also where they are situated). In essence, they appear to specialize in lab-grown moissanite. Their mission is fairly straightforward: "exceptional quality, incredible value and shared beliefs in environmental and social responsibility".
Who's behind the company, and is there anything I should know about the company's history?
Charles and Colvard has been selling moissanite for two decades and is led by President Suzanne Miglucci, who appears to largely be involved in marketing and shareholding. They also have a board of directors, and information about current stock performance and investor relations which you can find directly on their website.
It's a decent size, though not enormous company, and smaller than many competitors; seventy employees are full time. They also hold the distinction of being the first company to sell lab grown moissanite, so it seems their claims hold up.
What are customer policies like when you shop Charles & Colvard?
Integral to any company review are the customer policies–a company can provide solid customer products, but have too little support or customer service in terms of exchanges or even just transparency. Under the 'customer care' tab, you'll find their policies, which include:
Free standard shipping via FedEx or USPS is available in the U.S.; they do ship internationally, with some restrictions.
There's a quite generous sixty-day returns window; however, you do have to pay the cost of return shipping yourself. This policy does not cover all products:
Exotic Gems and any custom piece of jewelry are final sales and not eligible for returns. There's also a clause they may not accept returns, in the event they expect fraud or 'excessive returns'.
Payment options include major credit cards. You can also choose different financing options via PayPal Credit or Affirm.
A limited lifetime warranty is offered, as well as the ability to resize; it's unclear how long this warranty lasts. We'll revisit some concerns about the lifetime warranty later.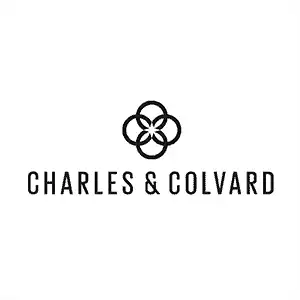 What exactly does Charles & Colvard sell?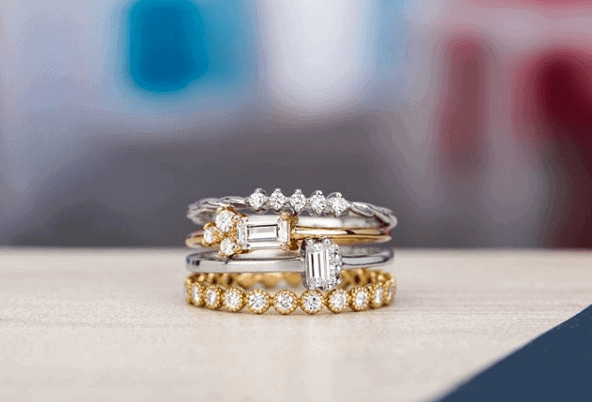 Charles & Colvard sells moissanite based jewelry in the following categories: engagement rings, wedding rings, fine jewelry (pieces of jewelry including earrings, stackable rings, personalized necklaces), a signature collection, and loose gems.
Engagement rings are sorted into vintage, solitaire, hale, side-stone, and three stone. Every category is well organized, featuring a number of filters to make your search easier.
Available cuts include brilliant, rose, hearts and arrows, step, princess, and modified brilliant, depending on the collection.
Stone shape options include marquise, round, cushion, oval, radiant, emerald, pear, asscher, and heart, which varies some by collection.
Most collections allow you to select from 14K white, rose or yellow gold and platinum
You can also sort by gender, ring size, total weight, price, and bestsellers
Overall, there is a fairly impressive range in terms of styles, cuts, prices, and more.
Most engagement rings range from around four hundred to four thousand dollars, meaning that they are on average well below the average price point of diamond engagement rings, and generally seem to be reasonably priced.
Wedding rings are available in classic moissanite style, eternity, anniversary, and men's bands, as well as bridal sets. Stone shapes on various wedding band selections include round, pear, step cut baguette, cushion, and emerald, depending on which collection; there are also plain, solid metal wedding band options. Most fall in the range of just under one hundred and fifty dollars through several thousand.
As is the case with engagement rings, you can also sort by wedding ring cut. Available cuts, depending on the collection, include brilliant, step and rose. Shapes include cushion, square, and step baguette.
Fine jewelry includes fashion rings, earrings, necklaces, and bracelets for everyday wear. There is also a section for jewelry you can customize via Charles & Colvard jeweler.
Fashion rings are available in nearly every shape you can imagine, including round, cushion, oval, radiant, emerald, pear, marquise, princess, square, heart, trillion, and step-cut baguette. You'll get the same generous options for cut as you do with engagement rings, as well as your choice of metals. Rings range from around one hundred to forty five hundred dollars, with also some more modern and minimalist bands.
Earrings are available in even more shapes and cuts, including the addition of a duet rose cut. Shop drop earrings, stud earrings, hoop earrings and single studs, all using the same filter options. Earrings start at ninety dollars up through eleven thousand, with seemingly endless pages of possibilities and very generous range of options at nearly every price point.
Necklaces and bracelets are much the same way, with mostly the same cut and shape options as with earrings, and a wide range of price points. Necklaces are available as solitaire, halo, and fashion necklaces, with a general range of as little as fifty through three thousand dollars, minus an expensive outlier or two.
Bracelets are a smaller, but pleasing collection and mostly classically elegant. There is a wider price range, starting at one hundred dollars and through eleven thousand, with several higher-end options.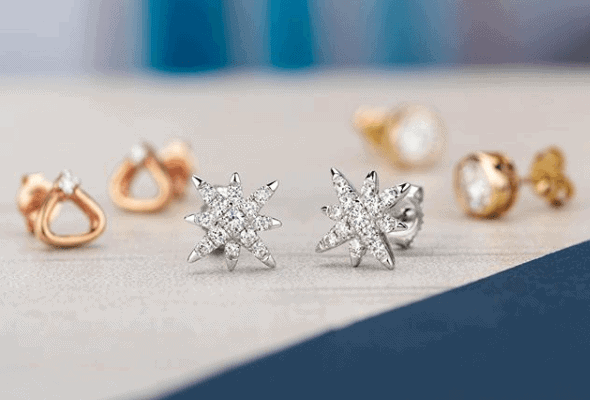 Loose Gems can be purchased as well. Moissanite gems are available in brilliant round, Asscher, cushion, emerald, oval, square, radiant, pear, princess, marquise, heart, and trillion.
There are also hearts and arrows gems, which is supposed to be a special, proportioned ideal cut, for both round and cushion gems.
The Exotics Collection contains luxury, especially expensive and larger carat moissanite, from five through fifteen carats. This collection currently includes just nineteen gemstones that range from six thousand and six hundred dollars, through a little over seventeen thousand dollars, available in brilliant, hearts and arrows, and modified brilliant cuts, as well as round, cushion, oval, elongated oval, radiant, and pear shapes.
One of a Kind is also a collection worth mentioning. There are only six items, of luxury, and the concept is likely that these are specially and uniquely crafted, from a few rings to a necklace and drop earrings, all with carats between eight and fourteen, and priced at eight to fourteen thousand dollars.
Ready to ship gifts and Signature Collections are also available. The platinum collection allows you to sort for wedding bands, four prong solitaire stud earrings, bridal set, and a pendant.
Is there any option for customization?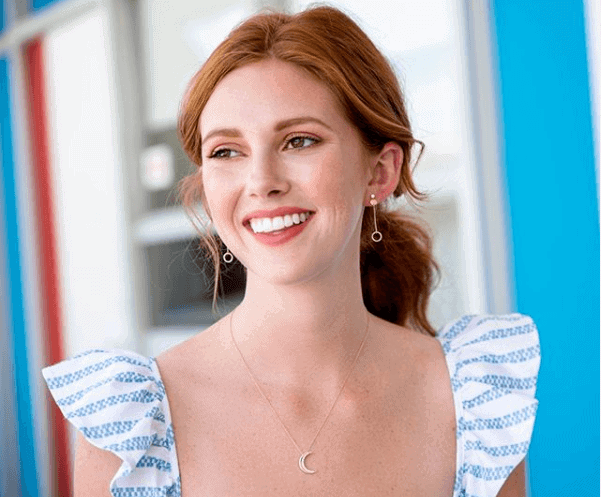 Yes; Charles & Colvard does offer a limited number of items you can customize–do remember these would be final sale items. Monogram necklaces and bracelets, and script name necklaces fall under this category. There is no specific option to create your own engagement ring, as you might see with larger, mostly diamond retailers, such as James Allen, Blue Nile, Jared, Brilliant Earth, Zales, Adiamor, Agape Diamonds, and Ritani, among others.
Is there any information about the moissanite Charles & Colvard?
Charles & Colvard is, in fact, the first known American company to sell lab-grown moissanite. Their process of creating moissanite takes two to three months per gem, and afterward, fems are tested for purity, overall quality, and graded (similar to a mohs scale). Every gem comes with a Charles & Colvard Certificate of Authenticity.
While these are all excellent features, it would be nice to see some outside grading or certification, not just in the house. They also offer plentiful guides as to what cut you should purchase and how to care for moissanite.
Is Charles & Colvard an accredited business? And what do customers think?
Charles & Colvard had been accredited by the Better Business Bureau since 1998, holds an A plus rating, and an average of just under four and a half out of five stars based upon one hundred and eighty customer reviews on SiteJabber. Customers mostly rated the company high on customer service, value, and quality, but lower on returns.
While the majority of customers were pleased, there were a few warning signs. Several customers mentioned getting a colored gemstone and the color fading. Many also mentioned that the limited lifetime warranty covered precious little.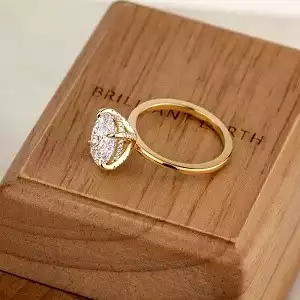 Planning a Proposal?
Make that proposal happen! Get started designing and create an engagement ring as unique as the wearer. To help pull off the perfect engagement, head over to Brilliant Earth's proposal guide.
Check Prices
We earn a commission if you click this link and make a purchase at no additional cost to you.
Charles and Colvard Reviews: Conclusion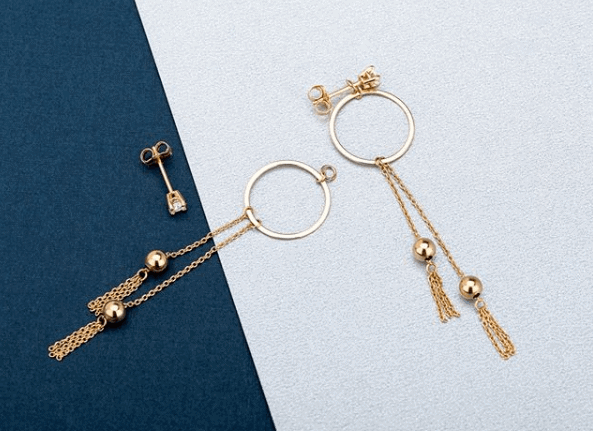 Overall, there are a number of things to admire about Charles & Colvard.
It's not by far your worst option. The collection of moissanite they offer is beautiful, has plenty of options, cuts, metal types, shapes and price points. As the first seller of lab-created moissanite, over two decades of sales, and an A plus rating from the Better Business Bureau, and mostly positive customer reviews, there's plenty to admire.
The reason for our caution comes down to two factors: the warranty and the certification of authenticity. The warranty is not detailed as to what it covers and was a consistent theme amongst customer reviews. As for the certification, we'd prefer it was from outside experts, rather than in house. That said, Charles & Colvard is the leading distributor for moissanite, so it's not as if there's a "better" judge of quality out there.
So, go ahead and shop with confidence, just be aware the shopping for moissanite does not have the some industry scrutiny as mined diamonds.
Charles & Colvard Alternatives
Shopping online is quickly becoming an easier experience compared to shopping for a traditional engagement ring at a local jeweler or even chain jewelry stores. If the direct Charles & Colvard experience is leaving a lot to be desired, there ARE other moissanite dealers online. Here are a few places to check out.
Brilliant Earth offers a modest moissanite engagement ring selection. You can shop just over two hundred moissanite engagement rings, available in many of the same options you'll find with Charles & Colvard, just in more limited amounts. Brilliant Earth is also BBB accredited with an A-plus rated, committed to standards of economic, ethical, and environmental sustainability, and has more transparent and encompassing warranty policies. However, Brilliant Earth DOES have slightly lower, but still decent, overall customer reviews.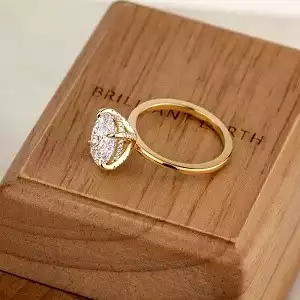 Planning a Proposal?
Make that proposal happen! Get started designing and create an engagement ring as unique as the wearer. To help pull off the perfect engagement, head over to Brilliant Earth's proposal guide.
Check Prices
We earn a commission if you click this link and make a purchase at no additional cost to you.
Helzberg Jeweler also offers almost the entire "Forever One" collection of moissanite by Charles & Colvard. Depending on the season, discounts can pricing differences can be less. Check out the collection and latest prices here.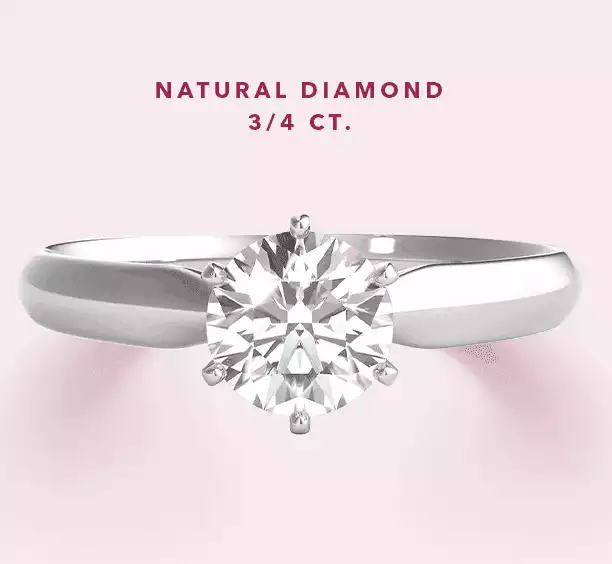 Other options include Etsy and Moissanite & Co. However, there are problems with both of these. Etsy is based upon buying from individual sellers, and can be rather risky for something like an engagement ring, though you may very well find highly unique options. Moissanite & Co had some red flags, including a number of complaints on BBB.
FAQs
Question: Why is moissanite so expensive?
Answer: Moissanite is a bit more expensive than other gemstones because it is considered a very decent replica of a natural diamond which comes with excellent clarity, and hardness which is similar to a diamond.
Question: Does Moissanite get cloudy?
Answer: Yes, like with any other stone, Moissanite as well is not immune to dirt or oil buildup, but don't worry, you can easily clean it with water and vinegar, and get the original shine again.
Question: Will a Moissanite ring last forever?
Answer: Yes, just like diamonds which last forever, Moissanite rings as well will do that because they are durable enough (9.25) on a hardness scale.
Question: Do Moissanite rings look fake?
Answer: No, Moissanite rings do not look fake if you buy them at a reputable seller. Beware of the fake stores that claim they are selling moissanite rings, which are usually a very cheap replica that will not last more than a year.