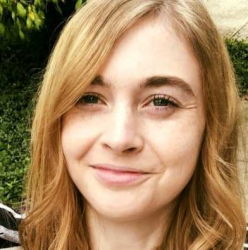 Latest posts by Erin Jamieson
(see all)
Diamonds have long been the standard of classic, beautiful engagement rings–but now more couples are turning to morganite as an alternative. And many are even buying morganite rings online, completely turning traditional engagement ring shopping trends inside out.
Vox, an American news and opinion site, recently declared morganite the "gemstone that everyone is buying but not talking about".
Not only is morganite less expensive than diamonds, but its signature pink hue no longer seems out of step with current trends.
Declared the new hot trend in Hollywood, pink diamonds have famously been worn by singers Jennifer Lopez and Mariah Carey and professional tennis player Anna Kournikova.
Of course, morganite is not the same as pink diamonds, which can cost as much as an average of a few million per carat for the most precious cuts. But that's also the point–some argue you can get some of the appeal of a unique pink or blush hue without paying the price.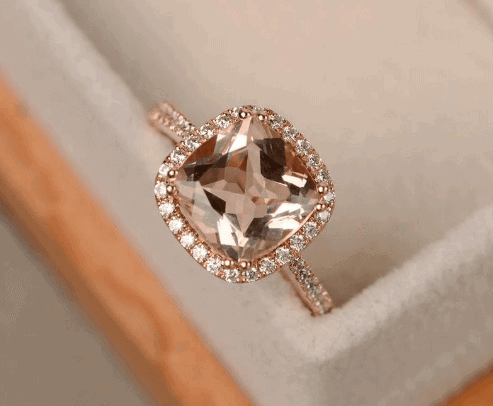 But perhaps there's another reason more are flocking to morganite rings online instead of diamonds–and that has to do with a trend, mostly among millenials, away from traditional diamond rings.
Overall profits for diamond sellers have dropped as millenials lag in comparison to purchases by baby boomers. While millennials are still buying diamond engagement rings (an estimated twenty-six billion dollars back in 2015). There are a myriad of reasons for this, including lower or delayed marriage rates.
In addition, it's maybe even due to some greater demand for something not steeped in the same tradition, or a demand for a stone not so linked to ethical issues (companies have made great strides in this issue). But regardless, it means that more couples are opting for diamond ring alternatives, including morganite.
That said, is morganite even a good alternative to diamonds? And how and where do you purchase it? This review will tell you exactly how to buy morganite rings online, and pitfalls to avoid.
What is morganite?


Morganite is actually a form of beryl. Beryl is a naturally occurring mineral that can be found across the world, including, but not limited to: Ireland, Noria, Austria, Sweden, Germany, Russia, Pakistan, Madagascar, Afghanistan, South Africa, and regions in the United States.
What you might not know is that two other popular gems, including emeralds and aquamarines, also form of beryl. Morganite is perhaps less known than emeralds or aquamarines, at least in name, but it's becoming more popular.
What are the properties of morganite?
Before you look into where to buy morganite rings online, first you need to understand what you should be looking for in a morganite stone. Here are the common properties of morganite:
Color
While many have described morganite as pink, it's actually more a pink-orange, most commonly salmon. While colors can range depending on clarity, there is an orange undertone. The pinkest ones tend to be ones with greater clarity.
The most desired morganite gemstones are pinker in hue. They often contain a deeper cut in order to enhance hue as well.
Hardness
On the Mohs hardness scale, morganite ranges from a seven and a half to an eight, compared with a ten for diamonds. While it is considered a fairly hard and durable gemstone, it is less hard than diamonds and more prone scratching.
Tenacity
Tenacity measures how brittle, or resistant to shattering from the direct impact a gemstone is, and is notably different from tenacity. Morganite is considered brittle, as many gemstones, even diamonds are. However, it's true that as a whole, morganite is considered less durable than diamonds, though stronger than other gemstones.
Cost
There's no doubt that morganite is more affordable than diamonds. The highest quality morganite (pink) can go for an average of three hundred dollars per carat, compared with many diamonds going over three thousand dollars per carat. Less desirable morganite can go for far less.
Is Morganite a reasonable alternative to diamonds?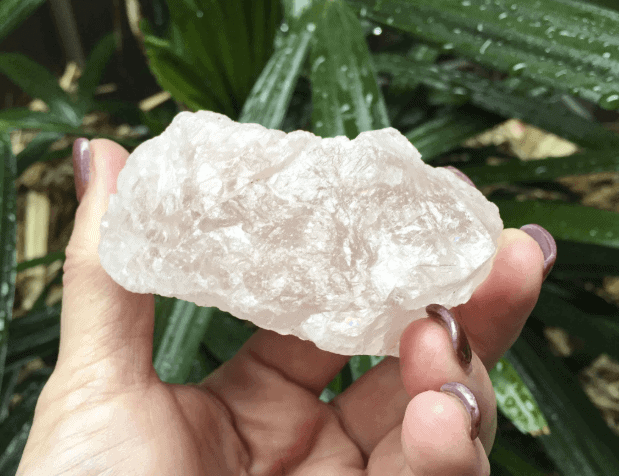 Morganite is no doubt far more affordable than diamonds. It also, at its best, presents with a beautiful hue that adds a twist to classic traditions. The biggest downsides are that it tends to be a bit more brittle and not as hard as diamonds, though with proper care it's a reasonable choice and no worse than most other gemstones.
Why should I buy morganite rings online?
Purchasing morganite rings online has a number of advantages. For one, purchasing online tends to be more affordable. Some rings online cost a good deal less than what you'll find in store, allowing you to spend more on carat, clarity, or cut, or, better yet, save up for other things.
Online stores also offer you a wider selection for morganite rings. Since diamond rings are more commonly sold still, especially in traditional stores, you may find it easier to find something to your style and price preferences by shopping online.
Another advantage to shopping online is being able to keep a surprise, especially if you are living with someone or see them often, not to mention that you'll spend less time comparison shopping and can digitally sort through options.
Finally, many online retailers will allow you to customize rings. While this option may be available at traditional storefronts, you'll likely get more options when shopping online.
How do I shop online for morganite rings?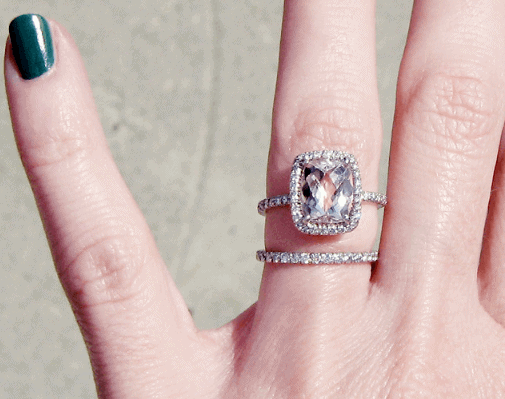 Morganite rings are not sold by all jewelers, even companies that specialize in engagement rings. That said, a number do sell them. The key is to look for companies that offer the following:
Good customer service
What we mean by good customer service is a few different things. Proper customer service requires both transparent and reasonable policies. You'll want to look for return policies (normally up to thirty days, but not always offered for custom rings); privacy policies (you should have the ability to opt out of most sharing to third parties); lifetime or at least limited warranties against manufacturing defects (cleaning and other services as a bonus); and even other features, such as customer buying and education guides.
Sourcing information
Where does the company gets their diamonds and gemstones from? Are the gemstones natural or man-made? Do they follow any ethical sourcing standards, such as commitment to sustainable practices or local economies? Even if these issues are only discussed in terms fo the company's diamonds, it gives you a hint as to their overall standards.
Does morganite match the gemstone description?
Since morganite is a gemstone many may not know as much about, it's especially important to make sure that the morganite being sold matches the general characteristics you'd expect. If you're shopping for morganite rings, you also want to see if they are selling high quality morganite.
Customer reviews and company reputation
Look for external customer reviews to see how well the company really delivers in terms of quality of both products and customer service. You should also see how long the company has been in business, if there are any filed complaints that have not been resolved, and, as a bonus, if the company is Better Business Bureau accredited.
How easy is it to find morganite rings?
You should look for sites that offer easy online shopping, complete with filters for features such as price, style, metal type, and carat.
Can you design your own ring?
While this won't be an essential feature for everyone, designing your own morganite ring not only helps to make it feel more personal and customized, but it can also open up your options in terms of style and how much or little you want to spend.
What styles and variety is offered for premade rings?
You want to look, of course, not just in sheer variety in terms of premade morganite rings, but in terms of overall style, price points, and metal types.
How does the price compare with competitors?
While you don't necessarily want to opt for the cheapest option online, you do want to find rings with competitive prices. Some companies even offer price matching for some of their rings.
Where can I buy morganite rings online?
While places you can buy morganite rings online may be more limited than the options for diamond rings online, you do still need to be selective. Our list includes just the top online places you can buy morganite rings, selected for their overall offerings: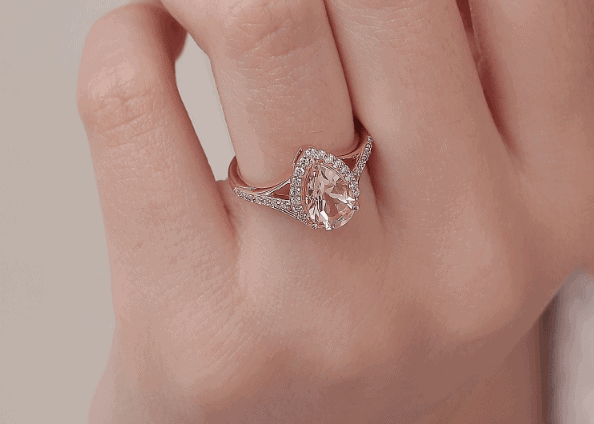 Angara is a purely e-commerce based fine jewelry which has been accredited with the Better Business Bureau for fourteen years and currently holds an A plus rating. Among customer, BBB reports gave the company an average of five stars.
Outside of this site, customers on Bizrate gave the company an astonishingly high average of over nine out of ten stars, based upon over sixteen hundred reviews. The branding is centered around the company's name, which in Sanskrit translates as "fire within" and emphasizes the natural beauty of gemstones. The company has been featured in outlets such as Forbes, Crain's, Women's Wear Daily, Daily Candy, and Harvard Business Review.
Customer policies:
Angara allows you to return items within thirty days of purchase, with free standard shipping and the ability to track your order. While jewelry comes with a lifetime warranty, which includes gemstone tightening, polishing, and basic protection, you can also buy an enhanced warranty program, which also covers damaged prongs and gemstones. While they are within their rights to do so, Angara does use cookies and send basic information to third parties, without many options to opt out.
Sourcing:
Their jewelry is made in Los Angeles, but also locations in India and Thailand. A downside is that there are no showrooms you can visit, and there is no declared statement on ethical sourcing. However, gemstones do come with certifications of authentication and specific details as to characteristics such as carat, dimensions, color and clarity.
Morganite ring selection
Angara has quite an impressive collection of premade morganite rings, many of varying styles, from classic elegance to innovative modern designs. You can sort by price (ranging from two hundred and forty dollars to around seventeen thousand dollars); gemstone shape (cushion, emerald cut, oval, pear, round, trillion, and rectangular cushion); carat, and metal type (platinum, white gold, yellow gold, rose gold, silver, and even two toned gold). Zoom views allow you to see intricate details on every ring.
There is a collection, while modest, of specifically GIA certified morganite rings. Floral halo rings, interlocked shank rings, criss-cross ring, and halo with bezel diamond insets make this a stunning, if limited collection.
Pros:
A beautiful collection of modern and traditional
Easy to sort, with a nice variety of options
Collection of GIA certified morganite
Excellent customer reviews
Cons:
Lack of transparency about sourcing
No physical showrooms
Limited options
Best for: Selection of GIA certified morganite rings and modern presets.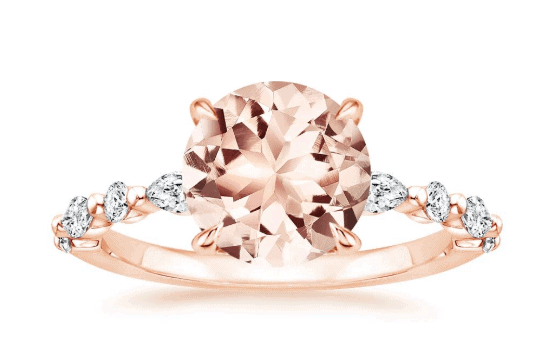 Brilliant Earth, which has been accredited with the Better Business Bureau for fourteen years and holds an A plus rating, and while on some sites the company gets slightly above average reviews from customers, on The Knot, it was awarded an average of four and a half out of five stars based on just shy of two hundred reviews.
While there are not specific details about other gemstones, their philosophy towards diamond sourcing points to practices of conflict-free gems, as well as adherence to fair labor practices, sustainability, and supporting local economies. In this sense, Brilliant Earth is a leader in the online gemstone business for ethical practices.
Customer policies
Customer service is more or less on par for what you'd expect, with thirty-day returns for premade rings, free standard domestic shipping, and the option to track orders, live chat or call customer service. They also offer flexible payment options, as well as the option to visit their physical showrooms, which are located in Chicago, San Diego, Washington, D.C., Los Angeles, Boston, San Francisco, and Denver.
Perhaps the brightest feature is Brilliant Earth's privacy policy: while they do use cookies for tracking and general data collection purposes, they do not share information to third parties without your permission.
Sourcing
We've mostly already discussed Brilliant Earth's attitude towards sourcing. They also use recycled metals that have been refined and quality selected, in order to reduce negative impact to the environment.
Morganite ring selection
Morganite ring selection is fairly easy to navigate, with options to sort by metal type (platinum, 18K white and yellow gold, and 14K gold); shape (round, cushion, oval); ring style (solitaire, classic, modern, accents, vintage, three stone, halo, nature and favorites); bridal sets, and price point (a narrow range of thirteen hundred to just under five thousand dollars).
It's interesting to note that while prices start higher, they do not go nearly as high, meaning you'll mostly find rings priced at a few thousand dollars. The sheer amount of styles means you're quite likely to find something, and while there is a modern collection, it's collections like vintage rings which makes Brilliant Earth stand out.
You can also design your own morganite ring. This excellent option is not uncommon for diamond rings, but few companies offer this level of customization for gemstone rings like morganite. With this feature, you start by selecting the carat, cut, and color of your gemstone; you can even filter by origin. Next, you choose your setting, they are able to digitally see the finished product. One downside is that while they do show prices, the three-step process means you'll have to calculate as you shop or risk going over budget.
Pros:
Company reputation and commitment to ethical and sustainable sourcing
Excellent customization option
A wide selection of styles
A reasonable price point for premade morganite rings
Physical showrooms
Privacy policy means your information is not automatically shared with third parties
Cons:
Morganite does not appear to be specifically GIA certified
Hard to find options below two thousand dollars, or at luxury prices
Mostly positive, but some mixed reviews among customers
Best for Overall customization and quality, as well as service, both for allowing appointments at physical showrooms and a more comprehensive privacy policy.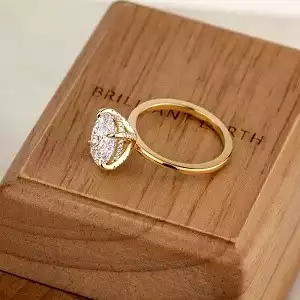 Planning a Proposal?
Make that proposal happen! Get started designing and create an engagement ring as unique as the wearer. To help pull off the perfect engagement, head over to Brilliant Earth's proposal guide.
Check Prices
We earn a commission if you click this link and make a purchase at no additional cost to you.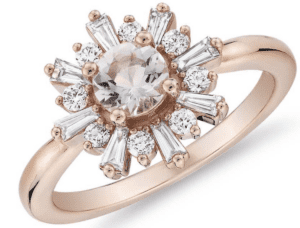 Blue Nile is often mentioned alongside Brilliant Earth, and in this case it's because there are fewer online places to shop for morganite, and we also wanted to find businesses that are accredited with Better Business Bureau, as Blue Nile has been for twenty years.
While other places, like Zales, do sell morganite rings, for these purposes, Blue Nile made more sense. Like Brilliant Earth, customer ratings for Blue Nile were mixed, but on average a bit lower than Brilliant Earth. A few professionals have, however, given the company above-average ratings. They are known to supply value overall, with reasonable prices and a large selection.
Customer Policies
Perhaps customer policies is the area Blue Nile is most distinguished, offering lifetime warranties, standard thirty-day returns for premade rings, and educational and buying guides. They do have a price matching program, though it seems mostly centered on diamonds.
You can also ask for free gift boxes and can finance your ring through a Blue Nile credit card. In addition, you can save money when you make a friend referral. The privacy policy does involve common practices of using cookies for tracking, and sharing information to third parties for marketing purposes; you do have an option to opt out of marketing emails.
Sourcing
Again, while the sourcing olicies are more specific towards diamonds, Blue Nile does have a policy of supporting only conflict-free gemstones. They also do not source from Zimbabwe. Finally, Blue Nile is also committed to promoting responsible mining practices, which includes issues relating to working conditions.
Morganite ring selection
To be sure, the selection from Blue Nile for morganite rings is rather limited, and far more so than Angara or Brilliant Earth; all morganite ring results can fit on a single page. The few rings Blue Nile does offer feature halo, baguette, twist and classic ring designs. 14K rose gold perfectly complements the blush hue to the morganite. Prices are all quite reasonable, with an option under one thousand dollars and all under four thousand.
Pros:
Excellent prices, among the lowest you'll find
Ethical and responsible sourcing standards
Options for discounts and other financing
Cons:
Very limited selection
No options for custom design
No specific GIA certified collections
Best for: Finding morganite rings at a good quality and good value price point.
Are there any other places I can buy morganite online?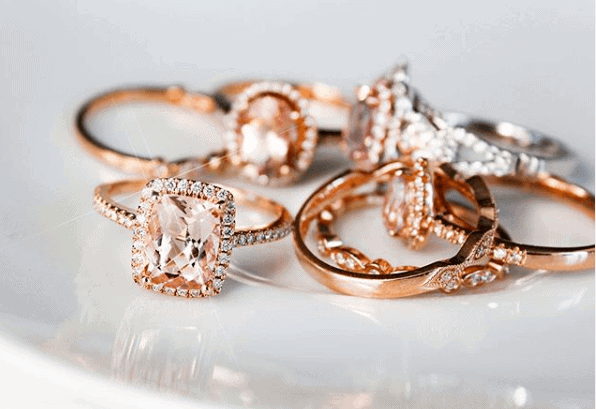 If you feel these options are rather limited, the good news is that they are not their only ones. Zales and Jared offer a nice selection of Morganite rings and do have many years of experience in sales.
For a slightly riskier, but more unique option, you can also try Etsy. One downside to all of the companies we have mentioned is that there are very few options for morganite rings that do not also include diamonds on the band, if you are not fond of diamonds. Esty rings also tend to be quite individualized. The biggest downside is that it is often difficult to verify authenticity.
Recommended Reads: