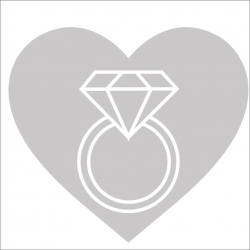 Latest posts by Love You Tomorrow Team
(see all)
Through combining the lavish beauty of the earth, and the artisanship of traditional jewelry, it comes as no surprise that wooden wedding bands have found popularity amongst couples searching for options that are as uniquely stunning, as they are environmentally friendly.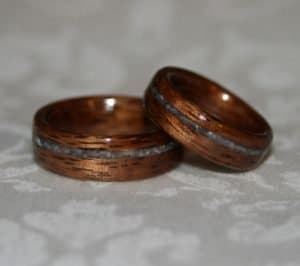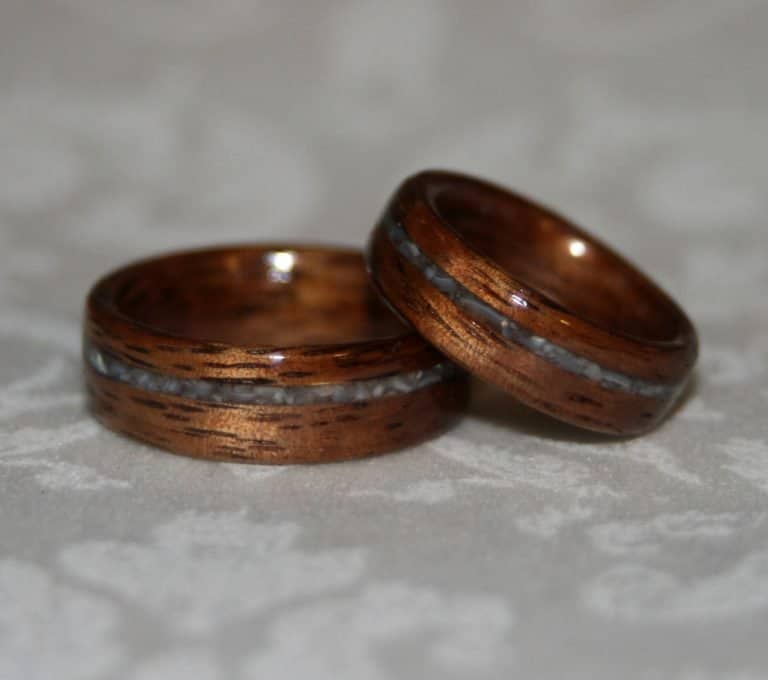 In terms of wedding planning, your wedding band will be the most important decision you make – after all, it'll be a permanent staple in your everyday life for years to come. Aside from outlining the pros and cons of wooden wedding rings, this article will serve as a database to teach you about the types and qualities of wood used in making rings. The info in this article will provide you with useful tips, not only when  buying, but after purchase too, to guide you in caring for your ring long after you say "I do".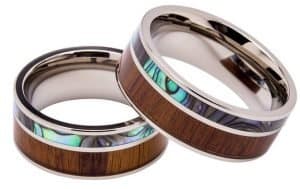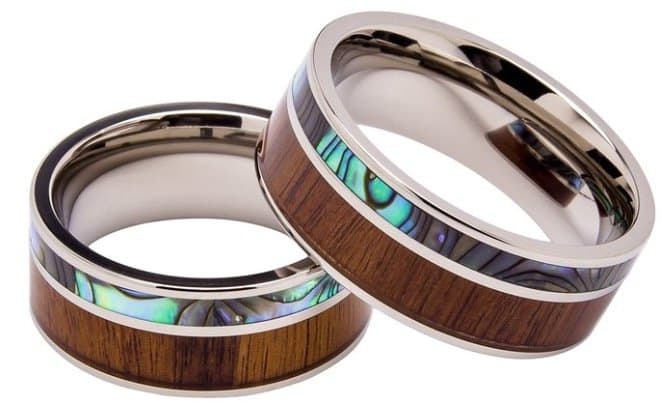 Wooden Wedding Rings & Wooden Engagement Rings: "I do" or "I do not"
Essentially, wooden wedding bands envelop all the magnificent attributes of traditional wedding bands, while simultaneously paying homage to the organic beauty of nature. Wooden wedding bands are awe-inspiring, unique, and versatile; they are crafted from a diverse selection of woods, that vary in texture and color while providing the option of being accented with one of the precious metals or stones more-often associated with traditional wedding bands.
Click here to see 5 stunning his and her wooden wedding bands!
Another notable element of wooden wedding bands is the wood itself. Though sturdy, wood is easier to manipulate than gold, platinum, or titanium; this workability allows for irreplicable carvings and designs that truly makes each wooden wedding band one of a kind.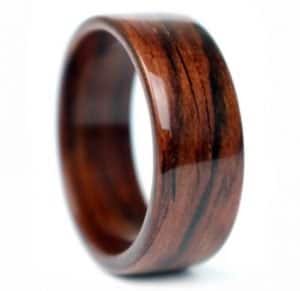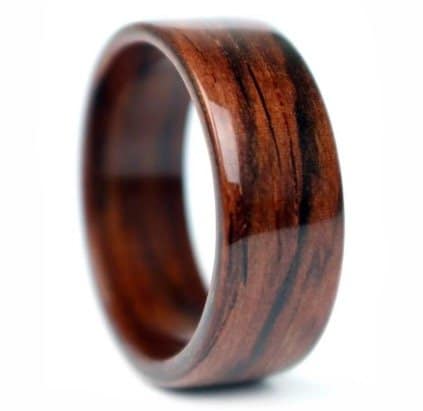 Safety isn't a concern most couples consider when purchasing their wedding bands, but traditional wedding bands can pose some serious hazards. Most metals have high conductivity and low resistivity – this means that they are highly able to conduct heat and electricity while being unable to oppose, or resist, the flow of heat or an electric current through it. So, why does this matter? Well, electrical currents are dangerous and can be deadly.
An electrical current is generally defined voltage divided by resistance. The human body, for example, has generally high resistance, so touching a 12 volt battery might deliver a small shock. Your body's resistivity will make the current too weak to cause damaging injury. Metals have zero resistivity so the same 12 volt battery will create a much higher current flowing through the ring, which in turn conducts heat, heats the ring up, and can ultimately burn the finger in the ring off. While it isn't necessarily true that wooden wedding bands are non-conductive, the conductivity of wood is low and the resistance is high, making wooden wedding rings the safe choice. 
As a direct result of the intrinsic durability of wood, wooden wedding rings are an extremely affordable option when compared against their metal counterparts. Like traditional wedding bands, the price depends on numerous factors, including the reputation of the person or business crafting the ring, the type and quality of the wood, and the craftsmanship of the engravings or carvings.
Bare bone, the only "con" associated with wooden wedding bands is the impossibility of resizing them – this con is ultimately negated by exercising due diligence when sizing before placing an order or buying in store. Though it is probable for circumstances to arise where resizing is necessary, the low prices associated with these rings allow for an inexpensive solution.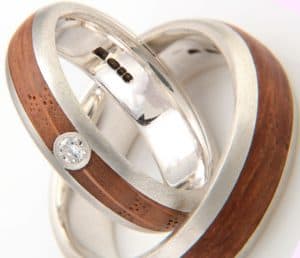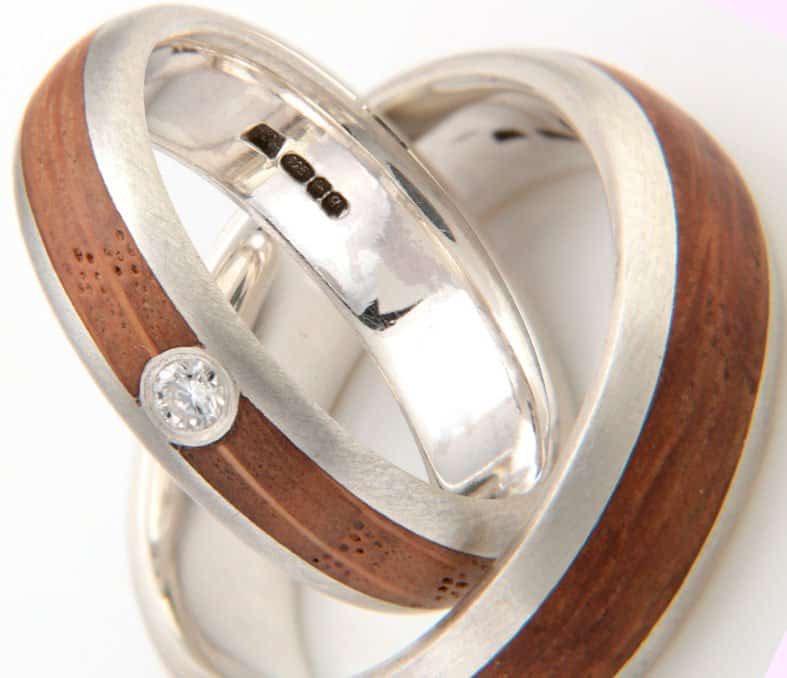 Another downfall of wooden wedding bands is the ease with which the positive attributes can be negated. A wooden wedding band is no longer environmentally friendly when finished with a harmful veneer, it is no longer non-conductive when trimmed with a conductive metal, and it is no longer an affordable option when accessorized with an expensive gem or diamond.
What wood is good for a wooden engagement ring?
The vague answer here is, "all of it". The technical answer is, "it depends".
It is important to ask yourself why you're buying a wooden wedding band – if it's because you find them aesthetically pleasing, you'll want to opt out for a rare, slightly more expensive wood. In contrast, if you're looking at wooden wedding bands because you like that they're environmentally friendly, you'll be more inclined to look into rings made from salvaged or rescued materials that come with a smaller price tag, and may not have that exotic look of  their more expensive counterparts.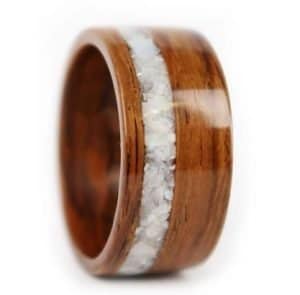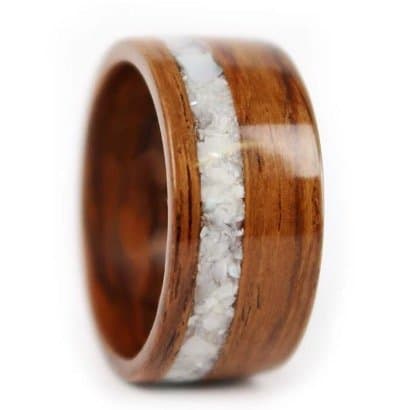 From rosewood, the maple, bogwood and birch, in terms of material, the sky is the limit.
Special Care for Wooden Rings
Regardless of which material you choose for your wedding band, upkeep is important. Most diamonds require periodic inspections and cleanings, metals require polishes, wood is no different. When you buy your wooden wedding band, depending on the wood you choose, the manufacturer will provide you with a set of instructions on how to best care for it. The following Special Care Tips are a broad overview and should in no way replace the instructions you receive with your wooden wedding band.
Wooden wedding bands are made to withstand everyday activities; however, use caution. It isn't recommended for wooden wedding bands to be overexposed to elements such as water or chemicals. While going for a short swim, or taking a bath, won't pose a threat to your wooden wedding band, it is recommended not to wear them  if you're spring cleaning or scuba diving.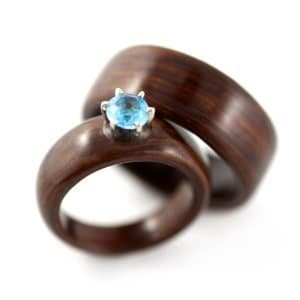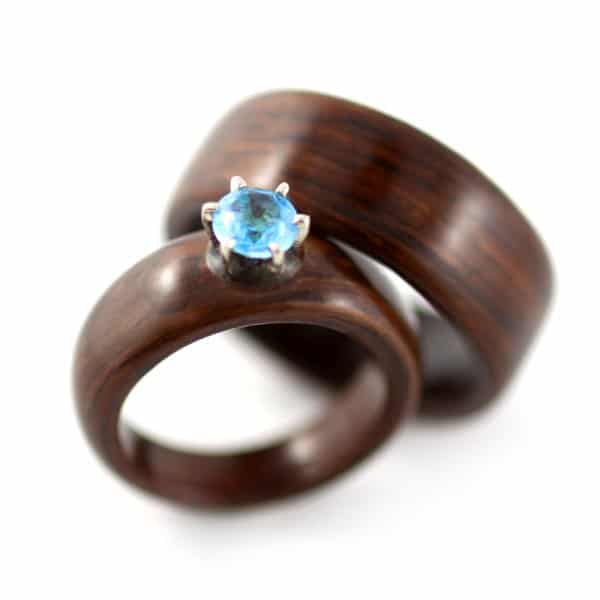 As with any other wedding band, it is recommended to remove your wooden wedding band if you plan on working with sharp tools. Though durable, wooden wedding bands are susceptible to dings and scratches that are harder to fix than a traditional wedding band.
Let's go shopping!
Wait – not so quick! Before you take the plunge, we have a couple other points for you to keep in mind!
Yes, wooden wedding bands are, at their base, hypoallergenic. This will be a huge selling point for couples who have allergies to certain metals or stones. Before buying a wooden wedding band based solely on this fact alone, make sure to double (and triple) check the finish used to ensure that your body won't react negatively to it.

As previously noted, a lot of the wonderful features these rings possess can be negated by adding metal, diamonds, and a finish. If, for example, you're an electrician and you're buying a wooden wedding band because it isn't conductive, trimming it with a metal will make that advantage moot.

Because they are virtually impossible to resize, make sure you are 'professionally sized' before buying a wooden wedding band. If you plan to buy from an online retailer, get professionally sized before placing your order.

A majority of wooden wedding bands are made to order, based on all the preferences listed above – research your retailers production time, and leave a little wiggle room between your purchase and the big day.

You might see the term "bentwood" used frequently during your search – don't panic if you order a rosewood ring and your invoice says "bentwood". Bentwood isn't a type of wood – rather it's the process of manipulating wood into a certain shape and ring size.

Start mentally preparing yourself for all the compliments and questions your friends, and complete strangers, will have about your beautiful, one of a kind ring, when it's on your finger.
Check out more affordable wooden rings here
Diamond Solitaire Honduran Rosewood 4mm Titanium Wooden Engagement Ring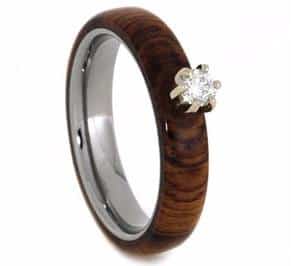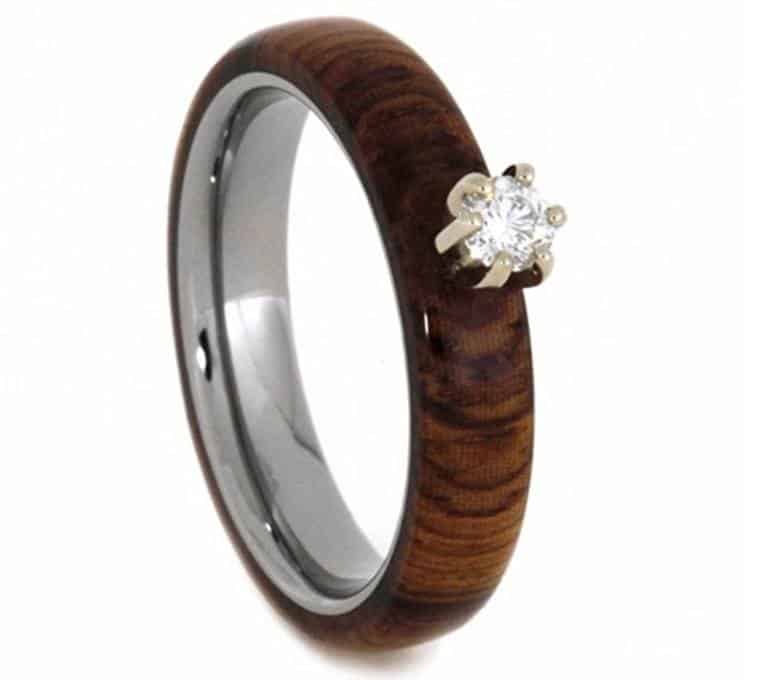 The domed profile of this solitaire ring is a stunningly rich Honduran rosewood. It has beautiful stripes and deep colors, which is offset by the lightness of the diamond in its solitaire setting. The interior of the ring is a smooth titanium comfort-fit band that cannot be resized. Titanium is offered for those who might have an allergy to other metals.
This artisan sends a ring sizer to ensure that the size is perfect. There's no way to resize the ring after its created. The ring is available in a variety of sizes from 4 to 16. The diamond is a round with a minimum color of G-H and a minimum clarity of SI1.
---
14k Yellow Gold Buckeye Burl Diamond and Titanium Wedding Band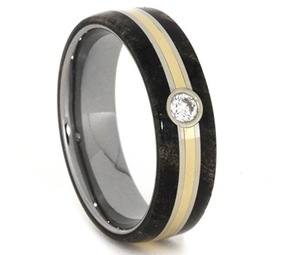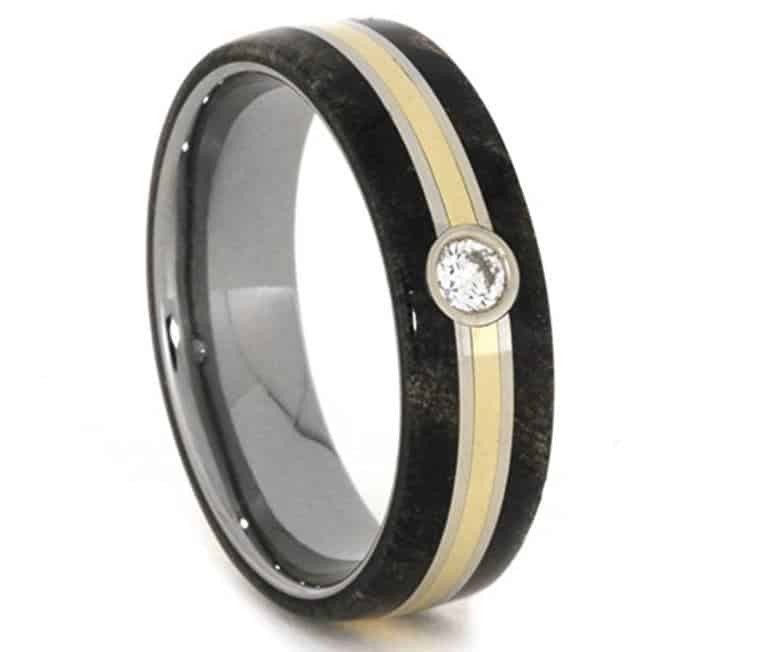 One of the most beautiful parts of a wooden ring is that it's made by hand. You know that an artisan lovingly crafted a wooden ring and added all its details personally. That's true of this ring. The artisan created the comfort-fit polished Buckeye burl wood next to the white gold bands with a strip of 14k gold in the middle of the two. There are no joints with this band, so it's a smooth, continuous ring that won't break or strip from the titanium on the interior.
As part of the process with ordering this ring, you'll be sent a sizing ring to ensure that you're choosing the right size. Due to the hardness of titanium and the continuous ring of materials, the ring cannot be resized. This is important to note before buying the ring. This isn't a quick process, and it'll take 30 days from the time you verify your sizing. It's available in sizes 4 through 16, and is perfect for men and women. You'll be able to have matching rings for your wedding day.
---
Whiskey Barrel Wood, Copper and Titanium with Diamond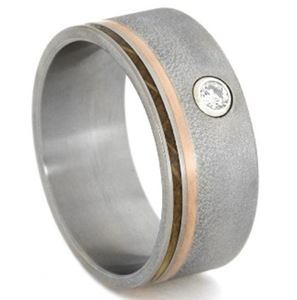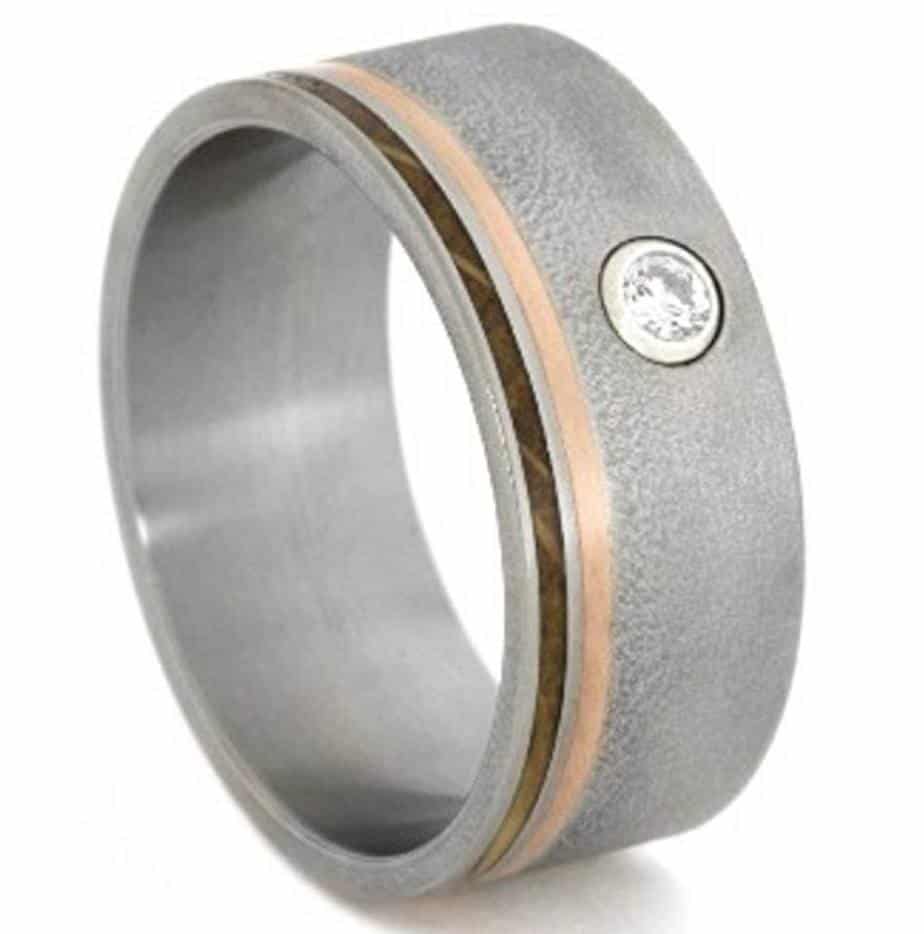 The entire ring is 10 mm wide with brushed and frosted titanium interlaid with 1 mm stripes of whiskey barrel wood, copper and surrounding the diamond is 14k white gold. The diamond is flush with the surface of the ring to ensure there's no way the diamond can be banged out of its setting. The round diamond is a minimum color of G-H and is not treated in any way. It's a minimum clarity of SI1 and is 0.10 carats.
The ring is available in sizes 4 through 16, and the creator will send special sizing rings to ensure you pick the right size. There's no way to resize the ring after purchase, so keep this in mind when ordering your ring.
---
Gibeon Meteorite with Blackwood and Moissanite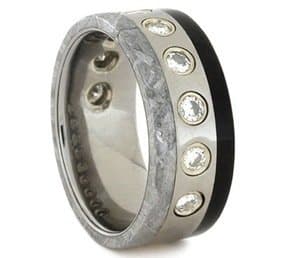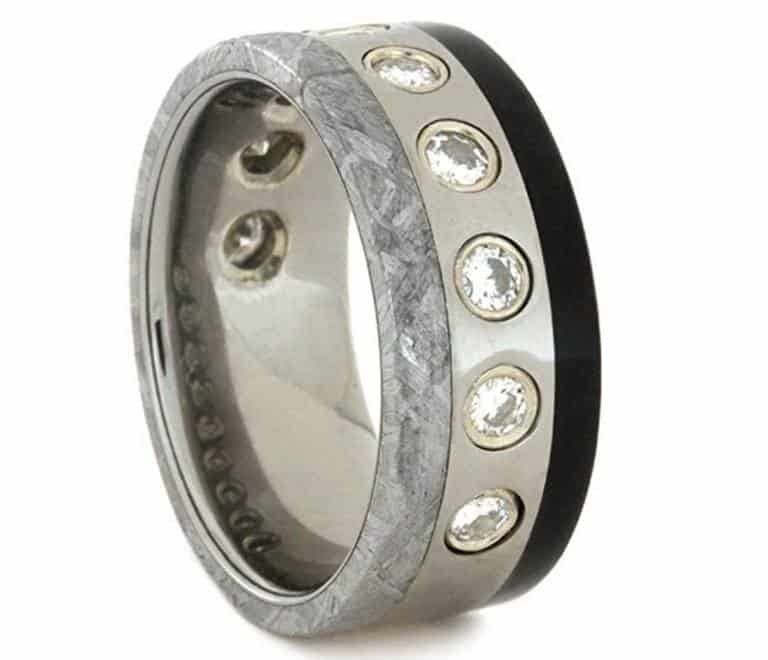 While this isn't a diamond wooden ring, we had to include this one on the list. It's made with 9 moissanites along the band, but what makes this ring amazing is the fact that the stripes on the exterior are made of such unique materials. While the interior is created using medical-grade titanium that is hypoallergenic, the stripes on the exterior are made of blackwood and meteorite. The Gibeon Meteorite fell in prehistoric times in Africa. The debris field was miles wide, and that meteorite was used to create this ring. Who wouldn't want to have a conversation about meteorites when people ask about your ring?
Along with the meteorite in your ring, it's made with moissanite, which is another out-of-this-world material. Over 50,000 years ago, a meteorite hit the Earth in Arizona, and the material was found to be much like a diamond but with a shine and radiance that surpasses the diamond. This stunner measures 8 mm and is available in a variety of sizes to fit any finger. The artisan will send a ring sizer to ensure you get the right fit before ordering. Allow 4 to 6 weeks for the complete process.
Where to Buy Wooden Engagement Rings
As wooden rings are a bit non-traditional, it can be more difficult to find reliable online retailers. Below I've compiled a list of the trusted sites we've used in the past:
Jewelry by Johan: These elegant wood-based rings have a stunning appeal by integrating wood with other materials, metals, and finishes. Fun selections include Whiskey Barrel Wood ring, Bloodwood ring, Aspen wood ring.
Etsy: Etsy can be a bit hit or miss due to the variety of small vendors, but you if you can spend the time to look, they have some special finds.
Northwood Rings: This Nova Scotia based company offers a variety of elegant wood and gold in-laid rings. They also can do custom jobs if you have something speceific in mind.
Was this entry helpful, or do you have additional questions? Do you own a wooden wedding band that you want to share, or do you have one that you're looking at, and would like opinions about? Leave your feedback in the comment section below so we can answer your questions, address your comments, or simply "ooooh" and "ahhhh" over your great taste!
Further Reading