Wooden rings are incredibly beautiful, but aren't always affordable. In general, wood rings are can be a beautiful, unique ring that celebrates a couple's love and their commitment to the environment and the world we live in daily. While a diamond ring is a shiny representation of the love a couple has for each other, a wooden wedding ring is a promise to each other as well as the Earth as a whole. It celebrates the couple's pure love without sacrificing other aspects of life in general.
Along with being very eco-friendly, the wooden wedding ring is one that isn't common. You'll be making a statement with your wedding ring because it's sustainable jewelry, but you'll also be telling people that you're a person, a couple, who forges a path for themselves.
Calgary Tungsten Inlay Zebra Wood Wedding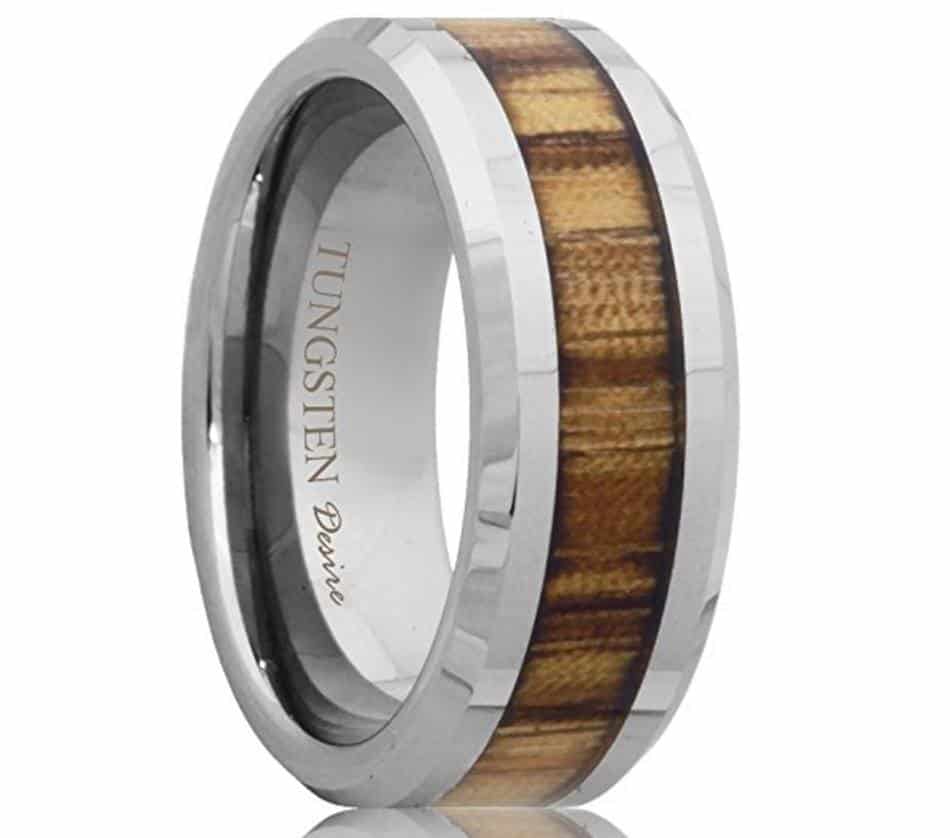 Exclusive Winter Sale Offer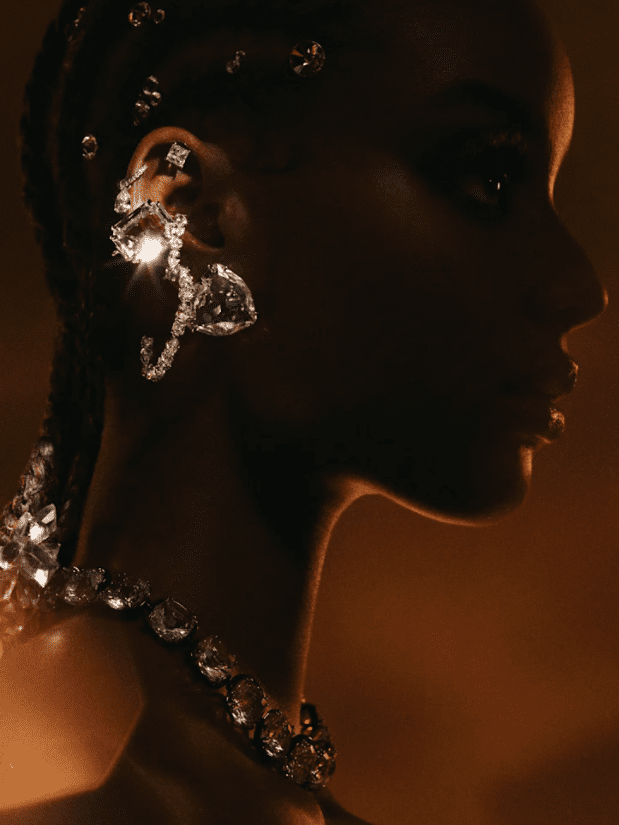 The Best Match: Swarovski + Love You Tomorrow
We partnered up with world-renowned brand Swarovski to bring you this EXCLUSIVE WINTER SALE: Get up to 40% OFF on select styles.
*Available from December 25th through January 30th. T&Cs Apply.
SHOP NOW
We earn a commission if you click this link and make a purchase at no additional cost to you.
This stunning zebra wood inlay ring has light stripes contrasting with dark stripes to make a unique pattern, which differs in every ring. It can be wavy like an ocean or chaotic like your heart around the love of your life. This kind of wood inlay is perfect to represent the love you have for each other. It's a wood inlay surrounded by tungsten carbide in sizes 6 through 13 including half sizes.
---
Tungsten Hawaiian Koa Wood and Abalone Inlay Wedding Ring
This is another wedding band inlay with tungsten carbide as the shell of the ring. There are two different inlays with a strip of tungsten between. One inlay is a beautiful, rich Hawaiian Koa wood while the other is an abalone that is incredibly stunning.
The 8 mm comfort ring is perfect for men and women, which will give them an option for matching rings that don't look too feminine or masculine. They're available in sizes 6 through 15 to fit every finger no matter what the size. Tungsten is an incredibly hard material on the Mohs scale, which puts it at a 9 behind diamond. This is a ring that will last the lifetime of your marriage.
---
Matching Tungsten Wedding Bands with Wood Inlay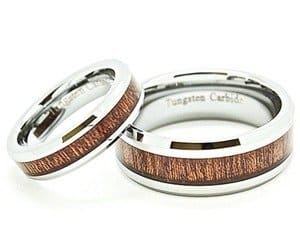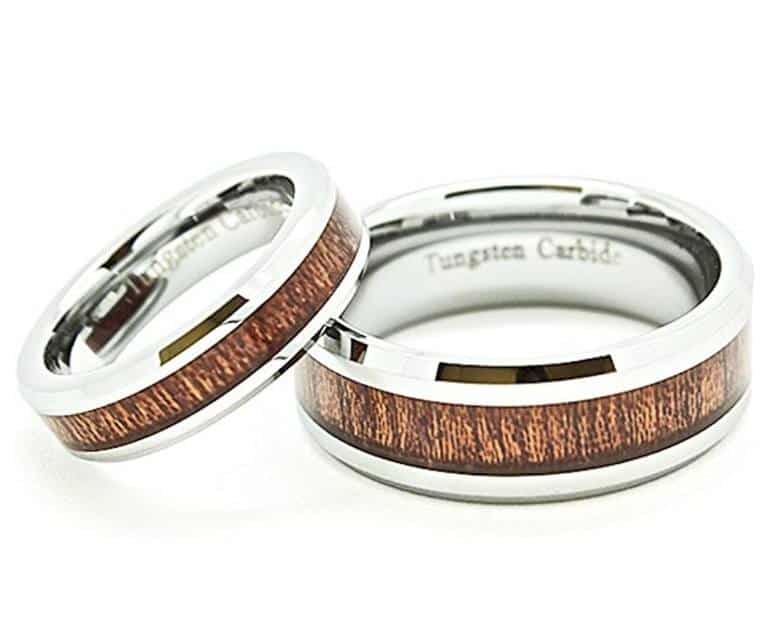 Some couples choose to go with titanium rings because they believe that titanium is a strong metal that can withstand repeated abuse each day. Actually, a tungsten carbide ring is more durable and stronger than titanium. It's a few levels above titanium on the Mohs scale, and the only thing that can scratch tungsten is actually diamond.
These rings come in a matching set with one as a smaller style and width compared to the other. This is great for couples that want to have exactly the same ring, but with a more feminine option for the woman. The 5 mm ring is available in sizes 4 through 14 while the 8 mm is available in sizes 4 through 16, so you could actually choose the same width if you wanted. It's completely up to you as the buyer.
---
8 mm High Polish Hawaiian Koa Wood Ceramic Band
This stunning Koa wood inlay is has a rich depth normally, but next to the pure white of the ceramic, it's absolutely incredible. If you have been looking for a ring that is unlike what everyone else is wearing, this has to be a choice on your radar. While everyone will have a silver-toned engagement ring with classic diamond chips, you'll have a ring that really catches their attention.
This ring comes in sizes 6 through 11, and unlike some metals, this ring is hypoallergenic. Between the ceramic next to the skin and the wood inlay, there's nothing on this ring that will cause any type of allergic reaction. The beautiful beveled edge makes this a comfortable ring to wear every day.
---
Damascus Steel Rings for Men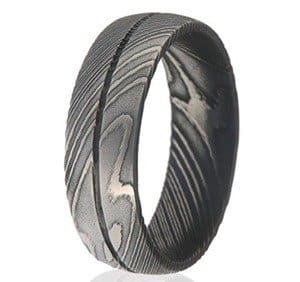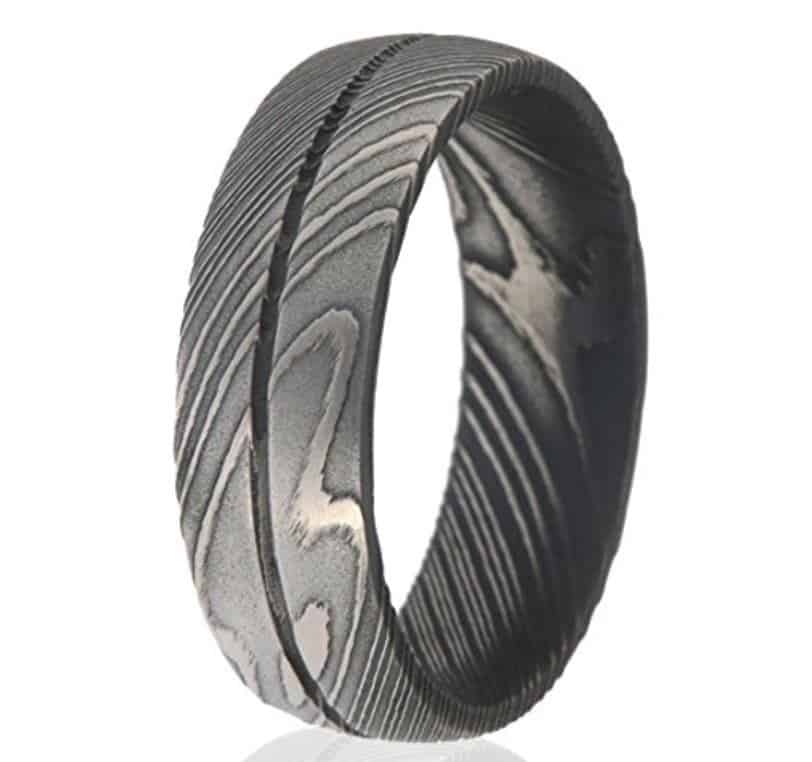 While this ring isn't one that is made of steel, it should be included on this list because of its ability to look like petrified wood. The steel is embedded with a wood grain, so it appears to be a beautiful piece of wood but in a dark silver tone. It's made of damascus steel that was etched with acid. The ring itself is 7 mm wide, and is a great option for a couple who doesn't necessarily like the color of wood but loves the look of the grain itself.
It's available in sizes 7 through 15.5 with half sizes. This ring might be touted as a man's ring, it's slim enough to be used as a woman's wedding band, too. Don't let the name of the ring dissuade you from purchasing matching wooden bands that aren't necessarily made out of wood.
---
These rings are some of the best choices for wooden wedding rings, and are available for under 200 dollars. While being a beautiful alternative to other ring choices, they're also great for budget-conscious shoppers. Not every couple wants to spend thousands on a wedding band when they are planning long-term for a home and starting a family.
Recommended Reads: