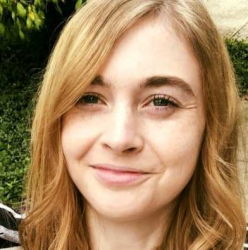 Latest posts by Erin Jamieson
(see all)
The most meaningful rings aren't always the most expensive, and they're not also made with diamonds. For me, it was a spoon ring, gifted as a family heirloom. For others, it's a promise ring, crafted not with metal, but wood.
Wooden promise rings may not be the best option for everyone, but they're becoming popular once more. At once boho and ethereal, wooden promise rings are one of the emerging alternatives. But who are they right for, and how do you find the best ones to buy?
In this guide, I'll share with you important insights about wooden promise rings. I'll tell you if they're a good idea for you, the top pros and cons, and how to select a wooden promise ring today.
Bottom Line Up Front Summary: The best wooden promise rings are made out of hardwood that isn't considered endangered. I avoid rings with copper or gold-plating, and I prefer that the ring has been treated with some coating and was for shine and protection. If I had to select just one wooden promise ring, it would easily be this Walnut Wood Promise Ring.
Walnut wood is one of the most durable woods possible, and this ring is also treated to be water-resistant. The style is classic and timeless and the ring can be personalized.
My Top Picks
What is a Wooden Promise Ring For?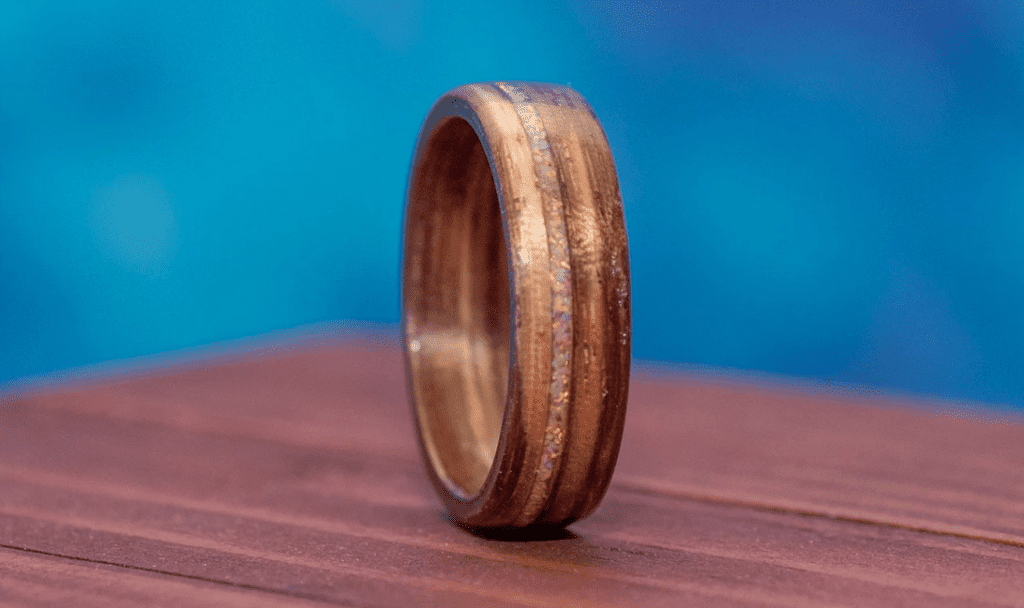 The debate about promise rings–let alone wooden promise rings– is interesting. But I find it discouraging when some of that debate is based not on deeply looking into its origins or meaning, but about assumptions.
Indeed, promise rings aren't a good idea for everyone. But it's equally true that they can bring meaning to others. And I was even surprised that promise rings are not only used for couples but now best friends as well.
Simply put: promise rings are not widely used, but they are more popular because the definition of what they are and whom they are for is expanding.
Meaning
I've seen claims that promise rings originated in the 1560s, in England. But that's where they became popular in modem days. I was interested to learn that they were used as far back as Ancient Rome, with the same traditional meaning: a promise or intent to marry.
While today they are tied as religious– especially with some Evangelical sects of Christianity– the meaning is a little more muted. For some, they may be a big deal, but for others, a promise ring is a symbol of commitment. What they mean depends on the couple. Wooden promise rings symbolize strength, growing together, and longevity.
How it's Worn
Promise rings are almost always worn on your left hand, but they can be worn on any finger. Both men and women can wear promise rings and while they can match, they don't have to. I also like that promise rings can be shared as a sign of commitment between best friends.
Pros and Cons of Wooden Promise Rings
Wooden promise rings are so unique. I was immediately drawn to the innovative craftsmanship and earthy aesthetic. Maybe it's my love for fantasy, or all the time, from when I was little, exploring nature. But I also like to be candid as possible, which is why everyone should consider the true pros and cons of buying a wooden promise ring.
Pros
Hypoallergenic

The most common allergic reaction/ sensitivity for jewelry is nickel

Meaningful but Variable Symbolism

Affordable

Eco- Friendly

Low Conductivity
Cons
Cannot Get Wet Unless Waterproofed

Cannot be Resized

Can Splinter

Can Warp

Not Valuable
How long wooden promise rings last, I have to emphasize, depends both on the quality of the craftsmanship/ materials as well as how you take care of them.
Where & How to Buy Wooden Promise Rings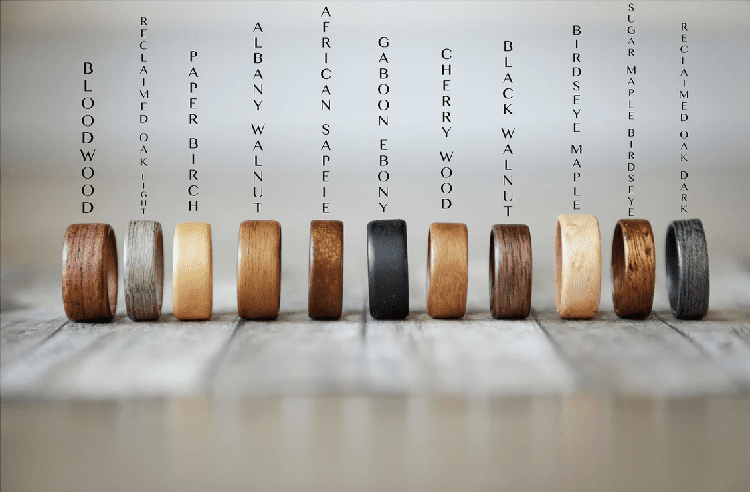 I'll state the obvious: wooden rings aren't sold by your average jeweler, like Kay, or even some of the notable online jewelers, like Brilliant Earth or the Blue Nile. There are a few jewelers that specialize in men's wooden wedding rings (see my final buying recommendations).
But for promise rings for both men and women, Etsy and Amazon provide the best selection and range of prices. The key? Knowing how to select the best rings. Here are my buying and selection criteria.
Buying/ Selection Criteria
Tip One: Select Hardwood
The best promise rings are going to be made out of hardwood, which lasts far longer and doesn't scratch as easily. I recommend: walnut, cherry, maple, oak, hickory, birch, aspen, zebrawood, dogwood, popular, ironwood, or ash. Hawaii Koa Wood is an excellent choice. Some woods, like eucalyptus, will fade over time.
Tip Two: Avoid Endangered Wood Species
If you care about your promise ring being sustainable or Eco-friendly, not all hardwood or wood is the best idea. I avoid any endangered woods, such as ebony from Madagascar, cedar from Spain, sandalwood, and most wood from Brazil. Rosewood and mahogany are also in smaller supply in certain regions.
Tip Three: Review the Seller
I look at customer ratings and reviews. I like to see some evidence these are valid reviews– this includes descriptions, as well as photos. If possible, I investigate what else the seller is known for.
Tip Four: Examine the Craftsmanship
Take a look at how the ring is crafted. I like a slightly grooved interior band, and while I like delicate rings two, the more slender a wooden ring is, potentially the more fragile. Of course, I look for unique styles and details. At the same time. I check to see if there are any materials used. If so, I won't buy anything with gold plating (aside from gold vermeil).
Bonuses

: waxing, polishing, waterproof, and another protective coating
Beautiful Wooden Promise Rings: My Top Picks
Here are my favorites wooden promise rings. My picks are crafted with quality hardwood, but they also prove that promise rings don't need to be expensive. From modem to boho to whimsical, here are some great wooden promise rings for both men and women.
Not only that, but all of these wooden promise rings are truly unique, crafted by hand. I've also included handsome wooden rings with stylish metal inlays that are built to last. From budget-conscious to luxurious, here are my picks.
Israel Olive Wood Promise Ring
This fascinating promise ring could also be meaningful for a religious couple. At the same time, the ring style is perfectly suited for boho and hippie styles. Solid olive wood is sourced from Bethlehem, Israel, with an Eco-friendly appeal.
Olive trees are noted for their hardwood and durability, but also their symbolism. Olive trees in Israel are known as the "immortal tree' and speak to an everlasting bond. These rings are handsomely crafted, with comfort inside fit with both more flat and rounded designs. Not only is the pattern unique, but the rings also java a proactive water-resistant coating. Buy Here.
Pros
Handcrafted in Israel

Water-Resistant Finish

Comfort-Fit
Cons
Fairly Simple

Longer Shipping Times
Forrest Koa Wood Promise Ring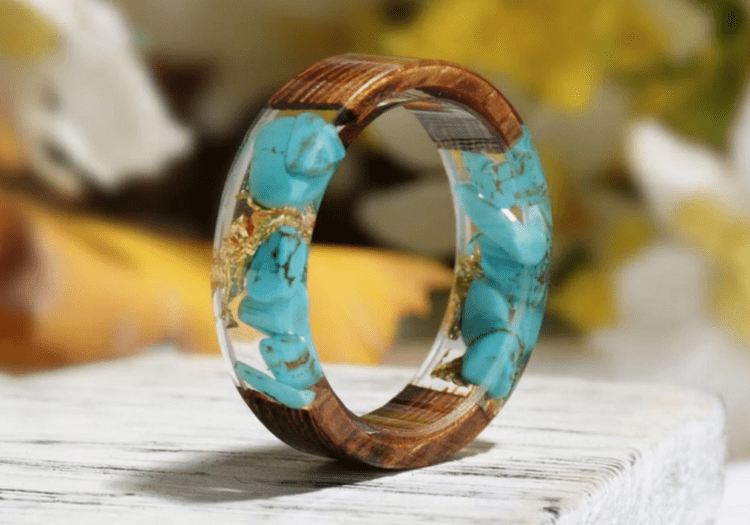 I have a special fondness for this ring, simply because it's so ethereal. While many wooden promise rings have a fairly simple, classic design, this koa wood ring is expressive and adds a pop of color.
The gorgeous promise ring is crafted with koa wood, a hardwood that is native to Hawaii. The rich brown-red hue is featured on a polished, slim band with a comfortable fit. The clear sealed resin features your choice of turquoise flowers, a silver leaf, moss, and/ or sand. The natural aesthetic is gorgeous and unique. Buy Here.
Pros
Beautiful Hawaiian Hardwood

Unique Floral Motifs

Comfort-Fit
Cons
No Coating/ Must Apply Treatment Yourself

Resin Requires More Cleaning
Nature Co. Exotic Wooden Promise Rings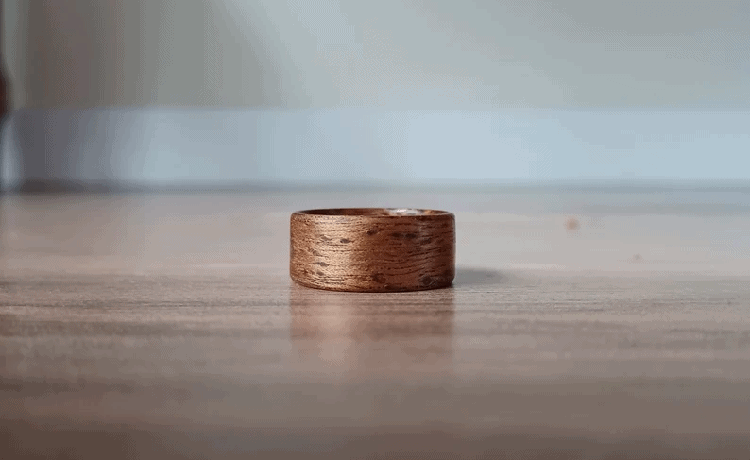 I love dazzling rings with a bit of glam– but also appreciate clean, simple designs. Some of my favorite accessories right now are relatively understated, which makes them versatile and easy to wear.
That's more or less the concept behind these wooden promise rings. All rings are treated with a polyurethane solution and polished with beeswax for improved durability and shine. You can select from a wide range of wood grains. My recommendations are to stick with walnut, birch, oak, maple, or cherry wood. Buy Here.
Pros
Multiple Wood Varieties

Treated with Beeswax, Polyurethane

Highly Versatile
Cons
Quite Plain

Range in Quality (Depending on Wood)
Walnut Wood Promise Ring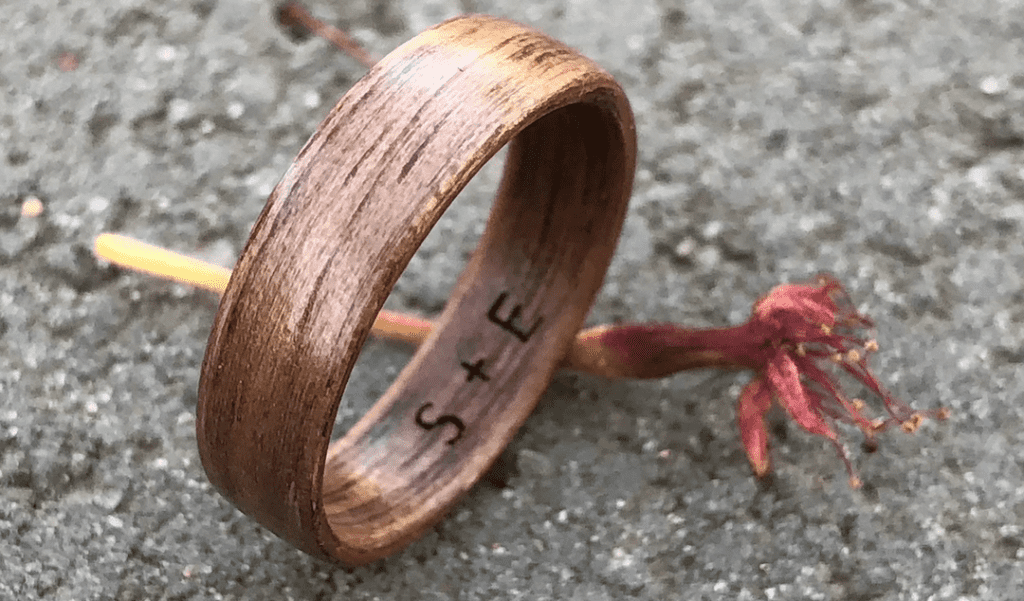 This promise ring is a true classic. Walnut wood reminds me of so many places I've spent time in during both my childhood and now adult life. There's something expressive and comforting about this approachable and durable hardwood. This walnut ring is treated to be water-resistant for the exterior and interior.
I like the slight texture to the exterior for a bit of character. I also love that you can order a personalized engraving for a romantic touch. This ring is made to order and an instant classic for any couple. While shipping usually takes around a week, the seller even offers the chance to have a rush order. Buy Here.
Pros
Custom Engraving

Water-Resistant

Stylish Grain
Cons
Not a Comfort Fit
Custom Cherry Wood Promise Ring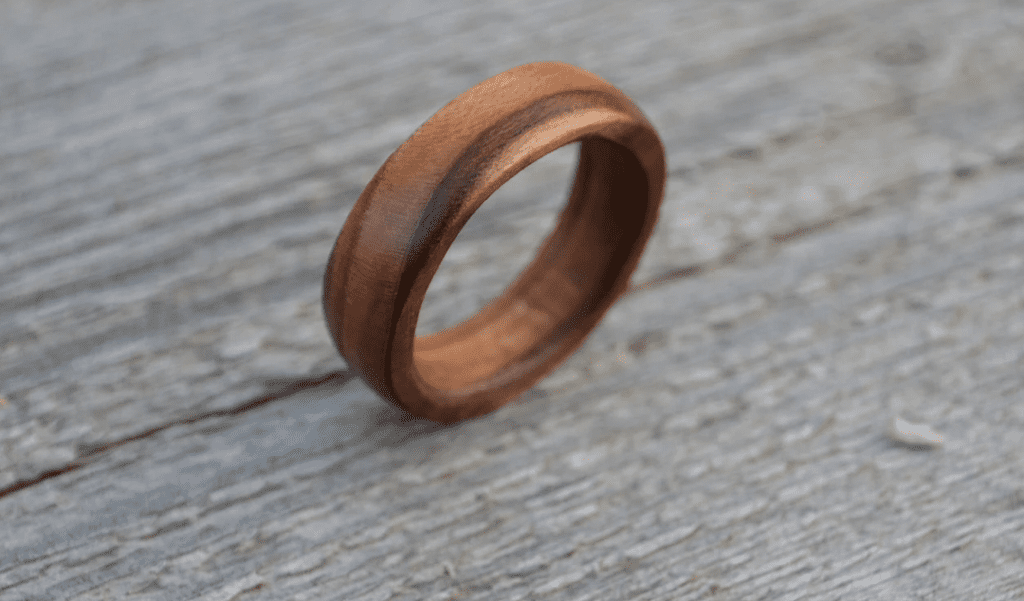 Handcrafted with beauty, this cherry wood promise ring is one of the few on the market. I love the rich undertones of cherry wood, and it's a shame there are only limited options. This classic promise ring is smooth and sophisticated, with a classic grain along the exterior. The minimalist ring won't be bulky, and it's even made out of recycled materials for a more Eco-friendly approach.
You can custom order your width and thickness, just going to show how attentive this Etsy seller is. The wood is protected with natural oils and coated with wax for a polished, beautiful finish. Buy Here.
Pros
Wax and Oil-Treated

Custom Order Width

Unique Wood
Cons
Lower Stock- May Need to Wait

Should Not be Used With Any Water
White Opal Zebrawood Promise Ring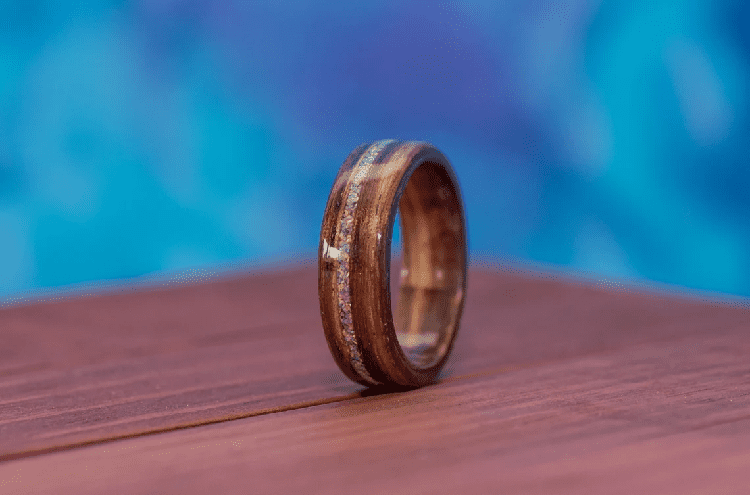 While this list was meant to focus on promise rings that are nearly all made from some wood, I did want to show that wooden promise rings need not be plain. This white opal zebrawood promise ring is not unique, but it also has a touch of glamor. The subtle elegance of this promise ring is what makes it one of my favorite options if you want wood.
The opal gemstones on the inlay add just the right amount of sparkle for a beautiful statement. The multi-layer approach includes cyanoacrylate and wax for shine and protection. But perhaps what I love most about this wooden promise ring is the mission behind it.
With every ring purchased, a tree is planted for Lathe of the Land, a non-profit organization focused on sustainability. Buy Here.
Pros
Donates to Non-Profit

Beautiful Opal Inlay

Treated with Wax and Multi-Layer Coating
Cons
No Specific Grading on Opal- Ask Seller

More Expensive (But Still Under $100)
Peyton in Golden Koa & Rose Gold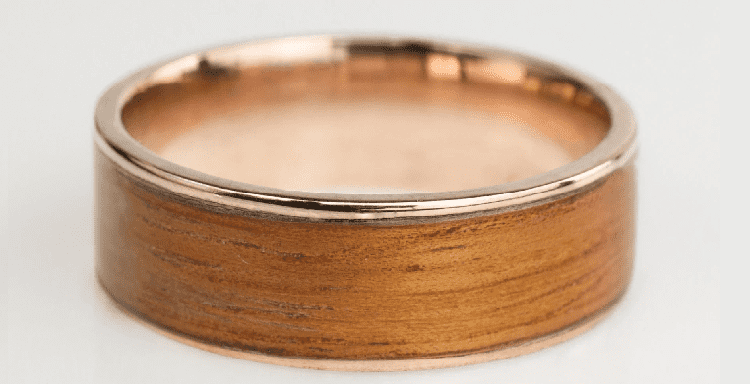 If you're looking for a luxurious wooden promise ring with genuine gold inlay, this is my top recommendation. It's ethically sourced and Eco-Friendly with old-school handsome materials.
Golden koa wood is paired with an inlay of 14K or 18K rose gold with a warm, natural hue. This distinguished style is made for men and women and crafted by in-house experts in Nova Scotia. The wood has been treated for a durable, polished finish. They even offer life-long refinishing services. Buy Here.
Pros
Waterproof, Polished Finish
Eco-Friendly
14 to 18K Gold Inlay
Cons
Only Rose Gold
Fairly Understated
The Conqueror Wood Promise Ring
A platinum and tungsten inlay pair with warm koa wood for a classic but modern promise ring. What stands out to me about this ring is how the cool, polished metal balances out the warm tones from the koa wood.
It's clean, simple, and crafted with a dome design for the most comfortable fit possible. The ring includes a 30 day exchange period and one-year warranty, attesting to its signature quality. Buy Here.
Pros
Platinum Inlay
Warranty
Dome Comfort Fit
Cons
Not Waterproof
More Expensive
Garden Wall – 14K Rose Gold Diamond Men's Band With Cocobolo Inlay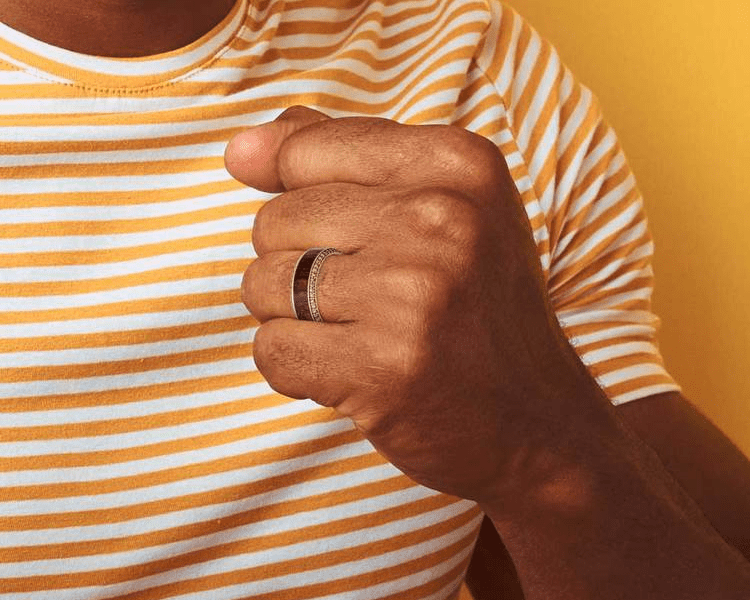 If you're looking for a show-stopping wooden promise ring, this is an excellent option. You don't have to decide between diamond rings or a wooden ring with this alluring ring, crafted in Italy. 14K gold pairs with sparkling diamond accents and Italian wood.
The utterly refined aesthetic is given touches of glamour for a ring built to both impress and last. It's a comfortable fit, with a high polish and free resizing available. Buy Here.
Pros
Genuine Diamonds
Comfort-Fit
Free Resizing
Cons
Slower Shipping
Expensive
Black Walnut Inlay Promise Ring In 14K Yellow Gold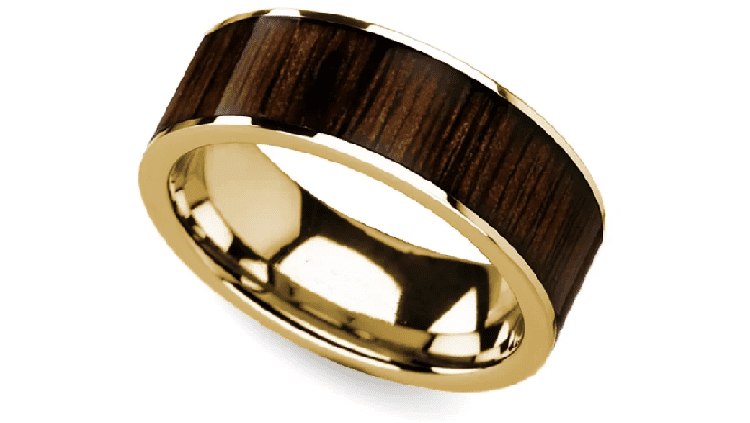 Yellow Gold makes for an interesting contrast between genuine black walnut. This magnificent promise ring balances out deep tones with the warmth and vibrance of 14K yellow gold. The comfort fit means this is a ring that can be worn for years to come.
High polish and modern craftsmanship add to the allure and sophistication of this ring. While many wooden promise rings exude warmth, this has a more contemplative, moody undertone. Buy Here.
Pros
14K Yellow Gold Inlay
Comfort-Fit
Free Resizing
Cons
Not Waterproof
More Expensive
Frequently Asked Questions
Final Thoughts
Wooden promise rings may be seen as unconventional, but what I love is that alternatives to diamonds and other 'traditional' materials are becoming increasingly popular. Why do I love it? More options mean more opportunities for creative expression and more budget-friendly styles. I certainly don't think wooden rings are the best fit for everyone, but neither are promise rings.
Selecting a refined, hardwood ring and treating it with care will help it retain its beauty for longer. It's time, in my opinion, to stop placing mandates on what someone should or shouldn't wear to express their love. For some couples, wooden promise rings are a meaningful way to do just that.
Final Buying Recommendations: Wooden Rings For Men from Jewelry by Johan
While intended as wedding rings vs promise rings, Jewelry by Johan, these rings feature refined craftsmanship. There are over 90 hardwoods to choose from, along with unique and sleek, modern designs.
Many of these rings are crafted with a blend of other materials, such as meteorite and titanium to improve durability. The company holds an A-plus with the Better Business Bureau. I like their customer-friendly policies, including free engraving and insurance coverage options. Shop Wooden Rings Here.
Further Reading