Latest posts by Jeanette Kierstead
(see all)
If you're on a serious budget, you can pick up a vintage or thrift store gown for less than $50, but you'll need to take that dress to a designer or experienced seamstress who has done redesigns in the past.
The designer will have to check the material to be sure she can work with it. Yellowed or stained material in an obvious place might not work for a redesign.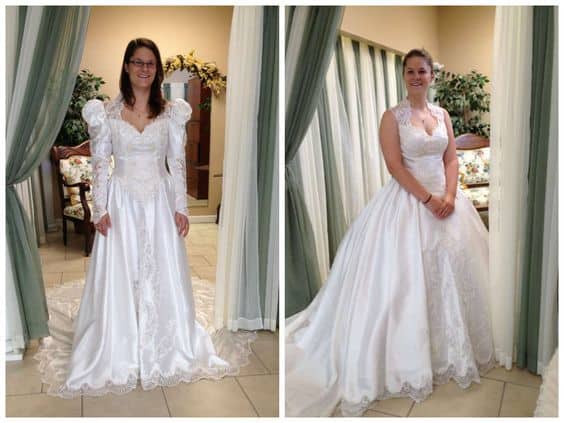 In some cases, your beloved mother has saved her wedding dress for your big day. She's likely dreamed of you wearing her dress since she brought you home from the hospital. All you see is a nightmare of 80s puffy sleeves, ribbons, and lace. It's a dress that looks more like a frothy wedding cake than a dress you want to walk down the aisle wearing.
Check with Mom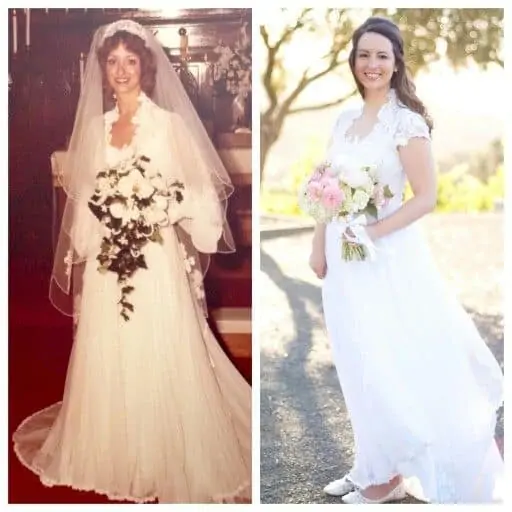 The first step in the process is to check with mom before having her wedding dress cut and redesigned. You'll have to sit down for a heart-to-heart conversation about the state of her dress, and your desires for a beautiful wedding gown for your wedding. We can't tell you how to get across to your mother without breaking her heart, but just remember that it's your wedding. You want it to be perfect, but don't become bridezilla on your mom. Be gentle but firm. If she doesn't want you to redesign her gown, you'll need to buy your own.
New Color
Once you have mom's approval, consider changing the entire gown to a different color. You might want gold, red, champagne, or a few elements of color added to the dress. This can bring the dress to a more modern design immediately. From there, the designer might not need to do as many alterations and changes on the gown.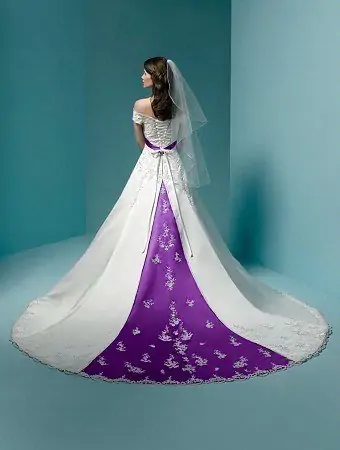 Change the Neckline
The 70s and 80s featured dresses covered in puff and lace without much skin showing. Currently, modern dresses are subtly showing more skin around the shoulders and neck. The vintage gown you're altering can be cut to be any type of neckline you'd like. It's a great thing that it has so much material. You aren't limited in your choice of neckline. You can choose an off-the-shoulder, jewel, or halter neckline for your dress.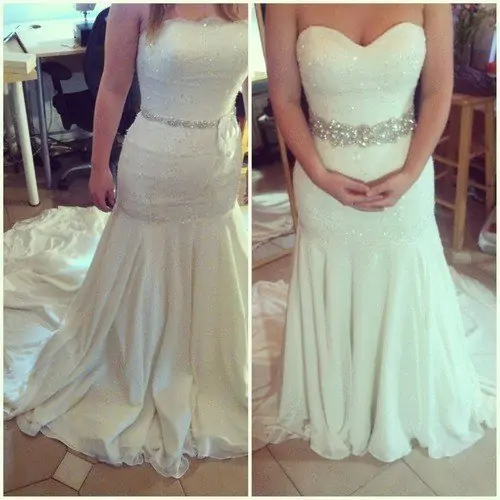 Remove the Puffy Sleeves
Another trademark of the vintage gown is long, puffy sleeves that need to be removed to modernize the dress. All that material means that you can have any kind of sleeve that you like. You could go sleeveless with a halter neckline or have thin, lacy straps with a sweetheart neckline.
Alter the Length
In older gowns, you can remove some of the elaborate train from the back of the dress. Instead of having a chapel train, you can have a sweeping train that barely hits the floor behind you. You might also decide to turn that vintage dress into a tea-length style that loses much of the bulk of the dress. If you don't want to wear your mother's wedding dress to the wedding itself, a good compromise would be to have it altered and wear it to the rehearsal dinner or reception after the wedding.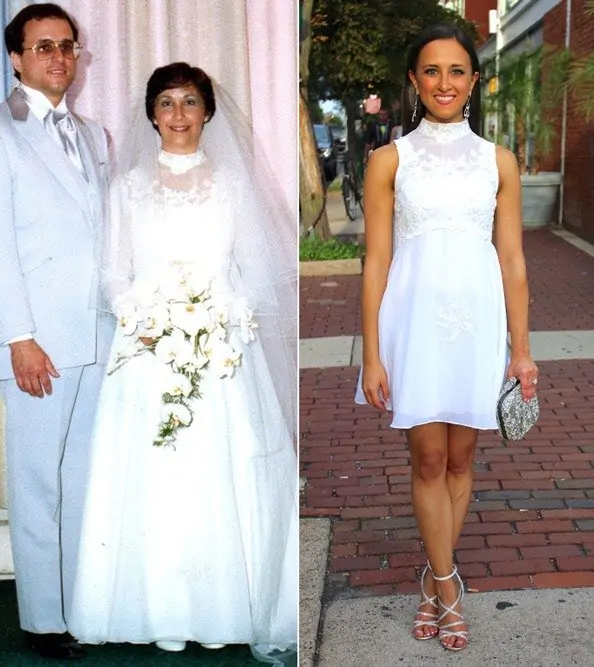 Add a Petticoat
Whether you decide to alter the length or not, you can add volume to the dress with a petticoat. This will dramatically alter the silhouette of the vintage gown. If you alter the length so it's shorter, you can use a petticoat underneath to add a colorful whimsy to the gown. While your mother's wedding dress might have been serious, yours can be more playful.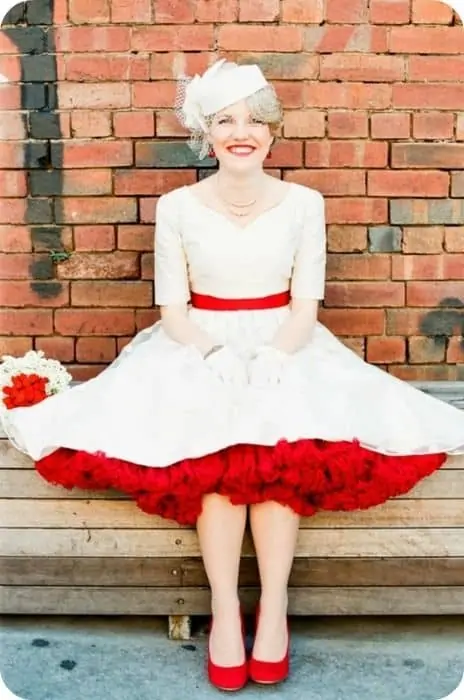 Drive out the Poofiness
Whether it's the sleeves, bows on the front and back of the gown, or puffiness at the hem, to modernize the gown, you'll want to remove all that poof. A slimmed-down dress will instantly become more in line with current trends and styles.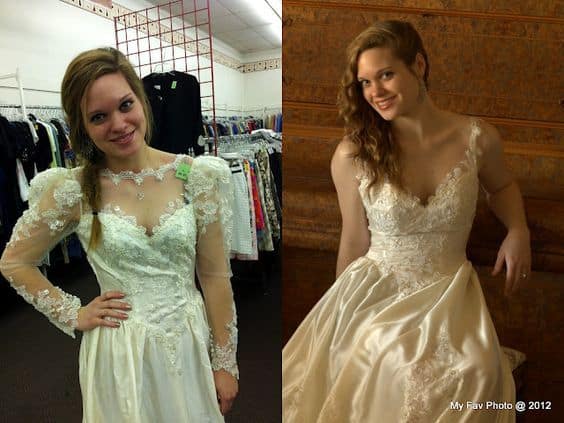 Dig Under the Frills
Along with the puffiness, the frills, lace, beading, and mesh made brides from older generations appear to be covered from head to toe. Removing the frills and extra detail from the dress can make a huge difference immediately. Your seamstress or designer will likely want to remove it all to start from a clean slate.
Once you have your mother's blessing to redesign her wedding gown, make sure you're visiting a designer with experience in reworking old gowns. The material can be harder to work with because it can become brittle and yellowed over time even with a good restoration before it was stored. The designer will be able to take your measurements and learn about you to find out what kind of dress you'd like for your wedding. It's not just about removing the extra fabric, it's about turning the dress into a gown that you'll be proud to wear on your wedding day.