Latest posts by Jeanette Kierstead
(see all)
Mahogany is a stunning, rich wood that's used in some of the finest furniture and guitars. You might have a skewed view of what a wooden ring is. If you imagine a flimsy bit of wood surrounding your finger, you're in for a surprise. The rings on this list come with deep, polished mahogany hardwood and other materials to give them visual interest. Everyone will compliment your lover on his or her ring. You'll know you've given a ring that will have a lasting impact.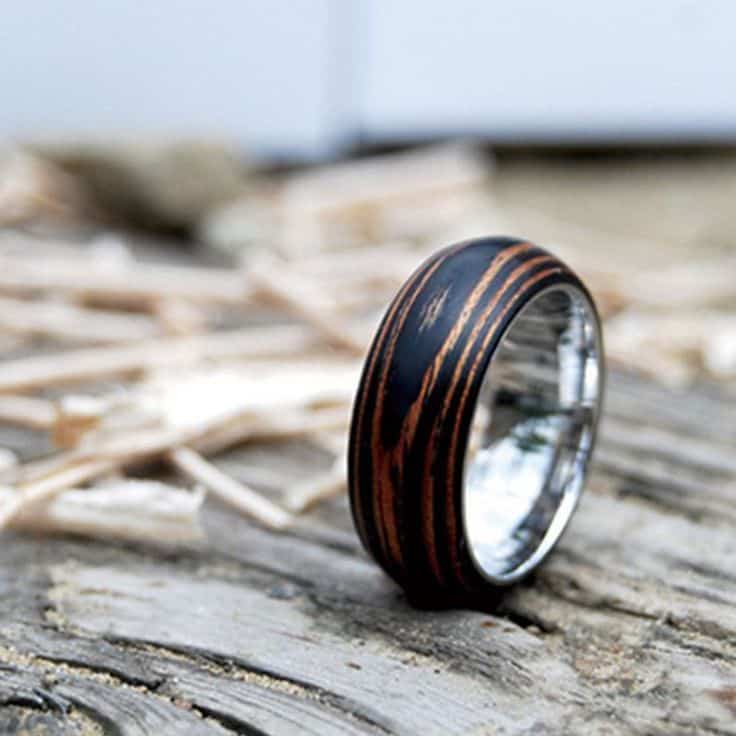 Facts About Mahogany:
Mahogany is the national tree of Belize as well as the Dominican Republic
The coat of arms for Belize is an axe and a paddle with the words "under the shade I flourish"
It's dark brown wood with a sweet scent and can live to 350 years old
Prized for its texture and stunning color
Care for Your Mahogany Ring:
Should be protected with a sealant
Remove the ring during dishwashing, swimming or showering
Do not use your wooden ring around abrasive materials or chemicals
Remove when applying lotion or cosmetics
Solid wood rings might need wax applied occasionally while inlay won't need it
GABON Black Ceramic Band with Exotic Mahogany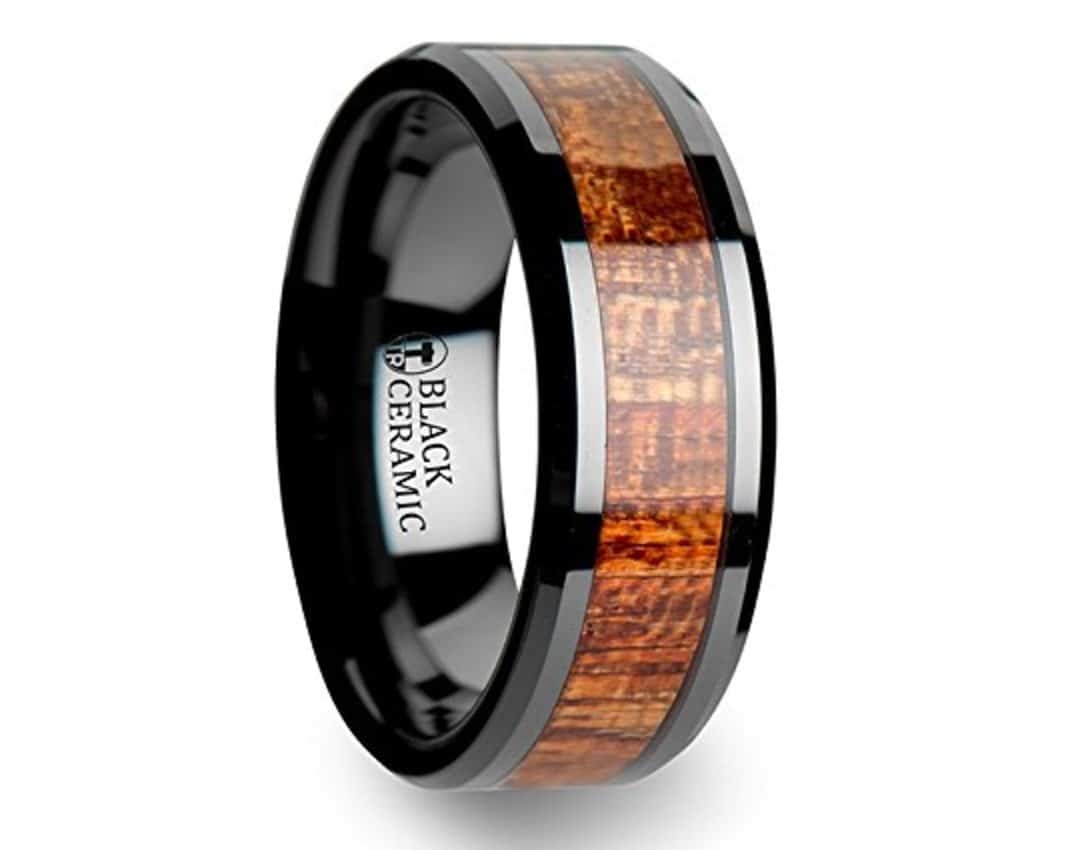 This gorgeous ring can be a part of a set of wedding bands or one can be purchased for your love. Does he have a birthday coming? Do you want to get her something special for Mother's Day? This ring is much better than those tired roses you buy her every year for her birthday. It's a black ceramic with an overlay of richly textured mahogany. The interior is stamped black ceramic but has room for engraving. While there are lifetime size exchanges on this ring, that won't be possible if the ring is personalized. Keep this in mind when ordering. It comes in 6 mm or 8 mm, which makes it great for a couple's wedding set.
Features and Specifications:
Tungsten Carbide Overlay
Sizes 5 – 14
Lifetime Size Exchanges
---
Genuine Mahogany Wood Inlay Men's Tungsten Wedding Band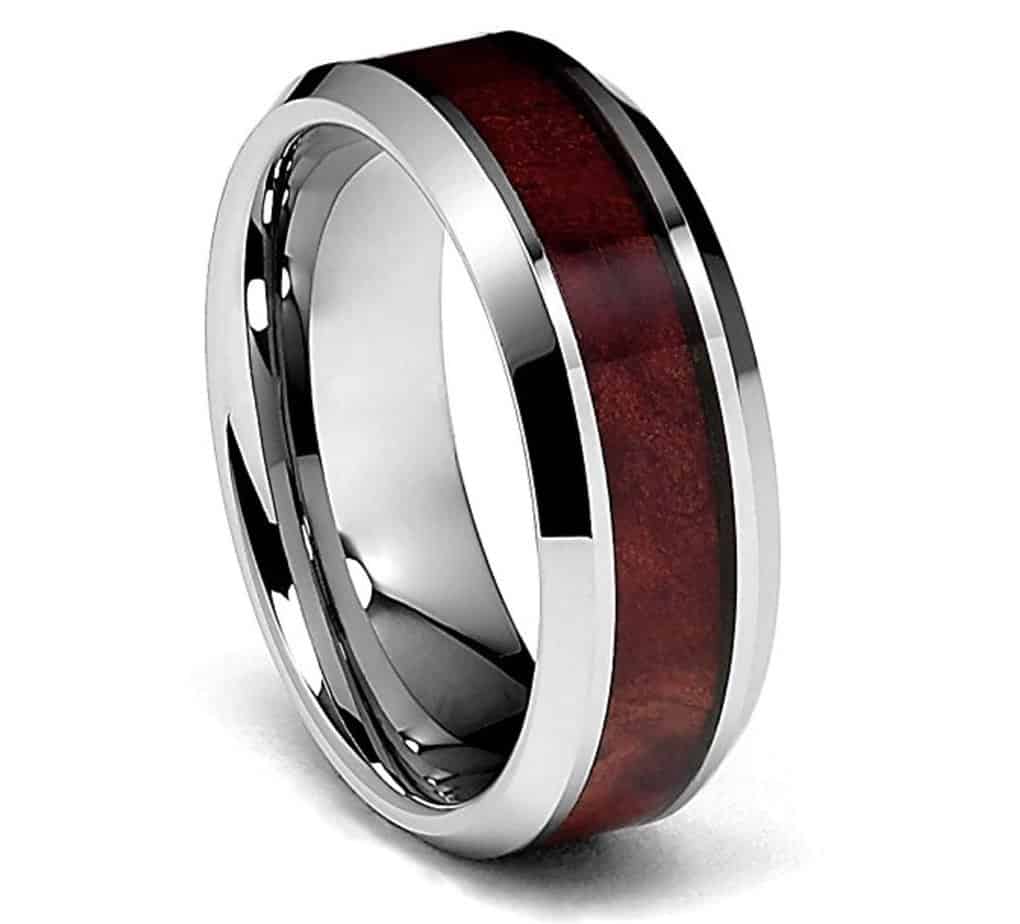 If you're looking for a gift for the man in your life, this is a sturdy yet stunning band that he'll love. While from the outside it's a strip of wood with stunning detail, on the inside you can have it engraved with words from the heart that only he'll see. It's like a secret between the two of you. It can be engraved with 20 characters including spaces in a block or script font, but once it's engraved, it can't be returned. It also comes with a great gift-giving box. When giving a tungsten ring, it's important to understand that while it's scratch resistant, the ring itself is so hard that it can shatter when hit with something equally hard. If your man works with his hands, that might be a problem to consider.
Features and Specifications:
Engraving Available
Sizes 8 – 14
Scratch Resistant Tungsten
Genuine Mahogany
---
Handmade Wood Wedding Band with Titanium and Mahogany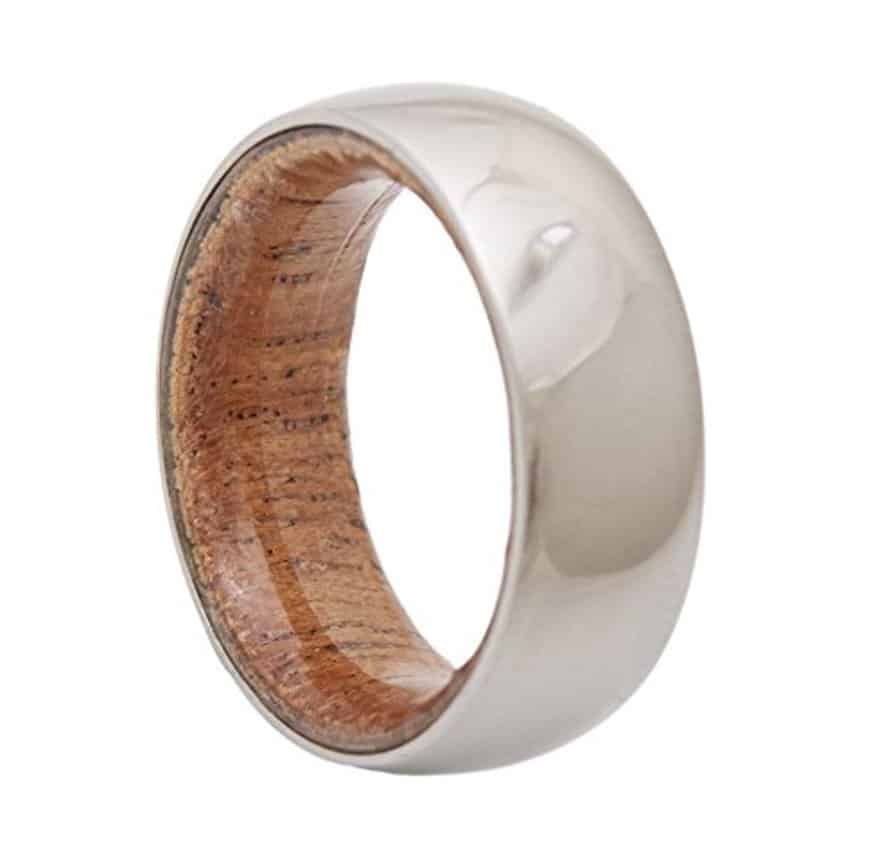 When you're looking for a ring that's hypoallergenic, titanium and wood are a great combination. The interior of this ring is made with solid mahogany protected by ring armor to keep it smooth and hard. These rings are handmade by artisans who specialize in working with wood for beautiful wedding bands. Don't let the wedding band label scare you away from purchasing one of these rings for your lover. He or she will love the ring on any finger. The exterior of the ring is made of titanium with a high polish shine. This band has a comfort fit sizing, which might be different from regular sizing. It's available in many sizes for a variety of fingers. This band comes with an original wooden box for giving as a gift.
Features and Specifications:
Comfort Fit
Sizes 3 – 16
Available in 1/2 – 1/4 – 3/4 Sizes
Customized Width of 3 to 13 mm
---
When purchasing a wood ring, the greatest determining factor is how long the ring will last. This is based on the care taken to preserve the wood. It comes from the manufacturer as well as the person who wears the ring. Wooden rings will come with a finish, whether it's wax or a more permanent coating, that are meant to protect them for years. While they're meant to last with daily wear, you might want to take precautions plunging your hands into water constantly. As long as the finish is maintained, it shouldn't be a problem, but it's best to remove it before showering or doing dishes. Wooden rings are a great alternative to a traditional ring for those who love the look of wood or who need a ring that is eco-friendly and hypoallergenic.