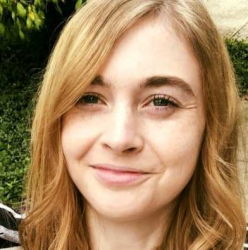 Latest posts by Erin Jamieson
(see all)
As beautiful as a round, brilliant-cut diamond engagement ring is, it's not the best option for everyone. One of the most exciting trends in the bridal industry is that consumers are asking more questions and pursuing unique and more affordable options. One of my favorite ideas for someone looking for a close alternative to a diamond ring is a gorgeous princess cut moissanite engagement ring.
From the unique brilliance of the princess cut to the stunning beauty of moissanite, there are countless reasons to consider this type of ring. At the same time, I know that choosing an engagement ring is a big decision. For this reason, in this guide, I'll share my tips on who should or shouldn't buy a princess-cut moissanite engagement ring. I'll share my tips for buying the best ring and some of my favorite designs you can buy today!
Best Online Moissanite Retailer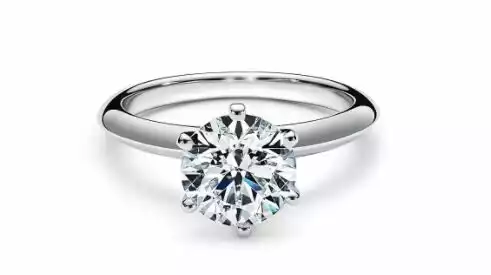 Bottom Line Up Front Summary:
If I had to select just one moissanite engagement ring, it would be the Forever Moissanite Infinity Design Princess Cut Moissanite ring. This features a timeless, versatile design that is pleasing to the eye. It's easy to pair with bands and features a beautiful princess cut center stone. I love all of the detail in the band; it's so breathtaking!
My Top Picks
Forever Moissanite Infinity Design Princess Cut: Best For Customization
Forever Moissanite Three Stone Princess Cut: Best for Something Simple
Forever One Moissanite Classic Solitaire: Best Solitaire Ring
Forever One Halo with Side Accents: Best Halo Ring
Forever One Solitaire with Side Accents: Best Side-Stone Ring
Forever One Scrollwork Ring: Best Vintage-Inspired Ring
Forever One Platinum Solitaire: Best Platinum Engagement Ring
Forever One Split Shank: Best Under $1000 Engagement Ring
Princess-Cut Pros and Cons
The next question: is a princess cut engagement ring right for you or your partner? A princess-cut is a relatively new cut. The first known princess cut was seen in 1979, with its origins credited to Basil Watermeyer, a diamond cutter based in South Africa. While the princess cut has undergone many transformations, it's still a common cut sold in the market today. It's a brilliant, square cut.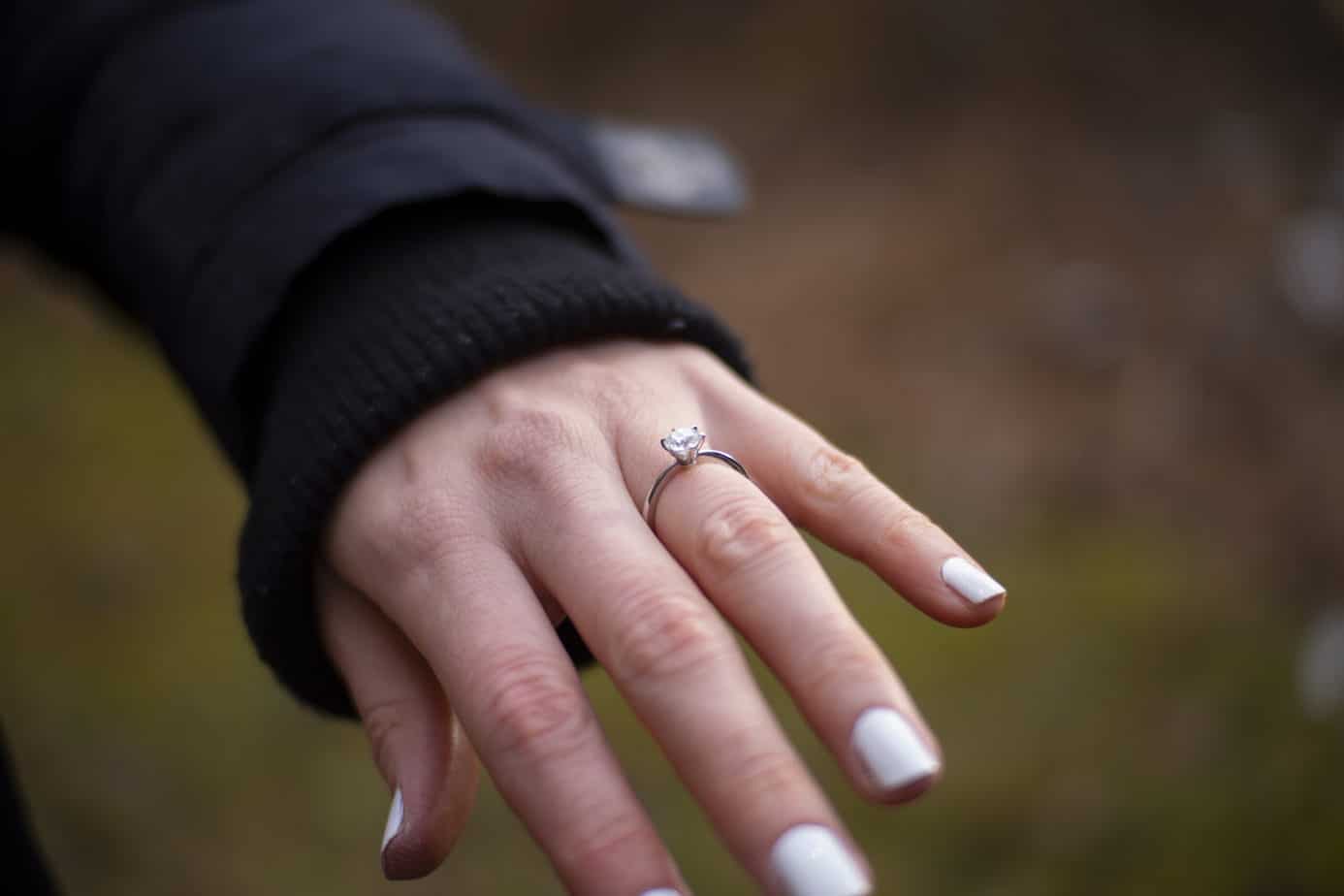 Pros
Price: Princess cut moissanite is less expensive than a round cut or cushion cut, saving you money. A princess-cut will cost more than a rectangular cut or a square cut. It's a great cut if you're looking for a bit of sparkle at a good value.
Popularity: Popularity isn't everything, but it's interesting to note that a princess cut is more popular than a cushion cut. It remains one of the most popular cuts today, though it's not nearly as popular as a round cut. As of 2021, the GIA reported that round cut stones accounted for 60 percent of engagement rings purchased. Still, it's one of the most popular alternatives.
Cons
Brilliance: Speaking of sparkle, the princess cut is not the best or worst if you're looking for brilliance. The sparkle of a princess cut is subdued compared with a round or cushion cut. However, it's more notable than a deeper cut, like an emerald cut.
Size: A princess-cut moissanite stone will appear smaller than stones with the same carat weight. This is due to the smaller surface area. Thus, even though you're paying less, you'll also get less out of your carat weight.
How to Buy A Moissanite Princess Cut Ring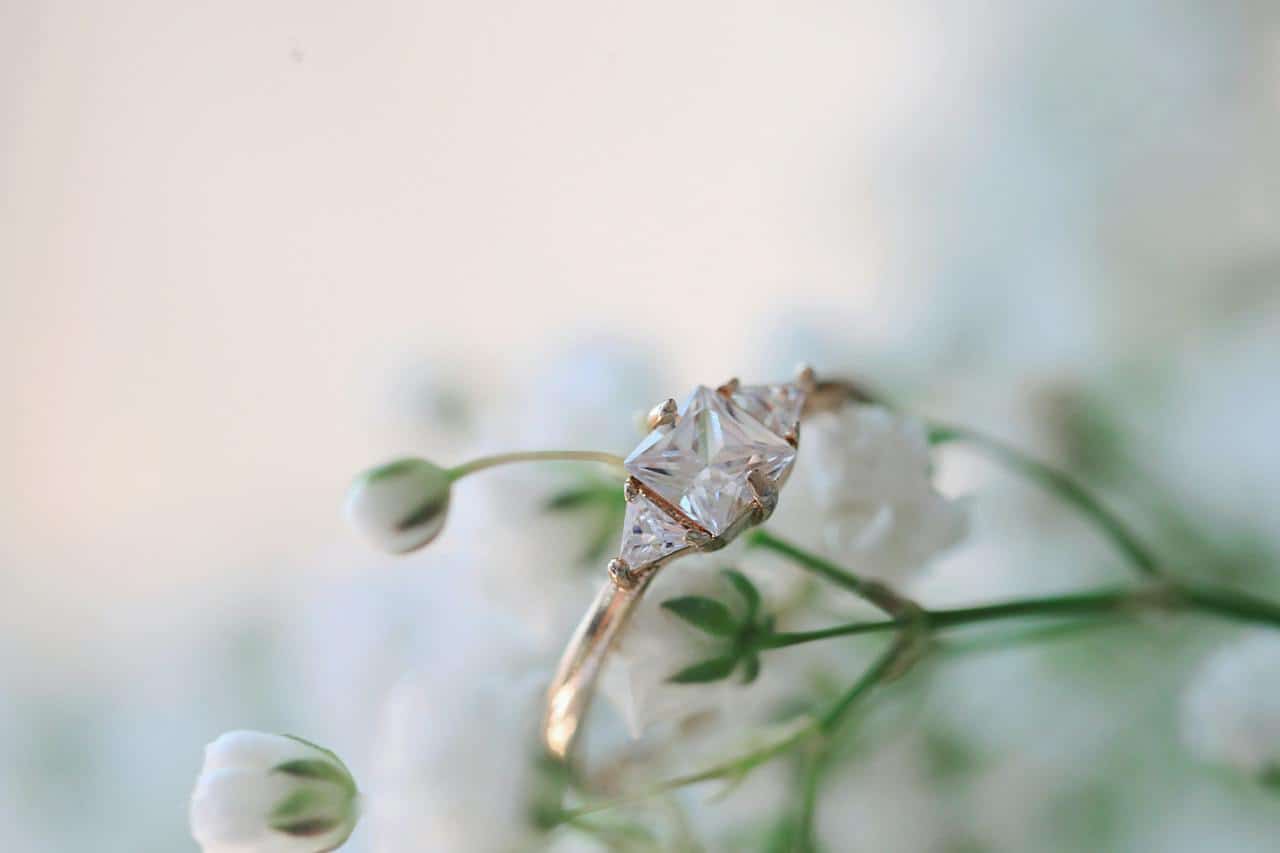 Moissanite engagement rings have several advantages over diamond engagement rings. Moissanite engagement rings are less expensive than diamond rings, meaning you can buy a higher carat for a fraction of the price. Moissanite is not easily scratched, will last for everyday wear, and has a unique multi-colored hue. But if you're sold on buying a princess cut moissanite engagement ring, it's essential to take steps to ensure you're buying the best ring possible. Here's how.
Select a High-Quality Moissanite Stone
It's not as difficult to tell if moissanite is of good quality as you might imagine. To find the best quality moissanite, you need to pay attention to color and clarity. You should only buy a colorless or nearly colorless stone. For clarity, I recommend buying a stone that's no worse than very, very slightly included (vs). If you must make sacrifices, buy lower carat weight first. Color is the very most important factor. Never buy moissanite that doesn't specify color and clarity grading.
Buy the Best Ring Metal
The best ring metal depends on your preference and budget, but it needs to be metal that won't tarnish. For moissanite engagement rings, the main options are 925 sterling silver, 10K gold, 14K gold, and platinum. If you can spend more, platinum is the very best option. It's the most durable and has a high shine. 14K and 10K genuine gold also make great rings. 10K is slightly harder to scratch but is a little low on luster. Avoid any base metals, gold-plating, and sterling silver, all of which can tarnish and become scratched more easily. These moissanite rings will be able to be resized.
Buy From a Great Retailer
Even if you check the rest of the boxes, buying from a reputable jeweler or brand is essential. The seller must have a history of established customer service. When possible, I like to research if they have a positive rating with the Better Business Bureau. Charles and Colvard is my favorite place to buy moissanite, and I hope you'll love these designs as much as I do!
My Picks: Princess Cut Moissanite Engagement Rings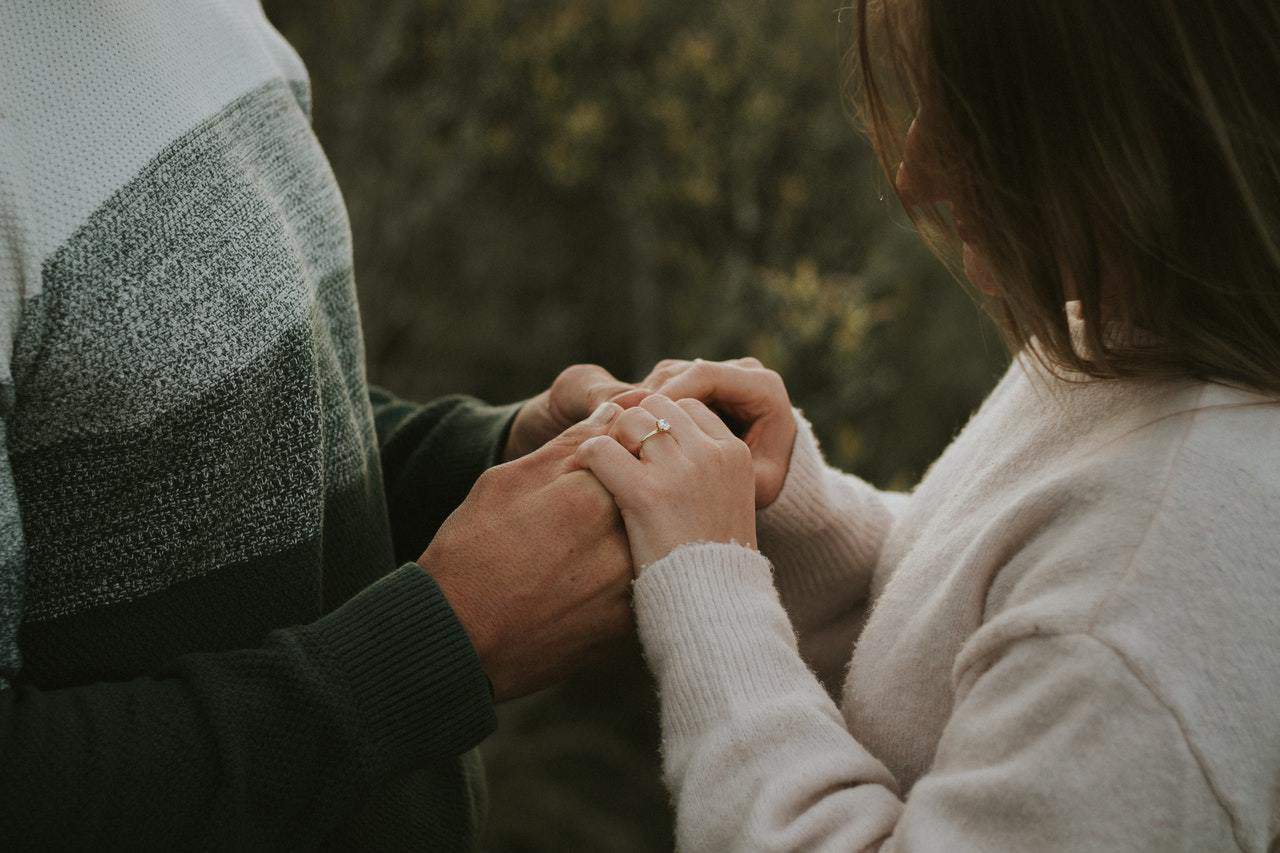 Are you ready to be inspired? Here's we go!
What isn't there to love about this ring? If you're looking for a ring that comes with a little bit extra of a 'pop', all of the reflectiveness in the 50 additional side stones will be perfect. With Forever Moissanite, you can choose stone sizes that range from 1.00 carat to 3.00 carats. And with the side stones located on this ring, there are 0.25 carats extra!
I love how you can customize the rings from Forever Moissanite. You can choose between yellow gold, white gold, platinum, or rose gold options. To be honest with you, I've started at this ring for a few hours; I'm in awe of how beautiful it is! Shop Here.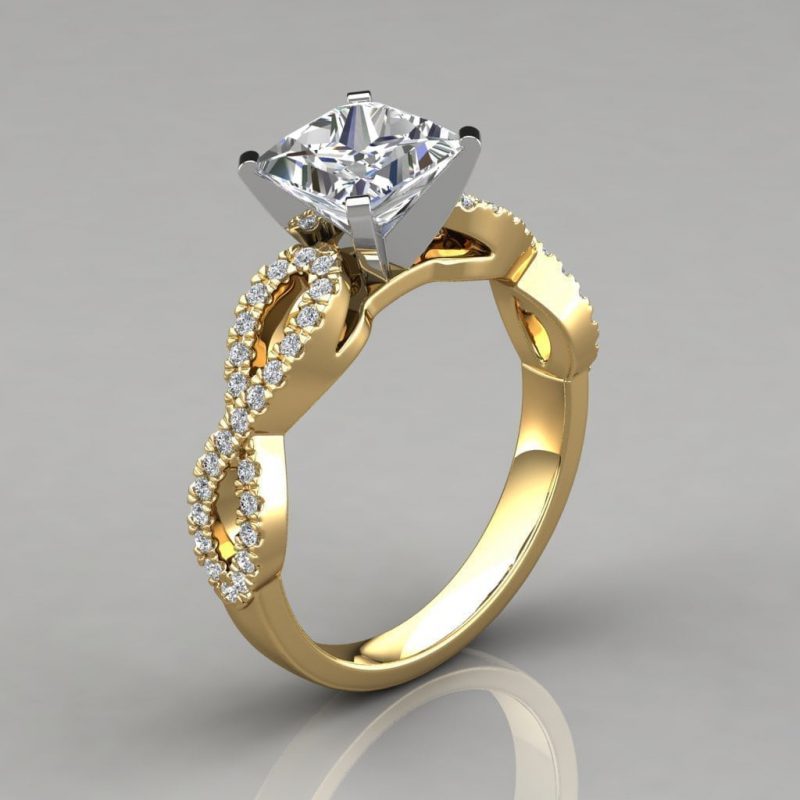 Pros
You can choose between 14k or 18k white gold, yellow gold, solid rose gold, or platinum
Customizable stone options
All of the rings from Forever Moissanite are hand-cut and hand-polished
Cons
Has a VVS1 rating, meaning the stone isn't completely clear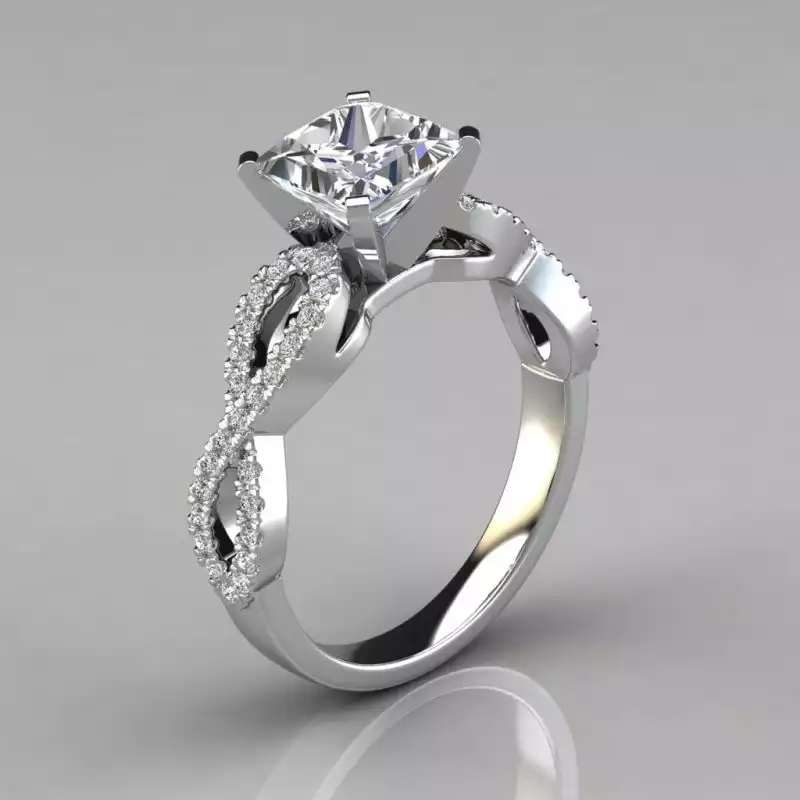 Forever One Moissanite Classic Solitaire Engagement Ring
Are you ready to find a gorgeous ring? It's time to look at Forever One moissanite! Forever One moissanite is colorless or nearly colorless and won't show warmth under a light. It's also of exceptional clarity. You can be assured that all of my ring ideas include princess cuts of outstanding quality as well. I selected rings of various styles, from sleek and modern to vintage-inspired to elaborate. I've also selected solitaire, halo, and side-stone rings to showcase the full spectrum of these moissanite engagement rings.
I've selected rings from Charles and Colvard, a company that has been accredited through the Better Business Bureau since 1998 and holds an A-plus rating. While there are a few other retailers that sell Forever One Moissanite, most of them, in review, are not as worth it because they don't have a great reputation for customer service.
A solitaire engagement ring is hard to go wrong with, especially one that's elegant, sleek, and modern. If you're unsure of what style to buy, I recommend a solitaire ring. The beauty of this ring is its simplicity. A polished band of 14K white, yellow, or rose gold compliments the princess cut moissanite stone.
Charles & Colvard showcases timeless, modern craftsmanship. The band is slender but substantial enough for a comfortable fit. A sparkling 1.92-carat moissanite stone is secured with four prongs. The carat size is impressive without being bulky. I love how refined, elegant, and simple this ring is. Shop Here.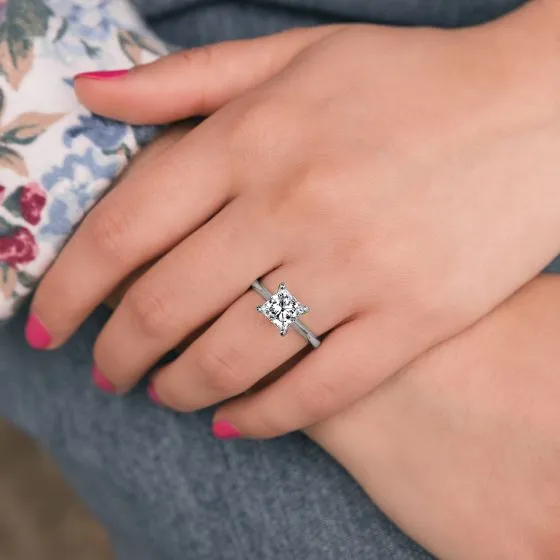 Pros
Choice of 14K white, rose, or yellow gold
Elegant and Simple
Timeless Appeal
Cons
Fairly Plain
Greater Carat Sizes are Harder to Pass as Diamonds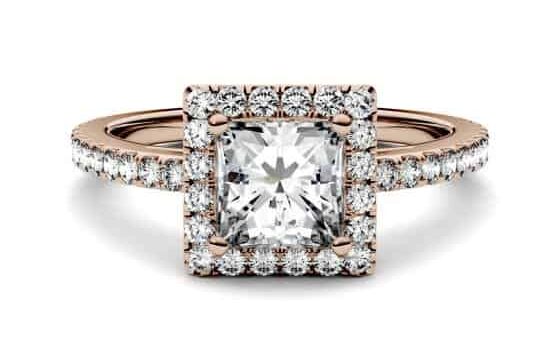 While solitaire rings are beautiful in their simplicity, the opposite is true for halo rings. Halo rings are a perfect option for those who are searching for a statement, glamorous engagement ring. A halo engagement ring is distinguished by a center stone, surrounded by smaller accent stones. This adds to the dimension of brilliance.
This moissanite halo engagement ring is 1.32 carats in total, radiating fire and brilliance. A center princess-cut shone is accented by round stones. Those round stones sparkle along with the entire 14K gold band. This ring is gorgeous and statement-worthy for someone who loves glamour. Buy in Rose Gold or Buy White Gold.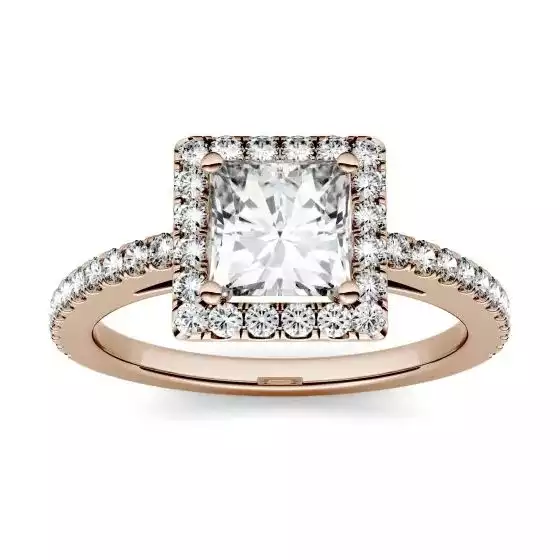 If you love the idea of a halo engagement ring but want just a bit less glitz, a side stone engagement ring is an excellent choice. While a halo has side stones adorning the perimeter of the center stone, a side stone ring will have accents along with the band alone. The result is a greater focus on the center stone but still resplendent sparkle.
This Forever One moissanite engagement ring features a classic princess cut stone and a sparkling band of round moissanite. While glamorous, this ring pairs beautifully with wedding bands. This is a nice in-between for those torn between solitaire and a halo engagement ring. The band is crafted in your choice of 14K gold. Buy Yellow Gold, Buy White Gold, or Buy Rose Gold.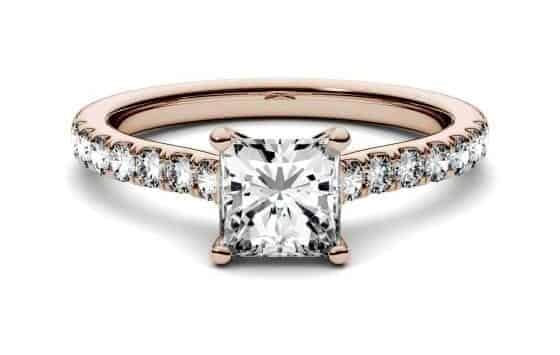 Pros
Sparkle Along with Band
Available in 14K white, rose, and yellow gold
Pairs Well with Wedding Bands
Cons
Smaller Center Stone
Not Very Unique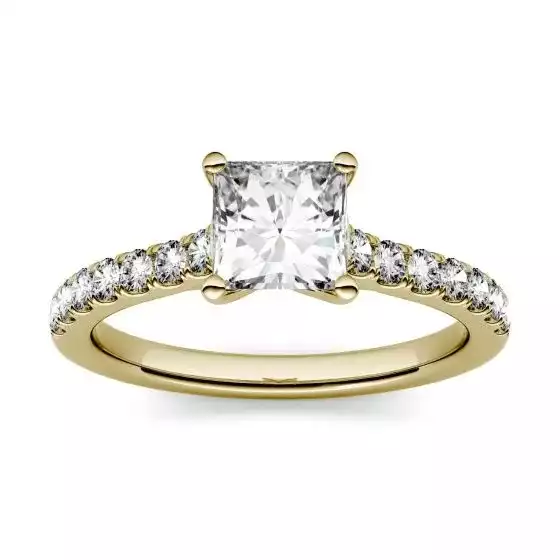 Moissanite is relatively new to the bridal market. But if you're like me and love vintage designs, you can always buy a vintage-inspired ring. The term vintage-inspired is broad, and it can be difficult to find a great design. However, this vintage-inspired moissanite engagement ring is an excellent choice. Scrollwork is defined by flourishes, gorgeous shapes, and often nature motifs. Such work is dated back to ancient civilizations and has transformed over time.
A center princess stone is secured with a classic four-prong setting. The band sparkles with small round accent stones. Where the ring shines, though, is with the elegance of the band. The 14K gold band is engraved with timeless scrollwork. Together, the look is gorgeous, unique, and pleasing to anyone who loves vintage jewelry. Buy Rose Gold Here, or Buy Yellow Gold Here or Buy White Gold Here.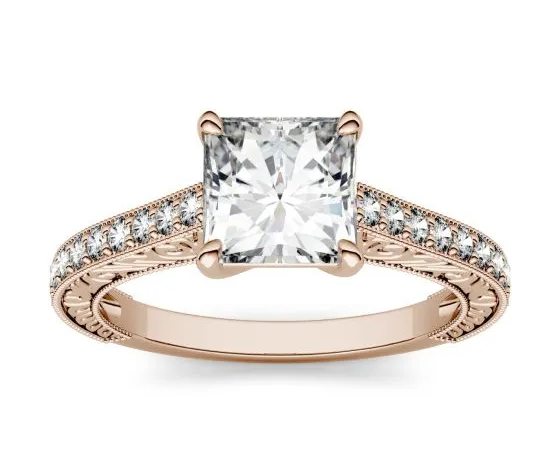 Pros
Gorgeous Scrollwork
Elegant Side Stones
Vintage Appeal
Cons
Scrollwork Harder to see if Paired with Band
Modest Carat Weight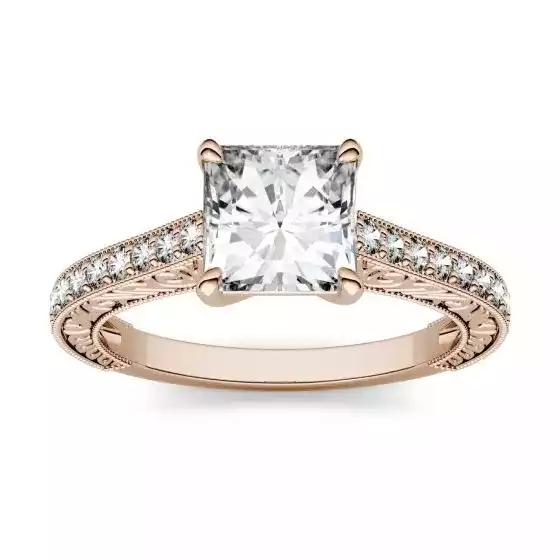 Forever One Scrollwork Ring | Charles and Colvard
This incredible white gemstone is full of fire and perfect for those who want the highest quality, responsibly sourced gemstones at an accessible price.
Check Price
We earn a commission if you click this link and make a purchase at no additional cost to you.
Platinum is more expensive than gold, but for a good reason. Platinum is a gorgeous metal with a high luster and incredible durability. Buy a genuine platinum ring, and normal cleaning and wear will allow it to last a lifetime. Platinum is usually great for those with sensitive skin, too. If you love the look of white gold, platinum is an excellent choice if you have a higher budget.
This platinum solitaire moissanite ring is simply timeless. The stunning princess cut stone is 1.91 carats. It sparkles with fire and brilliance, secured with a classic four-prong setting. The slim band is stylish and modern. I love how the luster of the platinum band complements the sparkle and allure of the moissanite. Buy Here.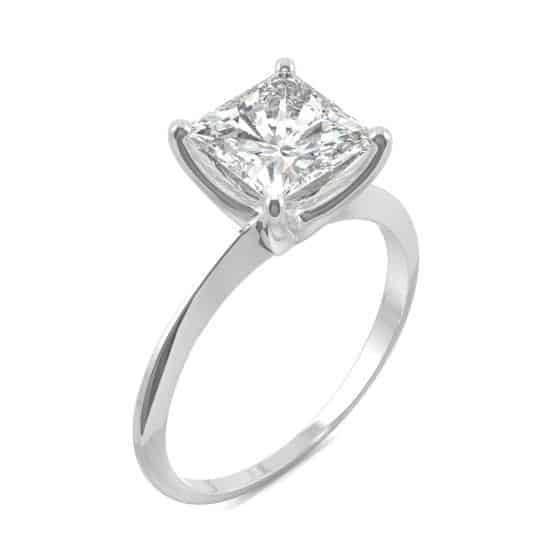 Pros
Very Durable
Stunning, High Shine
Large Sparkling Center Stone
Cons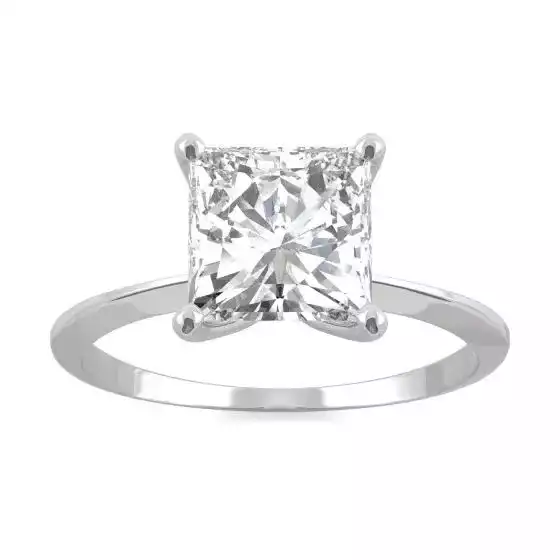 Forever One Split Shank Engagement Ring
On a tighter budget? You don't have to decide between quality and price. You can find even cheaper rings (see my final buying recommendations), but if you have a few hundred dollars to spend, I do have a favorite option. I love this ring because it stays true to Charles & Colvard's beautiful craftsmanship but saves you a few to several hundred dollars.
Not only is the price better, but the design of this moissanite engagement ring alone would earn it a spot on my list. While I love a classic prong setting, there's also something to be said for a split shank style. A band defines a split shank style that is divided into two and nearly meets at the center. This adds a bit of style and surprise to a classic look. The ring is beautifully crafted and holds a 0.90-carat princess cut moissanite center stone. You get nearly the look of one carat for less. The other advantage is that a smaller carat size is less obviously not a diamond. The band is crafted in 14K gold. Buy in Yellow Gold or Buy in White Gold.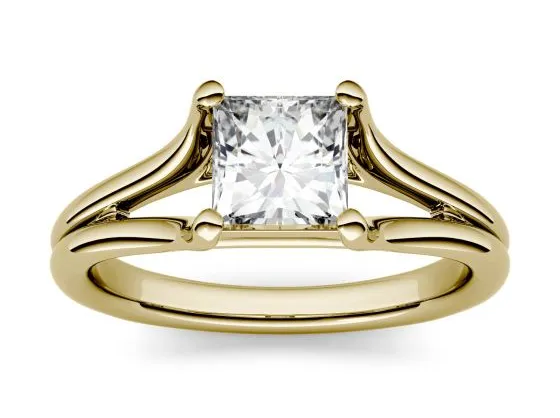 Pros
Good Value
Unique Split Shank
Available in 14K Yellow or White Gold
Cons
Modest Carat Weight
No Rose Gold or Platinum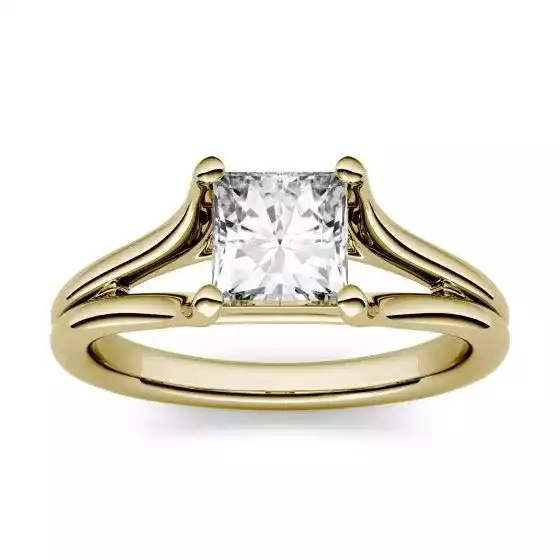 Are you shopping around for someone that's looking for a trendy ring? If so, this is the perfect ring! There's a certain sleekness about this ring that isn't found with any of the other options on this list. But, there's still plenty of room for glitz and glam, thanks to the 12 princess cut stones located on the side of the ring.
You can choose whether you want a 1.00 carat stone, all the way up to 3.00 carats. But, all of the stones on the side of this ring add 0.77 carats. Personally, my biggest concern with this ring would be the sharp prongs. I'm super clumsy, so I'd be worried that I would catch the prongs of the ring on my clothing. Buy Here.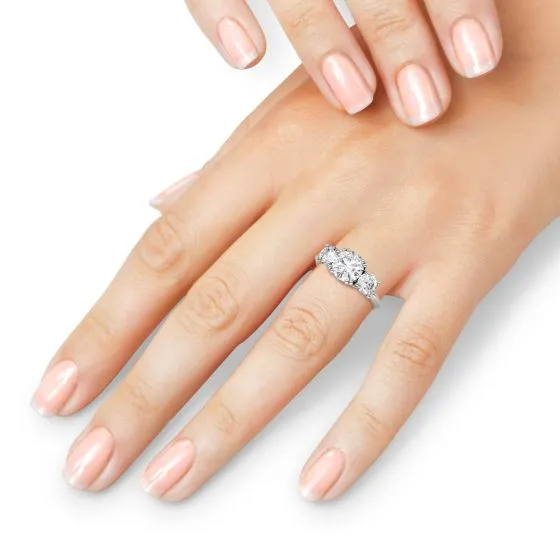 Pros
Forever Moissanite offers a lifetime warranty on all of their gemstones
You can choose between rose solid gold, yellow bold, white gold, or platinum
A handmade ring, which may provide more sentiment to the person you're giving this ring to
Cons
The prongs on the ring look like they match to catch on fabric
I don't like how the setting for the large stone doesn't match the same metal that's used for the rest of the ring.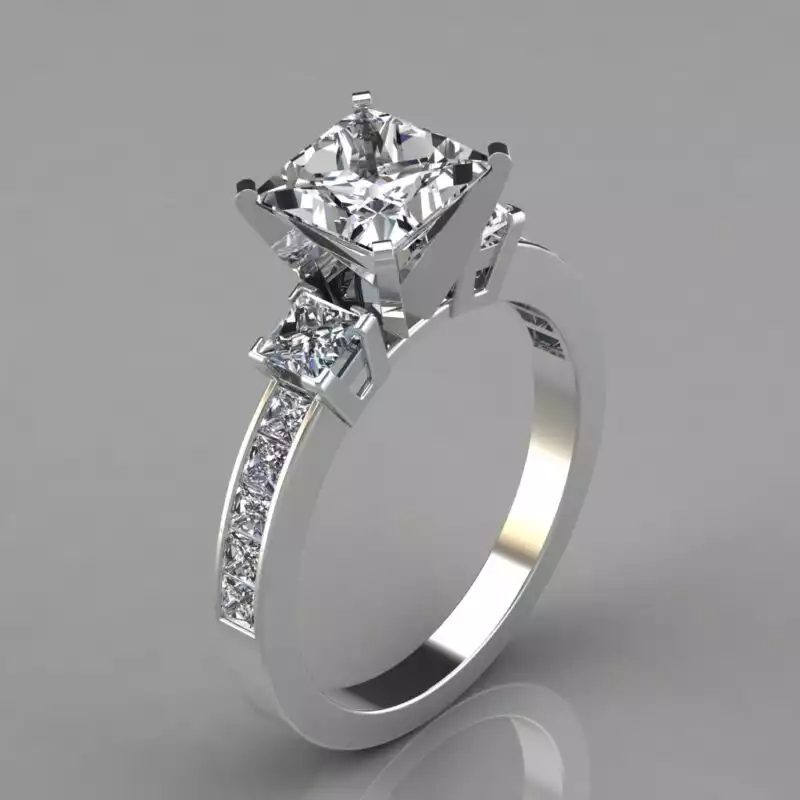 Frequently Asked Questions
Question: Why are people getting moissanite rings?
Answer: More and more people are buying moissanite rings vs diamond rings because they are affordable and beautiful. Unlike some diamond alternatives, they're also durable. Moissanite rates at a 9.25 out of 10 on the Mohs hardness scale, compared with a 10 for a diamond. That means that moissanite won't scratch with everyday activities, and it can last you a lifetime if taken care of. Many even like moissanite for its unique fire.
Question: Why you shouldn't get a moissanite engagement ring?
Answer: If you're purchasing a moissanite engagement ring, you need to make sure that you're doing so for the right reasons. Moissanite is a beautiful stone. At its best, it has both sparkle and fire. Moissanite, however, is not as valuable as a diamond. The larger the carat, the more notable the difference is. Moissanite cannot be passed off as a diamond, nor is it considered an investment piece in the same way. If those are your main concerns, then a moissanite engagement ring may not be the best fit for you.
Question: Is moissanite a fake diamond?
Answer: While many consumers are buying moissanite vs diamonds as an economical choice, I disagree with calling it a fake diamond. It's all a matter of perspective, but I see moissanite as an alternative. Moissanite is most commonly lab-grown, though it can occur naturally, just as diamonds can. In its own right, Moissanite is a real gemstone, but you shouldn't be buying a moissanite ring just to pass it off as a diamond engagement ring.
Question: Is moissanite better than cubic zirconia?
Answer: Moissanite is almost always a better choice than cubic zirconia if you're worried about value and durability. Moissanite is certainly more expensive than cubic zirconia, but it's also more valuable. CZ is worth next to nothing and entirely lab-made. In contrast, moissanite is grown in a lab but found naturally. CZ is more obviously not a diamond, while the highest-quality moissanite can rival precious diamonds' clarity, color, and brilliance. There's also a difference between the hardness of the two. CZ is rated at an 8, vs moissanite, which is rated at a 9.25 on the hardness scale. The instance zirconia would be better would be if you're on a tight budget– it's far cheaper than moissanite.
Final Thoughts
I love seeing diamond alternatives for engagement rings, and moissanite is a strong contender. While brilliant-cut will provide the most sparkle, something is stunning about a princess-cut engagement ring. It is less expensive than a round cut, but with a unique brilliance of its own, princess cut engagement rings are a way to stand out from the most popular styles. Remember to focus on clarity and color before carat weight. If you want to save a little money, opt for a slightly lower carat size- such as 0,75 carats vs 1 carat. There will be the illusion of a one-carat stone, and you'll trim off a few hundred dollars.
Final Buying Recommendations: Princess Cut Moissanite Engagement Rings from Etsy
I have a love-hate relationship with Etsy. I love many things about Etsy for engagement and wedding rings. There's the fact that most of them are handmade and unique. You're also supporting smaller businesses and independent creators by buying from Etsy. You can find a wide range of styles, from sleek and modern to vintage-inspired. The downside is that you have to look and review each seller individually. Nothing is guaranteed, and while Etsy does have refund policies, there's a bit more left up to chance. If you do want to shop for princess cut moissanite engagement rings on Etsy, only buy from sellers with a solid history of sales, clear descriptions, and screenshots of their products. Shop for Princess Cut Moissanite Engagement Rings on Etsy Here.
Best Online Moissanite Retailer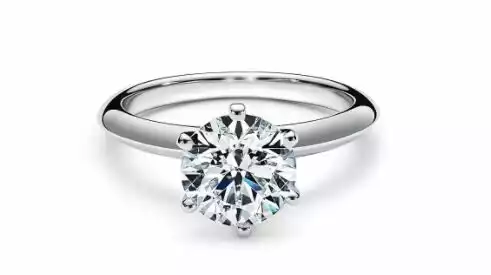 Looking for more inspirational readings? Check out: