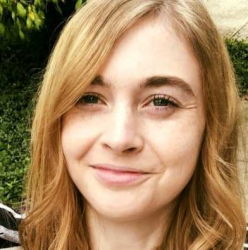 Latest posts by Erin Jamieson
(see all)
What if I told you that you could buy an engagement ring with brilliance from the center stone to the shank at a fraction of the price of the average cost? If you're like me and try to be frugal, read on for my best ideas for glamorous moissanite halo engagement rings.
If the last few years have taught me anything, it's that it's important to take a bigger view of what's considered good, bad, in style, or popular. You can find meaning in something that doesn't fit the definition of what's expected. And with options like moissanite halo engagement rings, you can find beauty by simply looking.
That's why I'm offering this guide to you today. Whether you're on a tight budget and looking for a ring under $1,000 or long for a unique vintage-inspired ring, I'm sharing my top tips for finding only the best moissanite halo engagement rings. From glamourous side views to romantic rose gold bands, I'll teach you how to shop smart– and provide links and pictures for my favorite designs this year.
Best Online Moissanite Retailer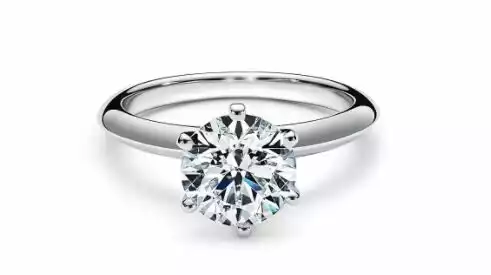 Bottom Line Up Front Summary: If I had to select just one moissanite halo engagement ring, it would be this Forever Moissanite Two-Tone Double Halo Milgrain Cushion Cut Engagement Ring. This ring is refined, elegant, and unique. I've never seen another ring like it; it's truly one-of-a-kind.
My Top Picks
Radiant Forever One Moissanite Double Halo:

Best Double Halo Ring

Forever One Moissanite Halo Solitaire Ring

:

Best Hidden Halo Ring

Moissanite Waverly Bridal Set

:

Best Halo Ring Bridal Set

Moissanite Waverly Ring with Black Diamond Accents

:

Best Avant-Garde Halo Ring

Forever One Moissanite Floral Band Solitaire

:

Best Nature-Inspired Halo Ring

Moissanite Petite Twisted Vine Halo Ring

:

Best Twisted Band Halo Ring

Forever One Moissanite Old European Halo Ring

:

Best Vintage-Inspired Halo Ring

Forever One Moissanite Halo Knife Edge Ring

:

Best Ring Under $1000

Forever Moissanite Split Shank Cushion Cut Halo Style: Best Split Shank
What You Need to Know About Halo Engagement Rings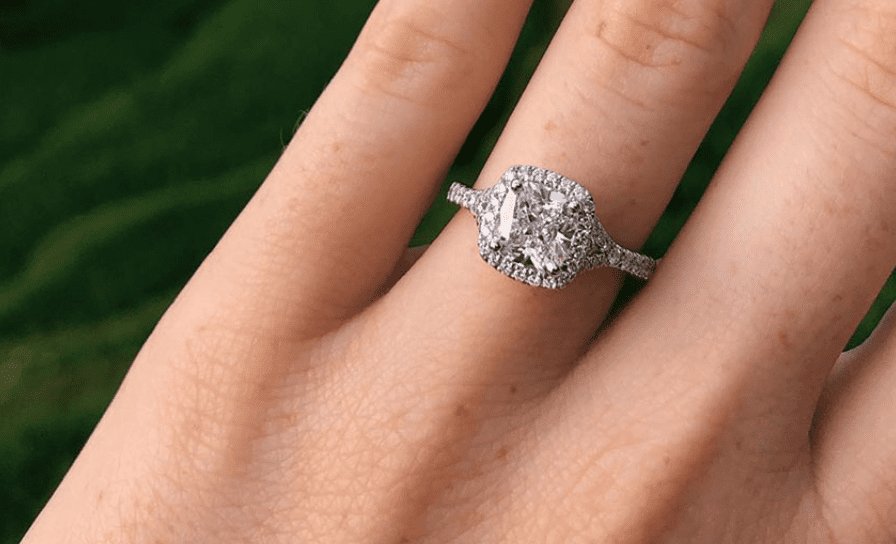 Halo engagement rings are a gorgeous option for anyone wanting to make a statement. Paired with a moissanite, a halo engagement ring will provide brilliance on both the side and front profiles. But it's not quite as simple as if this style is good or bad– instead, focus on what's right for you.
Halo Ring Definition and Popularity
If you've ever been ring shopping, it's most likely that you've seen a halo ring. A halo-style ring is not only still popular, but it's also timeless. Different ring types go in and out of style, but even with many loving minimalists rings this year, there are just as many who want a ring that exudes brilliance with every angle.
A halo ring is defined by a center stone (any cut, though round and oval shapes, are most popular) surrounded by a halo of accent stones. The idea is that the center stone's brilliance is further highlighted by the accents.
Halo Ring Pros and Cons
A halo moissanite engagement ring is a beautiful choice, but I firmly believe that it isn't the best choice for everyone. Here are some reasons I'd buy, or not buy, this style of engagement ring.
Pros
More Notable Brilliance

Center Stone Looks Bigger

Countless Beautiful Styles

Timeless
Cons
Higher Cost

More Obviously not a Diamond

Harder to Stack
Styles of Halo Engagement Rings
When I first started becoming invested in the jewelry industry and the bridal industry, I assumed that a halo ring would look more or less the same. I was very wrong. A halo engagement ring, for both moissanite and diamonds, can be fashioned in countless styles. Here are some of my favorite trends I think you should consider.
| | |
| --- | --- |
| Style | Description |
| Double Halo | Just as it sounds, a double halo ring means the ring has two halos surrounding a center stone. This is the most expensive and provides the most brilliant impact. |
| Hidden Halo | This unique style is perfect for someone who wants to optimize brilliance but wants a more subtle design. Rather than around the top, the hidden halo consists of sparkling accents on the side. The result is enhancing brilliance without it being as obvious. |
| Halo with Infinity Band | An infinity band, or eternity band, consists of stones along the entire perimeter of a ring. Thus, a halo ring with an infinity band features a center stone, a halo of accent stones, and stones along with the entire band. It's brilliance from all viewpoints, and, like the double halo, it'll cost you a pretty penny. |
| Halo with Twisted Band | Just as it sounds, a beautiful halo setting is placed on top of a twisted band for a more unique style. |
| Vintage-Inspured Halo | Vintage-inspired halo rings often embrace styles from a certain era, from Victorian to Art Deco. They may swap a round cut for an Asscher, marquise, pear, or round cut. I also love vintage halo rings with flowers or a nature theme. Ornate scrollwork, geometric shapes, and more can be selected. |
Along with these basic categories, halo engagement rings can include side stones or not accent stones at all. Of course, they can be purchased with the halo setting only, and they can be bought in many different metal types, from yellow, white, or rose gold to platinum and sterling silver.
How to Pick the Best Moissanite Halo Engagement Ring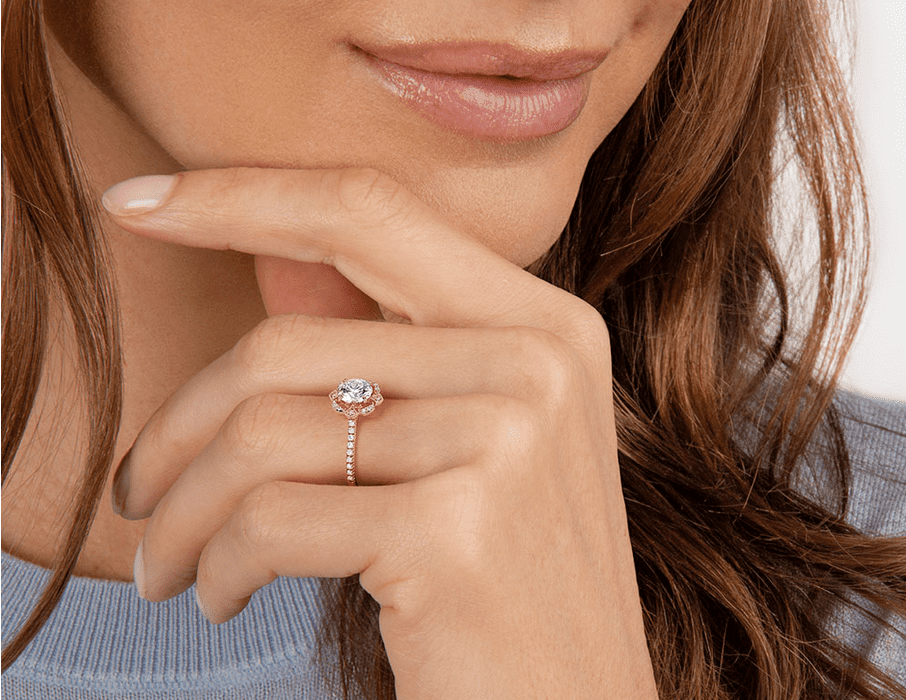 Whether your budget is under $500, under $1000, or more, I have tips for finding the very best moissanite halo engagement ring. You shouldn't get this style if you only want a ring that looks like a diamond. Instead, focus on selecting the highest quality your budget allows. I always recommend prioritizing quality over a carat.
Best Moissanite Cut
Generally speaking, around, cushion or oval-cut sparkles the most, second to the subtle sparkle of a princess cut. However, with a halo ring, unique or vintage-inspired cuts like Asscher, marquise, pear, and more are still going to provide sparkle. The halo of accent stones adds sparkle, so keep that in mind. The more sparkle, the more notable the multicolored scintillation. Ultimately, the most important thing is to buy from a jeweler that is skilled with making quality cuts for moissanite.
Best Moissanite Grade
Quality is very important, and even more so for a moissanite halo engagement ring. Colorless or nearly colorless moissanite mostly avoids undesirable yellow or green undertones. VVS (very very slightly included) or VS (very slight included) ensures a high level of clarity.
Best Metal
The truth is, there isn't one metal that looks best with a moissanite, though we all have our preferences. I prefer 14K to 18K gold (white, yellow, and rose are all beautiful options) or platinum. These metals have a respectable level of luster and are durable enough for everyday wear. Avoid a metal that will easily tarnish or fade, like gold plating.
Where to Buy a Moissanite Halo Engagement Ring
Popular places like Zales, James Allen, Jard, and Blue Nile have a great selection of engagement rings, but they don't carry moissanite engagement rings. While Kay and Kohl's carry a few options, as does Amazon.
I wanted to find the highest quality halo engagement rings on the market. For those, I recommend Charles and Colvard and Brilliant Earth. These two stores hold A-plus ratings from the Better Business Bureau and sell only colorless or nearly colorless moissanite stones with excellent clarity.
Gorgeous Moissanite Halo Engagement Rings: My Ideas
Here are my favorite ideas for gorgeous moissanite halo engagement rings. These rings include classic round cuts, unique vintage-inspired details, and gorgeous plays with geometry. I selected these rings based on their stunning and innovative designs. I also made sure that every one of these engagement rings exhibits the highest grades for color and clarity. My goal was is to provide you with ideas to represent the range of styles and price points. Finally, all of these rings were selected from Brilliant Earth and Charles & Colvard, both known for their excellent craftsmanship and customer service.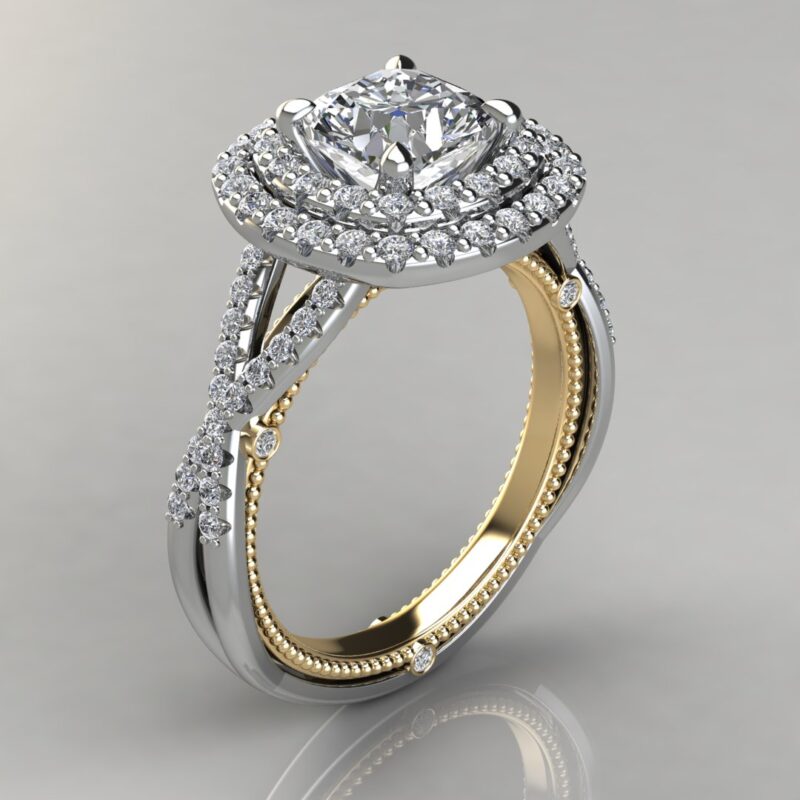 I've never seen a ring like this one, and I have yet to see another one like it. There's so much detail to be round in this ring; from the inner golden ring , to the small gems that connect the inner ring to the outer part of the ring band. There are 80 side stones, which add a total carat weight of 0.55 carats. If you know your special someone has a hard time choosing between metals, I think this two-tone double halo gives the best of both worlds.
Pros
80 small stones add a bunch of detail to this elegant ring
Very unique, especially with the two tones
Customizable options
Cons
You can't get two tones with the platinum metal option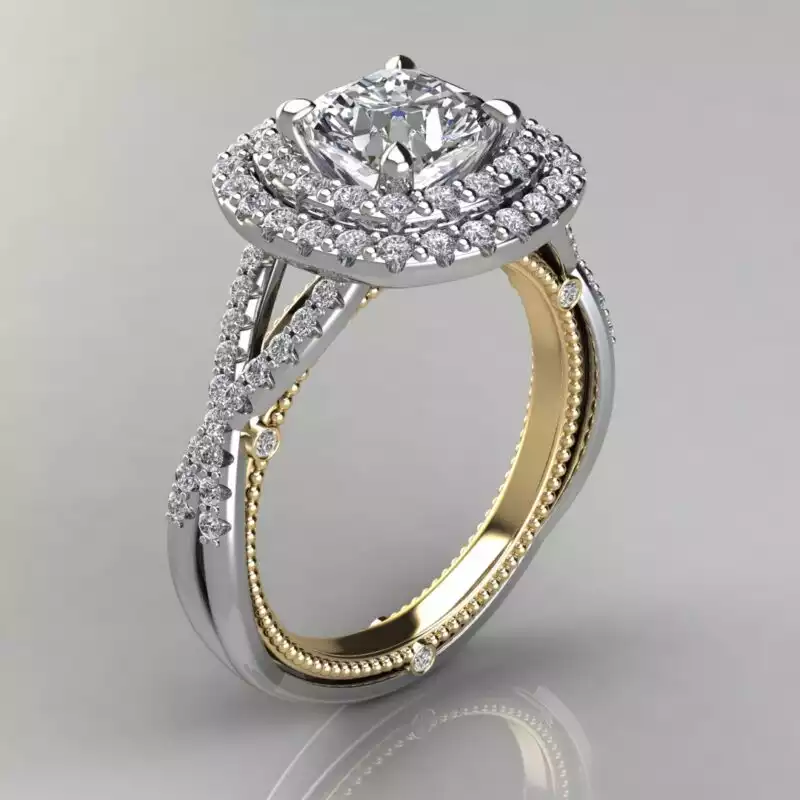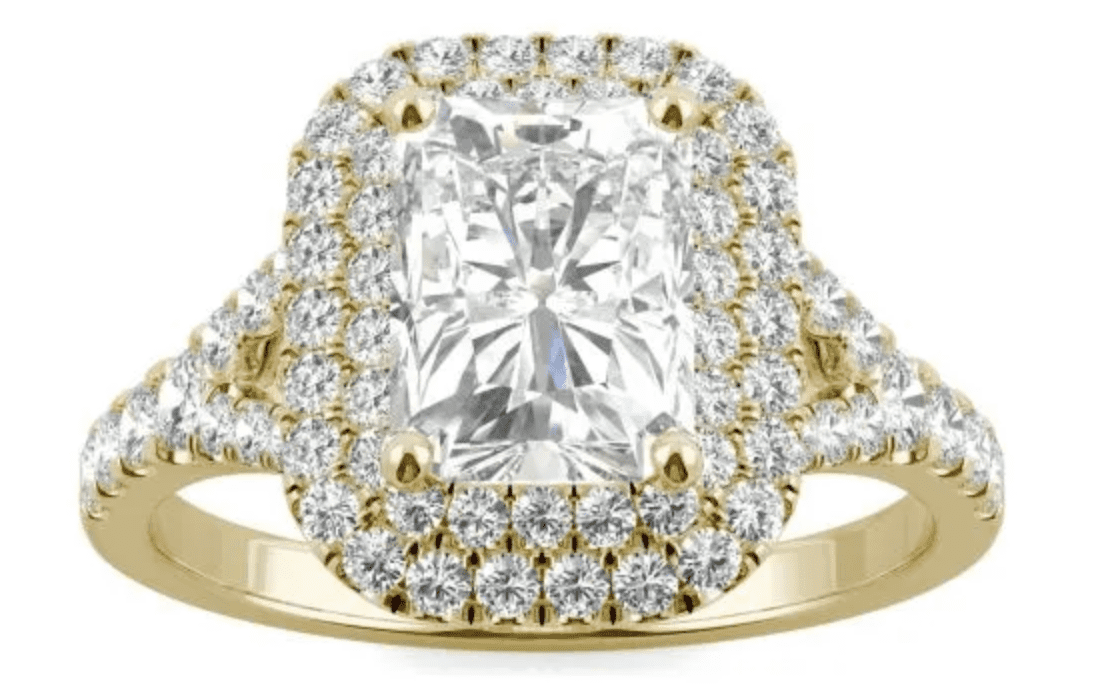 This stunning moissanite ring from Charles & Colvard showcases exactly what a moissanite engagement ring should look like. I recommend this ring for anyone looking to make a loud but classic impression. This ring is nothing short of glamorous, with fire at every angle. A double halo of accent stones surrounds a stunning radiant cut stone. This is nothing short of show-stopping, with a total carat weight of 2.32. This ring is available in 14K yellow gold or 14K white gold. Buy at the links provided.
Pros
Fire and Brilliance at Every Angle

Glamorous

Created with Timeless Precision
Cons
Hard to Stack

Less Practical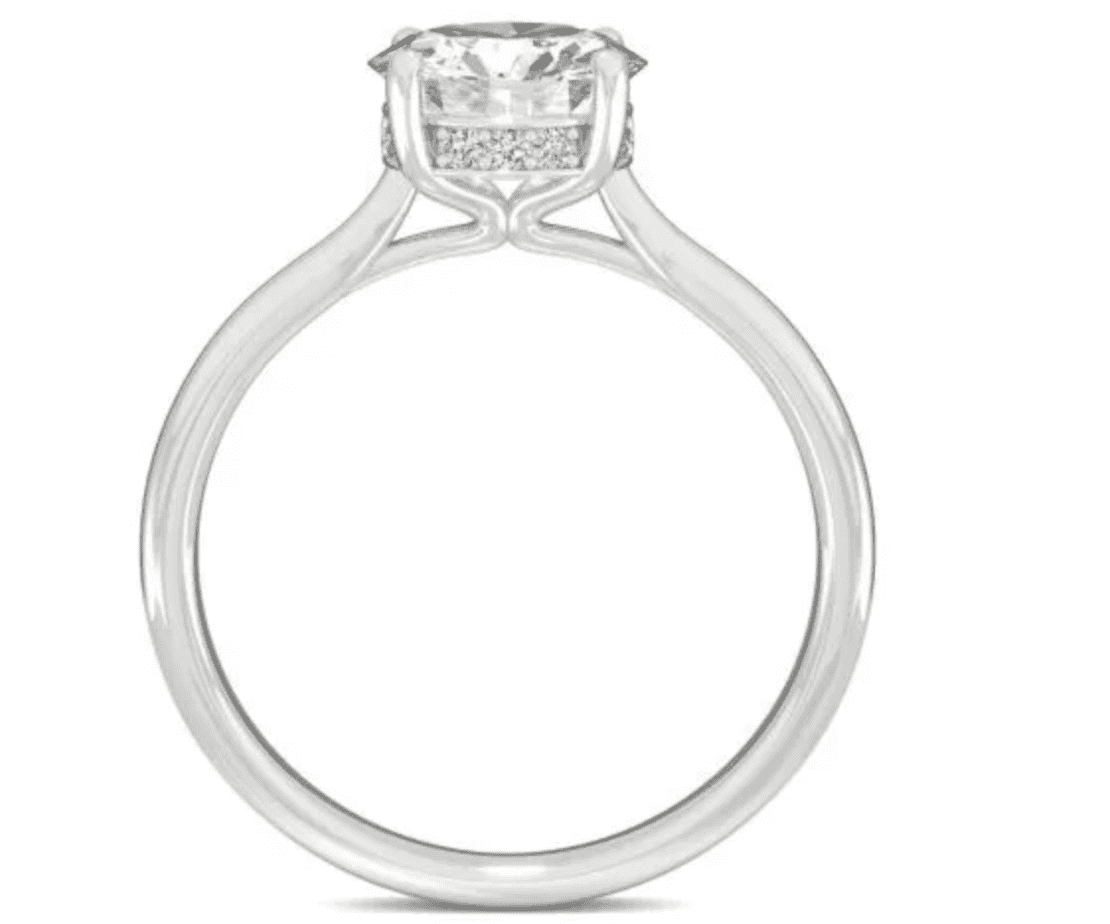 Hidden halo rings are a beautiful option if you're torn between a solitaire and halo style. This moissanite engagement ring provides the best of both worlds. I love the utter elegance of this ring, and how versatile it is. In many ways, this ring is the opposite of a double halo, allowing more a subtly enhanced sparkle. A colorless round center stone is uplifted with an intricate halo that shimmers just below its base. The effect is a clean, modern, and sleek design but with the brilliance of a halo ring. Sleek, sophisticated, and effortlessly beautiful, it's hard to pass this ring by. It's available in 14K white gold, with a total carat weight of 1.68. Buy Here.
Pros
Sleek and Sophisticated

Subtle Halo

Versatile
Cons
Only Available in White Gold

Not as Unique
Moissanite Waverly Lab Diamond Bridal Set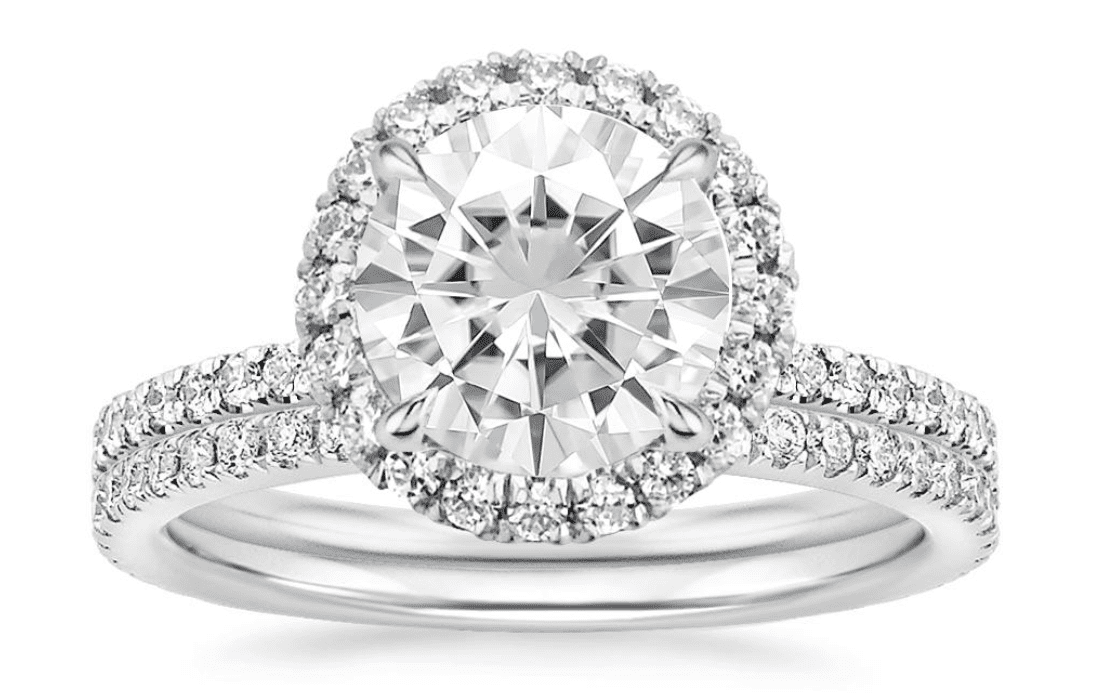 A bridal set is a smart purchase for a few reasons. Bridal sets often provide a discount (but not always) vs buying a band separately. Of course, I also like that bridal sets ensure you'll find compatible ring styles. At the same time, I must warn you that it's not considered to be proper manners to propose with a bridal set. If you are planning on proposing, hold the band back. Regardless, this is one of the most stunning moissanite halo ring bridal sets.
The ring sparkles from top to bottom. Micro-pavé diamonds accent the perimeter of the ring only enhance the beauty of the round cut moissanite stone. It's glamorous but unlikely to go out of style. I love it in icy 18K white gold, but platinum and 18K yellow and 18K rose gold are also excellent choices. Buy Here.
Pros
Practical for Matching

Glamorous Diamond Accents

Available in 18K Gold or Platinum
Cons
Modest Carat (0.45)

Fairly Thin Bands
Moissanite Waverly Ring with Black Diamond Accents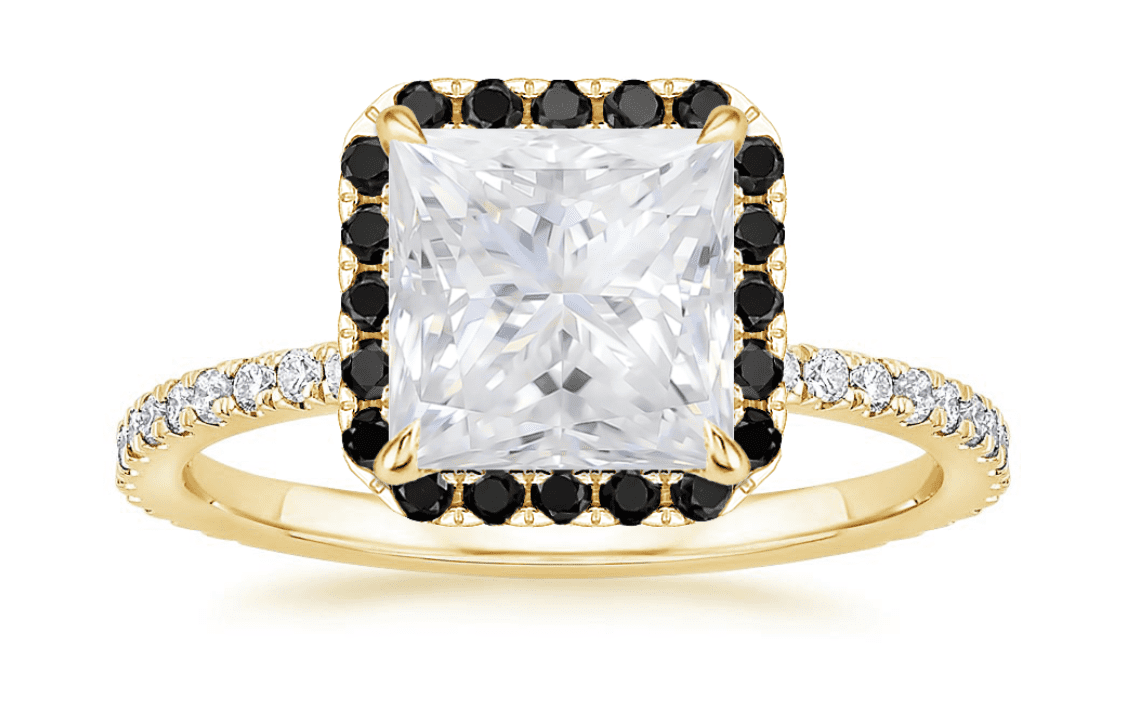 What can I say? This moissanite halo engagement ring may not be for everyone– but that's what makes it so remarkable. This sophisticated ring is unlikely most any of I have seen and showcases how much innovation is reaching moissanite rings. At once glam, Avante Garde, and all beautifully crafted, this is a dramatic ring. The princess center moissanite is framed with a halo of lab-grown black diamond accents. Round accent diamonds shimmer along with the band. It's most striking in 18K yellow gold but is also available in 18K white gold, 18K rose gold and platinum. Buy Here.
Pros
Very Unique

Gorgeous Black Diamond Framing

Glamorous and Artistic
Cons
Slightly Included Diamonds

Limited Sizes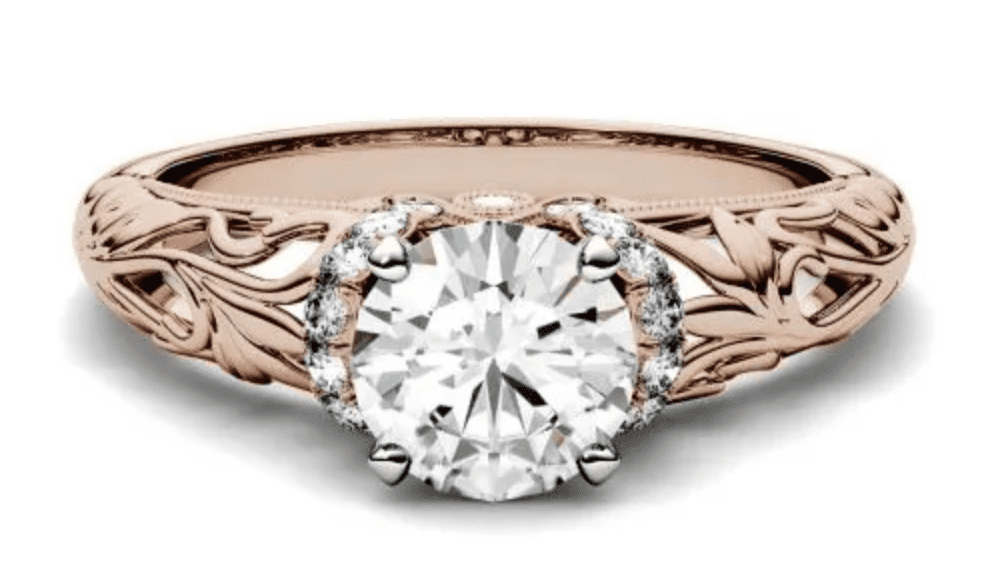 This exquisite ring is a different take on a halo ring, for several reasons. Instead of the classic halo style, the ring is crafted with a split, hidden halo. This alone is innovative, playing with fire and brilliance. But what makes this moissanite engagement ring stand out is the ornate detailing along with the 14K gold band. Scrollwork and plays with angles form a fairy tale-like style. This floral engagement ring certainly highlights the center moissanite stone, but what I love most is that it isn't just about the center stone, nor the carat size. The intricate band along makes this ring stand the test of time. Choose from 14K Rose Gold or 14K White Gold.
Pros
Fairytale Aesthetic

Unique Alternative to Typical Halo

Elegant Shank
Cons
Modest Carat Weight (0.67)

Harder to Stack
Moissanite Petite Twisted Vine Halo Ring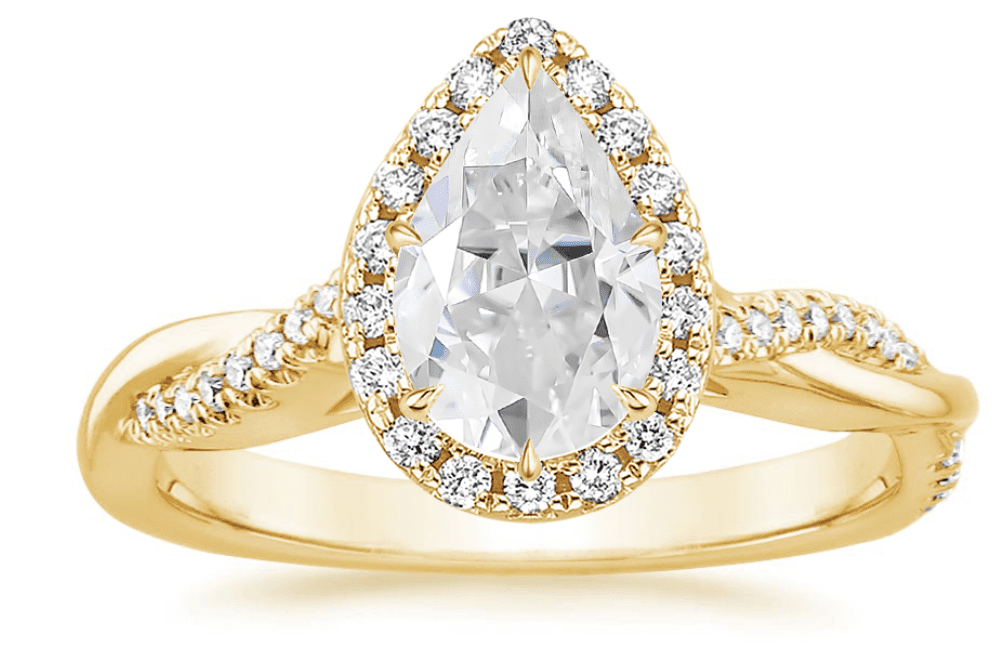 A twisted band adds just a bit of style to the ring for an artistic touch. Of the moissanite halo engagement rings with a twisted band, this one by Brilliant Earth gets my vote. It's a glossy, elegant ring with a great balance of sparkle and sleek simplicity. Round accents diamonds surround a pear-cut moissanite stone. The intertwined band alternates sleek plain metal with accents stones. While there are plenty of sparkles, it doesn't feel as overwhelming or bulky as some other styles. The modest carat weight complements this style (¼ carat). Select from 18K yellow gold, rose gold, white gold, or platinum. Buy Here.
Pros
Balanced Design

Unique Twisted Shank

Accent Diamonds
Cons
Modest Carat Weight

Diamonds Have Slight Inclusions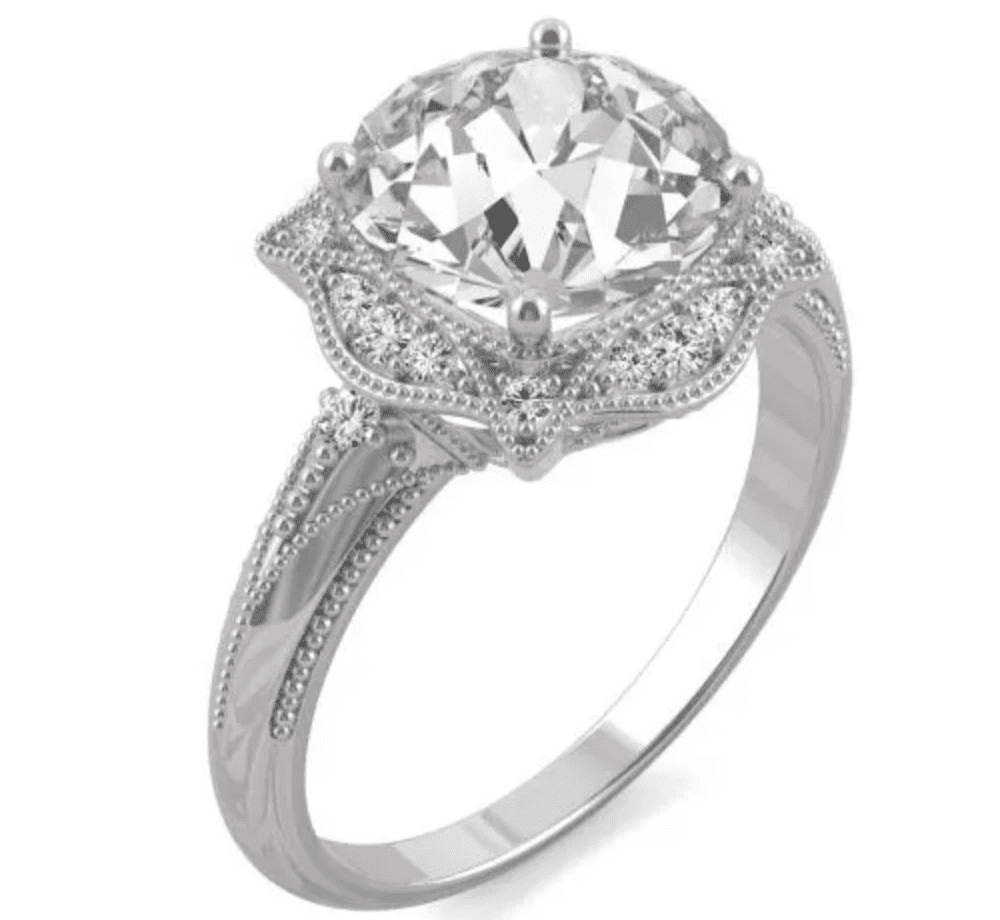 There are several vintage-inspired moissanite halo rings, but if you want a truly unique cut, consider this ring. The Old European cut is a type of round cut that was most prominent from the last 1890s through the early 1930s. Associated with Art Deco, they were traditionally hand-cut and large facets. As they have been more or less replaced by brilliant round cuts, they are more unique and a bit more valuable. This ring certainly is unique, with dainty miligrain carved near the halo of shimmering accent stones. The 3.05- carat ring is sure to stand out from modern styles. Buy in 14K White Gold or 14K Rose Gold.
Pros
Unique Art Deco Cut

Dainty Miligrain Detail

Subtle Accent Stones
Cons
Old European Cut is Less Brilliant

No Yellow Gold or Platinum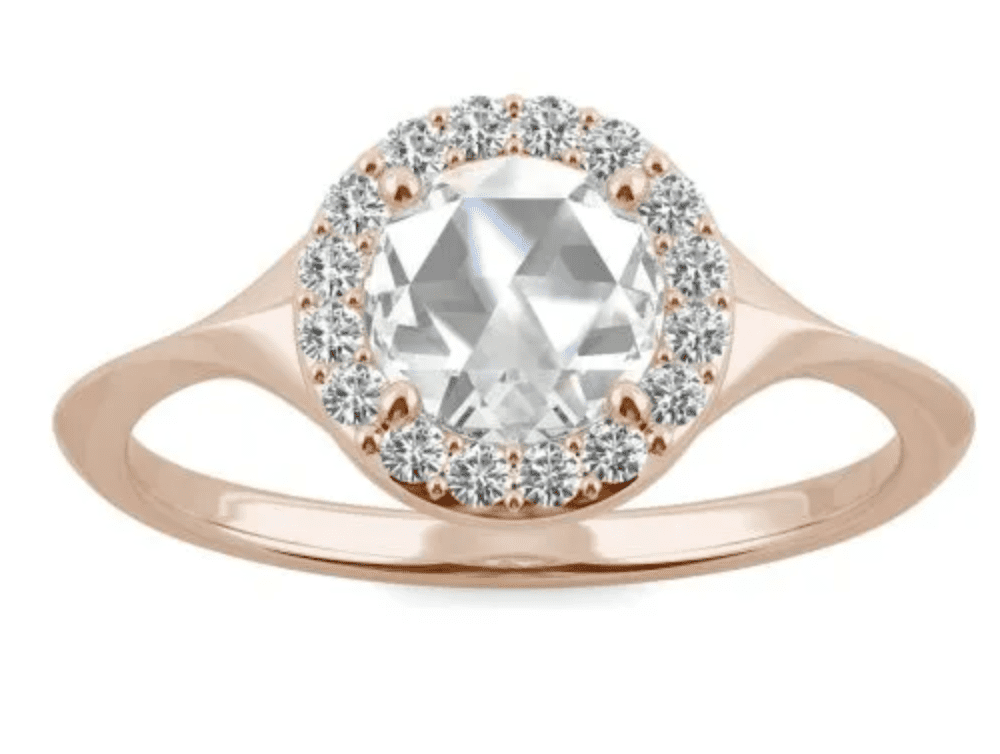 On a budget? I understand. As much as I love jewelry and the bridal industry, one thing that frustrates me is the assumption and pressure to spend a lot. You don't have to spend a lot of money to find a beautiful ring, nor does the amount you spend reflect your love. By opting for modest carat weight and a fairly plain halo design, you can buy a high-quality ring comfortably under $1000. This ring is one of my favorites, with a sense of timeless elegance. A beautiful halo of round accent stones surrounds the center stone. The knife-edge adds modern allure without a hefty price tag. This ring can be bought in 14K Rose Gold, 14K Yellow Gold, or 14K White Gold.
Pros
Unique Knife Edge Shank

Available in 14K yellow, white, or Rose Gold

Under $1,000
Cons
Modest Carat Weight

More Subtle Brilliance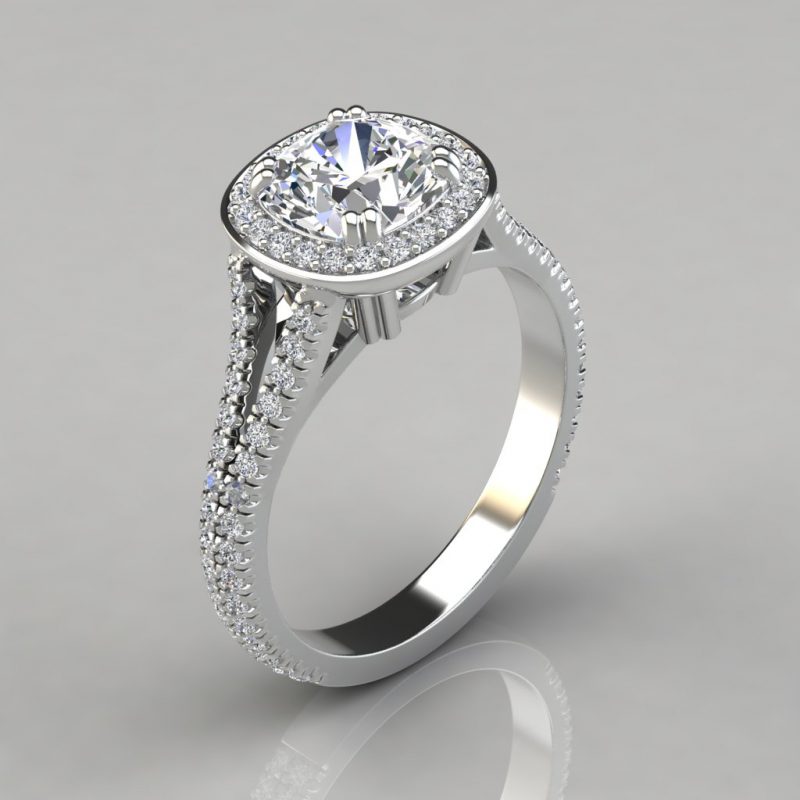 Are you specifically looking for a halo-style ring with a split shank? This is the perfect ring for you! There are 88 side stones on this ring, which to me, means there's tons of elegance and glitz found with this ring. The 88 side stones add a total of 0.51 carats to this ring. And thanks to the larger cuts found in this cushion cut ring, everyone will see your bling shine from miles away!
Pros
A unique cut mixture, that mixes a modern oval cut with an older mine cut
Customizable options
Handmade ring
Cons
Only goes up to 3.00 carats
The split shank may weaken the ring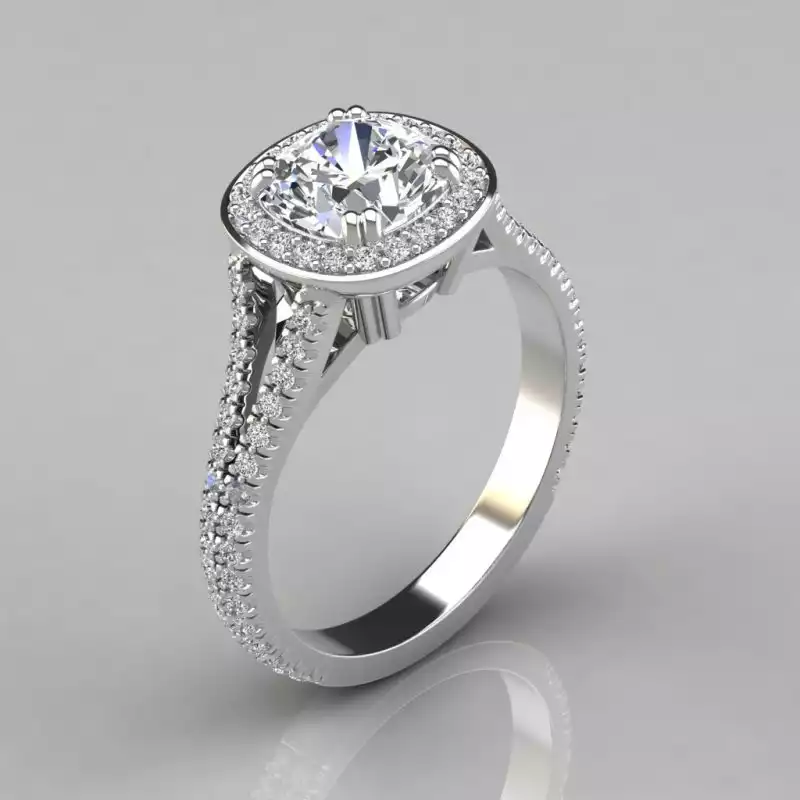 Frequently Asked Questions
Question: What band goes with a halo ring?
Answer: Halo rings come in countless styles and brands. The most common bands that accompany a halo ring style include simple bands, notched bands, curved bands, guard bands, and wrap-around bands. A guard band mimics the look of two bands, fused. These typically cost more and add a bit of height and dimension to the style. The downside is that these rings would be trickier for stacking. 
Question: Are halos on engagement rings tacky?
Answer: I've heard that moissanite engagement rings are tacky, I've even heard that halo rings are tacky. I disagree with both classifications. A halo ring is a bolder type of brilliance. It may not be for someone who loves an understated or simple look, but there's nothing tacky about it nor moissanite. With a halo style, just focus on quality craftsmanship and a high-quality center stone. Valuing quality over carat weight will ensure a beautiful, not tacky, ring. 
Question: Will moissanite turn your finger green?
Answer: Moissanite should never turn your finger green. Some moissanite will have green or yellow notes- which is why it's important to select a high color grade (colorless or nearly colorless). If your finger does turn green from a moissanite ring, it's most likely due to the ring metal instead. Luckily, a green finger is not harmful and can easily both be explained and avoided. It's a reaction between often sensitive skin and base metal, such as copper. Opt for a ring metal that doesn't contain copper instead. 
Question: Can people tell if you have a moissanite ring?
Answer: One of the biggest mistakes I see people make is buying a moissanite ring only to have it completely pass off as a diamond ring. Let me be clear: moissanite is an excellent substitute for a diamond, but it's important to understand the main differences between moissanite and diamonds. At modest carats, it's harder to tell the difference between a colorless moissanite stone vs a diamond. But when exposed to sunlight, moissanite has multifaceted, multicolored brilliance, which is quite different from the single refraction qualities (and white light) you see with a diamond. 
Final Thoughts
What can I say? It's hard to look at these gorgeous styles and not be impressed by moissanite halo engagement rings. You save money vs a diamond engagement ring, and you still get a lot of sparkle, glamour, and innovation. Of course, if you're on a tighter budget, know that you can get plenty of sparkle by focusing on the quality of the center stone. The greater the clarity, paired with a well-cut, colorless moissanite stone, the more brilliance, and sparkle the engagement ring will have. I love that there are so many designs, and I have a feeling that moissanite engagement rings of all styles will only increase in popularity.
My final advice? Set a budget ahead of time and try not to stress too much about the carat weight. A beautiful moissanite engagement ring truly comes from thought and love, not purely money.
Final Buying Recommendations: Moissanite Halo Engagement Rings From Etsy
My final place to shop is great for someone who's on a budget or who's looking for a handcrafted ring. The Etsy collection is one of the only places to buy a ring around the $500 price point, and it's also a unique market for supporting smaller businesses. At the same time, I'd only recommend this collection to very savvy shoppers. It's important to read every listing carefully. Make sure they're selling genuine moissanite, with grading for color, cut, and clarity. Shy away from gold-plated rings, and only buy from someone with a record of positive sales.
That said, there are some excellent finds here and there, and it may be a way to expand your options. From modern to vintage-inspired, Etsy could be a place for at least some inspiration for moissanite halo engagement rings.
Best Online Moissanite Retailer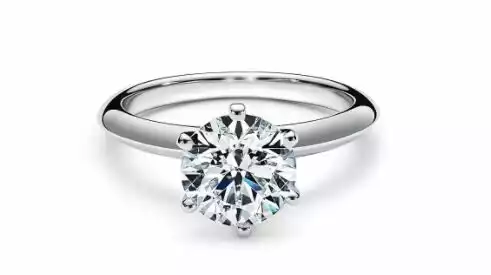 Looking for more interesting readings? Check out: