Brilliant Earth vs Blue Nile Compared [2021]: Which is Best?
To say a diamond ring is worth a million dollars is a gross under-exaggeration.
That is if you're talking about the wedding industry and jewelry industry. In the United States, diamond rings accounted for $31.4 billion in sales, proving that the decline during the 2008 recession was a temporary dip.
For consumers, that often means shelling out a good deal of hard-earned money to celebrate an engagement or marriage-the average couple spends just under $6,000 for an engagement ring alone.
But one thing is changing: the way we shop for a ring. While plenty of classic on-site jewelers still are highly profitable, more and more couples are turning to online retailers to find the perfect ring.
Accessibility, convenience, and competitive prices, not to mention the same or more options for customization are only a few reasons why.
But with seemingly endless online retailers, it can be hard to find the best one for your shopping needs. Here, we compare two of the most prominent online jewelry retailers- Brilliant Earth and Blue Nile and give you the best (and worst) of each.
Bottom Line Up Front: While Brilliant Earth and Blue Nile are solid online retailers, I actually much prefer the purchasing experience (and prices) found over at James Allen here.
Main Differences Between Brilliant Earth vs Blue Nile
The main differences between Brilliant Earth and Blue Nile are:
Blue Nile offers a diamond buyback program, wheras Brilliant Earth does not
Blue Nile offers 24/7 phone and live chat Support, whereas Brilliant Earth is only available 7AM to 7PM (PT)
Blue Nile offers a larger selection of diamonds compared to Brilliant Earth
Brilliant Earth offers more "conflict free" diamonds compared to Blue Nile
Brilliant Earth offers more lab grown diamond (lab created) diamonds compared to Blue Nile

Brilliant Earth Review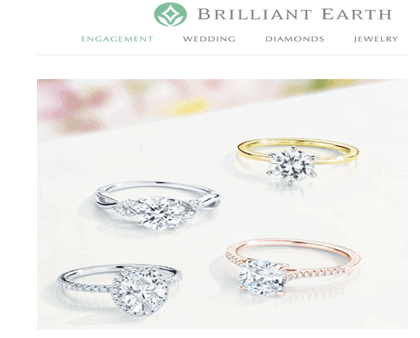 A Beyond Conflict Free Mission
It was one of the most exciting–and frustrating–times in Beth Gerstein's life that led her to co-found Brilliant Earth with her business partner, Eric Grossberg. When Beth's then fiancé was searching for a diamond ring, it was nearly impossible to find one certified cruelty-free.
In fact, that's the company's entire founding mission: diamond rings and necklaces that go above and beyond typically conflict free requirements (Kimberley Process). In fact, all their products:
Support community development by providing employment
Come from mines adhering to professional safety standards
Are not used to finance civil wars
Are not produced from child labor
Free from human rights abuses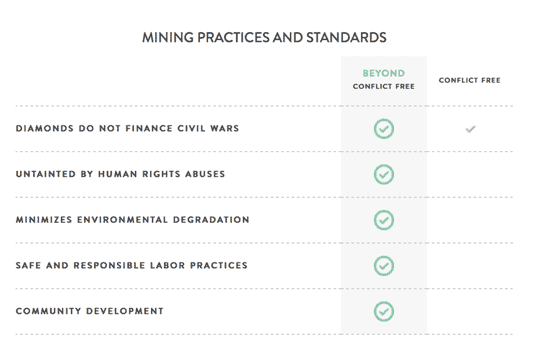 Physical Showrooms
Unlike many online jewelry retailers, Brilliant Earth also has physical storefronts located in the major cities of San Francisco, San Diego, Los Angeles, Chicago, Boston, Washington D.C., and Denver. It's a plus for anyone who wants to see samples before ordering online, or for anyone who is more hesitant about online shopping.
Choose the diamond shape, carat (including rare carat options), style, and setting. You can sort by price, though the create a style is not as intuitive and requires some knowledge of what you're looking for (it can be hard to set a budget, as each section is priced separately). Here are some nice features: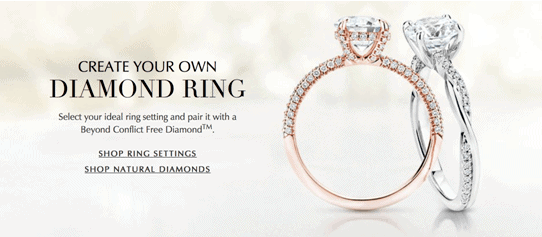 Select from a lab created (lab grown diamonds) or natural diamond
10 different diamond cuts to select from
Sample photos to get an idea of the overall look
Simple but straightforward system
Few online jewelers recognize that there are plenty of couples looking for something a little different. While Brilliant Earth offers plenty of more contemporary options, it also has a selection of vintage rings that are a real treat. What's excellent is that vintage is broadly defined. Select from:
Victorian, Edwardian, Art Nouveau, Art Deco, and Retro
Diamond or gemstone centers
Platinum, White Gold, Yellow Gold, and Rose Gold
Price, to make sure you stay on budget
From the simplest to the most ornate, the vintage selection sets this apart from other online jewelry relators and is a must-see for any vintage themed weddings.
Match your diamond engagement ring to your wedding ring

A truly unique, hidden gem on this site is the option to select a wedding ring by matching it with an engagement ring.
Here's how that works: if the engagement ring was purchased through Brilliant Earth, you could select it on an option menu. From there, you are given the option to virtually drag and drop different wedding rings to see how the rings would look together.
It's like virtually trying on rings without ever leaving your house, plus it's something a lot of people might not consider when hunting for a wedding ring.
Beyond the Wedding
Of course, Brilliant Earth isn't merely online wedding jewelry—the company also offers plenty of necklaces, earrings, bracelets, and other accessories. Fine jewelry, gemstone rings, and vintage jewelry suit a number of occasions.
Labeled as 'gifts,' these fine jewelry options range from under $100 to over $35K. Diamond stud earrings are offered in countless varieties, as are yellow gold and silver pendant necklaces, and even strands of pearls. Some of the best-selling items are the most simple and classically elegant: an olive branch bracelet and sapphire wave pendant make the top two.
You won't have to browse for too long: gift categories make your shopping more comfortable, with special sections devoted to anniversary gifts, gifts under $250, and the top 20 best-selling gifts.
The Best and Worst of Brilliant Earth
Overall, Brilliant Earth has a lot to offer as an online jewelry retailer. But it's also not for everyone. Here are some takeaways:
Brilliant Earth Pros
Vintage Collections provide something other jewelers don't
Matching service for engagement rings to wedding rings (wedding bands) offers a virtual experience that's easy to use
Ethically sourced diamonds that go above and beyond typical industry standards and help support communities and ensure freedom from child labor or other unsavory practices
Physical storefronts allow you to see in person (if you're near a location) and get a feel for the quality and design of the products
Brilliant Earth Cons
Easy to go over budget: while there are filters available, there isn't much in the way of shopping initially by price lists, and when it comes to designing your ring, the three-step process can make it hard to calculate the overall cost, tempting you to splurge
You might also be enticed to splurge due to the engagement and wedding ring matching system: while well-designed and a plus in many ways, it also sways customers to buy both rings from the online retailer.
Not for a beginning shopper: The site is accessible enough, but it does more to educate concerning the overall mission and ethics of diamond sourcing that it does provide shopping guidance or advanced imagery and data on color and clarity. It's better if you know more or less what you're looking for.
Blue Nile Review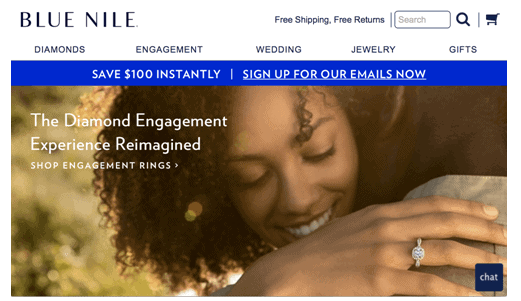 A Mission of Accessibility and Fair Prices
It's not as up-front as Brilliant Earth's mission—you have to scroll down the page to see where Blue Nile's standards come from, but once you get there, it's relatively straightforward.
Blue Nile claims below average industry prices, but with diamonds to high-quality standards. It also boasts easy to use guides, especially for inexperienced diamond shoppers, and, as this review will show, more or less delivers on this final process.
With a clean, simple design and less elaboration, Blue Nile touts itself as an online jewelry retailer that allows for fuss-free, fast and satisfying shopping-exactly what a lot of customers are looking for in online retailers.
Diamond Standards
While Blue Nile doesn't adhere to as extensive of cruelty-free standards as an online jewelry retailer like Brilliant Earth, it does set some proper guidelines:
Authenticity certification means all diamonds are graded by Gemological Institute of America
Diamonds are priced matched for more affordable options
Cruelty-free standards mean that no diamonds being sold were used to finance civil wars (Kimberly Process)
In a nutshell, you can feel better about buying from a responsible seller, but it may not satisfy the hardest of critics of advocates.
mean that no diamonds being sold were used to finance civil wars
In a nutshell, you can feel better about buying from a responsible seller, but it may not satisfy the hardest of critics of advocates.
Focus on Online Shopping
Though Blue Nile doesn't have any physical showrooms, what it does have is an immersive online shopping experience, customer service, and guides to help you navigate the process. With more energy spent on the website itself, it's fairly easy to find and select something, even if you don't quite know what you're looking for.
While there are many features to admire, here are some highlights:
Customer friendly services, including free returns, with a variety of free and secure shipping options
Build-your-own jewelry appraisals
Beginning guides, such as how cut effects price; the 4 C's of diamonds, as well as general education guides on rings, jewelry, metals, gemstones, and pearls
Intuitive Customization
Build-your-own isn't just limited to rings: select from fine jewelry, and diamond earrings and rings. For each option, you choose the shape, price, and carat. While it's not as visually appealing as Brilliant Earth, it's also a lot more user-friendly.
The reason why is simple: instead of a three-page process, all options are listed on the same pages with price sliders included, allowing you to have not only style but also budget in mind.
Also brilliant? A 3D visual tool that allows you to see rings, chains, and diamonds and gemstones in depth.
Bonus Sections
As an online jewelry retailer, Blue Nile is also a one-stop place. What does that mean? In addition to a wide selection of wedding jewelry, there are also sections devoted to anniversary gifts, wedding party gifts, and accessories.
You can even shop for individual members of the bridal party, such as the groom, mothers, and bridesmaids. There's even a 'something blue' section.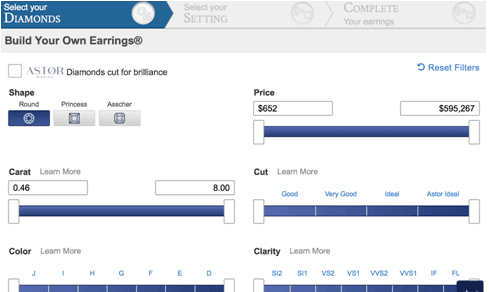 Shop also by occasion: graduations, parties, weddings, and even party gift guides will help narrow your options without browsing countless pages.
The Best and Worst of Blue Nile
Blue Nile is one of the most popular online wedding retailers, and for a good reason: with plenty of selections, easy-to-use web pages, and buyer guides, it offers a potentially less frustrating online shopping experience.
Here's what we love–and are more hesitant about when it comes to Blue Nile and its products and services:
Blue Nile Pros
Simple templates and filters are also detailed enough to find what you're looking for
Easy to stay on budget: you can see exactly how much you're spending as you go along with your selections, and set limits to avoid the temptation
Customization is taken to a new level: 3D visualization and options to customize beyond rings will be sure to please many customers looking for an online experience that mimics some of the perks of in-store shopping
Shipping, security, and pricing services make your purchase seem like a worthy investment and offers a level of satisfaction and security
Blue Nile Cons
No physical showrooms
A more commercial mission
Slightly lower standards for ethical diamonds
Difficult to find vintage pieces
So, which is the better online jewelry retailer? While both Blue Nile and Brilliant Earth certainly have their merits as a jeweler and jewelry retailer, it depends on what you're looking for.

Brilliant Earth offers the best regarding the overall mission, ethics, and even promotes nonprofit endeavors.
Beyond this, it's a company with solid offerings and everything you'd want to find, including a variety of cuts, styles, brilliance, clarity, and prices.
The vintage collection is one of its best features. Plus, for anyone weary of online shopping, physical storefronts are a plus.
Blue Nile is certainly savvier in some ways when it comes to online shopping, and for that reason, customers looking for a more comfortable experience may find themselves more drawn to this company.
For customers less concerned about the overall company mission, Blue Nile goes above and beyond when it comes to customization and customer service.
That said, Brilliant Earth just slightly edges out Blue Nile for one reason alone: it's more unique. The vintage collection, coupled with the authentic mission pushes it just over the edge.
Bottom Line Up Front: While Brilliant Earth and Blue Nile are solid online retailers, I actually much prefer the purchasing experience (and prices) found over at James Allen here.
Whichever retailer you chose, be sure to go in with an idea of style and price: it'll go a long way in your search, and save you some headaches.
Further Reading on Diamond Retailers