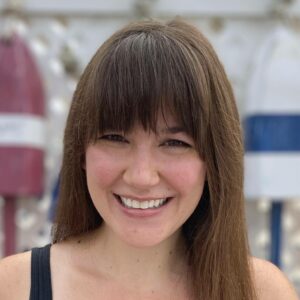 Latest posts by Lauren Vigdor
(see all)
Champagne pearls are the ultimate wedding pearl. Even the name is celebratory! The champagne color is softer and more romantic than pure white pearls and can be worn with so many different styles and colors of wedding dresses. Champagne pearl earrings are a great choice for any day, but especially for your big day. Whether you're looking for champagne pearl studs or champagne pearl drop earrings, I've got you covered. I've made a ton of colorful pearl jewelry over the years, and am still amazed at how stunningly unique each colored pearl is. No two are exactly alike!
Bottom Line Up Front
There are so many gorgeous styles of champagne pearl earrings to choose from but if I had to pick a favorite it would probably be these keshi pearl dangle earrings from White Melisma Pearl. I love how organic and sculptural they look, while still being light and delicate. For more champagne pearl information and inspiration, read on!
About Pearls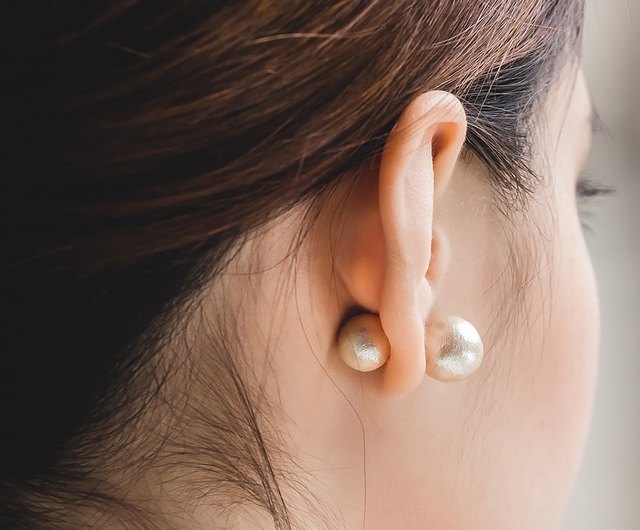 Pearls are often associated with wisdom, innocence, and purity. They're a common choice for weddings and when properly cared for they make wonderful family heirlooms. They're the birthstone for June and are said to bring luck and wealth.
Pearls are an organic gemstone, along with coral, jet, and amber. This means they are formed as the result of a biological process. Pearls are formed in the soft tissue of a mollusk. While many types of mollusks, including mussels, conchs, and clams can and do form pearls, the pearls used in jewelry are most commonly formed in oysters.
Pearl formation begins when an irritant (referred to as the pearl's nucleus or seed) enters the oyster, either naturally or by being inserted by a pearl farmer. The oyster then begins to secrete a substance called nacre, which builds up in layers around the irritant. This nacre is what hardens and forms the body of the pearl.
Cultured pearls is the term used to describe pearls that are formed around a nucleus that was inserted intentionally. They're essentially farmed pearls, and make up nearly all pearls that are harvested and sold today. Cultured pearls are easier and more sustainable to harvest, and make it easier to control the final appearance of the pearl. The process of growing cultured pearls is still tedious and time-consuming, however. It can take several years to grow some pearls!
Pearls that are formed without human intervention are sometimes called natural pearls and are among the rarest gems in the world. Changing environments and over harvesting has left them nearly impossible to find, which results in astronomical prices when they are sold. The term natural pearl is somewhat misleading, since cultured pearls also form naturally, just with a jumpstart from a friendly pearl farmer, unlike synthetic pearls which are often made of glass or plastic. To make matters more confusing, because of this the term "natural pearl" isn't exclusively used for non-cultured pearls. If you see a piece of jewelry that boasts a "natural pearl," it's probably still a naturally-formed cultured pearl!
I thought all pearls were white!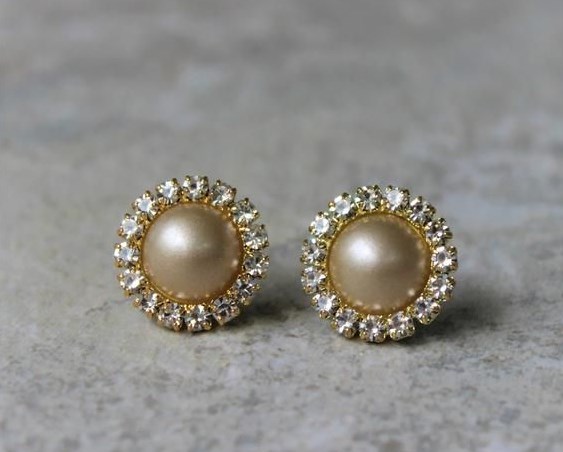 Bright, lustrous, silvery-white may be the most common color associated with pearls, and that's probably because for so long it was the most used in jewelry, but it's not the only natural color for pearls. Pearls form naturally in a range of colors, from soft peachy pinks and purples, to black, to deep green and blue, to burnished gold.
The color of the pearl is largely determined by the mollusk that forms it, but each species of pearl oyster can create its own variety of pearl colors. Other factors that may affect the color of a pearl are the water conditions and supply of nutrients the oyster is ingesting. Different types of pearls are made by different species of oysters and are found in various locations across the globe.
Pearl color is often broken down into three distinct factors.
Body Color

is the overall color of the pearl
Overtone

refers to the thin layer of secondary color, or colors, present in all pearls. These can be silvery, pink, cream, or even green depending on the pearl.

Luster

is the shine of the pearl. It's what makes pearls so special. Luster can range from the bright mirror-like shine of akoya pearls to the softer, satiny finish on a South Sea pearl.
What are champagne pearls?
Champagne pearls refer to a range of colored pearls that fall within "champagne" hues. They're pale gold with pink or silvery undertones, and some can be quite expensive. Some of the most expensive pearls in the world are champagne-toned Golden South Sea pearls. Freshwater and Akoya pearls do exist in champagne tones, however, and are considerably more affordable.
My Picks for Champagne Pearl Earrings
I chose the following champagne pearl earrings because I think they showcase the gorgeous variety of options available. All of these styles are wedding-appropriate, but they don't exclusively have to be worn as wedding jewelry. They all highlight the natural beauty of champagne-colored pearls, but each pair of earrings is unique in its own way.
Click here for information on where to buy pearls online!
South Sea Studs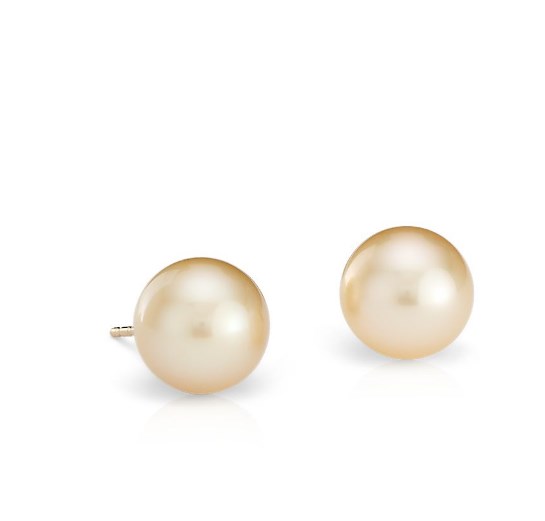 I think these classic champagne pearl studs from Blue Nile are a gorgeous representation of what makes champagne pearls such a coveted color of pearl. Their dreamy luster will add an element of sophistication to any look, without looking stuffy or dowdy. These studs will never go out of style. Solitaire pearl studs are a classic, iconic style of jewelry. Although they may be too simple for some tastes, I believe that everyone should own a pair. I always associate them with images of Audrey Hepburn. The soft champagne color of these earrings really takes them to a new level, adding a chic modernity to the timeless look. Buy here for $925
Baroque Champagne Pearl and Diamond Teardrops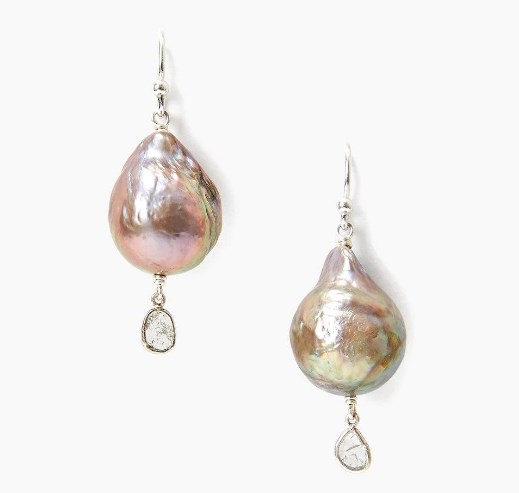 These organic, baroque pearl earrings from Chan Luu would be perfect for a coastal wedding. The asymmetrical pearls paired with slices of diamond give these earrings a raw, elemental feel. I think they'd look gorgeous in a setting surrounded by nature! If you're going to a more polished look, these are going to be too rough and irregular-looking for you, and unfortunately, there's no way around that. Baroque pearls are all so unique, but an upside is that no one else will have the same earrings as you! Buy here for $215
Solitaire Twist Rope Studs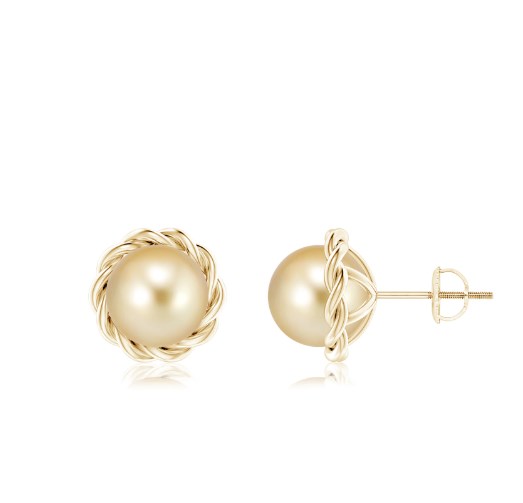 These sweet and simple studs from Angara are a great way to wear champagne pearls every day. I really like the twisted rope detailing that makes these just a little extra special. I can just picture these worn with a little black dress — they would look so chic! I also love that these are screw-backs. They're really the way to go when it comes to keeping large studs secure and keeping them from drooping on your earlobes. It's all in the little details! Buy here for $879
Champagne Golden Studs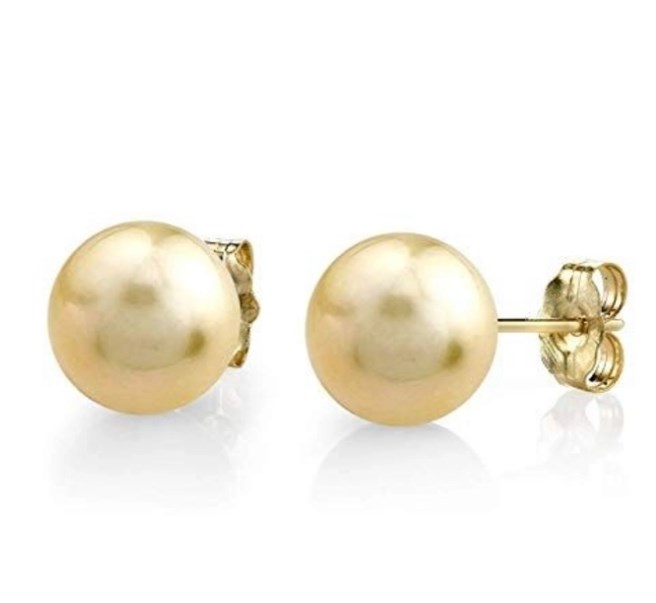 These are another pair of simple solitaire studs, and I can't say I prefer them to the first ones on this list, but I do like these because of how affordable they are! These super lustrous gold baubles from The Pearl Source will dress up any outfit for any occasion! I personally prefer a little more pink/peachy overtone when it comes to champagne pearls, but I think these golden-hued pearls would pair beautifully with a range of dress colors and skin tones. Buy here for $329
Golden Baroque Pearl and Diamond Drop Earrings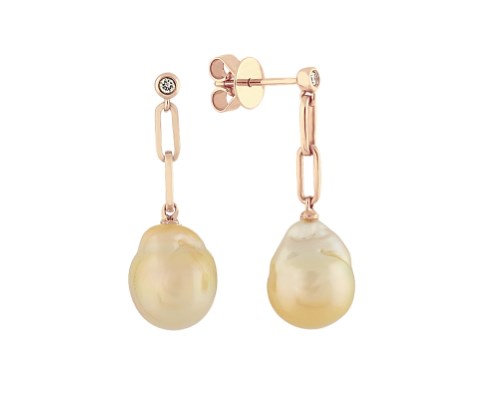 I love the combination of rose gold and baroque champagne pearls in these drop earrings from Shane Co. The mix of organic and structural design elements makes them an original twist on a pearl drop earring. The blush colors are soft and romantic, but the structured chain keeps them from looking too cutesy. I realize that these won't suit everyone's style, but I think they're such an interesting design and unlike anything I've seen before. Buy here for $625
Champagne Pearl and Labradorite Gold Dagger Earrings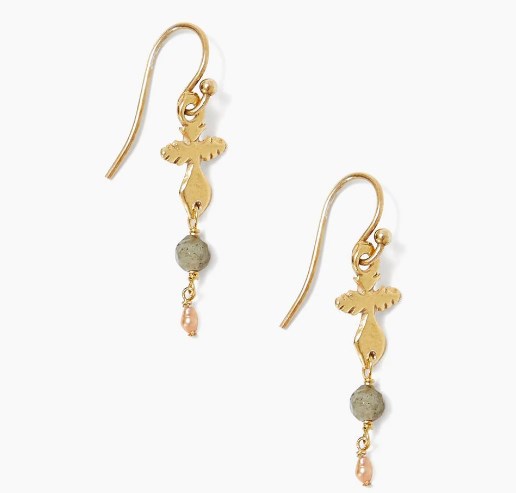 Audrey Hepburn, who? These are definitely not your grandma's pearl earrings. These dangle earrings from Chan Luu feature a champagne pearl and sphere of labradorite suspended from a gold dagger. I absolutely love how they look so delicate from afar yet so dramatic up close. I think these are a very unexpected contemporary take on a pearl earrings. Buy here for $75
Golden South Sea Pearl Leverback Earrings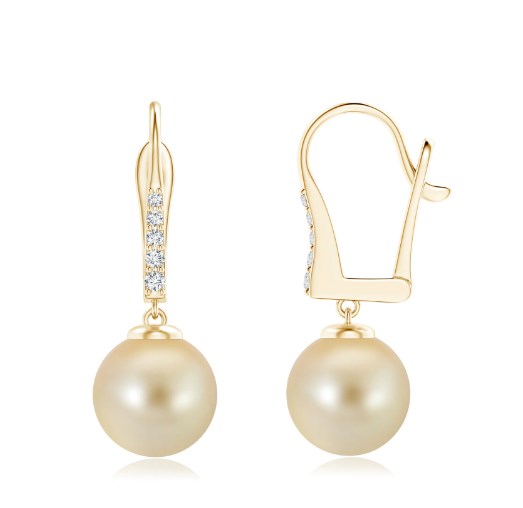 I like these drop earrings because they're chic, but I especially like them for their lever-back design! These will stay perfectly secure all night, no matter how much dancing and partying you do! Even if these earrings are too traditional-looking for you, something like this is worth having in your jewelry arsenal. Think of them as "grab-and-go bling." Buy here for $949
Champagne Keshi Pearl Dangle Earrings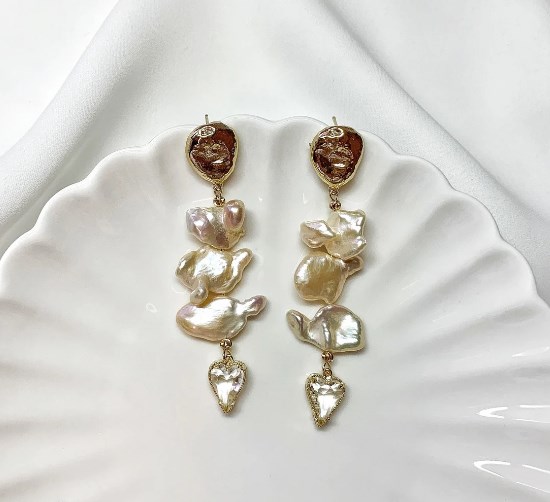 These handmade keshi pearl earrings by White Melisma Pearl on Etsy are organic and sculptural. They remind me of a coral reef, or even one of those drippy sand castles we all used to make as kids. I think these would be absolutely perfect for a beachy wedding! I really like that there's something almost amorphous about them, though I don't think they're a great option for someone looking for a more polished, traditional style of earring. Buy here for $52.75
Champagne Pearl Orbs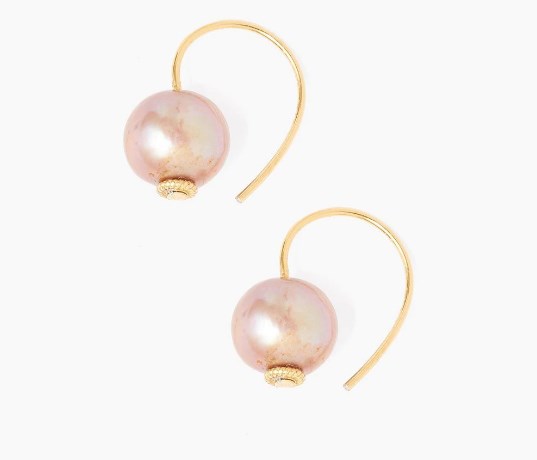 These are the perfect sweet and simple champagne pearl earrings from Chan Luu. I love the way the pearls are balanced on their simple wire hooks. There's no debating who the star of the show is! These definitely check a lot of boxes. I really like that they're simply constructed with clean lines, but are different enough to add intrigue. I think these earrings would be a great option for pretty much anyone. Buy here for $95.
Baroque Pearl Dangle Earrings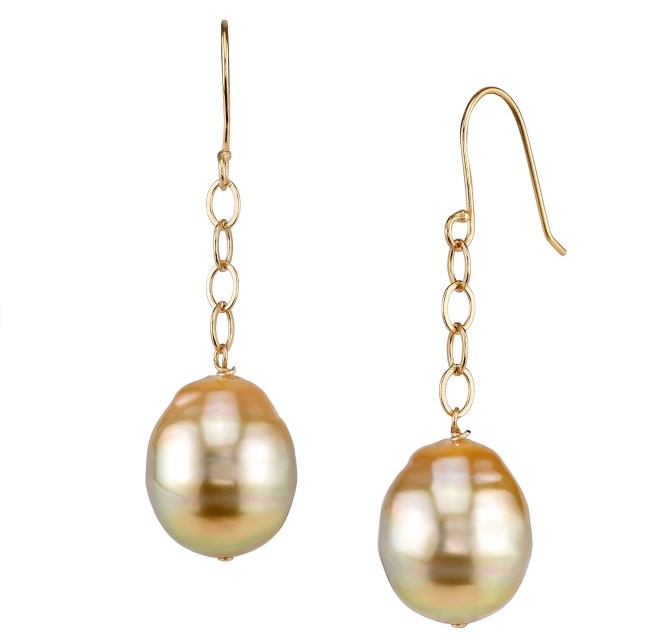 I think these dangle earrings from Pure Pearls are a perfect example of what makes "circle baroque" or "ringed" pearls so cool! The circular ridges on these pearls really highlight the luster and peachy-pink overtones of these champagne pearls. I don't love the chains and ear wires on these. I think there could have been more thought put into the findings, but for a simple, lustrous pearl earring that will move with you I still think these are a great option. Buy here for $239
Champagne Pearl Cluster Earrings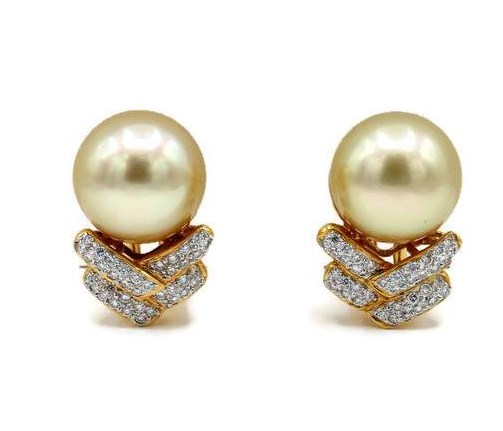 These earrings definitely came to party! These cluster earrings by Ritvalisa Ojanen are little baubles of joy. I like that these aren't your average delicate, cascading cluster earrings. They're a little pop of energy bursting with champagne and copper freshwater pearls. These earrings are perfect for anyone looking for something funky and fun. Buy here for $48
Lori Ann Long Dangle Champagne Pearl Cluster Earrings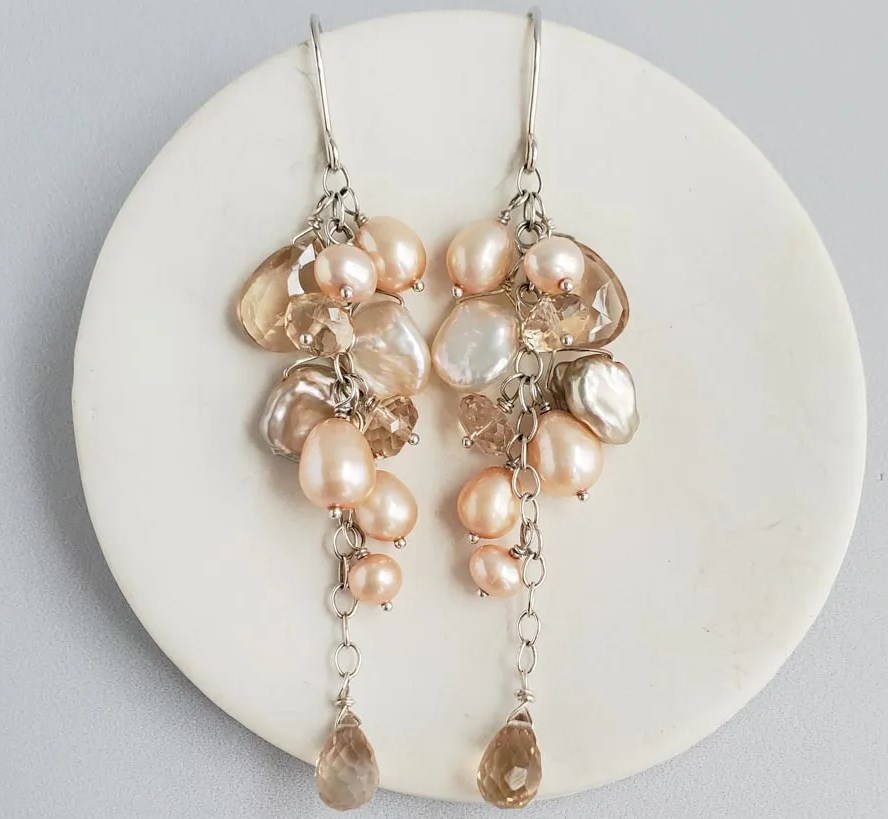 These cluster earrings are the polar opposite of the last pair on this list, and that's why they belong here too! The mix of freshwater pearls, keshi pearls, and faceted quartz give these cascading earrings from Carrie Whelan Designs so much textural intrigue! I love that they look simultaneously soft and organic. Buy here for $165 to $170
Golden Champagne Freshwater Pearl Drop Earrings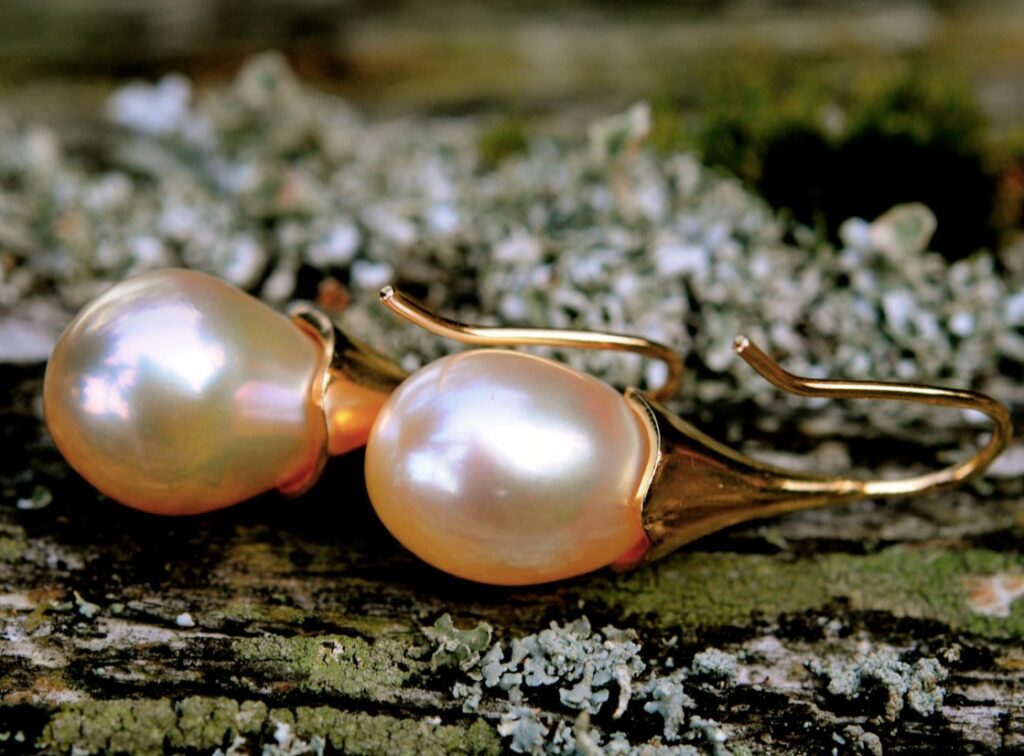 The gold findings on these drop earrings is the first thing that stood out to me. There's something so sensuous about the way they drape over the pearl drops. These champagne pearls from Freshwater Creations are also nearly perfectly matched — a feat that's not easy to accomplish with teardrop-shaped pearls. Buy here for $288
Circle Drop Earrings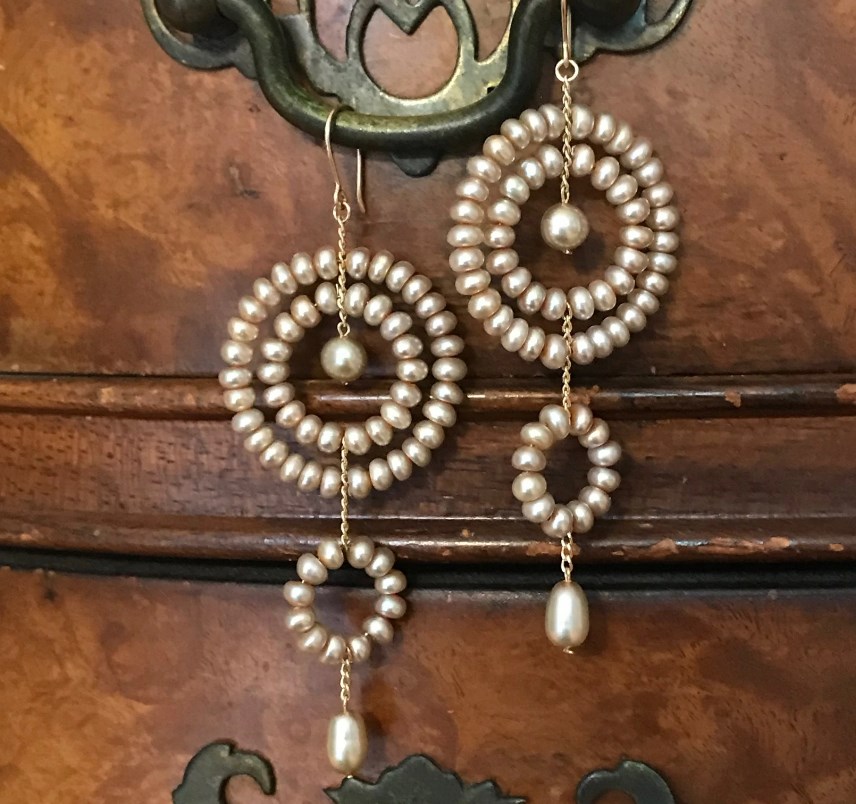 The concentric circles on these pearls almost look woven. I think some people might even have to look twice before realizing these earrings from Estyn Hulbert were made from freshwater pearls. They're playful and bold, yet still refined. I think these earrings would be perfect for a beachy destination wedding. Buy here for $370
Champagne Quartz and Freshwater Pearl Drop Earrings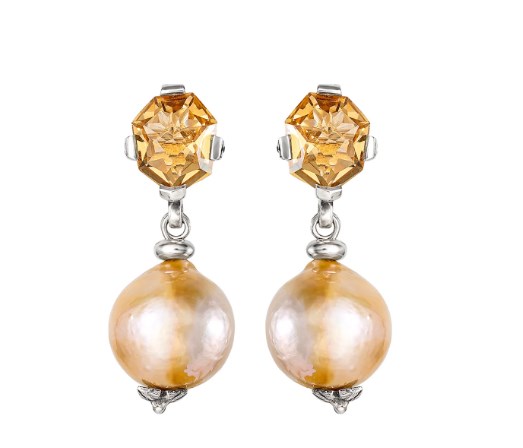 These sunny and organic freeform drops from Stephen Dweck are so cheerful! The shape of the baroque freshwater pearls is echoed in the slight asymmetry of the faceted quartz. I like that these are clearly inspired by nature without being too on the nose. I also think the chunky quartz is a welcome digression from the usual delicate and refined narrative lent to pearl jewelry. It's a refreshing take that doesn't sacrifice taste. Buy here for $295
Honorable Mention
Blush Pearl Cloudburst Earrings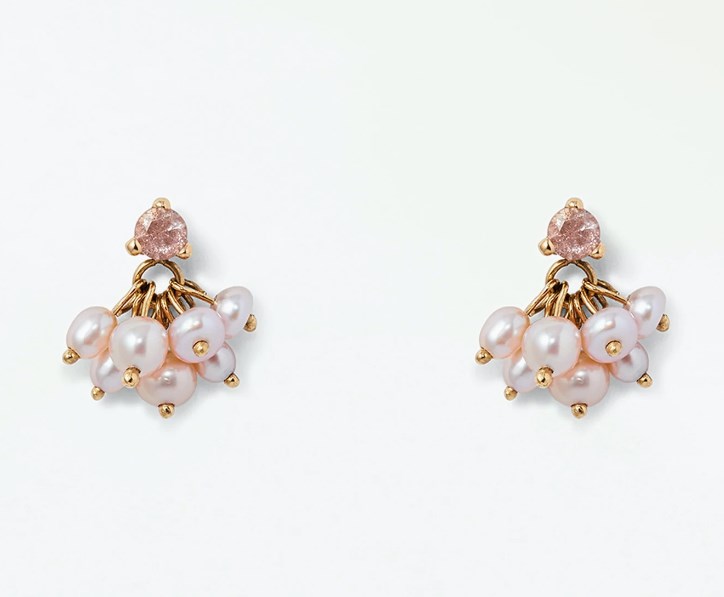 These blush-toned pearls from WWAKE are a little too pink to technically be considered "champagne" pearls, but I couldn't resist including them in this list because I think they hit all the right marks. These bubbly little clusters of irregularly shaped golden pink pearls hang from an Oregon sunstone by way of recycled gold findings. You could practically pour them into a glass and propose a toast! As an added benefit, they're made using ethically harvested and sustainable materials, including 100% recycled gold. Buy here for $495 (for the pair — single earrings are also available.)
Geometry Round Pearl Stud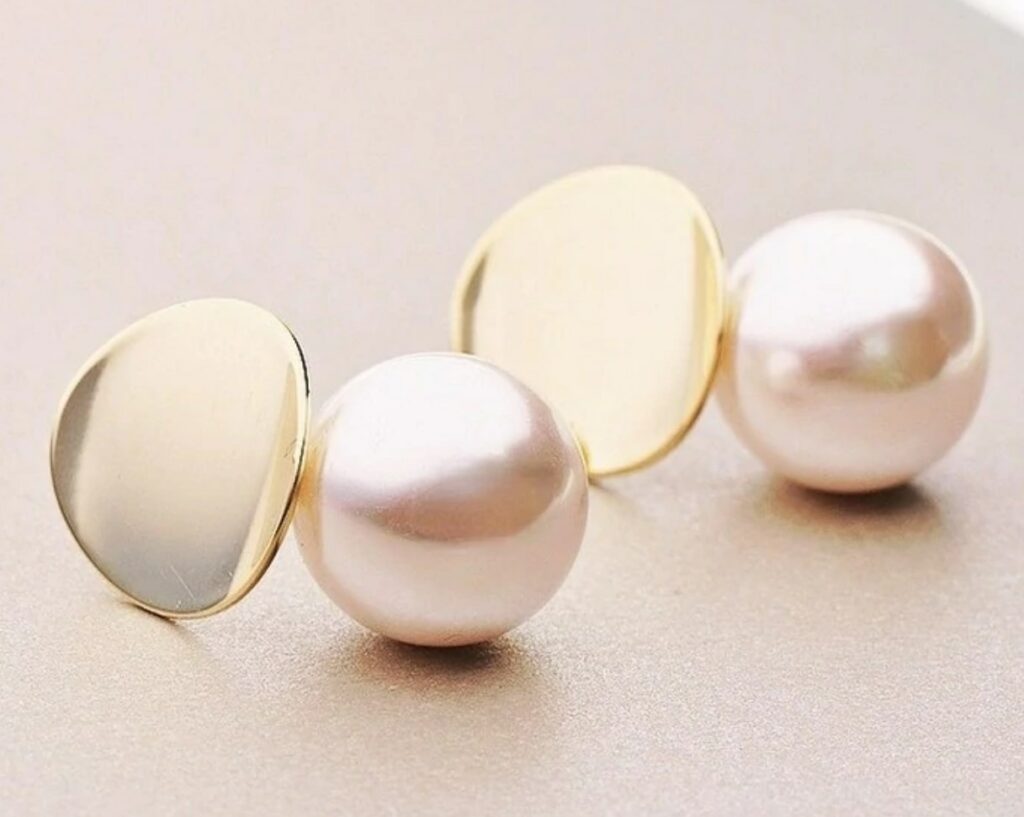 I'm considering these champagne pearl studs from Huge Tomato "honorable mentions" because they're technically not real pearls. These earrings are made with faux pearls known as "shell pearls" or "mother of pearl." Shell pearls are pearl replicas that are made using the inner lining of an oyster shell. While not technically the real thing, they're still lustrous and beautiful and are an affordable alternative to real pearls. I especially love the retro design of these earrings. Buy here for $46
Teardrop Pearl Earrings with Zirconia Flower Studs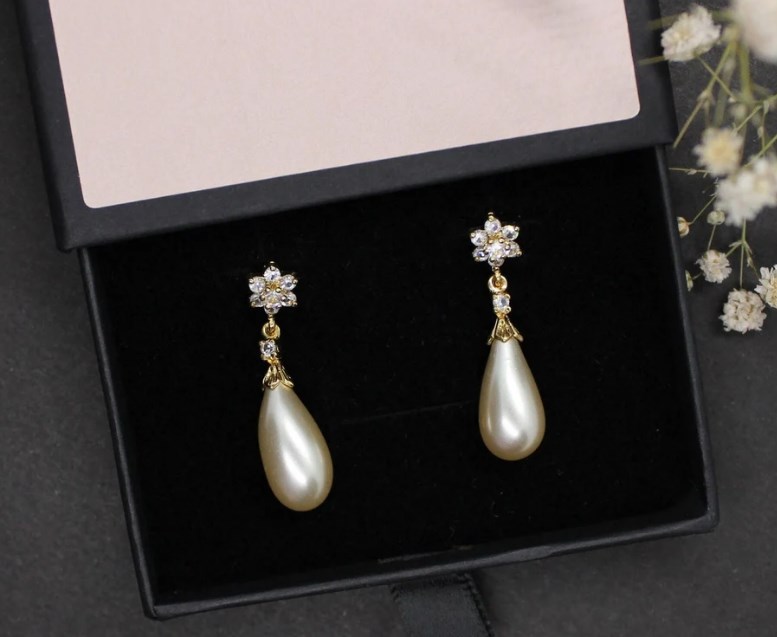 These faux champagne pearl earrings from Angie Pearl Design are just charming. I generally don't gravitate toward jewelry with crystal flowers, hearts, or bows, but I think that the silky pearl drops paired with the sweet zirconia flowers are graceful and romantic without being too saccharine. I even think that they look more expensive than they actually are. Buy here for $68.24
Champagne and Swarovski Filigree Leaf Earrings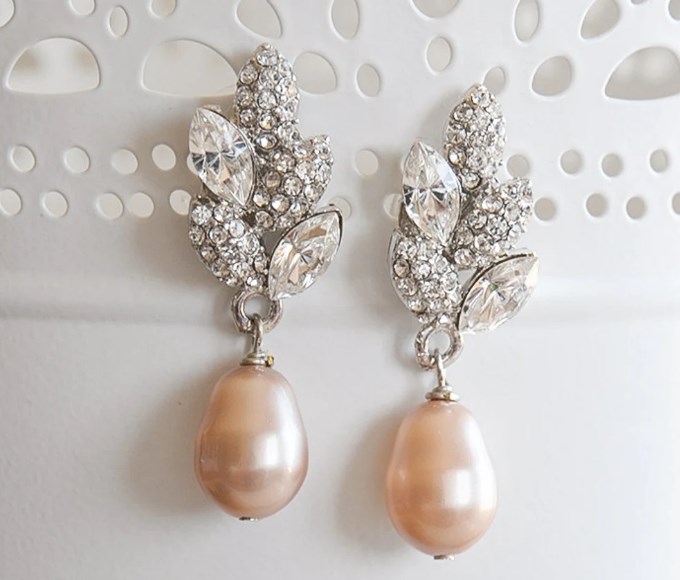 These champagne pearl and crystal drop earrings, (another pair from Glamorous Bijoux) are the perfect affordable bridal earrings. The vintage-inspired swarovski crystal filigree leaves are a dazzling focal point, and pair beautifully with the satiny swarovski pearls. They may be a little too glitzy up close, but I think they'd add just the right amount of sparkle to photographs of your big day. Buy here for $43
FAQ
Question: Do pearl earrings go with everything?
Answer: Simple pearl jewelry is classic and can be worn with pretty much anything at any time. Larger and more avantgarde pieces may be better left for a night out, but that's up to you! We no longer need to follow the outdated fashion rules of our grandparents!
Question: How do I know if a pearl is fake?
Answer: If a pearl looks perfect with no imperfections, it may be fake. Real pearls are organic objects and are rarely perfect. Fake pearls are often made of glass or plastic, and will be lighter than real pearls. Finally, if you gently rub fake pearls together or against your teeth, they will feel smooth. Real pearls will have a gritty texture.
Question: How do I clean my pearls?
Answer: Gently wipe your pearls with a soft, clean, damp cloth. Avoid using ultrasonic cleaners, chemicals, or detergents when cleaning your pearls. Always store your pearls separate from other jewelry to avoid scratching.
Question: Are cultured pearls real pearls?
Answer: Yes, cultured pearls are real pearls and make up almost all pearls on the market. A pearl farmer helps seed the pearl, but the pearl is still formed naturally in a mollusk. 
Final Thoughts
Champagne pearls are one of the most lovely and special colors of pearls. They're perfect for a wedding, or any day you want to add a little celebration to your look. If I had to choose a favorite pair of champagne pearl earrings, it would be the keshi pearl dangle earrings from White Melisma Pearl. They're organic and delicate and really showcase the beauty of the champagne pearl color.
Further Reading on Pearl Jewelry: