Latest posts by Jeanette Kierstead
(see all)
You'll need a different style and material for your dress when you're having it outside at the beach. While an elegant ceremony in a church would need a style that is more elegant and formal, a beach wedding is casual. That doesn't mean you have to skimp on style, though. You can get away with a romantic or bohemian style for your beach wedding that is more in line with your personality than a formal ceremony. You can't just grab any dress and head down to the beach for the wedding. The style, material, and dress length all influence how you'll look on the beach for your wedding.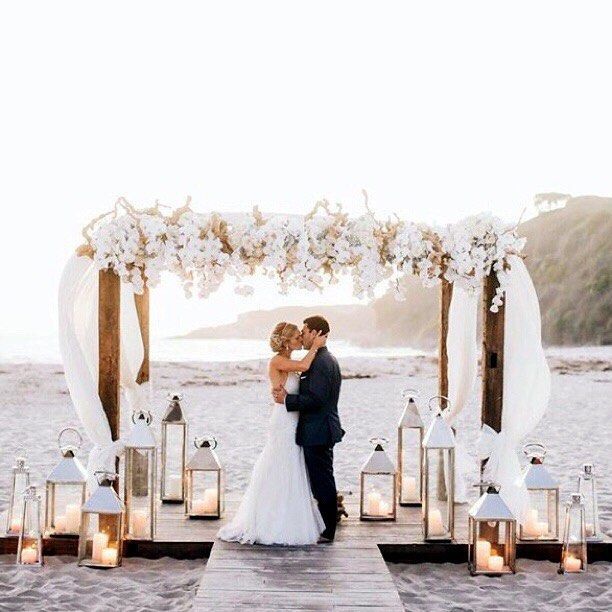 Types of Locations for a Casual Beach Gown
In some destination weddings, you'd walk on the sand of the beach to meet the love of your life. In other instances, you might be walking to the edge of a cliff or meadow overlooking the water. It could include a beach theme at your wedding and reception, or a venue overlooking the beach where you don't head outside at all. Any of these weddings would call for a casual beach bridal gown.
Now, before we get to the gowns, we just wanted to share this great video we came across featuring a couple getting married in Bali. Mikhail and Kristina certainly had amazing vision to be able to do something this beautiful, and yet when you think about it, it really is so simple. Not the beautiful but somewhat casual styles involved with the attire.
---
Based on Your Body Shape
You should always purchase dresses that are meant to be flattering for your body type. Someone who has an apple or a pear shape shouldn't wear a mermaid dress since it will hug and emphasize problem areas. An empire dress or A-line is flattering for all body types, but every bride should figure out her body shape before going on the hunt for her perfect wedding dress. We've covered body types and the right styles in a prior article. First, you'll have to figure out your shape then you can figure out the style that calls to you. If you don't love a sheath dress, you shouldn't choose that just because your body shape says it will flatter you.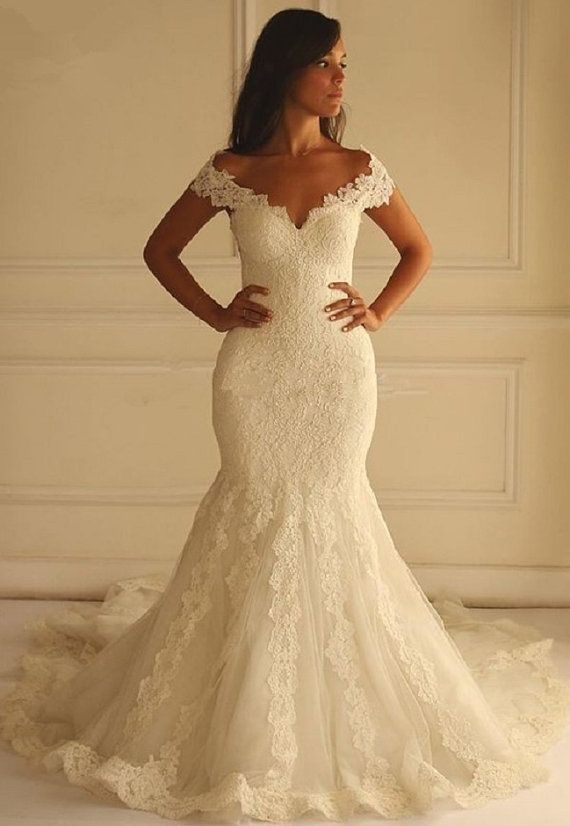 ---
Fabric and Style
Once you've figured out the type of dress that will flatter your frame as well as what you like personally, it's time to think about what's best for a casual wedding environment. You'll be at the beach. It's the essence of romance and wind-blown elegance. The dress, hair style and shoes that you pick should all be within that theme. The dress shouldn't be a frothy ball gown confection filled with taffeta, lace, and a huge train. Really think about the kind of dress that will make you feel like a goddess of the water and ocean as you're standing in front of the waves marrying the love of your life.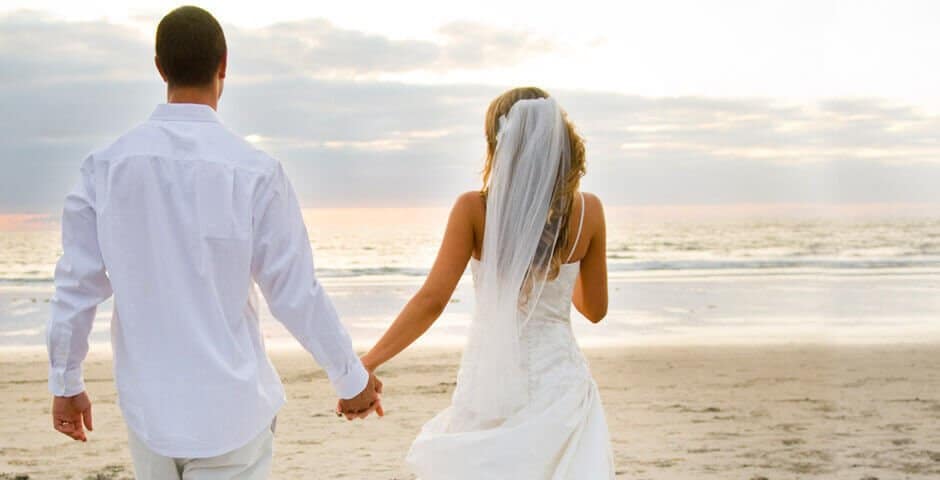 ---
Ability to Pack and Transport
Choosing the right fabric means that it'll be lightweight, too. If you're flying to your destination to get married, you'll need to consider how the dress will be packed and brought on the plane. A puffy gown won't travel very well, and you'll also have to worry about ironing a large dress along with other preparations for your wedding day. It's a lot of added worry when you can avoid it by choosing light fabrics that won't wrinkle easily.
Here's a great video showing how to pack your wedding dress if you're taking it as carry-on luggage on a flight or transporting it in a suitcase. There is definitely a technique to it!
---
The Venue and the Train
You shouldn't pick a sweeping, chapel train for your beach ceremony. Consider how you'll be dragging that train through the outdoors. You'll end up with sand or dirt all over it. Instead of the train, consider a material that will allow the wind to play with the layers. It'll flow behind you without touching the ground, which is much more practical.
Here is another great beach wedding video showing the ceremony of Charlie and Serena. As you can see at the beginning, the train of her dress barely touches the ground, and minimizes the sand getting stirred up.
---
Lightweight and Cool
The material should be cool and lightweight. You'll be at the beach. It'll be hot unless you're having a moonlight ceremony. This is the time to think about the material that will allow your body to breath. You'll be nervous enough that the possibility of passing out from heat exhaustion shouldn't rear its ugly head. On a side note: think about what the bridal party and the groom will be wearing, too. The best fabrics for the beach are gauze, chiffon, light satin, georgette, or organza.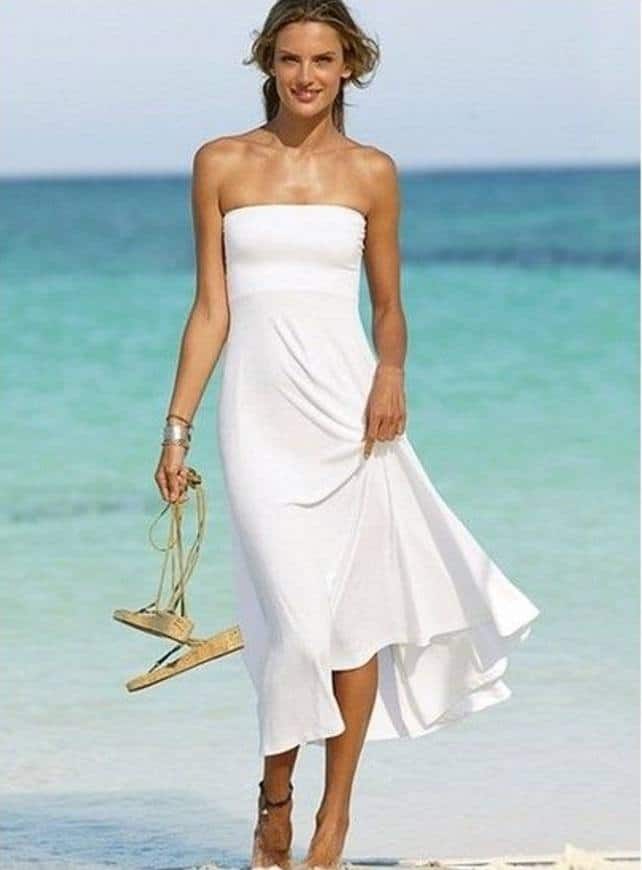 ---
Casual or Elegant
If you're going to be directly on the beach, a casual style that will blow in the breeze is perfect. For a wedding themed ceremony and reception, you can go a little more formal while still retaining the beach feel with your dress. It's the difference between walking barefoot through the sand for your ceremony or wearing lovely sandals under your dress. They're both appropriate for their place. Consider that when you're thinking about the dress and accessories you'll wear.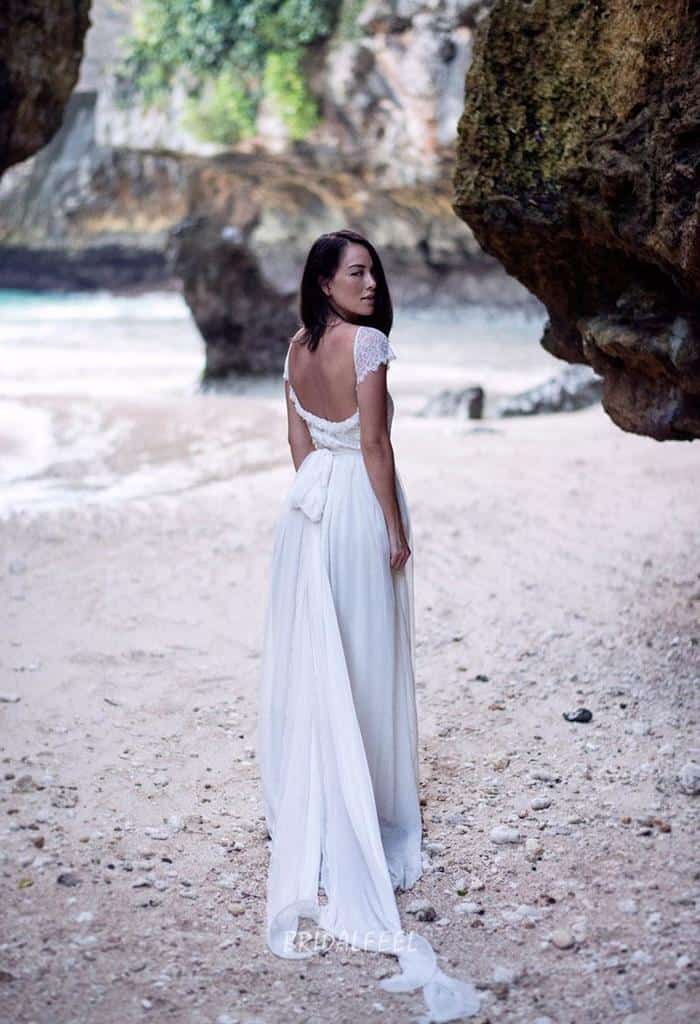 Before choosing the exact dress you want for your beach wedding, there are many things to consider from the style of the dress, your accessories, where you'll be married exactly, and your body style. How elegant or casual the dress you choose will depend on where the ceremony will take place. Pick a material that will be lightweight and cool for the beach and won't wrinkle when you have to pack it to get on the plane.
Recommended Reads: