Latest posts by Jeanette Kierstead
(see all)
We found some bridal outfits for the mature bride that don't involve big, puffy gowns. Mature brides don't want to wear gowns that are too sexy or too youthful since it makes them appear silly. Instead, they want elegant looks that are beautiful and sophisticated. Read on to find out what we've chosen based on what a mature bride would like in her wedding attire. You can check out our recent post to learn how we narrowed down the list.
WOOSEA Women's Retro Lace Floral Long Dress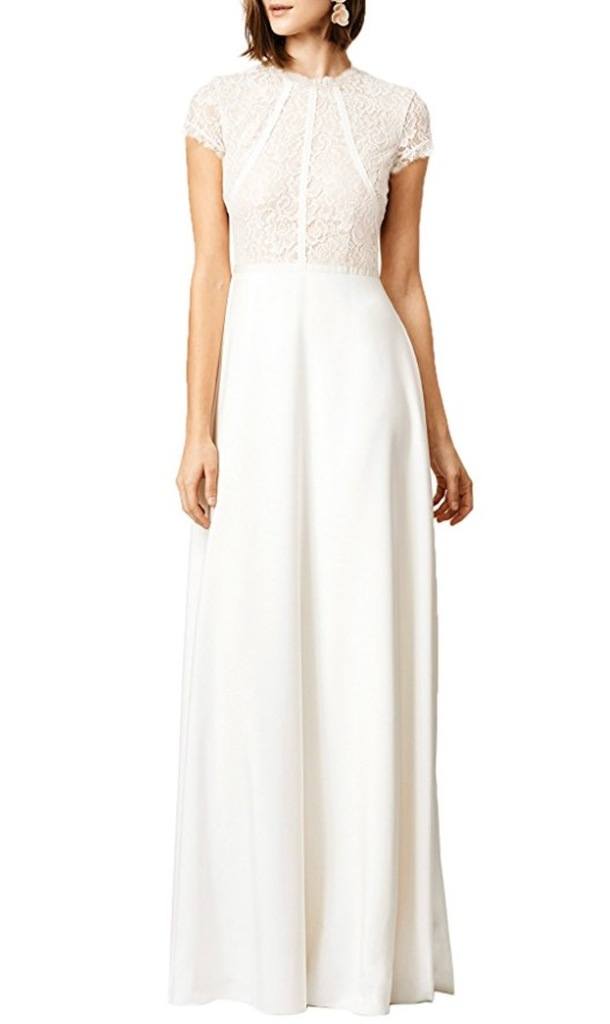 This slim maxi dress is fitted on top with lovely cap sleeves in a stunning stretchy lace detail. While this dress isn't labeled as a wedding dress, it would make a lovely wedding gown for the mature bride who doesn't want to show too much skin. This is a great dress for those who are a bit busty on top, too. The dress is fitted and empire style on certain body types. It's long, so it might need to be altered. This dress comes in off-white and in sizes small through xx-large.
---
David's Bridal Chiffon Wedding Jumpsuit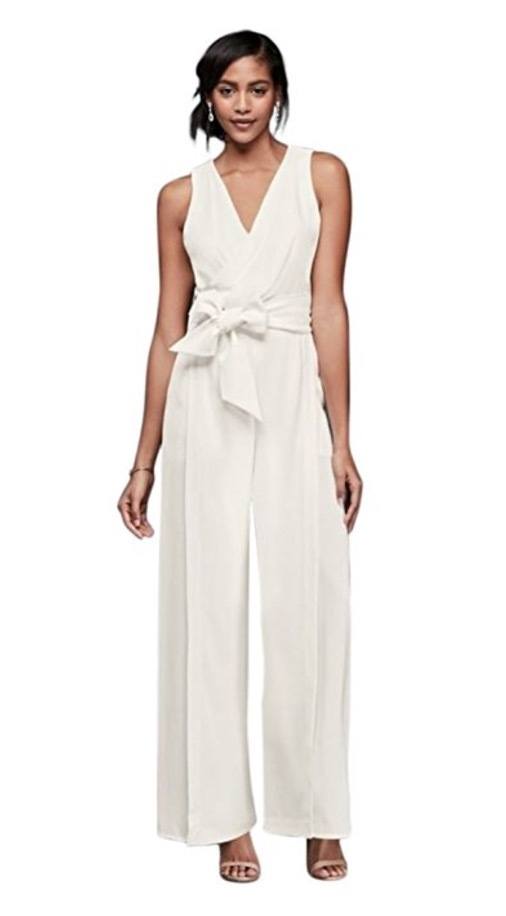 This jumpsuit has a fitted, tank-style bodice that crosses in the front and ties in a beautiful bow with a wide sash. It's made of chiffon, which makes it incredibly light and flowing. The pants are wide legged and appear to look like a maxi dress, but are way more comfortable. It's only available in one color; ivory. It comes in sizes x-small through large.
---
Ssyiz Women's Elegant Pleated Chiffon Floor Length Party Dress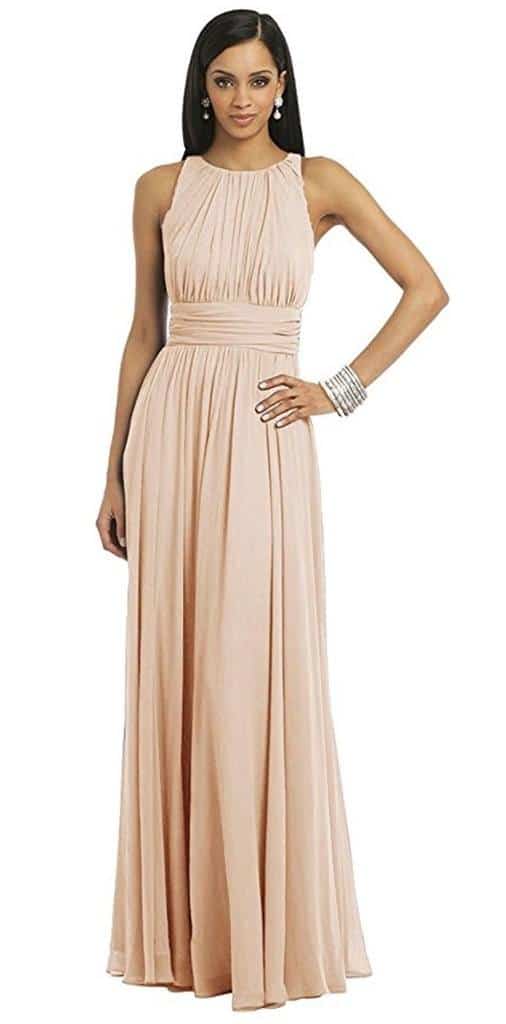 This dress is made with pleated chiffon that is fitted at the top. The ruched top is gathered in a pleated sash around the high waist. This is a dress that isn't labeled as a wedding dress, but can function beautifully as one. It's available in a few different colors that are perfect for a wedding. There's a lovely gray, light blue, light green, champagne (which is labeled as a khaki), and white. The dresses come in sizes 6 through 16. You can provide custom measurements, too.
---
FancyGowns Women's Long Chiffon Evening Dress with Lace Sleeves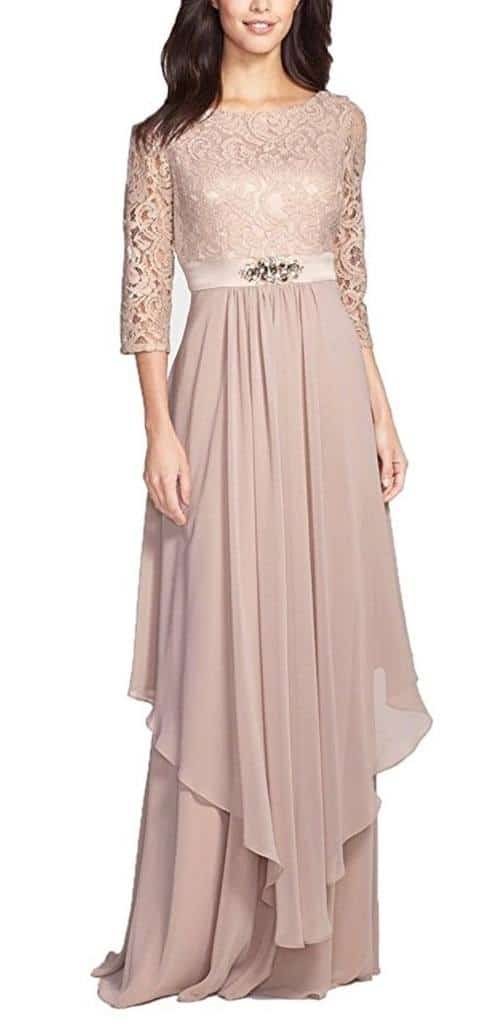 The beautiful two-tiered ruffle chiffon dress has a high waist with lace bodice. It's lined but sheer through the arms for the illusion of coverage. The sash at the waist has gemstones for a touch of sparkle. The ruffled chiffon falls from the waist in two sections. The bottom falls directly to the floor while the second panel is higher on the sides. It's available in sizes 2 through 26 plus and can be customized. It comes in a few lovely colors for the mature bride like champagne, white, gray, or lavender.
---
R & M Richards Women's 2-Piece Lace Swing Jacket Dress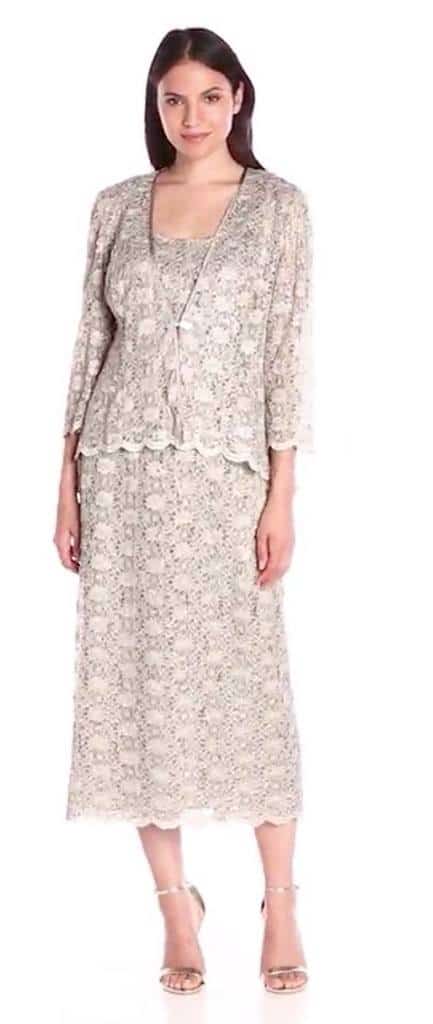 If you're looking for a two-piece wedding dress, this is a great choice. It has a tank dress under a beautiful jacket. The dress is tea length, which makes it different than the others on this list. The swing jacket uses a rhinestone clasp to hold the front close. The back of the jacket is lower than the front. In fact, they look almost like a tuxedo jacket in the back. It gives the outfit extra style and flare. It's available in sizes 8 through 18 plus in colors mocha, plum, orchid, or silver. All these colors make for a great wedding dress depending on the bride's sense of style.
---
ModeC Women's Tea Length Dress with Jacket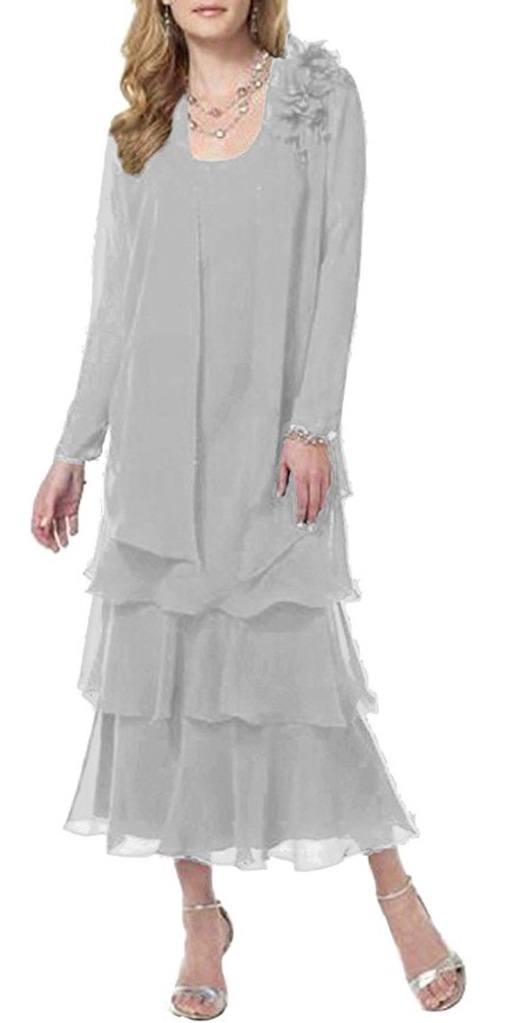 While this is advertised as a mother of the bride dress, it's perfect for a simple wedding dress for a mature bride. The tank dress is made of a light chiffon with three ruffled tiers. This two-piece has a dress and a jacket made of chiffon. The edges are scalloped for a wavy ruffle without being too frilly. The jacket has a lovely flower on the shoulder, which gives the dress some appeal without being too busy. It comes in a variety of colors from silver to champagne to white or gray. It's available in sizes 2 through 26 plus.
---
Fenghuavip 2 Piece Round Neck Light Pink Bridal Dress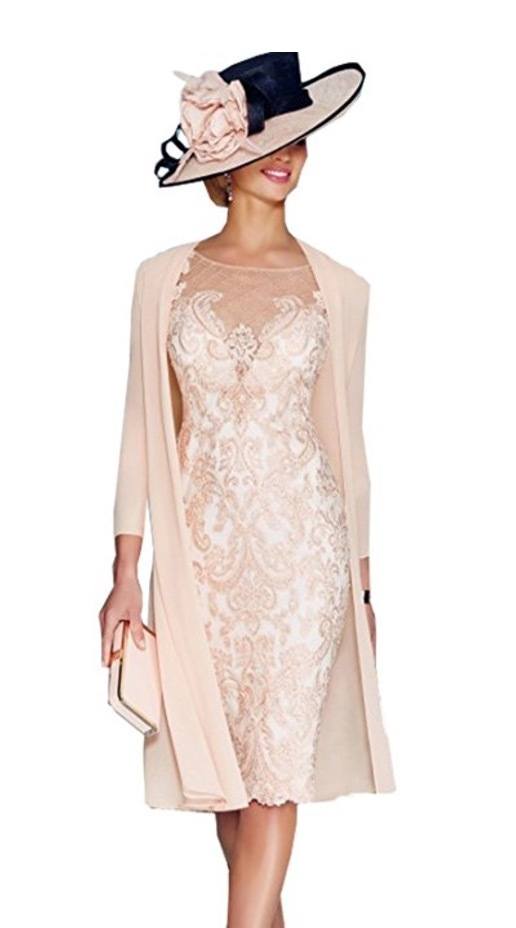 With materials like lace, satin, and chiffon, this dress is a lovely addition to the list. It's approximately tea length with beautiful lace detail across the entire dress. The back is illusion with see-through panels and elegant cuffs at the sleeves. The sleeve hits just below the elbow. The simple jacket covers the entire length of the dress. Others have reported that this dress runs small, so take this into consideration when ordering. It's available in sizes 2 through 24 plus, but you can also have it custom made with your measurements.
---
We've chosen these dresses because they aren't a traditional style of wedding dress, and they would be perfect for a mature bride who wants to be stylish and elegant on her wedding day without looking like the bride that sits atop most wedding cakes.