Latest posts by Jeanette Kierstead
(see all)
Shopping for cheap wedding gowns involves lots of research and the ability to find value in unexpected places. We've created this guide to help you while you're searching for an inexpensive wedding gown that doesn't look cheap or ugly.
Used or Second-Hand Wedding Gowns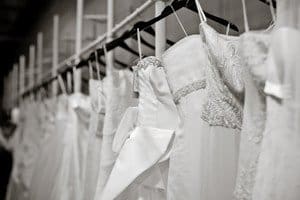 You don't have to shop for a brand-new dress when you're shopping for your big day. A second-hand dress has a few benefits. One of the biggest benefits is the price. It's cheaper than buying a new dress. You might also be able to buy from a charity, which will be a donation to a worthy cause. Another benefit to a used dress is the fact that you'll only be wearing it once. The other bride only wore her dress once, too. Used dresses that have only been worn once can barely be called used.
---
Where to Shop for Second-Hand Dresses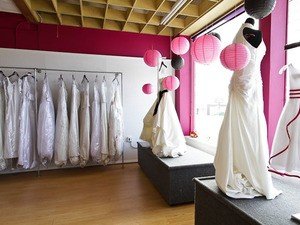 Thrift Stores
Many people donate to thrift stores like the Salvation Army. You can purchase a dress there and make alterations to the size as well as the style if you have that kind of design talent. When purchasing from a thrift store, you're contributing to the cause with which the store is affiliated.
Consignment Shops
Some brides will sell their wedding dress with a consignment shop. These dresses are usually stylish but a bit more money than one found in a regular thrift store. While a thrift store might have a dress for $20, the consignment shop will give a portion of the sale back to the dress owner, so you'd be spending in the neighborhood of $100 for the dress.
Auction Sites
Sites like eBay are a great place to get a stylish wedding gown cheap. While we say cheap wedding dresses, we are really talking about an affordable dress. It's an important purchase, but there's no reason to spend thousands of dollars for a dress worn for one day. After purchasing and wearing your dress, you might take to eBay to resell the dress for a few hundred dollars, too.
Online Shops
Amazon is a terrific place to purchase a wedding gown. Many bridal boutiques will put their dresses on this monster platform to garner more sales. They will offer a lower price for the dress online since they don't have to keep it on display or have a sales associate help you with the purchase. You can also consider coupon codes for making purchases.
Shop for wedding dresses on Amazon now
---
Tips for Your Wedding Dress Shopping on a Budget
Sample Dresses: When the bridal shop has discontinued the style of dress or need more room for their displays, they'll offer deep discounts on the samples. You can end up spending less than 50% for a designer wedding gown using this method. You'll have to do your research to be one of the first to show up at the store for this kind of sale.
Off-the-Rack Dresses: Some bridal stores will offer discount gowns that they won't alter or tailor for you. These dresses are offered for a discount price because they're an "as-is" sale for the gown. You'll have to bring it to your own seamstress to get it altered.
White Formal Gowns: Instead of shopping the wedding gown section of your local store, or an expensive bridal store, you can find beautiful gowns in the section for prom or evening gowns. You can even find white or ivory dresses in these sections that will look like a bridal gown without the inflated price given to wedding dresses.
Bridesmaid Dresses: Another cheap alternative to a wedding gown is a bridesmaid dress. While you can spend thousands on a bridal gown, the bridesmaid dress will only cost a few hundred in comparison. They have some lovely options, too.
Running of the Brides: Each year, Filene's Basement would hold an event called the Running of the Brides. The store would have designer gowns by big name creators on sale for a fraction of the normal price. Brides would stampede to the store in droves that would often make the news. Sadly, the Boston store has closed, but there's still a Filene's Basement in Illinois. If you can attend their annual sale, you can get a beautiful gown on sale.
---
What to Avoid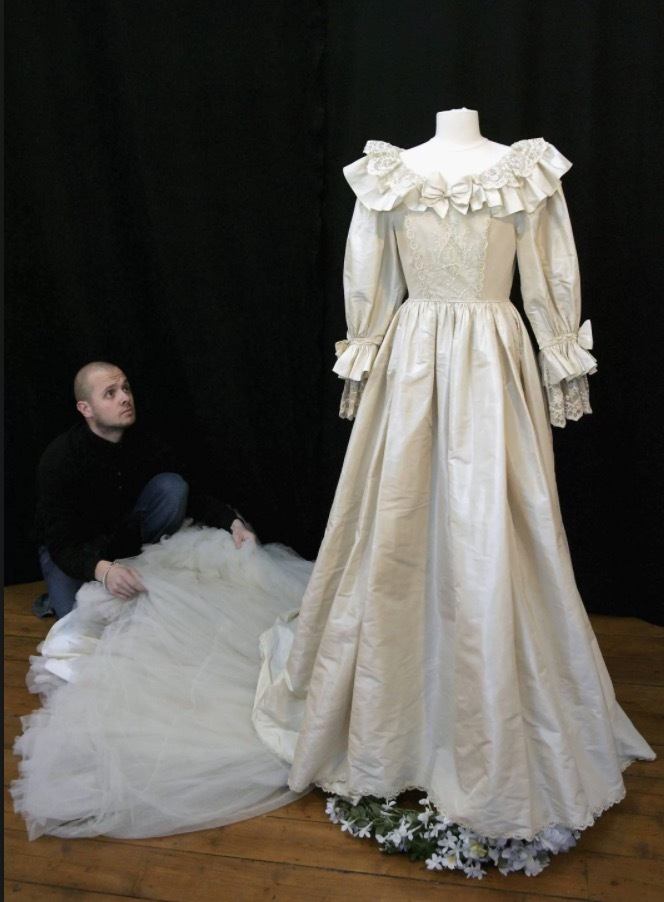 Too Small Sizes
While you might want to lose weight for the wedding, always assume that you're going to be exactly the size you are right now. You might lose weight, but it's likely that you'll less than 10 pounds, which will keep you approximately the same size. Order your gown with your current measurements. In fact, you should actually order in a size higher and have it altered closer to your big day.
Flawed Gowns
When buying from a second-hand store, always examine the gown completely to ensure that it has no missing beads, broken zipper or stains. It would be a shame to get home with the gown to find that the hem has a stain on it. You don't want to spend hundreds on a dress with a stain.
Foreign Manufacturing
When buying online, try to avoid foreign sellers who are offering cheaply made dresses. While you want something affordable, you don't want cheap material that looks like it's poorly made. This is where reviews come in handy. Pay attention to what other brides are saying regarding the quality.
Wedding Dress Shopping on a Budget – Final Thoughts
Buying a cheap wedding gown doesn't mean you have to buy an ugly dress made of cheap materials. When you're a smart shopper, you can get a beautiful gown for a few hundred dollars.