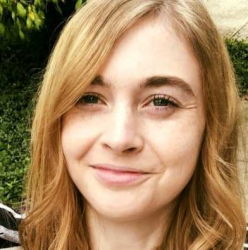 Latest posts by Erin Jamieson
(see all)
Netted lace, colorful embroidery, and stunning necklines: these are just a few reasons to fall in love with contemporary Mexican wedding dresses. This year, embrace fresh and gorgeous ideas to celebrate your heritage or throw a memorable destination wedding.
The hottest bridal trends come and go. What doesn't change is a continual influx of designs draws my traditions around the world. Now there are more options than ever for brides looking for Mexican wedding dresses.
While I'd argue that there's still a general lack of diversity in large bridal chain stores, small boutiques and talented designers are changing the industry. One designer bringing gorgeous Mexican wedding dresses to customers is Gerardo Encinas.
The Columbus-bassed (Ohio) designer started his career to express Mexican heritage through fashion. He started with pageant dresses but now offers gorgeous looks for both weddings and even the red carpet.
One thing is for sure: Encinas is a designer to watch, and he's adding beautiful Mexican dress fashion both for the bridal industry and now even celebrities.
You don't have to be in Ohio or seek a couture designer to find a Mexican-inspired wedding dress, though. In this article, I'll share my advice for finding the best dresses and provide some inspiration with my favorite designs.
Bottom Line Up Front Summary: If I had to select just one Mexican wedding dress, it would be the Azalea Wedding Dress. This dress is created by designer Rosa Clara and is available in boutiques around the US and abroad. It's a contemporary update that plays upon Mexican wedding dress traditions. The lace is exquisite and the fit is comfortable for many body types and shapes.
My Top Picks
Colorful Mexican Embroidered Gown:

Best Colorful Wedding Dress

Celestial Mexican Wedding Dress

:

Best Etherial Wedding Dress

Sleeveless Mexican Wedding Dress:

Best Vintage Wedding Dress

Azalea Wedding Dress

:

Best Lace Boho Wedding Dress

Lizard Wedding Dress

:

Best Simply Elegant Wedding Dress

Lea Wedding Dress

:

Best Retro Wedding Dress

LuneBridal Wedding Dress

:

Best Off-The-Shoulders Boho Wedding Dress

Lace Mexican Bridal Gown

:

Best Glamorous Wedding Dress

Mexican Chiapaneco Dress:

Best Reception or Bachelorette Dress

Floral Lace and Tulle Cathedral Veil:

Best Affordable Mantilla Veil

Beaded Lace ¾ Sleeve Jacket:

Best Affordable Lace Shrug
Mexican Wedding Traditions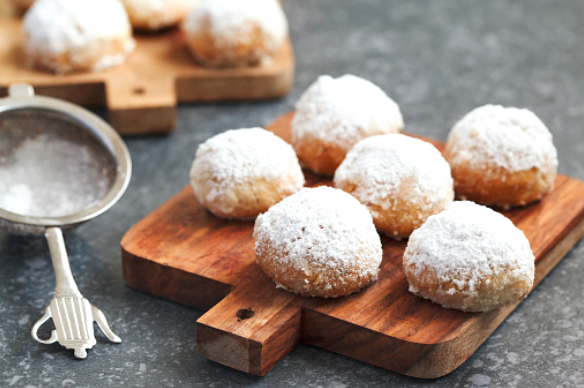 Mexican wedding dresses aren't the only memorable part of a Mexican wedding. A Mexican wedding, called a Callejoneada, is steeped in traditions. However, those traditions, like weddings in the United States, have blended with contemporary sentiments.
While the parents of the daughter traditionally paid for a Mexican wedding, now weddings may be paid for by both sides of the family, the couple, or a combination. While Mexican weddings used to include a dowry, this has been scrapped by most contemporary couples (though some indigenous groups still retain a form of it).
Many traditions remain. Not every couple will follow these– some are tied directly to Christianity and Catholicism:
Tirar la Liga,

or "Throwing the Groom"

Throwing rice, tossing the garter, bouquet tosses

Wedding Parades, known as

La Callejoneada

This more elaborate tradition takes place between the ceremony and reception and includes music and dancing. Music may include

mariachis

Wedding Lasso

Bride and Groom are connected by a rope (around shoulders) to signify unity as they exchange vows

Las Arras Matrimoniales,

or Marriage Coins

13 gold coins are handed by the groom to his bride and blessed by the pastor. These coins symbolize the couple's commitment and are connected to Jesus and His 12 disciples

Vibora de la Mar,

a traditional Mexican dance during the reception

Two dances are traditional for Mexican wedding receptions. The first, known as the Sea Snake, has the bride and groom standing on chairs, while guests go past. The second notable special dance is where the bride and groom have dollars pinned on their attire. Guests pin a dollar for one dance for either the bride or groom.
As for what Mexican weddings look like, that depends on the couple. Religious couples will have a church ceremony or Mass. Very traditional weddings could last as long as two days, though this is less common now. Mexican weddings partner bridesmaids and groomsmen to dance, eat and help with wedding tasks together.
Food served at Mexican weddings is varied but reflective of the culture. The main meal consists of meat, tortillas, enchiladas, rice, beans, and vegetables. Common flavors include spices, citrus, cilantro, and other seasonings. Traditional Mexican drinks include sangrias, different types of juice, Mexican hot chocolate, and other forms of alcoholic beverages. Desserts include Mexican wedding cookies and wedding cakes. Popular cake flavors include pineapple, coconut, and rum.
Traditional Mexican Wedding Attire
What Mexican brides wear has shifted over time, and these traditions I'll be exploring the next section.
Wedding Dress Origins
Mexico's traditional wedding dresses take inspiration from the Chiapas dress. A Chiapas dress is made with silk embroidery of many colors and is set against a white backdrop. There's also the Flamenco dress. This dress is red and white and features lace, ruffles, and floral embroidery. This dress shares both Spanish and Mexican origins.
Bridal Party and Guest Attire
Bridesmaid dresses traditionally are the same color as the groomsmen's ties. Guests going to a religious wedding wear formal attire (suits and dresses) without hats and with some covering over the shoulders. Black and white are the most common colors worn by guests. Weddings taking place during the holidays, by a beach, and/or contemporary weddings are different. For these, guests are free to weather bold red, orange, yellow, purple, and green hues.
Best Mexican-Inspired Wedding Dresses: My Picks
Here are my topic ideas for the best modern wedding dresses inspired by Mexico. My picks blend traditional and contemporary styles and capture the essence of a Mexican wedding.
I selected these dresses based on three traditional style trends: wedding dresses with colorful embroidery, intricate lace wedding dresses, and off-the-shoulder wedding dresses with ruffles, layers, and other accents. My goal is to provide you with ideas that capture the heart and beauty of Mexican wedding dress styles but with stylish and innovative additions to the designs.
My picks come from Etsy and Rosa Clara. I've tried to include an assortment of affordable and diverse designers. While you don't need to buy from these places, I wanted to only show ideas from shops or designers that excelled in quality materials, craftsmanship, and customer service.
At the same time, I've kept my ideas relatively affordable. Many dresses are under $1,000. Rosa Clara dresses range from $2,500 to $6,000, but you can get them on sale if you're savvy.
Embroidered Mexican Wedding Dresses
Embroidered Mexican wedding dresses are a gorgeous tradition. These dresses often feature bright embroidery, bursting with vibrant colors. You may find bursts of red, orange, yellow, and, occasionally, cool hues. Embroidery is intricate and takes inspiration from nature. These dress accents are from Aztec and other indigenous origins.
My dress ideas here feature flowy, diaphanous, and breezy white gowns. They're made by hand and for sale on Etsy, and all well-priced These dresses are custom made, made to order, and made around the world. Shop All Embroidery Etsy Wedding Dresses Here.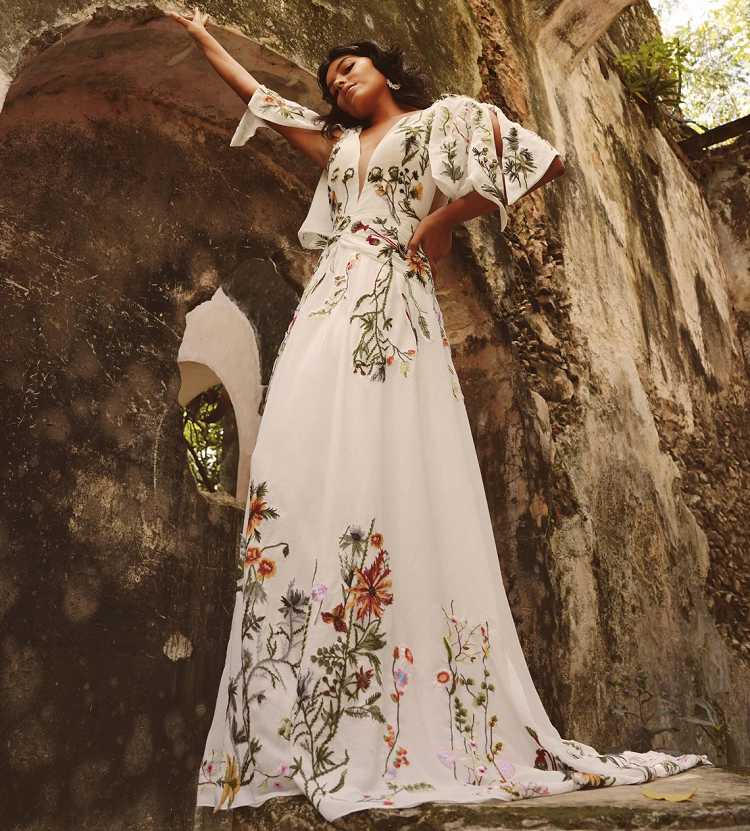 This gorgeous gown can be ordered online or tried on in person at the company's Chicago boutique. Get ready to wow with this Mexican-inspired wedding dress, embroidered with cascading flowers.
The diaphanous sleeves are detachable. The chiffon skirt includes ruched details that flatter the waistline. Every detail is hand sewn with appliqué pieces. The tulle layer adds volume, while built-in cups provide support. The A-line gown is resistant to creases, making it travel-worthy. Buy Here.
Pros
Hand-Sewn Floral Appliqués

Detachable Sleeves

Crease-Resistant
Cons
Only Sizes 2 to 20

Open Back and Neckline Maybe Too Revealing for Some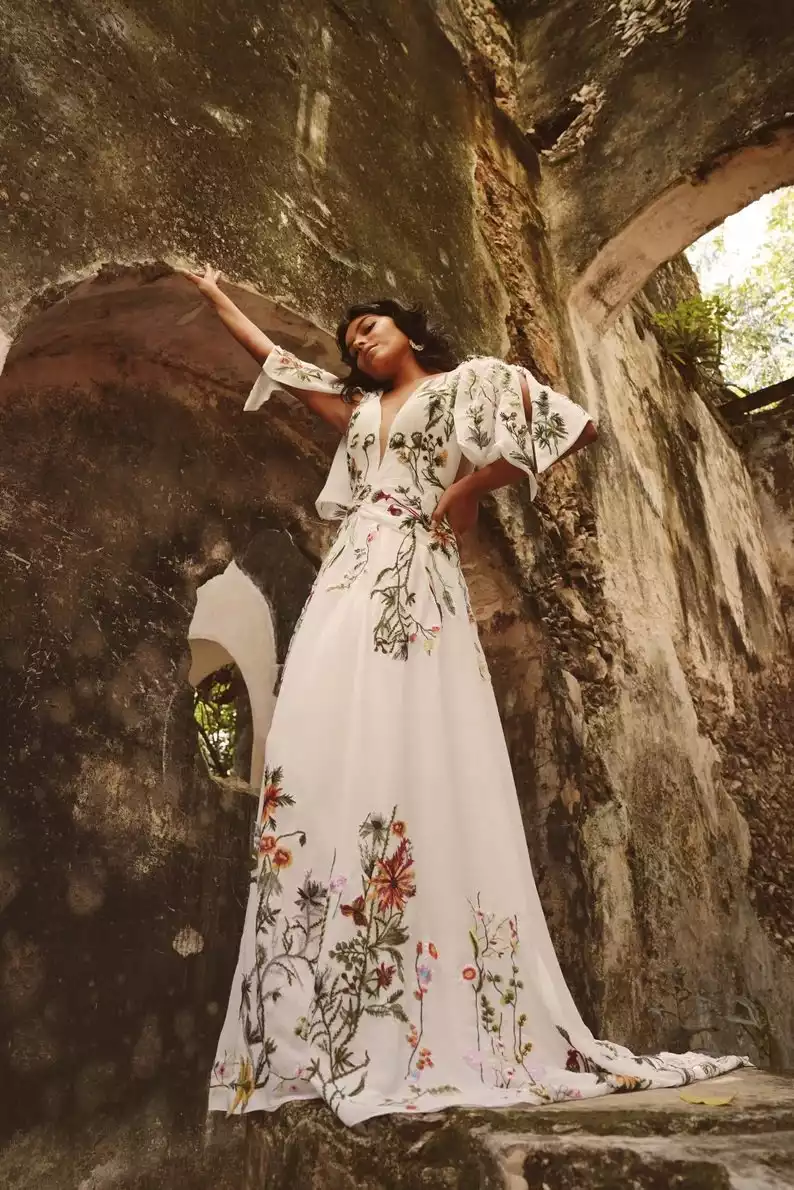 Colorful Embroidered Gown | Etsy
Dreamy bohemian wedding dresses for the free spirited & non-traditional bride. Explore Flora & Lane's effortless boho bridal gowns today.
Check Price
We earn a commission if you click this link and make a purchase at no additional cost to you.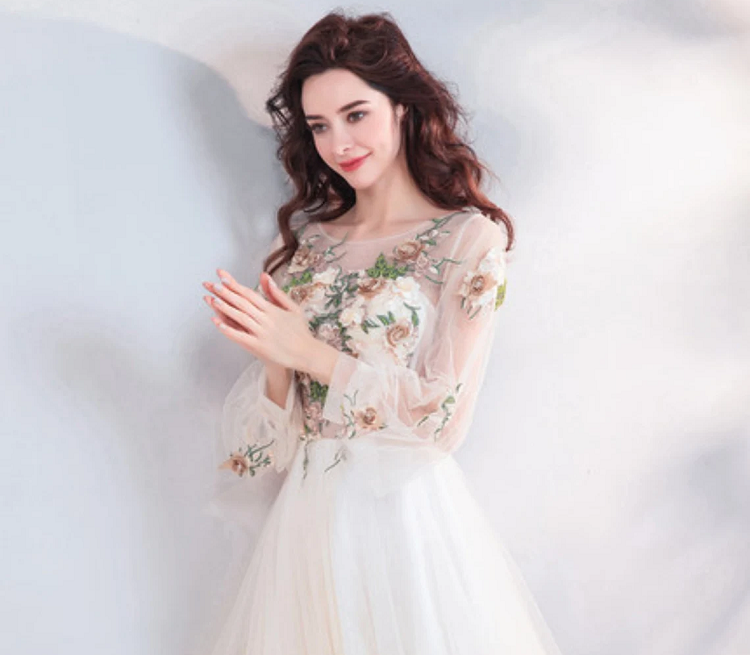 This gorgeous dress is ethereal, whimsical, and well under $500. The enchanting gown features embroidered floral details on the bodice. Sheer sleeves billow slightly and taper at the cuffs.
The natural, defined waist is flattering with the full skirt. Pearl details add an expressive touch. The champagne hues add an expressive flush of color, but you can order in a custom color too. The classic tulle skirt provides volume but is still sophisticated. This dress blends many traditions and would be suited for an outdoor or garden wedding. Buy Here.
Pros
Affordable

Custom Colors Available

Pearl and Embroidered Details
Cons
The bodice is Somewhat Sheer

Less Traditional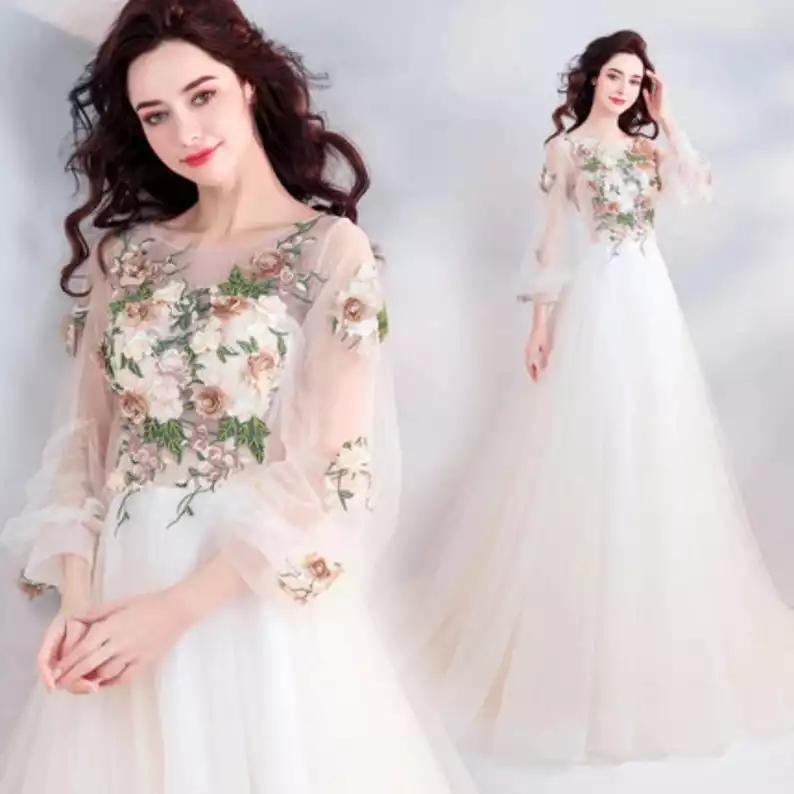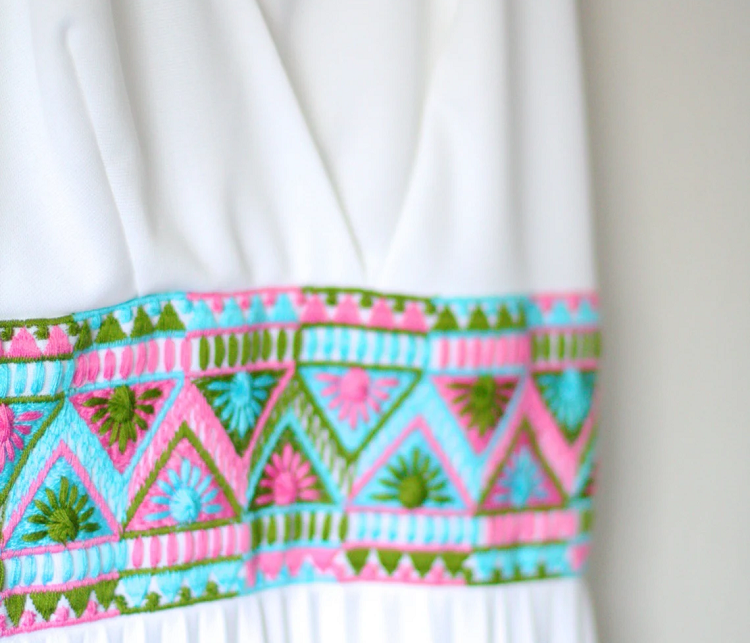 Simple, pretty, and understated: this wedding dress is a great choice if you're on a budget or want a low-key affair. The incredible price isn't the only thing to love.
A crisp white silhouette is accented with an embroidered band at the natural waist. The embroidery is inspired by indigenous cultures and is just the right touch of color. While this listing may not be available forever, I wanted to share it as an idea for a simple wedding dress design that works. Buy Here.
Pros
Affordable

Meaningful Embroidery

Comfortable
Cons
Limited Sizing

Limited Listing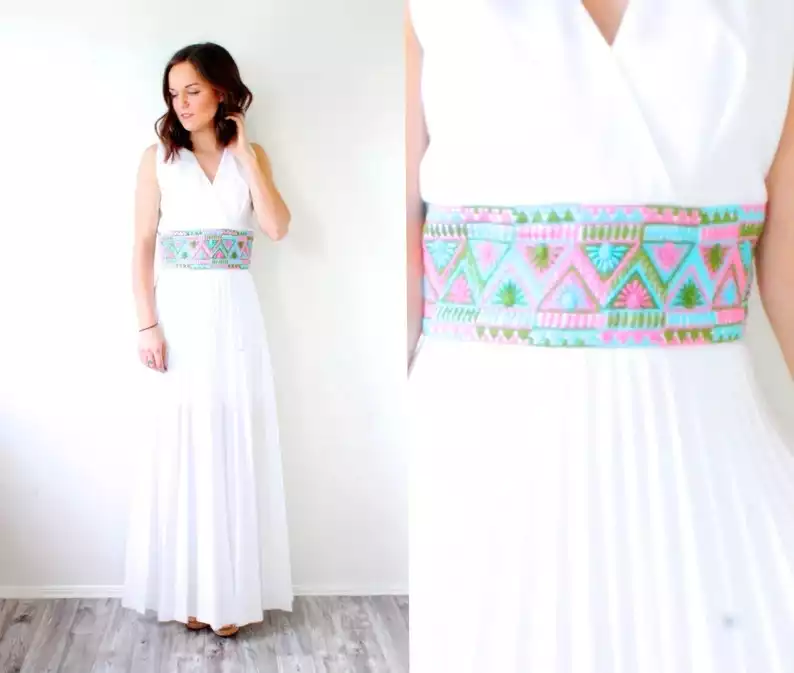 Sleeveless Mexican Wedding Dress | Etsy
This is a beautiful vintage polyester wedding dress with aztec embroidered details around the waist. Great for a spring and summer wedding or for an event.
Check Price
We earn a commission if you click this link and make a purchase at no additional cost to you.
Lace Mexican Wedding Dresses
Lace wedding dresses, of course, can be found across cultures. But some of the most gorgeous Mexican wedding dresses today include netted lace, soft lace details, flowy or voluminous skirts, and long trains. The netted lace look borrows from traditional embroidery patterns and appears lighter and more delicate in its stitching than much of the lace you see in the bridal industry.
To represent this, I chose designer Rosa Clara's Boheme Collection. Rosa Clara is a Latina designer, originally from Spain. Her styles include a touch of Spanish, Brazilian, and Mexican traditions, all with effortlessly beautiful designs. They're available in many bridal boutiques and often bought in great condition as pre-owned gowns. Shop the Boheme Rosa Clara Collection Here.
AZALEA Dress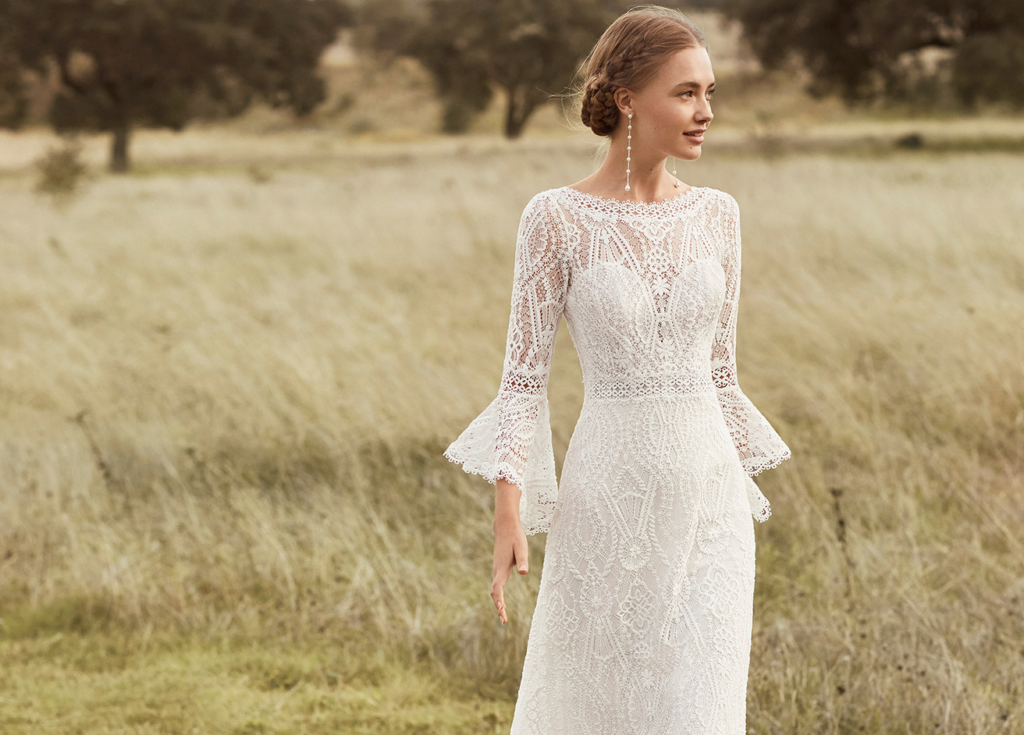 If you love the look of netted lace and dramatic sleeves, you'll love this wedding dress. This style features bell sleeves, a bateau neckline, and a dramatic v-neck for the back. The buttons are all sewn by hand. The fit is slim but not revealing. The gorgeous details are seemingly effortless and yet distinct. While this is a more modest style, it looks anything but stuffy. View Here.
Pros
More Coverage

Gorgeous Lace Details Over the Entire Dress

Handsewn Buttons
Cons
Doesn't Pair Well with Necklaces

Fitted Waist is Less Comfortable

LIZAR Wedding Dress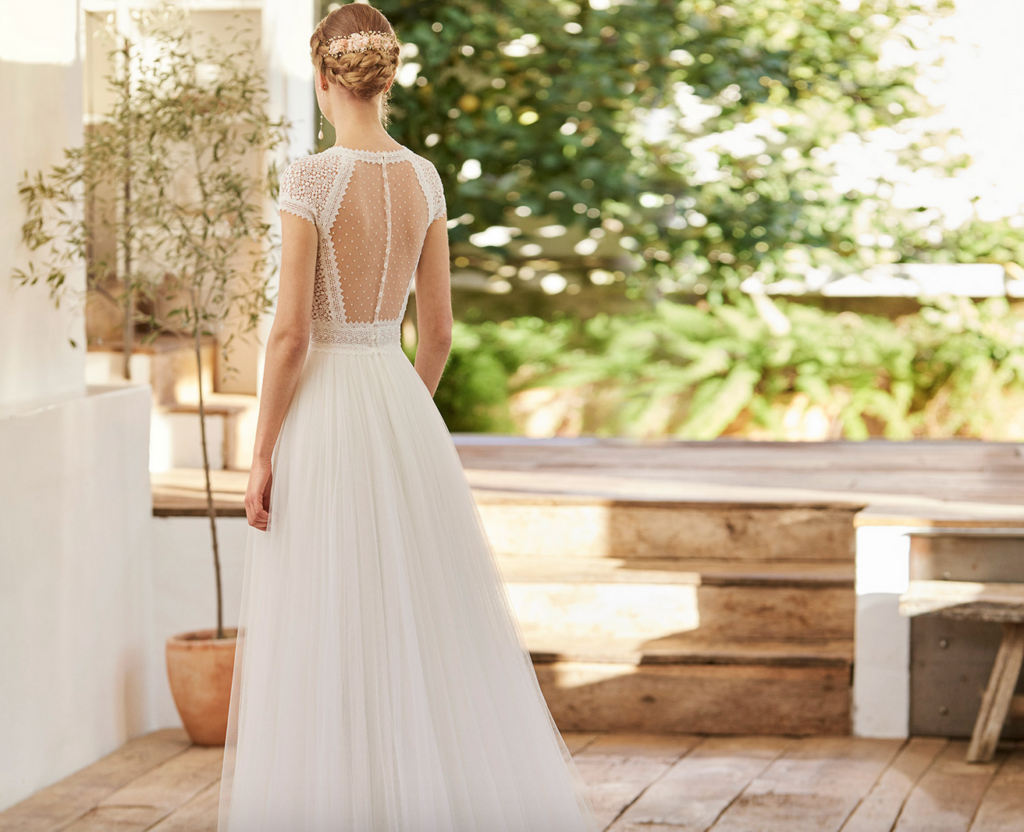 This breezy dress is comfortable and elegant. The sheath shape allows you to move easily, and the v-neck feels freeing rather than confining.
The illusion back features lace and dot tulle. The skirt is constructed with tulle and moves with you. This dress is reminiscent of the more romantic side of Mexican wedding dresses, with a long train. It would look gorgeous with a mantilla veil or a floral crown. View Here.
Pros
Gorgeous Lace and Dot Tulle

Comfortable Sheath Silhouette

Elegant
Cons
Long Train Needs to Be Bustled

May be Considered Plain to Some
LEA Wedding Dress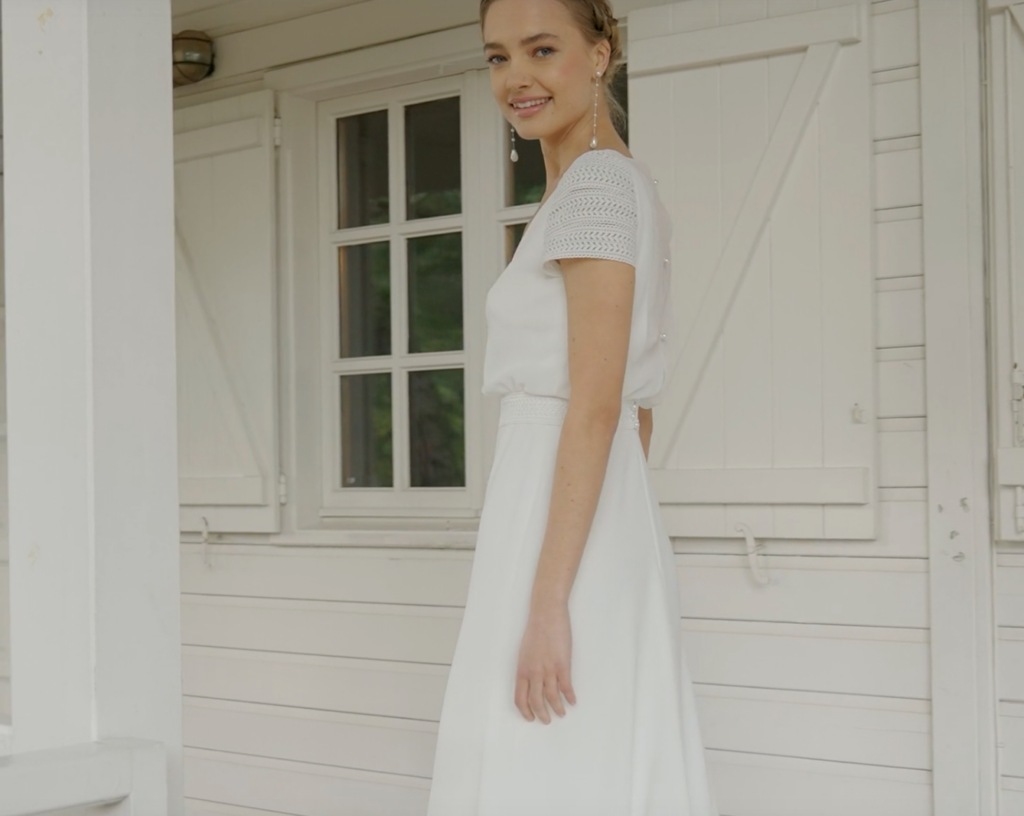 Mexican-inspired, vintage, modest, and comfortable: that's a long list. Yet the Lea dress perfectly stuns for a religious ceremony. This gown is a sheath silhouette with crisp crepe fabric. The v-neckline is expressive but not plunging. Netted lace embroidery on the cap sleeves and waist adds just the right amount of detail. An overhanging bodice brings vintage appeal and comfort. View Here.
Pros
Modest for Religious Weddings

Comfortable Fit

Gorgeous Button Back
Cons
Fairly Plain

The bodice is Less Defined
Off- The Shoulder Mexican Wedding Dresses
Traditional Catholic Mexican weddings often have brides cover their shoulders with veils or shrugs, but off-the-shoulder gowns are quite popular. Off-the-shoulder dresses may feature full skirts, but also ruffles and tiered skirts. The style of lace or embroidery borrows from traditional Mexican attire, including rebozo, huipil, and quechquémit.
These are sometimes boho-inspired, drawing from Indigenous cultures. However, brides are also embracing tighter silhouettes and a couture touch, too. Most in the United States for white, but a bold and colorful dress makes a dramatic statement. Shop Etsy Off-The-Shoulder Mexican Wedding Dresses Here.
LuneBridal Mexican Boho Wedding Dress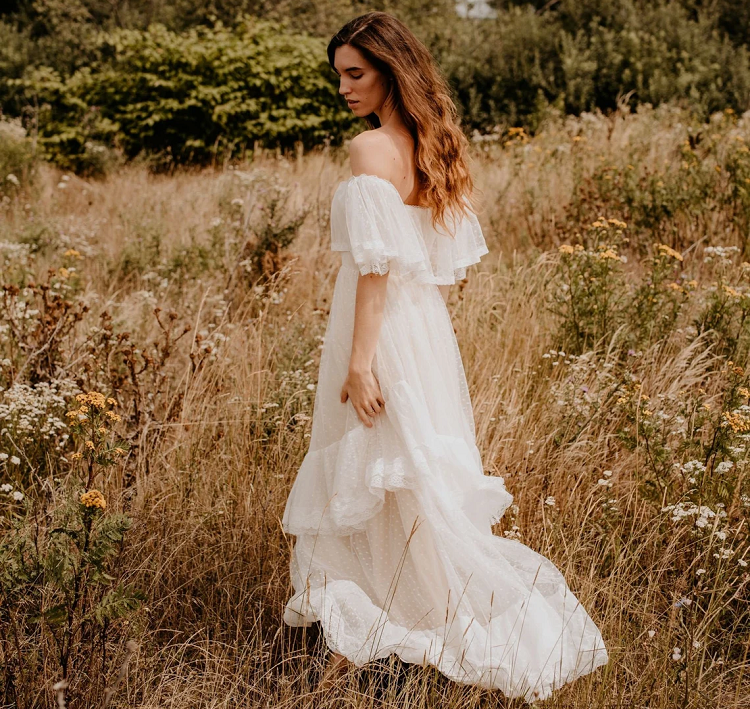 This light and the breathable wedding dress is perfect for an outdoor or beach wedding. The pattern features faint polka dot details. Each layer adds a bit of volume and playfulness to the design. The off-white and champagne underskirt adds just a hint of color. This dress also features built-in cups for bodice support.
Pros
Playful Layers

Soft Hint of Color

Affordable
Cons
Available in Limited Sizes

Ships from Slovakia
Lace Mexican Bridal Gown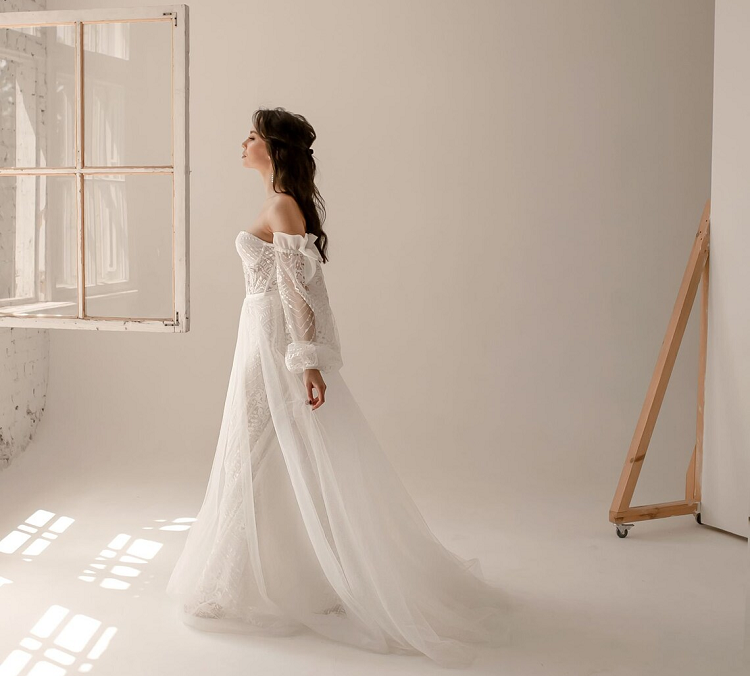 This dress is simply exquisite, and an excellent choice for a bride who is looking for something timeless but more contemporary. The bodice of the dress is constructed with refined, soft lace.
Beads and crystals add touches of glamour. The flowing tulle skirt is breathtaking. The voluminous sleeves add a whimsical touch. Meanwhile, the timeless corset is flattering for all body types. The tulle skirt is seamless.
Pros
Crystals and Beading

Soft Lace Details

Flattering Corset
Cons
Some Tulle Could Irritate Very Sensitive Skin

Ships from Russia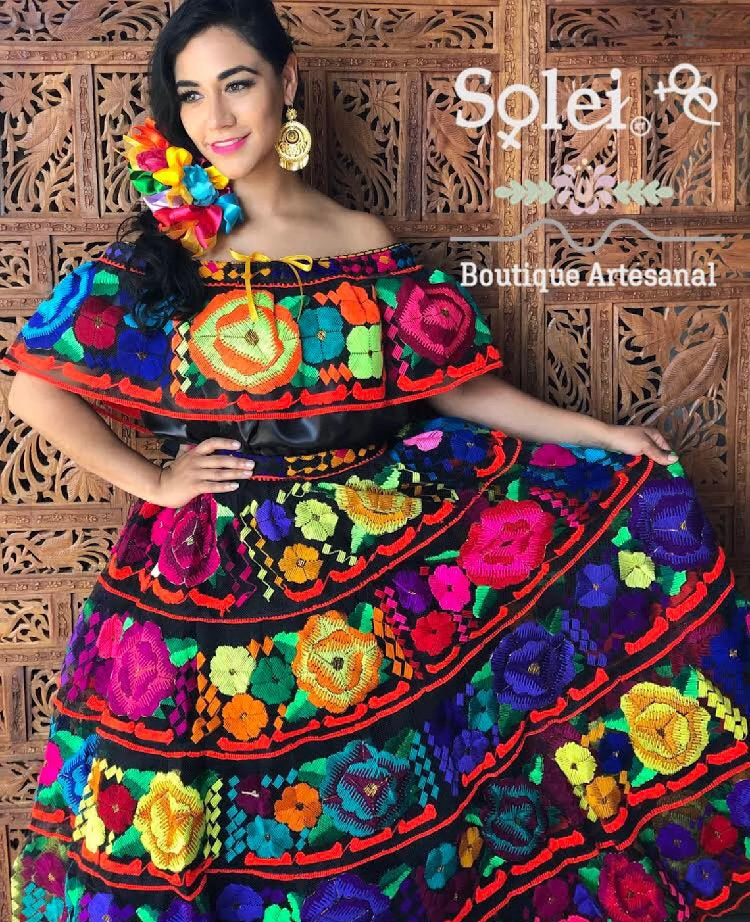 Chiapaneco dresses aren't traditionally used as a wedding dress– but if you want an alternative to a white dress and something very traditional, I argue you could make it work.
This stunning dress is hand-embroidered with yarn. The colors are breathtaking and the shoulder neckline is alluring. Even if you're not convinced to use this as a wedding dress, having it on hand for pre or post-wedding festivities is sure to make an unforgettable impression. The dress is made to order to fit you. Buy Here.
Pros
Hand Embroidered with Yarn

Custom Made to Fit

Traditional and Beautiful

Free Shipping and Affordable
Cons
Not Usually Used as a Wedding Dress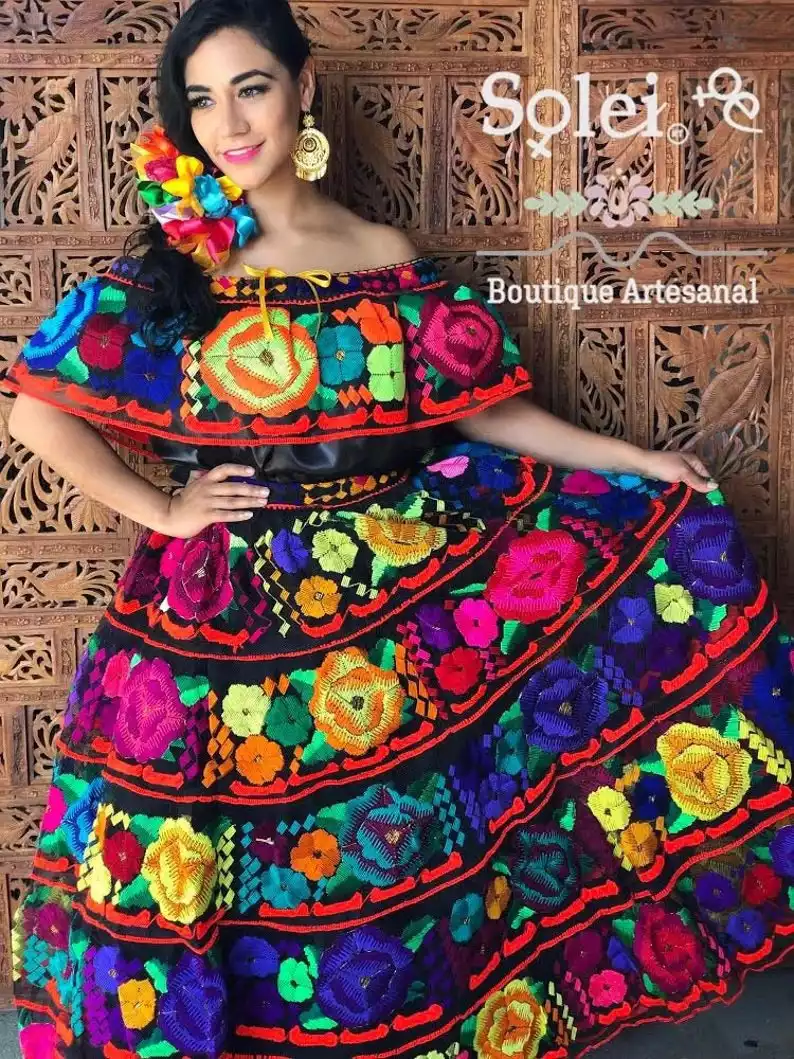 Traditional Mexican Chiapaneco Dress | Etsy
This Beautiful Chiapaneco Dress is a very elegant and traditional Mexican Dress. It has a beautiful floral design hand embroidered with yarn. This dress is perfect for a special occasion.
Check Price
We earn a commission if you click this link and make a purchase at no additional cost to you.
Final Recommendations: Mantilla Veils and Lace Shrugs
Mantilla veils are one of the hallmark accessories in traditional Mexican weddings. Mantilla veils are seen in Latin and even Italian weddings.
These veils are distinguished by a circular shape, embroidered with generous lace trim. Embroidery covers the veil in a timeless, expressive, and intricate design. Scalloped lace is common. Mantilla veils are associated most with Catholic ceremonies and are sometimes used to cover a bride's shoulders.
Traditional and religious Mexican wedding dresses may also be worn with a lace shrug for the same reasons. Lace shrugs are elegant, timeless, and used for added modest for strapless dresses. My Picks are from David's Bridal, as they are all offered at fair prices.
Floral Lace and Tulle Mantilla Cathedral Veil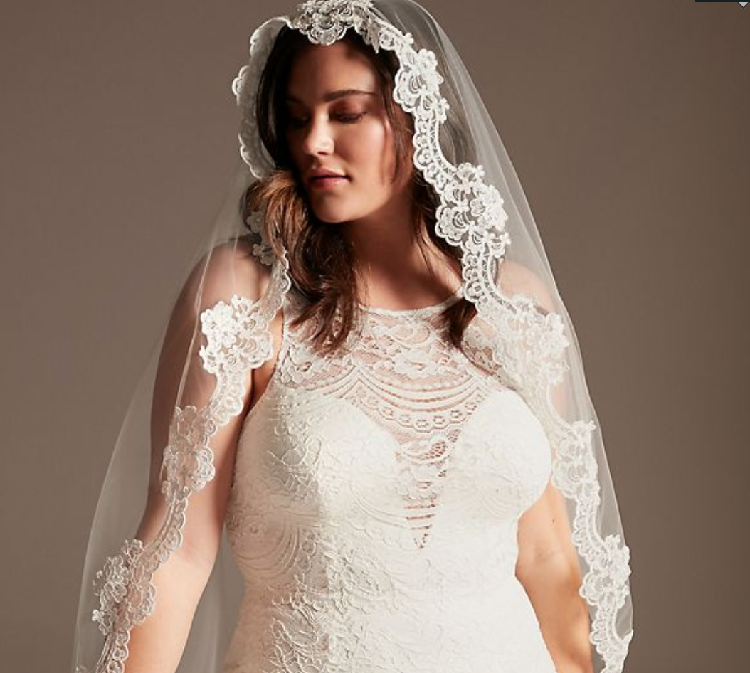 This exquisite mantilla veil is trimmed with lace. The floral design is classic, and the cathedral length makes a statement. This veil can be worn traditionally or with a hair clip. While it retains the traditional style, it fits seamlessly with contemporary dresses, too. The veil is ivory and constructed with lace and nylon.
Pros
Traditional Lace Trim

Cathedral Length

Affordable for its Length
Cons
Only in Ivory

Not the Highest-Quality Fabric
Beaded Lace 3/4 Sleeve Jacket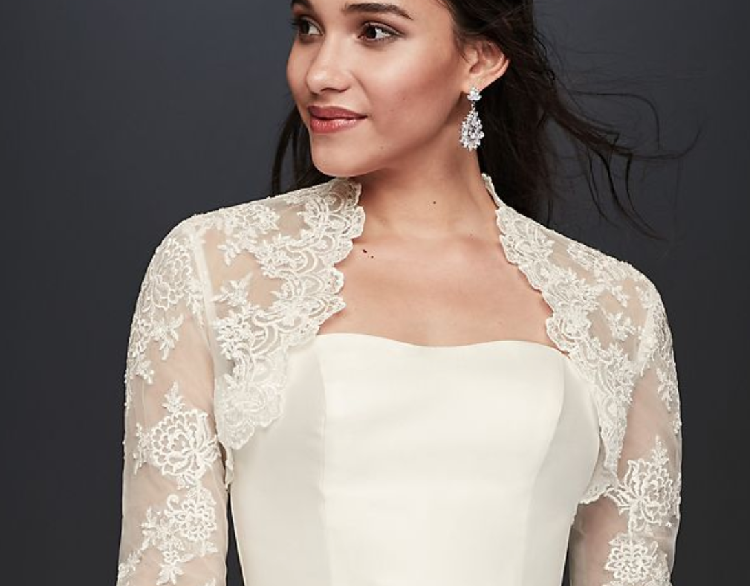 This gorgeous lace shrug can be worn with a strapless dress. Whether you're wearing it for a religious ceremony or the full night, this jacket provides coverage with an elegant, traditional style. Scalloped lace is lightly beaded for an elegant touch. It's available in both white and ivory and is true to size.
Pros
Elegant Lace with Beaded

Lightweight, ¾ Coverage

Traditional but Versatile
Cons
Mixed Ratings

Sizing is Tricky
Frequently Asked Questions
Question: How Much do Wedding Dresses Cost in Mexico?
Answer: Just as is true for the United States, the cost of wedding dresses in Mexico varies quite a bit. The designer, materials, and production methods factor into the cost. The average price of a wedding dress ranges from 15,000 to 20,000 pesos in Mexico. That's roughly $700 to $1,000. Wedding dresses in Mexico are a bit cheaper on average, yet there are budget and luxury wedding dresses in both countries. 
Question: Which Country Has the Most Expensive Weddings?
Answer: Speaking of wedding expenses, the United States often takes the top prize. The average spent on weddings is highest in the United States, followed by Spain, Italy, Canada, the United Kingdom, France, and Portugal. Mexico spends just a bit less on average than Portugal. However, these are simply averages and imperfect depictions of wedding spending. 
Question: Are weddings cheaper in Mexico?
Answer: Destination weddings are not usually the best way to save money, because you have to factor in accommodations, travel, and more. At the same time, you're likely to invite fewer people to destination weddings, and Mexico is known to be more affordable in some locations.
Still, resort and tourist areas may not save you much. If you're getting married on a beach, check out a review of 7 Dreamy Beach Wedding Dresses. 
Question: Can I Get Legally Married in Mexico?
Answer: Mexico doesn't recognize religious ceremonies, as only civil marriages are legally binding. Many have both. To understand the complications of getting legally married in Mexico, your best resource is the U.S. Embassy in Mexico's Statement on Marriage. 
Question: Do Mexicans Have Bridal Showers?
Answer: Bridal showers are thrown by the godmother and are similar in Mexico as they are in the United States in some ways. Gifts are given by bridesmaids. There are also pre-wedding parties like bachelor and bachelorette parties. 
Final Thoughts
There is no one best Mexican wedding dress, and your ideas and budget are the only limits. Some designers will even custom-make dresses (though this can be expensive).
I recommend making a Pinterest board of styles going into a bridal appointment. If you are having trouble finding a style, sometimes you can opt for a simple wedding dress and order custom alterations. For instance, a plain white dress could be given an embroidered sash. Accessories, such as veils, headpieces, traditional jewelry, and shrugs can be used to complete your look.
Looking for more interesting readings? Check out: