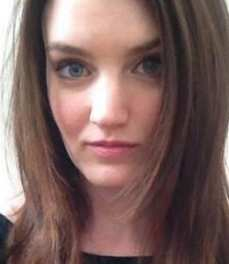 Latest posts by Crystal Schwanke
(see all)
The best royal blue wedding dress ideas will inspire you to embrace your own bold or quirky side and feel free to explore unconventional wedding gown options.
The dresses below made the "best" list because of their ability to flatter various body types. I also chose dresses that seemed reasonably priced.
Since royal blue wedding dresses aren't the norm, you'll probably find that you're limited to just a handful of places to shop (JJ's House and Etsy are the two spots with the most choices as of this writing). Don't forget to check department stores' dress selections or dresses marketed for bridesmaids or prom-goers.
The best royal blue wedding dresses will make your skin tone glow, show off your best features, and make you feel beautiful and like you're entirely being yourself by choosing a color that isn't the norm.
The Bottom Line Up Front
I found the royal blue wedding dresses that are most likely to make you feel like royalty on your wedding day, whether you're going for a traditional style or not. It came down to the type of fabric, the affordability, and special details that would make them exceptionally interesting to photograph (like the Anastasiia Zeybek design with the double train). I also chose dresses across a range of styles to address every bride's taste.
I especially love the royal blue dresses that have the exquisite romantic, classic styles most traditional white wedding dresses do. My favorite option on the list is the JJ's House Trumpet/Mermaid style because it blends romance, nostalgia, and classic style in one stunning silhouette, plus it would be a delight to accessorize.
The 9 Best Royal Blue Wedding Dress Ideas for Your Big Day
Here are some of the most stunning royal blue dresses to wear on your wedding day: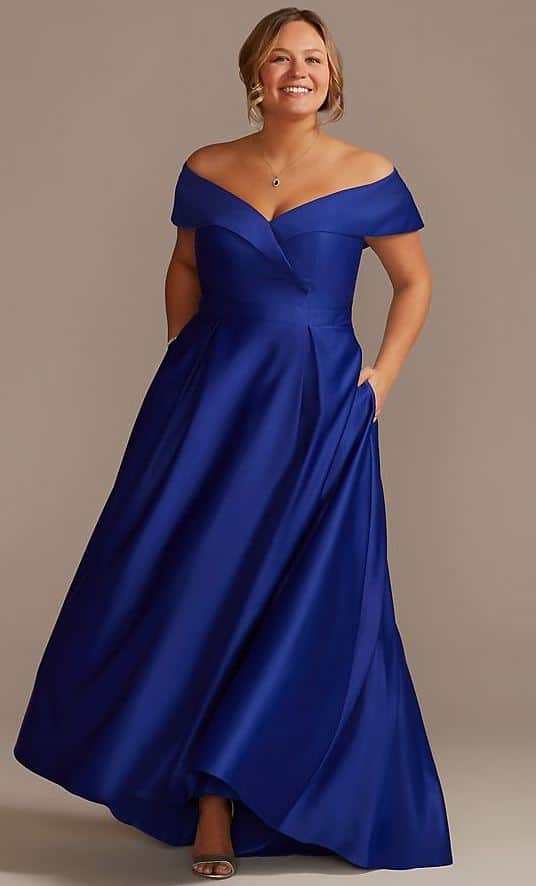 This Oleg Cassini design at David's Bridal is elegant and casual at the same time. The off-the-shoulder style is a delicate and feminine choice that'll allow you to show off a beautiful necklace.
Pros
It has a simple design that will flatter various body types.

You may be able to hang this one in your closet to wear to another formal event later.

It's relatively inexpensive at just over $200.00.
Cons
It's only available in sizes 14 to 24.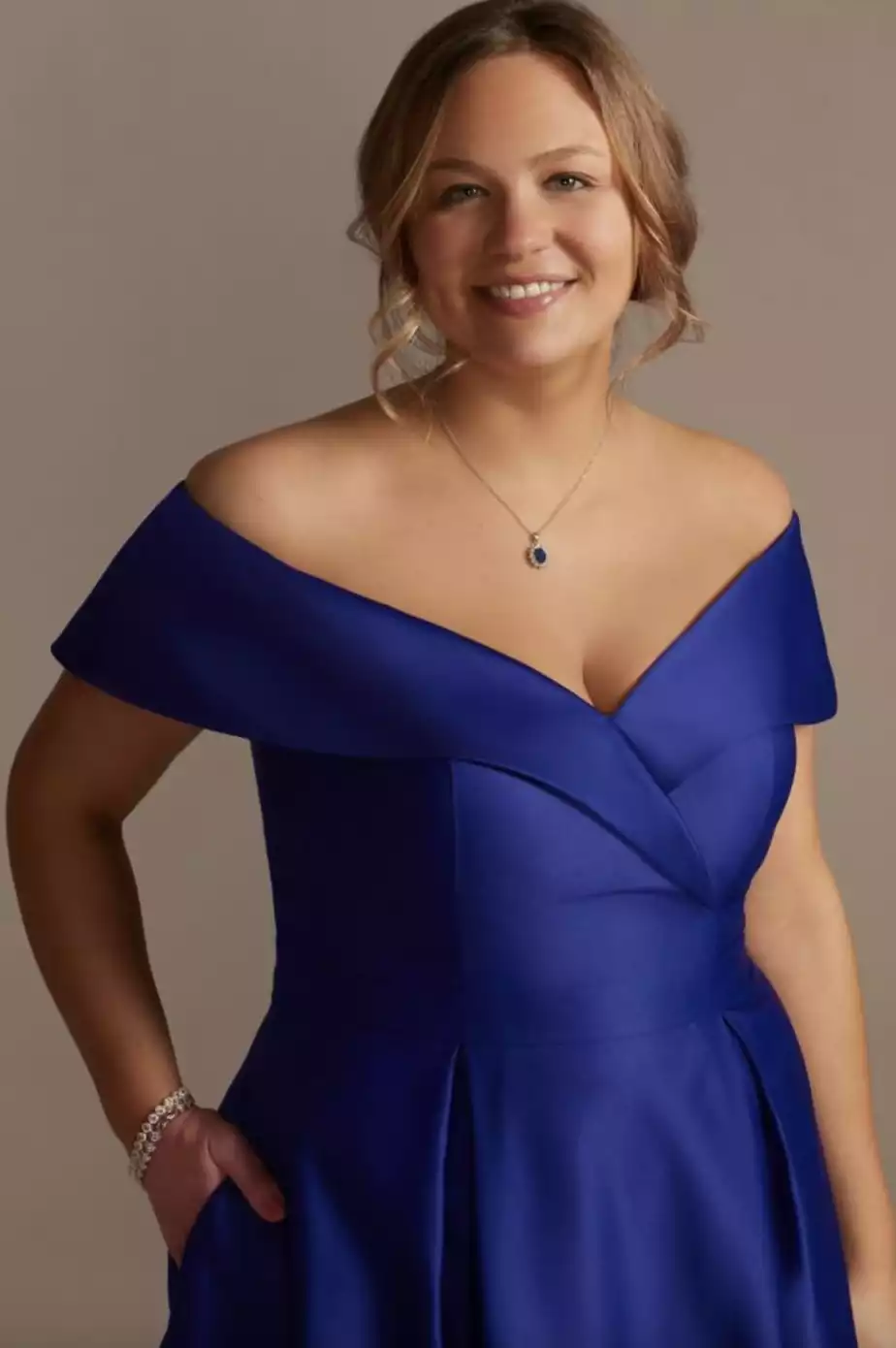 Azazie Lydia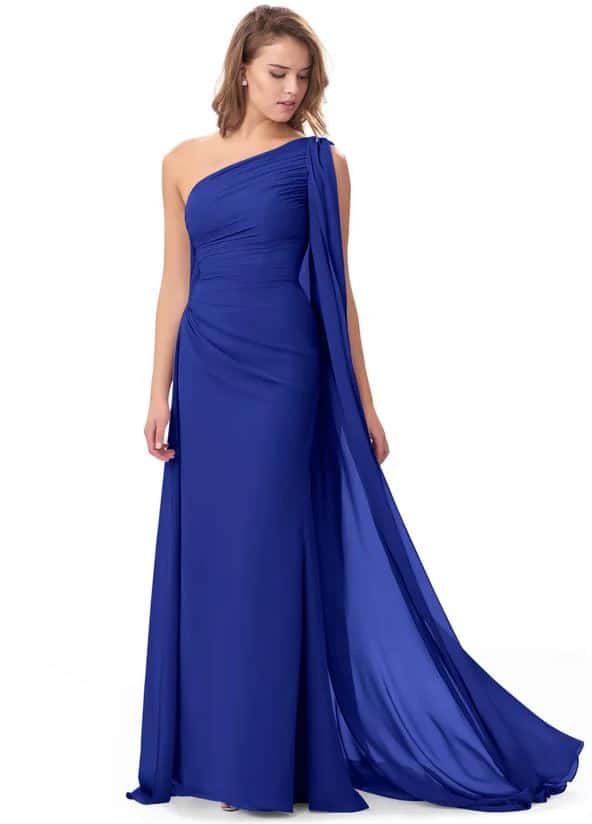 The Azazie Lydia exudes sophistication with its one-shoulder style, chapel train, and chiffon.
Pros
The sizes run from 0 to 30 (free custom sizing is available).

You could use this one for other formal events later (though the train may prevent it).

The mermaid silhouette and ruching show off your curves.
Cons
If you're looking for a dress you can wear again, this one might not be as good of a choice as other options on this list.
Maya Antonia Design Custom Royal Blue Tie-On Waist Chiffon Maxi Dress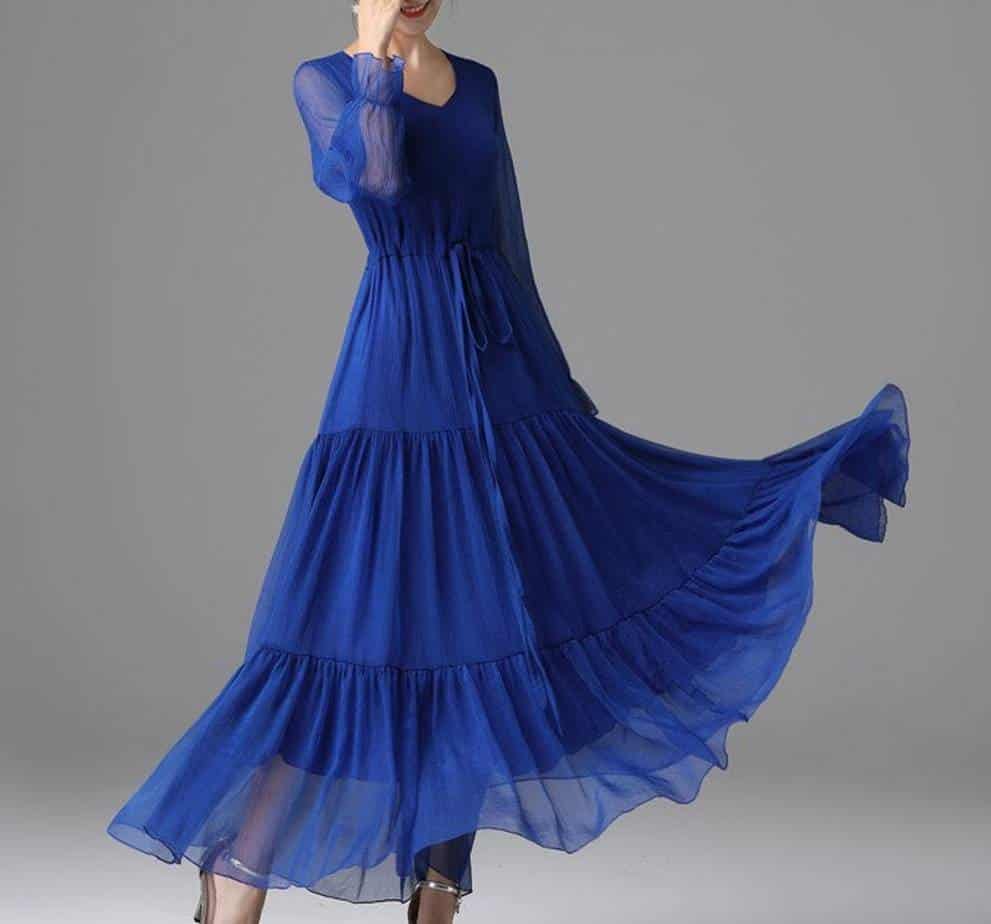 This Maya Antonia Design option on Etsy is perfect if you're looking for a dress you can wear over and over again that'll tie in with a romantic, nostalgic, or boho theme.
Pros
It's inexpensive at under $100.00.

It's custom-made, but returns are accepted (with a $20.00 fee).

Shipping doesn't take as long as it might on other wedding dress orders–it's surprisingly fast.

You can wear it in all kinds of settings. It's dressy enough for a casual wedding and casual enough for a date night or other special occasion.
Cons
It may be too casual for some brides.

If it doesn't fit and you need to return it, you're out $20.00 because it was custom made.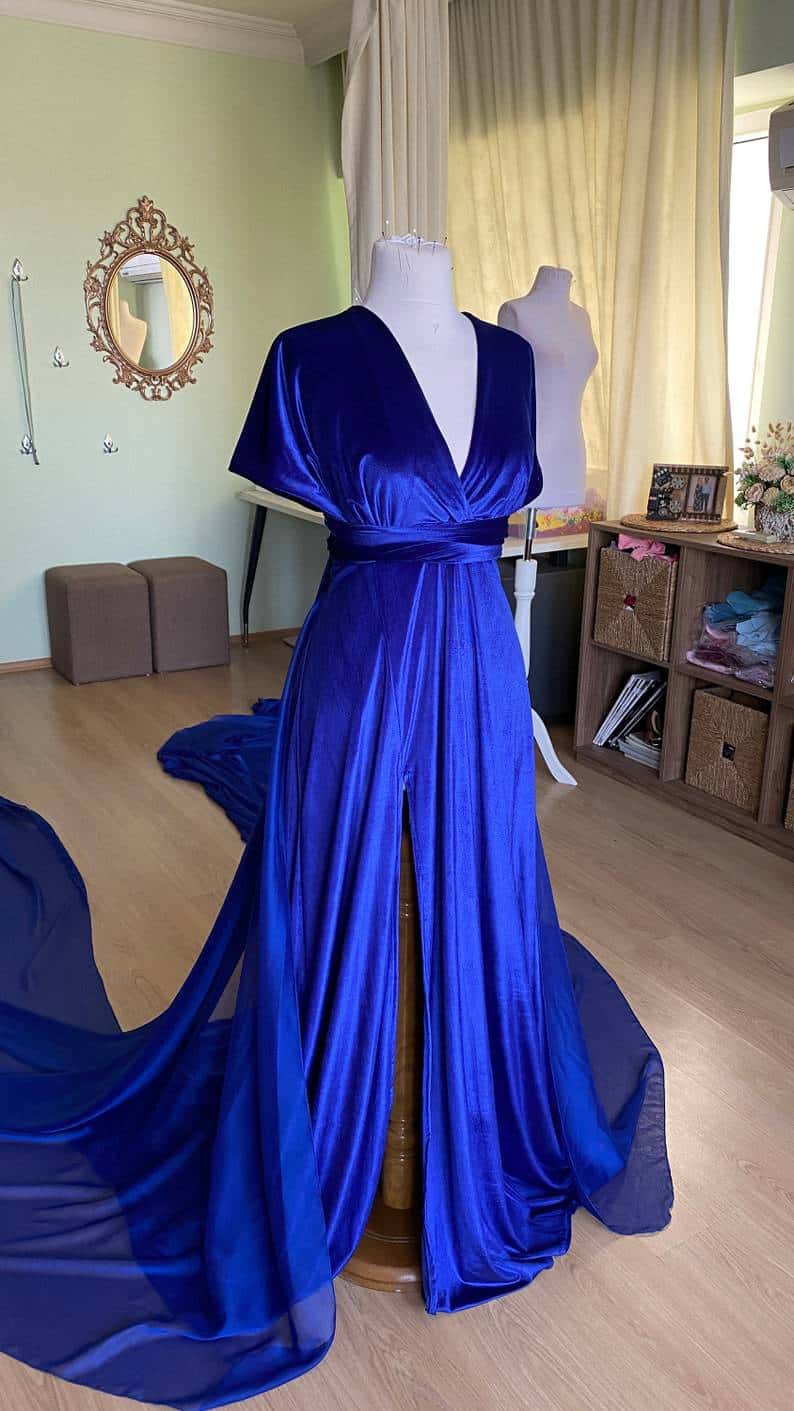 Here's another Etsy pick, and it's absolutely perfect for the bride who wants stunning photos full of color on her wedding day. The double train is attention-grabbing and could provide some interesting photo opportunities by trailing toward the camera, trailing down a set of stairs, or sprawling out on the ground behind the bride.
Pros
Shipping is reasonably fast.

It'll provide opportunities for especially creative wedding photos.

It costs less than $200.00.
Cons
Unless you do another photoshoot, you probably won't get much use out of this dress after the wedding.

Velvet may not be for everyone.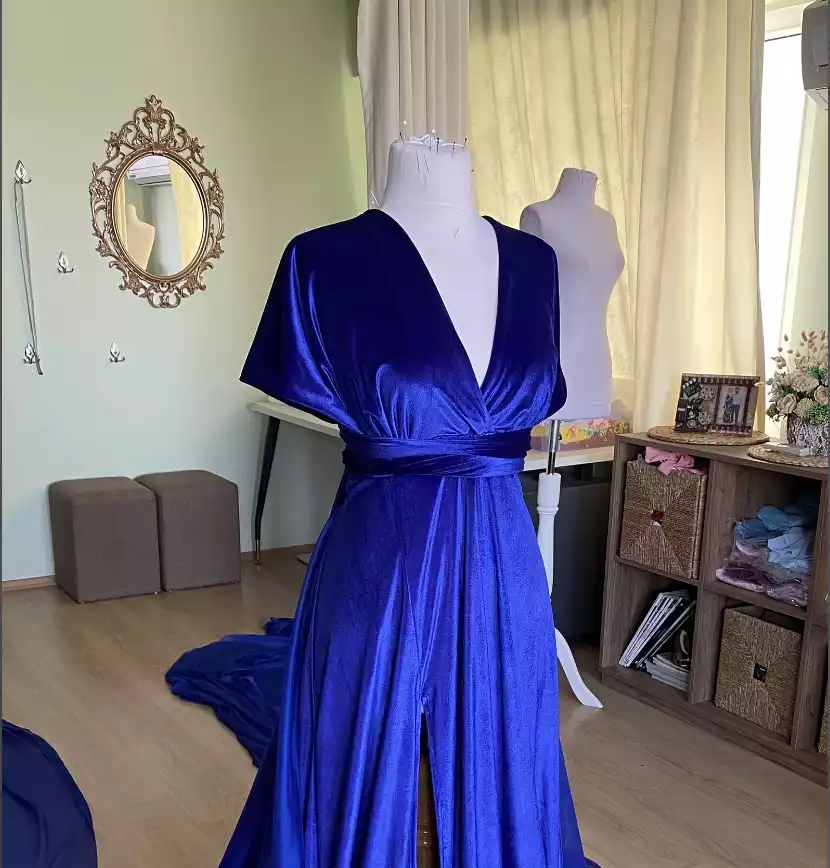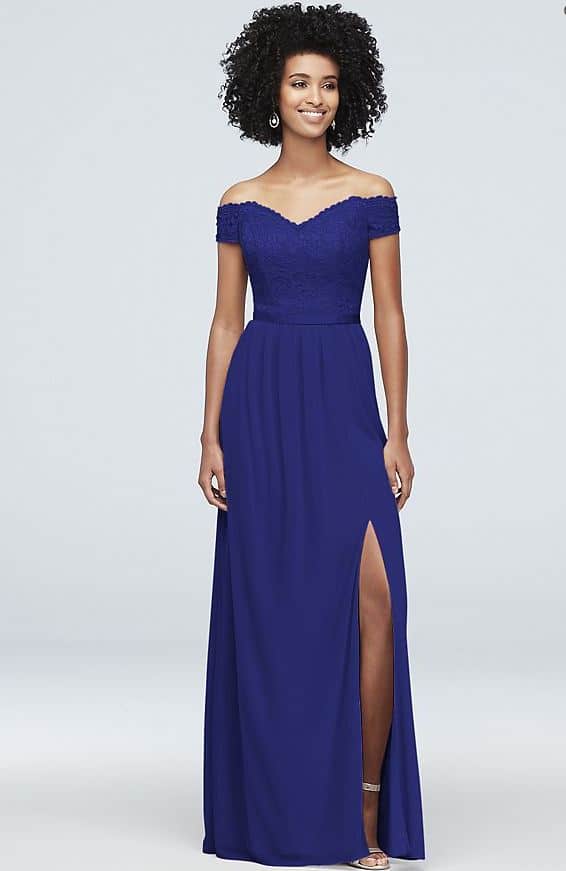 This option is one of the deeper shades of blue on this list, which could be just the thing for a fall or winter wedding. It has an elegant, simple silhouette with a delicate off-the-shoulder neckline and a front slit.
Pros
Sizing runs from 0 to 30.

It's under $200.00.

If there's a David's Bridal near you, you can go in and try it on before making the commitment of

ordering online

.

You could wear it to another formal event later.
Cons
Availability may be limited (if they don't have your size online, check with the closest store before you give up).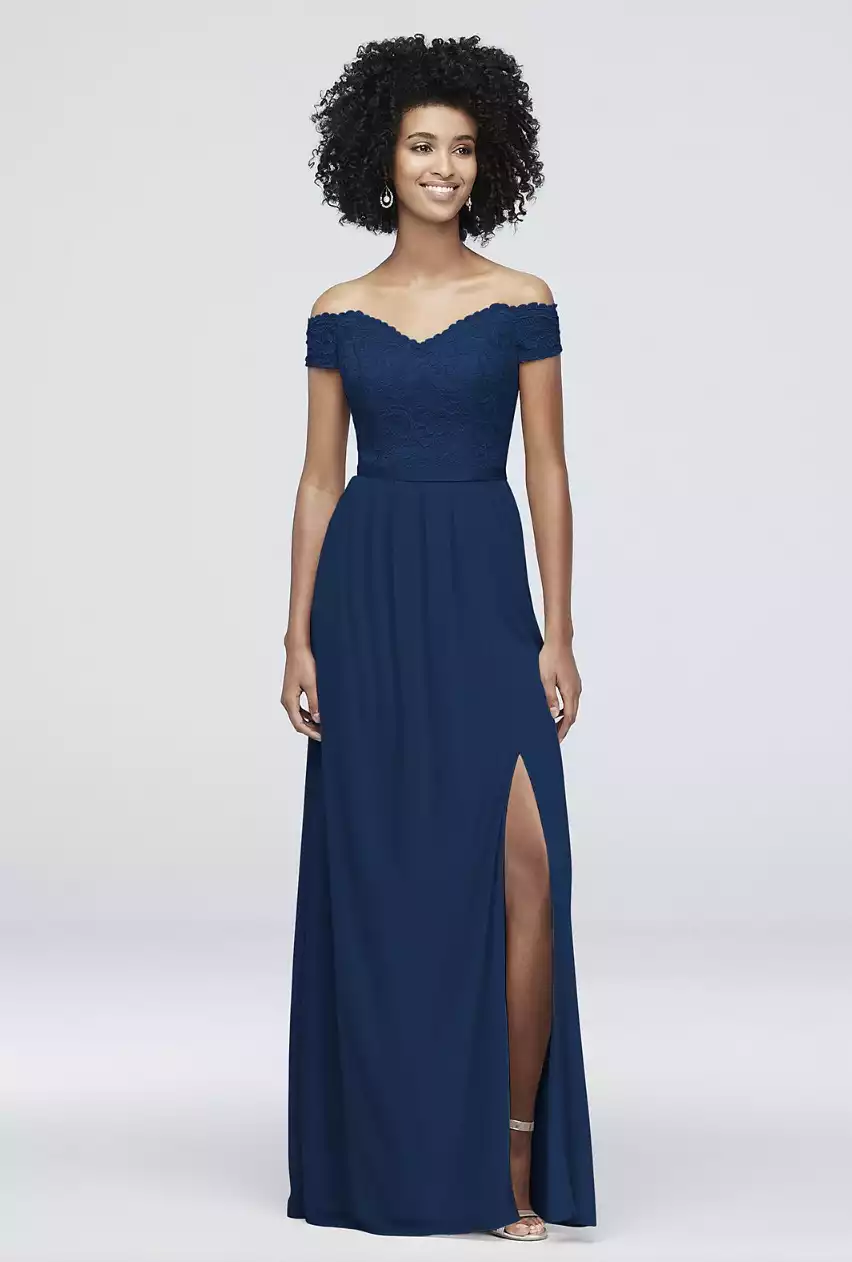 JJ's House A-Line V-Neck Floor-Length Chiffon Bridesmaid Dress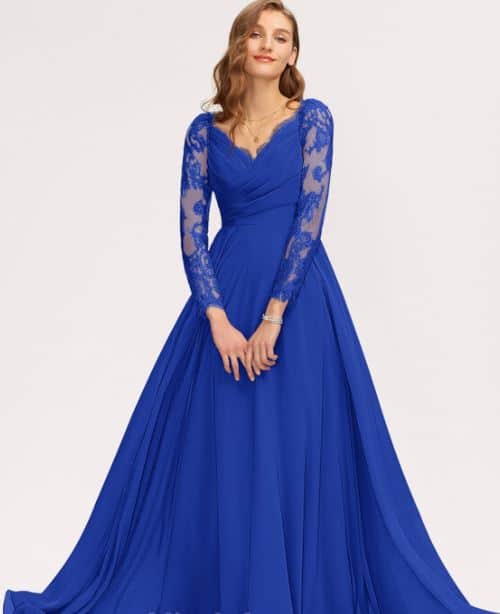 This option from JJ's House says it's a bridesmaid's dress, but it has the style of a traditional (though slightly toned down, and obviously a different color) wedding gown that looks like it belongs on a cake topper. The long sleeves make it a good choice for fall and winter weddings.
Pros
It has a traditional shape, but it's royal blue instead of white, so it could be a suitable compromise gown for a bride who wants to keep one foot in "traditional" territory but really wants to wear a royal blue wedding dress.

Sizing ranges from 0 to 26 (sizes 16 and above are $8.00 more than other sizes).

Relatively inexpensive, especially for a dress with a traditional feel, at $123.00 ($131.00 for sizes 16 and above).

The A-line shape is almost universally flattering.

Ruching on the bodice can make the most of your curves.
Cons
It could take a while to make it to you since tailoring time is up to 11 days and shipping time is up to six days, but it's still far shorter than what you might find at a traditional bridal shop.
JJ's House Trumpet/Mermaid Off-the-Shoulder Court Train Chiffon Lace Bridesmaid Dress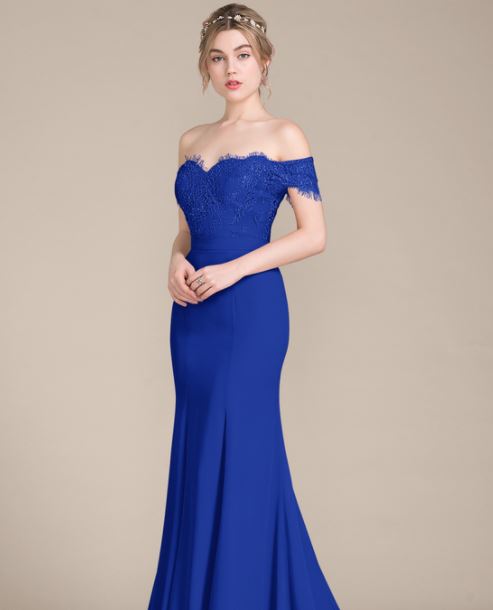 This option from JJ's House is the epitome of romance and elegance, and I can't imagine a bride in this would feel like anything less than a queen. This shade of blue adds to the royal vibe.
Pros
The

mermaid

/

trumpet style

and off-the-shoulder neckline will show off your curves and gorgeous décolletage.

The court train is long enough to scream "bride" without being over the top, making this dress work in various venue types.

There's lots of chiffon and lace, but not a lot of beading or crystals, so the dress won't feel stiff or heavy when it's on.

It costs less than $150.00.
Cons
This style is less universally flattering than an A-line skirt, so it could be more challenging to be sure it'll look good when you order online. If you already know you love mermaid silhouettes, that takes the guesswork out.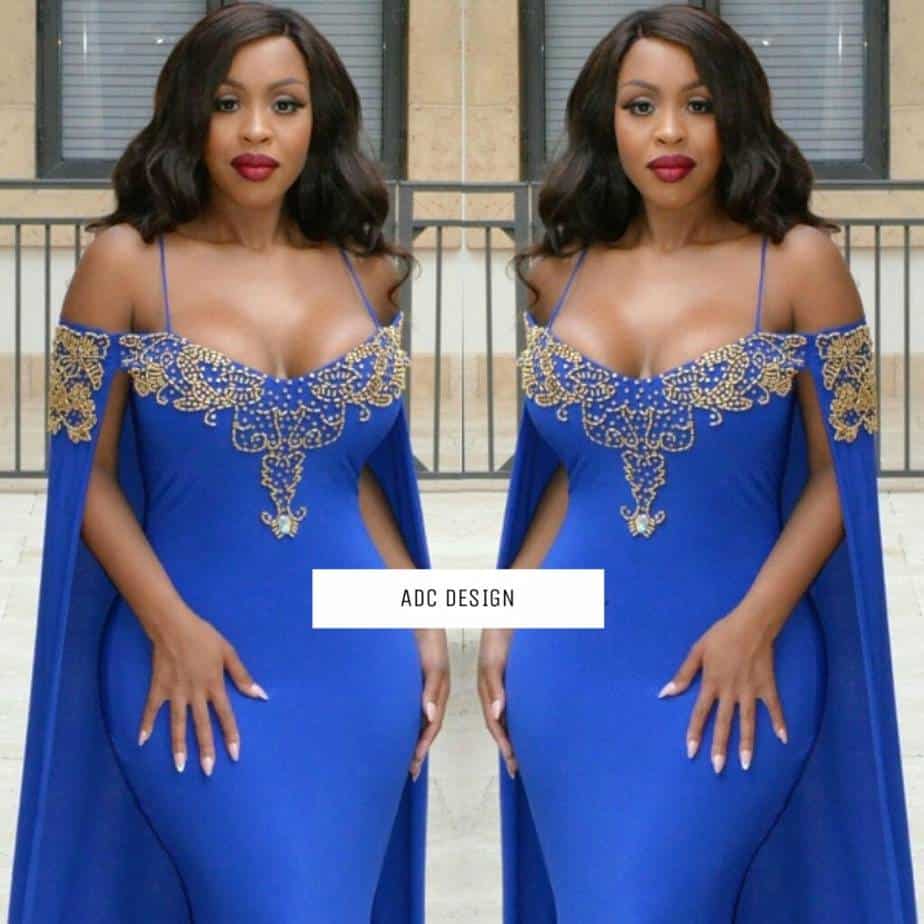 This Etsy option from Americandresscode will make you feel like royalty and incredibly sexy at the same time. They're custom-made and stretchy, so you're able to get the perfect fit that shows off your curves just the way you want. Beading can be done in gold or silver.
Pros
This is an incredibly sexy design with a cape that provides an air of royalty and a little extra warmth.

Sizes range from XXS to 4X and heights from 4'11 to 6′.

The product description provides quite a bit of advice about choosing the right size.

The cape is an exciting alternative to the traditional train.
Cons
It's stretchy and fitted, so this won't be the most comfortable option for all brides.
Zalva Sexy Cape | Etsy
Exclusive Turkish beads and Dubai Swarovski ( Premium hand-beaded ), it will stretch and follow your body shape.
Check Price
We earn a commission if you click this link and make a purchase at no additional cost to you.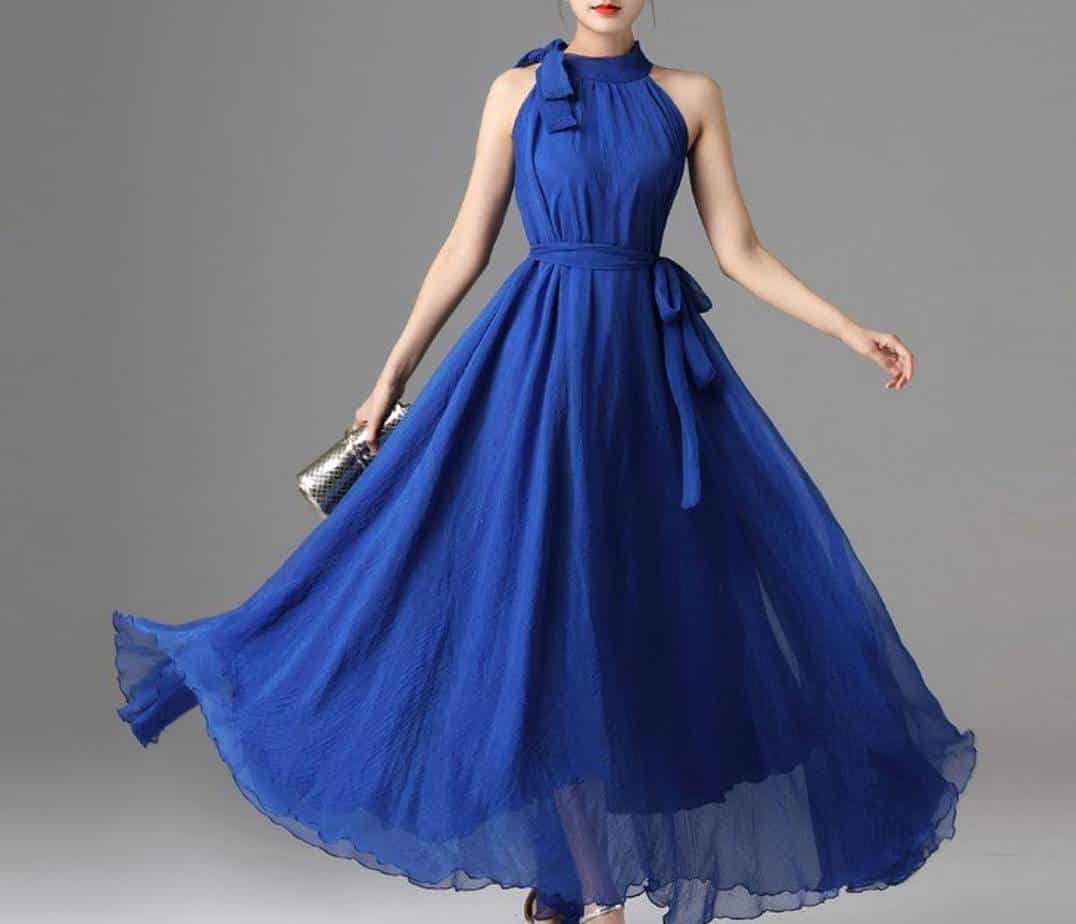 This Maya Antonia Design sold on Etsy is one of those dresses that will look beautiful in a casual setting and can be worn again and again. If you hate the idea of buying an expensive dress you'll only wear once, take a look at this one.
Pros
It's under $100.00.

You won't need to find a necklace to wear with it because the tie-on halter style looks best without one.

The tie-on waist cinches the dress in just the right spot to show off your figure.

The light and airy skirt will make you feel like a princess and provide gorgeous photo opportunities.

It fits women's XS to 3XL.

You can wear it without the belt, too.
Cons
Because it's so easy to wear anywhere, anytime, it may not be dressy enough for some brides–even those who want a fairly casual wedding day.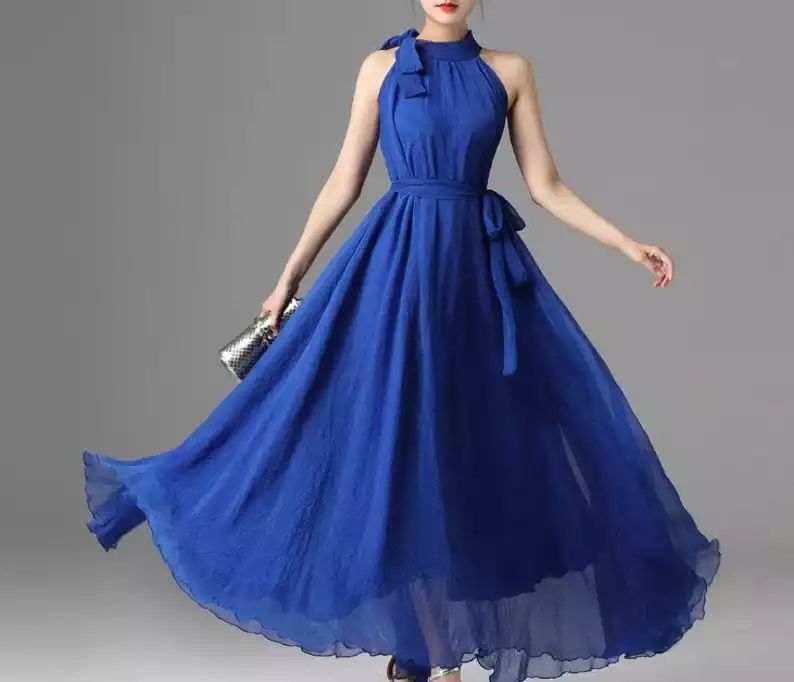 Why Wear Blue?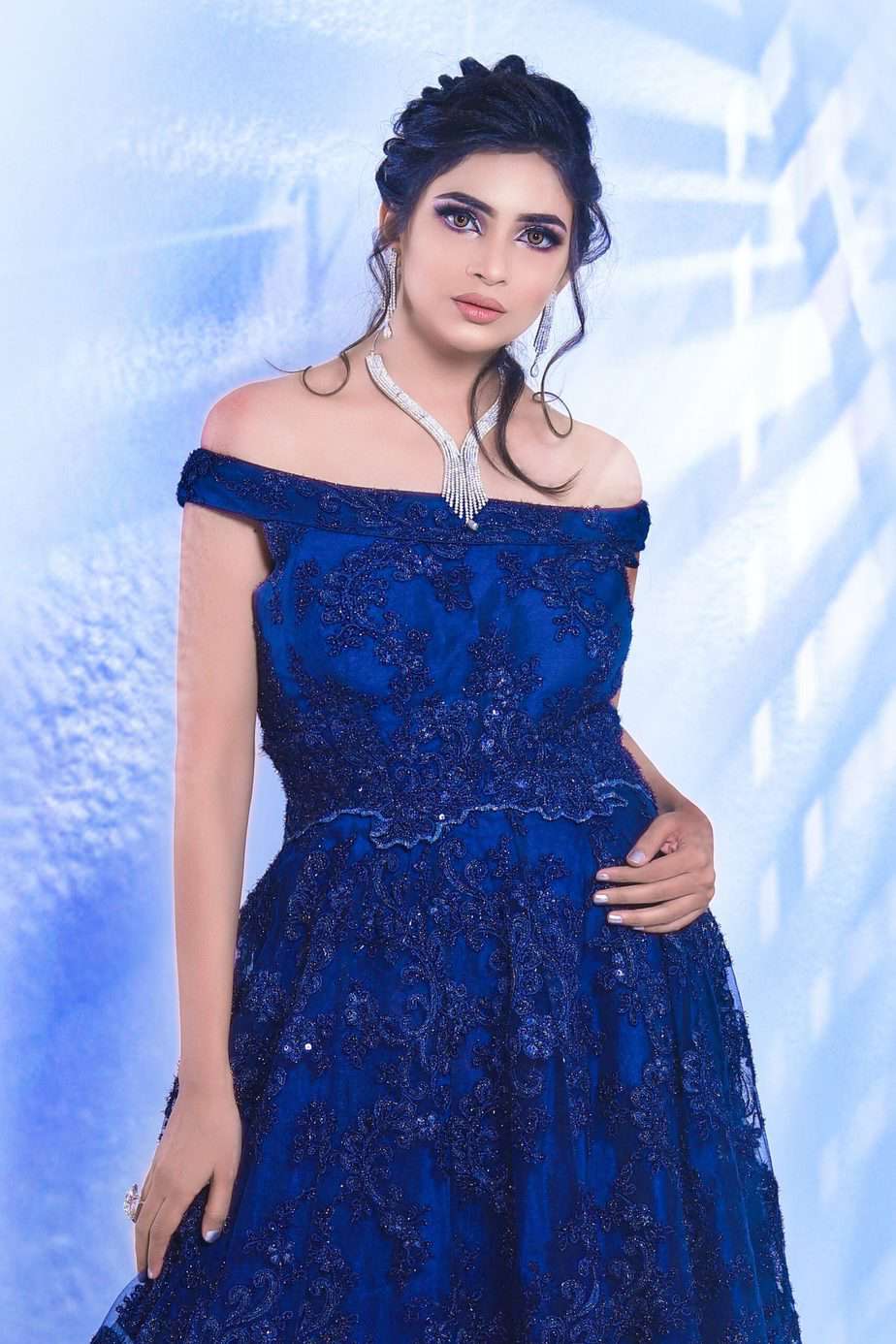 There are plenty of reasons you may want to wear a blue dress on your wedding day, like:
It perfectly complements the venue.

Royal blue is your best color and the more traditional wedding dress shades could never compete with what blue does for your skin tone and other features.

It's your favorite color and you're not tied to tradition.

It'll look way too beautiful with the other colors you've chosen for your wedding for you

not

to go with a royal blue dress.

You want your dress to be your "something blue."

You don't want a traditional wedding dress style, so your options are wide open.

You can save money when you veer off the conventional wedding gown path.
Why You May Want to Leave Royal Blue to the Bridesmaids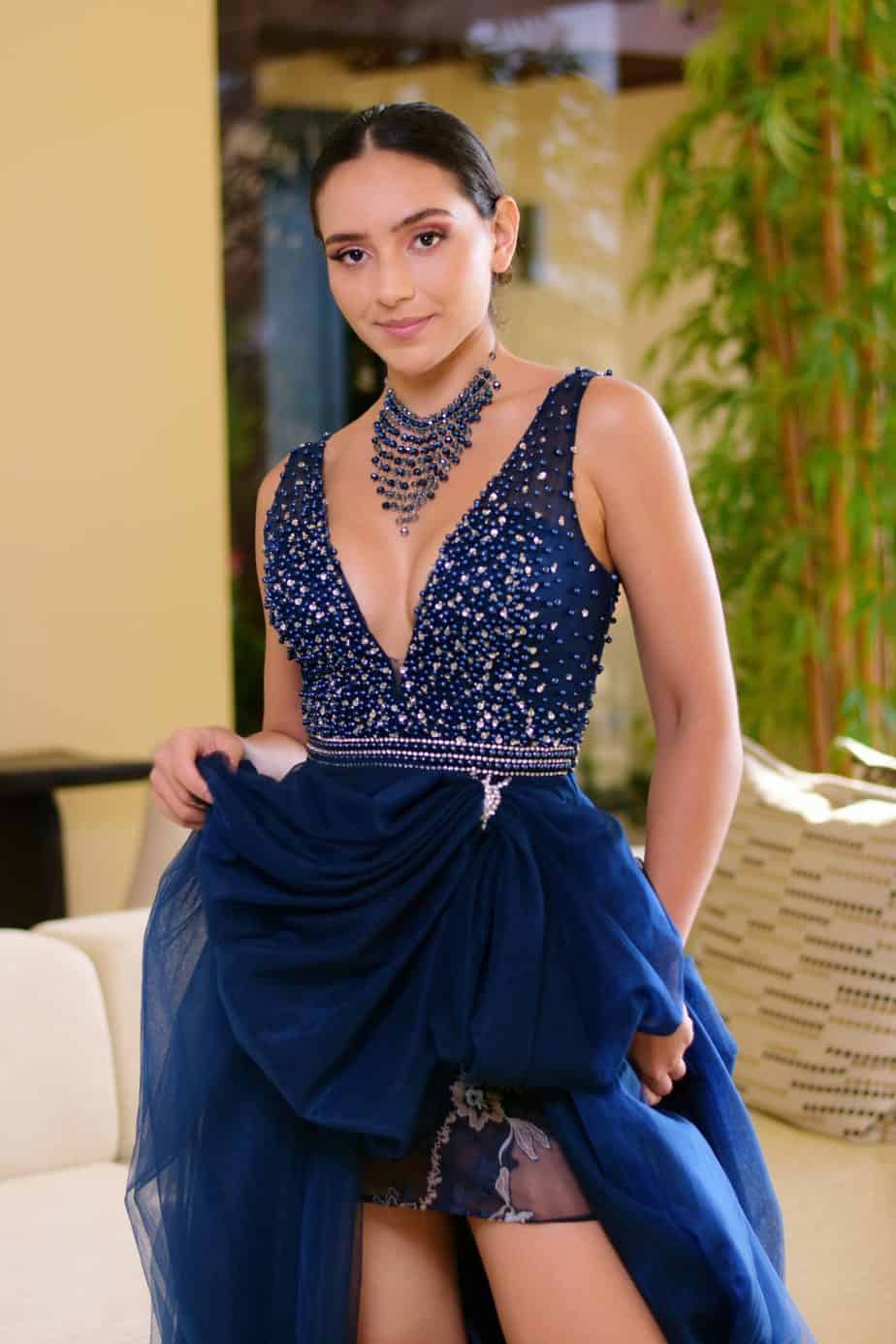 I will always encourage brides to wear whatever they want on their wedding day. But I will also encourage them to think it through before they leave the traditional route in favor of a colorful dress. Why? Because you'll want to display the photos forever and take periodic strolls down memory lane by flipping through them from time to time.
Before you commit to a royal blue dress, ask yourself a few questions:
Am I usually someone who wants to stick with traditions? Why or why not?

Do I ever regret not doing the traditional thing when traditions are pretty ingrained in an event?

When I look back at these photos in 10, 20, 50 years, am I likely to regret choosing blue?

Is there a special significance to why I'm considering a royal blue wedding dress, or am I thinking about it on a whim?

What will my other wedding colors be? What will the groom wear, and how will our attire look side-by-side in photos?

Would I stand out more in group photos with the wedding party if I chose a different color?

Do I want to be able to wear my dress again and again because it's not a traditional wedding gown, or would I prefer to have a "special" dress that never strays outside that point in history?
Again, I'm not trying to discourage anyone from wearing a royal blue dress, but there are some things to consider (when choosing any dress) before taking the leap.
What Goes with Royal Blue for a Wedding?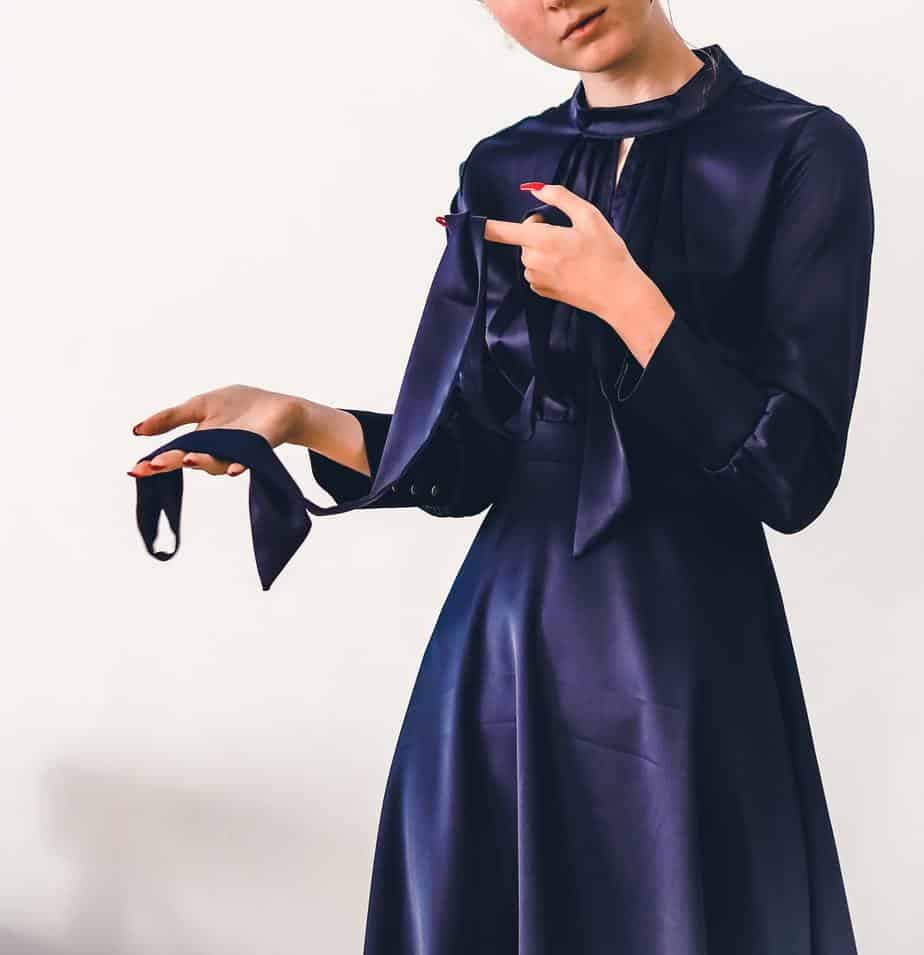 If you've had your heart set on wearing a royal blue wedding dress for a while, you're probably going to build the rest of your color palette around that.
So what goes with royal blue?
White or black could, of course, but let's branch out a bit and get creative:
Yellow

Hot pink

Gray

Goldenrod

Sky blue

Aqua

Navy

Lavender

Orange

Soft coral

Rose

Silver

Gold

Ivory

Royal purple

Cornflower blue
You could even go monochromatic and use shades from icy blue to navy.
Another option would be to let the royal blue act as the deeper anchor color and then accent with bright shades like hot pink and/or yellow in the warmer months.
You could also consider using the royal blue in a rich blend of purples and lighter blues during the cooler months.
FAQs
Question: Are there blue wedding dresses?
Answer: Yes, you can find wedding dresses in any color you'd like, especially if you're willing to consider dresses designed for other occasions. 
Question: Can a bride wear blue?
Answer: Absolutely! A bride can wear any color she wants, and blue represents love and fidelity (plus you can mark off your "something blue" right away!), so it's perfect if you want to wear something other than the traditional white wedding dress. 
Question: What does it mean to wear a blue wedding dress?
Answer: According to Vows Bridal, blue stands for calm, peace, feminity, life, purity, and "can also symbolize stability, security, and lifelong loyalty."
Choosing Your Perfect Royal Blue Wedding Dress
When you're choosing from the best royal blue wedding dress ideas on the market, remember not to limit yourself to any specific type of store. The perfect one could be somewhere outside of a bridal or prom shop.
Choose royal blue if you want to make a statement by wearing a non-traditional wedding dress color. If you like the traditional but don't want to go all-in, there are plenty of royal blue dresses that mimic the shapes of traditional gowns (the ones on the simpler end of the spectrum, at least). Wear what makes you feel amazing.
If I had to choose a single dress to recommend trying first, it would be the JJ's House trumpet/mermaid off-the-shoulder court train chiffon lace bridesmaid dress. I love the way it combines a stunning, elegant silhouette with a bold blue shade and a romantic, nostalgic vibe, all in one place.