Latest posts by Jeanette Kierstead
(see all)
We're now going to cover the last type of wedding silhouette on our list, which is the mermaid bridal dress. This style of dress is for those who want to show off their curves. The mermaid bridal gown is often seen with a sweetheart neckline, and it's tight from the bodice down to the knees before it flares out to reflect that mermaid shape. A woman who is confident in her curves will want to emphasize her shape in this type of style. It's a style that will show off her curves and make her feel sexy and beautiful as she walks down the aisle towards the man who will be her husband.
Dreamdress Women's Mermaid Lace Spaghetti Strap Wedding Dress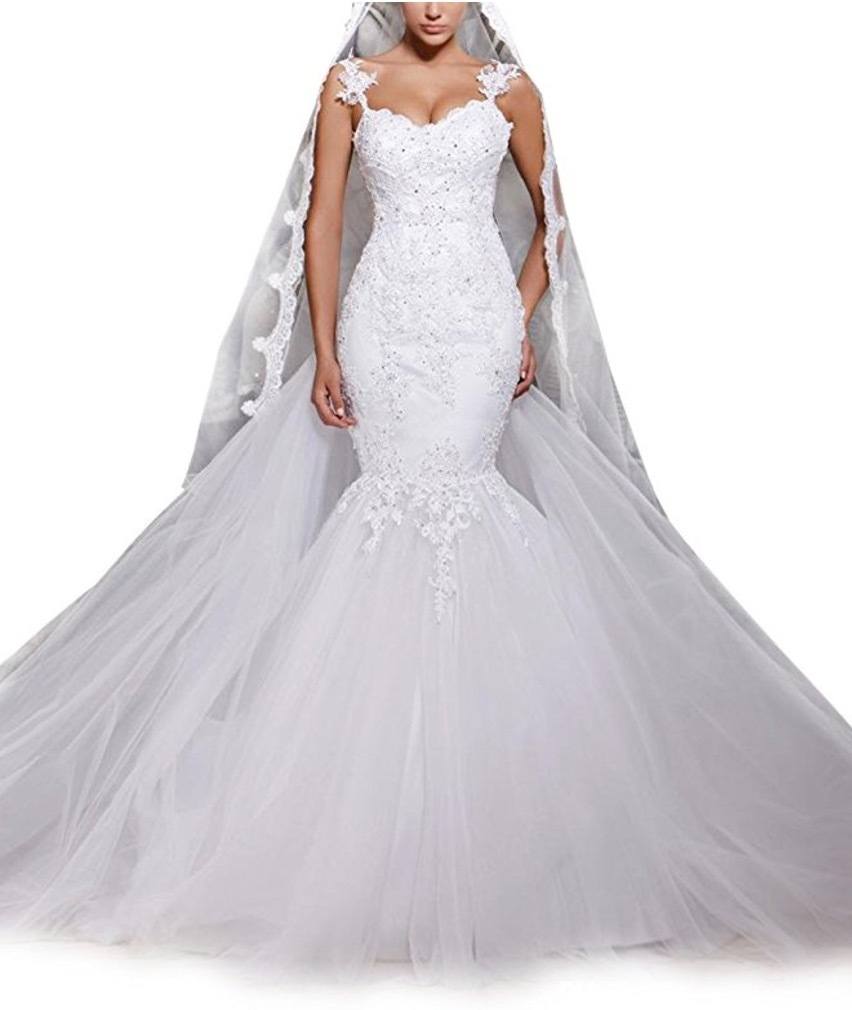 This mermaid gown is traditionally tight from the sweetheart bodice down to the tops of the knees. It's covered with a beautiful lace on the front and as a frame around the illusion back. There's a built-in bra and a complete lining inside this mermaid style bridal gown. The lace top fans out onto the skirt with a sprinkling of lace on the tulle. The shop allows for custom measurements, and that's the best way to order a dress like the mermaid that has to be form-fitting. You could also order a size larger than you need and have it altered to fit perfectly. It's available in sizes 2 through 26 plus, and in traditional white or ivory.
---
Beauty Bridal Sweetheart Mermaid Bridal Wedding Dresses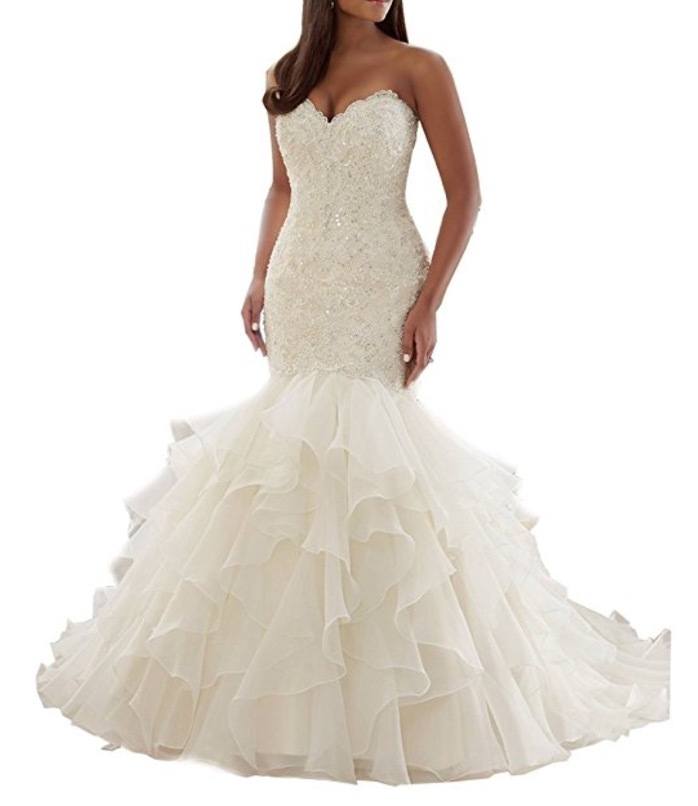 The bodice of the dress down to the knees is covered with lace and beading. The back of the dress has a corset, which will allow you to get a closer fit, so you might not have to have it altered very much. The skirt that flares from the tops of the knees is ruffled organza like a puffy dream. You might need to purchase a separate petticoat specifically for mermaid dresses to get the fullness you want from the ruffles. Most brides ordered a size larger and found that they only had to have it altered slightly. Keep this in mind when ordering. It's available in sizes 2 through 26 and in ivory or white.
---
Solovedress Women's Tulle Lace Mermaid Wedding Dress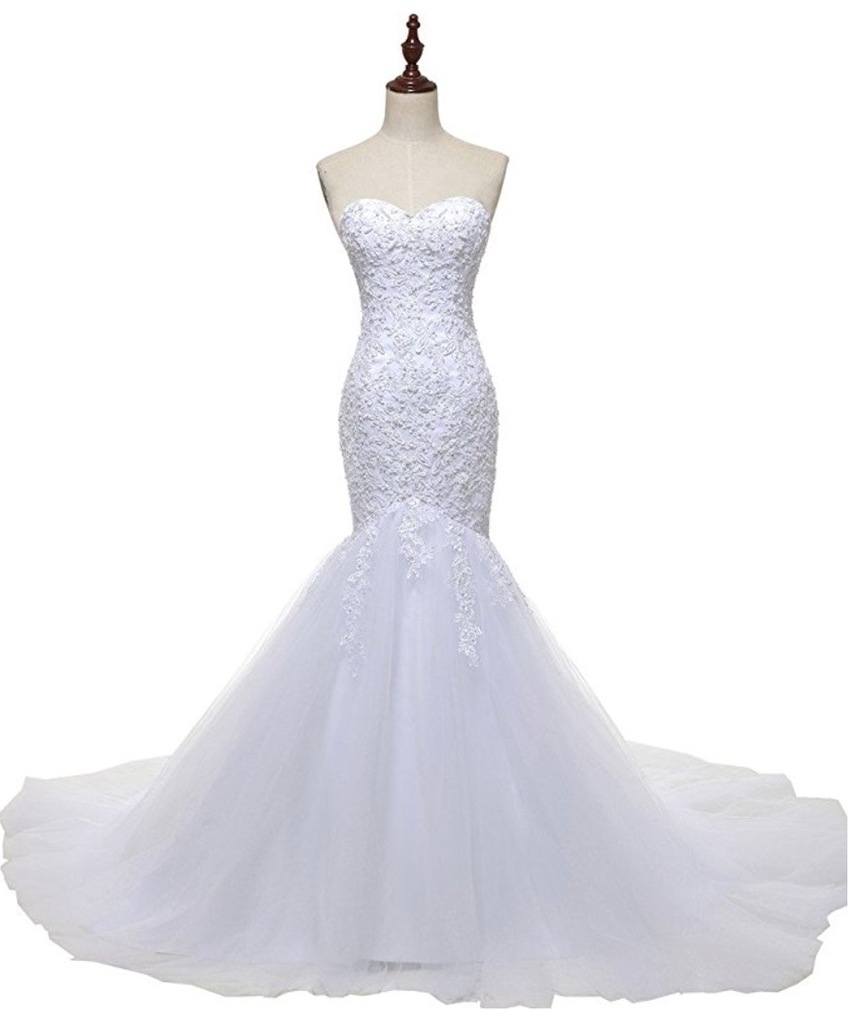 The main fabric in this mermaid dress is tulle. The appliques and beading cover the bodice of the dress and continue towards the knees and sprinkle beyond where the dress flares. There are two styles available with this designer. One of the styles has a ruffle of tulle at the sweetheart neckline while the other does not. The train trails behind the dress by a few feet, which creates drama for your wedding, but make sure you are ready to have it altered if you are petite. You can provide the shop with custom measurements or order a size larger and have it altered. It's available in size 2 through 22. It comes in ivory and white.
---
Fair Lady Women's Cap Sleeves Backless Mermaid Wedding Dress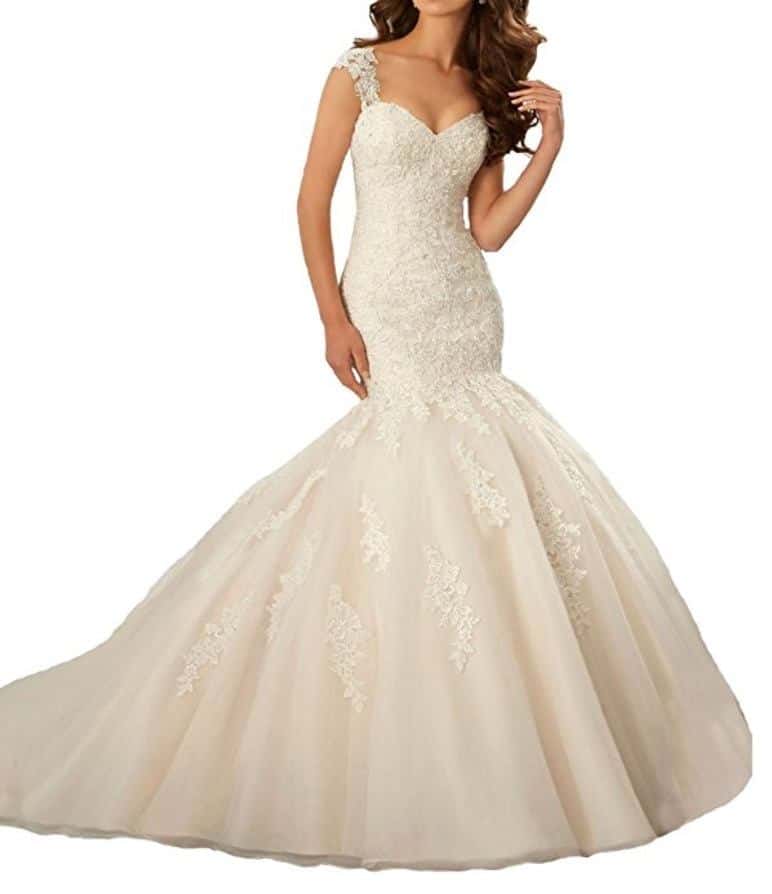 This mermaid dress has a lace applique on top of the tulle. The straps of lace and the corseted back give you a great way to fit the dress exactly to your measurements. The sweetheart bodice has a built-in bra, so when you are taking your measurements around the bust, make sure you're not wearing a padded bra. The shop has their own sizing guide, so you can place your order. It's best to order a size larger for the purpose of altering your dress for a perfect fit. The dress is available in sizes 2 through 26 and in white or ivory.
---
Now and Forever Layered Mermaid Wedding Dress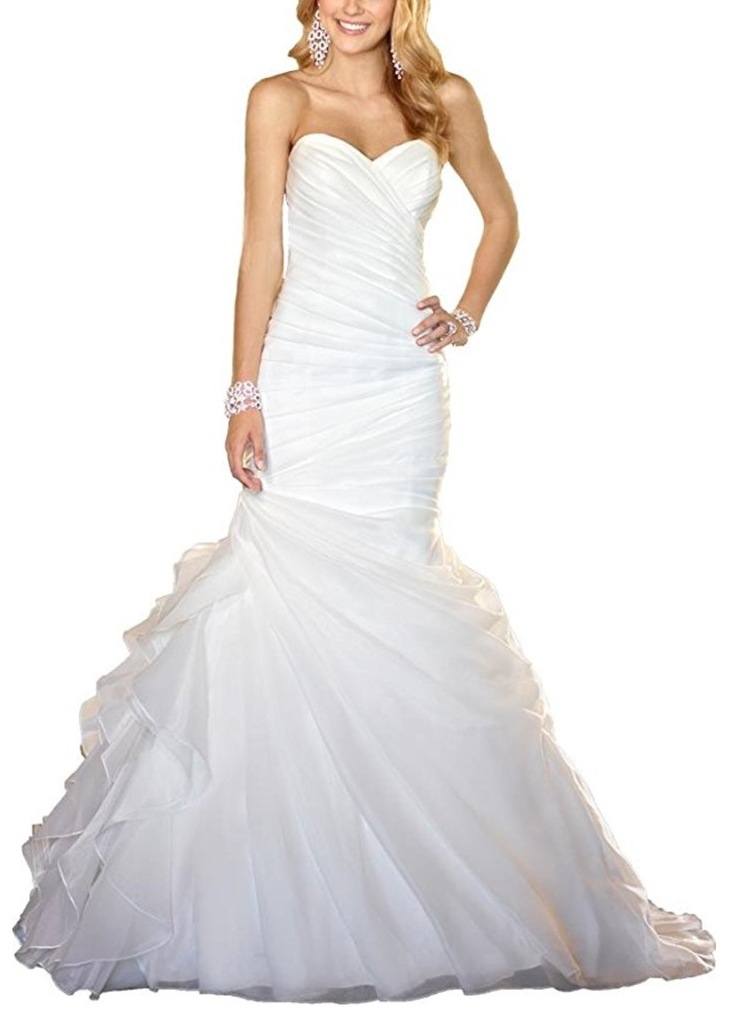 With a lace-up corset, you're going to get a form-fitting dress that will really accentuate your curves. The ruched sweetheart neckline leaves plenty of space for a dramatic bridal necklace. The bodice has boning, which will help keep the shape and stop the dress from falling during your perfect day. The skirt that flares from the ruching is a beautiful ruffled dream of crinoline and tulle. This dress doesn't have a built-in bra even though it has boning. You shouldn't rely on that to keep your bust lifted. You can order a beautiful beaded belt to go with the dress, too. It's available in sizes 2 through 26, and you should order a size larger to have it altered or provide your exact measurements for an additional price.
---
These mermaid dresses are perfect for the bride who wants a form-fitting dress that will flatter her curves, and make her new husband lose his breath as she walks down the aisle. Every bride wants the entire room to watch her and think her beautiful, but the look in her groom's eyes is the most important. She wants to look breathtaking to him alone.
Recommended Reads: