Latest posts by Jeanette Kierstead
(see all)
Empire gowns are nearly perfect for a beach or outdoor wedding. In fact, we recommend that if you're planning a destination wedding in the mountains, woods, lovely meadow, or on the beach, you choose an empire gown. The style is usually cinched under the breasts and leaves the body in loose flowing layers. A light breeze makes the dress move like an ethereal dream. If it's romance you're after, empire is the style you should choose.
Lovelybride Elegant Empire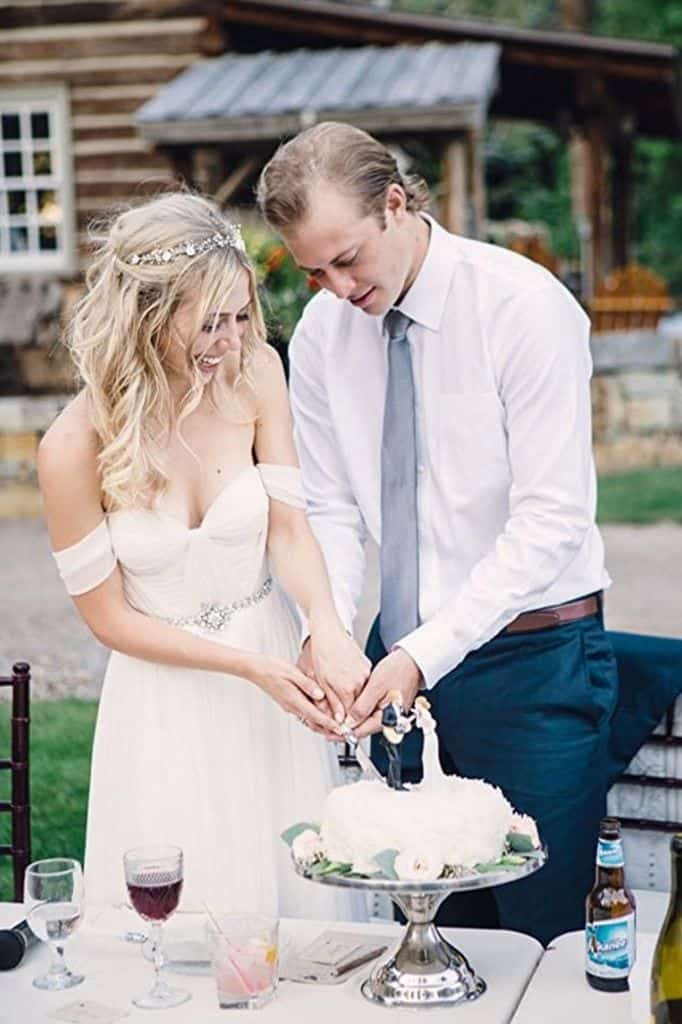 This delightful empire wedding dress is reminiscent of a Grecian goddess. It's created with light, soft chiffon and falls from a lightly ruched bodice. The off-the-shoulder sleeves leave the shoulders and part of the chest bare. It's sexy while still being sweet and romantic. You can choose to wear this dress with or without a traditional veil. If you're wearing this outdoors in a meadow or a rustic venue, it would look beautiful with a tiara of roses and ribbons. The dress has no train, so you don't have to worry about it trailing behind you or getting dirty on the ground, either.
---
Artwedding Remedios Sleeveless V-Neck Empire Wedding Gown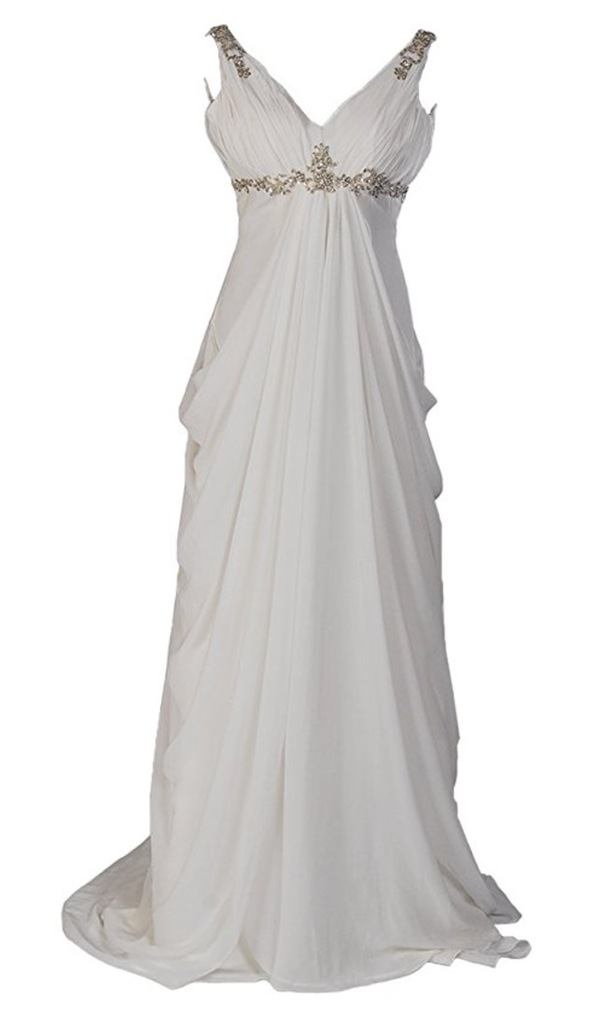 Chiffon is a wonderfully light, ethereal material that flows and moves like a dream. It's perfect for an empire dress, and it'll make you feel like a goddess. This particular empire bridal gown it ruched slightly at the bodice and gathered in straps on the shoulders covered in rhinestones. Those same rhinestones are used to accentuate under the bodice and between the breasts. It's elegant while being sexy. The rhinestone detail sprinkles across the open-backed dress, too. The zippered back means you can get a form-fitting shape. This dress has a sweeping train that might make it more limited in terms of outdoor venues. Keep that in mind when ordering. It's available in traditional colors and sizes 4 through 26 plus. The designer has their own size chart to be used when ordering your dress.
---
Favors Dress Women's Sweetheart Beach Empire Bridal Gown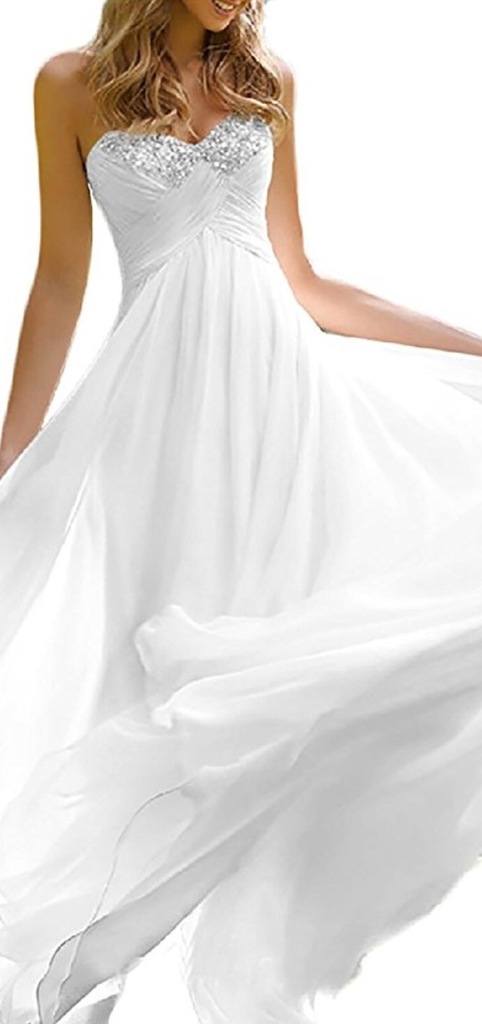 The entire bodice of this empire wedding gown is covered with stunning beading detail. They come in two different design styles when ordering, so be sure you're ordering the color and beading detail that you like best. This strapless bridal gown has a sweetheart neckline and a corset back, which allows you to tighten the dress as much or as little as you need. For a custom fit in the bodice, there's nothing like a corseted top. It flows beautifully from the fitted bodice with layers of gossamer fabric, and the train won't become a tangled mess. You'll be able to walk or dance around your reception in this beautiful stunner. The dress is available in traditional sizes of 2 through 26, or you can provide your measurements for a customized fit for your wedding gown.
---
George Bride Ruched Sweetheart Beach Wedding Dress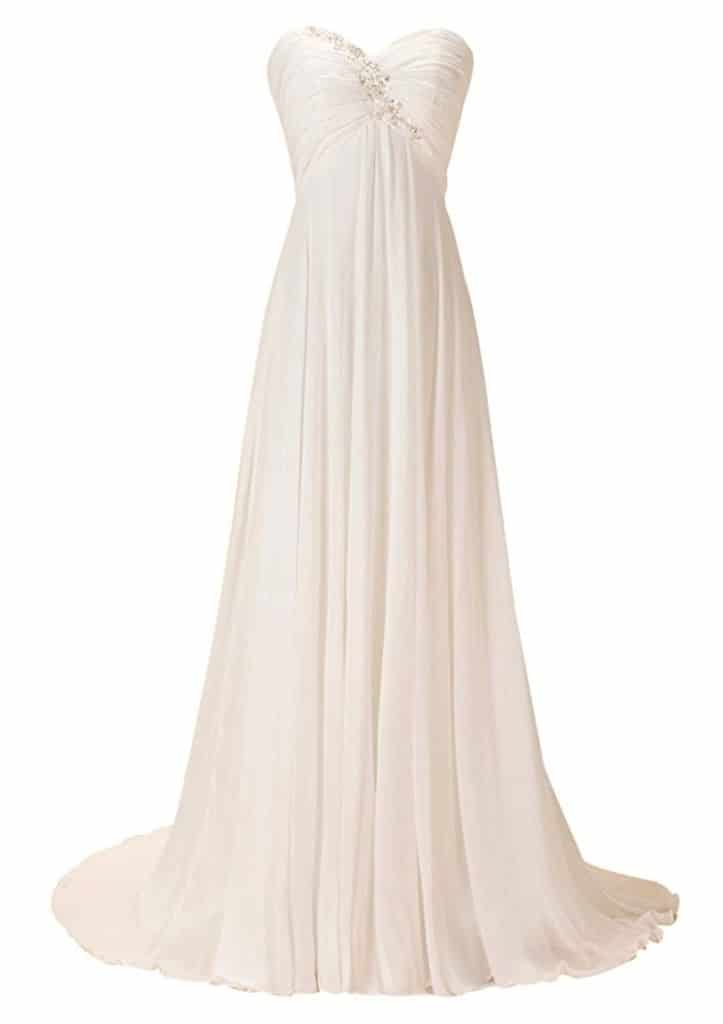 For a sprinkling of bling around the bodice, this dress is a stunning example of less being more. The dress is made of beautiful chiffon and satin with a sweeping train. The ruched top has a sweetheart neckline without straps. To keep the dress from slipping or losing its shape, the dress has light, invisible boning in the bodice. The back of the dress is zippered but there are covered buttons for a great little detail. When it comes to fit, many brides report that it ran a bit large in the bust. This is an easy fix, though. You should always order a bit big and have the dress altered to fit. It's better to have too much material than not enough. It's available in sizes 2 through 18 and in traditional white or ivory.
---
ESY Heartgown Spaghetti Chiffon Empire Wedding Dress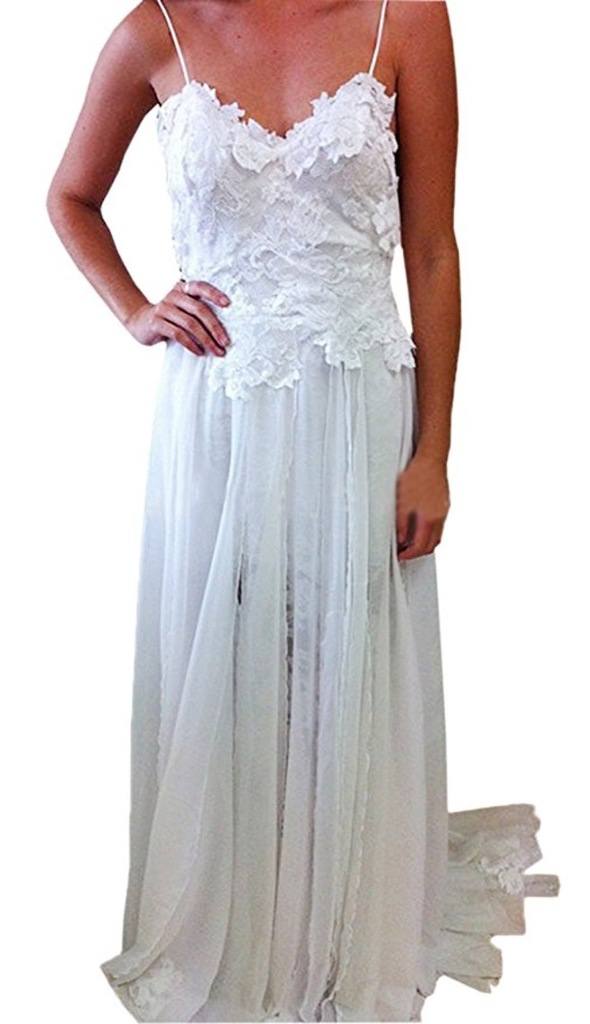 If you want a very casual, elegant beach gown for your destination wedding, this dress fits that perfectly. It's made of chiffon and satin with ruffles and pleats across the entire dress. The sheer chiffon covers a beautiful lace detail under the skirt. It's truly a dreamy chiffon skirt. The spaghetti straps and light ruffle bodice make this a perfect summer, beach wedding dress for your wedding. With this gown, you'll feel like a summer bride in the truest sense of the word. It's available in sizes 2 through 16. With this dress, you'll be able to wear barefoot sandals that can be seen as you walk across the sand.
---
The empire wedding dress can make you feel like a fairy princess in a forest meadow or a Grecian goddess on the beach. It's one of those gowns that is incredibly romantic while being sexy or demure depending on your preferences. You can go barefoot with this lovely type of dress or choose a stunning barefoot sandal. The train length will depend on the venue itself. You might want the train to trail behind you while walking on the sand, or you might want it to skim your ankles beautifully. You can get a variety of looks from a stunning empire style wedding gown.
Recommended Reads: