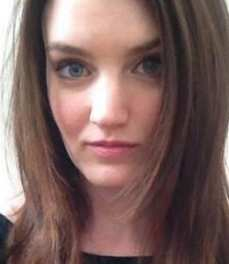 Latest posts by Crystal Schwanke
(see all)
Within the range of March birthstone ring ideas, you'll find two options: aquamarine (modern) and bloodstone (traditional). From there, the possibilities are endless, as you'll be able to choose from an array of styles, metals, and accent stones.
I'll help you narrow the search by discussing the differences between the two March birthstones and showing you some of the options available.
If your perfect ring isn't on the list, these options can still help you decide what you do and don't like and get a feel for what's available, which will shorten your search.
Birthstone Rings for March: Before You Shop
If you prefer aquamarine, finding just what you want will be a breeze, and even easier if you love the look of the lighter aquamarine stones. You can find aquamarines of all sizes, shapes, and settings in department stores, jewelry stores, on Etsy, and almost anywhere else jewelry is sold.
Most of these rings have a more feminine style than their bloodstone counterparts.
If it's bloodstone you're after, you'll have to get more creative in your search and possibly consider vintage pieces (which may be a plus, if you can have it sized to fit!) or custom styles (Etsy is the best place to look).
Bloodstone rings tend to have a more unisex or masculine style to them than aquamarine ones.
March Birthstone Ring Ideas
Whether you're looking for an aquamarine or bloodstone ring, these ideas will point you in the right direction.
It's easier to find aquamarine rings than bloodstone ones (especially for women, and especially if you're looking for an engagement ring), but that doesn't mean the choice between the two is made for you. Check sites that sell used, vintage, or one-of-a-kind jewelry items. In those cases, there's usually only one ring in one size available. However, you could check with a jeweler about resizing it to fit.
Diamondère Weylin

The Diamondère Weylin option is a safe, icy blue choice that makes a good option as an engagement ring or wedding anniversary gift. It has a single round aquamarine stone, hugged by the simple metal band at the top and bottom .
Pros
You can customize it by choosing the size of the aquamarine, metal, size, and even adding engraving.
It's not the most expensive option.
It's great for everyday wear and will complement most clothing styles.
Choose from platinum, sterling silver, and 18K, 14K, or 10K gold in white, yellow, rose, and black gold.
Cons
It's not the most expensive, but it's not exactly inexpensive, either.
This isn't the most basic style, but it may be too simple for some people's tastes.
Kay Aquamarine & White Lab-Created Ring

This aquamarine and sterling silver option features a beautiful oval-shaped pale aqua stone surrounded by lab-created round white sapphires. The sapphires cover a section of the band, as well, for an incredibly sparkly, elegant look.
Pros
Relatively inexpensive
A good middle ground between everyday wear and special occasions and looks right at home in a sea of engagement ring options
You can special order a size if they don't have what you need in stock
Cons
Sterling silver tends to need frequent polishing.
Sizes only go from 5 to 9 unless you do a special order.
Moon Magic Aquamarine Ring Essence

This aquamarine ring from Moon Magic is perfect if you're looking for a dainty, budget-friendly option. It has a pear-shaped, brilliant-cut stone embraced by small round white topaz stones on the band. You can choose from 14K rose gold vermeil or sterling silver and ring sizes from 5 to 10.
Pros
Relatively inexpensive
Dainty
Stackable
Cons
Audry Rose Large Starry Aquamarine Ring

This Audry Rose aquamarine ring is an absolute stunner that could easily outshine a diamond as an engagement ring. There's a roughly-3ct emerald cut aquamarine flanked by glittering 1mm natural white diamonds. You can get it in rose gold, white gold, or yellow gold.
Pros
Ethically sourced, natural stone
Size range from 3.5 to 12
It's available in three different metals.
It's an attention-grabbing statement piece that still has an understated, simple design.
Two-year warranty
Cons
The price is over $1200
Even though the design is relatively simple, it may be too flashy for those who prefer more delicate styles
Brilliant Earth Vivant Aquamarine and Diamond Ring
The Brilliant Earth Vivant aquamarine ring is simple and understated. It could go with anything, which could make it a perfect wedding band option, depending on the style of your engagement ring. It would also make a lovely wedding anniversary gift.
Pros
Available in 18K white gold, 18K yellow gold, 14K rose gold, or platinum
The sizes listed are 3 to 9, but you can special order other sizes
It's made from recycled metals.
Cons
Expensive compared to some of the other options, at almost $900
The aquamarine isn't front-and-center and shares the stage with a baguette diamond, so this won't be what everyone's looking for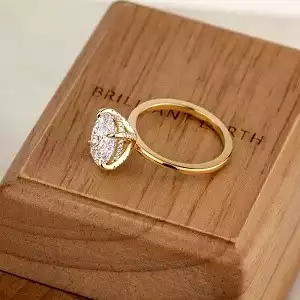 Planning a Proposal?
Make that proposal happen! Get started designing and create an engagement ring as unique as the wearer. To help pull off the perfect engagement, head over to Brilliant Earth's proposal guide.
Check Prices
We earn a commission if you click this link and make a purchase at no additional cost to you.
Teresa Collections Handmade Aquamarine Rough Gemstone Ring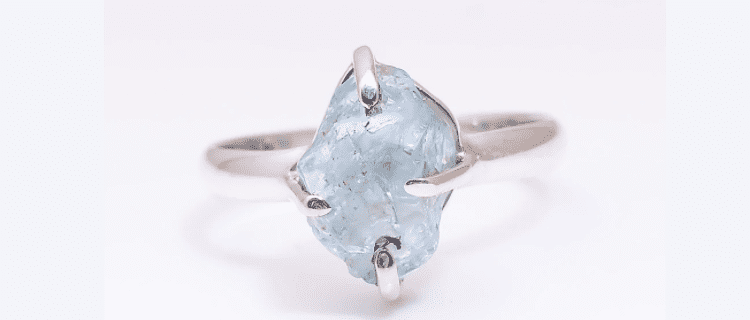 This handmade aquamarine rough gemstone ring features a simple stone set in a sterling silver band. It's not your usual sparkling, cut-to-perfection stone. Instead, it maintains more of a natural appearance.
Pros
Unexpected shape and finish make it an unusual choice for an engagement ring for the bride who embraces new takes on old traditions
Less expensive than other options (under $90.00 before tax)
Simple, classic style with one gorgeous stone set in metal prongs
Cons
Sterling silver may tarnish
Some people may find that it's not as versatile as other options
Limited sizing options (6 to 10)
Shane Co. Aquamarine and Diamond Ring in 14K Rose Gold

This aquamarine and diamond ring would make a beautiful wedding band or anniversary gift. There are four princess cut aquamarine stones across the top with five pave-set diamonds on either side. Sizes from 5 to 8 are available, but you can also choose to resize it later if you're not sure what you need.
Pros
It's versatile enough to be worn alone or with an engagement (or other) ring, but works as a standalone ring given as a gift, too.
Not especially expensive at just under $600.00
Understated style, but not boring
It can be engraved when you place your order.
Cons
Limited size options
Only available in rose gold
LUO Vintage Horizontal Oval Cut Aquamarine Ring

Looking for a classic, vintage-style ring that doesn't feature a diamond as the center stone? This LUO aquamarine ring might be your perfect match. Get it in sterling silver, 14K white gold, 14K yellow gold, 14K rose gold, or platinum.
Pros
Stunning vintage style featuring a horizontal oval-shaped pale blue aquamarine
Engraving is available
The variety of metals available help it fit almost any budget (the sterling silver one is under $200.00 and the platinum one is under $800.00)
Sizes include 3 to 14
Cons
Side stones are cubic zirconia, not diamonds, which may not be all shoppers' preference.
Melissa Joy Manning Bloodstone Ring

This bloodstone ring is a handmade, limited edition piece. The bloodstone is an oval-shaped cabochon, and it's set in recycled 14K gold.
Pros
Limited edition means it'll be more unique than some other styles.
It's simple enough to wear with most clothing styles.
Recycled metal
Sizes range from 4 to 9
Cons
It's one of the more expensive options on the list, at $1000.00
Only available in 14K gold
Ross-Simons C. 1950 Vintage Red Bloodstone and Multicolored Enamel Ring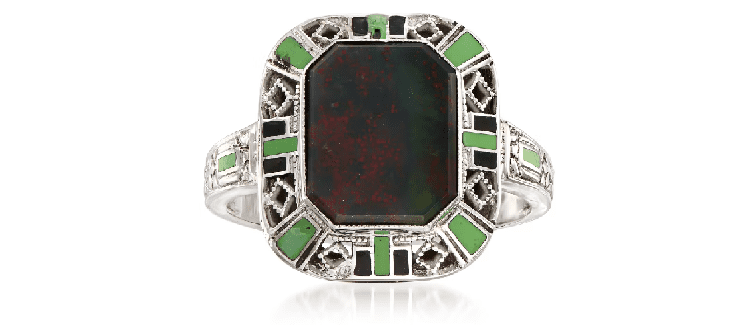 This vintage bloodstone ring is part of a one-of-a-kind estate collection, so if you love it and the price works for your budget, it might be time to snap it up. The rectangular bloodstone is set in 14K white gold, accented by green and black enamel. It's quite a statement piece.
Pros
One-of-a-kind
Vintage, with a decidedly 1950s vibe
Cons
Expensive, even on sale for just under $1500.00 (regular price is just under $2000.00)
There's only one, so when it's gone, it's gone.
Only available in size 5.75
Ruby Lane A Charmed Life Vintage Bloodstone/Heliotrope Ring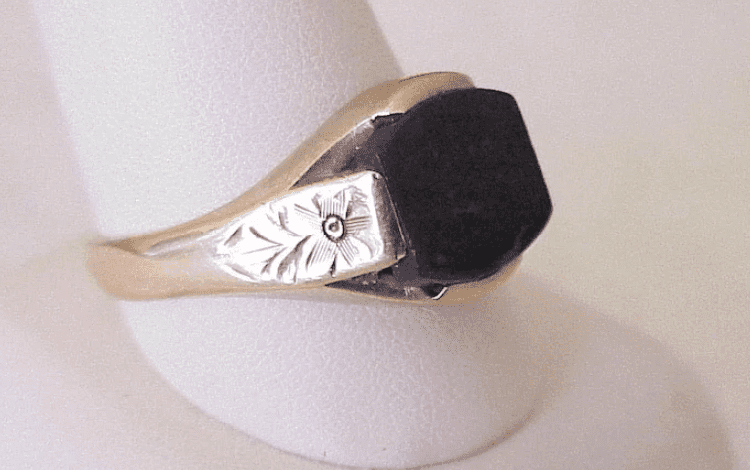 Here's another one-of-a-kind bloodstone option from almost a decade ago (circa 1930s-40s), which seems to be a theme with bloodstone rings.
Pros
The chance of running into someone else with the same ring is low since this is a piece from so long ago.
It's not as expensive as other options, at less than $250.
Style can be worn by a man or woman.
Cons
One-of-a-kind means it's unique, but that also means you can't think about it for long, or someone else may beat you to it.
Only available in size 12, though sizing is available (it'll cost a little extra)
There' some wear, due to age.
Foxlark Natural Bloodstone Ring in Fine Silver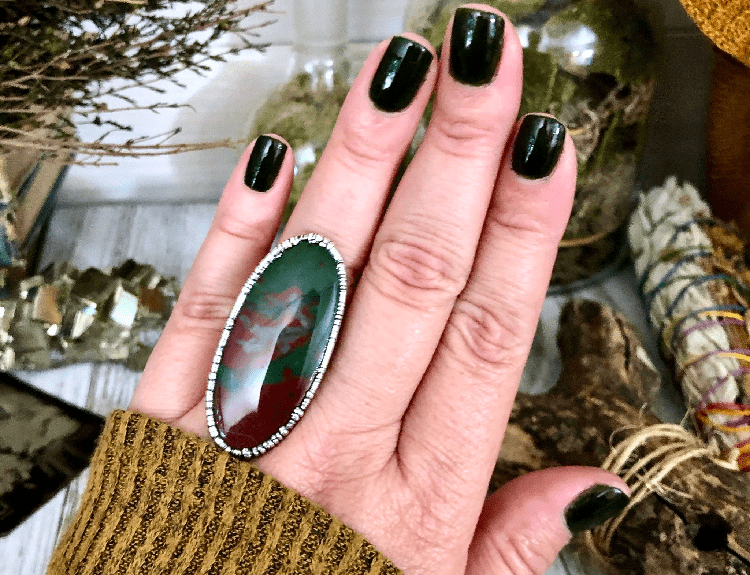 If you or your gift recipient love large rings, you won't want to miss out on this one. This bloodstone statement ring from Foxlark features a two-inch long oval bloodstone set in silver designed with a vintage look, and is a perfect birthstone ring for March.
This one will be best as an anniversary gift, not an engagement ring, as it won't be as easy as other options to wear every day.
Pros
The stunning, immense stone will garner attention.
Relatively inexpensive at $168.00
Rich greens and reds
Vintage style
Cons
Only one available
Only available in size 10
Gemologica Oval Bloodstone Diamond Gold Braided Ring

Gemologica offers a beautiful bloodstone ring. The black gold (my favorite) gives a dark and mysterious vibe, while the white gold and sterling silver ones have a more traditional appearance. The rose gold and yellow gold rings have a vintage look to them. The 9 x 7 mm bloodstone is accompanied by four round diamonds.
Pros
One of the few bloodstone ring options available in a variety of sizes (4 to 10) and metal options (sterling silver or yellow, white, rose, or black gold in 10K, 14K, or 18K)
Prices start at $205.00 for sterling silver and $420.00 for gold), so it's not as expensive as other options.
It will be easy to wear every day due to its size and overall design.
Cons
What you see at first isn't necessarily what you get with the price, as the metals are priced differently, sizes 8 and above come with an extra fee, and there's a black rhodium surcharge.
It may take a while to ship because these are custom made when you place an order.
Don't Forget Etsy
I want to mention Etsy here, too. You can find gorgeous, handmade rings (both types of March birthstones, but it's one of the top sites to find bloodstone rings online) there that are unique. You may even be able to find a seller to create a custom ring for you. Vintage options are also available.
I didn't link to any specific rings on Etsy here because the stock is usually limited and constantly rotating. Still, it's worth a quick search if you don't see anything you want or have something specific in mind.
How to Choose Between the Two March Birthstones
For the longest time, I thought aquamarine was the only March birthstone, but it's actually the modern one (as of 1912, when a birthstone chart was released). The traditional birthstone–and the one I'd heard less about–is bloodstone. You can't go wrong with either one.
The Appearance of the Stones
Aquamarine comes in a range of shimmering blue and blue-green tones. You may see light, icy blue with only a hint of green, a medium-deep greenish-blue, or anything in-between. Diamond Buzz has photos of all the options if you'd like to see what's possible.
Bloodstone is opaque, deep green with red speckles or splatters.
The Meanings Behind the Stones
If you're hoping to look beyond tradition and surface-level beauty to explore what specific stones stand for or offer, here's a breakdown of what March birthstones represent:
What Does the Aquamarine Birthstone Offer?
Crystal Vaults says aquamarine "is calming, soothing, cleansing, and inspires truth, trust, and letting go." It's also suitable for protection during travel, ease of communication, good luck, and youthfulness.
What Does the Bloodstone Birthstone Offer?
According to The Spruce, bloodstones are "often used for strength, presence, and courage" and "is a very calming, grounding stone." Even more benefits: clarity, energy, motivation, and the ability to move forward despite obstacles.
How to Choose an Aquamarine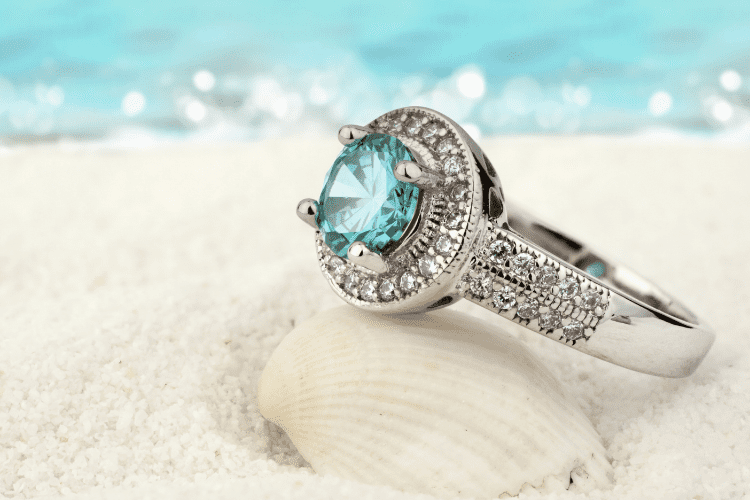 Aquamarines are durable and easy to care for, so they are fine for daily wear. How do you choose the right one, though?
What Is the Best Color of Aquamarine?
The most valuable aquamarine stones are deeper in color, whether they're more blue or greenish-blue. As far as clarity goes, you won't see many inclusions in aquamarines used in rings (unless they're cabochons). GIA states, "Stones with eye-visible inclusions are usually fashioned into cabochons, beads, or carvings."
What Is the Best Cut for an Aquamarine?
GIA says they can be cut into almost any shape, but you'll often see emerald cuts or brilliants.
How to Choose a Bloodstone
Gem Society says the most valuable bloodstones are the ones with the most deep red and orange spots, but they're generally not especially expensive.
How Can You Tell if a Bloodstone Is Real?
According to Jewels for Me, you can test if a bloodstone is real by rubbing the stone against porcelain. If you have a real stone, you'll see more red.
Can I Wear Bloodstone Every Day?
Yes. Like aquamarines, bloodstones are durable and easy to care for.
FAQs about Birthstone Rings for March
If you're still curious about March birthstones, you'll find more answers here:
Question: What are the Three Birthstones for March?
Answer: The two March birthstones are aquamarine and bloodstone. Sometimes amethyst will show up if you run across a list of Pisces birthstones because March babies can be Pisces or Aries. Still, the amethyst is the February (also part-Pisces) birthstone.
Question: Is my Birthstone Aquamarine or Bloodstone?
Answer: If you were born in March, they're both your birthstones.
Question: What is the traditional birthstone for March?
Answer: Bloodstone is the traditional birthstone. Aquamarine is the modern one (as of 1912).
Question: What does a Bloodstone Look Like?
Answer: Bloodstone is an opaque deep green with red inclusions (hematite). You may also see this stone called heliotrope and referred to as jasper.
Question: What Birthstone is Bloodstone?
Answer: It's one of the two birthstones for March, though not the modern one (that's aquamarine). Bloodstone is the traditional birthstone for March.
Choosing the Best Birthstone Ring for March
Whether you're shopping for an engagement ring, wedding band, or anniversary gift, take a funnel approach to narrow down the perfect ring. First, decide whether aquamarine or bloodstone is the best, based on personal preferences and what each stone stands for.
From there, the metal is important (due to allergies, personal preferences, or cost).
Once you've narrowed that down, you can get into the fun details of styles and accent stones.
Do you/they want something:
That looks ancient and mysterious?
Simple and traditional or on the trendier end of the spectrum?
Understated or attention-grabbing?
Use the March birthstone ring ideas above to launch your search for the perfect ring.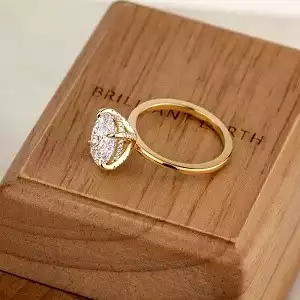 Planning a Proposal?
Make that proposal happen! Get started designing and create an engagement ring as unique as the wearer. To help pull off the perfect engagement, head over to Brilliant Earth's proposal guide.
Check Prices
We earn a commission if you click this link and make a purchase at no additional cost to you.
For more interesting readings check out: