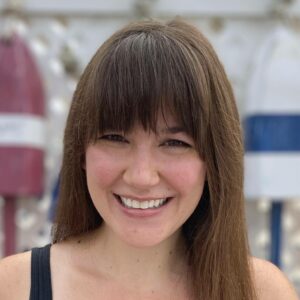 Latest posts by Lauren Vigdor
(see all)
Jewelry is a classic gift for a mom for Mother's Day, her birthday, or the holidays. It's beautiful, special, and sentimental. In my opinion, one of the best ways to make jewelry as personal as possible is to customize it. In fact, one of the first pieces of jewelry I ever made was a custom beaded necklace for my mom!
There are a ton of different ways that you can put your personal touch on a necklace, so I've put together this custom necklace ideas for mom guide to help inspire you to create a custom gift as unique as your mom!
Bottom Line Up Front
All of the customizable necklaces on this list are super unique, but I think my favorite is the Photo Projection Flower Necklace. I love the combination of the lovely, classic-looking pendant with the novelty of the photo projection. It almost feels like a modern take on a locket to me.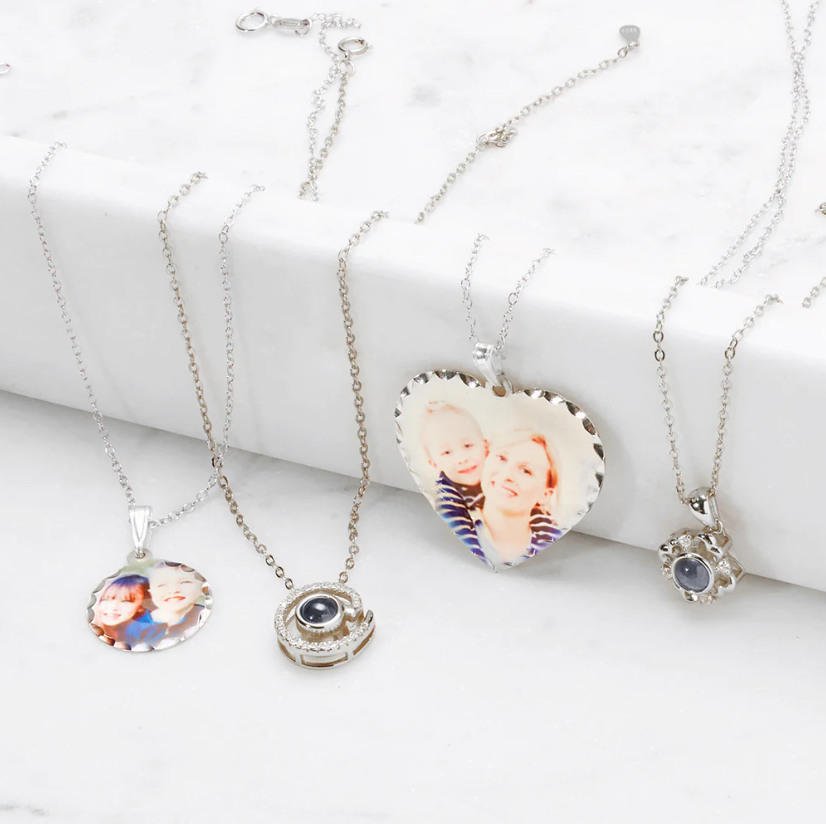 How to Choose a Custom Necklace for Mom
If you're shopping for a custom necklace for mom, one of the best ways to narrow down your options is to determine what type of custom necklace you're looking for. There are several types to choose from, and I've provided ideas for each category below, but some of the most popular types of custom necklaces for moms are:
If you want to learn more about where to get a custom necklace made, check out my guide here.
Things to Keep in Mind when Shopping for a Custom Necklace for Mom
In addition to determining what type of custom necklace you're looking for, you should consider a few things before shopping.
Selection Criteria: How I Chose These Custom Necklace Ideas
All of the necklaces below were chosen specifically with moms in mind (though they'd make lovely gifts for any parent, guardian, or grandparent as well), and I included a variety of styles to cater to all tastes since every mom is unique. Other than that, the designs had to satisfy my criteria before being included on this list:
Best Custom Necklace Ideas for Mom
Below are what I consider to be the best custom necklace ideas for mom, broken down by category. All of these necklaces can be purchased online, or you can use them as inspiration to continue your search.
Initial Necklaces for Mom
Initial necklaces are a great choice of gift for a mom. Most people choose to include the first initial of the mother's child or each of her children on the necklace, but you could always include her initial, both parents' initials or give mom a necklace with only her own initial on it.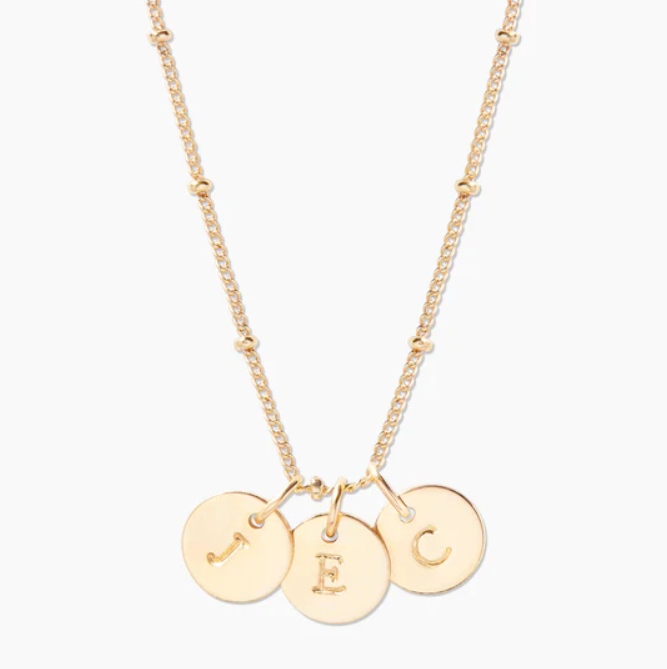 This Madeline Necklace from Brook & York is a classic pendant style for moms. It features hand-stamped initial charms that can be customized with your recipient's children's initials. I like necklaces like this because they're simple, versatile, and look great layered. This is also a great option for families that may still be growing since you can purchase the charms separately and add them to the necklace by gently opening the jump rings that they hang from.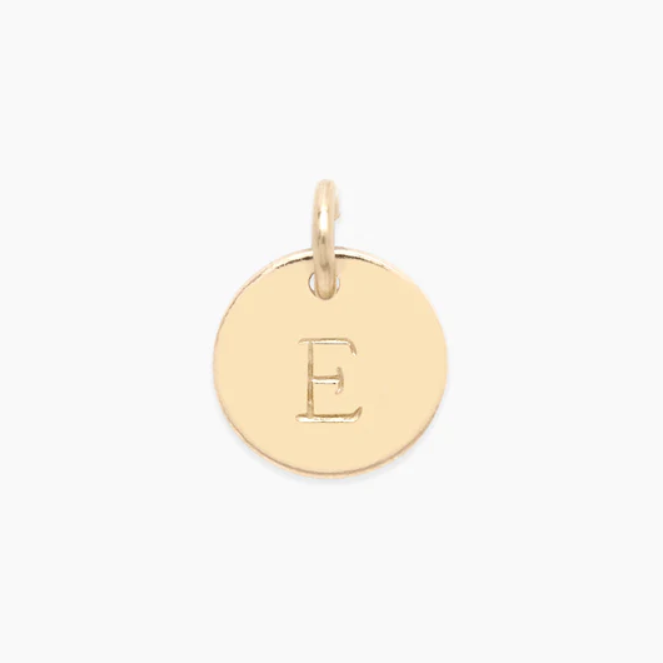 Madeline Three Initial Pendant | Brook & York
Initial pendants make such special statements, choose three initials to add to our delicate disc necklace. Makes the perfect gift for your fave momma or BFF.
Check Price
We earn a commission if you click this link and make a purchase at no additional cost to you.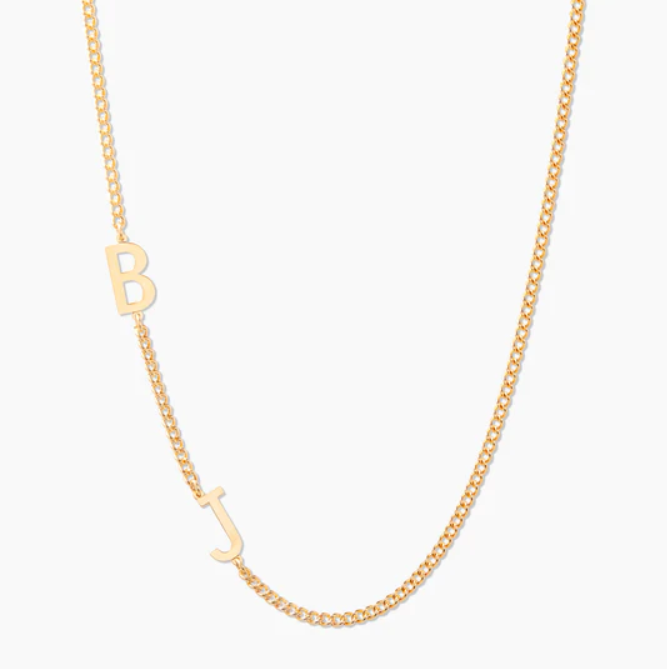 The Zoey Necklace is a slightly more unexpected style, which is part of its appeal, at least for me. I like the way the initials are linked into the chain—it makes them feel very intentional. This necklace is perfect for a mom of two kids, but you can find similar styles with one, three, or four initials.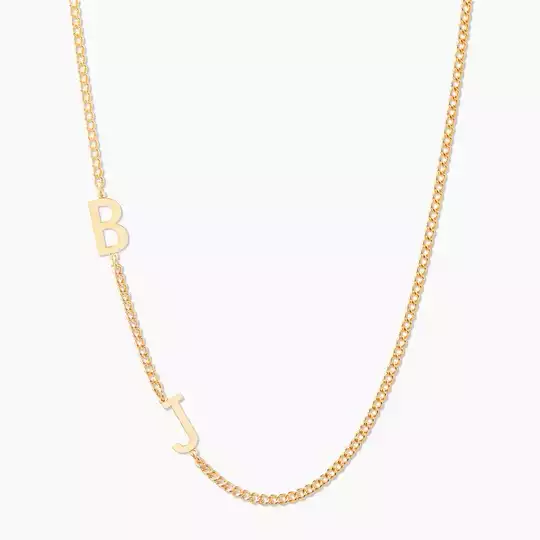 Zoey Two Initial Necklace | Brook & York
Surprise your special someone with a Zoey Two Initial Necklace—a modern, stylish way to show your love and devotion. Crafted with care and adorned with two, sparkling initials, this beautiful necklace is an elegant homage to your connection, a cherished symbol of your bond.
Check Price
We earn a commission if you click this link and make a purchase at no additional cost to you.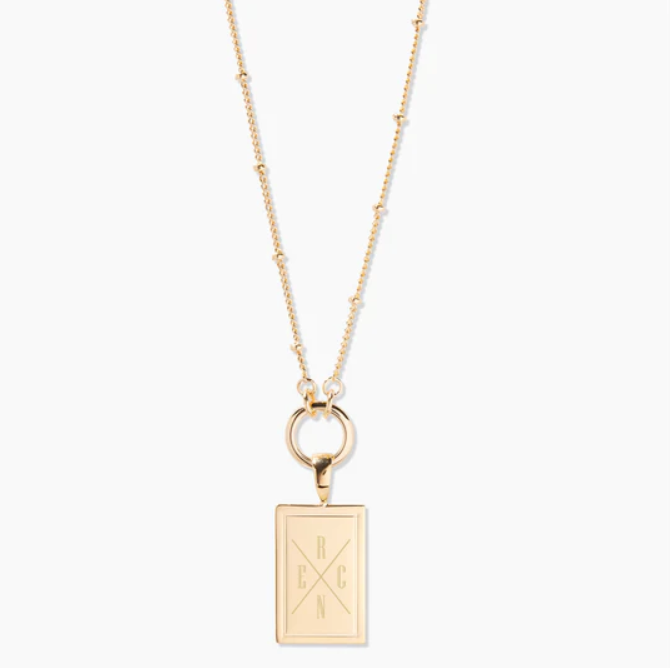 I think that this Rose Pendant would make a great family necklace with the initials of four immediate family members on it. It could also be engraved with four children's initials or mom's and three children's. I love the modern style of this one—it looks expensive, and I think it would look great layered with other necklaces.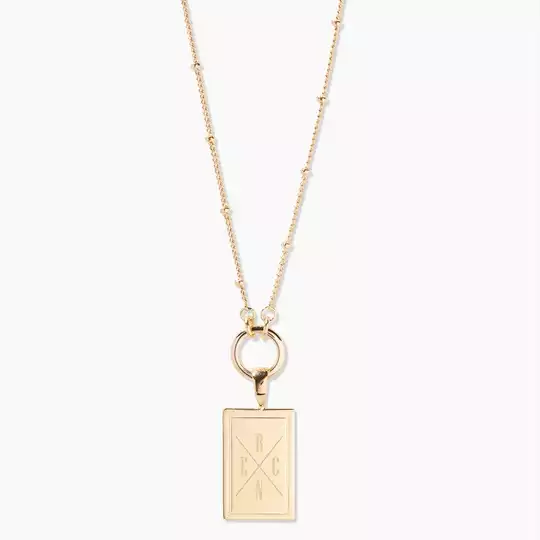 Rose Pendant | Brook & York
A perfect mix of modern beauty and fun, this personalized initial matrix pendant will get plenty of second looks. Available in gold, rose gold or silver, just pick the color that matches your mood.
Check Price
We earn a commission if you click this link and make a purchase at no additional cost to you.
Custom Name Necklaces for Mom
Just like with initial necklaces, it's not uncommon to gift a mom a necklace with her child or children's names on it. Of course, you could always give her a necklace featuring her own name if you think she'd prefer it!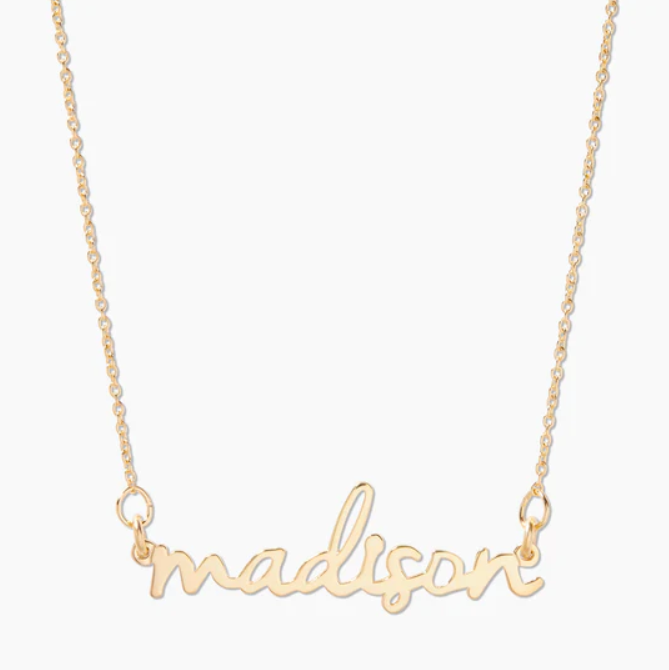 Nameplate necklaces like this Nella Necklace were first popularized by Black and Latinx communities in the 80s and 90s, and traditionally people wear their own name on them. I'm including this one here, however, because I think something like this would make a lovely gift for a parent of one—the necklace could be customized with the child's name instead of the recipient's. You can find nameplate necklaces similar to the Zoey Necklace (above) that feature multiple names as well.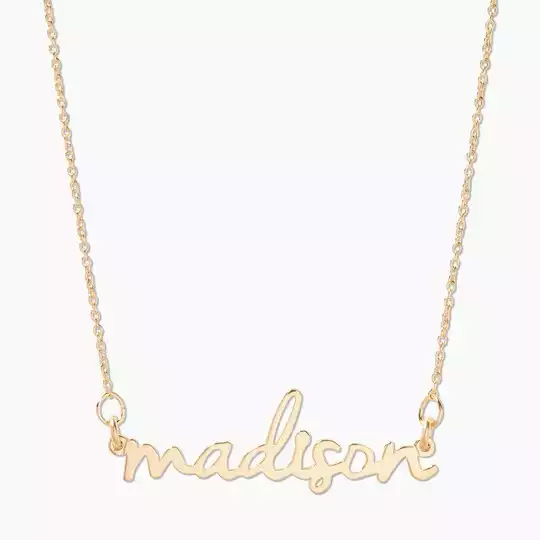 Nella Mini Nameplate Necklace | Brook & York
Play the namegame. We updated the classic nameplate with a petite design a fun new font in all lowercase. Buy it for your BFF and make sure to get one for yourself too.
Check Price
We earn a commission if you click this link and make a purchase at no additional cost to you.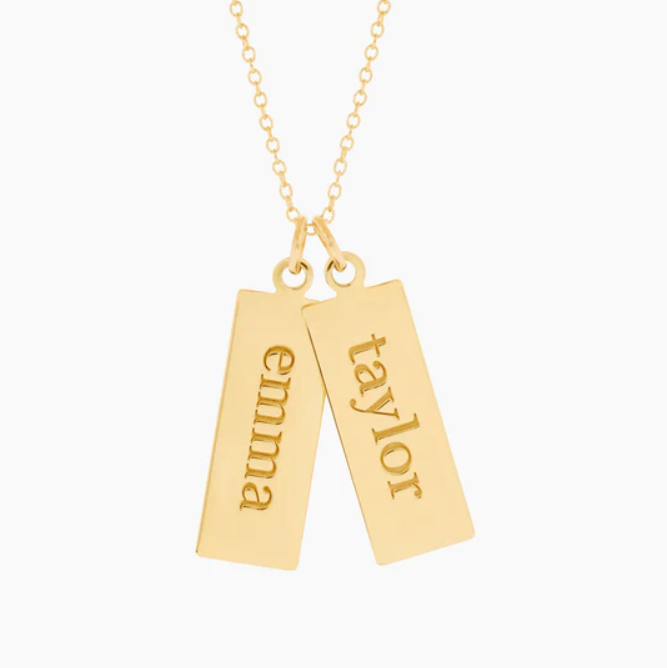 This Addison Pendant is sort of like the name equivalent of the Madeline Necklace above. It's a classic, straightforward style that goes with everything. I think that necklaces like this look best with no more than three name pendants; otherwise, they start to look unbalanced. They're particularly lovely with just one or two names.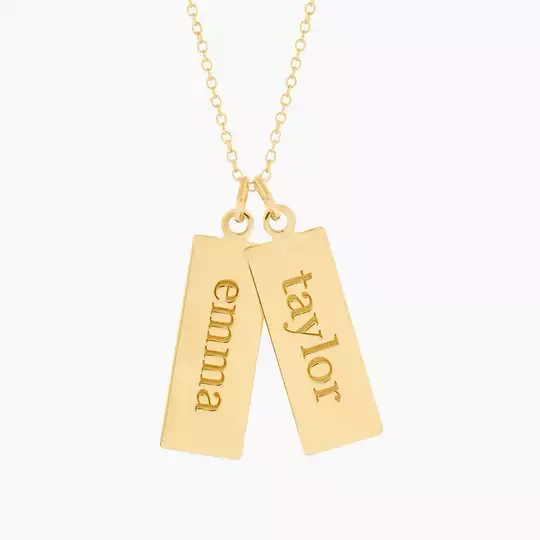 Addison Two Name Pendant | Brook & York
We love a great everyday pendant necklace and our Addison fits the bill. Two simple, yet chic bars are perfect for showing off those near and dear to your heart with our custom engravable design.
Check Price
We earn a commission if you click this link and make a purchase at no additional cost to you.
Double Name Necklace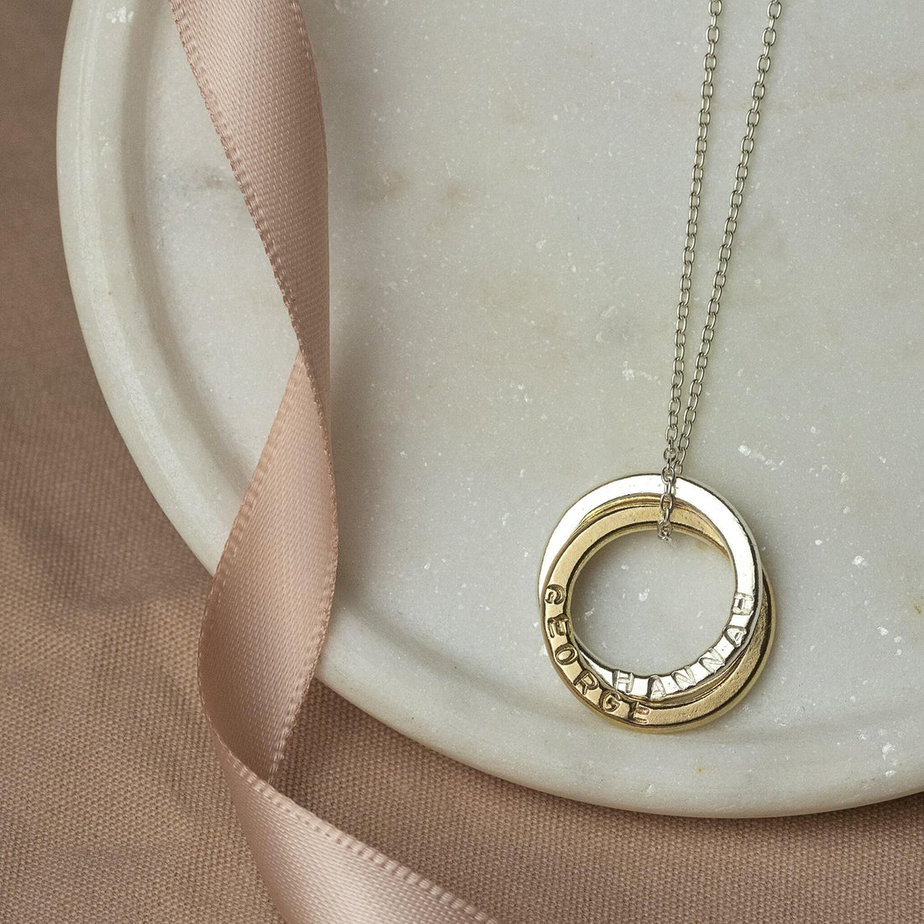 I love the symbolism behind this Double Name Necklace. The two interlocking circles symbolize protection, unity, and infinite love. The circles could be engraved with a mother and child's names or two children's names. (This would also make a sweet and romantic necklace for two lovers.) I really love the handmade, tactile quality of the rings—it makes the necklace look well-loved already.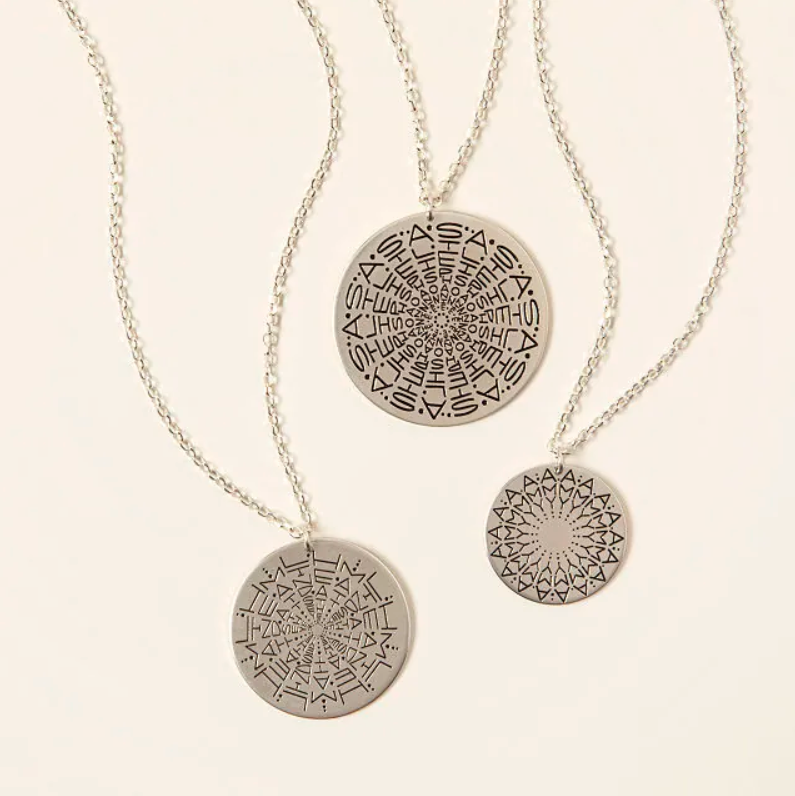 This Name Mandala Necklace is definitely a unique take on a name necklace. Up to three names can be arranged in a repeated radiant pattern on a sterling silver disk. The mesmerizing design is perfect if you're looking for something a little quirky or less traditional. I love that from further away, it just looks like a cool design etched into the pendant.
Custom Birthstone Necklaces for Mom
Birthstone necklaces are a classic for moms. Usually, a birthstone necklace for a mom will be made with all of her children's birthstones, but there's no rule that says you can't include hers, the whole family's, or even just gift her a simple necklace with just her own birthstone.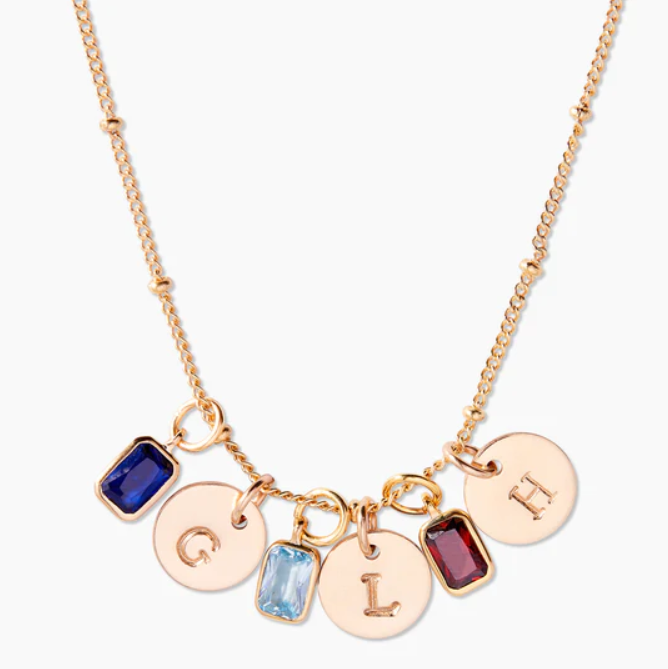 Something like this Mackenzie Birthstone Necklace is an awesome choice if you're looking for a customizable gift for a mom or grandma whose family may still be growing. The initial and birthstone charms can be removed by gently opening their jump rings, and additional charms are available to purchase on Brook & York's website. If you do choose a style like this and think you may want to add charms in the future, just make sure that the charms are removable before you make your purchase.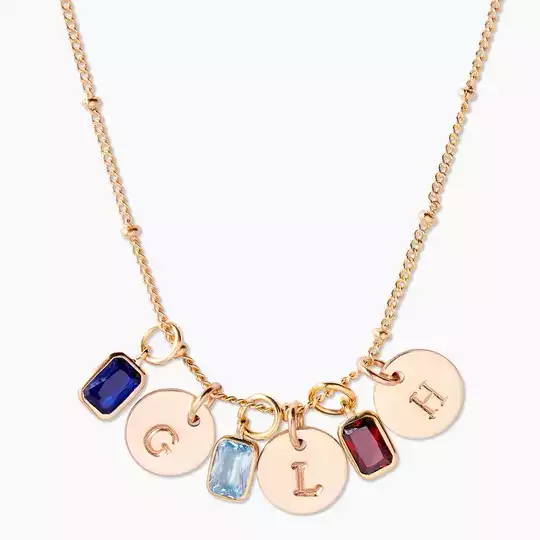 Mackenzie Three Birthstone Initial Pendant | Brook & York
Give your loved one a special reminder of their family with this timeless Mackenzie Three Birthstone Initial Pendant. Crafted using only the finest materials and featuring custom birthstones of your choosing,
Check Price
We earn a commission if you click this link and make a purchase at no additional cost to you.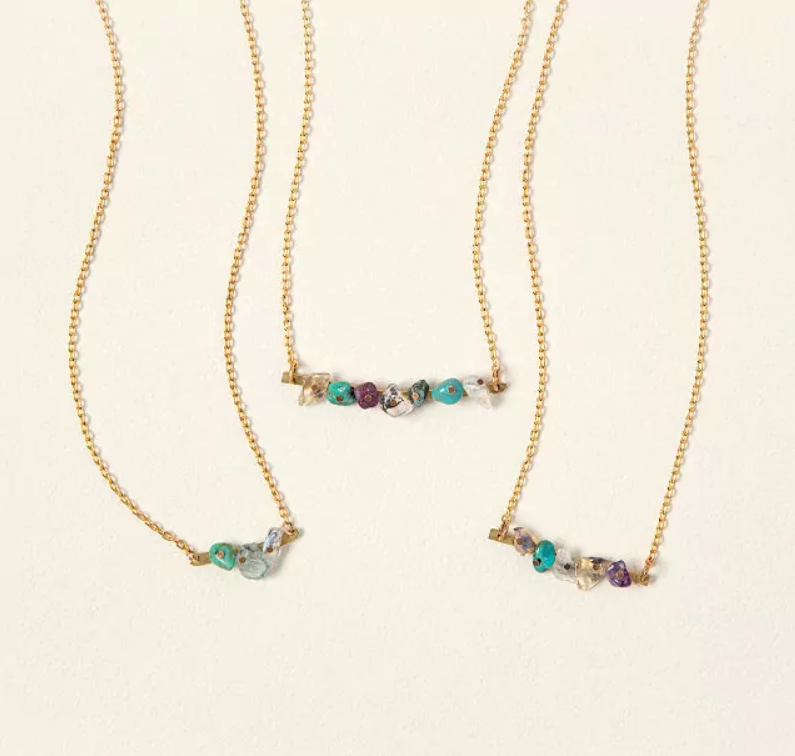 I like this Raw Birthstone Necklace for a few reasons. I personally prefer the muted colors of these natural gemstones to brightly-colored cubic zirconia (though your recipient may not!) I also like that this can be customized with up to eight birthstones—I've found that five or six is the maximum for most birthstone necklaces. Finally, I love that this particular necklace is handmade by an artist! If you're looking for a custom necklace for mom made with "real" birthstones, this is a lovely option.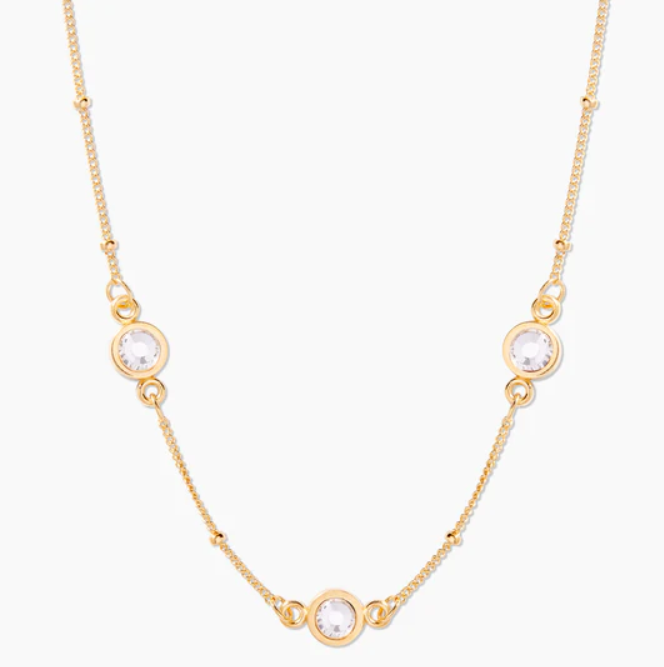 I like that this Jules Birthstone Necklace is subtler than a lot of other multi-birthstone necklaces. I feel like this could seamlessly be incorporated into someone's jewelry collection and even be worn layered with other pieces they may already own.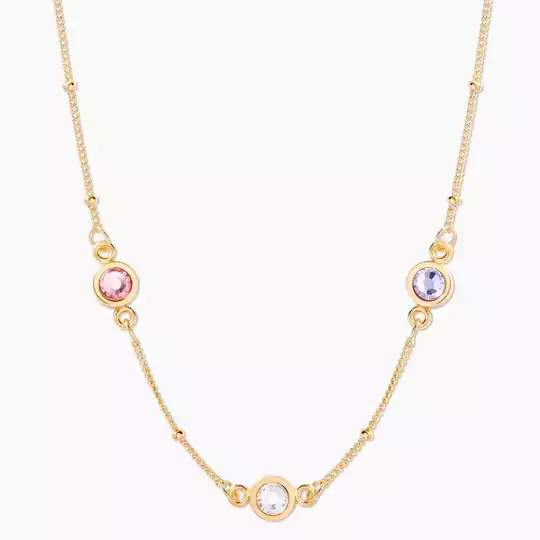 Jules Three Birthstone Necklace | Brook & York
Adorn yourself with an elegant and timeless Jules Three Birthstone Necklace. Showcase your unique beauty with three fine birthstones set elegantly on a modern chain.
Check Price
We earn a commission if you click this link and make a purchase at no additional cost to you.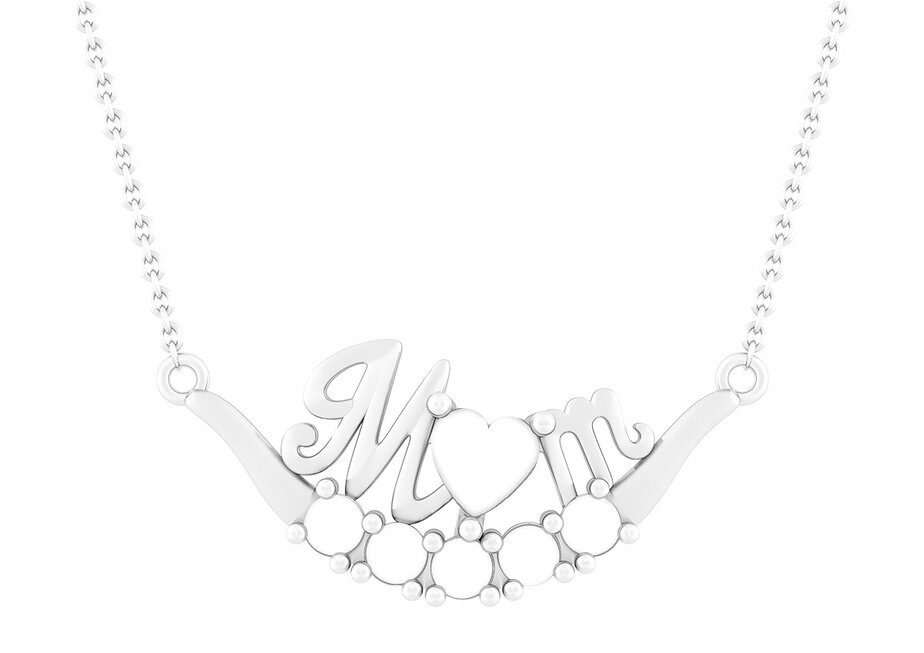 This design might be a little too on-the-nose for some people, but I know plenty of moms who would love a necklace like this Mom Gemstone Necklace. The heart-shaped stone that replaces the "O" in "Mom" can be customized with mom's birthstone, and her children's birthstones can be set below. I love that this necklace is made with genuine and lab-created precious and semi-precious stones and can be made with sterling silver or any color of 10K gold—this necklace is meant to last a lifetime.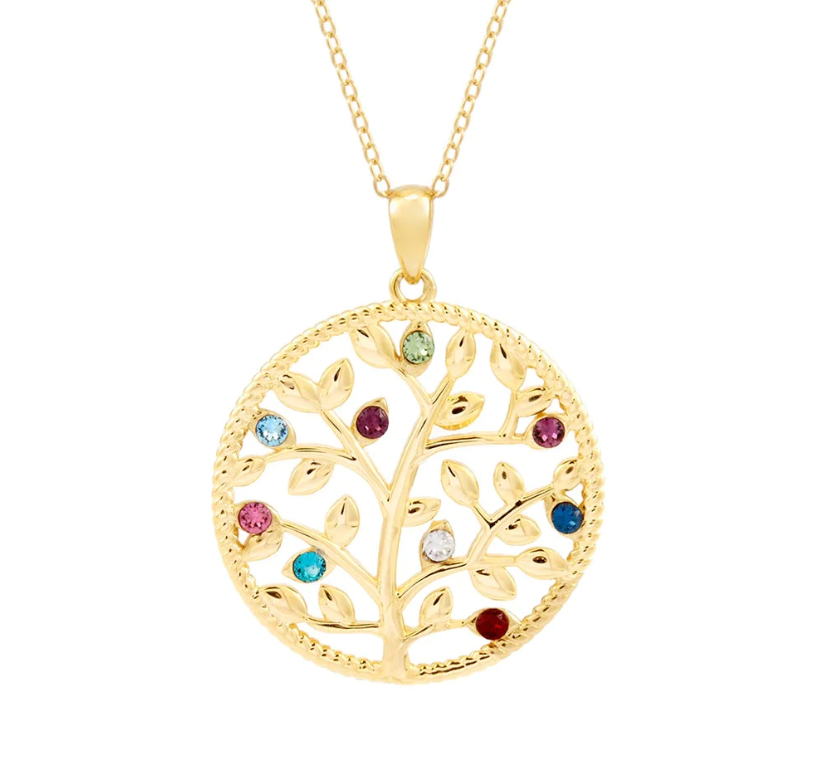 This Birthstone Family Tree Necklace screams "grandma" to me. I think this would be a lovely way to honor a grandmother's legacy by including all of her grandchildren's birthstones on the tree's leaves. You can find similar designs with just two or three stones, but I think a necklace like this looks best with at least four or five stones.
Custom Photo Necklaces for Mom
Photo necklaces are exceptionally personal gifts since they allow mom to wear an image of her loved one(s) wherever she goes. There are a few different styles of photo necklaces you can choose from.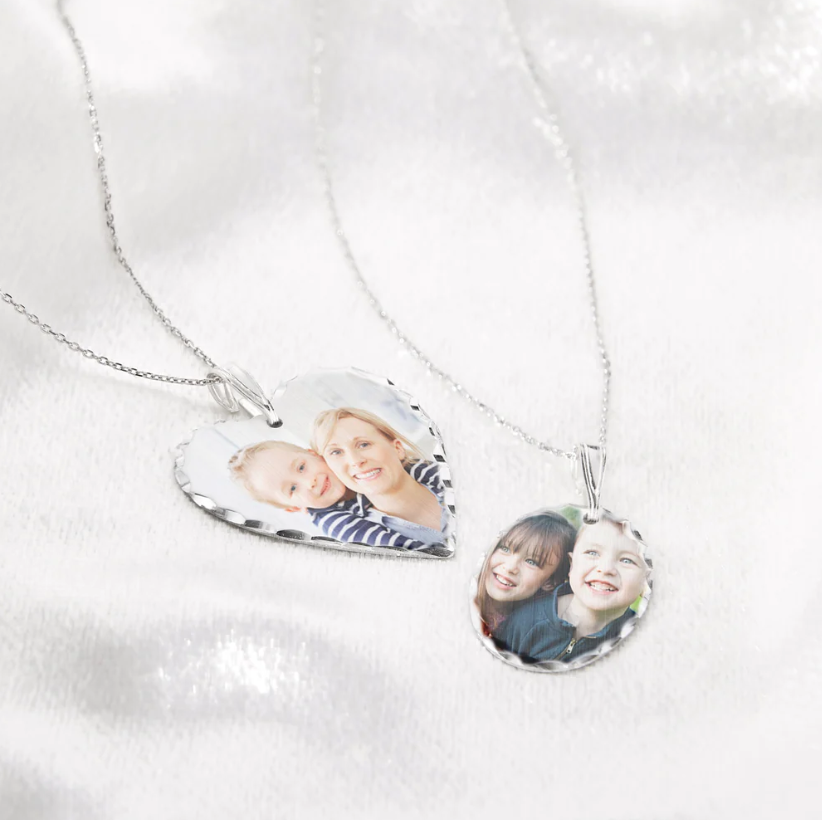 Having a color photo printed directly onto a pendant is the most straightforward way to customize a photo necklace. These come in all different shapes and sizes and can be engraved on the back. I don't know that everyone will want to wear a full-color photo around their neck, but for those that do, I think this Oval Color Photo Necklace is an elegant option.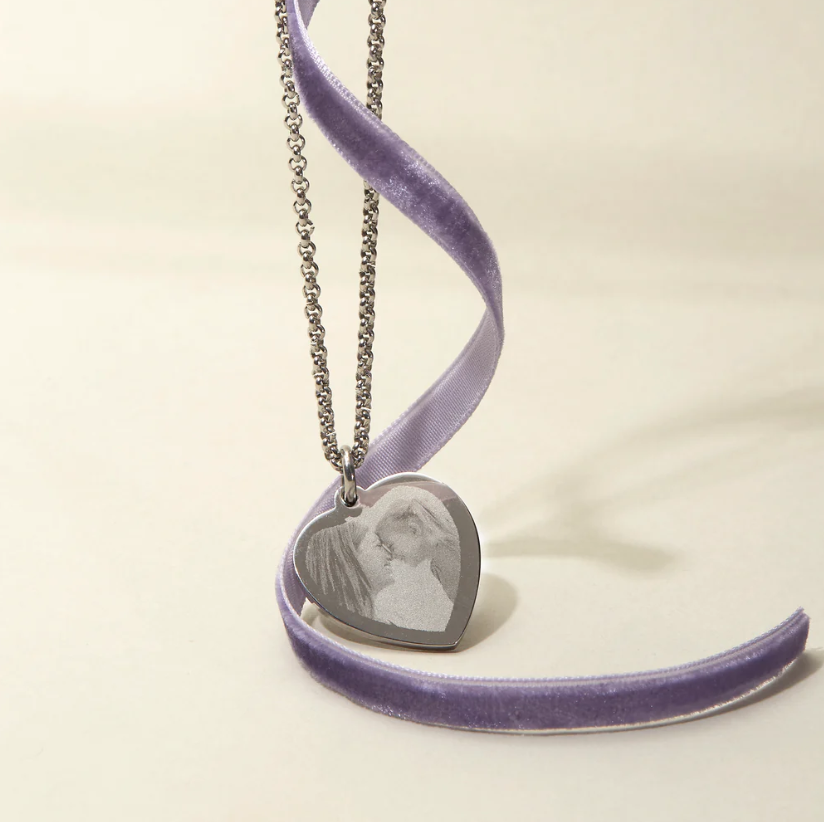 This Etched Heart Photo Pendant is a slightly more subtle version of a photo necklace than the full-color version above. You can upload a photo and have it etched onto a pendant—leaving you with a lasting black-and-white image that you can wear around your neck. Just like the necklace above, this comes in various shapes and sizes and can be engraved on the back.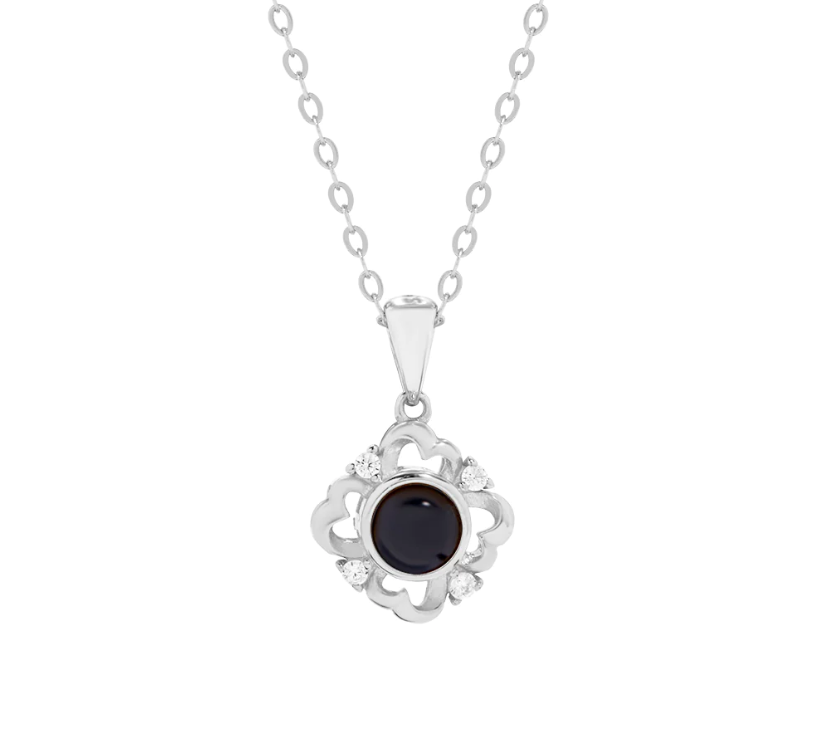 I actually gave my sister-in-law something similar to this Photo Projection Flower Pendant for her birthday last year. (She's not a mom, but I put a picture of her dog inside—that counts, right?) I think this is such a unique and memorable way to personalize a necklace.
From afar, the lens in the center of the pendant just looks like a glass gem, but if you hold a light up to it (like your phone's flashlight), you can project your photo on a wall. I love that this necklace keeps your photo like a hidden secret—it makes it feel even more personal to me.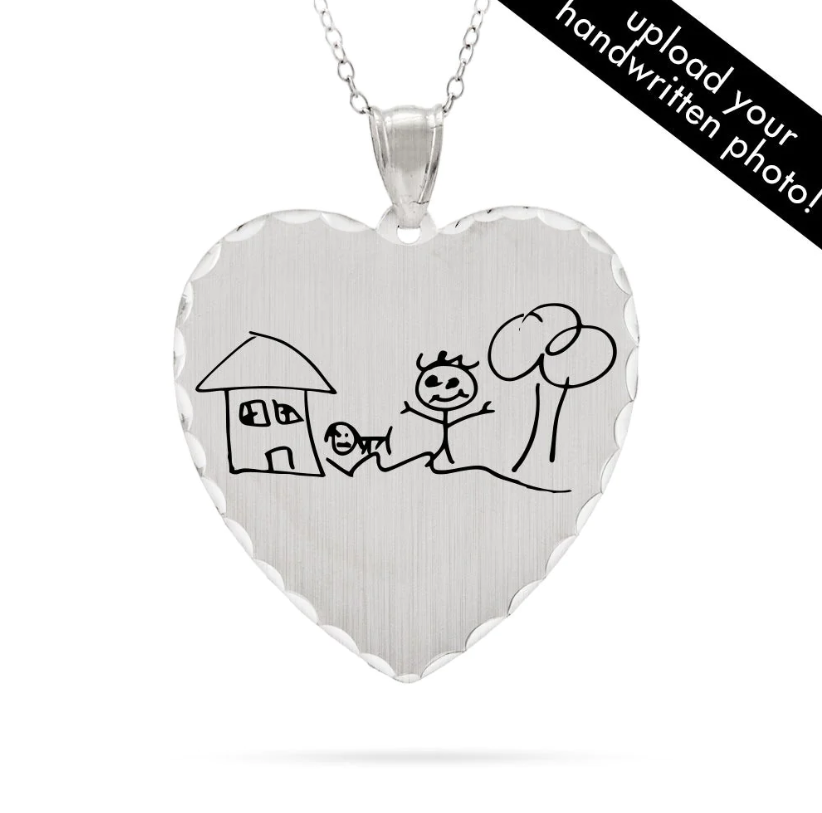 This Handwritten Heart Tag Pendant is another super personal way to customize a necklace for mom. Have her child draw a picture or write a message and then upload it. Eve's Addiction will put it on a sterling silver heart-shaped pendant and engrave the back with her name, a meaningful date, or anything else you choose.
Lockets
Lockets are timeless, and in my opinion, they're one of the most charming types of jewelry. Lockets are pendants that can open up, and they traditionally hold photos, notes, or even locks of hair inside.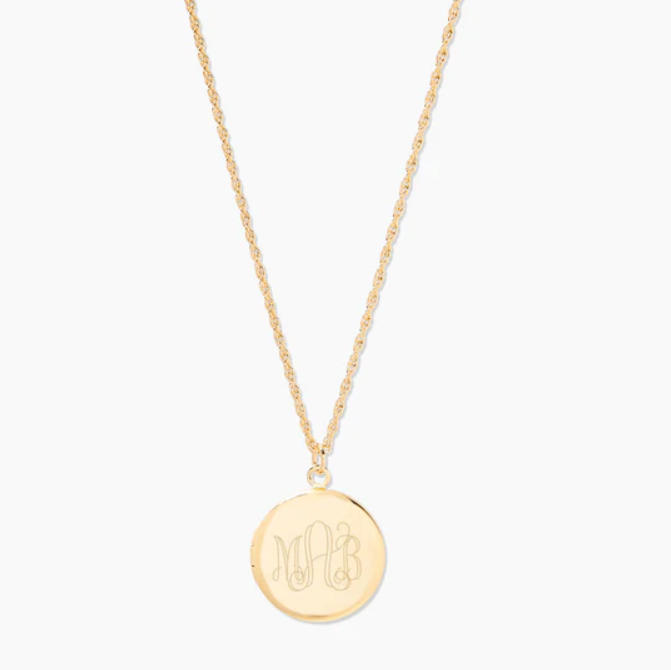 The Isla Locket is the perfect size to hold tiny pictures of your loved ones. It can be engraved with a single initial or a monogram (I think that three children's initials could easily be used in place of the monogram). Something like this would be a lovely gift for a new mom or a mom whose children are grown and leaving the nest—she can keep photos of them close to her heart.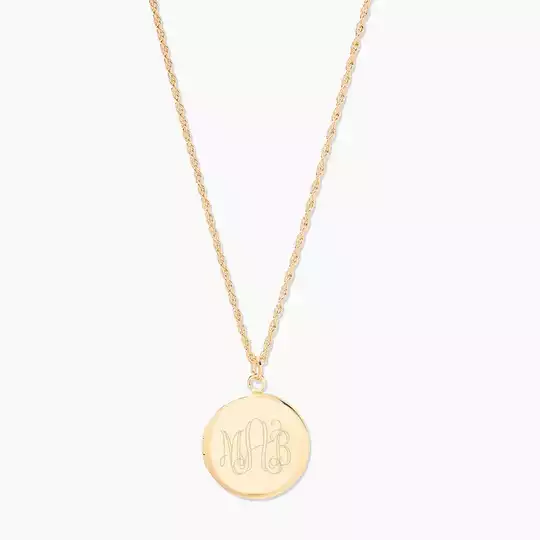 Isla Locket | Brooka & York
This 14k gold covered oval locket is the necklace for you. Have your locket engraved with the initials of your or a loved one's name.
Check Price
We earn a commission if you click this link and make a purchase at no additional cost to you.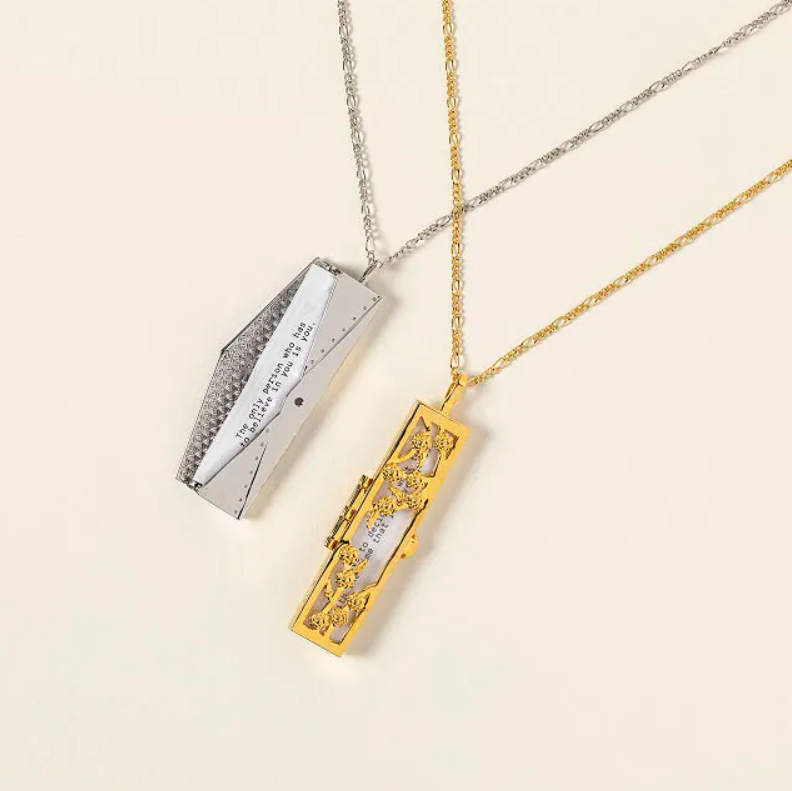 I love this modern locket. You write a message or poem of up to 160 characters and have it encased behind glass in this message locket. The locket is available in two different styles—an envelope design and a flowing vine design. Most customized jewelry that includes text does not offer space for more than ten or so characters, so the fact that this locket allows you to write out a whole message is pretty special.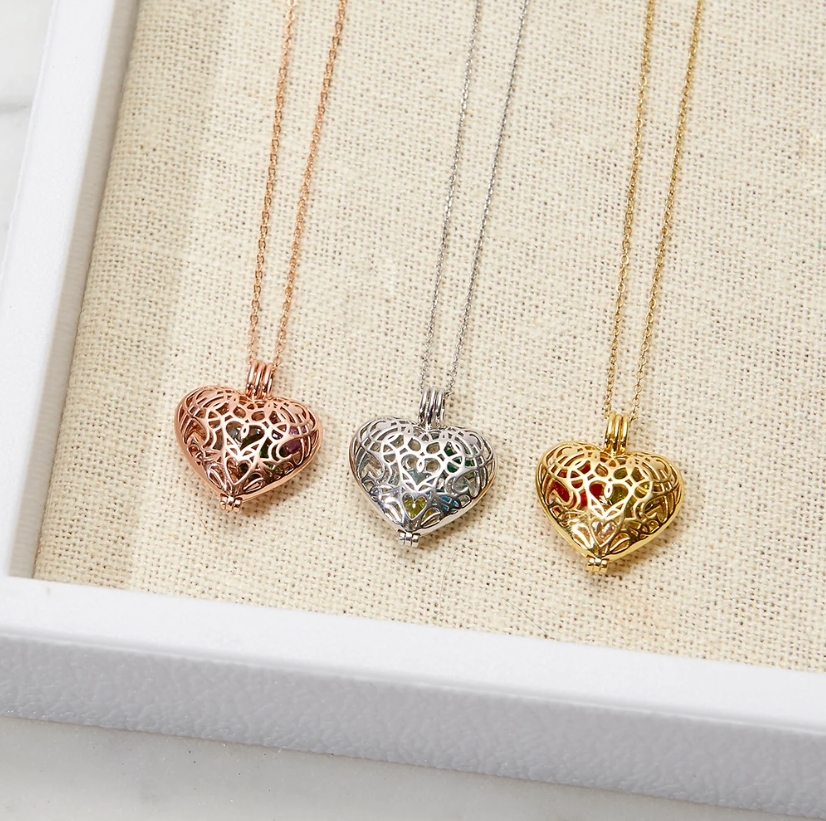 This Filigree Heart Birthstone Locket is sort of a different take on a locket. The heart-shaped cage can house up to ten birthstones, making it an ideal locket for a mom or grandma with a bigger family. The locket isn't too large, despite being able to hold so many stones.
Custom Gemstone Necklaces
These aren't your typical "mom necklaces," but they're perfect if you want to get a special gift for mom that isn't necessarily focused on her children.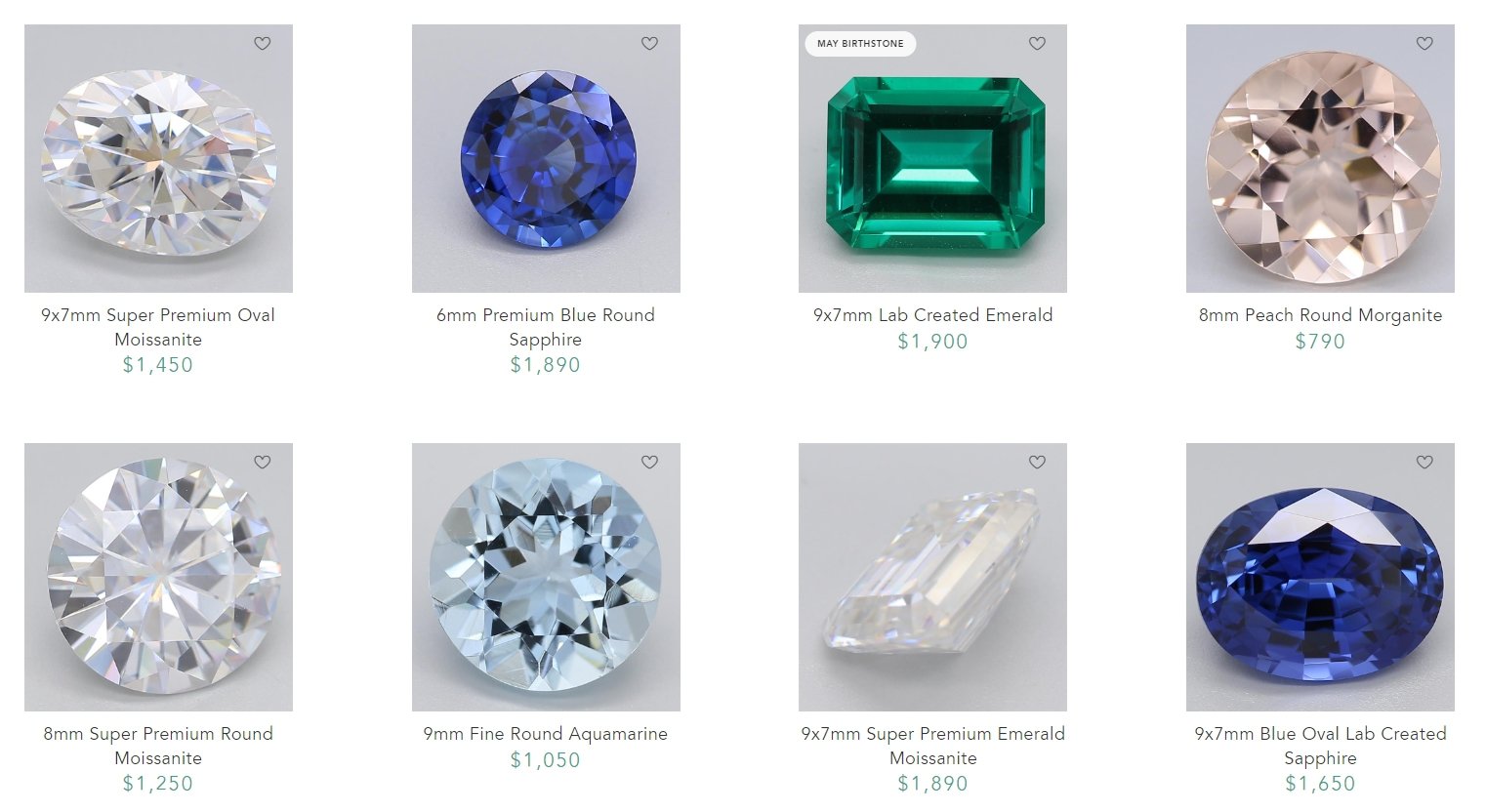 The Design Your Own Gemstone Necklace tool from Brilliant Earth allows you to choose your exact gemstone, then select a setting for it and customize it by choosing the metal type/color, chain length, etc. This is an excellent option if you want to design a piece of fine jewelry with mom's birthstone or in her favorite color.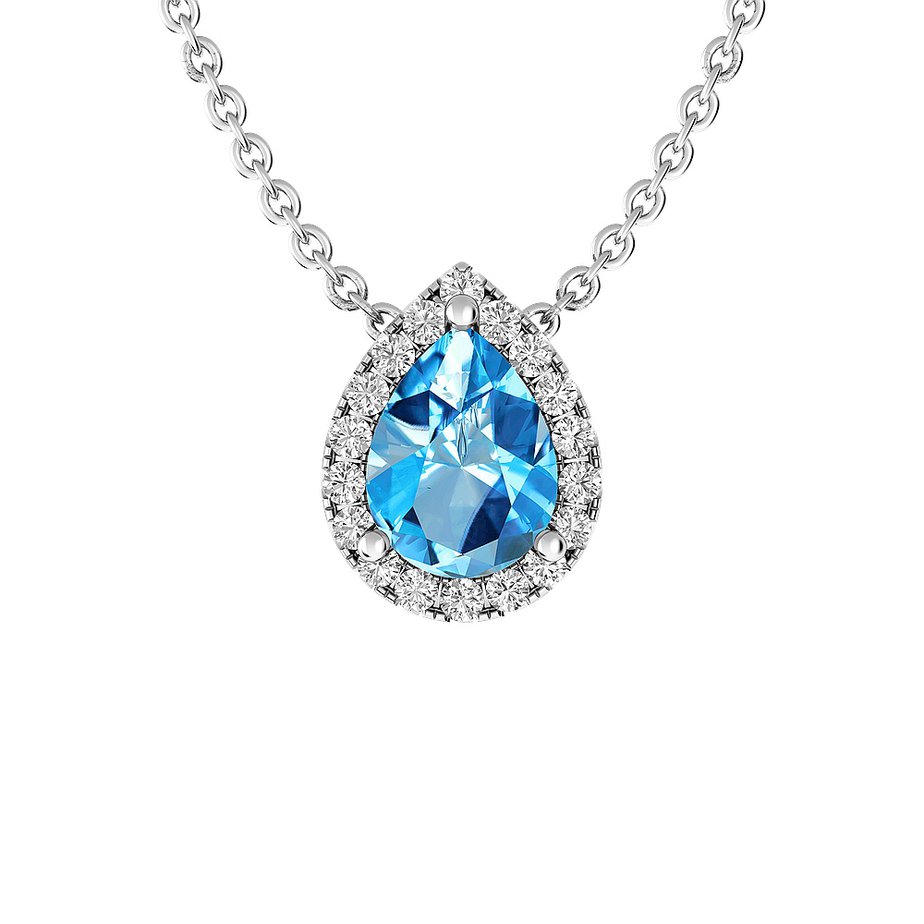 The Create Your Own Pendant Fashion Necklace tool from Jared is similar to the Brilliant Earth design tool above, with a few key differences. You'll select the type, cut, and size of your center stone but not the exact stone you'll receive. There are also fewer setting options, but they're more varied in style and have more options to add colorful accent stones than the ones from Brilliant Earth.
Reminders of Mom's Favorite Place
This is sort of a different way to approach a custom necklace for mom, and it's another style that doesn't focus on her children. Instead, these necklaces are reminders of mom's favorite place, whether that be a meaningful location or a favorite vacation spot.
Coordinate Necklaces are engraved with the geographic coordinates of a specified location. Sites like Brook & York make it easy to customize coordinate necklaces—all you have to do is type in your desired address, and they'll calculate the latitude and longitude for you.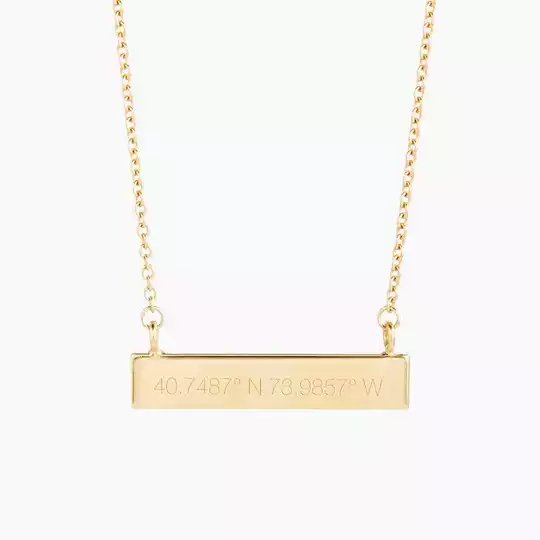 Coordinate Bar Necklace | Brook & York
Keep a reminder of a place that is important to you by creating a custom Coordinate Necklace to be engraved with the latitude and longitude of a place that you choose.
Check Price
We earn a commission if you click this link and make a purchase at no additional cost to you.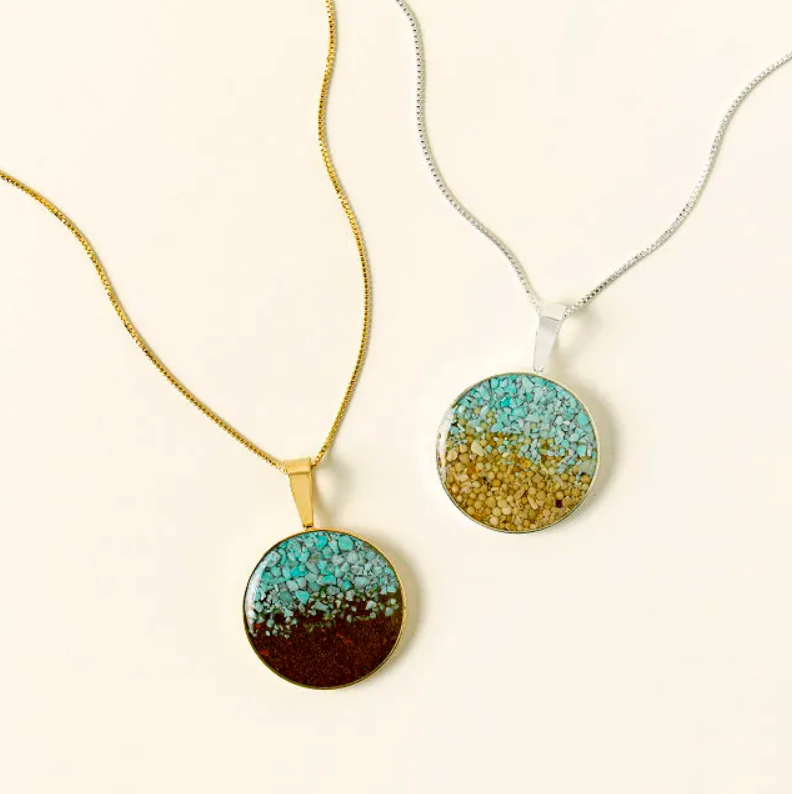 I know a lot of moms who would rank the beach among their favorite things (some just under their children). This Sand and Turquoise Necklace is a sweet and unconventional way to personalize a necklace for those moms. You can choose from the artist's sand bank of hundreds of beaches around the world (I noticed that the beach where I live and my mother-in-law's favorite vacation spot were both listed), or you can send in your own sand.
The artist will encapsulate the sand in a glass pendant along with turquoise chips to make a one-of-a-kind necklace.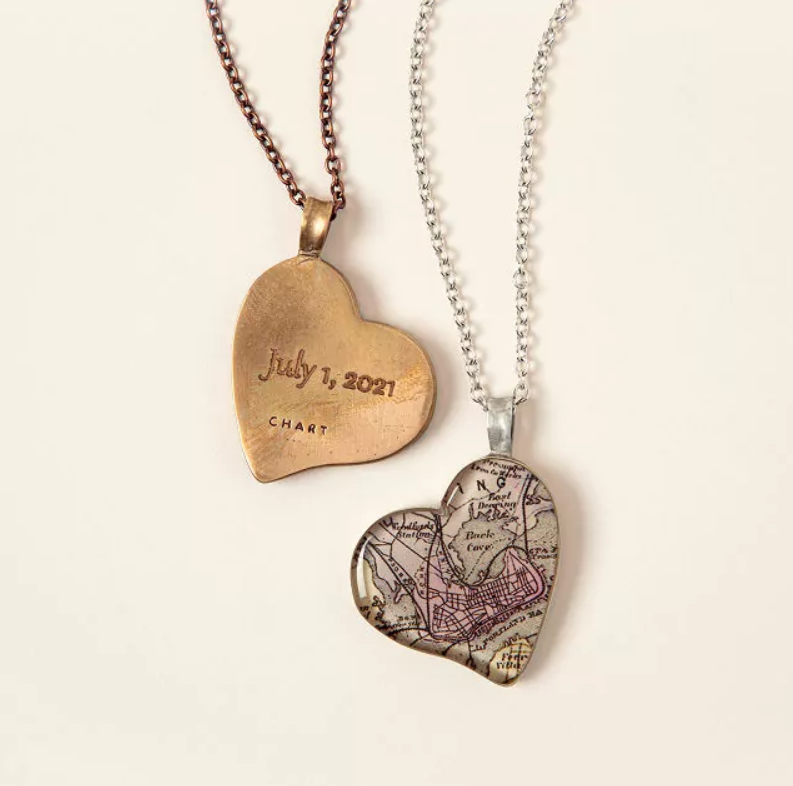 This Heart Map Necklace places a heart-shaped map of your mom's favorite spot under resin. The back of the pendant can be engraved with up to 25 characters. I think something like this is a beautiful reminder of a favorite vacation spot, hometown, or site of a momentous occasion like a wedding or the birth of a child.
FAQ
Question: What is the best necklace length for a gift?
Answer: When buying a necklace as a gift, first and foremost, I like to take the recipient into consideration. If she tends to wear long pendants or short, layered necklaces, go with that. If you're not sure, anything 16 to 20 inches is safe. 18 inches is the standard length for a necklace and the length you'll most often encounter.
Question: What do you put on a custom necklace?
Answer: It's up to you to decide what to put on a custom necklace, but some popular ideas are: initials or names (either of the recipient or their loved ones), birthstones, photos, sentimental phrases, and gemstones that are meaningful to the recipient (or just their favorite color!)
Question: What should you engrave on a small pendant?
Answer: Small pendants are perfect for engraving initials or a monogram. Pendants that are a little bit larger can accommodate a name, a short phrase, or even a photo.
Question: How much does a custom necklace cost?
Answer: The cost of a custom necklace will vary quite a bit depending on what you're having customized and the materials the necklace is made from. You can find lovely gold-plated engraved necklaces for under $100 or spend as much as a sports car on a piece of fine jewelry designed from scratch.
Final Thoughts
In my opinion, moms tend to appreciate any gift as long as it's given with love, but it's always nice to put a personal touch on your gift to make it feel extra special. A custom necklace is a great gift for a mom. It shows her that you put care, thought, and time into choosing a gift specifically with her in mind.
Of all the necklaces on this list, my favorite is the Photo Projection Flower Pendant. The hidden image inside the glass "gem" is just so charming!
Looking for more interesting readings? Check out: