Latest posts by Lauren Vigdor
(see all)
I'm a big fan of giving personalized jewelry as a gift. It's not the type of thing people often buy for themselves, and it shows that you put thought and care into finding a gift specifically for that person. There are a few different reasons why I would give someone a three initial necklace.
Necklaces with your first, middle, and last initial are a little more unique than necklaces with just your first initial, simply because it's less likely that you'll run into someone with both the same jewelry and three initials as you. Three initial necklaces are also fantastic gifts for parents and grandparents of three children—they can wear each of the children's initials together in one place.
I've gathered together what I think are the best three initial necklace ideas to help you find inspiration for your next perfect gift.
Bottom Line Up Front
I think that all of the designs on this list are great three initial necklace ideas, but there are two that stand out to me more than the others.
This Madeline Three Initial Pendant from Brook & York is a standout piece, with gold details. You can also add initial pendants as your family grows! Lovely.
The Inez Initial Necklace is my favorite design for a necklace with other people's initials on it. The initials are all separated by lengths of chain so that they fall evenly spaced around your neck. I think this would make the perfect gift for a parent of three children.
The Different Types of Three Initial Necklaces
There are many ways to wear three initials on a necklace. Some of the best include:
Individual letter-shaped charms, either hanging as

pendants

or linked into a chain.

Individual discs or charms that are each engraved with a single letter. These can also be worn linked into the necklace or hanging as pendants.

Necklaces that have all three initials together on one charm or pendant.

Necklaces that are made for someone to wear initials representing three individual loved ones.
I made sure to include designs from all of these types of three initial necklaces below.
A Word About Monograms
Monogram necklaces are very specific types of three initial necklaces. (You can also find two initial monogram necklaces, though they're not as expected.) Monograms are a design that combines someone's initials in a way that makes them look like a complete design—Think of a monogram as a personal logo made up of your initials.
If you're looking for three initial monogram necklace ideas, you can skip to the bottom of this article, where I've listed a few.
Generally, a monogram is only made up of one person's initials (rather than the first initials of three different people). Still, there aren't really any rules when it comes to personalizing your jewelry, so if you like this style and want to use it to show off the initials of your three children, I'm not going to try to stop you!
Some Things to Consider When Shopping for a Three Initial Necklace
Whose Initials Will be on the Necklace?
Are you shopping for a necklace that has one person's first, middle, and last initial on it, or are you looking for something with three initials representing three different people?
If you're looking to represent three different people on one necklace, you might want to consider a necklace with individual initial charms. If you're looking for a necklace with one person's first, middle, and last initial, a monogram or a single pendant etched with all three initials might be more of what you're looking for.
Will you Want to Add More Initials Over Time?
If the necklace is for a parent or grandparent whose family might be growing, you may want to consider a necklace that you can add on to in the future. Usually, this means either choosing a necklace with some sort of charms or an engraved piece with extra space to add more engraving. I tend to prefer the former since the latter might look incomplete if you leave too much space for future engraving. Plus, taking a piece to a jeweler to add additional engraving is just an extra chore that you're giving yourself.
If You're Giving the Necklace as a Gift, Really Think About What the Recipient Wants
The whole point of giving personalized jewelry is that it's meant to be personal. If the recipient doesn't feel a connection to the piece, it loses some of its purpose.
If you're giving an initial necklace to your niece Elizabeth who has adamantly gone by Liza her whole life, you might want to consider an L instead of an E for the first initial. A mom might prefer a necklace with the initials of her three children rather than a monogram of her own initials—or maybe not! That's why it's essential to consider your recipient and what they like.
How I Chose These Three Initial Necklaces
This list is meant to help inspire you to find the perfect three initial necklace for your needs, even if it's not one from this list. That being said, all of the necklaces on this list are well made, and they're all worth what they cost. Not every necklace will fit every budget, but they're all excellent value for their quality. If one of them speaks to you, it comes with my recommendation as a jewelry designer (and, let's be honest, jewelry hoarder).
Every necklace on this list is:
Sold through a reputable retailer with fast shipping and excellent customer service.
Customizable beyond choosing your three initials. All of them have options for choosing things like metal color, necklace length, birthstones, or all of the above.
Made with quality materials that are worth what they cost. Some are solid gold and silver, whereas others are gold-plated or gold-filled. With proper care, none of them will turn your neck green (and you won't find any fake gold on this list!)
Each necklace on the list has something in its design that makes it unique. We're going for personal jewelry here, after all!
Some of these designs might be a little outside the box, but I tried to include necklaces that represented anything that someone might be looking for in a three initial necklace. That means there are necklaces meant to represent an individual's first, middle, and last initial, necklaces intended to represent the first initial of three different individuals, and some that can be used for either purpose.
My Picks for the Best Three Initial Necklace Ideas by Style
Necklaces with Removable Initial Charms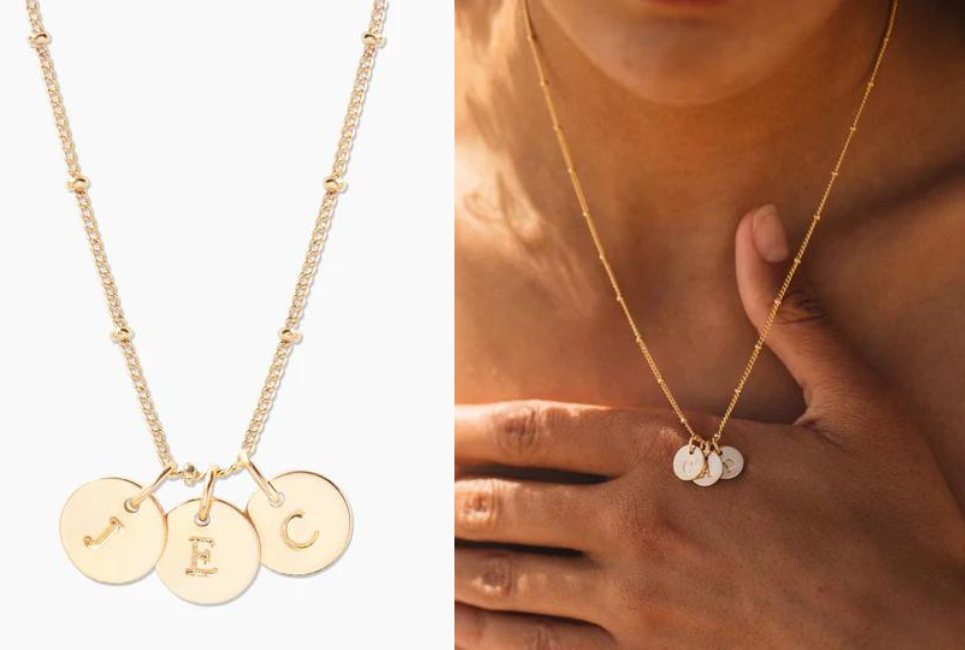 There are a few reasons why I like this necklace. I love how the coin-shaped engraved initial pendants group into a little cluster—it looks so organic and adds movement to the necklace. I also really like the gold bead details along the chain. Finally, while the engraved discs don't slide off the chain, they can be added and removed by opening their jump rings with pliers, which means you can add initials to this necklace if your family grows.
Madeline Three Initial Pendant | Brook & York
Initial pendants make such special statements, choose three initials to add to our delicate disc necklace. Makes the perfect gift for your fave momma or BFF.
Check Price
We earn a commission if you click this link and make a purchase at no additional cost to you.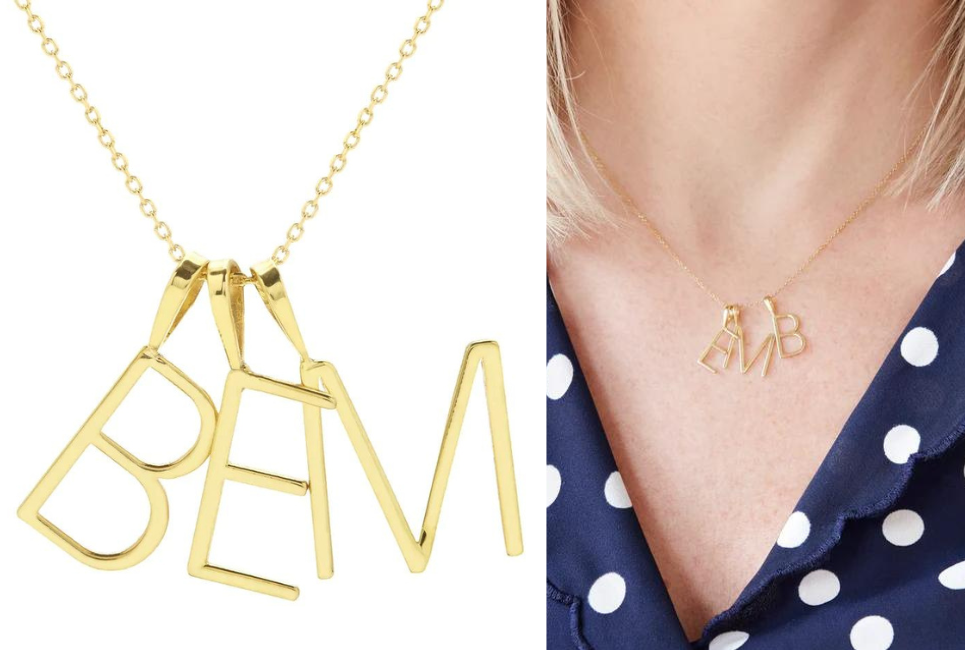 This is another necklace that you can continue to add initials to if you want, though it looks like it would get a bit bulky if you add too many. The initials are only a half-inch tall, so they're not going to look comically large, but they are big enough to stand out and make this one of the bolder necklaces on this list.
Necklaces with Letter Charms that Can't Be Removed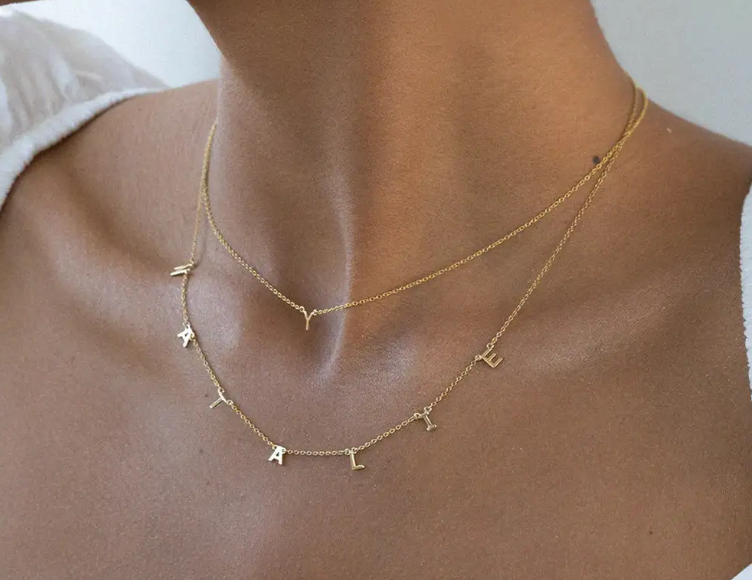 I love the way the letters on this necklace are linked together with lengths of chain. It's a refreshing change from an initial pendant necklace, and it means that both the positioning of the initials and the chain will lie differently around your neck than a pendant would. Pendants tend to pull a necklace down into a more severe V-shape, whereas a necklace like this will lay flatter across your chest/collarbone (depending on how long the chain is) with the letters more evenly spaced.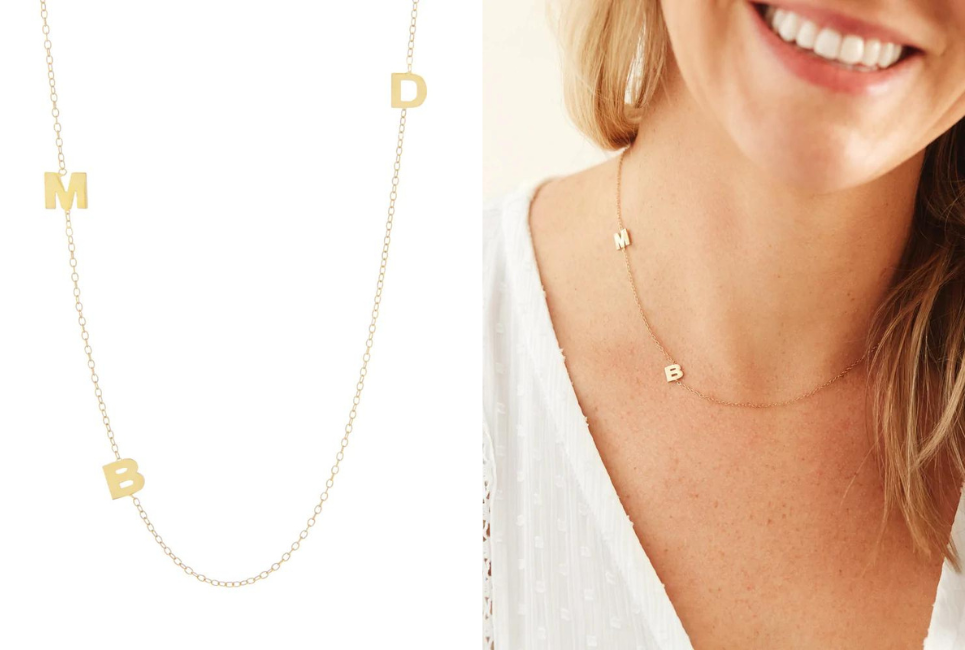 This one is similar to the Inez necklace above, but the initials are linked at their top and bottom rather than their two sides. The way the necklace falls keeps them from looking sideways since they're balanced on either side of your neck, not running across the top of your chest. I think the positioning of the letters on this necklace definitely adds some interest, but I do worry that it might just end up looking like your necklace is slightly twisted.
Necklaces with Engraved Charms that Can't Be Removed
This is the perfect three initial necklace for anyone who wants a little extra bling. It links three engraved gold discs with dozens of bezel-set birthstones. I love how sparkly this necklace is, and the birthstones really up the personalization factor. I also really like that both the engraved discs and the birthstones are double-sided, so it won't matter if the necklace accidentally flips around.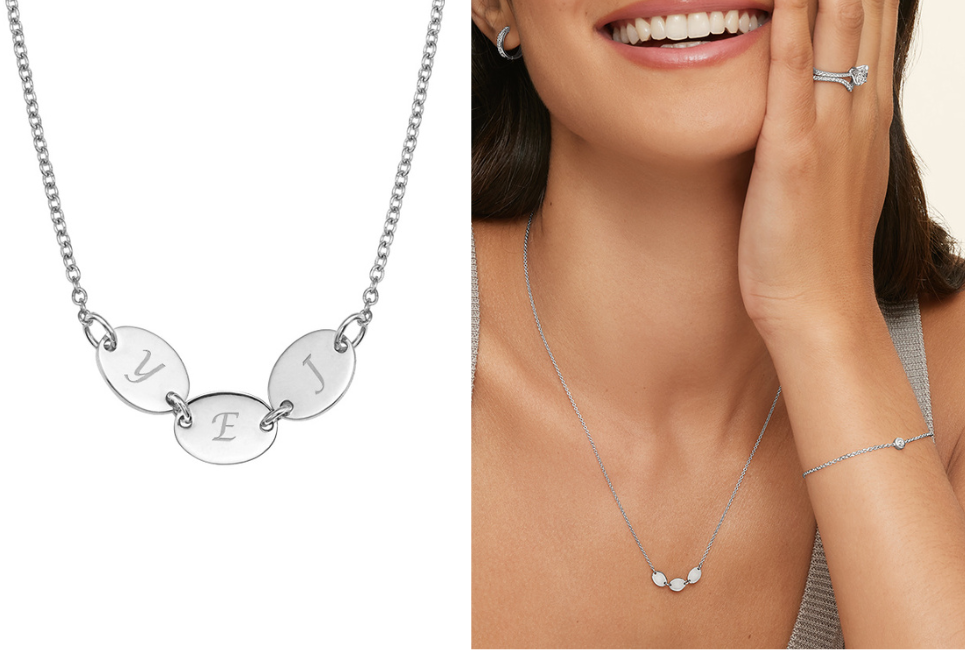 I like the oval-shaped discs on this necklace. The slightly elongated shapes make the necklace feel really elegant. The discs are tiny and delicate, which makes the necklace feel more sophisticated and grown up and less like a cutesy charm necklace, which is an issue I sometimes face with initial necklaces.
This necklace is an excellent option if you like the look of the engraved discs on a necklace like the Madeline Three Initial Pendant above but don't like how they slide together at the bottom of the chain. The discs are linked with short pieces of chain rather than hung from one long chain, so they'll stay evenly spaced along the necklace.
Necklaces with a Single Three Initial Pendant or Charm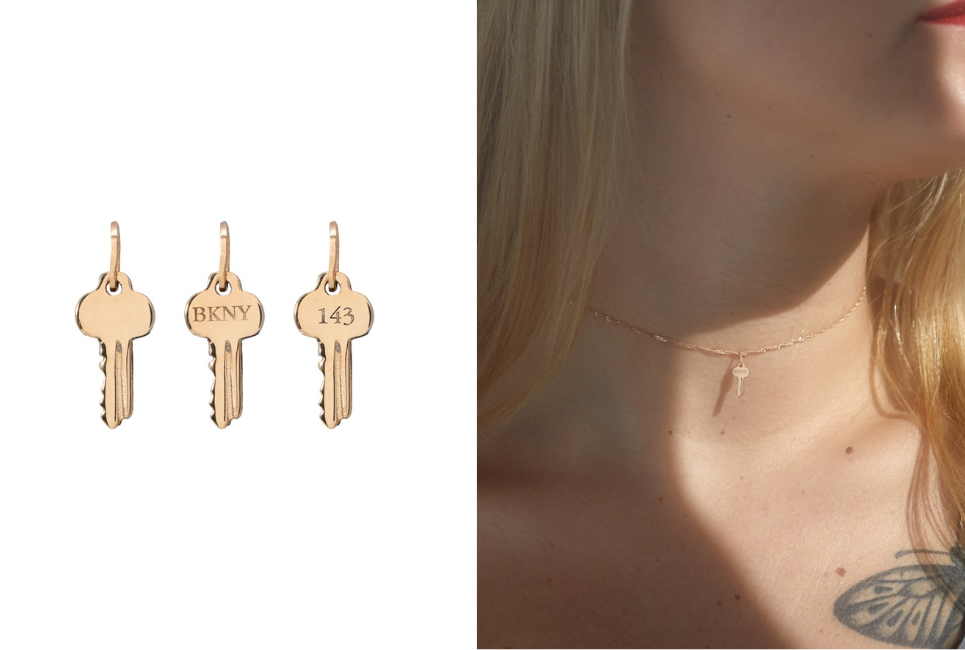 Unlike many of the necklaces on this list, this one wasn't specifically designed with three initials in mind, but I think it's the perfect charm for the job. I love key necklaces. (I have one myself, and it's one of my favorites from my collection!) This key is the perfect size to hold three tiny engraved letters.
For many people, key necklaces symbolize luck and opportunity—an opening of doors. This is such a sweet little charm to give to a friend to celebrate a milestone moment in their life, like graduation, moving, or new job.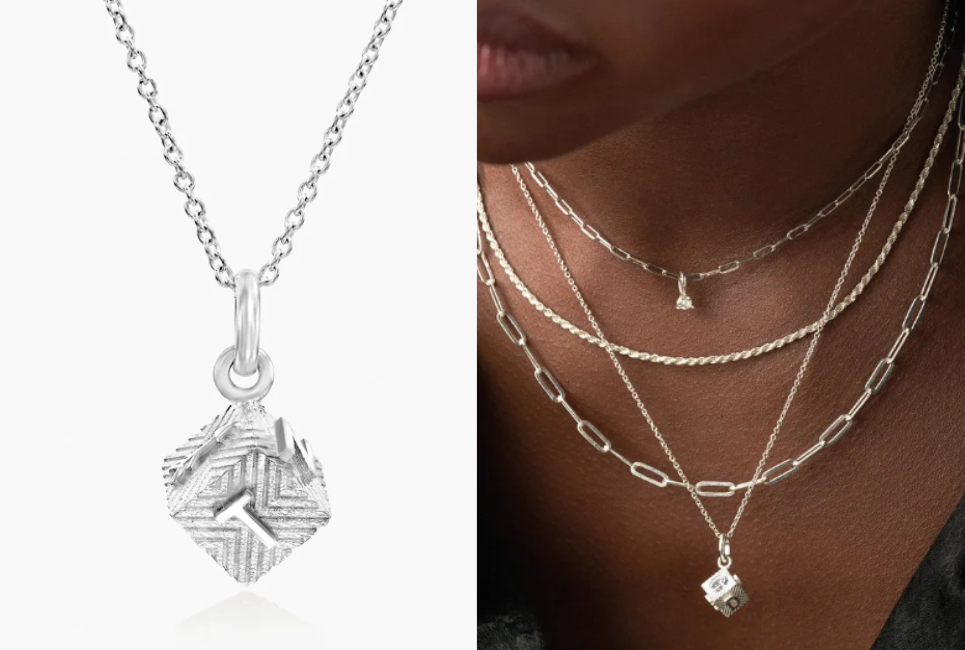 This is a very unique-looking necklace, and while it's not for everyone, I think this would be an especially great gift for someone who likes to fidget with their jewelry. The small cube is textured and hangs from its chain by way of a large jump ring—I just know I'd be playing around with it every time I wore this necklace, and that's not a bad thing! I love tactile pieces.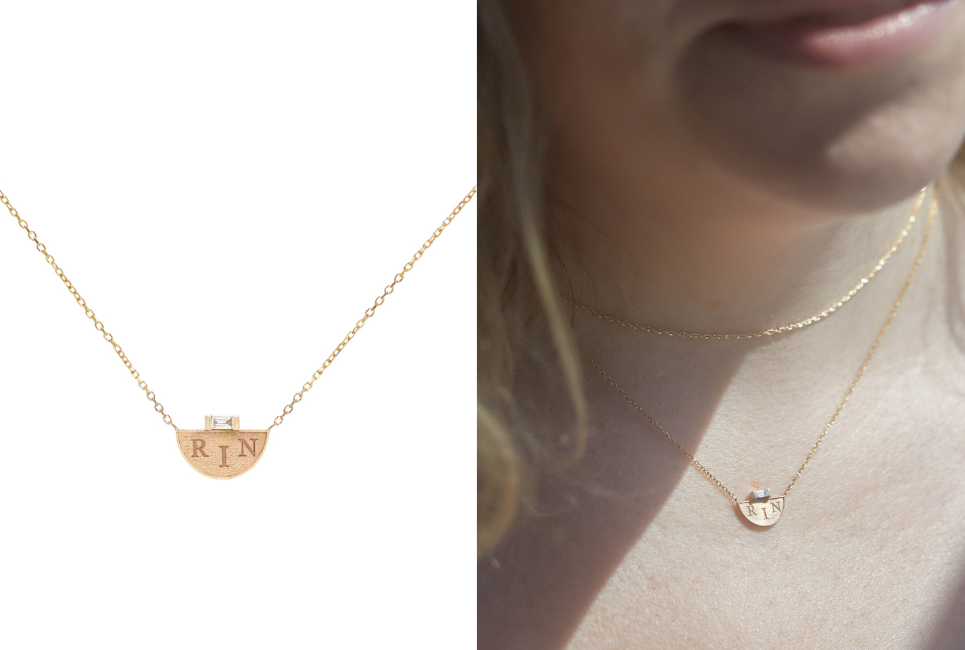 I love how modern this necklace looks. The half-moon pendant and baguette diamond look fantastic even when left blank, but adding three initials to this really puts it over the top and makes it uniquely yours. I just love all the texture on this piece. It really is a work of art.
Three Initial Necklaces for Parents and Grandparents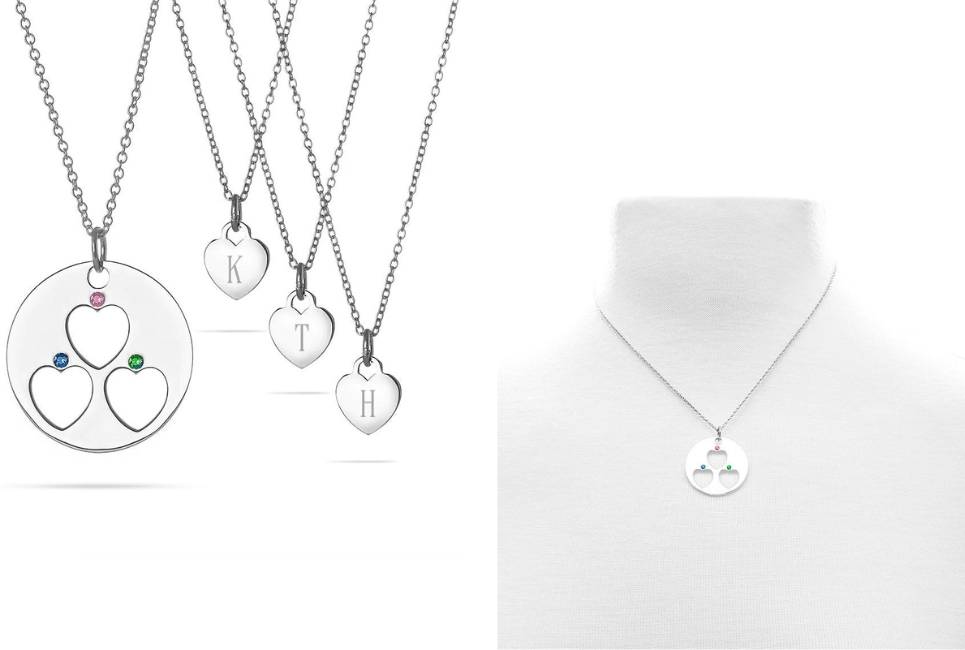 This is a unique take on a three initial necklace that's perfect for a family. Rather than one necklace with all three initials, it's a set of four necklaces, one for a parent and three for their children. Each child gets a small heart-shaped pendant with their first initial engraved on it, and the parent gets a larger pendant with three heart cutouts, each embellished with one of the children's birthstones. It's a lovely way to stay connected with your family even when you're apart.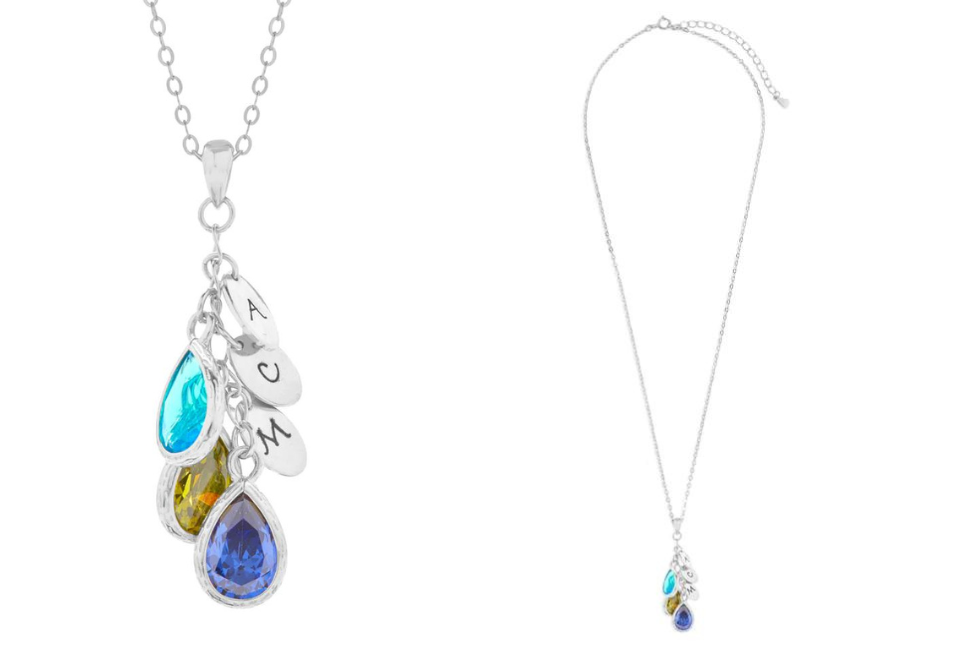 This cluster of charms come together to form another pendant perfect for the parent or grandparent of three children. Three engraved initial charms and teardrop-shaped charms with corresponding birthstones cascade down a short length of chain. It's a colorful and playful way to keep your children close to your heart.
This is another one that I think would make a super cute gift for a parent or grandparent; just keep in mind that the charms aren't removable, so you won't be able to add more as a family grows. I like the idea of hanging three children's initials from the arrow, but I also think it could work with the first initials of two parents and their child. This necklace is an adorable way to showcase your love for your family.
Monogram-Style Initial Necklaces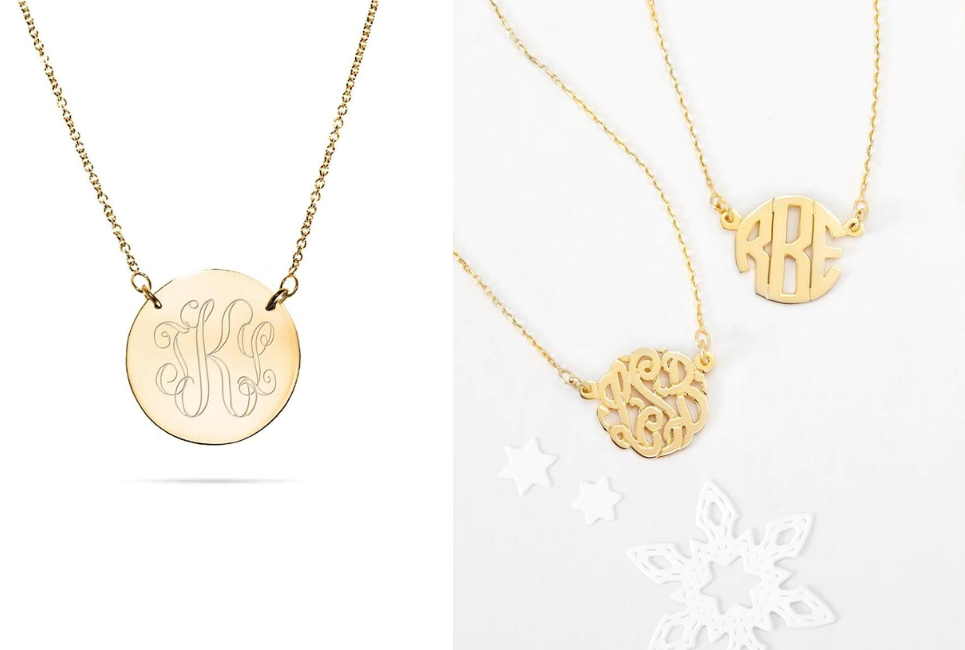 This is such a classic, romantic monogram necklace. It's not the most inventive style, but it's an excellent option if you're looking for something straightforward and just plain pretty. I like that the medallion is large but still lightweight—the necklace still feels delicate, but it's eye-catching, and people will actually be able to see what you're wearing!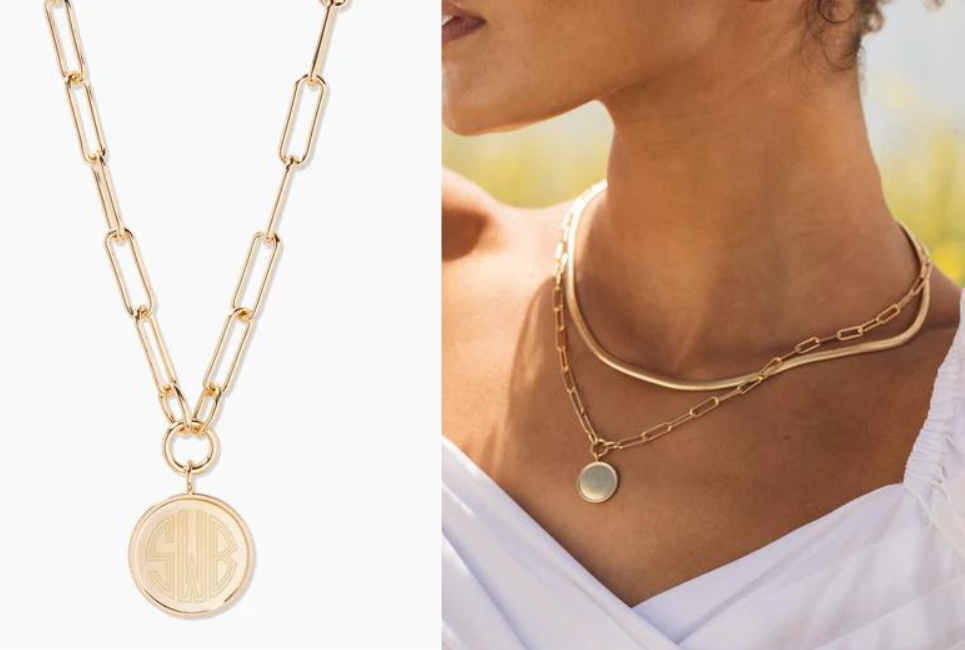 I think this is an excellent example of a bold, modern monogram necklace. I love the paperclip chain and modern outline font. The medallion is actually smaller than I expected and offsets the chain nicely. This one would look great on its own or layered with other necklaces.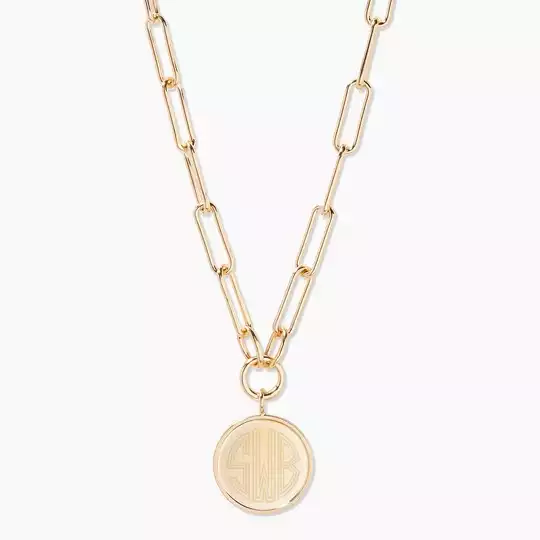 Callie Pendant | Brook & York
The perfect combination of personalized beauty and modern glamour, this necklace is a must have for any collection.
Check Price
We earn a commission if you click this link and make a purchase at no additional cost to you.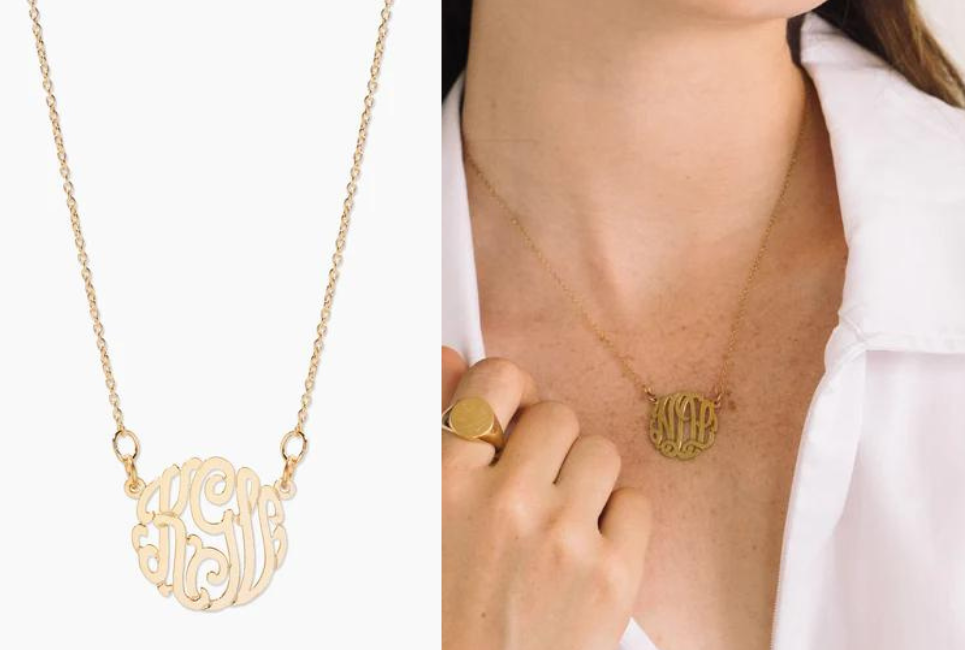 The fact that this monogram is cut out of metal rather than engraved onto it makes it feel more personal to me for some reason. I really like that your three initials dictate the shape of the pendant. Your initials become the artwork rather than something that just embellishes it.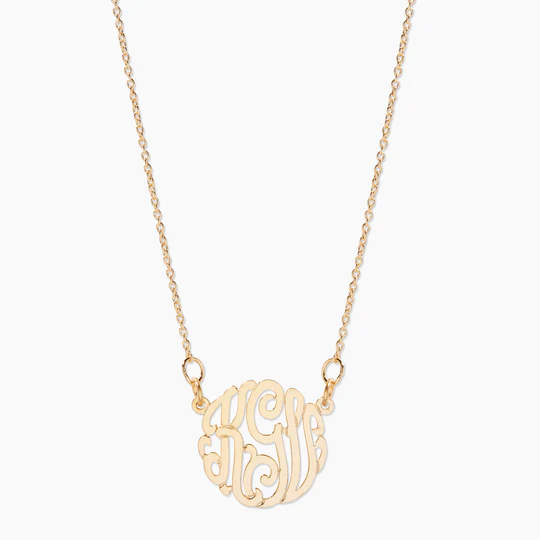 Fulton Classic Monogram Necklace | Brook & York
Create a classic monogram to add to your jewelry collection. The Fulton Classic Monogram Necklace features three letters in a beautiful font, in a metal type that you choose.
Check Price
We earn a commission if you click this link and make a purchase at no additional cost to you.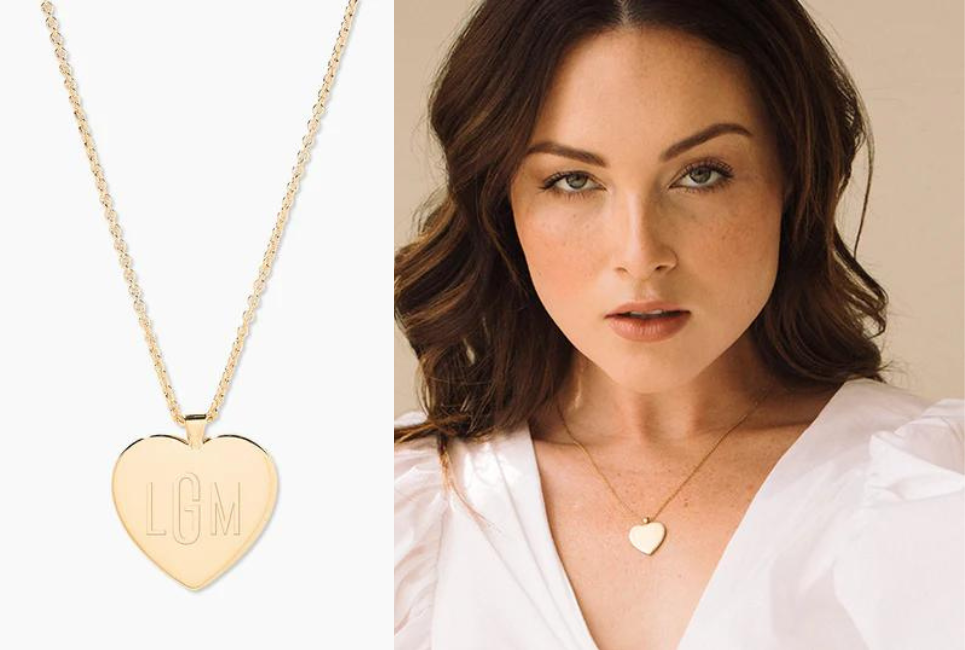 This is the sweetest little heart-shaped monogram necklace. It reminds me of a classic romantic locket, but the modern shape of the heart and monogram engraving gives it a contemporary twist. Rather than keep your sweetheart's photo around your neck, wear their initials instead!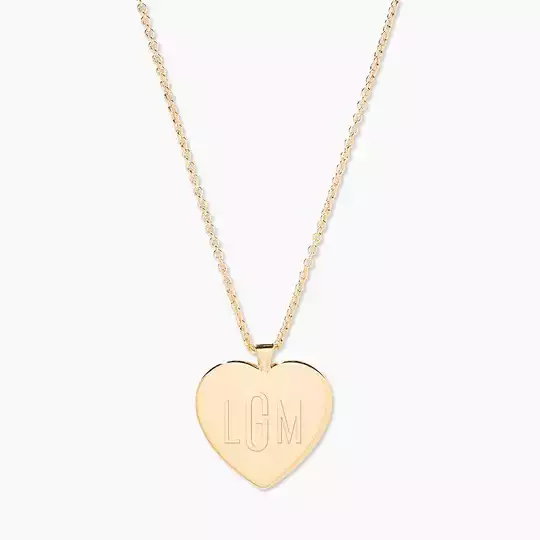 Isabel Heart Pendant | Brook & York
Straight from the heart, this necklace is a must have. We have fallen in love with the 14k gold plated heart shaped pendant that is engraved with your or a special someone's initials on a long cable chain.
Check Price
We earn a commission if you click this link and make a purchase at no additional cost to you.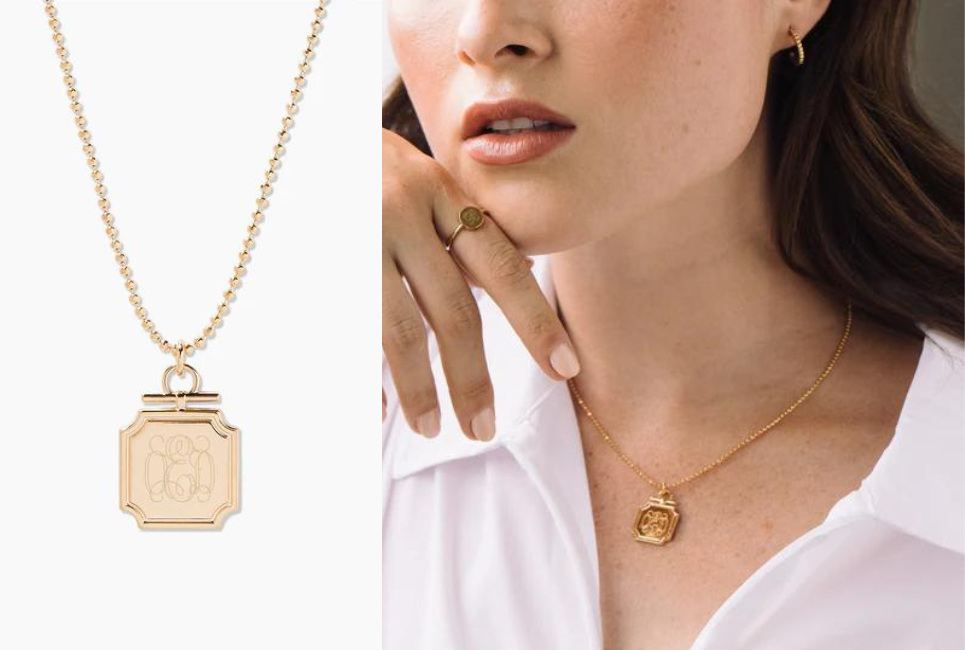 I think this design is chic and timeless. The angles of the pendant and delicate script engraving make it really elegant, but my favorite detail is the tiny bar floating on top of the pendant. It creates the look of a toggle clasp without the worry of it slipping loose while you're wearing the necklace—the necklace is actually secured behind your neck with a lobster claw clasp.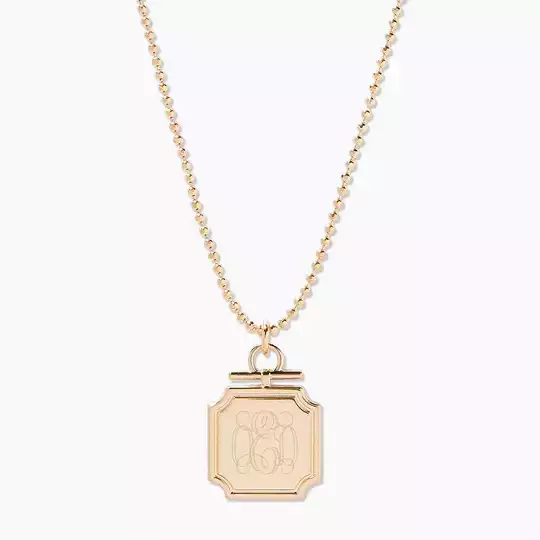 Margot Pendant | Brook & York
Angular details and a delicate ball chain create a simple, but chic pendant necklace that you and your BFF will wear on repeat.
Check Price
We earn a commission if you click this link and make a purchase at no additional cost to you.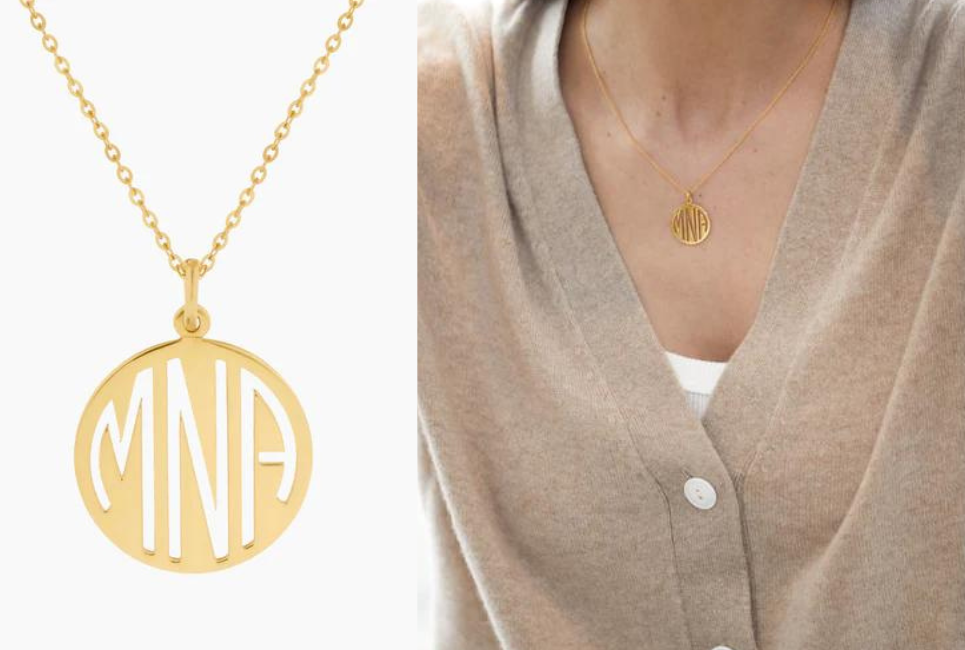 This is a really cool take on a monogram pendant. You still get the clean lines and simple aesthetic of a round medallion, but the monogram is cut out of the pendant instead of engraved on it. It looks super clean and modern and is an especially nice choice for someone who might not like the look of a flourishy script monogram.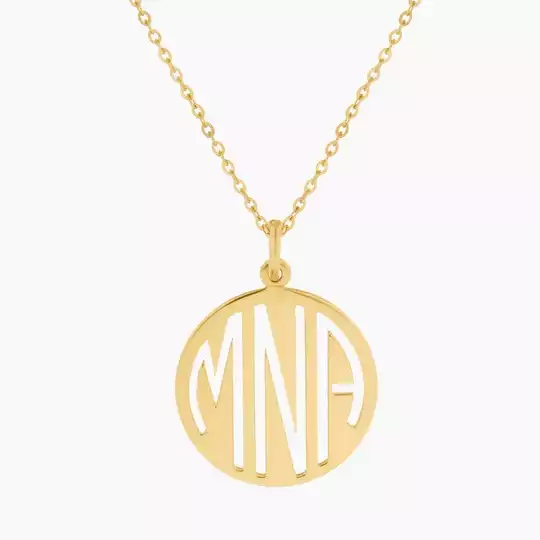 Faye Monogram Pendant | Brook & York
Traditional monograms are, from left to right, first initial, last initial, middle initial. Please enter your initials in the order you would like them to appear.
Check Price
We earn a commission if you click this link and make a purchase at no additional cost to you.
FAQs
Question: Do you Wear Your Own Initial Necklace?
Answer: Some people choose to wear their own initials, while others choose to wear the initials of a loved one. You can do whichever you prefer! 
Question: Do you Get an Initial Necklace With the First or Last Name?
Answer: That's up to you! Often when people create a custom necklace with multiple people's initials, like one of the ones geared towards parents above, they'll use each person's first initial. If you're looking for a monogram necklace, you'll use all of your initials. However, you may have a reason for wanting to use last initials on a necklace—in which case, go for it! It's your jewelry, and you should customize it however you like! 
Question: Which Initial Goes in the Middle of a Monogram?
Answer: Traditionally, your last initial would be in the middle of a monogram, with your first initial on the left and your middle initial on the right. Of course, you can always choose to display your monogram in whatever order you prefer. 
Final Thoughts
Three initial necklaces are surprisingly versatile and can be given to all kinds of people for all different occasions. Even my two favorites from this list, the Inez Initial Necklace and Half Moon Signet Necklace, can be customized with the recipient's initials, the initials of one of their loved ones, or the first initials of three different loved ones.
I hope that this list inspired you to customize a piece of unique and beautiful jewelry for yourself or someone that you love!
Looking for more interesting readings? Check out: